Turn Cardboard Waste Into Eco-Friendly Packaging Material
Disclosure: This article contains affiliate links. If you click on a product and make a purchase, we may earn a commission – learn more.
Does your company have high volumes of scrap cardboard? Then an industrial cardboard shredder or perforator is a great solution to repurpose and recycle this cardboard waste into sustainable packaging material.
A cardboard shredder works a bit like a paper shredder for your cardboard and corrugated waste. The machine turns regular cardboard into high quality and eco-friendly packaging material or void fill material, such as strips, netting or chips. This material is an economical and ecological alternative to plastic packaging material, like peanuts and air pillows.
Best cardboard converters
---
Recommended Cardboard Perforators & Shredders
Below you will find 13 cardboard shredder machines and perforators that we recommend to turn cardboard waste into eco-friendly packaging material or void fill. Do you want to know more about cardboard perforators or shredders? Then feel free to take a look at our cardboard perforator and shredder guide.
---
Compact tabletop perforator for smaller shipping environments.
The HSM ProfiPack C400 is a compact cardboard perforator for converting cardboard waste into eco-friendly packaging material. The ProfiPack C400 has a 1.6 horsepower motor which can shred 31.5 feet of cardboard sheets and corrugated boxes per minute. With its weight of 47 lbs, it is fairly easy to move the machine around in your facility. The perforator is easy to operate and produces padding mats.
Capacity: 1 layer
Motor: 1.2 kW
Power supply: 110-120 V
Intake width: 16.34 in
Weight: 47 lbs
---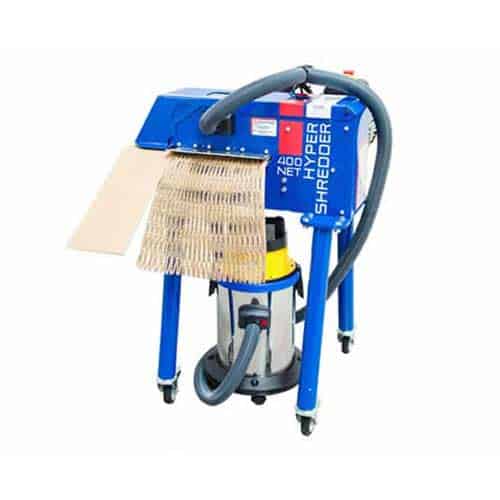 Quiet shredder that produces cardboard chips.
The Hyper Shredder 400 is a heavy-duty cardboard shredder on legs and wheels. Optional is the vacuum to extract dust while perforating the cardboard. This cardboard converter is easy to move the around in an office or warehouse. The commercial corrugated shredder has a cutter feed height of 0.63 inches so you can roughly shred up to two layers of cardboard per pass. With the 3HP (1 phase, 3 phase) motor you shred around 46 feet of cardboard per minute into small chips. The continuous run-time of the Hyper Shredder 400 is around 8 hours. Besides chips, you can also choose for a strips or a cardboard netting variant.
Capacity: 1-2 layers
Motor: 2.23 kW
Power supply: 220-240 V
Intake width: 15.74 in
Weight: 308 lbs
---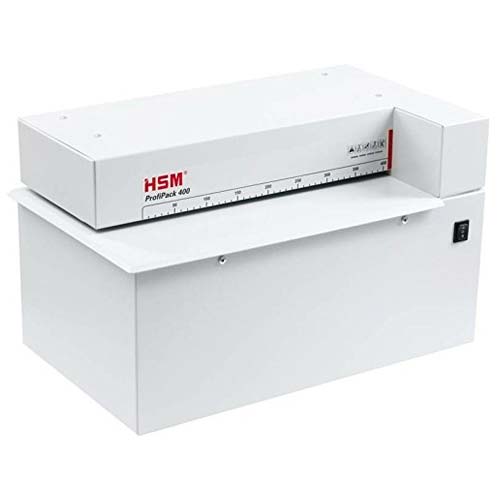 The HSM ProfiPack 400 is a relatively compact-sized cardboard shredder that fits on any tabletop. With this machine, you can recycle and re-purpose all your cardboard waste into packaging material. The cardboard perforator has a feed opening of 16.3 inches and has a shred or perforating speed of 26 feet per minute.
Capacity: 1 layer
Motor: 1.54 kW
Power supply: 120 V
Intake width: 16.3 in
Weight: 82 lbs
---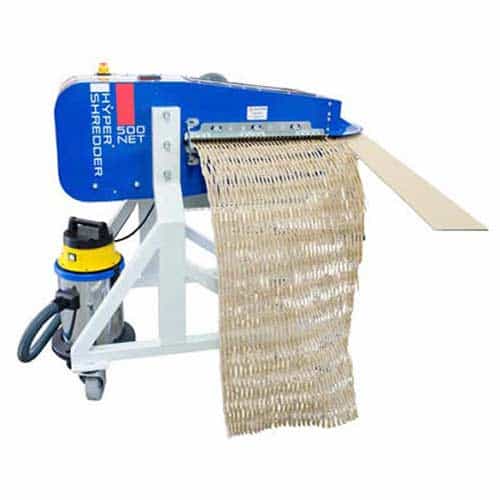 A heavy-duty cardboard perforator.
The Hyper Shredder 500 is a powerful cardboard perforator. Like all of the Hyper Shredder models, you can opt for a perforator to make cushioning netting material or you can choose for a strip or chip cardboard shredder. The width of the cutting outlet is 500 mm or 20 inches. The perforator can perforate or shred cardboard material for 8 hours continuously thanks to the 4 HP single-phase or three-phase motor. The machine operates quitetly with only 55 dB of noise.
Capacity: 2-3 layers
Motor: – kW
Power supply: 220-240 V
Intake width: 19.68 in
Weight: 661 lbs
---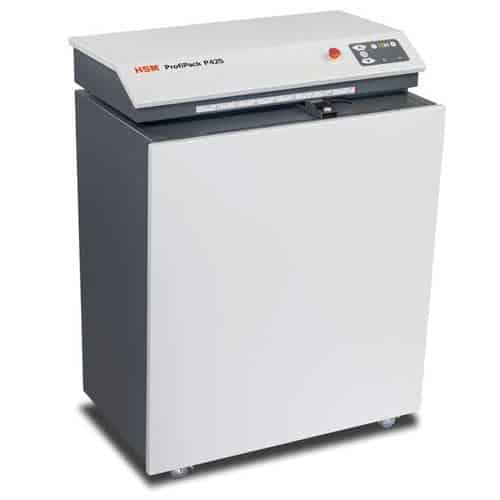 A quiet heavy duty shredder that requires only 110 – 120 Volts.
The HSM ProfiPack P425 perforator turns cardboard into sustainable packaging material. You can shred any size of the cardboard because the HSM will cut off excess cardboard while the machine perforates the material. This cardboard converter machine is a larger model that is relatively quiet, demands little power, and is quite fast as it perforates 43 ft of cardboard per minute.
Capacity: 2 -3 layers
Motor: 1.4 kW
Power supply: 110-120 V
Intake width: 16.73 in
Weight: 353 lbs
---
The HSM ProfiPack 425 perforates used cardboard into sustainable packaging material. You can shred any size of the cardboard because the HSM will cut off excess cardboard while the machine perforates the material. The perforator has a shred speed of 39 feet per minute and has a continuous run-time.
Capacity: 2 -3 layers
Motor: 2.95 kW
Power supply: 208 V
Intake width: 16.7 in
Weight: 386 lbs
---
A compact quiet tabletop cardboard perforator.
The Hyper Shredder 299 NET is a compact, single-phase cardboard perforator that turns your cardboard boxes and corrugated waste into a shock dampening netting that is ideal for protecting items from damage during transit. The cardboard shredder machines operate quietly at a speed of 26 ft/min. This small and light perforator is built for tabletops and features a small motor that requires a power supply from a common 240V wall contact. This makes this cardboard perforator ideal for home use, small office use, and small shipping departments.
Capacity: 1 layers
Motor: 0.75 kW
Power supply: 220-240 V
Intake width: 11.81 in
Weight: 84 lbs
---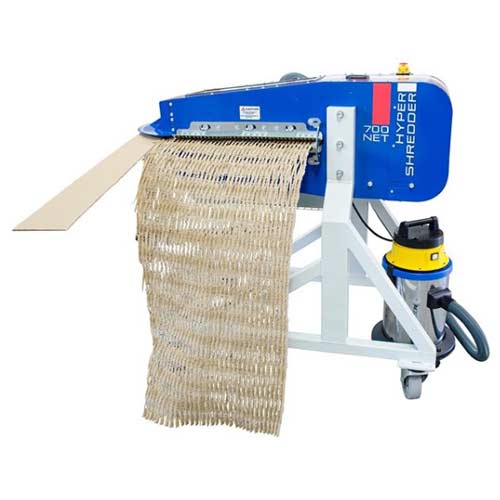 Fast shredder with an extra wide feed opening.
The Hyper Shredder 700 is the most powerful cardboard converter from manufacturer Hyper Shredder. This industrial 5HP 3 phase cardboard packaging shredder machine is available in a strip, chip, and net variant. The Series 700 shredder processes the cardboard waste material, such as boxes, very fast at 52 feet of per minute. With the wide feed opening you can perforate or shred large sheets of cardboard waste per pass, this saves up a lot of time. This commercial cardboard shredder is ideal for larger facilities and warehouses where heavy-duty cardboard shredding is needed.
Capacity: 2-3 layers
Motor: 2.98 kW
Power supply: 380-400 V
Intake width: 27.55 in
Weight: 881 lbs
---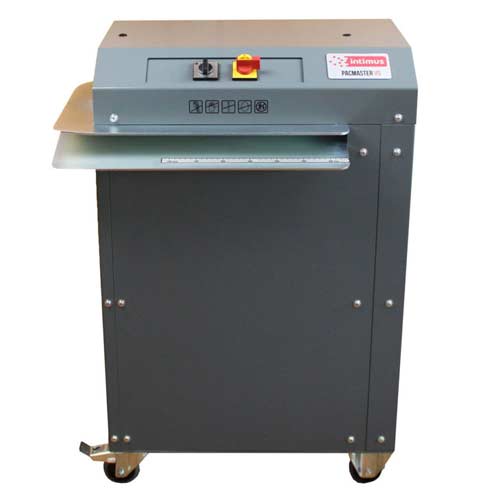 A high powered medium sized wheeled perforator.
The Intimus PacMaster S 220 turns your cardboard waste, such as boxes and sheets of cardboard, into flexible packaging material. This cardboard converter is able to shred high volumes of cardboard waste at a speed of 35.4 ft/min. You can easily move the PacMaster around thanks to the heavy-duty castors.
Capacity: 2 -3 layers
Motor: 2.2 kW
Power supply: 220 V
Intake width: 16.73 in
Weight: 309 lbs
---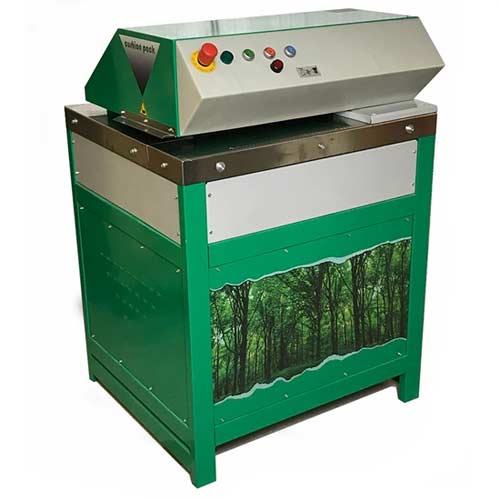 Heavy-duty and very fast perforator.
The AABES Cushion Pack is a high capacity corrugated shredder. It is one of the strongest perforators in the industry. The CP440 is able to process thick sheets of cardboard with a speed of 52 ft/min into cushioning packaging material. This machine really can save a lot of money on packaging costs for your company. The cardboard perforator is convenient to operate and processes your cardboard waste very fast.
Capacity: 2-3 layers
Motor: 4.0 kW
Power supply: 480 V
Intake width: 16.90 in
Weight: 755 lbs
---
A large heavy-duty perforator with a fast high powered motor.
The AABES Cushion Pack CP428 can turn all of your cardboard waste into a shock-absorbing sheet for protecting products during shipping and transport. It does this at quick a speed of 46 ft/min. This heavy perforator has three power supply options and is built for frequent and heavy-duty use with a width intake.
Capacity: 2-3 layers
Motor: 3 kW
Power supply: 240 V
Intake width: 16.90 in
Weight: 660 lbs
---
High capacity cardboard perforating machine.
The AABES Cushion Pack CP422 can perforate high volumes of cardboard and corrugated boxes. This makes the machine ideal for shipping departments and manufacturing facilities. The popular CP422 is simple to operate, it is just a matter of plug-and-play and the motor runs smoothly and quietly. The shredder is available in two versions, a 240 voltage or a 480 voltage. The difference is that the 240 runs a bit slower and is less powerful than the 480. When a possible jam occurs, you can hit reverse to reverse the cutting cylinders so you can remove the jammed cardboard.
Capacity: 1-2 layers
Motor: 1.8 kW
Power supply: 240 / 480 V
Intake width: 16.50 in
Weight: 400 lbs
---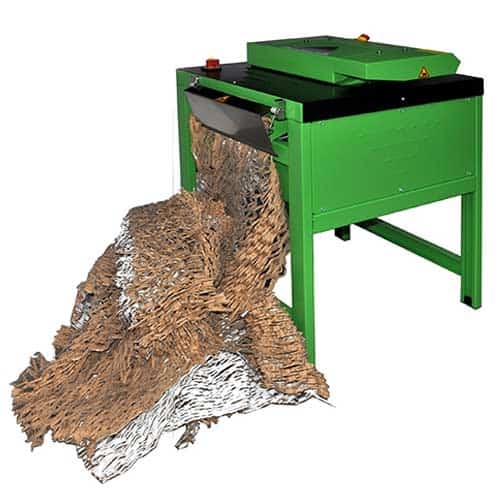 A medium weight perforator with medium motor strength and lower power source needs.
The AABES Cushion Pack CP316 can perforate your cardboard waste into a soft void without any problem at a speed of 26 ft/min. It is average from almost every angle including the motor power, size, and weight except that it only requires a power supply of 115 Volts which 30% less than its predecessors.
Capacity: 1 layer
Motor: 1.1 kW
Power supply: 115 V
Intake width: 12.60 in
Weight: 209 lbs
---
Converted cardboard is an ideal packaging material to safely ship heavy and fragile goods.Recycling.com
---
More cardboard converters
The list above shows our recommendations for cardboard shredder and perforator machines. Do you want to see more?
What to look for when buying a shredder for cardboard?
Not sure how to choose the right cardboard shredding machine for your business? Read our guide for all the needed information. Or download the factsheet with everything you need to know about cardboard shredding machines.
---
Request a Free Quote
Personal advice about cardboard shredders
Do you want to receive a quotation for an industrial cardboard converter? Or do you need advice from an expert about which device is right for your company? Then fill in the form below. One of our agents will contact you for more information.
Fill in your details
---
Cardboard Shredder and Perforator Guide
Navigation:
---
What is a cardboard shredder?
A cardboard shredder is a commercial or industrial machine that lets you recycle and repurpose your own cardboard waste into packaging material.
Is a cardboard shredder the same as a paper shredder?
A cardboard shredder, perforator or converter isn't meant to shred paper or confidential documents, so don't confuse this machine with a paper shredder because these are different devices. While the purpose and the capacity of a regular paper shredder is to destroy confidential paper documents by cutting them into unreadable particles or confetti to protect people's privacy, the purpose of a cardboard shredder is to make your own packing and void fill material. This means you can't shred cardboard with a standard paper shredder device.

Some cardboard boxes can contain a sticker with confidential information, such as a name or address. A cardboard converter can be used, in this case, to destroy this personal information.
The best way to reuse and shred cardboard is to use a cardboard shredder or perforator.

Use cardboard chips instead of plastic peanuts.
Although a cardboard shredder is not a paper shredder it does operate a bit like one. The machine's gearbox, motor, and cutting block work together to cut the cardboard material in tiny chips, long strips or perforated sheets, depending on the type of shredder being used. The purpose of the machine is to reuse the processed cardboard as a free packaging material. This is not only cheaper, but also more environmentally friendly than using plastic. So, if your business uses a lot of packaging material for shipping products a­­­nd you have lots of cardboard waste, then a cardboard shredder is an ideal solution to reduce costs on this material, as well as on waste collection of your scrap cardboard.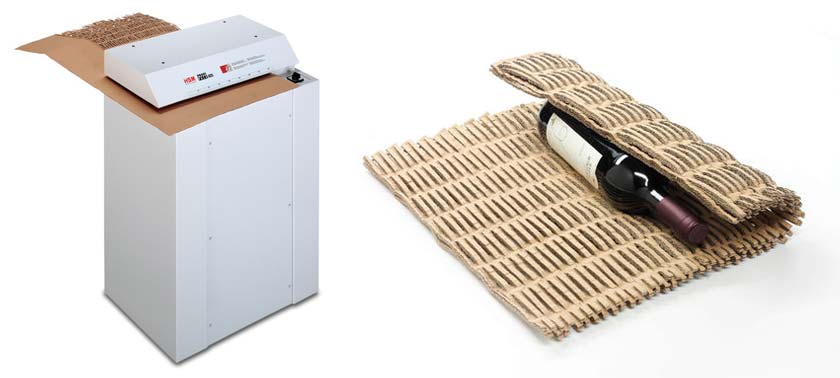 You can insert almost any piece of cardboard into the opening of the shredder and the machine perforates the material in cushioning netting or it can shred the cardboard in square-shaped chips among other forms. These chips then fall into a plastic bag or another container which you can then be used as void filling material to protect products and goods in cardboard boxes that needs to be shipped. Any excess cardboard is trimmed off and can be shredded again. Keep in mind that these machines also have limits and can be overloaded which may lead to jamming. Most of the perforators or shredders can run continuously for multiple hours.
---
Cardboard shredder or cardboard perforator
When you want to convert cardboard into packaging material through a machine you have to choose between a cardboard shredder and a cardboard perforator. But, what is the difference?
Both machines repurpose cardboard sheets or boxes into high-quality packaging material. Deciding which machine you want to buy depends on what kind of ecofriendly packaging filler you want to use. Do you want perforated cardboard, that is a shock-absorbing and flexible netting? Or do you want shredded cardboard void fill, which exists of strips or chips?
The question is, do you need void fill material or netting as a flexible, cushioning shock absorber?
While there are cardboard shredders that can also perforate, more often than not a cardboard machine can either shred or perforate. So, you need to figure out which type suits your needs.
Cardboard shredders
A cardboard shredder cuts or shreds your cardboard waste into (long) strips or (small) chips. Both the strips and the chips are great to use as void fill and can easily replace plastic packing peanuts.
Shreds cardboard into strips, confetti or chips.
Use it as void fill material for packing and protecting products in boxes.
It avoids the reuse of cardboard boxes with confidential on them, such as addresses.
One example of a better-known manufacturer is Tritacartoni (aka Klindex) who specifically produce cardboard shredders called Hyper Shredder, and makes a few different types such as cardboard chips shredders and strip shredders.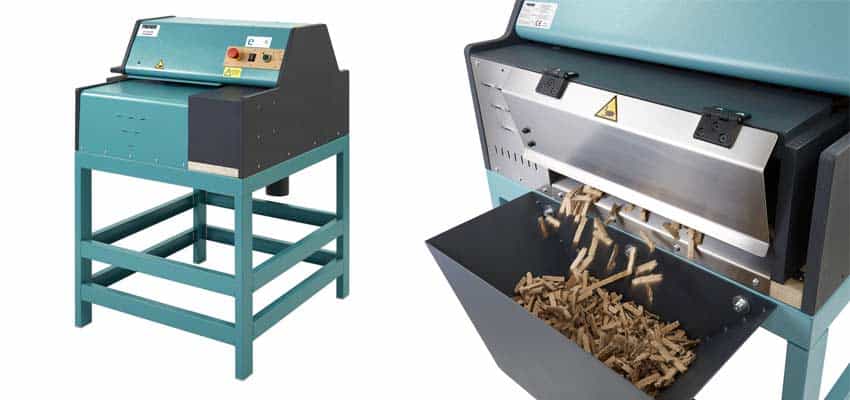 Cardboard perforators
A cardboard perforator turns your cardboard scraps into a kind of matting or netting. This machine doesn't shred but instead perforates the carton to give it a more cushioning characteristic. This netting can be used at the bottom of a box as a shock absorber, or to roll a product in to protect it. The perforated cardboard replaces bubble wraps and packaging air bags.
Perforates cardboard into elastic matting, mesh netting.
Use it as a shock absorber for packing and protecting products in boxes.
Very flexible and cushioning material.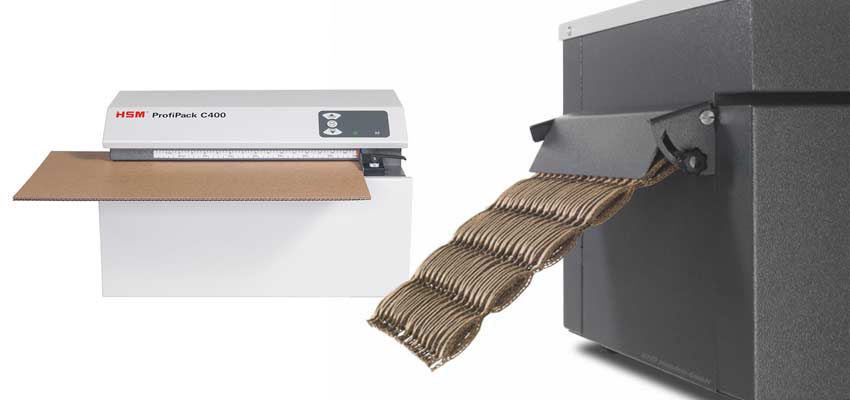 Recycle and reuse cardboard scrap as free and eco-friendly packaging material.
Different sizes and models
Both cardboard shredders and perforators come in different sizes and models. You can get a small, compact and portable tabletop shredder for small business or domestic use. You can get a perforator with castors (small wheels) for easy mobility. But there are also large industrial cardboard shredders and perforators for heavy-duty use and processing high volumes of cardboard waste. These industrial machines can process multiple layers of cardboard and have long-lasting steel blades and special gears for heavy-duty cycles.
---
How does a cardboard shredder work and how do you operate one?
So how does a cardboard shredder work and is it difficult to operate? Both cardboard shredders and perforators are user-friendly and very easy to operate, not to mention also safe to use. Here is how easy it is to operate:
Turn the machine on by switching the on/off switch.
Grab a piece of cardboard and feed it into the front opening of the shredder or perforator.
That's it! The converted cardboard falls out of the back of the machine.
Video: Edward 700 Chips
Video: MD320SW Strips
How does a cardboard perforator work?
The perforating machine uses a heavy-duty cutting cylinder, so the cardboard isn't actually shredded but is instead only perforated by the blades. The result after perforating is a honeycomb-like structure in the cardboard. The structure gives the cardboard flexible, stretchable and cushioning properties. The processed cardboard is now also able to absorb shocks, which makes it perfect for protecting goods during transport and shipment. The cardboard netting is also ideal to fill in 'the void' between the cardboard box and your product. You can perforate a sheet of cardboard in one go and just like with the cardboard shredder any excess cardboard is trimmed off automatically, for example when a piece of carton is wider than the opening.
This video from HSM shows how you use a cardboard perforator and what you can do with the cushioning material. The model that is used in the video is the HSM ProfiPack C400 cardboard perforator, a compact but powerful cardboard converter that is ideal for smaller shipment departments.
Do you need to remove staples?
It is strongly recommended to remove all staples and other hard metal objects from the cardboard to prevent wear or damage to the cutting heads. Shredding or perforating stapled cardboard occasionally will likely not cause any problems, but constant processing cardboard with metal items, such as staples, is likely to damage the cutting cylinders.
Another reason why it is better to remove staples and other sharp metals is that you will use the shredded cardboard as packaging material for products that might be fragile, where the metals could scratch what you are shipping.
Buy a heavy-duty staple remover here at Amazon.
What can you shred or perforate?
Cardboard shredders can shred any kind of (corrugated) cardboard. The only requirement is that the cardboard is flat, such as flattened cardboard boxes, sheets, and paperboard. Therefore, thick cardboard rolls can't be processed by these machines because they are too thick. It should also be noted that craft paper also can't be shredded or perforated because it is too thin.
You can shred or perforate:
Cardboard boxes (brown and colored cardboard)
Cardboard sheets and plates
Corrugated cardboard (single and double wall cardboard)
Paperboard, chipboard or fiberboard (gray cardboard)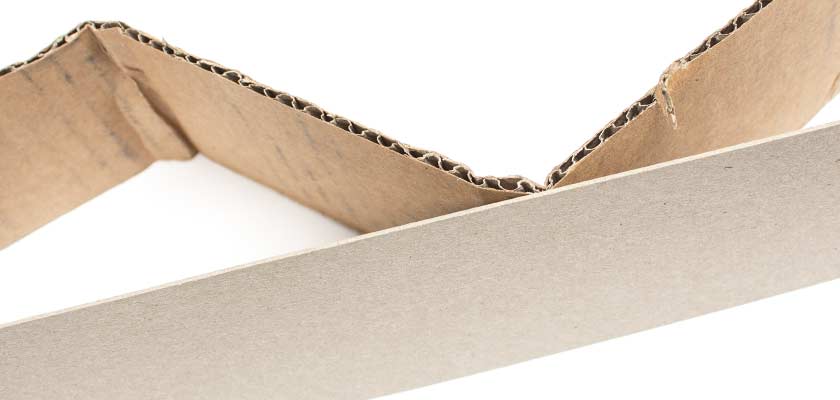 ---
Why use a cardboard shredder?
While most cardboard converters produce cardboard matting from your cardboard scrap, for instance from cardboard boxes, some cardboard box shredders can also produce chips and strips instead of netting. This way you can use your cardboard shredding machine to quickly make your own void fill material in different shapes and sizes to protect products in transit, while at the same time repurposing and reusing your cardboard waste in an environmentally friendly manner.
Did you know that 77% of all cardboard is recycled.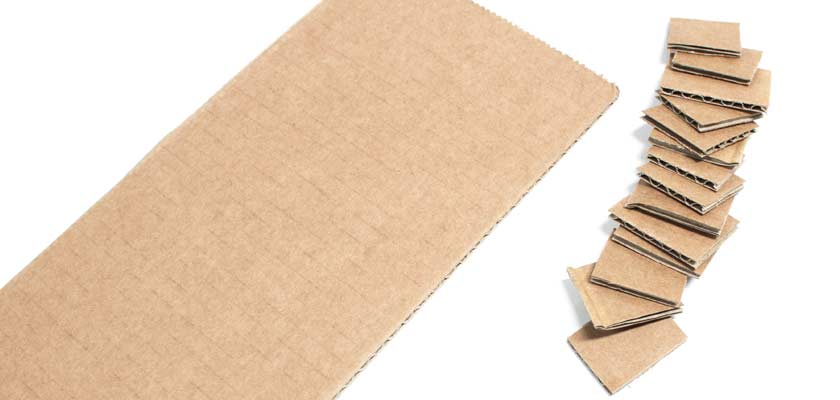 Why reuse cardboard as packaging material?
By reusing cardboard as packaging material, you can extend the additional value of cardboard. How so:
Sustainable packing material – Cardboard is a more environmentally friendly and sustainable material than plastic. So, you are really protecting the environment when you use cardboard as void fill material instead of plastic packaging material such as bubble wrap, EPS packing peanuts, Styrofoam blocks/sheets or foam wrap.
Reduce packaging costs – Besides being sustainable it is also economically more attractive to recycle your cardboard waste into free packaging material, since you need to buy less or no packaging material from elsewhere. So you will be saving money on cardboard disposal costs, as there will be less cardboard to collect by your local waste hauler. Want to read more about reducing shipping filler costs?
High-quality material – Cardboard is a fantastic shock absorber and is very flexible. Therefore, it is a great material for protecting heavy or fragile products, especially ones that you want to ship or transport safely.
Did you know that paper fibers can be recycled around 7 times before it loses it's robust qualities?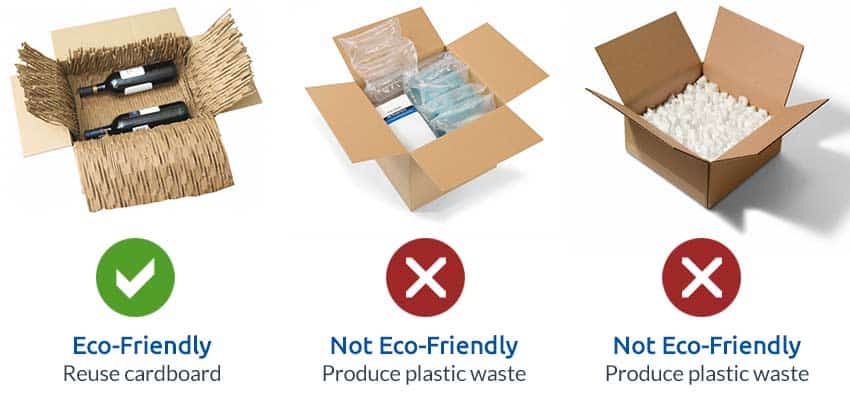 Costs of package filling materials
Perforated cardboard – FREE (excl. costs of cardboard perforator machine)
Air pillows – approx. 27cents per cubic foot
Styrofoam peanuts – approx. 22cents per cubic foot
---
Pros and cons of cardboard shredders/perforators
Pros of a cardboard shredder/perforator:
Very easy to operate.
Re-purpose your own cardboard waste.
Reduce costs on packaging material.
Reduce costs of cardboard waste collections.
Save money and save the environment.
Powerful motors for continuous shredding.
Cardboard is a fantastic packaging material.
The machine pays for itself because of free packaging material.
Feed cardboard without cool down time, it can run continuously.
Cons of a cardboard shredder/perforator:
The machines create dust while shredding.
Most cardboard shredders can only produce netting.
The cardboard shredding machines are heavy.
Expensive machines.
---
Recommended for dispatching and warehouses
Who will benefit the most from a cardboard shredder? These shredding machines are especially useful for industrial businesses or departments in the logistics sector with large stocks of cardboard waste. Such as manufacturing facilities, recycling plants, warehouses, shipping departments, distribution centers. However, a carton shredder can also be used for offices that receive and send a lot of packages, such as e-commerce shops with their own shipping departments, where a lot of cardboard typically gets discarded. Therefore, we recommend these machines to anyone who has lots of scrap cardboard and can use the shredded or perforated material as packaging or void fill.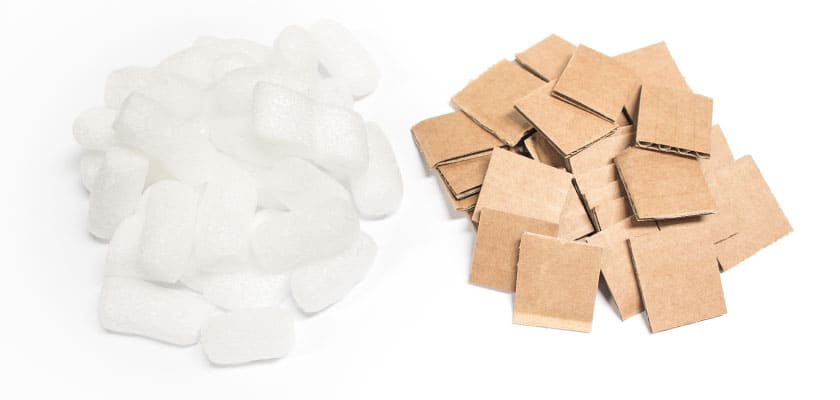 We recommend these machines when you have lots of scrap cardboard and can use the shredded or perforated material as packaging or void fill.
Can you use a cardboard shredder at home?
Typically, a corrugated shredder or perforator is used in industrial or commercial environments, however, if you would like one for home use a smaller compact cardboard shredder model would be appropriate, such as a tabletop cardboard shredder.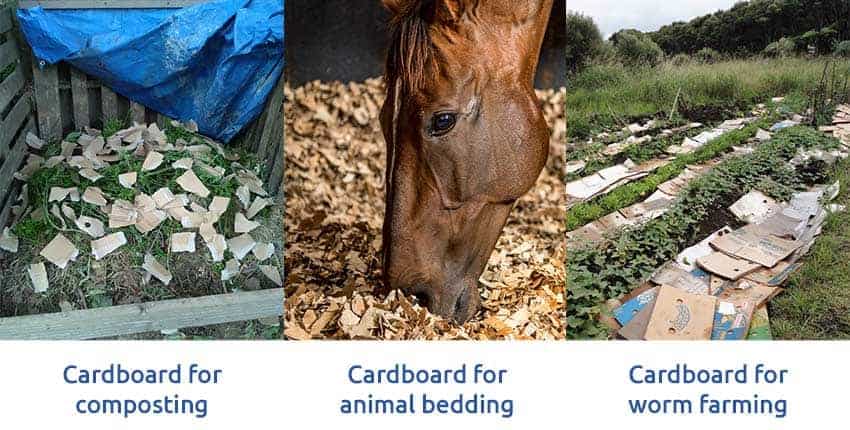 Although somewhat unconventional for home users the produced cardboard shreds may also be useful for composting, worm farming or bedding for pet cages or even horse stables. However, keep in mind that these shreds and perforated sheets are quite large (approx. 1 x 1 in.) and also come in different shapes (elastic mash, strips, confetti).
---
How much does a cardboard shredder or perforator cost?
A cardboard shredder is not a small investment. Prices start at around $2,000 and can go up to $10,000. The price mainly depends on the size and capacity of the cardboard perforator or shredder. They are a pretty significant investment, but they will allow you to reduce costs from buying packaging material and paying for cardboard waste collection. Therefore, you will find that the machine basically pays for itself in the long run.

However, if it is still too much of an investment for you, you may still want to consider the option of purchasing a second-hand shredder/perforator or leasing one for a fixed monthly rate from one of the manufacturers.
If you are considering buying or leasing a shredder or perforator but aren't sure about maintenance and the possibility of repairs, then you may want to inform yourself about a maintenance contract that some manufacturers and resellers offer. These maintenance contracts allow you to be worry-free when it comes to maintaining or repairing these machines, as a manufacture approved technician will visit the sight to take care of everything for you. Nevertheless, if you are still curious about the maintenance of these machines here is a video you may find interesting. However, be careful these machines can be dangerous and any action is at their own risk, therefore it is advised to leave these activities to a professional.
---
Buying a cardboard shredder/perforator checklist
Build quality – Since these machines are used in warehouses and industrial areas, they need to withstand heavy-duty usage. Therefore, it is recommended to have a sturdy metal housing and hardened cutting rollers or blades.
Maximum cutting width – A corrugated shredder machine or cardboard perforator has a maximum feed width it can shred or perforate. A measuring scale above the opening tells you how wide the cardboard netting will be.
Capacity – How many sheets of cardboard can the machine handle in per pass? Most cardboard shredders can handle 1-3 sheets of cardboard.
Speed ft/min – How fast does the machine operates?
Noise level – How many decibels makes the machine while in operation?
Mobility – Do you want to be able to move the cardboard shredder around? Then look for a machine with castors.
Warranty – Number of years you receive manufacturer's warranty.
Safety features – Does the machine comply with safety guidelines?
Maintenance – How easy it is to clean the machine?

---
Tools, supplies and accessories
To make the use of your cardboard shredder or perforator more comfortable and convenient there are a few tools and accessories that you can opt for.
Both cardboard shredders and perforators have the option of an attached vacuum kit, which will collect any dust that it produces. While some manufacturers sell a complete kit which includes the vacuum, others only ship an attachment which you will still need to connect to your own industrial-grade vacuum cleaner or dust extraction system.
For a clean and organized production of shreds or perforated sheets, a container to catch the new product is very useful. A container may be a simple plastic bag or larger cardboard box but could also something more convenient and appropriate for heavy production like a box made of plastic, wood, or framed cloth with wheels or integrated pallet bottom.
A simple table in front of your machine can also simplify the use of it. Having a tabletop within close proximity can be a great help for you in preparing the cardboard (flattening it and removing metals) and feeding it to the machine.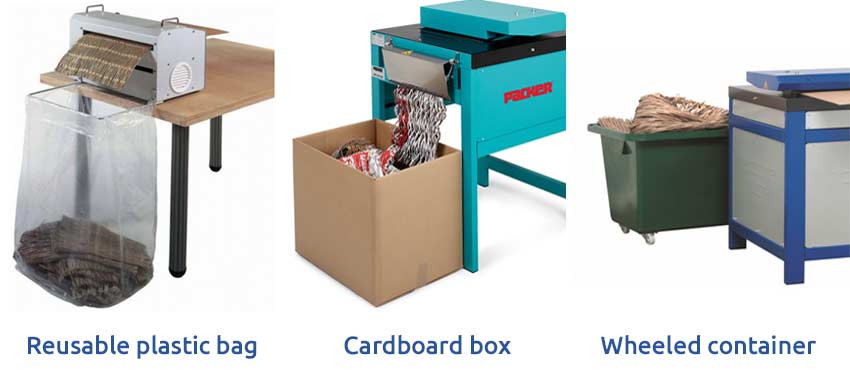 ---
Manufacturers and suppliers of cardboard shredding machines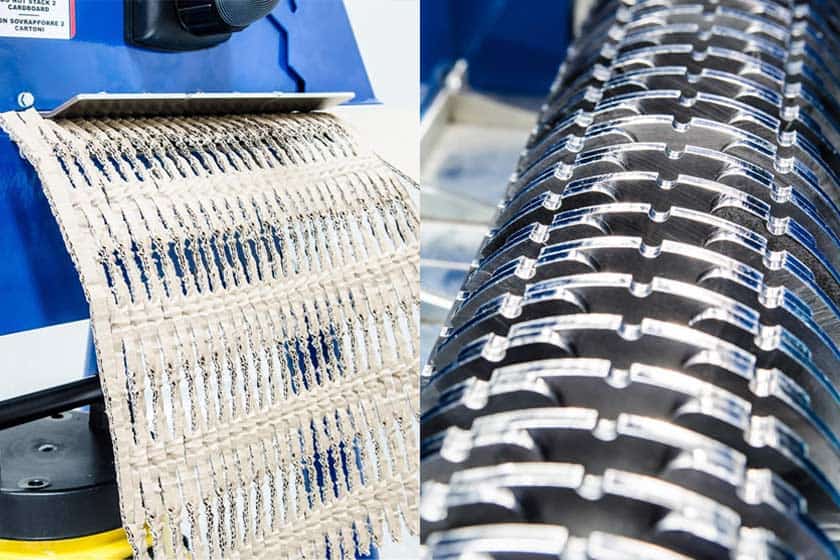 ---
Download this short factstheet with information about cardboard shredders. Use this sheet in a meeting or share it with your colleagues.
All the pros and cons
Summarises everything you need to know
Short 2-page document
Clear images and useful info
Shareable PDF document
---
Step Up:
Recycle

, Reuse &

Reduce

The three arrows of the recycling symbol represent the three main stages of the recycling process: recycling, reusing and reducing. Together the arrows form a closed loop. Step up and implement eco-friendly replacements in your daily life.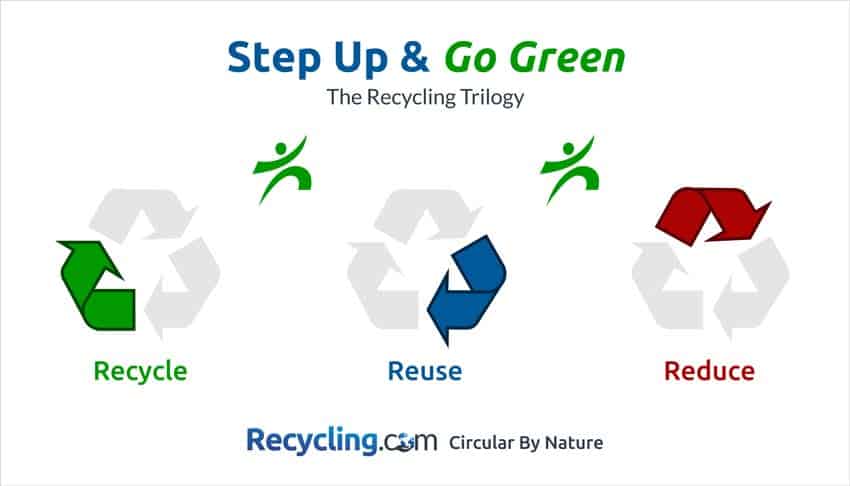 Join the movement! Step Up the waste hierarchy together to a goal of Zero Waste.
By Recycling.com/ 20 May 2020 Shares