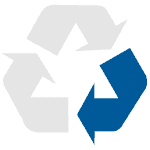 REUSE

| Cardboard waste
Turn Cardboard Waste Into Eco-Friendly Packaging Material
Does your company have high volumes of scrap cardboard. And do you use lots of plastic bubble wrap, packaging peanuts or other styrene products as a void fill material? With a cardboard shredder you can convert regular cardboard waste into flexible, soft and cushioning packaging material. A cardboard shredder is sort of a paper shredder for cardboard.
Reuse cardboard scrap as free packaging material.
Cardboard shredders are ideal for businesses in the logistics sector. The cardboard shredder uses a heavy duty cutting press to cut a honeycomb like structure in the corrugated board. Which turn scrap cardboard into high quality and sustainable packaging material. Which can replace package filling products such as bubble wrap, polystyrene and craft paper as present day filling material. Which results in additional value out of used or ripped cardboard and lowered cost on filling material.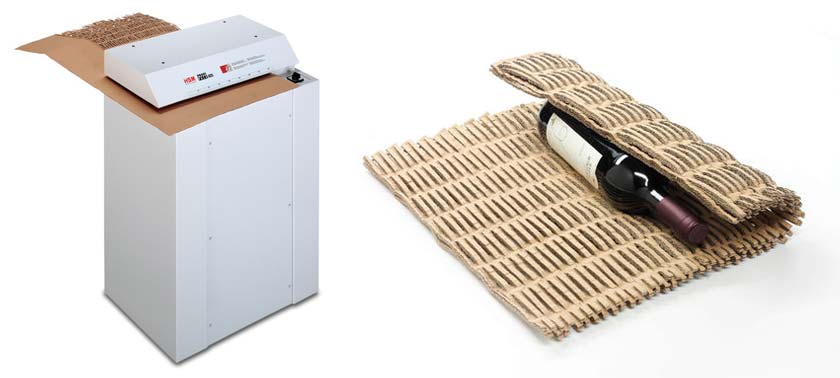 ---
Recommended Industrial Cardboard Shredders
These cardboard shredders meet de following requirements
Price range: $2,000 – $10,000
Capacity: 1-3 layers a time
Speed: minimum of 26 ft/min
Feed width: minimum of 16,3 inches
---
The HSM ProfiPack perforates used cardboard into packaging material. You can shred any size of cardboard, because the HSM will cut off excess cardboard.
Capacity: 2-3 layer (3/4″)
Speed: 39 ft/min
Feed width: 16 3/4″
---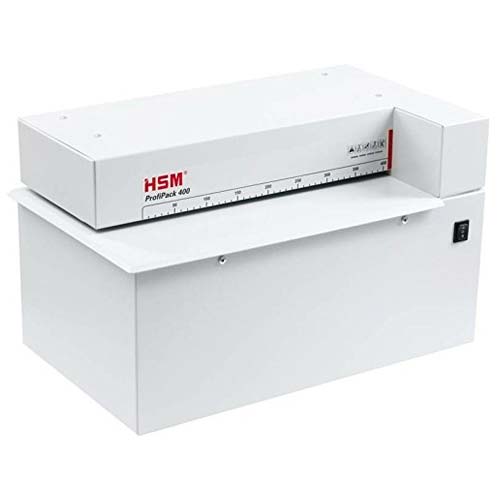 The HSM ProfiPack 400 is a relatively compact sized cardboard shredder that fits on any tabletop. Recycle and repurpose all your cardboard waste into packaging material.
Capacity: 1 layer (3/8″)
Speed: 26 ft/min
Feed width: 16.3″
---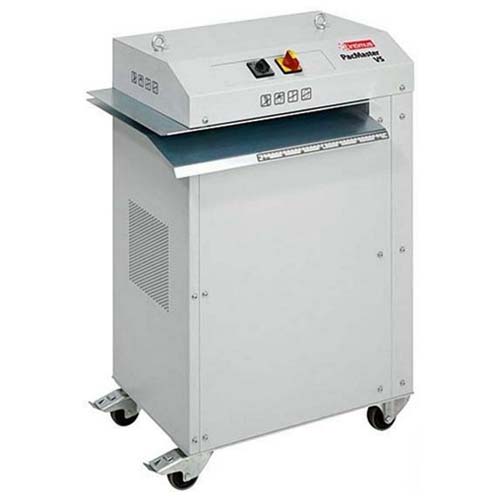 The Intimus PacMaster S 220 turns your cardboard boxes into eco-friendly packaging material. This cardboard shredder is able to shred high volumes of cardboard waste.
Capacity: 2-3 layers
Speed: 35.4 ft/min
Feed width: 17″
---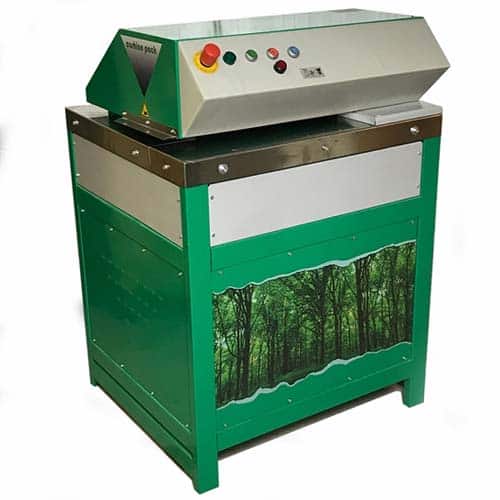 AABES CP430 Series 2+ is a high capacity cardboard shredder. The Cushion Pack is a rugged and easy to operate cardboard shredder that turns cardboard waste in eco-friendly packaging.
Capacity: 2-3 layers
Speed: 52 ft/min
Feed width: 16.5″
---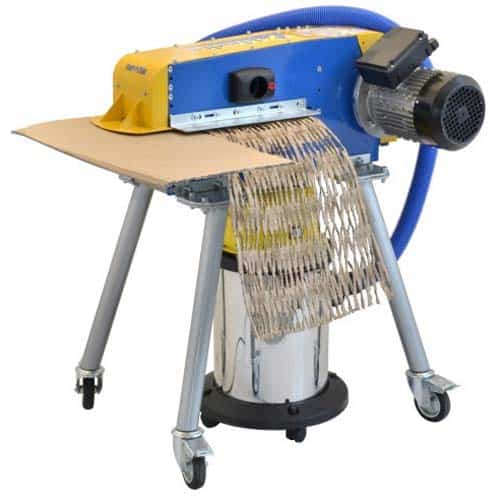 The Edward 400 single-phase 1 is a heavy-duty cardboard shredder for industrial use. The Edward comes in four different models. The Edward 400 has a 5 HP motor which can produce packaging mesh or netting, strips and confetti or chips.
Capacity: /
Speed: 35.4 ft/min
Feed width: 15.7″
---
What is a cardboard shredder?
While a paper shredder makes confetti of confidential documents, a cardboard shredder makes great packaging material.  A cardboard shredder produces carboard matting from your cardboard scrap, for instance boxes. But some cardboard shredders can also produce chips and strips besides nets. So you can repurpose you cardboard waste, which is environmentally friendly. With a cardboard shredding machine you can quickly make your own void-filling material to protect products in transit.
A great way to reuse cardboard waste
The name cardboard shredder is a bit misleading and manufacturers use the term cardboard perforator instead. The reason is because the machine doesn't shred the cardboard but uses a heavy-duty cutting press instead. The result is a honeycomb like structure in the corrugated board. This structure gives the cardboard flexible properties, which makes the cardboard more shock absorbing and gives the corrugated board more volume. This makes the cardboard suitable to fill in "the void" between the cardboard box and your product. So perfect to protect your products.
Easy to operate via a rotary switch for on/off and reverse
Sturdy metal constructed housing
Built-in ruler for easy measuring
Hardened, solid steel cutting rollers unaffected by small metal parts
Powerful, shigh performance motor for longer periods of use
Video: HSM ProfiPack
Video: Cushion Pack CP 430 S2 Cardboard Shredder
Video: EDWARD 700 NET
Recommended for businesses in the logistic sector
These cardboard perforators are financially interesting for businesses which have a lot of used cardboard, such as warehouses and shipping departments. Mainly businesses in the logistic sector have tonnes of scrap cardboard that can be used as void filling material instead of plastic alternatives.
Alternative package filing/ cardboard as package filling
Ripped or used cardboard is often discarded after using it as package material. This cardboard is then preferably recycled, otherwise burned for energy or tossed on a landfill. But with a cardboard shredder you can give it a second purpose, namely as package filling material.
Each of the paper fibers from which cardboard is made can be recycled around 7 times before it loses it's robust properties. When using it as packaging material you extent the additional value of cardboard, because you don't need other filling materials and you save up on transportation cost of your recyclable materials.
A cardboard shredder perforates the cardboard to create a honeycomb structure which makes the cardboard more flexible. And thereby shock-absorbent and lighter.which can replace bubble wrap, craft paper, polystyrene and other expensive and environmentally unfriendly package filling materials.
Why reuse cardboard waste as package filling material?
Reduce packaging costs.
Save on cardboard disposal costs.
Cardboard is a eco-friendly alternative for bubble wrap and other plastic void fill materials.
Cardboard is a high-quality, sustainable and cushioning packaging material.
What to look for when buying an cardboard perforator
Build quality
Cardboard capacity number of layers
Voltage supply voltage
Speed ft/min
Noise level number of decibels
Warranty
Feed width
Safety features
Maintenance
Mobility
What is the cost of a cardboard perforator?
Prices start around $2,000 and go up to $10,000. this mainly depends on the capacity you need. The investment is moderate and the gains can be found in a lowered purchase of filling material and lowered on your recyclable materials/waste.
Cardboard perforator Manufacturers