Recycling

Tools
For warehouse, workshop, office and home.
Navigation:
---
Confidential Information Destruction
Tools, Insight & Inspiration
---
Source Separation
Tools, Insight & Inspiration
---
Cardboard Recycling
Tools, Insight & Inspiration
---
Scrap Metal Recycling
Tools, Insight & Inspiration
Recycle,

Reuse &

Reduce
Recycling tools for home use.
Go Green

and Recycle
Separate recyclables from your trash with a convenient recycling bin. Such as a dual trash can with two compartments. By using these tools you prevent the loss of recyclable materials.
Go Green

and Reuse
Plastic disposables are so non-stylish. Be fashionable and bring your own beautiful and reusable water bottle, coffee cup or shopping bag. Make a trendy statement and stop plastic pollution.
Go Green

and Reduce
How do you reduce plastics and prevent plastic pollution? The answer is: use more natural resources. Such as paper straws, bamboo tooth brushes and metal safety razors.
Learn more about the recycling trilogy.
Why is a green lifestyle important?
Nature can't digest plastics because this material is not biodegradable. We can use much more natural resources that are biodegradable by nature itself. Because not 100% of what we consume will be collected or recycled.
Enjoy the Natural Beauty of Nature's Biodegradable Resources
---
Recycling at Home
Tools, Insight & Inspiration
---
Step Up:
Recycle

, Reuse &

Reduce

The three arrows of the recycling symbol represent the three main stages of the recycling process: recycling, reusing and reducing. Together the arrows form a closed loop. Step up and implement eco-friendly replacements in your daily life.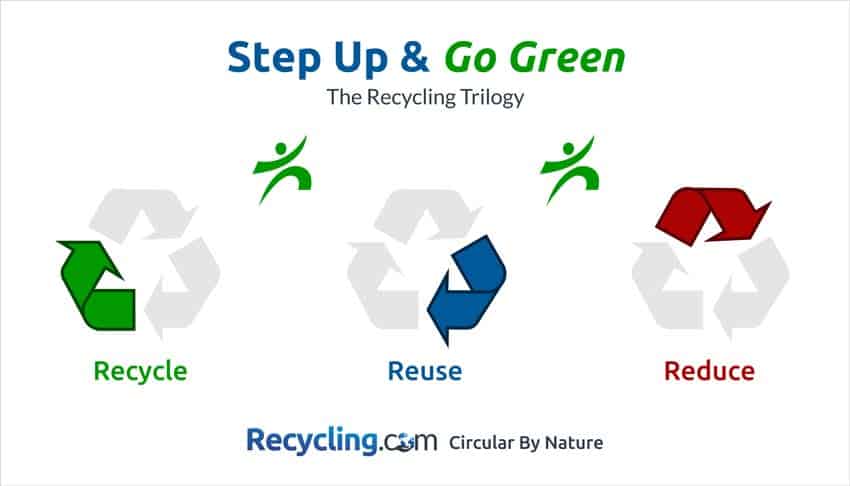 Join the movement! Step Up the waste hierarchy together to a goal of Zero Waste.
By Recycling.com/ 24 January 2019 Shares