The Best Recycling
&
Zero Waste Tools
For Home, Office, Warehouse & Workshop
Step Up & Go Green
Navigation:
Zero Waste & Reusables
---
Recycling Bins & Trash Cans
---
Paper Shredders & Shredding
---
Cardboard Recycling
---
Scrap Metal Recycling
---
Reduce plastic pollution
Plastic does not belong in the ocean
International cooperation is needed. You can join forces with organisations as the Plastic Pollution Coalition or the Plastic Soup Foundation.
As an average person drinks 60,000 liters in a lifetime (source: Illustrative mathematics.org) we are recycling water ourselves. While polluting our oceans we are poisoning our children and grandchildren. Water is natures most vital resource. Let's work together to prevent further pollution of our oceans.
Video: Marine plastic pollution
---
Step Up:

Recycle,

Reuse &

Reduce
Go Green

and Recycle
Separate recyclables from your trash with a convenient recycling bin. Such as a dual trash can with two compartments. By using these tools you prevent the loss of recyclable materials.
Go Green

and Reuse
Plastic disposables are so non-stylish. Be fashionable and bring your own beautiful and reusable water bottle, coffee cup or shopping bag. Make a trendy statement and stop plastic pollution.
Go Green

and Reduce
How do you reduce plastics and prevent plastic pollution? The answer is: use more natural resources. Such as paper straws, bamboo tooth brushes and metal safety razors.
Learn more about the recycling trilogy.
Why is a green lifestyle important?
Nature can't digest plastics because this material is not biodegradable. We can use much more natural resources that are biodegradable by nature itself. Because not 100% of what we consume will be collected or recycled.
The three arrows of the recycling symbol represent the three main stages of the recycling process: recycling, reusing and reducing. Together the arrows form a closed loop. Step up and implement eco-friendly replacements in your daily life.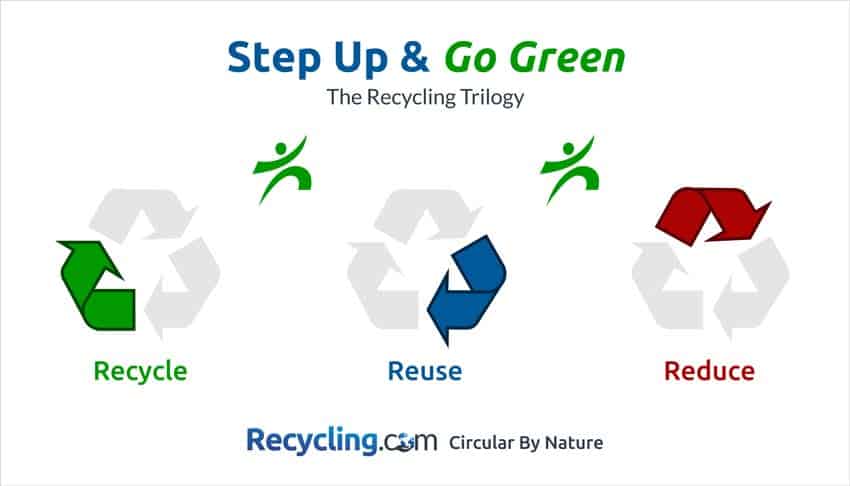 Join the movement! Step Up the waste hierarchy together to a goal of Zero Waste.
By Recycling.com/ 10 November 2019 Shares