Recycling

Tools
For warehouse, workshop, office and home.
Navigation:
---
Confidential Information Destruction
Tools, Insight & Inspiration
---
Source Separation
Tools, Insight & Inspiration
---
Cardboard Recycling
Tools, Insight & Inspiration
---
Scrap Metal Recycling
Tools, Insight & Inspiration
Recycle,

Reuse &

Reduce
Recycling tools for home use.
Go Green

and Recycle
Separate recyclables from your trash with a convenient recycling bin. Such as a dual trash can with two compartments. By using these tools you prevent the loss of recyclable materials.
Go Green

and Reuse
Plastic disposables are so non-stylish. Be fashionable and bring your own beautiful and reusable water bottle, coffee cup or shopping bag. Make a trendy statement and stop plastic pollution.
Go Green

and Reduce
How do you reduce plastics and prevent plastic pollution? The answer is: use more natural resources. Such as paper straws, bamboo tooth brushes and metal safety razors.
Learn more about the recycling trilogy.
Why is a green lifestyle important?
Nature can't digest plastics because this material is not biodegradable. We can use much more natural resources that are biodegradable by nature itself. Because not 100% of what we consume will be collected or recycled.
Enjoy the Natural Beauty of Nature's Biodegradable Resources
---
Recycling at Home
Tools, Insight & Inspiration
---
Reduce plastic pollution
Plastics can not be digested or dissolved by water
It turns out that several chemical properties of water make it indispensable for living creatures. Not only can water dissolve nearly anything, but it is also one of only a few materials that can exist as solid, liquid and gas within a relatively narrow range of temperatures (source: Livescience.com).
Paper & metal recycling are a fact. Plastic recycling is a myth.
Source: National Geographic
Plastic does not belong in the ocean
International cooperation is needed. You can join forces with organisations as the Plastic Pollution Coalition or the Plastic Soup Foundation.
As an average person drinks 60,000 liters in a lifetime (source: Illustrative mathematics.org) we are recycling water ourselves.
8 million tons of plastics flow into our oceans every year.
Source: United Nations (UNEP)
While polluting our oceans we are poisoning our children and grandchildren. Water is natures most vital resource. Let's work together to prevent further pollution of our oceans.
Video: Marine plastic pollution
---
Editors' Recycling Picks:
The reign of recycling.
Source: The New York Times

Our plastic pollution crisis is too big for recycling to fix.
Source: The Guardian

If recycling is the answer, then we're asking the wrong question.
Source: Otago Daily Times

More recycling won't solve plastic pollution.
Source: Scientific American

The Truth Behind the Plastic Curtain: Most Plastic Is Not Recyclable
Source: Medium.com
---
Step Up:
Recycle

, Reuse &

Reduce

The three arrows of the recycling symbol represent the three main stages of the recycling process: recycling, reusing and reducing. Together the arrows form a closed loop. Step up and implement eco-friendly replacements in your daily life.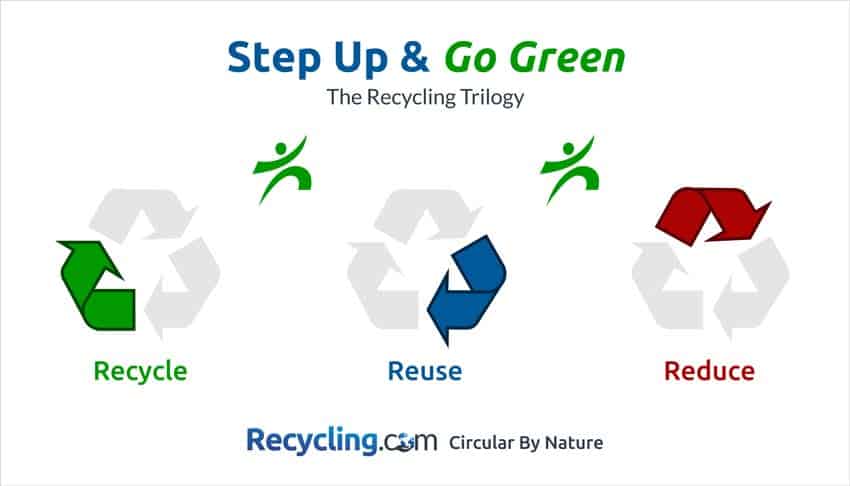 Join the movement! Step Up the waste hierarchy together to a goal of Zero Waste.
By Recycling.com/ 20 August 2019 Shares