Best Paper Shredder for Home
Disclosure: This article contains affiliate links. If you click on a product and make a purchase, we may earn a commission – learn more.
Shred Confidential Documents Securely at Home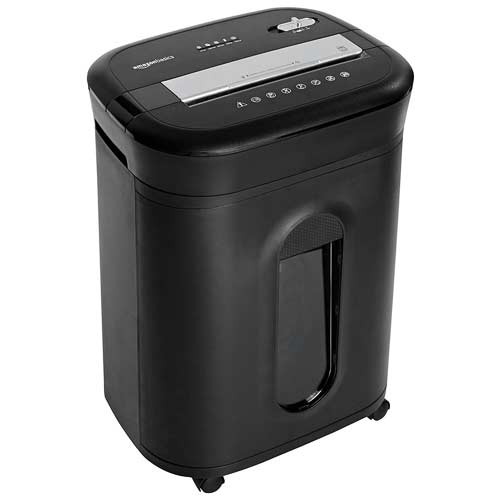 What paper shredder should you buy for shredding your personal documents at home or home office? We recommend a cross-cut or micro-cut paper shredder for shredding confidential documents in a secure way.
These high-quality shredder machines destroy tax documents, bank statements, receipts, paycheck stubs, and other sensitive paperwork into unreadable particles.
Popular Shredders for Home Use
Working from home due to the current situation? Read our recommendations.
---
Top 10 Best Shredders
Navigation:
What are the best inexpensive and reliable paper shredders for personal use? We have selected ten popular shredders of good quality to use at home or home office, most of the shredders are priced under $100. With these shredding machines, you can shred and destroy documents into tiny (unreadable) particles with security level DIN P-3 and P-4.
---
#1 | AmazonBasics 15-Sheet Cross-Cut
Heavy-Duty Shredder with Long Run-Time

---
#2 | AmazonBasics 12-Sheet Cross-Cut
Basic and Compact Cross-Cut Shredder
---
#3 | AmazonBasics 8-Sheet Cross-Cut
Basic & Affordable Cross-Cut Shredder
---
#4 | Aurora 8-Sheet High-Security AU870MA
High-Security Shredder with Micro-Cut Blades
---
#5 | Bonsaii 10-Sheet Cross-Cut C209-D
Compact and Easy To Use Shredder
---
#6 | Aurora 8-Sheet High-Security AU820MA
Safe Home Office Shredder With Security Level P-4
---
#7 | AmazonBasics 6-Sheet High-Security Micro-Cut
Basic & Affordable Micro-Cut Shredder
---
#8 | Bonsaii 6-Sheet Cross-Cut
Great value and quiet shredding
---
#9 | Bonsaii 12-Sheet Cross-Cut C220-A
Shred Up To 12 Sheets of Confidential Documents
---
#10 | AmazonBasics 6-Sheet Cross-Cut
Basic & Budget-Friendly Home Shredder
---
For secure paper shredding we recommend a cross-cut or micro-cut shredder with security level P-3 or higher.Recycling.com
---
Check more paper shredders
The top 10 list with paper shredders above contains reliable and secure shredders that we recommend for home or personal use. But there are a lot more types of shredding machines to choose from that are also great to use at home, home office, in a larger office or another commercial environment. On Recycling.com you can find multiple pages with popular and well-reviewed shredding machines that suit your needs.
The selected home shredders are priced under or around 100 dollars and are recommended for one user. These paper shredders aren't meant for intensive shredding because of the short run-time, low sheet capacity, and relatively small bin capacity. Check the shredder guide for more details about paper shredding machines.
Top 10 Paper Shredders for Home Use
---
Home Shredder Guide
Navigation:
---
What shredder do you need?
It is important to shred documents with personal or sensitive information before you recycle it. This prevents the possibility of identity theft. Don't just throw away your un-shredded sensitive paperwork into your recycling bin, because this is one of the places where identity thieves look for to obtain personal information. That is why it is recommended to always shred before you recycle.
It might be tempting to buy the cheapest shredder you can find. But you will probably end up with a less secure strip-cut shredder. These shredders are not capable of destroying confidential papers. Therefore, choose for a cross-cut shredder (at least) when you want to protect yourself from identity theft and fraud. Read more about all the paper shredder types.
The best shredder for you depends on your demands and expectations. Are you looking for a basic shredder that you only use for occasional shredding or do you want a shredder to shred relatively high volumes of confidential documents in your home office? To find the right shredder for you, there are some key features to look out for.
In our extensive shredder guide, you can read everything about shredder specifications and important features. But for your convenience we've selected three key features that are relevant for you which we'll discuss briefly down below:
#1 – What do you want to shred?
#2 – How long do you want to shred?

#3 – How many sheets do you want to shred?

#4 – What size waste bin do you prefer?

#5 – What security level do you prefer?
#1 – What do you want to shred?
What materials do you want to destroy in your shredder? Of course, you want to shred your confidential paper documents. But besides shredding paper, you might also want your shredder to destroy other materials such as staples, paperclips, credit cards, CDs and DVDs. Not every shredder can do this, although most of the machines can handle a few stapled documents every now and then. When you demand your shredder to regularly shred stapled documents or files with a paperclip attached to it, you should look for a shredder that can handle these harder materials to avoid any damage to your shredder.
Also CDs, DVDs and credit cards can only be destroyed with a shredder that can process these materials. Some shredders provide a dedicated slot for destroying compact disks and cards. There are also paper shredders that contain a separate container to capture the shredded plastic material to avoid contaminating the paper particles.
#2 – How long do you want to shred?
Each shredder has its limits. These limits come visible when you look at the maximum run time, maximum sheet capacity and bin capacity of the machine.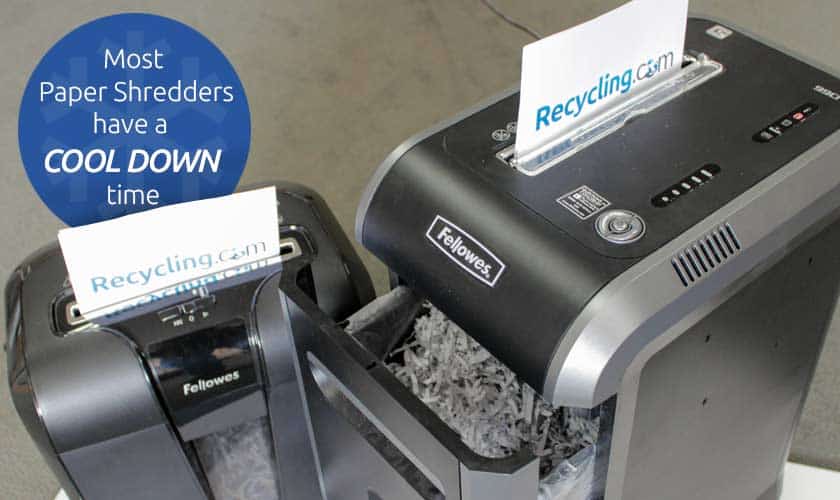 The run time tells you about the maximum amount of time the shredder can shred paper continuously. Basic shredders can run for just a few minutes, while some heavy-duty paper shredders can run for an hour or longer. A shredder can overheat while in use, so to prevent this from happening the shredder stops working automatically to let the motor cool down. The cooling downtime can take quite a while, take into account 30 minutes or more.
We recommend a shredder with a run time of 5 minutes or more.
So when you want to shred a large pile of old documents, it isn't convenient using a budget shredder that can only run for 2 minutes. On the other hand, when you only shred a few documents incidentally, the short run time is just fine. Keep in mind that a paper shredder with a longer run time is more expensive, so consider for your self if you need the extra minutes.
#3 – How many sheets do you want to shred?
A shredder can only shred a few documents per pass. The number of documents you can shred per pass is called the sheet capacity of the shredder. Basic shredders can shred around five to ten standard A4 documents at a time. But the higher-end models can shred through larger stacks of documents.
Keep in mind that you should interpret the maximum sheet capacity with a grain of salt to prevent the paper shredder from jamming. So instead of shredding the maximum amount of documents, we suggest shredding one document less. The reason for this is that you might shred a document that is a bit thicker than normal, or a document is folded in two and thus makes it a thicker pile.
#4 – What size waste bin do you prefer?
Do you want a compact-sized paper shredder you can easily put under your desk or store away in a closet? Then you have to compensate for the capacity of the waste bin. A smaller sized bin can hold fewer paper shreds and thus needs to be emptied more often. This isn't an inconvenience when you only shred a few documents a week. But when you use a shredder in your home office and shred regularly, it can be an annoyance to empty the bin every day.
The average size of a home shredder is around 3 to 5 gallons. The amount of paper shreds or strips it can hold depends on the security level of the shredder. Smaller paper particles take up less space than long strips from a strip-cut shredder.
#5 – What security level do you prefer?
The security level of a paper shredder tells you about the size of the paper particles after shredding a document. Generally, shredders are divided into strip-cut, cross-cut and micro-cut shredders. But officially shredders are classified with a DIN P-level, which is used worldwide to categorize the security level of paper shredders, for example, DIN P-3 (or P3 for short). The higher the number of the level, the smaller the paper particles are.

The DIN P-level is part of the official German DIN 66399 standard (since 2012) which is the international standard for secure shredding of data media developed by the Deutsches Institut für Normung (DIN) which translates to the German Institute for Standardization.
For most home shredding needs we recommend a document shredder that is classified with DIN P-3 or DIN P-4. These types of shredders are cross-cut shredders and can shred your confidential documents into small particles. For extra security look for a DIN P-5 micro-cut shredder. We suggest skipping any strip-cut shredder (P1 and P2) because these shredders are only meant for shredding non-confidential papers such as junk mail.
---
We recommend the AmazonBasics 12-Sheet High-Security. This silent and compact micro-cut shredder is a feature-packed device that does it all. It is secure, it can shred CDs and credit cards and has a high sheet capacity.
---
Strip-cut, cross-cut or micro-cut?
The recommended shredders in our top 10 all shred according to security levels DIN P-3 or higher (more about security levels). So these shredders are perfect to use for shredding confidential documents. The shredders are also small and compact so they won't take up lots of floor space and thanks to their size you can fit them under your desk in your home office.
When you are looking for a shredder with longer run-time, higher sheet capacity and or higher bin capacity we recommend looking for an office shredder or and heavy-duty shredder. These types of shredders will cost more but offer faster shredding speeds and overall better performance. So when you want to shred more documents than the average home shredder can handle, it is recommended to invest a bit more than $100.00 for your shredder. You can find more professional shredders for office use here.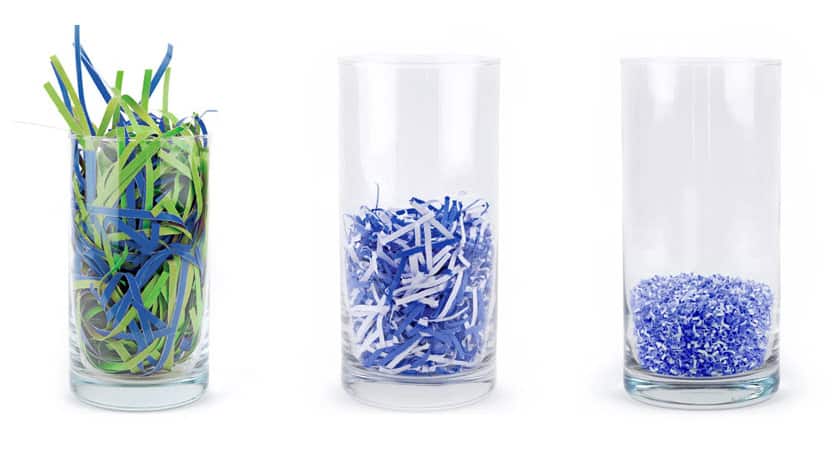 Cross-cut or micro-cut shredder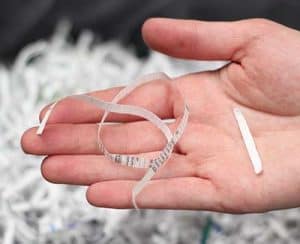 Can't you just get the cheapest paper shredder you can find? Even if you use the shredder only a few times a month? We recommend investing a little bit more money in your home shredder.
Most cheap shredders are very slow, jam quickly, can only shred one or two sheets at a time and they 'shred' your paper in long strips instead of small particles. These long strips can still contain a lot of readable text, especially when you shred a document that is printed in landscape mode. These 'strip-cut' shredders aren't recommended for the destruction of confidential documents. But you can use a strip-cut paper shredder for non-confidential documents, such as junk mail.
A cross-cut or micro-cut shredder is a better option for home use to be sure that your personal documents with confidential information will be shredded properly in small particles. The difference between these shredders is that a micro-cut shredder will shred your documents in smaller particles than a cross-cut shredding machine. It is up to you how much security you prefer. But for home use, a cross-cut shredder fulfills most peoples' needs. Read more about the differences between cross-cut and micro-cut shredders.
Click on one of the document shredder categories below to find more recommended shredders. Micro-cut paper shredders offer the highest security which results in very small paper particles after shredding.
---
How much does a shredder cost?
The average price of a reliable personal paper shredder for home use is about 50 dollars. This price is based on the average price of 20 popular personal shredders on Amazon. The price varies between different brands and models and is based on features, security levels, and specifications. Below are some estimated prices:
6-sheet cross-cut shredder (paper) – Approx. $30
8-sheet cross-cut shredder (paper & credit cards) – Approx. $40
12-sheet cross-cut shredder (paper & credit cards & CDs) – Approx. $70
---
How long does a shredder last?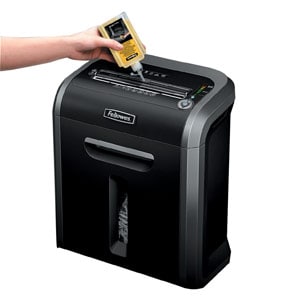 A shredder can last for years without any problems, but only when you use it properly. We recommend to always follow the instructions and guidelines of the manufacturer from your shredder. This means for instance that you don't exceed the maximum sheet capacity per pass and don't shred materials the shredder can't handle, such as thick cardboard or plastic sheets.
To keep your shredder running smoothly and to prevent the shredder from jamming all the time it is recommended to lubricate your shredder often with official paper shredder oil. This oil comes in a liquid form or in oil-sheets, called lubricant sheets. The shredder oil makes sure the cutting blades of the shredder will run as smoothly as possible. Due to paper shredding, a lot of dust gets stuck in between the blades, the oil will take care of it. We advise oiling your shredder every time you need to empty the bin of the shredder or after intensive usage of the shredder.
How to oil your paper shredder?
---
AmazonBasics shredders
As you might have noted, our list contains quite a few paper shredders from AmazonBasics. Why is that? The reason for this is that there are a lot of AmazonBasics shredders that tick the right boxes for a great home (office) shredder. Most of the shredders made by Amazon are all-round shredding machines that can do exactly the things an average user wants it to do.
This means, besides shredding paper, it can often shred staples and paperclips. And quite a lot of the AmazonBasics shredders can also shred CDs, DVDs and credit cards. But other brands, like Fellowes, HSM or Bonsaii, can do this as well. That is true, but the AmazonBasics shredders can handle a higher sheet capacity and can run for a long time continuously in comparison with their main competitors. That plus competitive prices make AmazonBasics shredders a very good choice and hard to leave out of your shortlist. Lastly, the machines are reviewed by a lot of customers so you can read about the experiences of real users and most of the users are very pleased with their shredder.
---
Recommended shredder pages
---
Step Up:
Recycle

, Reuse &

Reduce

The three arrows of the recycling symbol represent the three main stages of the recycling process: recycling, reusing and reducing. Together the arrows form a closed loop. Step up and implement eco-friendly replacements in your daily life.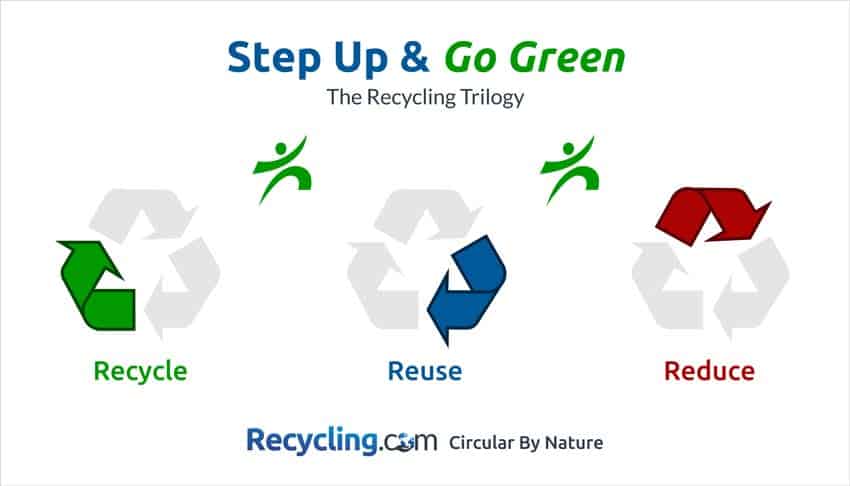 Join the movement! Step Up the waste hierarchy together to a goal of Zero Waste.
By Recycling.com/ 5 March 2020 Shares