Best Paper Shredder for Home Use
HIGH-QUALITY SHREDDERS FROM REPUTABLE BRANDS
Updated on June 7th, 2021 | Author: Pim Brouwer
Are you looking for a reliable, durable, and powerful paper shredder for personal use? We are here to help you find the right shredder that suits your needs. Our team made a selection of high-quality shredders from trusted brands. For most people, we recommend the Aurora AU1210MA shredder.
For data security, we recommend using a paper shredder that is cross-cut or micro-cut. For shredding confidential documents thoroughly, it is not advised to use a strip-cut paper shredder.
Popular Shredders for Home Use
Disclosure: This article about 'Best Paper Shredders for Home' is reader-supported. If you click on a product link and make a purchase, we may earn a commission – learn more.
---
Recommended for you:
---
Green Choice Paper Shredders
Top 10 Best sustainable & high-quality shredders
What are the best paper shredders for shredding personal documents at home? Our team researched 270+ shredders and selected the best shredders.
The selected paper shredders in our list below are high-rated, durable, and able to destroy documents into unreadable confetti.
Our top-rated selection is based on these requirements:
Security level P-3 or more – Small shreds instead of strips
Run-time of 5+ minutes – Shred longer
Sheet capacity of 6+ sheets per pass – More shredding
Trusted manufacturers – Sturdy and durable shredders
High-rated customer reviews – Minimum of 4 stars
---
Best P4 shredder with long run-time
Level: P-4 | Sheet capacity: 12 sheets | Bin capacity: 5 gallon
The Aurora AU1210MA is a compact but powerful and fast paper shredder that shreds in accordance with security level P-4. What makes this shredder so great is that it shreds up to 12 documents per pass for one hour straight.
We recommend shredding a bit less than 12 sheets to avoid paper jams from occurring. The Aurora shredder also shreds CDs, DVDs, and credit cards. And considering the price, this is excellent value for money.
This small micro-cut paper shredder shreds your documents into particles measuring 5/32 by 15/32 inches. The 5.0-gallon pullout bin is large enough to hold 300 sheets of shredded documents.
We like that this shredder operates quietly, so you can shred discretely at home without annoying anyone with the sound of shredding paper, CDs, or payment cards. The shredder also comes with anti-jam technology to clear any possible paper jams.
Lastly, we like this customer review we found on Amazon: "This Aurora shredder is quiet, fast and dependable. I've owned many shredders but this is the best by far."
---
Best budget-friendly shredder
Level: P-3 | Sheet capacity: 12 sheets | Bin capacity: 4.8 gallon
The Amazon Basics 12-Sheet shredder that meets the security level op P-3 standards comes at a very reasonable price for the functions it offers. With this cross-cut shredder, you will be able to shred for as long as seven minutes at a time before leaving this item to cool down for approximately 30 minutes.
If you exceed the maximum run time, this is not a problem. The shredder's thermal protection will make sure that the shredder automatically turns off to protect the motor from overheating.
A tip to keep in mind is not putting too many (folded) sheets in the shredder quickly after each other. The heat control system will protect the shredder from overheating, but you might have to wait 15-20 minutes for the shredder to cool down.
Overall, this shredder gets the job done and works very well for a small home office.
---
Best high-security shredder
Level: P-5 | Sheet capacity: 10 sheets | Bin capacity: 6 gallon
The Aurora AU1060MA is a stylish and modern-looking paper shredder that will suit well in your home office. The shredder offers high-security thanks to security level P-5. This means that a single document is cut into small pieces that measure 5/64 by 15/32 inches, more than 2500 particles per A4 document. In other words, if security is important for you, this is the shredder to buy.
With the Aurora you shred up to 10 sheets per pass and combined with the run-time of 60 minutes you can shred a lot of paperwork every day.
The anti-jam functionality clears any possible paper jams during shredding and the shredder is also capable of destroying credit cards. The only downside is that you can't shred CDs or DVDs with it.
---
Best under 50 dollars
Level: P-4 | Sheet capacity: 8 sheets | Bin capacity: 3.9 gallon
The Aurora AU870MA is an affordable micro-cut shredder that shreds up to 8 documents in one single pass, perfect for incidental use at home. This means that this basic paper shredder isn't meant for shredding high quantities of paper.
Besides shredding sensitive documents with personal information in this shredder, you can also shred old credit cards or other confidential plastic cards. The shredder shreds your documents into 5/32″ x 15/32″ confetti-like particles.
The Aurora shredder has a 5-minute continuous run-time, which means you can shred for 5 minutes. A LED overheat status indicator light lets you know when the shredder needs to cool down for a while.
When a paper jam occurs you can manually reverse the micro-cut blades to solve the jammed paper.
---
Best high-capacity P4 shredder
Level: P-4 | Sheet capacity: 15 sheets | Bin capacity: 6 gallon
The AmazonBasics 15-Sheet is a high-capacity shredder for home office users. This shredder is perfect for intensive shredding work, and it can shred up to 15 sheets into confetti-like pieces measuring 3/16 by 1-7/32 inches.
Feed the shredding machine with up to 15 sheets of confidential documents, and it will run for a tremendous 20 minutes in one go, which is impressive for its price. Most home shredders only last 5 minutes until the device needs to cool down.
The Amazon shredder comes with extra protection for overheating and overloading, so you won't experience a paper jam with this device quickly. Besides your documents, you can also shred DVDs, CDs, credit cards, staples, and small paper clips.
Even for commercial office use, this shredder is an exciting option. This AmazonBasics shredder is 'Quality Tested' by Amazon. 'Quality Tested' means that the shredder is tested and checked thoroughly before it is shipped to you.
---
WireCutter best pick for a secure home shredder
Level: P-4 | Sheet capacity: 8 sheets | Bin capacity: 4 gallon
The Amazon Basics 8-Sheet High-Security micro-cut shredder is the best pick for a home paper shredder by WireCutter. They say that this shredder "offers the best balance of ease of use, sheet capacity, and price". We agree on this but we've placed the shredder a bit lower in our list since we value a higher sheet capacity as more important.
This shredder will steadily shred your confidential documents into 5/32 by 15/32 inches pieces of confetti-like particles.
The high-security level guarantees you safekeeping any information you insert while it prevents paper jams. The run time of this shredder is 5 minutes before the machine needs about 30 minutes of cooling down to ensure safe usage.
This small-sized shredder also allows you to shred CDs, DVDs, and credit cards, making it not only a secure but also a very practical shredder. Overall, this shredder is a great option when you have a moderate amount of paper to shred and need this done at a high-security level.
---
Best medium capacity p4 shredder
Level: P-4 | Sheet capacity: 12 pages | Bin capacity: 5.7 gallon
The Amazon Basics 12-sheet micro-cut shredder is very suitable for when you regularly want to shred at a high-security level in your home office. The shredder has a running time of ten minutes before needing a cooling downtime of 40 minutes which is regulated automatically by the overheating protector.
The LED status indicator will let you know when it's overheated but also when it's overloaded, when the bin is full, when the door is open and when the shredder is turned on.
A P-4 shredding level guarantees safekeeping of personal information and shreds your paper into particles of 5/32 by 15/32 inches, which is six times smaller than the result cross-cut shredding has.
Overall, this shredder is very user-friendly and will steadily work through the confidential paper you want to shred.
---
Best all-in-one cross-cut shredder
Level: P-4 | Sheet capacity: 14 sheets | Bin capacity: 6 gallon
The Aurora AU1460XA looks very similar to the white AU1060MA shredder. The difference is that the AU1460XA is a cross-cut shredder with security level P-4. This level offers a bit less security than the AU1060MA. But it still offers more than decent data protection for your personal documents.
The biggest advantage of this shredder is its very long run-time of 120 minutes. You can shred for two hours without stopping, this is great when you want to shred large volumes of documents in one shredding session.
This cross-cut shredder shreds up to 14 sheets per pass, so you can really name this a heavy-duty shredder for home (office) use. And don't worry about a paper jam, because the anti-jam auto-reverse function clears out any clogged-up documents. Besides your documents this machine also shreds your old CDs, DVDs and credit cards.
All these features combined make this our best pick for an all-in-one shredder, it is just great.
---
Best compact shredder
Level: P-4 | Sheet capacity: 12 pages | Bin capacity: 1.8 gallon
The Aurora AU1200XD is a perfect pick when you are looking for a small paper shredder without compromising on features. Because this compact shredder is feature-packed, the shredder itself measures 11.8 H x 13.2 W x 9.9 D inches.
It shreds up to 12 sheets into small paper shreds (5/32 by 1-7/32 inches) in accordance with DIN 66399 security level P-4. In addition to paper, it also shreds CDs or credit cards without a problem.
We recommend using this small shredder for occasional shredding at home since this shredder has a fairly short run-time of 5 minutes. So it is not meant for shredding high volumes of paper.
We really like the fact this shredder comes with anti-jam technology to clear any possible paper jams and it features ShredSafe which auto power off the machine upon forced entry. When you are done shredding, you pick it up easily and store it in a closet or under your desk. This is very convenient for rooms with limited floor space.
---
Best under 100 dollars
Level: P-4 | Sheet capacity: 14 pages | Bin capacity: 5 gallon
The Aurora AU1415XA comes with all the features you want in an affordable home shredder. This machine shreds up to 14 sheets in a single pass and is also able to destroy your credit cards and CDs. Your sensitive documents are shredded into small DIN P-4 shreds that are 5/32 by 1-7/32 inches small.
The motor is powerful enough to shred continuously for 10 minutes. This might sound short, but most cheap shredders can only shred for 5 minutes maximum. The shredder operates quietly and prevents paper jams by its overload protection.
You move around this paper shredder with easy because it contains four wheels. Emptying the shredder is convenient thanks to the pull-out wastebasket, the only downside is that you can't insert a bag in the basket.
---
---
Why do you need a shredder?
It is important to shred documents with personal or sensitive information before you recycle them. This prevents the possibility of identity theft and identity fraud. So don't just throw away your sensitive paperwork into your recycling bin because this is one place where thieves look to obtain documents with personal information on them. That is why it is always recommended to shred before you recycle.
What do you need to shred?
Of course, you should shred paperwork with personal information on it. Such as your name, address, email address, social security number, bank account information, and other sensitive information. This infographic from the Federal Trade Commission shows some examples of what to shred.
---
Is a cheap shredder secure enough?
We don't recommend you buy a very cheap paper shredder for your shredding needs. From our experience, these cheaper models are more of an annoyance than it is a convenience for your household.
A cheap shredder costs around 30 to 50 dollars, and it is excellent for shredding a few sheets occasionally at home. But when you regularly want to shred your paperwork, you want a shredder that works and shreds without constant paper jams, interference, and too much noise.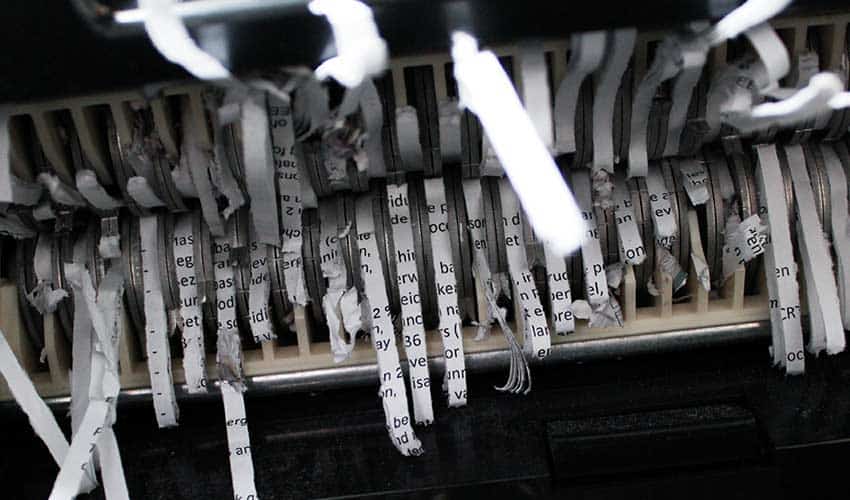 Therefore it is better if you invest in a more powerful and reliable household shredder. Our list contains shredders between 100 and 200 dollars, and that sounds fairly expensive. But when you read reviews from customers for cheap shredders, you can find many negative comments and complaints about these machines.
These user testimonials tell you that the shredder feels flimsy, or that the shredder can only shred not more than 3 sheets at a time, or that the shredder has a very short run-time of just a few minutes. Some people even point out security issues with some of the models. All these complaints make paper shredding a hassle and not a fun task for you to do due to these shredders' low performance.
What is the best shredder for you?
In our extensive shredder guide, you can read everything about shredder specifications and shredders' important features. But for your convenience, we've selected three key features that are relevant for you, which we'll discuss briefly down below:
#1 – What do you want to shred?
#2 – How long do you want to shred?

#3 – How many sheets do you want to shred?

#4 – What size waste bin do you prefer?

#5 – What security level do you prefer?
#1 – What do you want to shred?
What materials do you want to destroy in your shredder? Of course, you want to shred your confidential paper documents. But besides shredding paper, you might also want your shredder to destroy other materials such as staples, paperclips, credit cards, CDs, and DVDs. Not every shredder can do this, although most machines can handle a few stapled documents now and then.
When you demand your shredder to regularly shred stapled documents or files with a paperclip attached to it, you should look for a shredder that can handle these harder materials to avoid any damage to your shredder.
#2 – How long do you want to shred?
Each shredder has its limits. These limits come visible when you look at the maximum run time, maximum sheet capacity, and machine bin capacity.
The run time tells you about the maximum amount of time the shredder can shred paper continuously. Basic shredders can run for just a few minutes, while some heavy-duty paper shredders can run for an hour or longer.
A shredder can overheat while in use, so to prevent this from happening, the shredder stops working automatically to let the motor cool down. The cooling downtime can take quite a while. Take into account 30 minutes or more.
We recommend a shredder with a run time of 5 minutes or more.
So when you want to shred a large pile of old documents, it isn't convenient to use a budget shredder that can only run for 2 minutes. On the other hand, when you only shred a few documents incidentally, the short run time is just fine.
Keep in mind that a paper shredder with a longer run time is more expensive, so consider yourself if you need the extra minutes.
#3 – How many sheets do you want to shred?
A shredder can only shred a few documents per pass. The number of records you can shred per pass is called the sheet capacity of the shredder.
Basic shredders can shred around five to ten standard A4 documents at a time. But the higher-end models can shred through larger stacks of papers.
Keep in mind that you should interpret the maximum sheet capacity with a grain of salt to prevent the paper shredder from jamming. So instead of shredding the maximum amount of documents, we suggest shredding one document less.
The reason for this is that you might shred a document that is a bit thicker than usual, or a paper is folded in two and thus makes it a thicker pile.
#4 – What size waste bin do you prefer?
Do you want a compact-sized paper shredder you can quickly put under your desk or store away in a closet? Then you have to compensate for the capacity of the waste bin.
A smaller-sized bin can hold fewer paper shreds and thus needs to be emptied more often. This isn't an inconvenience when you only shred a few documents a week. But when you use a shredder in your home office and shred it regularly, it can be annoying to empty the bin every day.
The average size of a home shredder is around 3 to 5 gallons. The amount of paper shreds or strips it can hold depends on the security level of the shredder. Smaller paper particles take up less space than long strips from a strip-cut shredder.
#5 – What security level do you prefer?
A paper shredder's security level tells you about the size of the paper particles after shredding a document. Generally, shredders are divided into strip-cut, cross-cut and micro-cut shredders. But officially, shredders are classified with a DIN P-level, which is used worldwide to categorize paper shredders' security level, for example, DIN P-3 (or P3 for short). The higher the number of the level, the smaller the paper particles are
The DIN P-level is part of the official German DIN 66399 standard (since 2012), the international standard for secure shredding of data media developed by the Deutsches Institut für Normung (DIN), which translates to the German Institute for Standardization.
For most home shredding needs, we recommend a document shredder classified with DIN P-3 or DIN P-4. These types of shredders are cross-cut shredders and can shred your confidential documents into small particles.
For extra security, look for a DIN P-5 micro-cut shredder. We suggest skipping any strip-cut shredder (P1 and P2) because these shredders are only meant for shredding non-confidential papers such as junk mail.
---
Sources:
---
Shredder guide
What to look for when buying a secure paper shredder? Read our Paper Shredder Guide.
Paper shredders for home or office