Best Paper Shredder for Home Office
HIGH-QUALITY SHREDDERS FROM REPUTABLE BRANDS
Updated on September 14th, 2021 | Author: Pim Brouwer
Are you looking for a reliable, durable, and powerful paper shredder for personal use? We are here to help you find the right shredder that suits your needs. Our team made a selection of high-quality shredders from trusted brands. For most people, we recommend the Aurora AU1210MA shredder.
For data security, we recommend using a paper shredder that is cross-cut or micro-cut. For shredding confidential documents thoroughly, it is not advised to use a strip-cut paper shredder.
Popular Shredders for Home Use
Disclosure: This article about 'Best Paper Shredders for Home' is reader-supported. If you click on a product link and make a purchase, we may earn a commission – learn more.
---
Top 5 Paper Shredders
What are the best paper shredders for shredding personal documents at home? Our team researched and reviewed 270+ shredders and selected the best shredders.
Our top-rated selection is based on these requirements:
Security level P-3 or higher – Small shreds instead of strips
Run-time of 5+ minutes – Shred longer
Sheet capacity of 6+ sheets per pass – More shredding
Trusted manufacturers – Sturdy and durable shredders
High-rated customer reviews – Minimum of 4 stars
---
---
---
---
---
---
More about shredders
Why do you need a shredder?
It is important to shred documents with personal or sensitive information before you recycle them. This prevents the possibility of identity theft and identity fraud. So don't just throw away your sensitive paperwork into your recycling bin because this is one place where thieves look to obtain documents with personal information on them. That is why it is always recommended to shred before you recycle.
What do you need to shred?
Of course, you should shred paperwork with personal information on it. Such as your name, address, email address, social security number, bank account information, and other sensitive information. This infographic from the Federal Trade Commission shows some examples of what to shred.
Is a cheap shredder secure enough?
We don't recommend you buy a very cheap paper shredder for your shredding needs. From our experience, these cheaper models are more of an annoyance than it is a convenience for your household.
A cheap shredder costs around 30 to 50 dollars, and it is excellent for shredding a few sheets occasionally at home. But when you regularly want to shred your paperwork, you want a shredder that works and shreds without constant paper jams, interference, and too much noise.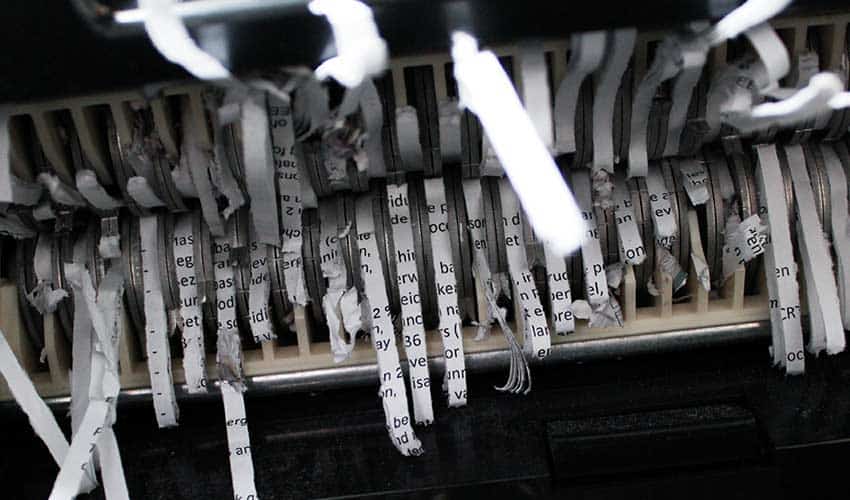 Therefore it is better if you invest in a more powerful and reliable household shredder. Our list contains shredders between 100 and 200 dollars, and that sounds fairly expensive. But when you read reviews from customers for cheap shredders, you can find many negative comments and complaints about these machines.
These user testimonials tell you that the shredder feels flimsy, or that the shredder can only shred not more than 3 sheets at a time, or that the shredder has a very short run-time of just a few minutes. Some people even point out security issues with some of the models. All these complaints make paper shredding a hassle and not a fun task for you to do due to these shredders' low performance.
What is the best shredder for you?
In our extensive shredder guide, you can read everything about shredder specifications and shredders' important features. But for your convenience, we've selected three key features that are relevant for you, which we'll discuss briefly down below:
#1 – What do you want to shred?
#2 – How long do you want to shred?

#3 – How many sheets do you want to shred?

#4 – What size waste bin do you prefer?

#5 – What security level do you prefer?
#1 – What do you want to shred?
What materials do you want to destroy in your shredder? Of course, you want to shred your confidential paper documents. But besides shredding paper, you might also want your shredder to destroy other materials such as staples, paperclips, credit cards, CDs, and DVDs. Not every shredder can do this, although most machines can handle a few stapled documents now and then.
When you demand your shredder to regularly shred stapled documents or files with a paperclip attached to it, you should look for a shredder that can handle these harder materials to avoid any damage to your shredder.
#2 – How long do you want to shred?
Each shredder has its limits. These limits come visible when you look at the maximum run time, maximum sheet capacity, and machine bin capacity.
The run time tells you about the maximum amount of time the shredder can shred paper continuously. Basic shredders can run for just a few minutes, while some heavy-duty paper shredders can run for an hour or longer.
A shredder can overheat while in use, so to prevent this from happening, the shredder stops working automatically to let the motor cool down. The cooling downtime can take quite a while. Take into account 30 minutes or more.
We recommend a shredder with a run time of 5 minutes or more.
So when you want to shred a large pile of old documents, it isn't convenient to use a budget shredder that can only run for 2 minutes. On the other hand, when you only shred a few documents incidentally, the short run time is just fine.
Keep in mind that a paper shredder with a longer run time is more expensive, so consider yourself if you need the extra minutes.
#3 – How many sheets do you want to shred?
A shredder can only shred a few documents per pass. The number of records you can shred per pass is called the sheet capacity of the shredder.
Basic shredders can shred around five to ten standard A4 documents at a time. But the higher-end models can shred through larger stacks of papers.
Keep in mind that you should interpret the maximum sheet capacity with a grain of salt to prevent the paper shredder from jamming. So instead of shredding the maximum amount of documents, we suggest shredding one document less.
The reason for this is that you might shred a document that is a bit thicker than usual, or a paper is folded in two and thus makes it a thicker pile.
#4 – What size waste bin do you prefer?
Do you want a compact-sized paper shredder you can quickly put under your desk or store away in a closet? Then you have to compensate for the capacity of the waste bin.
A smaller-sized bin can hold fewer paper shreds and thus needs to be emptied more often. This isn't an inconvenience when you only shred a few documents a week. But when you use a shredder in your home office and shred it regularly, it can be annoying to empty the bin every day.
The average size of a home shredder is around 3 to 5 gallons. The amount of paper shreds or strips it can hold depends on the security level of the shredder. Smaller paper particles take up less space than long strips from a strip-cut shredder.
#5 – What security level do you prefer?
A paper shredder's security level tells you about the size of the paper particles after shredding a document. Generally, shredders are divided into strip-cut, cross-cut and micro-cut shredders. But officially, shredders are classified with a DIN P-level, which is used worldwide to categorize paper shredders' security level, for example, P-3. The higher the number of the level, the smaller the paper particles are
The DIN P-level is part of the official German DIN 66399 standard (since 2012), the international standard for secure shredding of data media developed by the Deutsches Institut für Normung (DIN), which translates to the German Institute for Standardization.
For most home shredding needs, we recommend a document shredder classified with P-3 or P-4. These types of shredders are cross-cut shredders and can shred your confidential documents into small particles.
For extra security, look for a P-5 micro-cut shredder. We suggest skipping any strip-cut shredder (P1 and P2) because these shredders are only meant for shredding non-confidential papers such as junk mail.
---
Sources:
---
Shredder guide
What to look for when buying a secure paper shredder? Read our Paper Shredder Guide.
Paper shredders for home or office