Best Paper Shredder for Home Use
HIGH-QUALITY SHREDDERS FROM REPUTABLE BRANDS
Updated on Jan. 14, 2021 | Author: Pim Brouwer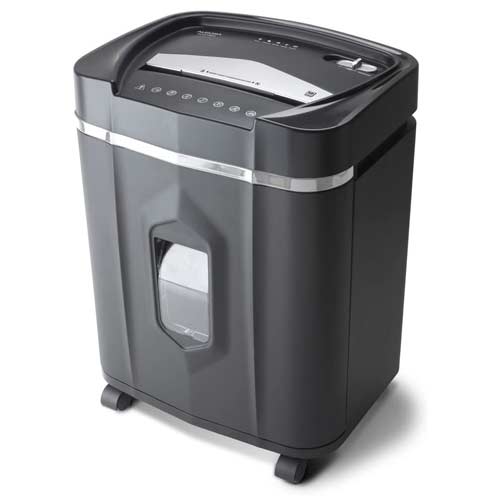 Are you looking for a reliable, durable and powerful paper shredder for personal use? We are here to help you find the right shredder that suits your needs. Our team made a selection of high-quality shredders from trusted brands.
The selected paper shredders in our list below are high-rated, durable and able to destroy documents into unreadable confetti. For data security, we recommend using a paper shredder that is cross-cut or micro-cut. For shredding confidential documents thoroughly, it is not advised to use a strip-cut paper shredder.
Popular Shredders for Home Use
Disclosure: This article about 'Best Paper Shredders for Home' contains affiliate links. If you click on a product link and make a purchase, we may earn a commission – learn more.
---
Green Choice Paper Shredders
Top 8 Best sustainable & high-quality shredders
What are the best paper shredders for shredding personal documents at home? Our team researched 270+ shredders and selected the best shredders. We think it is really important that your shredder works great, offers high security and is well-built.

Best P4 shredder with long run-time
Level: P-4 | Sheet capacity: 12 pages | Bin capacity: 5 gallon
The Aurora AU1210MA is a compact but powerful paper shredder that shreds in accordance to security level P-4. What makes this shredder so great is that it shreds up to 12 documents per pass for one hour straight. We recommend shredding a bit less than 12 sheets to avoid paper jams from occurring. The Aurora shredder also shreds CDs, DVDs and credit cards. And considering the price, this is great value for money.
This small micro-cut paper shredder shreds your documents into particles measuring 5/32 by 15/32 inches. The 5.0 gallon pullout bin is large enough to hold 300 sheets of shredded documents. We really like that this shredder operates quietly, so you can shred discretely at home without annoying anyone with the sound of shredding paper, CDs or payment cards. The shredder also comes with anti-jam technology to clear any possible paper jams.
---
Best high security shredder
Level: P-5 | Sheet capacity: 10 pages | Bin capacity: 6 gallon
The Aurora AU1060MA is a stylish and modern looking paper shredder that will suit well in your home office. The shredder offers high-security thanks to security level P-5. This means that a single document is cut into small pieces that measure 5/64 by 15/32 inches, more than 2500 particles per A4 document. In other words, if security is important for you, this is the shredder to buy.
With the Aurora you shred up to 10 sheets per pass and combined with the run-time of 60 minutes you can shred a lot of paperwork every day. The anti-jam functionality clears any possible paper jams during shredding and the shredder is also capable of destroying credit cards. The only downside is that you can't shred CDs or DVDs with it.
---
Best under 50 dollars
Level: P-4 | Sheet capacity: 8 pages | Bin capacity: 3.9 gallon
The Aurora AU870MA is an affordable micro-cut shredder that shreds up to 8 documents in one single pass, perfect for incidental use at home. This means that this basic paper shredder isn't meant for shredding high quantities of paper. Besides shredding sensitive documents with personal information in this shredder, you can also shred old credit cards or other confidential plastic cards. The shredder shreds your documents into 5/32″ x 15/32″ confetti-like particles.
The Aurora shredder has a 5-minute continuous run-time, this means you can shred for 5 minutes. A LED overheat status indicator light lets you know when the shredder needs to cool down for a while. When a paper-jam occurs you can manually reverse the micro-cut blades to solve the jammed paper.
---
Best high-capacity P4 shredder
Level: P-4 | Sheet capacity: 15 pages | Bin capacity: 6 gallon
The AmazonBasics 15-Sheet is a high-capacity shredder for home office users. This shredder is perfect for intensive shredding work, it can shred up to 15 sheets into confetti-like pieces measuring 3/16 by 1-7/32 inches. Feed the shredding machine with up to 15 sheets of confidential documents and it will run for a tremendous 20 minutes in one go, which is impressive for its price. Most home shredders only last 5 minutes until the device needs to cool down.
With the Amazon The shredder comes with extra protection for overheating and overloading, so you won't experience a paper-jam with this device quickly. Besides your personal documents, you can also shred DVDs, CDs, credit cards, staples, and small paper clips. Even for commercial office use, this shredder is an interesting option. This AmazonBasics shredder is 'Quality Tested' by Amazon, this means that the shredder is tested and checked thoroughly before it is shipped to you.
---
Best all-in-one cross-cut shredder
Level: P-4 | Sheet capacity: 14 pages | Bin capacity: 6 gallon
The Aurora AU1460XA looks very similar to the white AU1060MA shredder. The difference is that the AU1460XA is a cross-cut shredder with security level P-4. This level offers a bit less security than the AU1060MA. But it still offers more than decent data protection for your personal documents. The biggest advantage of this shredder is its very long run-time of 120 minutes. You can shred for two hours without stopping, this is great when you want to shred large volumes of documents in one shredding session.
This cross-cut shredder shreds up to 14 sheets per pass, so you can really name this a heavy-duty shredder for home (office) use. And don't worry about a paper jam, because the anti-jam auto-reverse function clears out any clogged up documents. Besides your documents this machine also shreds your old CDs, DVDs and credit cards. All these features combined make this our best pick for an all-in-one shredder, it is just great.
---
Best under 100 dollars
Level: P-4 | Sheet capacity: 14 pages | Bin capacity: 5 gallon
The Aurora AU1415XA comes with all the features you want in an affordable home shredder. This machine shreds up to 14 sheets in a single pass and is also able to destroy your credit cards and CDs. Your sensitive documents are shredded into small DIN P-4 shreds that are 5/32 by 1-7/32 inches small.
The motor is powerful enough to shred continuously for 10 minutes. This might sound short, but most cheap shredders can only shred for 5 minutes maximum. The shredder operates quietly and prevents paper jams by its overload protection. You move around this paper shredder with easy because it contains four wheels. Emptying the shredder is convenient thanks to the pull-out wastebasket, the only downside is that you can't insert a bag in the basket.
---
Best high capacity P3 shredder
Level: P-3 | Sheet capacity: 18 pages | Bin capacity: 6 gallon
The Bonsaii C149-C is a cross-cut shredder that is perfect for shredding documents in bulk at your home office. The shredder shreds up to 18 sheets at a single pass into P3 shreds measuring 13/64 x 1-37/64 inches. The so-called 'medium duty' motor can handle 5.3 feet of paper per minute and has a continuous run-time of 60 minutes. This makes the shredder perfect for shredding large piles of documents.
It is also a nice feature that the shredder takes care of your old CD/DVDs and credit cards. Plus you can move around the Bonsaii shredder easily thanks to the four casters, which even are equipped with brakes so it won't roll around when you are operating the shredder. It is possible that documents can get stuck between the cutting rollers, but the jam detection system will automatically reverse the blades to clear out the paper jam. Lastly, the shredder is fairly quiet with a noise level of just 62 dB.
---
Best compact shredder
Level: P-4 | Sheet capacity: 12 pages | Bin capacity: 1.8 gallon
The Aurora AU1200XD is a perfect pick when you are looking for a small paper shredder without compromising on features. Because this compact shredder is feature-packed, the shredder itself measures 11.8 H x 13.2 W x 9.9 D inches. It shreds up to 12 sheets into small paper shreds (5/32 by 1-7/32 inches) in accordance with DIN 66399 security level P-4. In addition to paper, it also shreds CDs or credit cards without a problem.
We recommend using this small shredder for occasional shredding at home since this shredder has a fairly short run-time of 5 minutes. So it is not meant for shredding high volumes of paper. We really like the fact this shredder comes with anti-jam technology to clear any possible paper jams and it features ShredSafe which auto power-off the machine upon forced entry. When you are done shredding, you pick it up easily and store it in a closet or under your desk. This is very convenient for rooms with limited floor space.
---
---
Recommended paper shredders
Our top-rated selection is based on these requirements:
Security level P3 or more – Small shreds instead of strips
Run-time of 5+ minutes – Less waiting
Sheet capacity of 6+ sheets per pass – More shredding
Trusted manufacturers – Sturdy and durable shredders
High-rated customer reviews – Minimum of 4 stars
---
Step Up:
Recycle

, Reuse &

Reduce

The three arrows of the recycling symbol represent the three main stages of the recycling process: recycling, reusing and reducing. Together the arrows form a closed loop. Step up and implement eco-friendly replacements in your daily life.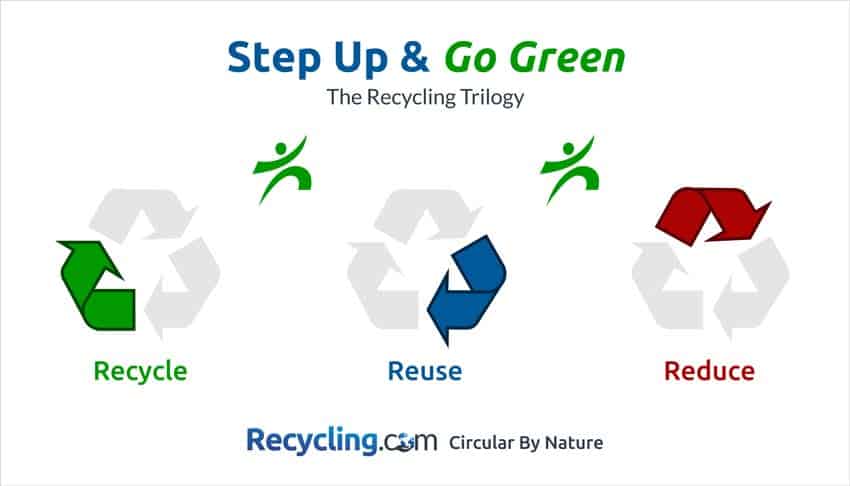 Join the movement! Step Up the waste hierarchy together to a goal of Zero Waste.