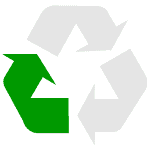 RECYCLE

| Cardboard waste
Turn Cardboard Waste Into a Compact and Recyclable Bale
Compress your cardboard waste into small compact bales with a cardboard baler. By compressing cardboard waste you reduce the volume of the material, this is more space and cost efficient. There are a few types of cardboard balers. The most common are vertical and horizontal cardboard compactors. On this page we look into vertical cardboard baling machines for light to medium commercial use.
Reduce the volume of cardboard waste and reduce waste collection costs.
Recommended Industrial Cardboard Balers
Vertical, versatile and compact cardboard baler. The HSM V-Press 610 produces bales with an average weight of 220 lb.

Type of baler: Vertical
Pressing power: 120 kN
Driving power: 3 kW
Voltage: 400 V
Weight: 1188.28 lb
---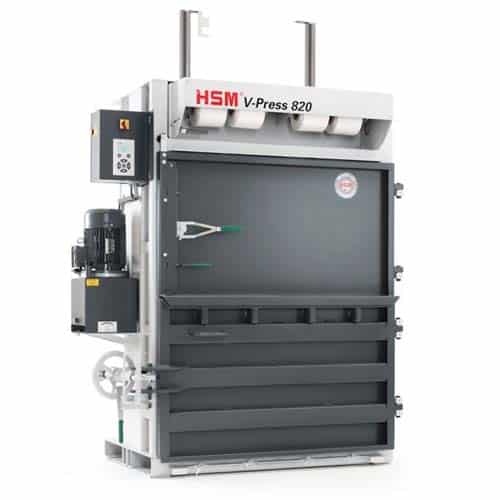 Large vertical industrial cardboard baling press. The HSM V-Press 820 produces around 2-5 cardboard bales per hour.

Type of baler: Vertical
Pressing power: 178 kN
Driving power: 4 kW
Voltage: 400 V
Weight: 2866 lb
---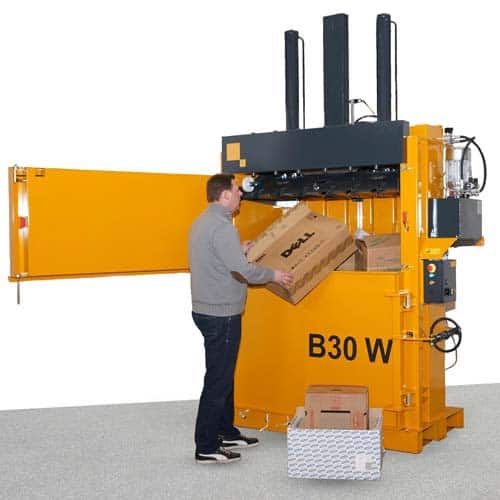 The Bramidan Baler B30 is an industrial cardboard baler with a wide feed opening. It can produce cardboard bales with a weight of around 900-1,000 lb.
Type of baler: Vertical
Pressing power: 294 kN
Driving power: 4 kW
Voltage: 3×400 V
Weight: –
---
The Bramidan Baler B50 is an industrial cardboard baler with an extra wide and deep chamber. The cardboard bales are optimized for transportation by truck.

Type of baler: Vertical
Pressing power: 500 kN
Driving power: 5.5 kW
Voltage: 3×400 V
Weight: –
---
The PTR 2300HD is a vertical downstroke baler. It is constructed of heavy-duty steel and produces cardboard bales up to 1,100 lbs.

Type of baler: Vertical
Pressing power: 251 kN
Driving power: 7.45 kW
Voltage: 208 / 230 / 460 – 3 Phase
Weight: 4510 lb
---
Compare & Share with your Colleagues
Download the Top 5 Cardboard Balers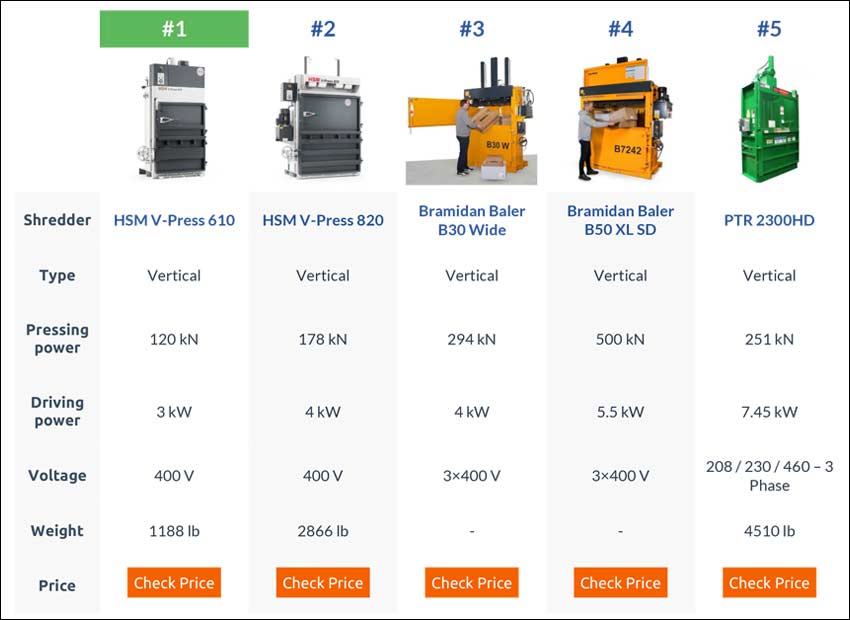 Do you want to compare and review the cardboard balers together with your colleagues? Then download the PDF document (right click and save) which contains a convenient comparison table with an overview of top 5 recommended cardboard balers.
Easily compare the cardboard balers
Share the PDF with your colleagues
Convenient comparison table
PDF file size: 283 kB
---
What is a cardboard baler?
So what does a industrial cardboard baling press do exactly? The machine presses cardboard waste, such as boxes and plates, into one tightly compressed bale via a hydraulic mechanism which is powered by a powerful engine. The size of the bale depends on the capacity of the baler machine. On average the footprint of a cardboard bale has the size of a standard euro pallet.
With a cardboard baling press you can recycle your cardboard. You can sell the cardboard bales to the cardboard recycling industry.
Vertical or horizontal cardboard compactor
There are generally two types of cardboard balers, a vertical and a horizontal baling machine. What are the differences of these two types of cardboard balers?
Overall a vertical baler is intended for smaller companies that wants to have a easy to use heavy-duty baling solution for their cardboard waste. A horizontal cardboard baler is intended for industrial use for compressing large amounts of cardboard waste.
---
Vertical cardboard baler:
For baling small to medium volumes of cardboard waste
Ideal for smaller businesses
Easy to operate by one person
The cardboard is compressed vertically
Relatively small footprint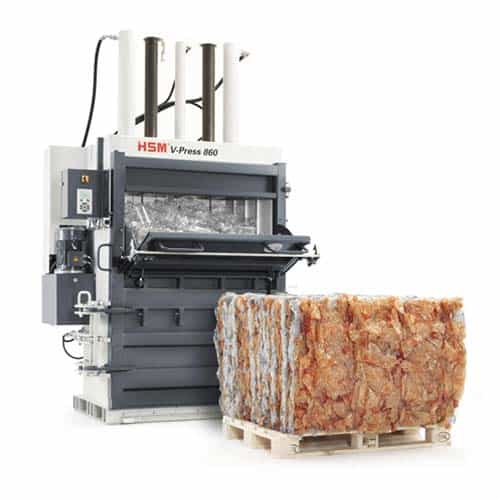 ---
Horizontal cardboard baler:
For baling high volumes of cardboard waste
Ideal for heavy industrial use
More complicated to operate
The cardboard is compressed horizontally
Requires more floor space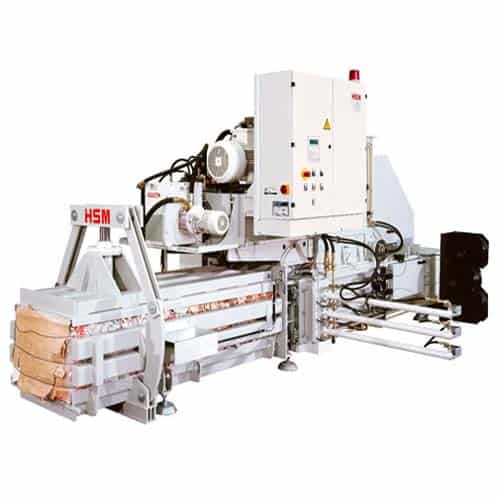 ---
How does the baling process work?
Prepare the machine with baler strappings.
Fill the baling machine with cardboard material.
Close off the door and start compressing.
Open the door and strap the bales with wiring.
Place a pallet and eject the cardboard bale onto the pallet.
How long does it take to make a bale?
This depends on the baling machine but also on the operator. It takes time to prepare and load the machine with cardboard. The compactor itself presses the cardboard with a hydraulic press. The duration of the compression time is on average 30 seconds. After compressing the operator needs to strap the cardboard bale and eject it on a pallet.
What does a cardboard bale weigh?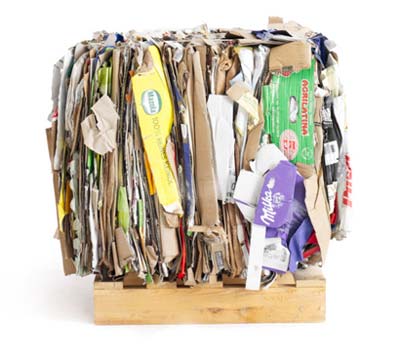 When we look at a medium sized cardboard baler, the HSM V-Press 860 plus, it produces a bale with the following specifications:
Bale length: 47.24 in
Bale width: 30.71 in
Bale height: 47.24 in
Bale weight: 1058.21 lb
The weight of a bale depends on the size of the baling machine and on the weight of the cardboard waste material.
Instruction video: HSM V-Press (how does a baler work?)
Video: Bramidan B-series vertical cardboard baler
Vertical baler specifications
Power requirements
Most industrial baling presses for cardboard work on a voltage of 400 V and have a driving power of 4 KW.
Weight and dimension of a cardboard baling machine
Small baler: 1,200 lb – 46.85 x 77.95 x 32.09 in (w*h*d)
Medium baler: 2,400 lb – 66.93 x 93.31 x 41.18 in (w*h*d)
Large baler: 5,000 lb – 70.08 x 117.52 x 54.65 in (w*h*d)
Why use a cardboard baling press?
Why do you need a baling machine and what are the advantages for your company when you have your own cardboard compactor?
Reduce the volume of cardboard waste and optimize storage space.
Reduce waste costs by reducing the frequency of collection.
Environmentally friendly solution for high volumes of cardboard waste.
Better revenue for your cardboard waste material.
A vertical baling press occupies minimal floor space.
A dedicated machine improves the quality of the cardboard waste stream.
Less cardboard will end up on landfills and more gets recycled.
Which companies use a baler?
Is a vertical cardboard baler a machine that fits your type of business? Well, does your company produces lots of cardboard waste on a daily basis and are you looking for a solution? Then a cardboard compactor is perfect to reduce the volume of your cardboard waste, such as boxes and other cardboard packaging materials. There are all kind of companies and industries which make use of horizontal or vertical cardboard balers:
Supermarkets
Retail outlets
Restaurants
Offices
Convenient stores
Warehouses
Argriculture companies
Schools
Recycling centers
Distribution centers
And so on…
As you can see, the list is pretty diverse. If you want a solution for your cardboard waste, then a cardboard baler is a machine that might be the solution for your company.
How does it help with waste management?
Cardboard is a rather voluminous waste stream, especially cardboard boxes. Non-compressed cardboard is a relatively expensive waste stream to transport for waste collection companies. Simply because there is a lot of 'useless air' in the waste material, which is inefficient to transport.
To reduce transportation costs, and thus waste costs for your company, it is worthwhile to compress cardboard beforehand. Compact cardboard bales have a much smaller footprint, which requires less floor space in your company. And the compressed bales are much more efficient to transport for waste collection companies, because they can collect more weight in a more compact form.
Tools, supplies and accessories
Besides a cardboard baler, what other supplies do you need to start baling your cardboard?
Wheeled container – Place wheeled containers for cardboard waste at centralized areas in and around your company. Whence full, the wheeled containers can be transported to the baling press.
Strapping – To keep a compressed bale in a compact form it is important to strap the bale with metal wire or another strong binding material.
Pallet – When a bale is ready it can be ejected from the baler. Therfore you need a pallet to hold the cardboard bale, ready for transportation.
Pallet truck (with scale) – To transport the pallet with the cardboard bale a pump truck or pallet truck comes in handy. We recommend a pallet truck with scale so you can weigh the carboard bale on the go.
Self dumping hopper – This forklift attachment can be used to store, transport and dump cardboard material in the area of a cardboard compactor. Read more about self dump hoppers for fork trucks.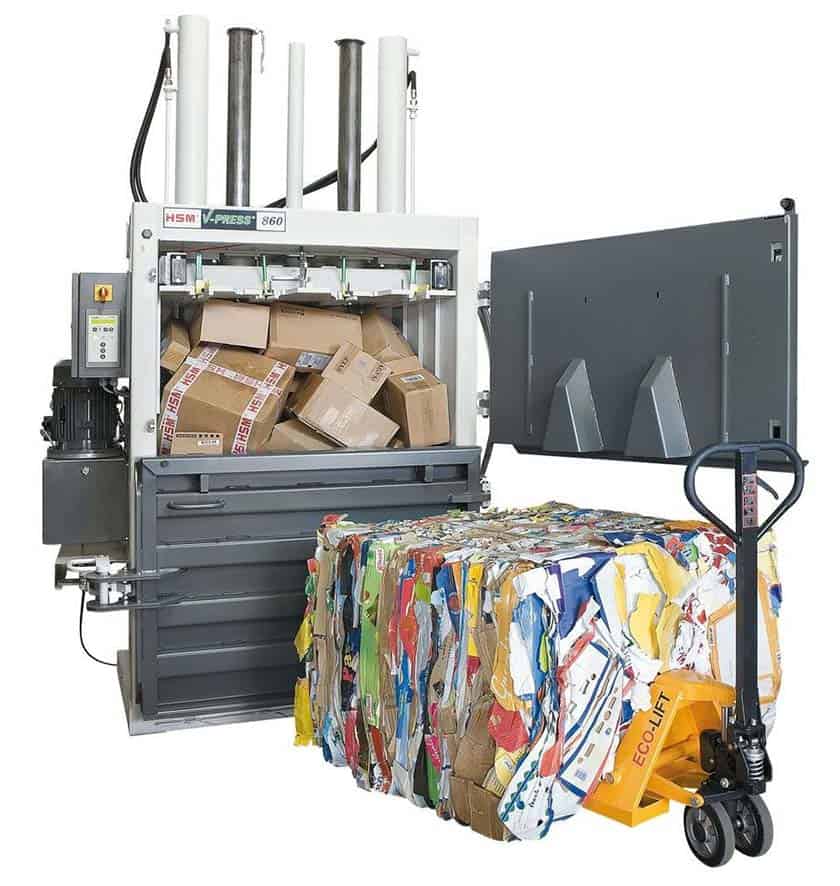 Manufacturers of cardboard balers
Which manufacturers build cardboard balers? Listed below are a number of reputable manufacturers:
North America:
United Kingdom:
Lease a cardboard baling machine
A cardboard compactor is a fairly high investment. A basic vertical baling press costs around $5,000 dollars. You can also opt for a used cardboard baler or you can rent or lease a baling press for a fixed amount per month from a cardboard baler company.
---
Step Up:
Recycle

, Reuse &

Reduce

The three arrows of the recycling symbol represent the three main stages of the recycling process: recycling, reusing and reducing. Together the arrows form a closed loop. Step up and implement eco-friendly replacements in your daily life.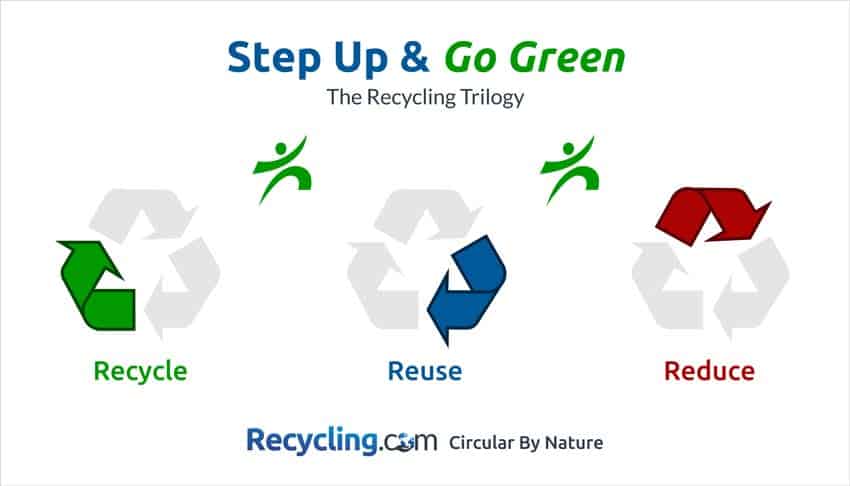 Join the movement! Step Up the waste hierarchy together to a goal of Zero Waste.