Turn Cardboard Waste Into a Compact and Recyclable Bale
Disclosure: This article contains affiliate links. If you click on a product and make a purchase, we may earn a commission – learn more.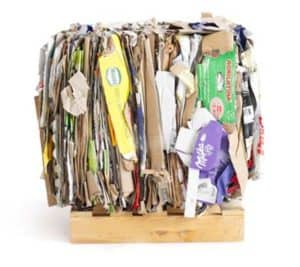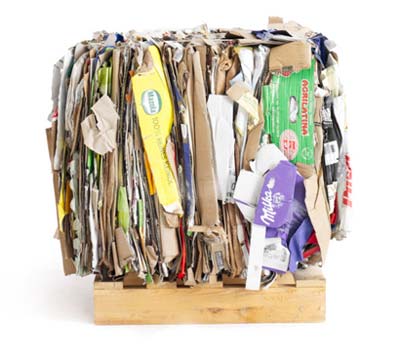 With a cardboard baler you can compress voluminous cardboard waste into small and compact bales. By compressing cardboard waste you reduce the volume of the material and with that the space it takes up and even costs the waste's collection.
There are several types of cardboard balers, including the most common: vertical and horizontal cardboard compactors. On this page, we look into and provide you with an overview of vertical cardboard baling machines for light to medium commercial use.
Recommended Industrial Cardboard Balers
Below you will find our top 8 recommended vertical cardboard baler machines. If you would like to know more about the type of balers first, then take a look at our cardboard baler guide below.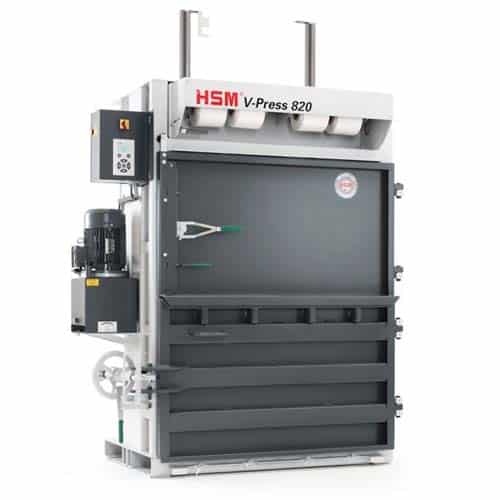 Large vertical industrial cardboard baling press.
The HSM V-Press 820 Plus is a vertical baler machine with a small footprint. The machine produces around 2-5 cardboard bales per hour. You can load your cardboard boxes and sheets into the machine by folding down the upper half of the door. The door, when folded down, functions as a table for convenient storing and filling the machine with cardboard waste. The massive press ram, robust press plate, and solid steel cutting rollers offer high pressing power so your cardboard is compressed into a compact bale.
Type of baler: Vertical
Pressing power: 178 kN
Driving power: 4 kW
Voltage: 400 V
Weight: 2866 lbs
Bale weight: 280 lbs
---
Easy to transport cardboard bales, no pallet needed.
The HSM V-Press 860 L is a powerful cardboard baler that doesn't require a pallet for transportation. The ejection doors contain special profiles that create recesses in the bales. When the bale is ejected you can lift it up with a pallet truck. The HSM V-Press 860 L delivers a pressing power of 54.25 tons and has an output of 1-2 bales per hour. With the easy-to-use display, the operator can check the status and program the machine.
Type of baler: Vertical
Pressing power: 532 kN
Driving power: 7.5 kW
Voltage: 400 V
Weight: 4241 lbs
Bale weight: 1000 lbs
---
Compact and easy-to-use baling press.
The HSM V-Press 610 is a versatile and compact cardboard baler. This vertical baling machine has a small footprint and low installation height so it will fit in tighter spaces (47.17 x 78.19 x 32.4 in). The V-Press 610 can produce 3-6 cardboard bales per hour. The massive ram and robust press plate offer more than 12 tons of pressing power. The bale is automatically ejected onto a pallet for easy transport.
Type of baler: Vertical
Pressing power: 120 kN
Driving power: 4 kW
Voltage: 400 V
Weight: 1190 lbs
Bale weight: 220 lbs
---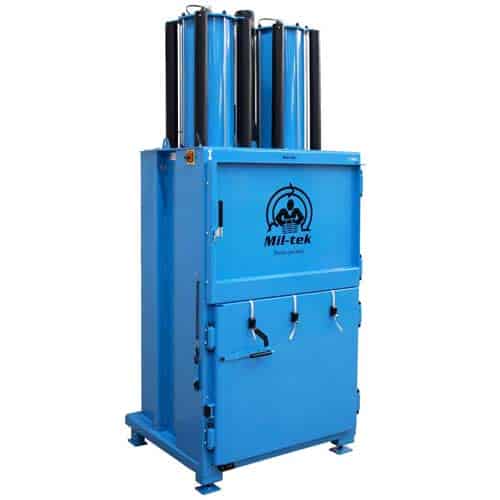 Create denser and heavier cardboard bales.
The Mil-tek 2306 Baler is a powerful two-cylinder cardboard baler that uses compressed air instead of an electrical hydraulic mechanism. The vertical baler has a large and wide pressing chamber so large cardboard boxes fit easily into the baler. The machine is very easy to use by your employees. Just load the material, close the door and the Miltek baler does the rest for you. With the automated bail-out mechanism, you can eject the bale on a pallet.
Type of baler: Vertical
Pressing power: 83 kN
Driving power: Air Supply or 3.5 KW
Voltage: 400 V
Weight: 1430 lbs
Bale weight: 440 lbs
---
Powerful and large HSM baling machine.
The HSM V-Press 1160 plus is the top model from HSM in the V-Press series. This powerful cardboard baling machine generates 54 tons pressing power and produces 1 to 2 bales per hour with a weight of around 1,200 lbs per bale. When the compressed cardboard bale is ready it is ejected automatically onto a pallet for transport. The high capacity press chamber can hold high volumes of cardboard packaging waste so it is perfect for large warehouses, manufacturers and large retailers.
Type of baler: Vertical
Pressing power: 54.25 kN
Driving power: 4.8 kW
Voltage: 480 V
Weight: 5480 lbs
Bale weight: 1200 lbs
---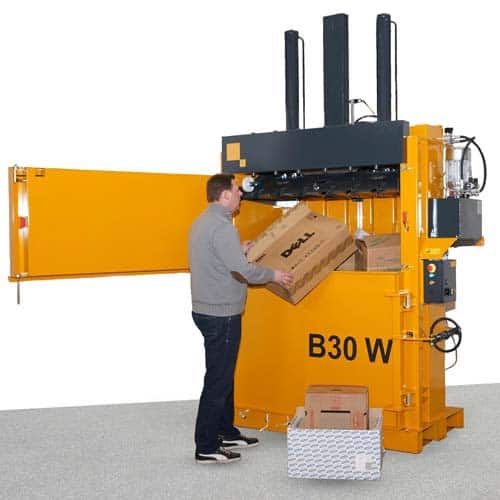 Quiet baler with a wide feed opening.
The Bramidan Baler B30 Wide is an industrial cardboard baler with a wide feed opening of 59 inches. You can easily dispose of large boxes and cardboard sheets because of the wide opening and wide chamber. This powerful but quiet (62-64 dB) baling machine generates 30 tons of pressing power and produces compact cardboard bales with a weight of around 900 pounds. You can use plastic straps or metal wire to tie the bales which then is automatically ejected onto a pallet.
Type of baler: Vertical
Pressing power: 294 kN
Driving power: 4 kW
Voltage: 3×400 V
Weight: 3968 lbs
Bale weight: 900 lbs
---
Ideal for medium volumes of cardboard waste.
The Mil-tek 2305 Baler is a medium-sized vertical cardboard baler that is easy to use thanks to the automated bale-out mechanism and wide door. And because of its small footprint, it fits into tighter locations. The baler can be used for baling cardboard waste but also for plastic wast and is used in a range of industries such as retail, hotels, and restaurants. The pressing cycle only takes up 10-20 seconds and the baler is powered by compressed air.
Type of baler: Vertical
Pressing power: 42 kN
Driving power: Air Supply or 3 KW
Voltage: 400V
Weight: 1089 lbs
Bale weight: 200 lbs
---
Powerful vertical downstroke baler.
The PTR 2300HD is a vertical downstroke baler. This powerful machine with a 10 Hp motor is constructed of heavy-duty steel and produces cardboard bales up to 1,100 lbs. The size of a bale is 60″ by 30″ by 48″ (width x depth x height). This cardboard waste baler is used by warehouses, retail chains, distribution centers and by large manufacturers.
Type of baler: Vertical
Pressing power: 251 kN
Driving power: 7.45 kW
Voltage: 208 / 230 / 460 – 3 Phase
Weight: 4510 lbs
Bale weight: 1100 lbs
---
With a baling press you reduce the volume of cardboard waste and reduce waste collection costs.Recycling.com
---
Didn't find the right cardboard compactor?
The list above shows our recommendations for cardboard baling machines. Do you want to see more balers? Check out all the available cardboard balers over at Whitaker Brothers or request a free quote below.
What to look for when buying a cardboard baler?
No sure how to choose the right baler for your business? Read our guide for all the needed information or download the factsheet with everything you need to know about cardboard baling machines.
---
Do you need product advice?
Personal advice about cardboard balers
Do you want to receive a quotation for an industrial cardboard baler machine? Or do you need advice from an expert about which baling press is right for your company? Then fill in the form below. One of our agents will contact you for more information. Inform us about your needs and we contact you free of charge.
---
Cardboard Baler Guide
Navigation:
---
What is a cardboard baler?
An industrial cardboard baling machine compresses cardboard waste, such as boxes and cardboard plates, into tightly compressed bales with a hydraulic mechanism powered by a powerful engine. The size of the bales depends on the capacity of the baler machine, but generally speaking, most cardboard bales have the depth and width of a standard euro pallet.

Overall, a cardboard baling press will help you to more easily recycle your cardboard and sell it to the recycling industry.
---
How does the baling process work?
Prepare the machine with baler strapping wire.
Fill the baling machine with cardboard waste material.
Close off the door and start compressing.
Open the door and wrap the bales with wiring to keep it together.
Place a pallet and eject the cardboard bale onto the pallet.
Instruction video: HSM V-Press (how does a baler work?)
Cycle time and hourly bale output
The time it takes to compress cardboard waste into a bale depends on the type of baling machine but also on the experience of the operator because it takes time to prepare and load the machine with cardboard. The compactor presses the cardboard with a hydraulic press, however, after compressing the cardboard the operator needs to strap the cardboard bale together and eject it onto a pallet. Ultimately, the specifications or user manual of a cardboard baler will tell you the average cycle time, as well as the hourly output. What is the difference and what does it mean?
What is cycle time?
The cycle time indicates the average time it takes for the cardboard baler to perform one cycle. A single cycle is a process of compressing the cardboard waste in the chamber with the pressing plate. On average this takes up around 30 seconds. But this doesn't mean that you can make a cardboard bale in 30 seconds. You need to repeat this process multiple times to create one bale of cardboard.
What is the hourly bale output?
The production time of compacting cardboard packaging waste to a bale takes up multiple cycles. The average time to produce one bale depends on the type of material, the availability of waste materials at the site and the efficiency of the operator. Sometimes you can find in the specifications you can find the hourly bale output of the baler. This tells you how many bales the compactor produces per hour. Small-sized cardboard balers can produce 3-5 smaller bales per hour and the larger sized baling machines can produce 1-3 large bales per hour. But keep in mind, these numbers are average and the real output for your company can differ.
What does a cardboard bale weigh?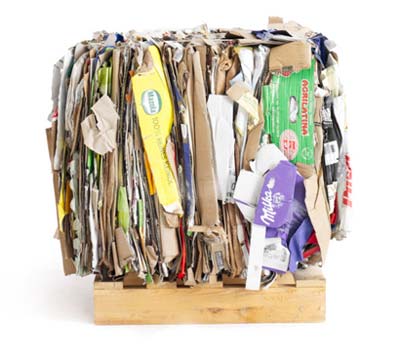 When we look at a medium-sized cardboard baler, the HSM V-Press 860 plus, it produces a bale with the following specifications:
Bale length: 47.24 in
Bale width: 30.71 in
Bale height: 47.24 in
Bale weight: 1058.21 lb
However, the weight of a bale varies based on the size of the baling machine and on the weight of the cardboard waste material.
Video: Bramidan B-series vertical cardboard baler
---
Why use a cardboard baling press?
Why do you need a baling machine and what are the benefits of a company having its own cardboard compactor?
Reduces the volume of cardboard waste and save valuable storage space, it can reduce volume up to 95%.
Reduces waste removal costs by reducing the frequency of collection.
Environmentally friendly solution for high volumes of cardboard waste.
Better revenue for your cardboard waste material.
A vertical baling press occupies minimal floor space.
A dedicated machine improves the quality of the cardboard waste stream.
Less cardboard will end up on landfills and more gets recycled.
Transporting baled cardboard makes transportation by your waste disposal company more efficient and convenient.
Which companies use a baler?
Is a vertical cardboard baler a machine that your business can benefit from? Well, does your company produces lots of cardboard waste on a daily basis and are you looking for a solution? Then a cardboard compactor is perfect for reducing the volume of your cardboard waste, like boxes and other cardboard packaging. There is all kind of companies and industries which make use of horizontal or vertical cardboard balers:
Supermarkets
Retail outlets
Restaurants
Offices
Convenient stores
Warehouses
Agriculture companies
Schools
Recycling centers
Distribution centers
And so on…
As you can see, the list is pretty diverse. If you are looking for a solution for your cardboard waste, then a cardboard baler may present your company with the ideal solution.
---
How does it help with waste management?
Cardboard is a rather voluminous and space-consuming waste stream, especially cardboard boxes. Non-compressed cardboard waste is also a relatively expensive type of waste in terms of transport costs for waste collection companies. This is simply because there is a lot of 'useless air' in the waste material, which is inefficient and costly to transport.
In order to reduce transportation costs, and thus waste costs for your company, it is worthwhile to compress cardboard beforehand. Compact cardboard bales have a much smaller footprint, which requires less floor space in your company. Additionally, the compressed bales are much more efficient to transport for waste collection companies, because they are able to collect more weight in a more compact form.
---
Pros and cons of cardboard balers
Pros:
Significantly reduce volume of cardboard waste
Save on valuable storage space
Reduces costs of waste collection
Most smaller balers are easy to use
Increases value of your cardboard on the recycling market
An environmentally friendly solution for cardboard waste with less waste on landfills
Cons:
The baler itself takes up space in your facility
It is an expensive device, but it is an investment
Additional tools and supplies need to be purchased to comfortably use some balers, such as: wheeled container, strapping wire and pallets. Take a look at recommended tools
The machines are not 100% automated, so it takes time for the operator to load, strap and unload the cardboard
---
Vertical versus horizontal cardboard compactor
There are two main types of cardboard balers, a vertical baling machine, and a horizontal baling machine. So, what is the difference between the two types?
Overall, a vertical baler is intended for smaller companies that want to have an easy to use heavy-duty baling solution for their cardboard waste, while a horizontal cardboard baler is intended for industrial use and compressing larger amounts of cardboard waste.
---
Vertical cardboard baler:
For baling small to medium volumes of cardboard waste
Ideal for smaller businesses
Easy to operate by one person
The cardboard is compressed vertically
Relatively small footprint
Produces one bale at a time
Compressed cardboard needs to be wired manually by the operator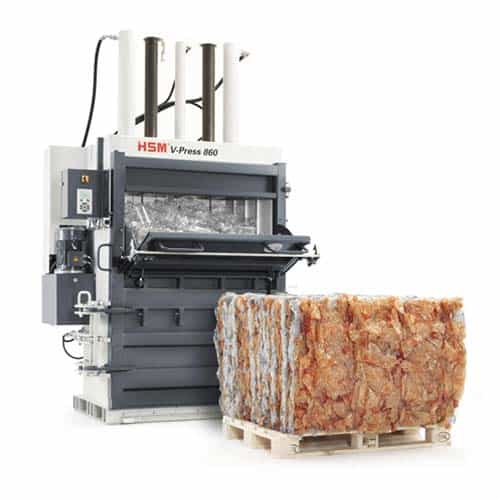 ---
Horizontal cardboard baler:
For baling high volumes of cardboard waste
Ideal for heavy industrial use
More complicated to operate
The cardboard is compressed horizontally
Requires more floor space
Requires a conveyor belt for feeding cardboard into the baler
Produces multiple cardboard bales at a time and wires the bales in the process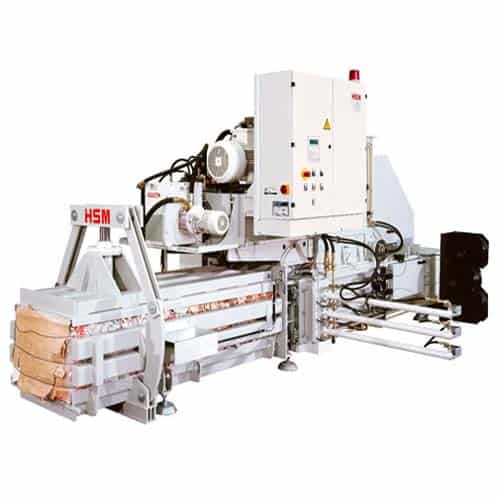 ---
Small or large cardboard baler?
Do you need a small or a large-sized baling machine for your business? It all depends on the amount of cardboard waste you need to process on a daily base and the available space you have at your facility to place the cardboard baler.
Small Balers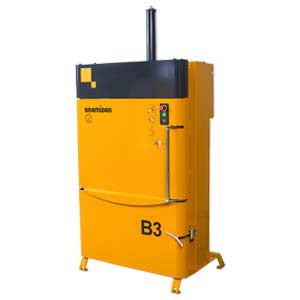 Specifications:
Av. bale size
47 x 32 x 32 in (w*h*d)
Av. bale weight
70 – 750 lb
Av. dimensions
47 x 78 x 32 in (w*h*d)
Av. price
Approx. $5,000 – $15,000
Av. pressing power
20t
Used by:
Supermarkets
Restaurants
Offices
Convenient store
Schools
Small / medium retail outlet
Large Balers
Specifications:
Av. bale size
59 x 32 x 43 in (w*h*d)
Av. bale weight
800 – 1350 lb
Av. dimensions
70 x 118 x 55 (w*h*d)
Av. price
Approx. $15,000 and more
Av. pressing power
30t
Used by:
Warehouses
Agriculture companies
Recycling centers
Large manufacturers
Distribution centers
Key takeaways
Overall, large balers produce bales that are about twice larger than those of small to medium size balers.
Small or medium balers produce bales that weight half or even a quarter of bales produced by large balers.
The footprint of a large baler is up to four times the size of small to medium balers.
The average pressing power of a larger baler is usually at least 150% of the pressing power of a small to medium baler.
---
Costs, maintenance and leasing a cardboard baler
A cardboard compactor/baler is a fairly pricy investment. The prices of basic vertical baling press start around $5,000 dollars, while high-end industrial balers can cost all the way up to $1.5 million. But don't worry you can also opt to purchase a used cardboard baler, or you can even choose to rent or lease one for a fixed cost per month from one of the cardboard baler manufacturing companies.
If you are thinking about buying or leasing a new baler it is important to note that some manufacturers can offer you a maintenance contract. These maintenance contracts allow you to be worry-free when it comes to maintaining or repairing these large machines, as a manufacture approved technician will visit the sight to take care of everything.
---
Buying checklist for cardboard balers
Before purchasing a cardboard baler there are several criterion and characteristics to concider when you are busy chosing the specific model and make that you want. Below you will find an outline of all the criterion and characteristics you may want to give thought to during this decision process.
Necessary Checklist
Build quality – As these machines are used in industrial and warehouse areas they have to be able to withstand heavy-duty usage. Because of this, a sturdy metal housing is strongly recommended.
Baler types – Dependent on the amount and dimensions of space you have available and how you will use the baler a choice needs to be made between a horizontal and vertical baler. Additionally, some balers can compress substances other than cardboard, such as plastic.
Size of baler – How big or small your baler should or can depend on a variety of factors, such as available space and amount of use.
Power required– Most large balers cannot be plugged into your average power socket. They need more power than that. For example, HSM V-press 860 L requires a voltage of 400V. This is an important feature to be aware of. Nevertheless, there are smaller balers that may be powered by a normal power socket. However, as the power socket voltage can vary per region we advise you to do your own research on this.
Capacity/bale size – the capacity of your baler and the dimensions of the final bale that comes out is an important criterion to consider. These are also important to contact your waste hauler about as the dimensions of the bales will affect them too.
Safety features –Does the baler comply with safety regulations? And what type of safety features does it have?
Maintenance – How much maintenance does the machine need? Can you do it yourself or does someone professional need to come to do it? Is a maintenance contract possible?
Warranty – How long is the warranty of the baler? And what kinds of malfunctions does it include?
Extras Checklist
Door specifications – The door size and direction in which the door opens can vary per baler. So before the purchase, you should think about what feed width or door size you prefer and whether the door should flap or slide shut from bottom to top or if it swings left to right with a single or double door. Furthermore, the lock of the door should be considered, which can be a bell-crank lever, a hand wheel door lock or a hydraulic lock.
Pallets or recessed bale – Some balers produce recessed bales while others do not. The difference between a recessed bale and a normal one is that recessed bales are molded to fit on your forklift, while normal bales must be placed on a pallet before being transported. Not needing pallets can save a lot of storage space and some money as well.
Noise level & Energy efficient – Although balers are industrial machines which generally make quite some noise there are models that are advertised to be quieter than others and more energy efficient.
Automated hauling option – Some balers can be programmed to notify your waste hauler when it is time come pick up the waste. However, the purchase of a baler in general and the use of this program should be discussed with your waste hauler prepurchase.
---
Tools, supplies and accessories
Besides a cardboard baler, what other supplies do you need to start baling your cardboard?
Wheeled container – Place wheeled containers for cardboard waste at centralized areas in and around your company. Once full these wheeled containers can easily be transported to the baling press.
Strapping – To keep a compressed bale in a compact form. It is important to strap the bale with metal wire or another strong binding material to prevent it from falling apart.
Pallet – When a bale is ready it can be ejected from the baler. Therefore, you need a pallet to hold the cardboard bale once it is ready for transportation.
Pallet truck (with scale) – To transport the pallet with the cardboard bale a pump truck or pallet truck comes in handy. We recommend a pallet truck with scale so you can weigh the carboard bale on the go.
Self dumping hopper – This attachment for a forklift can be used to store, transport and dump cardboard material in the area of the cardboard compactor. Read more about self dump hoppers for fork trucks.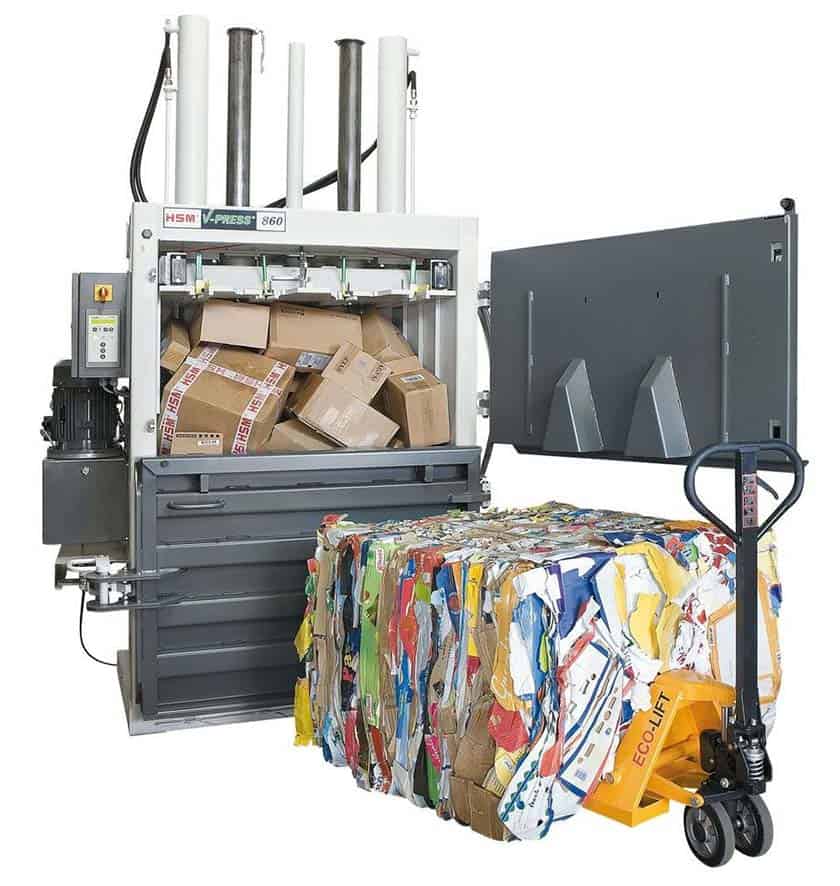 A pallet and a pallet truck are recommended tools (image source).
---
Manufacturers of cardboard balers
Which manufacturers build cardboard balers? Listed below are a number of reputable manufacturers:
North America:
United Kingdom:
---
Download this short factstheet with information about cardboard balers. Use this sheet in a meeting or share it with your colleagues.
All the pros and cons
Summarises everything you need to know
Short 2-page document
Clear images and useful info
Shareable PDF document
---
Step Up:
Recycle

, Reuse &

Reduce

The three arrows of the recycling symbol represent the three main stages of the recycling process: recycling, reusing and reducing. Together the arrows form a closed loop. Step up and implement eco-friendly replacements in your daily life.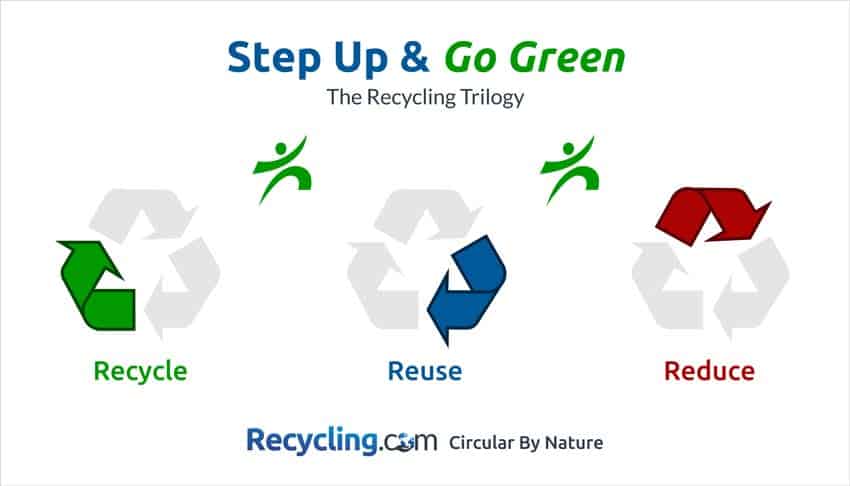 Join the movement! Step Up the waste hierarchy together to a goal of Zero Waste.
By Recycling.com/ 20 November 2019 Shares