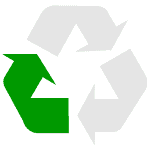 RECYCLE

| Separate Recyclables
---
Choose category:
Recycling Bins for Home & Office
Separate Recyclables From Your Trash

When you use a recycling bin to separate recyclables you join the worldwide recycling community that wants to protect the environment and save natural resources.
By sorting recyclables from your waste you prevent raw materials from being lost on landfills or energy plants where recyclables get burned.
What is a recycling bin? "A recycling bin or recycle bin is a receptacle or container to store sorted recyclables. You sort these recyclables from your daily trash at home or at the office."
Top 10 Trash Cans:
---
Recycling Bin Recommendations:
Top Picks for Recycling Bins


What is the best recycling bin for you? Check our top picks below in popular categories. Or visit the recycling bin guide for more indepth information about recycling bins and trash cans.
---
Single Bucket Trash Can
Our top pick for a trash can with one bucket
A single bucket trash can is a one purpose can. It has one compartment and can be used for collecting household trash or recycling, such as plastic or paper. The advantage of a single purpose waste bin is that you can dedicate the bin for recyclables only. That makes recycling very easy for you and your family.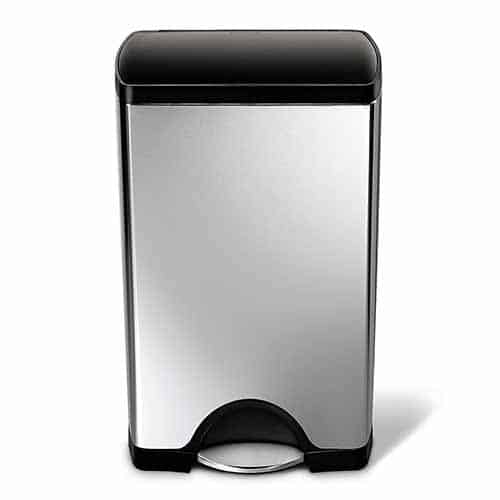 Warranty: 5 years
Capacity: 10 Gallons / 38 Liters
Type: Step-on recycling bin
Material: Stainless steel, plastic lid
Dimensions: 12.5 x 15.8 x 25.9 inches
This Simplehuman trash can for home is the perfect step-on bin for your home kitchen. The single purpose bin is a great container to put in recyclables. It has a solid and strong steel pedal and the outside bucket is made of brushed stainless steel with a fingerprint proof coating. The plastic lid makes it more dent friendly, but you can also get this trash can with a steel lid if you want. The rubber bottom holds the trash can in place on your floor while using it and the soft bottom also prevents scratching your floor.
"This is one of the best kitchen trash cans."
More customer reviews
The rectangular trash can uses your kitchen floor effectively. Because you can place the bin flat against your wall thanks to the internal lid winges. The lid mechanism works very smooth and the lid closes softly. The nice looking trash can hides (standard) kitchen garbage bags inside the bin neatly. Also great is that you can use standard kitchen garbage bags, which are more cost friendly.

What we like:

Smooth lid mechanism
Trash bags are nicely hidden
Looks great and is easy to clean
What we don't like:

It is pricey
Plastic lid can break
Lid can't be opened by hand
Check Price
---
Double Trash Can
Our top pick for a dual recycling trash can
A double trash can has two side-by-side compartments for separating trash and recyclables. This makes a dual recycling bin a perfect companion for your household when you are looking for just one waste bin for collecting waste. Generally a dual compartment trash can takes up less space than two single purpose bins and it works more convenient. Check out more double trash cans.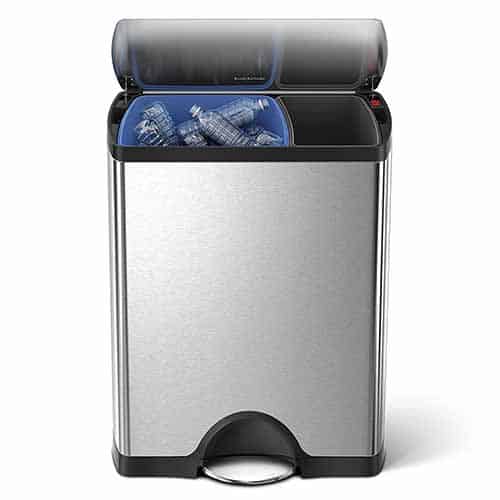 Warranty: 10 years
Capacity: 12.2 Gallons / 46 Liters
Type: Step-on dual recycling bin
Material: Stainless steel
Dimensions: 12.8 x 19.8 x 25.7 inches
Separating trash and recycling at home becomes a joy with this Simplehuman trash can recycler. The bin contains two separate and removable buckets. You can use one side for recycling and the other side for trash. You open the lid with the strong steel foot pedal, this opens the lid smoothly. To hold the lid open you just use the red latch. The lid of the trash can closes silent and it falls flush with the rest of the bucket.
"Beautiful double recycling can reduces kitchen clutter."
More customer reviews
The exterior is made of strong stainless steel. This gives the bin a sturdy feeling and because of the weight the bin doesn't slide on your kitchen floor. The dual Simplehuman bin has a special coating, so fingerprints or smudges are less visible. The well built double trash can has fairly large buckets but it still looks compact. Garbage bags fit nicely in the separate containers because you can tuck the garbage bags in special holes.

What we like:

10 year warranty
Functional, durable and well built
Open lid doesn't hit the wall
What we don't like:

Expensive trash can
Difficult to find standard trash bags
Bins aren't equal in size
Check Price
---
Recycling Bin with 3 Compartments
Our top pick for 3 section recycling bin
A 3-compartment trash and recycling bin is a multi purpose trash can. You can manage and sort three types of waste in three separate buckets. For instance your daily household trash, paper, compost or plastics. With a trio recycling bin you have everything you need to start recycling with your family. Sadly there aren't many multi compartment trash bins to choose from at the moment.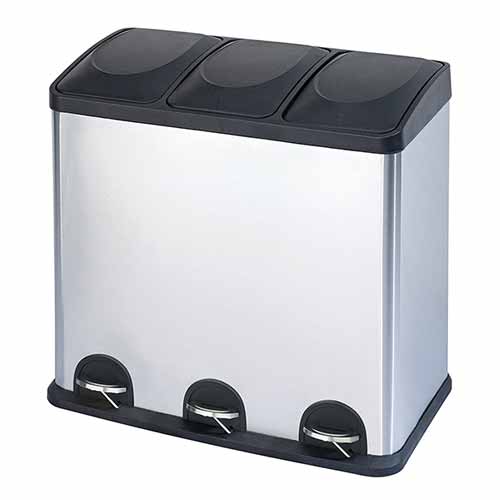 Warranty: Unknown
Capacity: 16 Gallons / 60 Liters
Type: Step-on recycling bin
Material: Stainless steel
Dimensions: 13.4 x 23.8 x 23.8 inches
If you want to recycle everything at home, then you need this stylish recycling sorter with three bins. The step-on recycling bin has three separate removable buckets with handles. This makes the inner bins very easy to empty and clean. You open each bucket independently with it's own foot pedal. Each bucket has a capacity of 5.3 gallons. The plastic lids fall flush on the overall pretty looking design.
"Convenient and stylish recycler that makes recycling fun."
More customer reviews
The multi compartment trash and recycling bin is made of stainless steel with a plastic top. It is a well built trash can that feels pretty heavy. The step pedals feel a bit flimsy though, it doesn't match the overall sturdy feel of the bin. The recycling bin is great for smaller kitchens or small families that want to recycle. The bin is compact but not too small.
What we like:

Easy to empty the removable buckets
Great for collecting recyclables
Each bin has it's own lid
What we don't like:

You can't open the lids by hand
Not the most high end trash can
Not suitable for large families
Check Price
---
Automatic Trash Can
Our top pick for a trash can with motion sensor lid
An automatic motion sensor trash can is 100% touchless. You open the lid of the trash can by waving your hand in front of a sensor. The touchless operation makes theses trash cans hygienic in use. Great for families with kids. The only downside with automatic garbage bins is that you need to change batteries every once in a while and the motor can get a defect after using it intensively.
Warranty: 1 year
Capacity: 18.5 Gallons / 70 Liters
Type: Automatic motion sensor lid
Material: Stainless steel
Dimensions: 13 x 21.3 x 26.2 inches
With this automatic trash can you don't need to touch anything to throw away your trash or recycling. The motion sensor lid opens quickly after you've activated the patiently waiting sensor. The silent motor requires 4 D-batteries, they will last for a while thanks to battery saving technology. The automatic trash can is easy to use and the sensor works great. The lid doesn't stay open long, therefor you need to push a button or hold you hand longer in front of the sensor.
"Great automatic sensor bin for trash and recycling."
More customer reviews
The Nine Stars automatic bin has been a popular bin for years. Thanks to it's durable stainless steel design and because this container is a trash and recycling combo. So this bin is perfect to separate recycling in the kitchen. It doesn't take up much space but the buckets are very spacious inside. The downside though is that the bins are not removable. So you need to put in garbage bags which you can tuck nicely out of view. The trash can holds lots of trash and keeps odors contained.

What we like:

Energy saving technology
Compact but spacious bins
Trash and recycling combo bins
What we don't like:

Only 1-year warranty
The stickers are hard to remove
Inner bins are not removable
Check Price
---
Pull Out Kitchen Trash Can
Our top pick for a built-in slide out recycling bin
An under-counter pull-out trash can is a waste container that you install in a cabinet. Most of these slide-out bins get installed in a kitchen cabinet right underneath the sink. It is a descrete solution when you want to hide your trash in your kitchen or don't want to place a freestanding trash bin in sight. You also save up floor space, that is especially convenient when you have a small kitchen or small appartment and don't want to give up precious floor space.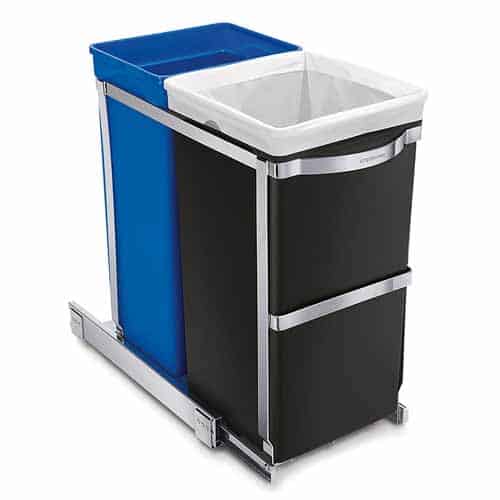 Warranty: 5 years
Capacity: 9 Gallons / 35 Liters
Type: Pull out trash can
Material: Plastic bins / metal frame
Dimensions: 9.8 x 18.2 x 19.1 inches
Keep trash and your trash can out of sight with this pull-out trash can that you install in your kitchen cabinet. With it's 9 gallons in size it isn't the largest slide-out trash can, but the built quality is very good. The pre-assembled one piece track has an all steel frame. The high quality plastic dual bins slide smoothly on the tracks thanks to the ball-bearings. This recycler version has two square shaped buckets for holding trash and recycling.
"This slide-out bin encouraged me to do more recycling."
More customer reviews
You slide out the bins with the chrome steel handle. The track extends up to 3 feet for easy disposal of trash and recyclables. The under-counter recycling bin feels very sturdy, strong and stable. It is the perfect solution for hiding your trash under the sink. Our only complaint is the fairly small bins, they fill up quickly. You can fit in regular trash cans but the official liners fit best. The bins don't have lids to keep odors contained.

What we like:

High built quality
Easy cabinet installation
Sliding mechanism will last for years
What we don't like:

Bins are a bit too small
Not recommended for large families
Chrome finish attracts finger smudges
Check Price
---
Best trash can recommendations
Trash can recycling stickers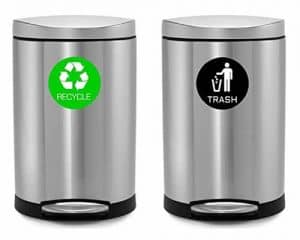 Do you want to dedicate a bin especially for recycling? That is a great idea. But to prevent other people from accidentally throwing away their trash in the recyclables bucket, a simple recycling sticker can really help. A recycling decal or vinyl with the official recycling logo on it makes it visually clear to everybody that you want to use a bin only for recyclables. You can buy these trash can stickers in two variants. One sticker for your recycling bin and the other for the regular trash can. We also recommend these recycling labels for commercial trash cans and recycling bins.
Do you want to know what you can't throw away in your recycling bin? Check these tips at Earth911.com.
Recycling bins for your garage
When you want to separate waste materials at home you need to have several recycling bins for every waste stream. For example one for your cardboard waste and one for your plastic waste. These bins can take up quite a lot of space in your kitchen. That is why most people sort their recyclables and trash out of sight in the garage or in a utility room.
With the Recycling Rules! recycling bins you can collect all your recyclables nicely. This set contains of four blue stackable bins with handles. So you can easily transport each recycling bin. With the stackable bins you can create your own recycling station at home or at work. Start sorting your glass, metals, plastic, paper et cetera. The capacity of each bin is 6 gallons. You can also order the bins in larger quantities, such as a 8-pack or 16-pack.
Check Price
Kitchen recycle bin
Most people use a garbage can in their kitchen. This is the area in your house where most of your daily trash appears. We recommend placing a kitchen bin with recycle compartment. These two compartment trash cans are perfect for sorting kitchen waste. You can fill one of the buckets with garbage and the others with recyclables.
Are you looking for a stylish kitchen bin? Check out our recommendations.
There are all kinds of kitchen recycle bins, because not all kitchens are the same of course. You can buy a kitchen trash can in all kinds of shapes, sizes, materials and colors. Do you have a small kitchen? Then you can look for a slim or narrow sized recycling bin. You can also opt for a pull-out kitchen trash can that you can install in a kitchen cabinet. These type of pull-out recycling bins are also great if you want to keep your trash and trash can out of view.
Most people get a pedal bin. These trash cans can be opened with a foot pedal so you have your hands free to throw away your trash or recycling. Besides that a pedal bin is also more hygienic in use because you don't have to touch the bin or lid with your hands. This is of course preferable for the kitchen area.
A kitchen recycling bin isn't only useful in your house. Don't forget the office environment. In the office there is also a kitchen so it is a great idea to place a kitchen recycle bin here as well, see more recommended commercial recycling tools.
The pros of a recycling bin
Why do you need a recycling bin at home? Well, with a trash and recycling bin you have a dedicated container in your house to collect all your recyclables. In this way it is clear for you and the rest of your family where to store all the recyclable waste materials.
It will sure give you and your family a fulfilled feeling when you see a recycling bin at the end of the week full of sorted recyclables. This means your household contributes to a circular economy, something to be proud of.
Reducing and preventing waste
If you want to contribute even more, then think about ways to prevent waste as much as possible. Maybe you've heard about zero waste already. This is a lifestyle where people try to live without any waste. This sounds great, but for most families this idea is just not fully achievable.
But instead of a 100% zero waste lifestyle you and your family can reduce and prevent waste where it is possible.
Here are some waste preventing tips:
Bring your own shopping bag to the mall.
Reusing a water bottle instead of buying plastic water bottles.
Use a lunchbox instead of wrapping your lunch in aluminium foil or a plastic bag.
Why recycling is important?
So to reduce the amount of garbage, recycling at home or the office is important. Recycling saves natural resources, but it has more advantages.
Recycling is important because it:
Saves money
Reduces energy use
Reduces (fossil) fuel use
Reduces space on landfills
Improves air and water quality
Prevents loss of natural resources
Reduces global warming.
Non sorted trash contains valuable recyclable materials. The trash ends up on landfills or is burned in energy plants. In this way natural resources are lost forever. To make recycling and a circular economy possible, sorting recyclables from trash is a necessity.
Shred before you recycle
At home and at work we all have confidential documents with sensitive information. Such as personal information or data about a project your company is working on. When there is a need to dispose these papers we recommend to shred the documents first to prevent leaking confidential information. You can achieve this by using a paper shredder. After shredding you can recycle the shredded documents. Read more about paper shredders.
---
Step Up:
Recycle

, Reuse &

Reduce

The three arrows of the recycling symbol represent the three main stages of the recycling process: recycling, reusing and reducing. Together the arrows form a closed loop. Step up and implement eco-friendly replacements in your daily life.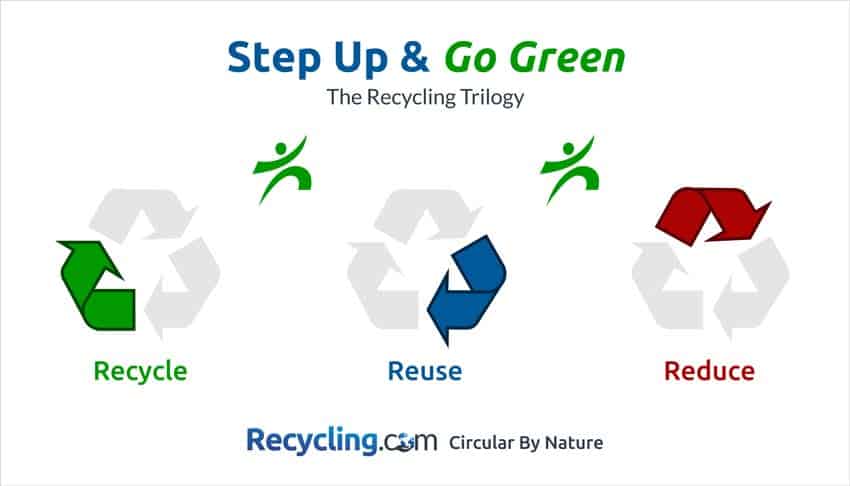 Join the movement! Step Up the waste hierarchy together to a goal of Zero Waste.