Eco-Friendly Packaging from Cardboard Waste
Can shredded cardboard substitute your current packing materials?
Updated on December 27, 2021 | Author: Diana Tran
With a cardboard shredder, you are able to convert cardboard waste into free, sustainable, and well-protective packing material. Is a cardboard shredding machine something for your business? At Recycling.com, we receive lots of questions from companies all over the world about these packaging machines. Can this cushioning material, made of your cardboard waste, fully substitute the current packaging materials you use for your shipments? Let's find out.
The short answer: Yes, cardboard forms a great alternative, and it is an eco-friendly and cost-saving solution. This means you really can exchange your costly plastic bubble wrap, packing peanuts, kraft paper, or air pillows with your own shredded or perforated cardboard.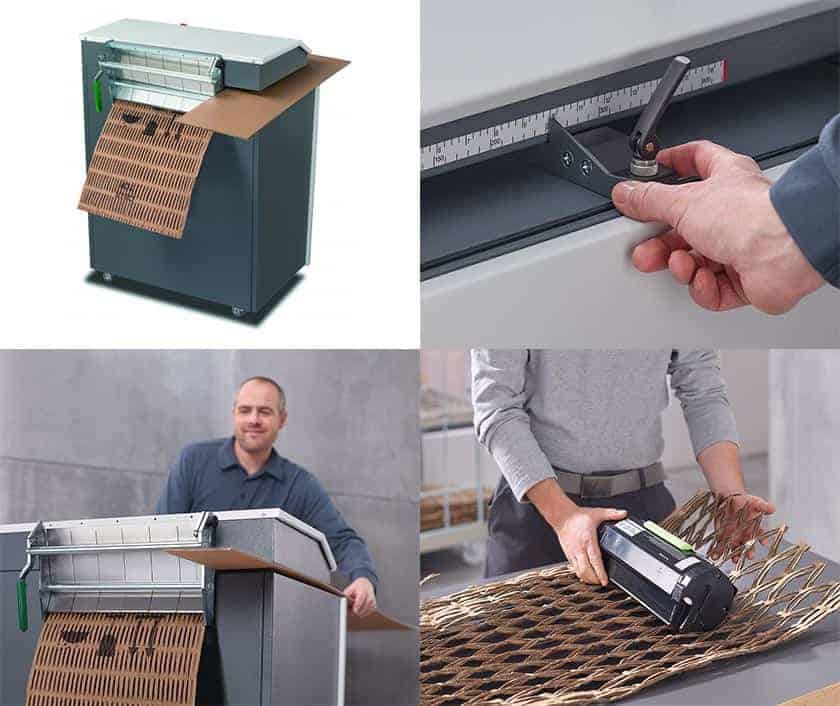 Therefore, we created this comprehensive article about the use of shredded cardboard as packaging. We've done the research, interviewed an expert, and compiled everything you need to know about this topic.
---
The Expert Opinion
We've interviewed a sales representative at HSM USA, a well-known manufacturer of cardboard shredders. They are experts on shredding devices, such as cardboard shredders and paper shredders. Like us, they also receive questions regularly about the use of perforated cardboard.
Most of your packing materials can be replaced by cardboard padding you produce with a cardboard perforator.
According to HSM, all packaging materials can be replaced by shredded cardboard. Think about packing peanuts, bubble wrap, and air pillows. For more fragile items, such as wine bottles, using thicker corrugated padding with 2-3 layers is recommended. Besides shredded cardboard is an eco-friendly way to protect and ship packages, it also reduces the disposal costs of cardboard waste.
Tip: If you have decided to go for HSM cardboard shredders, this article "ProfiPack C400 vs. P425" might be helpful for you.

Reference
"We have the HSM Profipack P425 at Air Plant Shop. It has allowed us to completely eliminate the use of bubble wrap at our facility. This is a huge accomplishment!"
Air Plant Shop | Customer testimonial
---
---

What Are the Most Common Types Of Shredded Cardboard Packaging Materials?
Most cardboard shredders convert cardboard into padding, a cushioning cardboard mat that reminds the most of bubble wrap. This is the reason why most cardboard shredders are cardboard perforators. It depends on the type of cardboard shredder what type of packaging materials the machine produces. Less common are cardboard shredders that produce strips or chips.
Before highlighting the eco-friendly types of cardboard packaging material that may be applicable to your business and operations, it is important to identify exactly what types there are.
70% of all consumers are likely to be influenced by sustainable packaging.
---
Therefore, we have listed you the pros and cons of each cutting mode.
---
---
Are Your Current Packaging Materials Replaceable?
Many consumers and companies have become more environmentally conscious. You might be surprised how many options of reusing and recycling packaging there are for it. But which of your packing materials are replaceable for an eco-friendly alternative? Also, how well is your product protected during transit?
Simply put, one of these alternatives are biodegradable packaging materials, which could help with the current reliance on single-use plastic packaging. These works in the same way as the Styrofoam peanuts. Although, biodegradable plastics are more expensive than standard plastics on a weight basis.
By seeking biodegradable alternatives, we may help the environment, but we think that corrugated cardboard is the go-to solution for packaging sustainability because they're organic. Especially when you have a lot of cardboard waste you normally don't reuse.
"Approximately 32.1 million tons of corrugated boxes were recycled out of 33.9 million tons of total paper and paperboard recycling."(2018) –EPA.gov
Another popular eco-friendly alternative is traditional paper. Either it comes in rolled paper or as crinkled paper. Basically, crinkled paper looks like confetti and can be filled space, blocking or cushioning. Keep in mind that packaging paper provides decent protection and not full protection.
So, which packaging materials are the best to fill voids and cushioning needs? Let's take a look at the most common materials next.
---
Is There an Eco-Friendly Alternative to Bubble Wrap?

Product Details
Function
Bubble wrap is a way to protect goods that are easily scratched, for instance, fragile items. It's perfect to use as void filling or blocking and bracing.
---
Average costs
A small roll (150″ x 12″) costs roughly $20, and for a bulk roll (250″ x 12″), approx. $30.
---
---
An Eco-Friendly Alternative
---
Get Inspiration About The Cardboard Shredder
---
---
Is There an Eco-Friendly Alternative to Packing Peanuts?

Product Details
Function
The function of packing peanuts is void fill and it helps to absorb shocks. This packaging material can be used to protect loose items to keep them from sliding into each other inside of the cardboard box.
---
Average costs
The average price of one bag of regular packing peanuts costs $16.50 (around 30 gallons 4 cubic feet).
---
---
An Eco-Friendly Alternative
---
Get Inspiration About The Cardboard Shredder
---
---
Is There an Eco-Friendly Alternative to Kraft Paper?

Product Details
Function
Kraft paper is produced from chemical pulp and is often used to fill the space inside the packages. It can also be used to wrap around the product to protect it from scratches.
---
Average costs
The estimated cost of kraft paper is between $32 to $44 per kg.
---
---
An Eco-Friendly Alternative
---
Get Inspiration About The Cardboard Shredder
---
---
Is There an Eco-Friendly Alternative to Air Pillows?

Product Details
Function
This alternative fills voids, blocks, and holds products away from the edges. Compared to packing peanuts, air pillows don't allow movement while in transit.
---
Average costs
One roll (200mm roll with 120 mm perforations) of air pillows would cost $75 – $95.
---
---
An Eco-Friendly Alternative
---
Get Inspiration About The Cardboard Shredder
---
To sum this up…
Our cooperation partner and product specialist from HSM said that there are no downsides to using shredded cardboard. They advised using cardboard padding as the best form of cardboard packaging because this option offers the best features in order to protect your items.
If you're unsure whether these packaging materials are the best for you or if you need further information contact us.
---
How To Reduce The Cost Of Packaging Materials?
Companies spend a lot of money on packaging material and customers are pickier than ever. Nowadays, lots of consumers expect sustainability. With that being said, there are simple ways your business can reduce packaging costs.
The first step could be reinventing the way you operate by repurposing your cardboard waste. Secondly, the materials, size and weight are an important factor because it determines how much you pay for shipping. Less weight and the right size can save your back pocket.
Also, many businesses overlook packaging and opt for the wrong size box, for instance for an oversized packaging which takes up more space.
An environmental rule: Reduce, Reuse, Recycle. Learn more about waste hierarchy!
Shredded materials have become a huge component of most distribution and manufacturing companies. Thus, recycling machinery just like the cardboard shredder can save your budget without losing time.
---
Conclusion
A cardboard shredder really is an investment. This means you earn your investment back over time. A cardboard perforator produces free packaging material, which means you reduce or even eliminate the need of buying packaging materials, such as bubble wrap or air pillows. By reusing your cardboard you immediately reduce the volume of cardboard waste, which results in lower costs for waste hauling.
Furthermore, there are more advantages:
Opportunity for increased sales
Enhanced consumer satisfaction through eco-friendly packaging materials
Reduction of carbon footprint
More eco-friendly image
Easier for the customer to dispose of the packing material because it is 100% cardboard.
---
---
A Briefly Definition Of The Packaging Materials
Bubble Wrap
Bubble Wrap is made of a three-dimensional plastic polymer film that consists of pockets of air. It is a transparent plastic packaging product. We've all experienced joy while popping tiny air bubbles in our lifetime.
---
Packing Peanuts
Also known as foam popcorn, packing noodles, or foam peanuts. It looks like the snack peanut and is small pieces of Styrofoam. It is pretty annoying for most consumers because they have a tendency to stick to other surfaces – meaning it makes opening packages messier.
---
Kraft Paper
The most commonly used material in packaging is the Kraft paper, commonly referred to as brown paper, butcher paper or packing paper. Basically, it is a high-quality paperboard.
---
Air Pillows
Similar to bubble wrap, air pillows have thin sheets. These sheets are filled with air and are light as a feather. Unlike bubble wrap, this option will provide a higher level of protecting products.
---
---
How Much Cardboard Waste Do You Need To Produce Your Own Cardboard Padding Material?
It really depends on the size of the parcel and what type of product you want to ship. A cardboard shredder comes with a scale, which makes it easy to convert cardboard into the desired width and length so it fits perfectly inside of the box.
---
Tips: What To Do With Shredded Cardboard?
Now you know which packing materials are replaceable or not, we want to give you some ideas and inspiration on what you can do with shredded cardboard packaging materials.
Why not giving the waste product a second lifecycle?
---
Pack Delicate Items with It
If you want to pack delicate items, we recommend shredded cardboard. This material replaces, for instance, Styrofoam popcorn and bubble wrap very well. A shredded paper will avoid bumps or shifts. So, they don't move around too much during transit.
---
Use It As Stuffing
You can also use shredded cardboard for stuffing all sorts of things, especially for fragile items. For instance, glasses: You can fill the shredded cardboard inside the glass , so it won't break too easily.
---
Cardboard For Composting
Composting is one of the most environmentally friendly solutions. This is an excellent way and can be used as a natural fertilizer.
---
Cardboard For Pet-Bedding
This is a good alternative to comfort your animals. And who knows, maybe your little animals have fun with it too? Besides that, you can also donate your shredded cardboard to a veterinarian.
---