Find inspiration, tools & solutions
Reduce, reuse & recycle at work
---
Popular office tools:
---
Sustainable workspace inspiration:
Start your green office today
---
"Know what you throw away today. Think about how you and your colleagues can reduce, reuse and recycle tomorrow." Team Recycling.com
---
Inspiration & Ideas
How to reduce, reuse and recycle?
---
---
---
Inspires to preserve nature
"Recycling.com inspires a global audience of professionals to contribute to a zero waste world."

"We recommend durable and high-quality products from reputable brands, manufacturers and distributors."

"Our guides with sustainable inspiration connect 10,000+ businesses a month with experts to help improve recycling rates."
---
Green Your Office
10 Sustainable tools to reduce waste
---
---
---
---
---
---
---
---
---
---
---
Close the Loops Together: Team Up and Green your Office

To achieve the best results in reducing, reusing and recycling waste at work, it is recommended to start and organize a Green Team. With this team you can turn your office into a green office. This self-organized team consists of a group of employees that have volunteered to educate, inspire, challenge and empower employees about your sustainability goals.
Here are some tips on starting a Green Team:
Start with a small group with volunteers from multiple disciplines.
Make one member the 'recycling coordinator'.
Hold regular meetings.
Study the current waste streams and set up clear sustainable goals.
Achieving set goals by creating campaign calendars.
Engage employees for gathering more eco-friendly ideas.
Educate your colleagues on how to reuse, reduce and recycle waste.
Set up a clear waste collection and storage system.
Monitor the progress, measure results, and evaluate procedures.
Make and keep it fun.
Even small changes can have great impact when the whole office is involved.
More tips & ideas for reducing waste in businesses
Buy local – This reduces transport costs and it reduces energy.
Buy in bulk – Order office supplies (food and non-food) in bulk, this saves up on packaging waste and energy.
Buy high-quality – Opt for high-quality office equipment that is durable and will last for years.
Buy eco-friendly – Find office products that are eco-friendly manufactured and use recyclable packaging.
Why is waste reduction important?
It conserves natural resources and energy.
By reducing and preventing waste you also reduce greenhouse gas emissions.
It will make the ecological footprint of your office smaller.
It is attractive to customers to operate more sustainably.
It reduces the costs of waste disposal.
Reducing waste is something you can do together, this boosts the team spirit and environmental awareness.
Did you know that the average office worker uses 10,000 sheets of copy paper and 500 disposable coffee cups each year?
More resources about reducing office waste
---
Team Up:
Recycle

, Reuse &

Reduce

The three arrows of the recycling symbol represent the three main stages of the recycling process: recycling, reusing and reducing. Together the arrows form a closed loop. Step up and implement eco-friendly replacements in your daily life.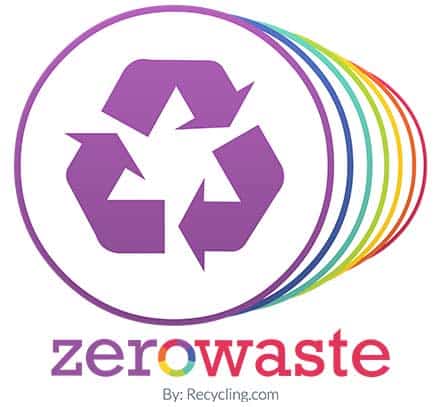 Join the movement! Step Up the waste hierarchy together to a goal of Zero Waste.