Best Heavy-Duty Paper Shredders for High Capacity Shredding
Shred high volumes of confidential documents continuously
Updated on Mar. 1, 2021 | Author: Pim Brouwer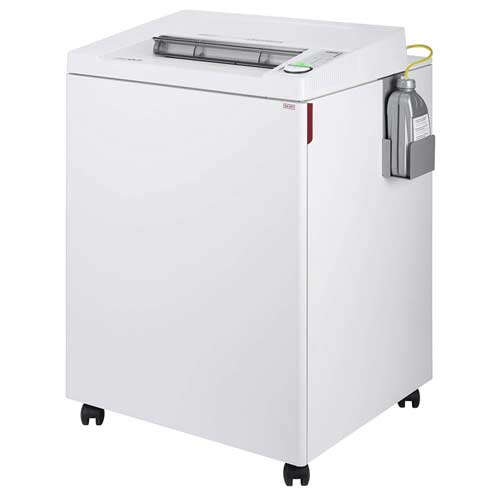 Are you looking for a reliable and powerful office shredder for the commercial shredding of large amounts of sensitive documents? Then we recommend a heavy-duty shredder. These commercial, centralized paper shredders can shred high volumes of documents continuously.
Standard paper shredders need to cool down after a few minutes of shredding. Still, a large paper shredder for heavy-duty shredding is optimized to shred for long shredding sessions because of its extended run-time and large bin capacity.
Top 10 Powerful Shredders
---
Recommended for you:
---
Top 10 Heavy-Duty Shredders
What is the best high capacity shredder for professional use? Our team researched 100+ shredders and selected the best commercial shredders. These powerful shredders are able to shred high volumes of confidential documents into small particles.
Our top-rated selection is based on these requirements:
Security level P-3 or more – Small shreds instead of strips
Run-time of 60+ minutes – Shred continuously
Sheet capacity of 15+ sheets per pass – High volume shredding
Trusted manufacturers – Powerful and durable shredders
High-rated customer reviews – Minimum of 4 stars
Disclosure: This article about 'Best Heavy-Duty Shredders' contains affiliate links. If you click on a product link and make a purchase, we may earn a commission – learn more.
---
Super heavy-duty department shredder
---
Compact, secure and durable shredder with metal construction
---
Powerful centralized office shredder for 8-10 users
---
Powerful TAA-compliant heavy duty shredder for 10+ users
---
Quiet & oil-free department shredder for 5+ users
---
---
Quiet & safe to use office shredder
---
TAA Compliant commercial cross-cut shredder
---
Shred 22-24 sheets of paper continuously
---
High security shredder with security level P-5
---
Hands-free automatic paper shredder for large offices
---
Are you looking for high capacity shredding machines? Check our recommendations for heavy-duty paper shredders.
---
Commercial paper shredders are perfect to use for centralized high-volume paper shredding at the office.
---
More About High Volume Paper Shredders
Navigation:
---
What is a heavy-duty shredder?
Heavy-duty shredder machines are designed to be used at the office with multiple users because of their large bin capacity and high sheet capacity. Its high capacity makes a heavy-duty shredder perfect for departmental shredding. You can also use high capacity paper shredders to assist you with your yearly cleanup of old tax records and other financial and sensitive documents.
However, heavy-duty is a relative term that can mean different things to different people. On this page, a shredder is considered heavy-duty if it can serve as a centralized shredder for the office. For you, it might mean a shredder that you can share with one or two colleagues or one that has a sheet capacity larger than 10.
More info? Read our Paper Shredder Buying Guide.
---
Other high volume shredder options
The commercial-grade heavy-duty shredders we've selected are targeted for (medium / large) office use. But maybe you are looking for a smaller continuous shredder for your home office, or perhaps you want an industrial shredder for shredding large volumes of paper. These commercial shredders have different specifications and different price points.
Find more shredders for your office environment. Check our top 5 personal shredders for home use and shredders you can use for a small office. Collect your shredded documents in a blue commercial recycling bin with a recycle label or go for extra security with a lockable shred bin. A shred bin can also be used to store sensitive documents before paper shredding.
Industrial paper shredders for bulk shredding
When you want to shred high volumes of confidential documents frequently, we recommended investing in an industrial-grade paper shredder. Industrial shredders are built for continuous shredding in bulk. Find out more about industrial paper shredders.
Shred without a shredder
Maybe a paper shredder isn't the right solution for your paper shredding project. You can also opt for hiring a paper shredder or hire a paper shredder company in your area. These companies can shred all your confidential documents.

---
What are the differences between heavy-duty models?
You may notice that many of the names of shredders in our top 10 list are similar. For example, there are four Fellowes Powershreds. You may ask yourself how these models differ from one another and which one is best for your needs.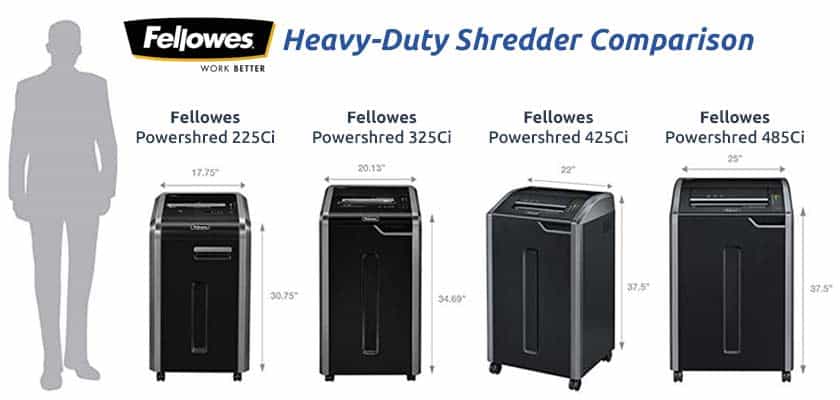 Firstly, Fellowes is a very popular and reliable brand that you will run into a lot during your search for a shredder. All of the names of their models are very similar, and this also goes for other brands. The main difference between these models is the capacity of the machine. This means the devices differ in their maximum sheet-capacity, the bin capacity, and the recommended number of users. Therefore, if you have found two or more shredders from the same collection, you should look at the capacity specifications to decide which one suits your needs.
---
Why do you need a large paper shredder?
Some people don't realize this, but most average shredders can only shred for a few minutes before they need to cool down. This cool-down period can take up to 45-60 minutes. These cheap shredders are limited because of the short duty cycle. Thereby the small bin fills up quickly with your shredded documents, which isn't recommended for high capacity shredding in the office.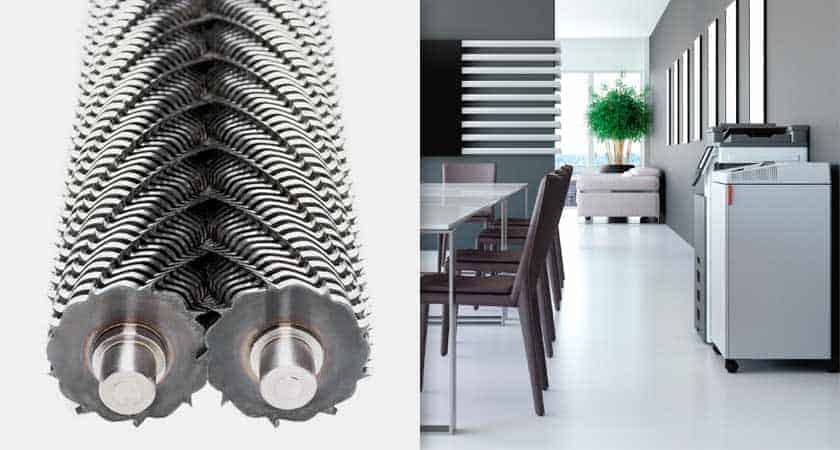 Imagine you want to shred large amounts of sensitive documents with a basic shredder that can only run for 10 minutes and needs to cool down for almost an hour. Therefore it is recommended to invest in a more expensive and larger heavy-duty shredder designed for heavy office use.
Shred large amounts of confidential and sensitive documents continuously in bulk.
Heavy-duty shredder v.s. Standard paper shredder
See a Fellowes Powershred 225Ci in action on Youtube
Besides the short run-time and limited bin capacity, an average home shredder for light usage can't coop heavy-duty work. When you use a small shredder like a workhorse, all kinds of problems will occur, such as paper jams or even a defect in the cutters or motor. A paper shredder for light use created for shredding a few documents at a time is not capable of eating through boxes full of papers and junk mail. For this kind of heavy-duty commercial paper shredding, you need a large shredder that handles this intensive task.
For who is a heavy-duty shredder?
Heavy-duty shredders are specially built for the office environment. The commercial shredders are used for the commercial shredding of large volumes of documents. But also, at home, you might have the need to shred more documents than your average home shredder. There are also heavy-duty shredders you can use at home. These shredders aren't as large as the commercial office shredders. But they have some heavy-duty features, such as a longer run-time, higher sheet capacity, and a larger bin.
---
Requirements of a commercial shredder for heavy-duty shredding

High sheet capacity – The sheet capacity tells you the number of standard documents you can shred at once. The larger the capacity, the faster you can shred your documents.
High bin capacity – The amount of shredded paper the bin can hold. We recommend at least 15 gallons.
Long run-time – The number of minutes the paper shredder can run before it needs to cool down. Expensive heavy-duty paper shredders can run continuously without cooling down. A heavy-duty shredder is rated around 30 minutes or more.
Other things to take into consideration
Jam-proof – One of the biggest annoyances with paper shredders is a paper jam. Luckily most commercial shredders have built-in technology that prevents a paper jam. A unique sensor registers the amount of paper that is fed in the manual slot. When the stack is too large, the shredder will stop and reverse the cutters.
Quiet and silent shredding – In some offices, it is desired to shred documents discretely. Look for a soft heavy-duty shredding machine with a low noise level that produces less than 55 dB of sound while shredding.
Oil the shredder – It is imperative to lubricate the shredder often. Some office shredders will auto-oil the cutters, but some need manual assistance. Read more about shredder oil and lubricant sheets for shredders.
Cross-cut or Micro-cut – Do you expect small particles or tiny particles from your heavy-duty shredder? In short, a cross-cut shredder can shred more sheets of paper in one go and produces larger paper particles. If the safety of information is vital within your company, we recommend a micro-cut paper shredder. Read more about this in our paper shredder guide.
---
Tools for paper shredding
We recommend the following related paper shredding tools:
---
Commercial shredder manufacturers
What are well-known heavy-duty paper shredding machine suppliers and manufacturers and brands?
---
Autofeed shredders – Shred while you walk away
Some offices make use of automatic paper shredders, also known as auto feed shredders. These types of office shredders can also be used for heavy-duty jobs, for instance, for the finance department. An automatic paper shredder is a unique machine because these shredders can shred documents automatically.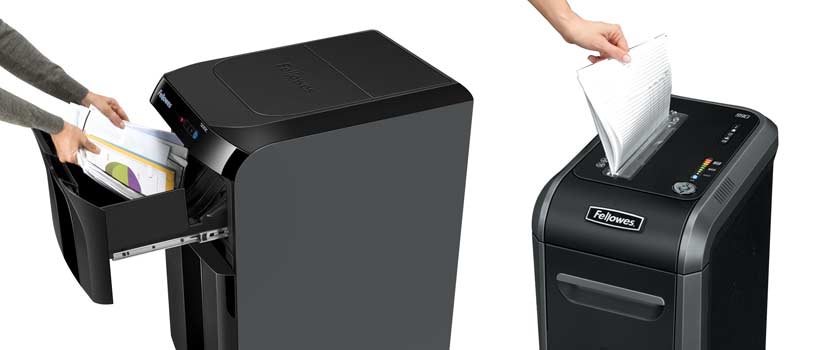 You feed a stack of paper (it depends on the shredder how much it can handle), and the shredder takes care of the rest. An automatic shredder is also described as a 'walk away shredder.' Because you can really fill up the shredder, press the button and walk away while the shredder shreds all your paper sheets while you continue working.
Check Automatic shredders on Amazon
---
---
Step Up:
Recycle

, Reuse &

Reduce

The three arrows of the recycling symbol represent the three main stages of the recycling process: recycling, reusing and reducing. Together the arrows form a closed loop. Step up and implement eco-friendly replacements in your daily life.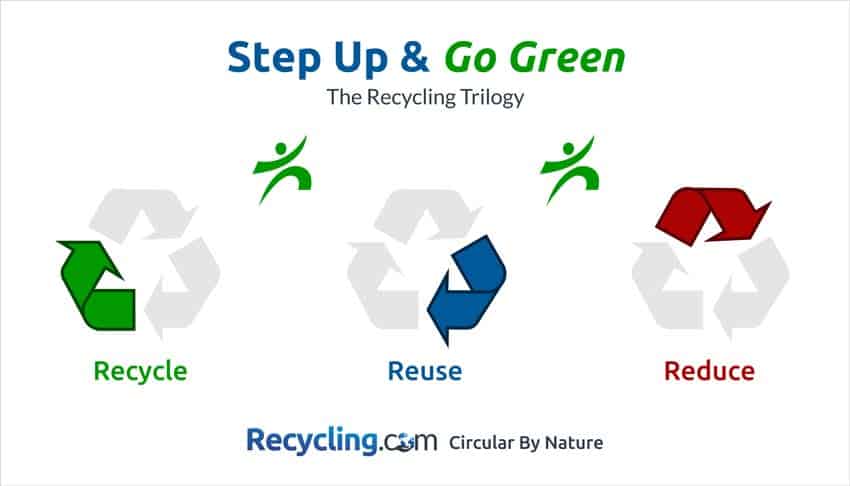 Join the movement! Step Up the waste hierarchy together to a goal of Zero Waste.