Best Paper Shredder for Small Business or Office
Professional shredders for the office workspace
Which paper shredder is best for small business use and keeps your confidential information safe and secure? On this page you can find recommended paper shredders for office use. These professional office shredders are perfect for shredding confidential business papers, such as sensitive tax and financial documents, client and employee files and agenda's or minutes from meetings.
Our top pick:

We recommend the Fellowes Powershred 99Ci for an all-round cross-cut shredder for small office. The 100% Jam Proof Fellowes shredder can shred 18 sheets of paper per pass and runs for 30 minutes straight. It also shreds CDs, credit cards and junkmail.
Top 10 Paper Shredders:
For shredding confidential office documents we recommend buying a reliable and professional paper shredder which shreds according to cross-cut or micro-cut security levels. For highly sensitive documents we suggest purchasing a micro-cut DIN P-5 office shredder, because these shredders produce paper particles that are very small and barely readable. Also look for a paper shredder that has a long run-time (20 minutes or more) and can shred a stack of around 10-20 sheets of paper per pass, these office shredders can be used by multiple colleagues at the office.
Top 5 Best Paper Shredders for Small Business
Shred confidential office documents with a Cross-Cut or Micro-Cut Shredder
These office shredders meet the following requirements
Users: 1-5 users (small office)
Price range: $150 – $400
Sheet capacity: 10 Sheets or more
Bin capacity: 5 Gallons or more
Run-time: 20 Minutes or more
Security level: Cross-cut or Micro-cut (tiny particles)
More info? Read our Paper Shredder Buying Guide.
---
Best All-Round Cross-Cut Shredder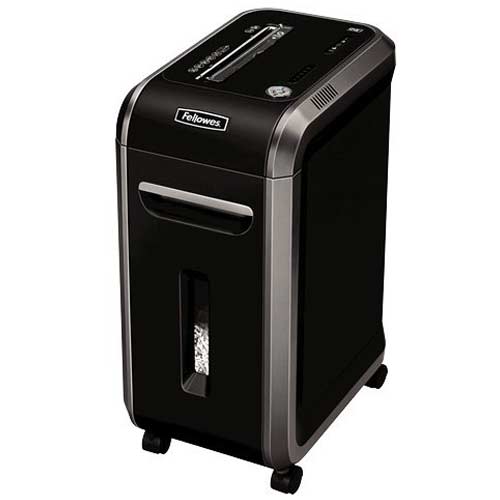 The Fellows 99Ci is fast, quiet and well-built
The Fellowes Powershred 99Ci is a great all-round small office shredder. This powerful Fellowes paper shredder is perfect for incidental shredding for small workspaces with 1-3 people. You can shred up to 18 sheets of paper per pass without having to deal with paper jams, thanks to the jam-proof technology. Besides documents you can also shred CDs, DVDs, credit cards, paper clips and staples. The paper shredder is safe to use at your office because of the SafeSense technology. You can shred up to 30 minutes in one session before the shredding device needs to cool down.
Security level: Cross-cut
Run time: 30 minutes
Sheet capacity: 18 pages
Bin capacity: 9 gallons
---
Compact, Quiet and Powerful Office Shredder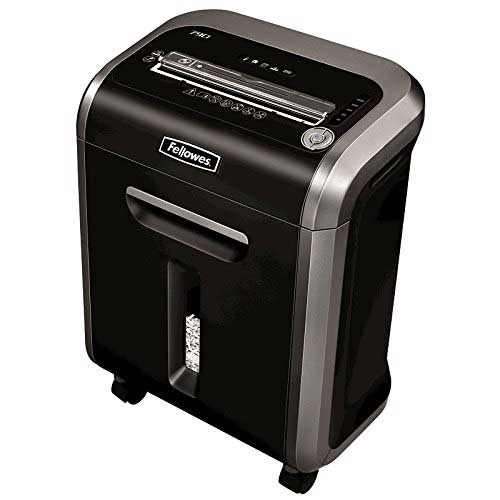 Shred documents silently in small DIN P-4 particles

The Fellowes Powershred 79Ci is a reliable paper shredder for small office use. Place this compact paper shredder machine next to your desk and shred up to 16 sheets per pass in small P4 shreds. You can use the Powershred 79Ci also in shared workspaces. The Fellowes shredder operates pleasantly quiet and is safe to use thanks to SafeSense technology. Besides confidential papers you can also shred CDs, DVDs, credit cards and junkmail. It is also great that this small office shredder is jam proof.
Security level: Cross-cut
Run time: 20 minutes
Sheet capacity: 16 pages
Bin capacity: 6 gallons
---
All-Round Budget-Friendly Cross-Cut Shredder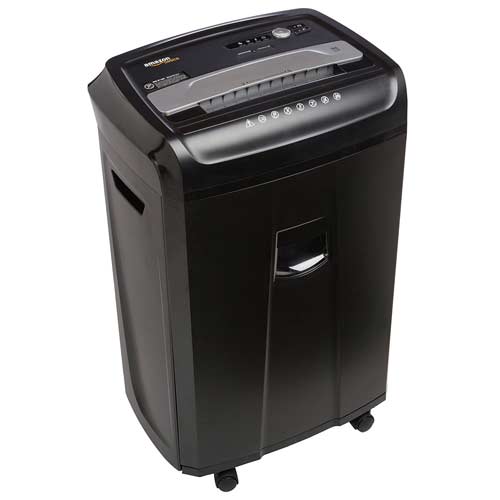 Great office shredder for a great price
The AmazonBasics 24-Sheet Cross-Cut shredder is an all-round budget shredder for your small office. It shreds 24 sheets of paper per pass, which is very good for a shredder in this price range. Run the shredder for 25 minutes continuously before it needs to cool down for one hour. Also shred your CDs, DVDs and credit cards one at a time. The 7 gallons pull-out bucket holds 270 sheets of shredded paper before it needs emptying. The budget-friendly office shredder is compact enough to roll under your office desk.
Security level: Cross-cut
Run time: 25 minutes
Sheet capacity: 24 pages
Bin capacity: 7 gallons
---
Heavy-Duty Micro Cut DIN P-5 Shredder
High Security Shredder shreds office documents into unreadable confetti
The Bonsaii EverShred Pro 4S30 can shred documents for 4 hours straight. This shredder is for mass shredding of your old confidential documents. You can shred 10 sheets in one go and the DIN P-5 Micro-Cut blades are making sure non of the confidential information is readable after shredding. The Bonsaii also shreds your CD/DVD, paper clips and staples. It collects the pieces in a separate compartment, great for recycling. The jam-proof micro-cut shredder shreds your material very silently with only 58dB, which is ulta-low.
Security level: Micro-cut (DIN P-5)
Run time: 240 minutes
Sheet capacity: 10 pages
Bin capacity: 7.9 gallons
---
Very Fast Heavy-Duty Cross-Cut Shredder
Shred lots of paper in a short period of time

The Fellowes Powershred 125Ci is a very good commercial grade cross-cut shredder. The shredder is 100% jam-proof and can shred up to 20 sheets of confidential documents per pass. This heavy-duty small business shredder runs for 45 minutes before it needs to cool down. It also shreds plastic credit cards, CDs and paper clips. So it is a real workhorse. The paper shredder is safe to use because it stops immediately when hands touch the paper opening. It is also convenient that this shredder is very quiet, perfect for the office environment.
Security level: Cross-cut
Run time: 45 minutes
Sheet capacity: 20 pages
Bin capacity: 14 gallons
---
Didn't find the right office shredder?
Are you looking for a different kind of paper shredder for your office? Check out all paper shredders on Amazon. Or see our recommendations for personal paper shredders to use at home. These kind of 'single-user' shredders can also be used in the office at your desk for personal use. Please note that these type of shredders are not recommended to use intensively by multiple people.
Do you want to shred large volumes of documents with multiple users? Then we recommend a heavy-duty shredder. These professional paper shredders are built for shredding non-stop and can shred 15-25 sheets of paper per pass.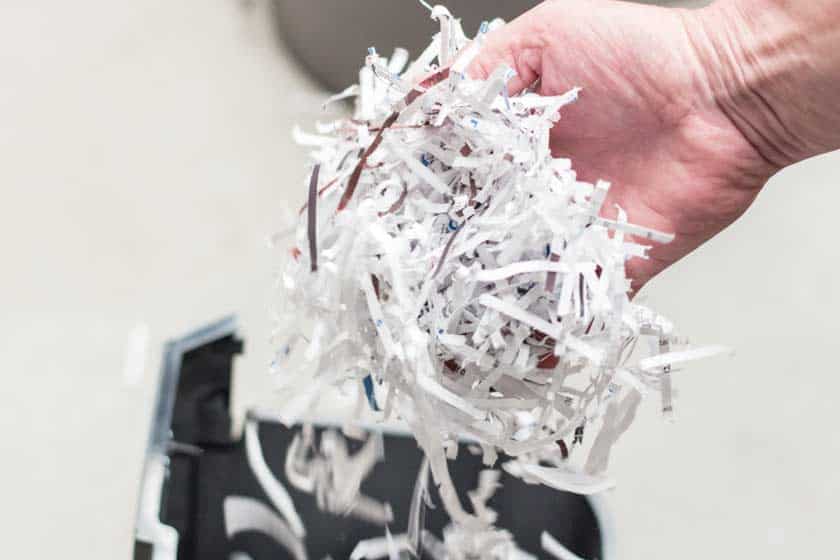 Collect your shredded documents in a blue commercial recycling bin with a recycle label. Prior to paper shredding you can temporarily collect sensitive documents in a shred bin with locking lid.
When you want to destroy data from hard disk drives or solid state drives it is recommended to look for an hard drive shredder, hard drive crusher or SSD disintegrator. Read more about hard drive destruction.
What to look for when buying a shredder?
Sheet capacity, bin capacity, run-time, security levels. It can be quite overwhelming when you are browsing for a new paper shredder online. What do you need to look at? How do you find the best shredder for your business? To help you on your journey we've made a paper shredder buying guide.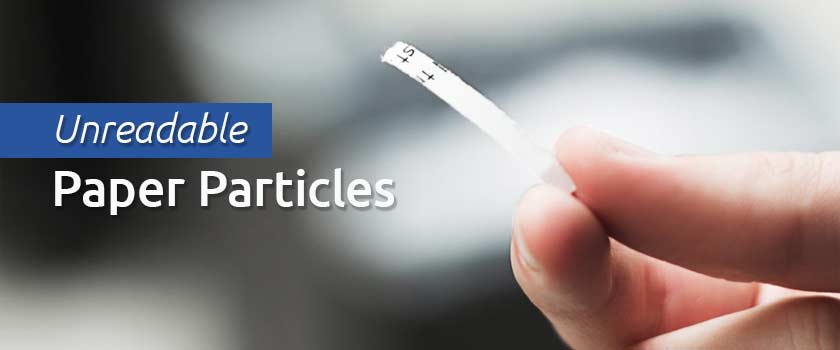 Pro tip: Maintain your shredder with oil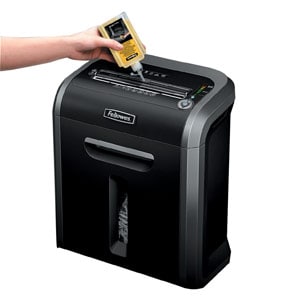 We recommend to oil your paper shredder with official paper shredder oil. This oil comes in a liquid form or in oil-sheets, also known as lubricant sheets. The shredder oil makes sure the cutting blades will run smoothly. We advise to oil your office shredding machine after you empty the bin or after intensive usage.
Check the manual of your shredder for more instructions on how to oil your paper shredder and what type of oil you need to buy.
---
Step Up:
Recycle

, Reuse &

Reduce

The three arrows of the recycling symbol represent the three main stages of the recycling process: recycling, reusing and reducing. Together the arrows form a closed loop. Step up and implement eco-friendly replacements in your daily life.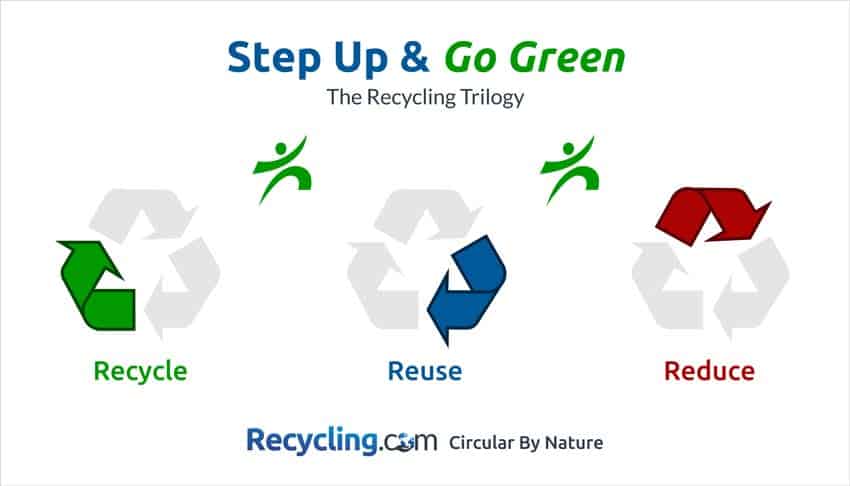 Join the movement! Step Up the waste hierarchy together to a goal of Zero Waste.