Paper Shredder for Small Office
Disclosure: This article contains affiliate links. If you click on a product and make a purchase, we may earn a commission – learn more.
Securely shred confidential documents with these compact shredders for small businesses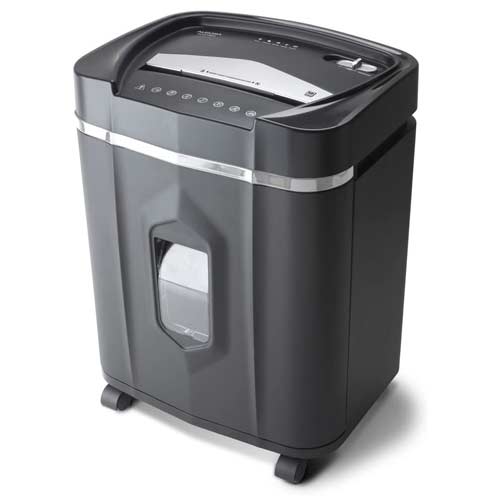 Which commercial paper shredder is best for small business use and helps you and your colleagues to keep confidential information safe and secure?
This page recommends professional paper shredders for desk-side use suited for small teams. Safely shred business papers, such as sensitive tax and financial documents, client and employee files and agendas or minutes from business meetings in to small shreds.
Top 10 Office Shredders
---
Top 5 Best Office Paper Shredders
These compact office shredders offer the right features that suit your needs. The user-friendly and professional shredders are capable of high volume shredding, have long run-times and high-security levels in accordance with DIN 66399. You are ensured of safe and reliable paper shredding with the business shredders mentioned in this list. Are you looking for high capacity shredding machines? Check our recommendations for heavy-duty paper shredders.
---
The Aurora AU1210MA is a professional grade high security paper shredder with a 60 minutes continuous run-time for long shredding.
The P-4 security level ensures shredding confidential office documents into small shreds with a dimension of 5/32 by 15/32 inches.
Besides documents, you can also shred CDs, DVDs and credit cards. The quiet operation and anti-jam technology are very convenient for office use.
Security level: Micro-cut (P-4)
Run time: 60 minutes
Sheet capacity: 12 pages
Bin capacity: 5 gallons
---
The Bonsaii EverShred C149-C is a compact cross-cut shredder for medium-duty shredding jobs.
Besides confidential paper this shredder shreds credit cards, clips, CDs, DVDs and staples, because of the solid cutters and professional steel blades.
The advanced cooling system lets you use this shredder for up to 60 minutes at once before it needs a 10-minute cooling downtime. This makes the shredder perfect for high volume shredding at the office.
Security level: Cross-cut (P-3)
Run time: 60 minutes
Sheet capacity: 18 pages
Bin capacity: 6 gallons
---
The Fellowes Powershred 99Ci is a powerful and fast all-round small office shredder that is suitable for 1-3 users. Recently this popular shredder is updated to the Fellowes LX22M.
Shred up to 18 sheets of paper per pass without having to deal with any paper jams because of the 100% Jam Proof system.
Besides documents, you can also shred CDs, DVDs, credit cards, paper clips and staples. The document shredder is safe to use at your office because of the SafeSense technology.
Security level: Cross-cut (P-4)
Run time: 30 minutes
Sheet capacity: 18 pages
Bin capacity: 9 gallons
---
The Bonsaii EverShred Pro 4S30 is a heavy-duty continuous shredder that shreds documents for 4 hours straight.
This high0security commercial also shreds your CD/DVD, paper clips and staples.
The jam-proof micro-cut shredder shreds your material very silently with only 58dB, which is ulta-low.
Security level: Micro-cut (DIN P-5)
Run time: 240 minutes
Sheet capacity: 10 sheets
Bin capacity: 7.9 gallons
---
The Fellowes LX22M Powershred is a beautiful office shredder suitable for 1-3 users.
The LX-series includes the most recent generation of commercial shredders from Fellowes that are available in two colors, a minimal white edition and a stylish matt black variant.
This is a secure and powerful paper shredder that shreds up to 20 sheets per pass and comes with all kinds features that optimize its performance, such as run-time indicators and jam-proof technology.
Security level: Micro-cut (DIN P-4)
Run time: 30 minutes
Sheet capacity: 20 pages
Bin capacity: 8 gallons
---
Video: Fellowes Powershred 99Ci Review & Paper Jam Test
---
For secure paper shredding we recommend a cross-cut or micro-cut shredder with security level P-3 or higher.Recycling.com
---
More About Commercial Shredders
Navigation:
Shred confidential office documents with a secure cross-cut or micro-cut shredder, rather than a less secure strip-cut shredder.
---
What is an office shredder?
An office shredder is a professional shredding machine that shreds your office documents into strips or particles. For the best shredding results, it is recommended to opt for a cross-cut or micro-cut shredding machine, rather than a strip-cut shredder.
The reason for this is that a strip-cut shredder shreds documents into long strips that might still be readable, which is less secure and thus not recommended to securely destroy confidential documentation. For office use, we strongly recommend a secure shredder that provides peace of mind and protects your confidential data.
Working from home due to the current situation? Read our recommendations.
What color do you want?
Most paper shredders are black. But when this color doesn't match the interior design of your office, then maybe a white paper shredder is a nice option for you. We've selected a collection of secure white-colored document shredders. These shredders look stylish and beautiful, but they are also functional, convenient, and safe to use for shredding confidential business documents.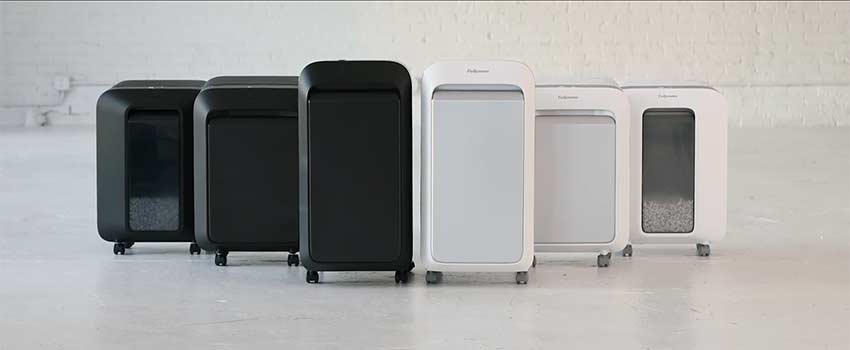 What is the difference between a home shredder and office shredder?
The average home shredder is capable of shredding documents incidentally. This means that the shredder only has enough power and capacity to shred a few documents per session. In the office environment the demands for a paper shredder are much higher, which results in more robust and powerful shredder machines that are built for shredding more documents for longer periods of time.
While a shredder for home use is mostly used by one or two persons, an office shredder can have multiple users during the day. Therefore it is important to carefully investigate the number of people that are going to use the shredder on a regular basis, so you know beforehand if the shredder is capable of the daily shredding demands.
---
Desk-side shredding or centralized shredding?
For office use you can choose for a document shredder that stands next to or under a desk, this is called desk-side shredding. The small and compact shredders are normally used by one operator, but there are also larger and more powerful desk-side shredders available that can be used by multiple people in an office department. Please note that these types of shredders are not recommended to use intensively by multiple people. For high capacity shredding look for a heavy-duty shredder.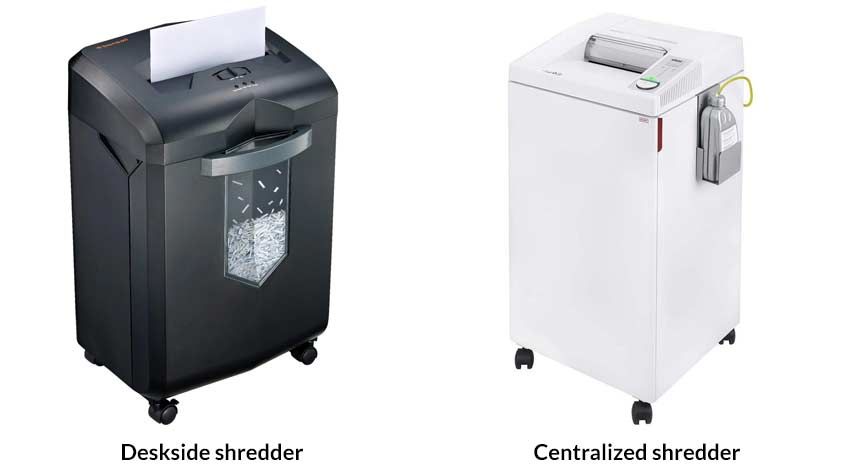 Centralized paper shredders
On the other hand, you can opt for a centralized paper shredder. These large, high capacity shredders are meant to be placed in centralized areas so multiple employees can use the shredder. Centralized shredders are often placed in the same area as the centralized multifunction printer. Especially large offices use centralized shredders, also known as heavy-duty shredders, these commercial shredders meet the demands of large volume document shredding for multiple users.
---
Security levels, run-time, and capacity
When looking for a commercial shredder it is recommended to check the security level that suits the security needs of your business. Find out more about security levels of paper shredding machines.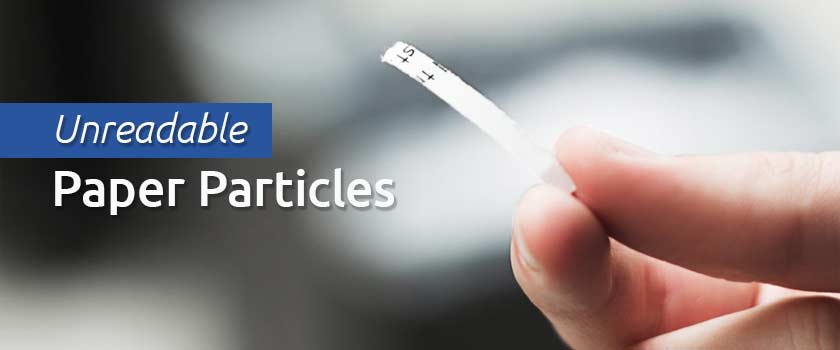 Secondly, check the maximum run-time of the shredder. The run-time indicates how many minutes or hours the shredder can run before the motor needs to cool down. Home shredders, for instance, can only shred for a couple of minutes. Desk-side office shredders can run for around 15 – 30 minutes, and large centralized office shredders can run for multiple hours or even continuously.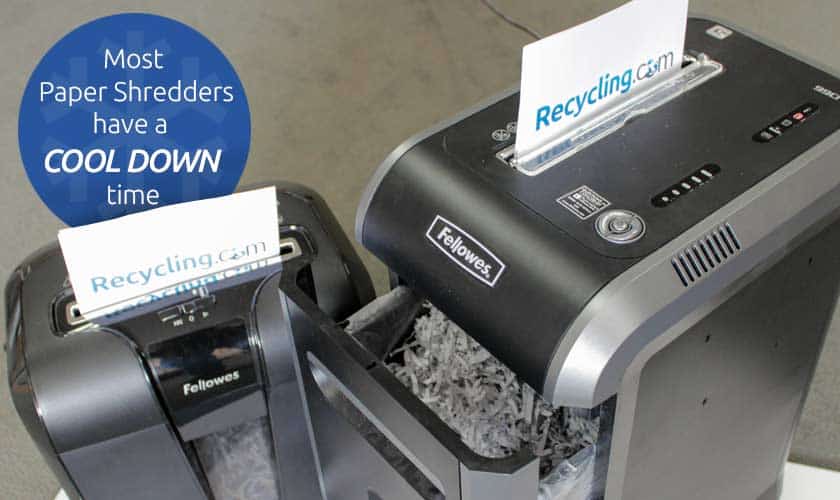 Lastly, find a shredder that offers the right capacity for your needs. Look for the bin capacity and for the sheet capacity. Choose a shredder that has a large enough bin capacity, so you don't need to empty the bin multiple times per day. The sheet capacity tells you the maximum amount of paper you can shred per pass. Especially for office use, it is recommended to opt for ten sheets or higher.
More about shredders
Sheet capacity, bin capacity, run-time, security levels. It can be quite overwhelming when you are browsing for a new paper shredder online. What do you need to look at? How do you find the best shredder for your business? To help you on your journey we've made a paper shredder buying guide.
---
Shredders for high capacity shredding
Do you want to shred large volumes of documents with multiple users? Then we recommend a heavy-duty shredder. These professional paper shredders are built for shredding non-stop and can shred 15-25 sheets of paper per pass.
For highly sensitive documents we suggest a micro-cut DIN P-5 office shredder because these shredders produce paper particles that are very small and barely readable. Also, look for a document shredder that has a long run-time (20 minutes or more) and can shred around 10-20 sheets of paper per pass, these office shredder machines can be used by multiple colleagues at the office.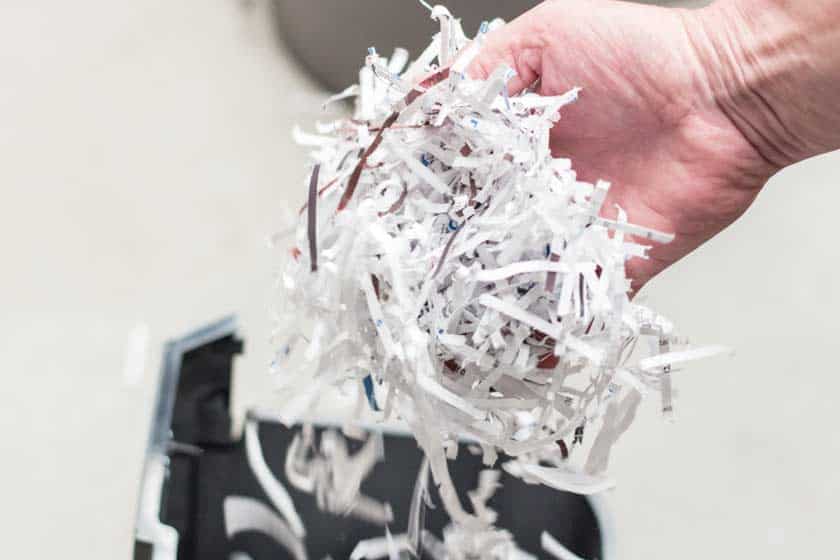 Collect your shredded documents in a blue commercial recycling bin with a recycle label. Prior to paper shredding you can temporarily collect sensitive documents in a shred bin with locking lid.
When you want to destroy data from hard disk drives or solid state drives it is recommended to look for an hard drive shredder, hard drive crusher or SSD disintegrator. Read more about hard drive destruction.
---
Paper shredding companies
When there is a need to shred high volumes of confidential office documents it might be a better and more efficient idea to hire a paper shredding company to do the shredding for you. These companies collect the documents which need shredding, called 'paper shredding service'. We recommend hiring a certified paper shredding company, so you have certainty that your confidential work documents are destroyed carefully, professionally, and thoroughly in accordance with strict guidelines.
Read more about paper shredding services.
---
Maintain your shredder with oil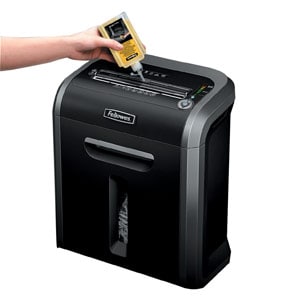 We recommend to oil your commercial paper shredder with official paper shredder oil. This oil comes in a liquid form or in oil-sheets, also known as lubricant sheets. The shredder oil makes sure the cutting blades will run smoothly. We advise to oil your office shredding machine after you empty the bin or after intensive usage.
Check the manual of your shredder for more instructions on how to oil your document shredder and what type of oil you need to buy. Learn more about how to oil a paper shredder here.
Top 10 Paper Shredders for Office Use
---
Step Up:
Recycle

, Reuse &

Reduce

The three arrows of the recycling symbol represent the three main stages of the recycling process: recycling, reusing and reducing. Together the arrows form a closed loop. Step up and implement eco-friendly replacements in your daily life.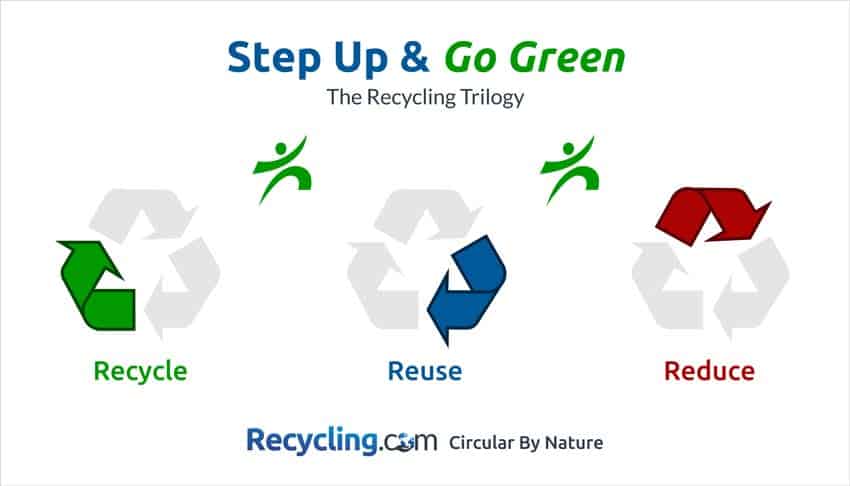 Join the movement! Step Up the waste hierarchy together to a goal of Zero Waste.
By Recycling.com/ 30 September 2020 Shares