Industrial Paper Shredders For High Volume Shredding
Powerful heavy-duty shredders for shredding documents in bulk
Industrial shredders are large and powerful machines that can shred high volumes of confidential office papers with ease. A standard office shredder is perfect for shredding your usual stack of documents at the end of the day. But for large office departments, industries, facilities or warehouses with lots of confidential documents, it is recommended to have access to a strong heavy-duty industrial shredder which can shred large amounts of paper continuously and quick.
On this page you'll find recommended disintegrator shredders and more information about what to look for when buying a professional industrial shredder. You can request a free quotation right after the recommended shredders below.
Recommended Industrial Heavy-Duty Shredders
The industrial shredders meet the following requirements
Price range: $10,000 – $50,000
Sheet capacity: 50 Sheets or more
Bin capacity: 50 Gallons or more
Run-time: Continuous shredding
Security level: Cross-cut or Micro-cut (tiny particles)
More info? Read our Paper Shredder Buying Guide.
---
#1 | Formax 8906CC
The Formax 8906CC is a high-capacity conveyor-fed industrial shredder for large volume and fully-automated paper shredding. The cross cut shredder shreds up to 650 sheets at once and has a wide 21 inch feed opening. The Formax industrial shredder is powerful enough to shred large stacks of documents, catalogs and cardboard. The industrial Formax shredder can also be equiped with a baler which compacts the shredded pieces into a small bale.
Security level: Cross-cut
Sheet capacity: 650 sheets
Feed opening: 21 inches
Bin capacity: 102 gallons
---
#2 | Formax 8806CC
The Formax 8806CC is an industrial paper shredder for high capacity and fully-automated shredding. The converoy-fed shredder is designed to shred large amounts of confidential documents. The cross-cut shredder can shred up to 125 sheets at a time. Because of the front access waste bin lets you place the shredding machine against the wall. The automatic oiler keeps the cutting blades oiled during heavy duty shredding.
Security level: Cross-cut
Sheet capacity: 125 sheets
Feed opening: 16 inches
Bin capacity: 36 gallons
---
#3 | SEM Model 800 Series
The SEM Model 800 Series is a heavy-duty industrial shredder for high volume shredding. The cross-cut shredder has an extra large feed table with and optional conveyor belt. This feed table is ideal to sort documents which you want to shred. The automatic oiler keeps the industrial-grade cutting blades running smoothly while shredding large stacks of documents. The SEM Model 800 is available in multiple varients.
Security level: Cross-cut
Sheet capacity: 110-180 sheets
Feed opening: 16 inches
Bin capacity: 80 gallons
---
#4 | HSM Powerline FA 500.3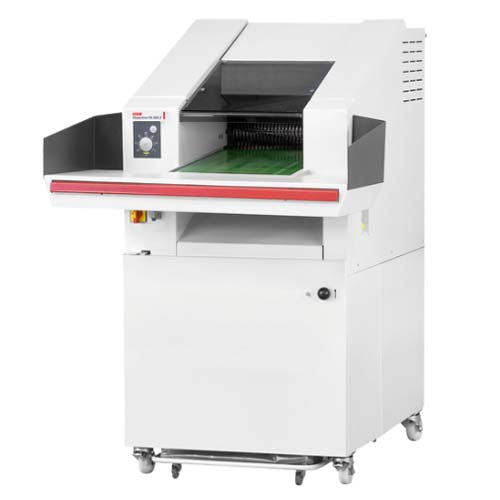 The HSM Powerline FA 500.3 is a powerful industrial shredder with converyor belt. The shredder is ideal for shredding large quantities of confidential business papers. The HSM shredder is 'Made in Germany' so you are guaranteed with a high quality, safe and durable shredding machine. The solid steel cutting rollers are designed for heavy-duty shreddings tasks and the powerful motor ensures continuous operation.
Security level: Cross-cut
Sheet capacity: 340 – 450 sheets
Feed opening: 19 inches
Bin capacity: 140 gallons
---
#5 | MBM Destroyit 5009
The MBM Destroyit 5009 is a conveyor-fed industrial cross-cut shredder with centralized oiler and safety guard. This industrial shredder has an option for bulk feeding high volumes of confidential documents. But you can also shred lesser amounts at a higher speed. The shredder shreds paper documents, but also CDs, 3-ring binders and harbound documents.
Security level: Cross-cut
Sheet capacity: 300-400 sheets
Feed opening: 20 inches
Bin capacity: 79 gallons
Videos from industrial paper shredders
Formax FD 8906 Series
Formax FD 8806CC
HSM Powerline FA 500.3
Find more industrial shredders
There are a lot of industrial shredders to choose from. So of course it is possible that our top 5 doesn't contain the right heavy duty shredder for you. Check out more industrial shredders over at Amazon.com.
What is an industrial paper shredder?
An industrial paper shredder (or disintegrator) is a large and rugged commercial shredding machine for high-end professionals. This shredding system isn't your usual 'heavy-duty' (home) office shredder. An industrial shredder is capable of shredding large amounts of documents, known as bulk shredding. You can shred thousands documents continuously with these shredders. So no more cool-down or limited run-times, which are customary with standard office shredders. You can just empty your secured shred bin in the machine and start shredding. Industrial shredders come in strip-cut, cross-cut and micro-cut variants. For confidential documents we recommend at least shredder machine with cross cut cutting blades.
We recommend a cross-cut or micro-cut shredder to shred confidintial office documents. That is security level DIN P-3 or higher (read more).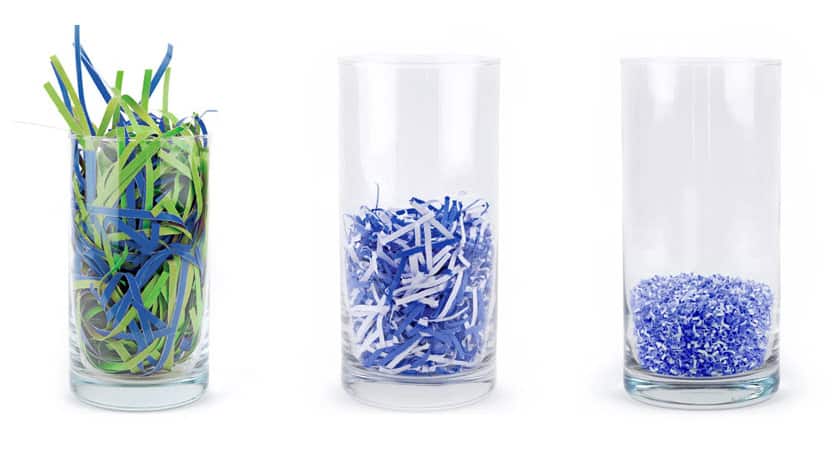 Recommended for large organizations
Industrial shredders are recommended for instance for large offices, large departments, warehouses, governments and other professional industries where there is a need for bulk shredding or central shredding points. With these large and advanced shredders you can shred bulks of flat or crumbled paper, but you can also shred large files, waste paper, binders, notebooks, cardboard, staples, paperclips, CDs, DVDs, credit cards and ID cards. These machines are powerful enough to shred all day for an entire organization. Therefore industrial shredders are also a solution for the annual or end of year shredding of old confidential documents and files from large archives. This might be interesting when your organization can't or don't make use of a paper shredding service in your area.
Industrial paper shredders are durable, powerful and can handle high volumes with ease.

Shredding cardboard waste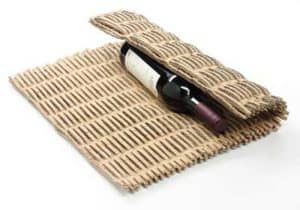 For shredding high volumes of cardboard waste, such as boxes, we recommend a cardboard shredder.
These industrial shredding machines produce packaging material of your old cardboard waste. Read more about cardboard shredders or find out more about cardboard recycling.
Difference between a heavy-duty shredder and industrial shredder
An industrial shredder is a heavy-duty shredder, but not all heavy-duty shredders are industrial shredders. In general a 'heavy-duty shredder' is categorized for professional use in a office department. That's why these shredders are also called 'departmental shredders'. A heavy-duty paper shredder is ideal to use for about 10-15 persons, but it isn't recommended to use the shredders intensively all-day long for real intensive shredding. When you want to frequently shred high volumes of documents it is recommended to invest in an industrial-grade paper shredder. An industrial shredder is built for continuous shredding in bulk.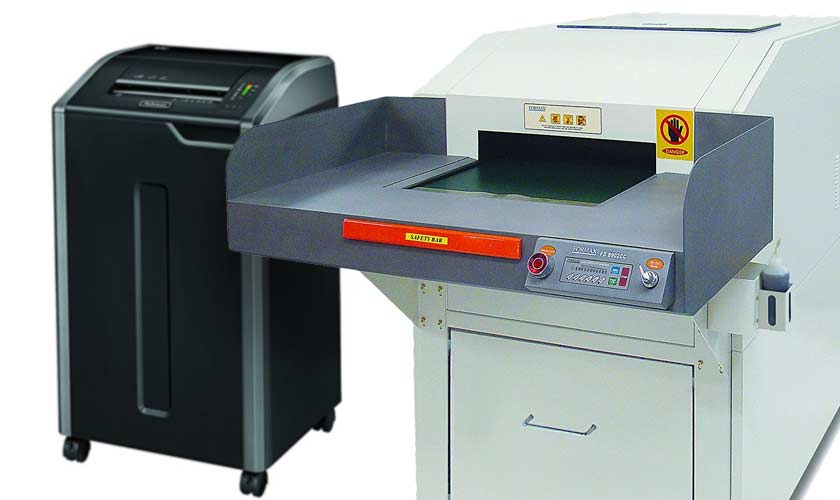 Buying an Industrial Shredder Checklist
A continuous-duty shredder is a relatively large investment. So it is good to know what to look for when buying a disintegrator shredder for your company.
Build quality – An industrial shredder needs to be powerful and well-built to withstand heavy use. All the parts of the shredder must be industrial-grade and heavy-duty proof. So a powerful high performance motor and transmission for non-stop paper shredding, industrial-grade steel gears, chain drives, gears, shafts and hardened cutting blades.
Security level (shred size) – What security level of the shredder do you need? You can get a strip-cut, cross-cut or micro-cut industrial shredder. For office use we recommend to leave a strip-cut machine aside. You should opt for a cross-cut or micro-cut shredder. The difference is the particle size, a micro-cut shredder produces tinier particles. But the downside is that a micro-cut shredder tends to shred slower, because the sheet capacity is lower.
Sheet capacity – How many documents do you want to shred per pass (shredding capacity). Industrial shredders are built for heavy duty tasks, but it depends on the model how many sheets of paper you can feed in the shredder's throat. In general an industrial-grade shredder can shred hundreds of sheets per pass. Also take into account that some disintegrators also are able to shred thick paper (from junk mail), notebooks, notepads, cardboard, binders and whole office files.
Waste bin capacity – A smaller sized industrial shredder is equiped with a waste bin with a capacity of around 50 gallons. The larger sized shredders can hold around 100-200 gallons. When you need more capacity look for a papers shredder with baler. Be sure that the waste compartment is easy to remove and empty. Some shredder cabinets can be emptied from the rear and others from the side.
Waste bin mobiliy – Most waste bins contain casters for easy mobility. Generally the waste bin can be accessed from the front of the shredder machine. The advantage is that you can place the shredder against the wall to save space.
Cutters – The cutting knive are the most important part of your industrial shredder. These shredder blades shred all your confidential documents into small pieces of paper. An industrial shredder is equiped with multiple steel cutters. It depends on the brand and model of the shredder how many shafts and cutting knives the shredder comes with and how large these blades are.
Throat or feed size – A large feed opening or throat is one of the features that distinguishes an industrial shredder from an ordinary office shredder. A large opening can handle lots of paper, which is ideal for heavy-duty industrial use. Opt for a wide and large throat so you can feed large stacks of (crumpled) documents with ease. Large paper sizes can be shredded in one go without the need to fold them.
There are different setups for loading the shredder with your classified documents, such as a feed hopper or a conveyor with a convenient work table.
Conveyor system – Some industrial paper shredders are equiped with a high capacity conveyor, so called conveyor shredders. This integrated conveyor system moves the paper into the cutters automatically, which is convenient and save to usefor the operator. Though, most industrial shredders come with a feed hopper. Fill the hopper with large amounts of documents and comfortably empty it inside the shredder.
Work table – For improving productivity it is convenient to have access to a work table in front of the shredder. You can put all your materials on the table before you begin with paper shredding. A feed table is a ergonomic feature, because there is no need for the operator to bend over to pick up materials of the floor.
Safety features – A shredder is a great tool for your organization, but it can also be dangerous tool. That is when the shredder is used improperly by the operator or doesn't come with safety features. Think of an emergency stop button, safety sensors, reverse switches, and other safety features which can prevents dangerous situations.
Maintenance – To keep the industrial shredder in mint condition, it is important to perform maintenance regularly. The most important is providing the shredder with shredder oil. Most large shredders are equiped with an automatic oiler unit on the side of the shredder, this oiler makes sure that the cutting blades are oiled regularly. Some shredders can perform maintenance automatically with an automatic oiler system, but some shredders need to be oiled manually. Also keep the cutting blades dust-free and empty the shredder bag on a frequent base.

It is recommended to give someone within the company the task of regularly maintaining the paper shredder.

Mobility – Industrial shredders are large and heavy machines. If you want to have the posibility to move the shredder around in your organization you can look for a mobile industrial shredder which is equiped with large heavy-duty casters for easy mobility. Also look at the dimensions of the shredder to get the machine through standard sized doors.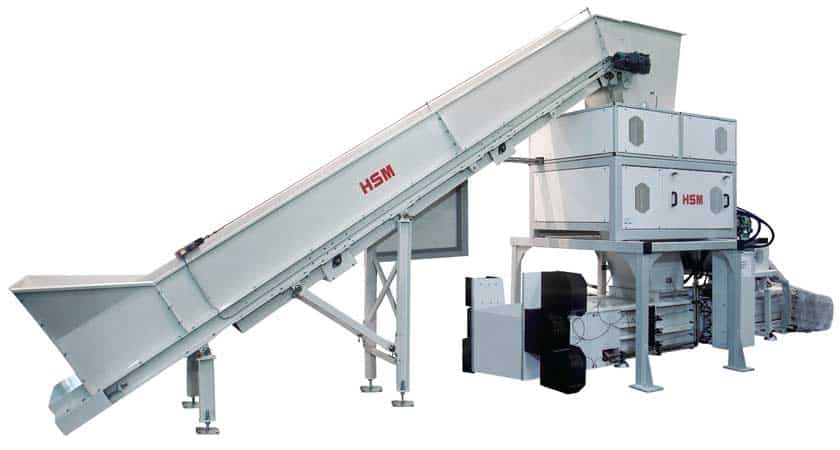 What is the cost of an industrial grade paper shredder?
Prices start at around $10,000, but can go up to $50,000 – $60,000 depending on your needs and preferences. This is a large investment, but an industrial shredder keeps your data secure which is very important for your organization.
Paper destruction service
You can also hire a document destruction company to do the paper shredding for your company. These industrial paper shredder companies can shred your documents annualy but they can also collect and shred your materials on a frequent base. This paper shredding service saves you time, but it also costs money of course.
Rent an industrial document shredder
Are you looking for an industrial paper shredder to shred large volumes of paper once a year, for instance when you're performing your yearly archive clean-up? Then perhaps it is unnecessary to invest in an expensive large shredder. You can, in this case, also rent an industrial document shredder in your area.

Tools for paper shredding
We recommend the following related paper shredding tools:
Industrial shredder manufacturers
Learn more about professional and industrial shredders at the official websites from the manufacturers below:
---
Step Up:
Recycle

, Reuse &

Reduce

The three arrows of the recycling symbol represent the three main stages of the recycling process: recycling, reusing and reducing. Together the arrows form a closed loop. Step up and implement eco-friendly replacements in your daily life.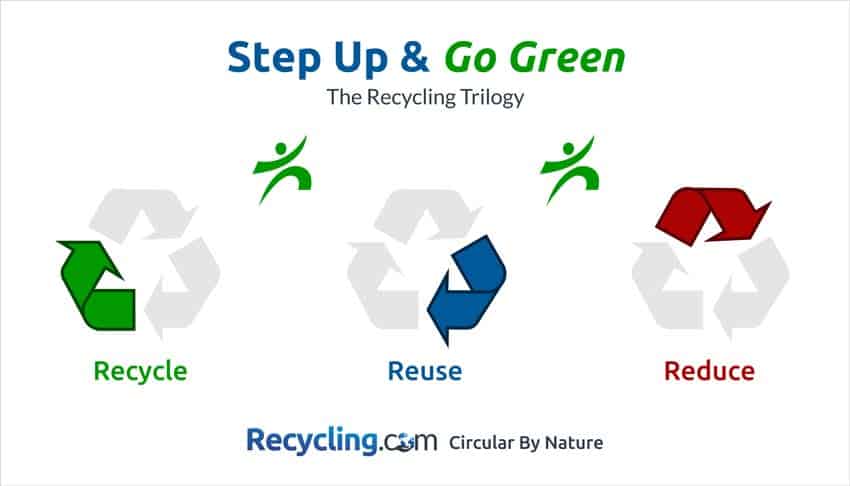 Join the movement! Step Up the waste hierarchy together to a goal of Zero Waste.
By Recycling.com/ 14 November 2018 Shares