Best 3 Compartment Trash Cans
One Recycling Bin for Sorting Multiple Waste Streams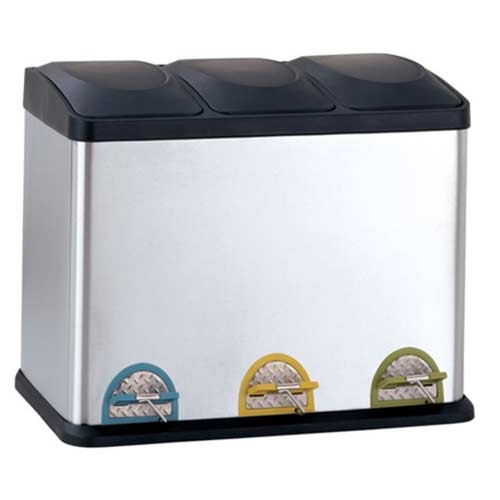 A 3 compartment trash can is a neat solution for sorting waste and recyclables in your kitchen or office. With the multi divided recycle bin you sort waste, recycling and compost easily with just one container. A triple compartment trash can simplifies the recycling process and helps you to stay organized. It makes your kitchen look neater, cleaner and it takes up less space than separate trash and recycling bins.
Which trash can is best? Check our picks
Top 10 Triple Trash Cans
---
A 3 compartment trash can is an eco-friendly tool for sorting multiple waste streams at home or in the office. It helps you to recycle more and reduce landfill.Recycling.com
---
Top 10 Best 3 Compartment Trash Cans
So what are the best three compartment recycling bins? Currently the availability of multi compartment trash cans is quite limited. We've selected the best solutions in our recommendations below.
Our top 10 contains trash cans with three divided compartments as well as sorting bags with handles to take to your local recycling center.
---
Durabe & Sleek Stainless Steel Triple Recycling Bin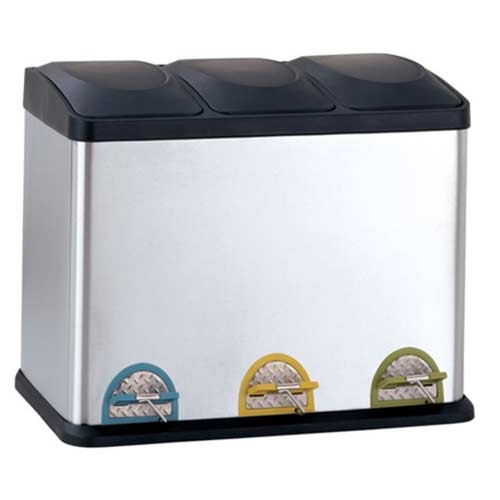 #1 Best Seller
Divided recycling bin to sort three waste streams and stay organized.
Strong and durable foot pedals that opens the three independent lids for easy sorting your waste.
Easy to clean removable plastic 4 gallon compartments with handle.
Capacity: 12 gallons
Material: Stainless Steel
Dimensions: 13.5 x 24 x 19 inches
---
Sleek Large Sized Recycling Station with Foot Pedals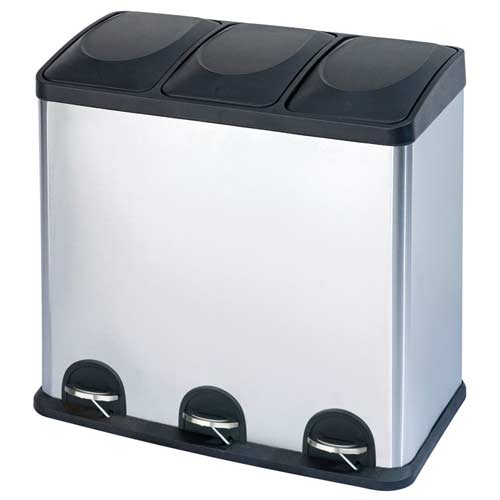 Large removable compartments can hold 5.33 gallons and require 8- or 10-gallon recycling bags.
Sturdy heavy-duty steel frame and durable hands-free step pedals for easy sorting.
A convenient recycling bin, great for for sorting waste and recyclables at home or office.
Capacity: 16 gallons
Material: Stainless steel
Dimensions: 23.80 x 13.40 x 23.80 inches
---
Hide Trash and Recyclables Out of Sight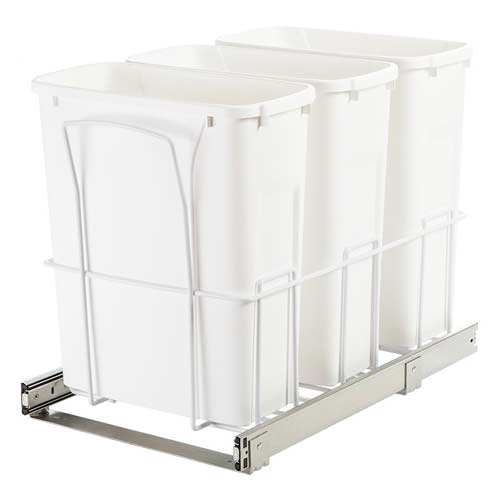 Easily sort garbage and recyclables in this high quality pull out trash can.
Bottom-mount partially assembled frame is easy to install with 4 screws.
Smooth sliding unit with heavy-duty ball-bearing slides.
Capacity: 20 quarts
Material: Metal frame / plastic bins
Dimensions: 22 x 14.4 x 17.6 inches
---
Extra Large Triple Recycling Station for Office and Schools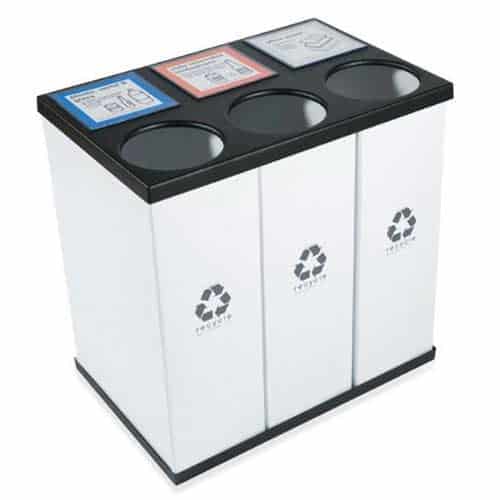 Large three compartment recycling bin that holds 33-39 gallon trash and recycling bags.
Included are 6 recycling labels for convenient sorting trash and recyclables.
Quick solution for setting up a simple recycling station in public areas or offices.
Capacity: 75 gallons
Material: Plastic
Dimensions: 30.5 x 20.5 x 30.5 inches
---
Convenient Sorting Bag for Recyclables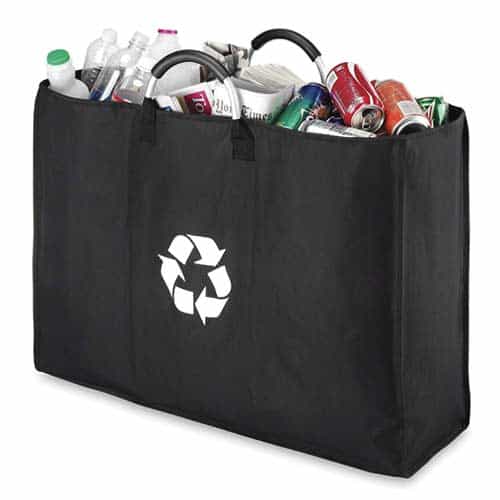 Sort three recyclable materials, such as plastic, newspapers and cans in a heavy-duty sorter bag.
Pick your recycling center easily with the sturdy handles to take to the recycling center.
Light and tall bag perfect for small kitchens, apartments or other environments with limited space.
Capacity: 20 gallons
Material: Polyester
Dimensions: 9.5 x 30.0 x 21.25 inches
---
Create Your Own Recycling Station with Slim Trash Cans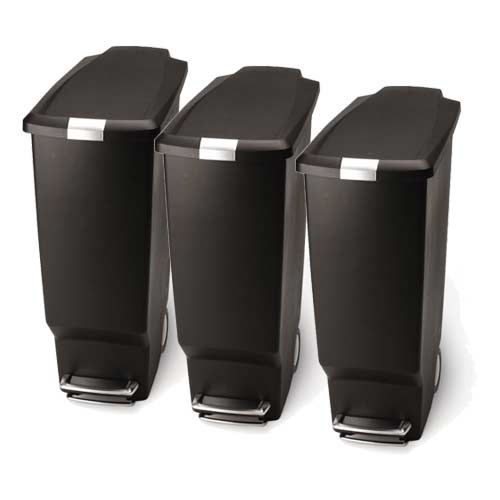 Buy three separate slim trash cans and create your own three compartment recycling station.
Space-efficient step cans with built-in wheels that fit perfectly in tighter spaces.
Strong and sturdy steel pedal and lid that is lockable.
Capacity: 3 x 10.6 gallons
Material: Plastic
Dimensions: 48 x 25 x 64 inches
---
Big Size 3 Bin Recycling Container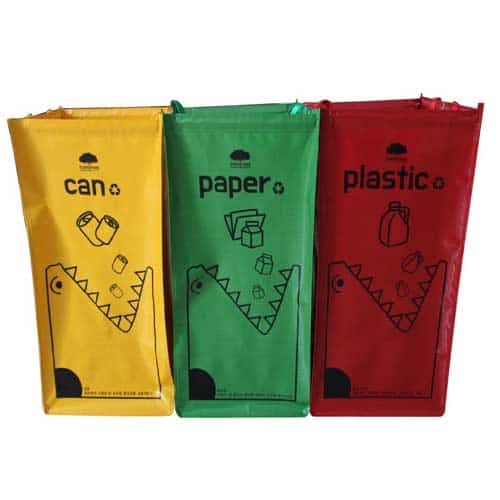 Sort three recycling streams conveniently with this big size organizer.
Sturdy plastic waste containers that are separated with heavy-duty velcro.
Each waterproof compartment has double stiched handles for carrying heavy loads.
Capacity: 14.2 gallons
Material: Polypropylene
Dimensions: 11.8 x 11.8 x 23.6 inches
---
Sort Cans & Glass, Plastic and Paper with 3 Bags

Convenient carrying bags for sorting three recyclable waste streams at home.
Thanks to the velcro you can attach the bags easily together.
Carry each bag easily with the attached handles. The material is 100% waterproof.
Capacity: 3x 7.5 gallons
Material: Polyester
Dimensions: 10.6 x 11 x 14.9 inches
---
High Capacity 3 Compartment Bins with Small Footprint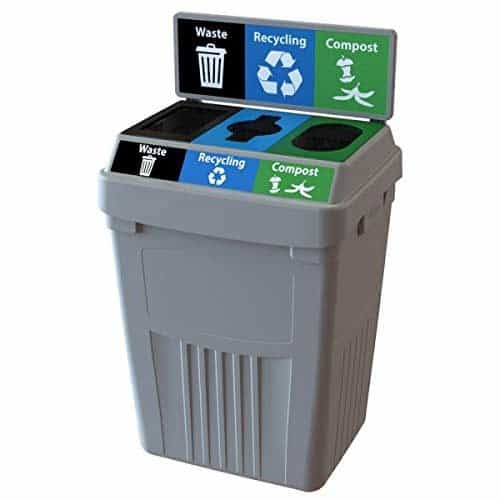 Heavy-duty 50 gallon 3-in-1 trash can for holding trash, recycling and compost.
Very sturdy and durable recycling container for home or office use.
The recycling bins is made of recycled plastic and the bin is quick and easy to empty.
Capacity: 50 gallons
Material: Plastic
Dimensions: 21 x 24 x 42.5 inches
---
Color-coded Recycling Station for Commercial Use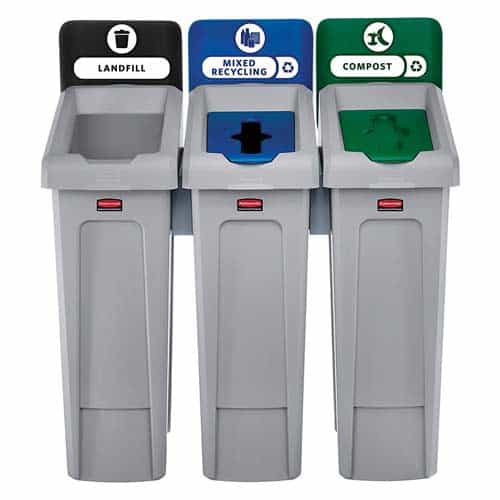 Professional recycling station for sorting landfill, mixed recycling and compost.
Modular recycling solution with color-coded lids, signage and restrictive lid shapes.
Easy to assemble bin that fits your commercial space and recycling needs.
Capacity: 23 gallons
Material: Plastic
Dimensions: 21.5 x 36 x 40.2 inches
---
More About Triple Compartment Trash Cans
Navigation:
---
What is a multi compartment trash can?
This is a trash can where you can sort multiple waste streams because the recycling bin contains three compartments. These 3-compartment trash cans are perfect for separating trash, plastics, compost and paper. It depends on local regulations what type of recyclables you need to sort at home or in the office.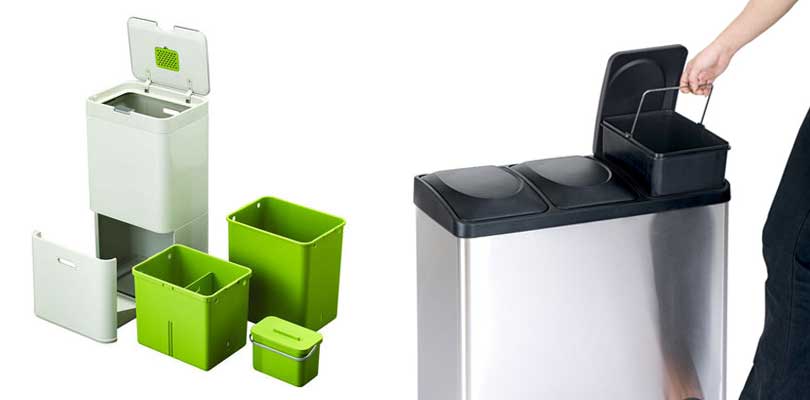 Pros:

Separate multiple recycling streams.
Reduce your regular waste that goes to landfill.
Safe up floor space.
Cons:

Not many models to choose from.
Compartments are relatively narrow.
It can be confusing for guests to know what type of waste goes in to which compartment.
---
Why use a 3 compartment recycling station?
With a multi compartment waste bin you can have one dedicated place in your home for sorting waste and recyclables. So there is no need for separate bins anymore, which makes your recycling station more compact and space efficient. This is a big advantage when you have limited space in your kitchen or when you live in a respectively small apartment and don't want three separate bins standing on your kitchen floor all the time.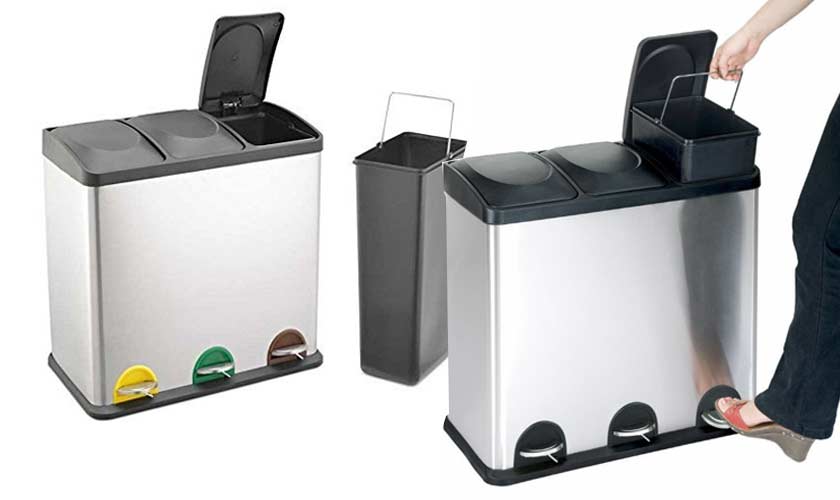 A multi compartment trash can makes sorting garbage easy and helps you to stay organized.
It is very convenient and refreshing to have just one recycling container you can use for sorting all your recyclables. It simplifies the recycling process and makes you kitchen look cleaner and neater. Read more about kitchen trash cans.
---
What waste streams can you sort?
Once you start sorting waste streams at home or in the office you will be more conscious about what you are buying and throwing away. Using a recycling station really contributes to a more eco-friendly lifestyle because you have a dedicated area for sorting all your waste streams such as regular trash, plastics, packaging material, glass, cans, paper and compost.
Do you want to know what you can't throw away in your recycling bin? Check these tips at Earth911.com.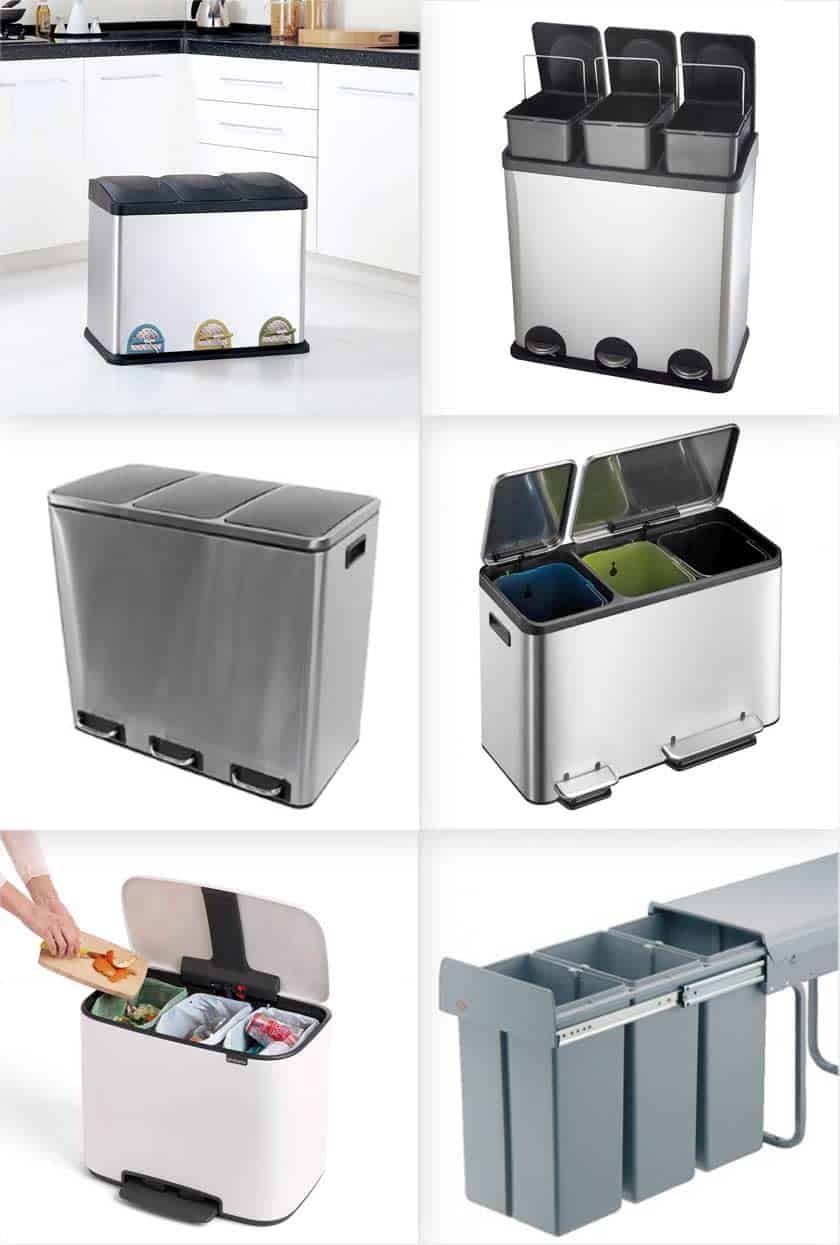 ---
Label your compartments
How do you, your family and guests know what type of waste goes into which compartment? You decide what kind of waste streams you want to sort and separate. To stay organized and prevent confusion and thus contamination of the separated waste streams, it is recommended to label each compartment with a recycling sticker. These labels make it clear for you, your family and guests what type of waste belongs into what receptacle.
---
Dual compartment recycling bin
Maybe two compartments are enough for sorting trash and recyclables in your household. When you only want to sort two waste streams we suggest you to look at a dual compartment trash can. These bins contain two side-by-side containers for collecting and sorting your waste easily.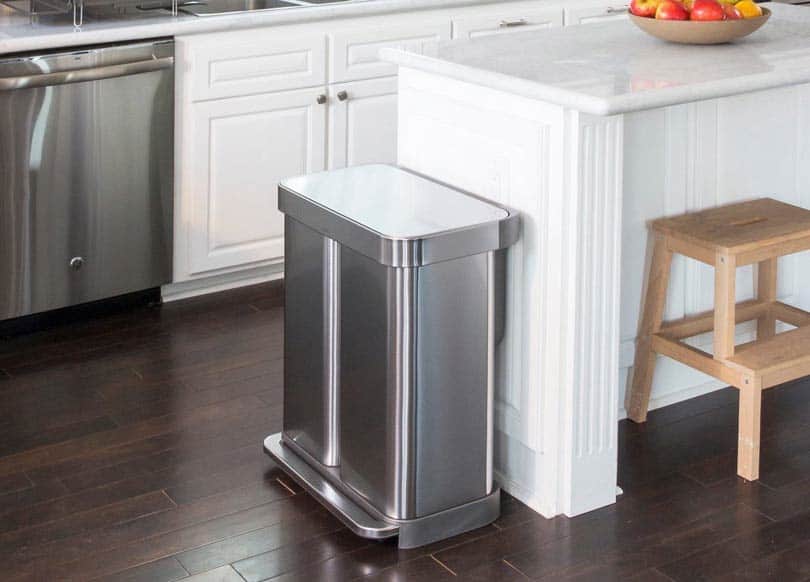 ---
Step Up:
Recycle

, Reuse &

Reduce

The three arrows of the recycling symbol represent the three main stages of the recycling process: recycling, reusing and reducing. Together the arrows form a closed loop. Step up and implement eco-friendly replacements in your daily life.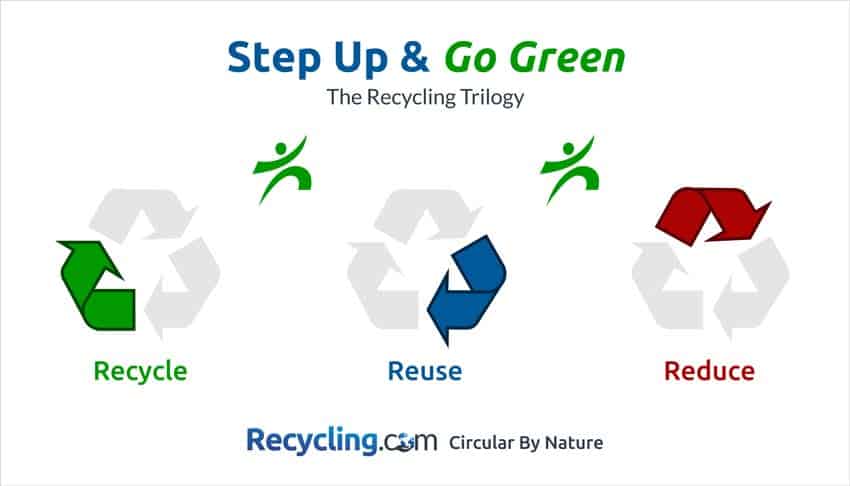 Join the movement! Step Up the waste hierarchy together to a goal of Zero Waste.
By Recycling.com/ 14 November 2019 Shares