Best 3 Compartment Trash Can
MULTI COMPARTMENT RECYCLING BINS
Updated on Mar. 9, 2021 | Author: Pim Brouwer
A 3-compartment trash can is a multi-compartment recycling bin for sorting waste and recyclables in your kitchen or office. With the multi-divided recycle bin, you sort plastic, green waste, and general trash quickly with one container. We recommend this stainless steel 14.3-gallon HEMBOR trash can with thee sturdy foot pedals.
The main advantage of a 3-compartment garbage can is that you have a single centralized recycling station for sorting multiple waste streams at home. This really simplifies the recycling process and helps you and your household to stay organized. It also saves up floor space and money, since you don't need three separate bins.
Popular 3-Bin Trash & Recycle Bins
Disclosure: This article is reader-supported. If you click on a product and make a purchase, we may earn a commission – learn more.
---
7 Best Triple Trash Can
What are the best 3-compartment recycling bins? We've selected the best multi-compartment trash can solutions in our recommendations below. Our team researched 85+ triple trash cans from multiple brands, and we've picked ten recommendations.
Our top-rated selection is based on these requirements:
Minimum volume – 8 gallons or more
High quality – Stainless steel
Trusted manufacturers – Sturdy and durable shredders
High-rated customer reviews – Minimum of 4 stars
---
"Popular, affordable, well-built and very good looking."
Capacity: 3 x 4.76 Gallon | Material: Stainless Steel | Dimensions: 23.6 x 12.3 x 22 inches
The HEMBOR Trash Can is a high-quality triple trash can that is easy to clean and feels very durable because of its stainless steel construction. The bin comes with three large compartments that hold 4.76 gallons of waste and require 8- or 10-gallon recycling bags. Each bin is easily removable and the foot pedals work great for opening.
This compact bin is perfect for sorting garbage, recycling and compost. Each compartment has independent lid covers, which you open with three individual wide foot pedals. When the pedal is released the lid closes softly and silently.
Customer Review:
"Best purchase I have made in a while. It helps me organize garbage better!"
---
"Sturdy and durable dog-proof trash can"
Capacity: 3 x 4.6 Gallon | Material: Stainless Steel | Dimensions: 24.1 x 12.3 x 22 inches
The Tiptiper Trash Can is a large-capacity trash can with three removable bins inside it. The inner bins have a capacity of 4.6-gallon and are removable with a convenient handle. It is a sturdy and durable step trash can that is made of 410 stainless steel. With the foot pedals, you open each lid independently.
The separate lids shut slowly and silently and the airtight lids prevent bad smells from the trash from spreading in the kitchen. The sturdy foot-pedal and lids also keep your dog or other pet from getting into the trash. Due to the fingerprint-resistant finish, you don't have to worry about finger smudges on the bin. Because of its rectangular design and internal hinge system, this bin sits flush against the wall.
Customer Review:
"Feels sturdy and compact. The quality is solid and I absolutely love it!"
---
"Durabe & sleek stainless steel recycling bin"
Capacity: 4 + 4 + 4 Gallon | Material: Stainless Steel | Dimensions: 13.5 x 24 x 19 inches
The Organize It All is a side-by-side triple compartment recycle bin to sort three waste streams and stay organized. With the strong and durable (color-coded) foot pedals you open the three equally sized independent lids for easy sorting of your waste streams.
This trash can is constructed from stainless steel that is built to last, the design suits well in any kitchen design. The recycling bin is easy to clean because the plastic 4-gallon compartments are removable, each compartment also contained a convenient handle.
Customer Review:
"I highly recommend this product. It really makes my kitchen look cleaner and neater."
---
"Tall recycle bin unit with compost bin"
Capacity: 9.5 + 6.3 + 1 Gallon | Material: Plastic | Dimensions: 11.69 x 15.6 x 31.49 inches
The Joseph Joseph 30002 Intelligent Waste Totem is a large capacity recycling bin for sorting regular waste, compost and plastic waste. This tall and stylish unit requires minimal floor space because of its slim design. It is nice that the Totem has a wheeled base so it can be easily moved around the home.
The main trash compartment has a capacity of 9.5-gallon and sits on top of the unit and is removable. Below you find a 6.3-gallon drawer that is also removable, inside it you can place a removable divider to sort two separate waste streams. There is also a small 1-gallon compost bin that is stored inside the general waste compartment. The lid contains a carbon odor filter to eliminate unpleasant trash odors.
Customer Review:
"Recommend this to anyone looking to save space. It is great looking and very easy to clean."
---
"Sleek large sized recycling station"
Capacity: 5.33 + 5.33 + 5.33 Gallon | Material: Stainless Steel | Dimensions: X inches
The Step N' Sort is a large-sized and convenient recycling bin, great for sorting waste and recyclables at home or office. The sturdy heavy-duty stainless steel frame and durable hands-free step pedals make for easy sorting of your trash and recyclables.
This 3-compartment recycle bin contains three large removable compartments that can hold 5.33 gallons and require 8- or 10-gallon recycling bags. It is great to place this bin in your kitchen to use for all 3 purposes, namely sorting garbage, recycling and green waste.
Customer Review:
"Absolutely love this three bin trash can. Worth every penny!"
---
"Inteligent waste totem with motion sensors"
Capacity: 9.8 + 6.5 + 1 Gallon | Material: Stainless Steel | Dimensions: 16.54 x 12.4 x 24.02 inches
The CAYNEL Pro Recycling is an automatic sensor trash can the automatically opens the soft closing lid with just the wave of your hand. It senses the areas above and in front of the 3-compartment trash can. You can also open and close the lid via manual touch operation.
This sleek and stylish unit is made of brushed stainless steel and maximizes the amount of waste and recycling you can store. The bin has a fingerprint-proof coating for extra durability. This high-capacity trash and recycle bin holds four separate compartments to help separate waste conveniently. The bin has a large top section, a pull-out lower section with a drawer divider, and a removable compost bin.
Customer Review:
"Such a sleek design it looks amazing in our kitchen. The bin is super easy to use."
---
"Vertical bin with convenient 'open-lid' buttons"
Capacity: 2.15 + 2.15 + 4.2 Gallon | Material: Stainless Steel | Dimensions: 12.5 x 12 x 30.5 inches
The Goplus Step Trash Can & Recycle Bin is a fairly compact triple compartment garbage bin made of durable stainless steel. The surface of the bin is coated to prevent fingerprints and stains as much as possible. There are three PP inner buckets that are lightweight and easy to remove thanks to the carry handles.
The vertical and square design of this trash can requires minimal floor space, which is perfect for small-sized kitchens. The top lids of the Goplus recycle bin can be kept open for hands-free and and easy operation. The base has a sealed non-slip base that not only keeps the unit stable but also won't scratch your floor. The bottom bucket can be opened with a foot pedal that tilts-out the waste compartment.
Customer Review:
"The three compartments for recycling reduced a lot of clutter in my kitchen."
---
Popular 3-Bin Trash & Recycle Bins
A 3 compartment trash can is an eco-friendly tool for sorting multiple waste streams at home or in the office. It helps you to recycle more and reduce landfill.Recycling.com
---
More About Triple Compartment Trash Cans
Navigation:
---
What is a multi-compartment trash can?
A multi-compartment trash can is a trash can where you can sort multiple waste streams because the recycling bin contains three compartments. These 3-compartment trash cans are perfect for separating trash, plastics, compost, and paper. It depends on local regulations on what type of recyclables you need to sort at home or in the office.
Pros:

Separate multiple recycling streams.
Reduce your regular waste that goes to landfill.
Safe up floor space.
Cons:

Not many models to choose from.
Compartments are relatively narrow.
It can be confusing for guests to know what type of waste goes in to which compartment.
---
Why use a 3 compartment recycling station?
With a multi-compartment waste bin, you can have one dedicated place in your home for sorting waste and recyclables. So there is no need for separate containers anymore, making your recycling station more compact and space-efficient. Therefore, space-efficient multi-compartment trash cans have a significant advantage when you have limited space in your kitchen. Or when you live in a respectively small apartment and don't want three separate bins standing on your kitchen floor all the time.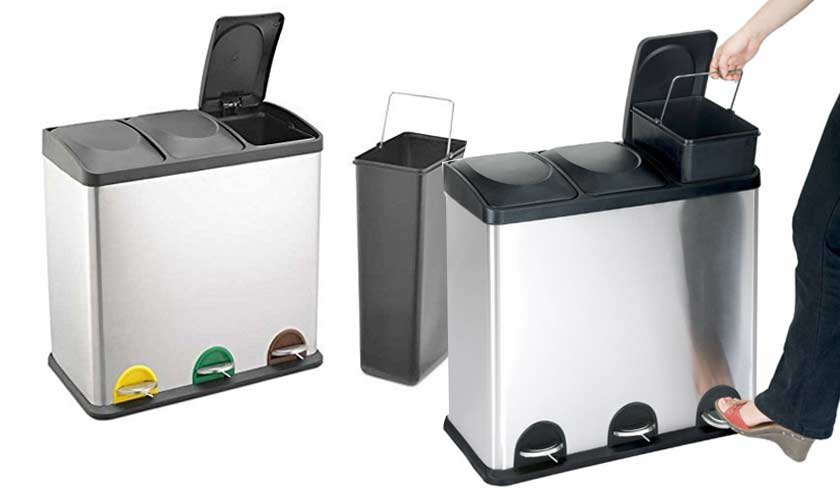 A multi compartment trash can makes sorting garbage easy and helps you to stay organized.
It is very convenient and refreshing to have just one recycling container to sort all your recyclables. It simplifies the recycling process and makes your kitchen look cleaner and neater. Read more about kitchen trash cans.
---
What waste streams can you sort?
Once you start sorting waste streams at home or in the office, you will be more conscious about what you are buying and throwing away. Using a recycling station contributes to a more eco-friendly lifestyle because you have a dedicated area for sorting all your waste streams such as regular trash, plastics, packaging material, glass, cans, paper, and compost.
Do you want to know what you can't throw away in your recycling bin? Check these tips at Earth911.com.
---
Label your compartments
How do you, your family, and guests know what type of waste goes into which compartment? You decide what kind of waste streams you want to sort and separate. Preventing confusion and contamination and organizing separated waste streams keeps your recycling station well organized. It is recommended to label each compartment with a recycling sticker. These labels make it straightforward for you, your family, and guests what type of waste belongs to what receptacle.
---
Dual compartment recycling bin
Maybe two compartments are enough for sorting trash and recyclables in your household. When you only want to sort two waste streams, we suggest looking at a dual compartment trash can. These bins contain two side-by-side containers for collecting and sorting your waste efficiently.
---
Recycling bin guide
What to look for when buying a recycling bin? Read our Recycling Bin Guide.
Recycling bins for home or office