Hard drive shredders for secure data destruction
Securely Destroy Confidential Data on Hard Drives
Updated on Jun. 10, 2022 | Authors: Pim Brouwer & Brent Nijssen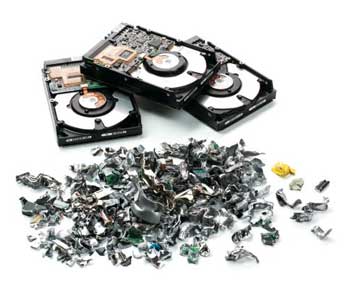 Shred and destroy your old hard disks with a hard drive shredder before you recycle the storage devices. By physically destroying a hard disk, you make sure confidential data is destroyed completely. This gives you peace of mind and eliminates any data security risks.
A hard drive shredder is a machine that makes you shred and destroy hard disks into small chunks. You can shred hard drives from computers, servers, laptops and other devices. Please be aware that not all HDD shredders are able to shred SSD or solid-state drives.
What is the best hard drive shredder for you to use? And how much do these hdd shredding machines cost? You will find all the right information here.
Get a Free Quote
Want to know the price of a hard drive shredder? Or do you need more info on these machines? Then request a free quote for expert advice.
Request a Free Quote
Free advice from experts
---
Recommended Hard Drive Shredding Machines
Our top-rated selection is based on these requirements:
For light, medium and heavy use – Find a product that suits your needs
Trusted manufacturers – Powerful and durable shredders
High-rated customer reviews – Minimum of 4 stars
HSM Powerline HDS 150 Hard Drive Shredder
---
Formax FD 87HDS Hard Drive Shredder
---
HSM StoreEx HDS 230 Hard Drive Shredder
---
SEM Model 0315 Enterprise Hard Drive Shredder
---
What is a hard drive shredder?
Used hard drives contain lots of confidential data and possibly puts sensitive information at risk. This data can be found on all kinds of electronic devices, such as desktop computers, laptops, servers, tablets, printing devices, and smartphones. How can you securely discard old, defective, or damaged hard disk drives without the chance of data theft?
Securely destroy data and keep your digital information safe from identity theft.
A secure, fast, and cost-efficient data destruction method is physically destroying a hard drive (HDD) with a hard drive shredder.
Hard drive shredders are machines that are able to destroy optical hard drives into small particles. It is almost impossible to retrieve or recover data from the shredded pieces which are highly damaged. Hard disk shredders are capable of shredding high volumes of hard drives per hour, which makes these shredding machines very time and cost-efficient.
What is a hard disk?
A hard disk drive is an internal or external data storage device that saves and stores digital information on round platters coated with magnetic material. These platters contain all the data, such as photos, Word files, and Excel spreadsheets. Hard drives are well-known storage devices that commonly get used in computers, laptops, and servers. But also copier machines contain hard drives to store photocopies.
It is important to know that a hard hard drive is not the same as a solid-state drive.
A solid state drive, also known as an SSD, is not the exact same as a hard drive or HDD. A hard drive is a magnetic drive with a physical spinning disk that contains all of your data. In comparison, an SSD is more or less a chip without any moving parts.
A solid-state drive is much smaller in size than a regular hard drive, and thus requires a shredder that is able to shred the small chips from the SSD as well. Some hard disk shredders contain solid steel cutting rollers that are just too large for an SSD. This means that an SSD might simply slip through the cutting rollers, without being destroyed.
Large and small hard drives
Not all hard drives are the same. They differ in capacity but also in size. Standard hard drives you find in a desktop computer are 3.5-inches thick. But a hard drive that is inside of a laptop is only 2.5 inches thick. But there are also external hard drives and larger server drives.
When you select a hard drive shredder it is important to check if the shredder is capable of shredding your type of hard drive. Contact us for more help in selecting the right hard drive shredder for your business.
---
Why should you shred your hard drives?
When you want to discard or sell old hardware, such as an old desktop computer or defective laptop, it is essential to destroy the data which is on the storage device. You can erase the data with special wiping software or remove the hard drive from the electronic device and shred it physically with a mobile hard drive destruction machine.

You can shred, shear, or crush hard disks and solid-state drives yourself with specialized shredding machines, or you can hire a data destruction services company that can do the shredding for you.
Hard drive destruction companies
Are you looking for a solution to shred your old hard drives, but you don't want to invest in a hard drive shredding machine? Then you can also opt for hiring a hard drive destruction company. These companies can shred hard drives and other storage devices for your business. For optimal security, we recommend hiring a certified data destruction company. Shred-it is a NAID-certified company you can hire to securely shred your old hard drives.
---
How does a hard drive shredder work?
A hard drive shredder is equipped with hardened steel cutting rollers that shreds the hard drive into pieces. See this video from Whitaker Brothers to see a hard drive shredder in action.
How secure is it?
Once destroyed, it is very difficult to recover data from a shredded hard drive. Because of the physical destruction, the hard drive is destroyed in tiny fractions. This makes it much more secure than deleting files digitally or by running a 'factory reset option' on your computer or laptop.
But in theory, even the smallest piece of hard disk platter might still contain data. On a microscopic level, you can really see the data. But it is very unlikeable that anybody is able to recover any data from a piece of shredded hard disks because the disk is damaged too much.
We recommend recycling the shredded hard drive by disposing it to a scrap metal recycling service provider.
---
How much does a hard drive shredder cost?
The price of a hard drive shredder starts at around $10,000. Depending on your shredding needs, these machines can cost over $35,000. We recommend to contact us for more information about the right hard drive shredder for your company.
---
Hard drive shredder manufacturers
We recommend the following manufacturers, dealers, and experts for the best digital media shredder machines: