Best Auto Feed Shredders for Automatic Shredding
Commercial and Heavy Duty Auto Feed Shredders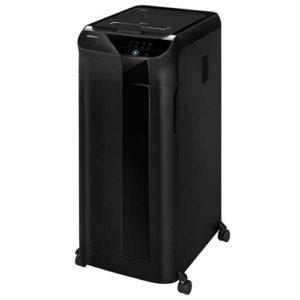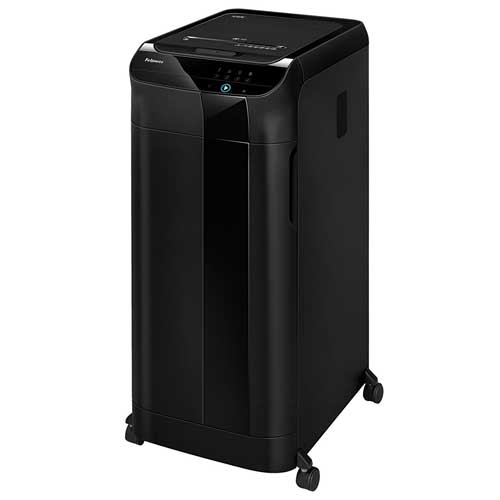 Shred large stacks of confidential documents automatically while you walk away. That is the big advantage of an auto feed paper shredder. With these shredders you can shred your documents fully automatically or manually.
Spend less time shredding confidential documents with an auto feed shredder.
What is the best automatic paper shredder? It depends on your preferences and budget. Below we've selected and reviewed five great auto feed shredders for commercial use. These paper shredders can be used in the office to shred documents with confidential information, such as personal information or sensitive business information.
Top 5 Best Auto Feed Shredders
In our top 5 you can find heavy-duty auto feed shredders with continuous run time from well-known brands. We also recommend a few budget-friendly shredders for less intensive use in the office.
Compare and share the top 5 with your colleagues.
---
Heavy duty auto feed shredder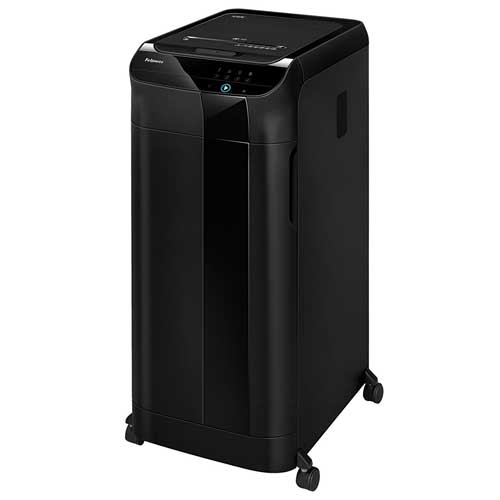 The Fellowes AutoMax 550C Auto Feed is a heavy duty cross-cut paper shredder which shreds 550 sheets of paper continuously. The Fellowes auto feed shredder can be locked with a 4-digit pin code to prevent unauthoritive access to the documents. The 550C also shreds CDs and credit cards.

Security level: Cross-cut (P4)
Run time: Continuous
Sheet capacity: 550 pages (14 manually)
Bin capacity: 22 gallons
---
Automatic micro-cut shredder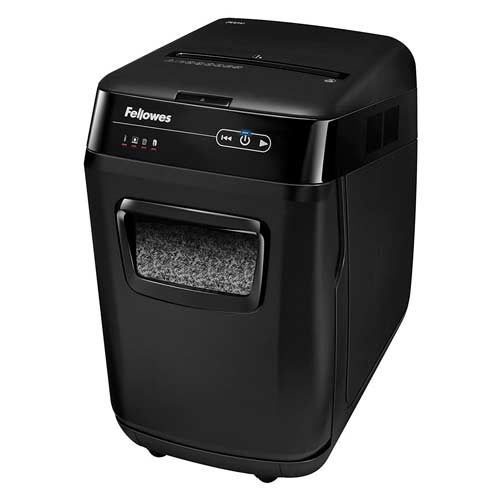 The Fellowes AutoMax 200M is a compact micro-cut shredder with security level P5. The automatic shredder can be placed next to your desk and sheds 200 sheets automatically in micro-cut particles. Load the drawer, press start and continue with your work.

Security level: Micro-cut (P5)
Run time: 12 minutes
Sheet capacity: 200 pages (10 manually)
Bin capacity: 8.5 gallons
---
Auto feed shredder for 10-20 users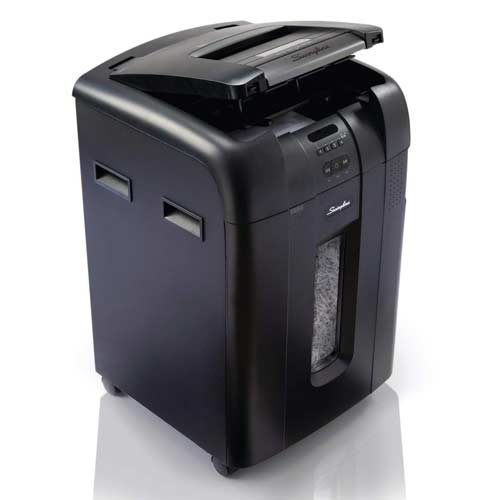 The Swingline Stack-and-Shred 600x shreds up to 600 documents automatically. Protect all your sensitive documents during shredding with a 4-digit pin code. Thanks to the jam-proof technology this Swingline shredder prevents a paper jam during the shredding process.

Security level: Cross-cut
Run time: 30 minutes
Sheet capacity: 600 pages (10 manually)
Bin capacity: 21 gallons
---
Quiet automatic shredder
The HSM Securio AF300 is a micro-cut shredder for shredding 300 documents automatically or 13 sheets manually. The high quality HSM automatic shredder is made in Germany and runs continuously. The 'lock-and-go' function keeps your documents save against unauthorized access.

Security level: Micro-cut (P5)
Run time: Continuos
Sheet capacity: 300 pages (13 manually)
Bin capacity: 9 gallons
---
Shred up to 300 sheets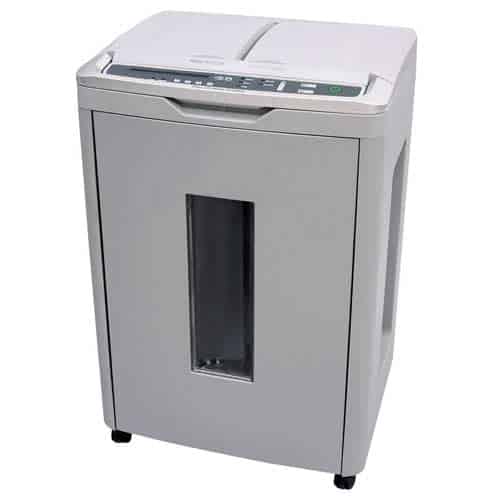 The Boxis AF300 AutoShred is a paper shredder which shreds up to 300 sheets automatically. Besides documents you can also shred CDs and DVDs into a separate container. The pull out waste bin has a capacity of 14 gallon, which makes it perfect for office use. You can also manually feed documents in to a manual feed which can shred up to 10 sheets.

Security level: Cross-cut (P4)
Run time: 30 minutes
Sheet capacity: 300 pages (10 manually)
Bin capacity: 14 gallons
---
Compare & Share with your Colleagues
Download the Top 10 Auto Feed Paper Shredders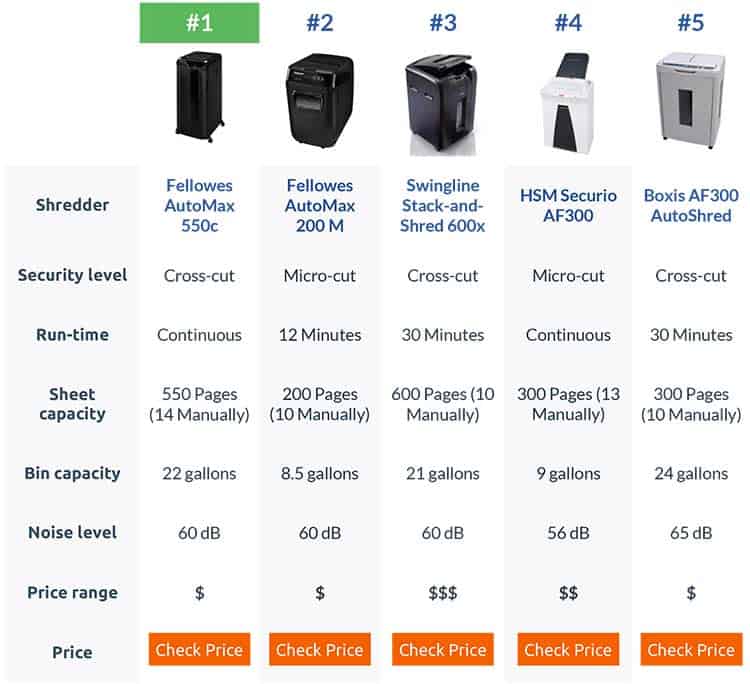 Do you want to compare and review the automatic shredders together with your colleagues? Then download the PDF document (right click and save) which contains a convenient comparison table with an overview of top 10 recommended paper shredders.
Easily compare the paper shredders
Share the PDF with your colleagues
Convenient comparison table
Check current prices
PDF file size: 137 kB
---
More about automatic paper shredders
What is an auto feed shredder?
An auto feed shredder is a paper shredder machine which shreds documents automatically. This is very convenient because the user saves a lot of time, because the user can 'walk away' after loading the shredder tray with documents. These shredders really provides a hands-free shredding experience, this saves a lot of time.
How does an automatic shredder work?
Load the paper shredder tray with your documents and press start for shredding. The shredder starts shredding your documents at a continuous pace while you can continue working. It depends on the type of shredder how many documents you can shred. Some auto shredders can shred around 100 sheets of paper, while other more heavy-duty auto feed shredders can destroy 500 sheets in one go. It also depends on the shredder what the maximum run time is. In short, some paper shredders need to cool down after a shredding session. But the more heavy duty paper shredders can run continuously, so you can shred large volumes of documents automatically without overheating issues.
Video: Fellowes AutoMax™ 350C and 550C Auto Feed Shredders
Can an automatic shredder also shred manually?
Most automatic shredders can shred documents automatically and manually. So if you want to shred just a few documents you can shred it via the manual input. Some paper shredders offer an option to shred manual documents in between an automatic shredding session.
How fast are these shredders?
The time it takes to shred all the documents depends on the shredder and the amount of documents you want to shred. Generally a cross-cut shredder shreds papers quicker than a micro-cut shredder. The Fellowes AutoMax 550C for instance shreds 550 sheets automatically in 6 – 7 minutes, which is very fast. This is one of the reasons why we recommend this paper shredder from Fellowes.
Pros and cons
Pros:

Shred while you continue working.
Save time and speed up the shreding proces.
Shred large volumes of papers.
Shred documents at the end of the day, so no disturbance.
Cons:
A possible paper-jam stops the shredder from shredding.
Relatively large and expensive machines.
Not all automatic shredders are lockable for extra security.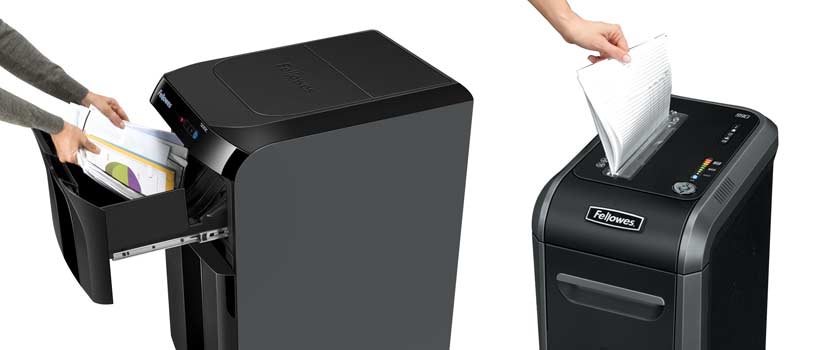 For who is an auto paper shredder for?
Automatic paper shredders are mostly used in the office where there is a need to shred large volumes of documents without losing too much time. A standard heavy duty office shredder has a manual input, so the user is spending time at the shredder to shred all the documents. With an automatic shredder you can load the machine and walk away.
The financial department is an example of a place in the office where an automatic shredder can be really helpful. The financial team collects all the documents which needs to be destroyed during the day. The team fills up the tray and at the end of the day one of the employees starts the shredder. Everybody can go home while the shredder shreds the confidential documents without disturbing anyone.
Where to place an auto feed shredder?
It is recommended to place an automatic shredder in a centralized and secure area in the office. You might want to take into consideration that the area where the shredder is located can be locked This prevents the risk that unauthorized people can take a look into the sensitive documents. For extra security we recommend a lockable automatic shredder, these shredder can be locked with a pincode so nobody can open the tray with confidential papers, besides the authorized users.
Auto shredder brands
There are multiple manufacturers of automatic paper shredders, such as Fellowes Automax, Swingline Autofeed, and iDeal Autofeed. Below you can find the official brand pages:
---
Check our buying guide
What to look for when buying a shredder? Read our Paper Shredder Buying Guide or take a look at our main paper shredder page.
Paper shredders for home or office
---
Step Up:
Recycle

, Reuse &

Reduce

The three arrows of the recycling symbol represent the three main stages of the recycling process: recycling, reusing and reducing. Together the arrows form a closed loop. Step up and implement eco-friendly replacements in your daily life.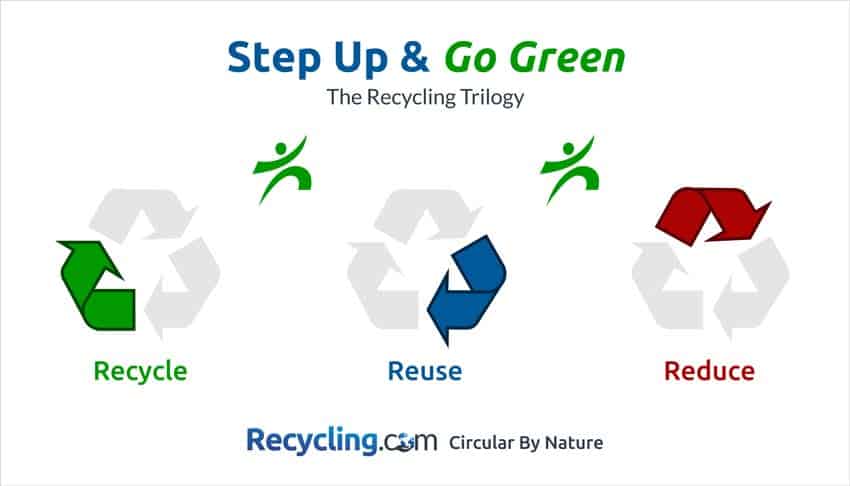 Join the movement! Step Up the waste hierarchy together to a goal of Zero Waste.