Shred Bins for Secure Paper Storage
Disclosure: This article contains affiliate links. If you click on a product and make a purchase, we may earn a commission – learn more.
Store sensitive documents in secured bins before shredding
Standard, non-lockable paper recycling bins are not suitable for secure storing of sensitive documents prior to paper shredding. It is recommended to use security bins and containers in your office environment. These shred bins and shred carts are specially designed for secure disposal and collection of confidential documents that needs shredding.
Recommended Shred Bins, Carts and Consoles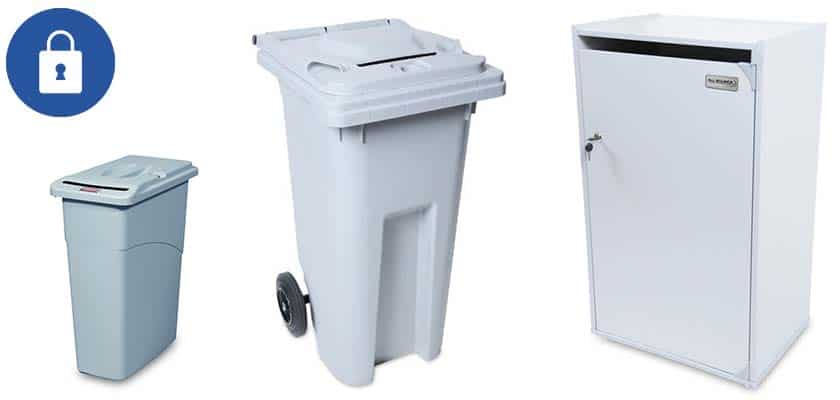 Navigation:
Shred bins securely stores confidential documents prior to shredding.
The lids of these security receptacles are lockable, secure and tamper-proof – so all your sensitive information is safe. When a shredding bin is full you can shred all your documents with an office paper shredder or you can hire a paper shredding company which can shred the documents for you.
The document storage containers meet the following requirements
Lockable: Yes, 100% secure
Tamper-proof: Yes, narrow slots
Commercial use: Yes, heavy-duty
Top 5 Best Shred Bins
---
---
---
---
---
Top 5 Best Shred Carts
---
---
---
---
---
Top 5 Best Shred Consoles
---
---
---
---
---
More about shred receptacles
What is a shred bin?
A shred bin is a lockable shredding container with enhanced security for disposing and collecting sensitive office documents before the material is shredded. It is a secured container with a lock for temporary storing small amounts of sensitive paper waste. These shredding bins are also known as PDC's, which is short for personal document containers. The small security containers are perfect to use in the office. The body of a shred bin is generally tall and narrow so it has a small footprint which is ideal for deskside collection for each work station. You can dispose of your sensitive and confidential paper waste easily without the need to shred it directly. So you can keep on working without being distracted by a paper shredder. When the bin is full you can shred your documents at your centralized paper shredder, or you can empty the bin in a larger security cart, also known as a shred cart.
Keep your confidential company's and client's info secure.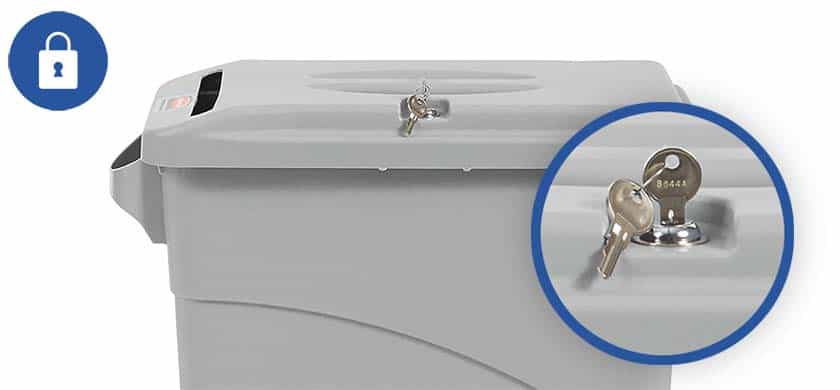 What is a shred cart?
A shred cart is a larger container than a shred bin. These wheeled carts can hold and protect large volumes of sensitive documents due to the large storage capacity. Some offices choose for a paper destruction company to collect the paper waste when the security containers are full and need to be emptied. But you can also shred all the paper documents yourself. In this case we recommend to make use of a heavy-duty shredder or industrial paper shredder. It depends on the volumes of paper waste which paper shredder suits your needs best. After shredding, the paper particles can be disposed of in a paper recycling cart, so the paper will be 100% recycled, which is environmentally friendly. Another advantage of a shred cart is it's easy mobility, thanks to the casters. A standard sized shred cart has a capacity of around 64 gallons, but most carts come in multiple sizes.
What is a shred console?
A shred console is also a large container for storing confidential office documents. It is an interesting alternative for a shred cart. These security consoles are placed in centralized areas in office departments. A security console is, generally speaking, more visually appealing than a recycling cart. But the downside is that a shred console can't be transported easily, like a shred cart. The consoles have a lockable door and a wide feed slot for easy disposing paper documents. The tamper-proof paper slot is narrow enough to prevent possible theft of paper waste with sensitive office information. Inside the shred console, you can hang a nylon shredder bag or place a plastic insert.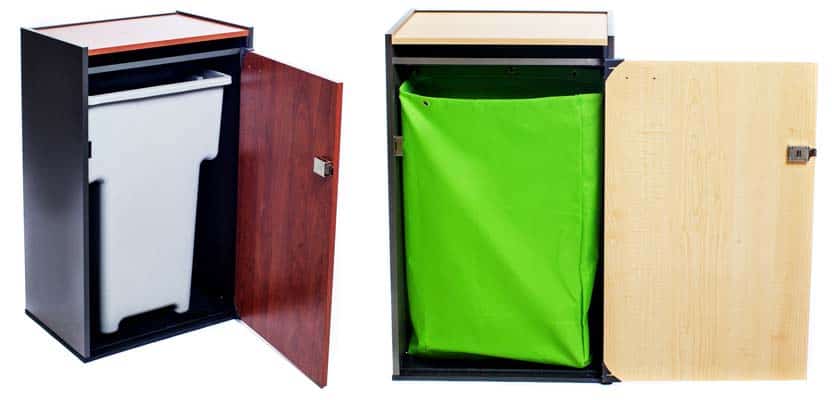 What to look for when buying a shred bin?
Most important is that the bin or container is sturdy, lockable and tamper-proof. Choose a security container with a heavy-duty built quality, so it can withstand daily office use. Make sure the lid is lockable and contains a narrow feed slot for quick and safe disposing of your daily documents that need to be shredded. Lastly make sure that the bin, cart or console is phishing-proof. The feed slot needs to be narrow enough that disposed documents can't be stolen and reviewed by unauthorized people.
Next step is paper shredding and recycling
When the security bin is full the content must be shredded safely. You can shred your paper documents in the office with a commercial paper shredder. Or hire a paper destruction service company which can collect and shred the sensitive contant for you. After shredding it is also important that the shredded material will be recycled.
Learn more about paper shredding services in your area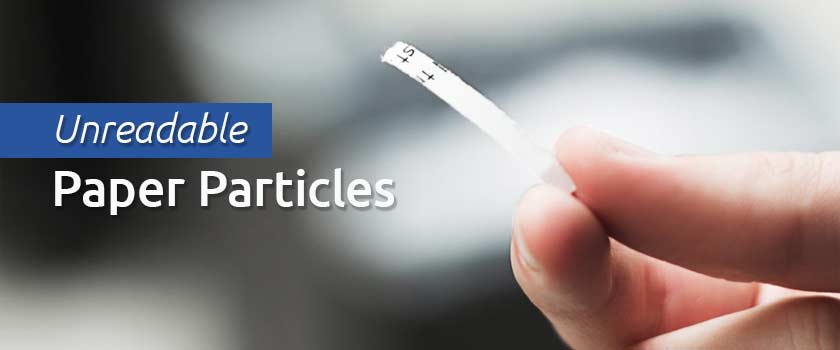 ---
Step Up:
Recycle

, Reuse &

Reduce

The three arrows of the recycling symbol represent the three main stages of the recycling process: recycling, reusing and reducing. Together the arrows form a closed loop. Step up and implement eco-friendly replacements in your daily life.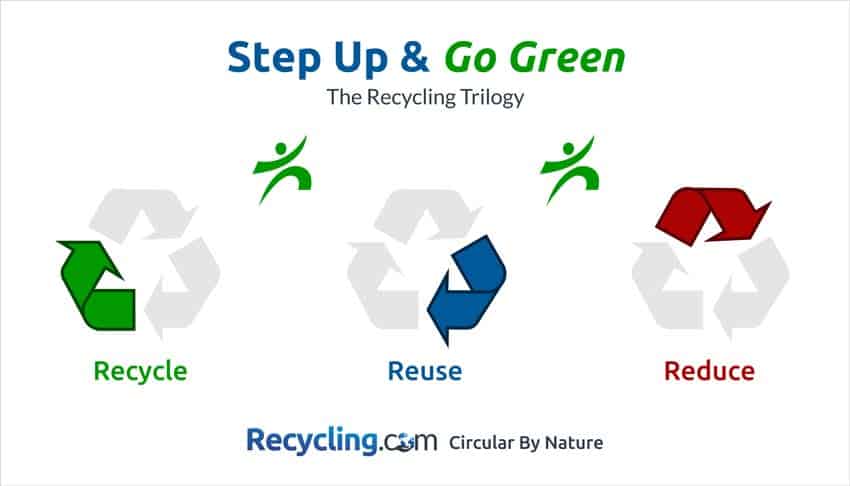 Join the movement! Step Up the waste hierarchy together to a goal of Zero Waste.