Paper Shredding Services for Commercial Document Destruction
How to securely shred and dispose of documents without a paper shredder?
What to look for when you want to shred documents by a local paper shredding company? This guide explains everything you need to know about shredding confidential office papers safely and securely.
Navigation:
Shredded paper is an important resource material for producing tissue paper. #KeepRecyclingPaper
What is paper shredding?
Paper shredding is a safe solution to securely dispose of old or unwanted confidential documents at home or in the office. You can destroy residential or commercial documents yourself with a paper shredder machine or hire a specialized commercial paper shredding company to do the shredding for you.
Making use of a shredding service saves you time, especially when you demand high volume document shredding. With secure document shredding, you protect client or employee information or sensitive company data printed on all kinds of documents. Once a document contains confidential information, we recommend shredding the documents before disposing of them for paper recycling.
Shred confidential documents before you recycle.
What does a paper shredding service do?
Paper shredding companies shred confidential documents for you. Instead of shredding a stack of documents with your office paper shredder, you give your documents to a professional paper destruction company in your area.
The company shreds all your documents with a professional industrial shredder into unreadable particles. This shredding process saves you time because you don't need to shred a pile of paper a few sheets at a time with your shredder.
Where can you shred your documents?
It is essential to choose a reliable shredding company because which company can you trust with your confidential papers? Think about it, you hand over confidential documents, papers, and records with all kinds of sensitive information.
Such details about your company, personnel information, client or customer information, personal data, or maybe even highly sensitive medical information. You want to avoid the risk that this data falls into the wrong hands, with all of its consequences.
Hire a paper shredding service to securely dispose of confidential documents, rather than shredding with your own paper shredder.
How can you be sure that your documents are safe with a professional shredding company? We recommend contacting a service company that is specialized and certified for secure paper shredding. Such as a NAID AAA certified paper destruction company. More about this later.
Who needs paper shredding?
On this page, we will focus on commercial customers. But document shredding is actually for everyone with the need to shred confidential documents. Whether you are looking for secure paper shredding services at home or for small or large businesses. Most shredding companies offer their services for both residential and commercial customers.
The most important thing is that your confidential documents are getting destroyed securely. It doesn't matter how many documents you want to shred. A single sheet of paper with highly sensitive data is just as important as shredding as a warehouse full of old financial records.
So don't hesitate to have your paper shredded by a professional, even if you only want to shred one file or folder containing a few pages. No shredding task is too big or too small.
Find a paper shredding location near you
---
Types of document shredding services
When you browse the web for industrial shredding services near you, you will notice that shredding companies offer all kind of services, such as:
Which shredding service fits your needs and what are the differences between them? We tell you all about it below:
1. One-time shredding
A popular service is one-time paper shredding or annual purge shredding. Companies choose this service when they, for instance, had their yearly clean-out of old documents and records. All their old financial records and other unwanted confidential documents can be shredded at once for one-time at a fixed price.
The one-time purge shredding service is ideal when you want to shred lots of documents at once, but only one time. This service is free of contracts and saves you lots of time.
---
2. Regularly shredding
You can also hire a paper destruction company to shred your documents regularly. With this recurring shred service, you use locked containers at the office where you dispose of your confidential paper waste securely.
The company collects the documents when the security container is full. The collection can be scheduled on a regular basis, or when you inform the company, the bin is full and ask them to empty the bins to shred your confidential documents.
The scheduled document shredding service is ideal when your company wants a permanent and secure solution at the office to dispose of documents daily safely. It saves you and your colleagues valuable time because there is no need to shred any documents with your office shredder every day.
Locked containers
We recommend to collect and store confidential waste paper into secure and lockable containers. These security containers get specially designed to hold paper documents safely without the chance that unauthorized people can look into the confidential material. These containers are also known as shred bins because the content needs to be shredded.
Paper destruction companies can provide you with lockable containers in all kinds of sizes and capacities, so there is always a suitable bin for your workplace. Most of the containers are wheeled carts, but you can also place smaller receptacles under or next to your desk.
The lid of the security containers are lockable, and they fit through standard sized doors, so perfect for office use. We recommend placing the larger containers in your office building in central areas, such as where the printer or office shredder gets located. So you keep sensitive information secure before destruction.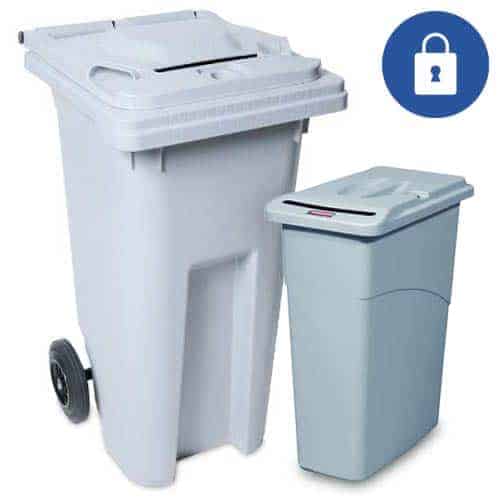 The locked containers can be serviced and emptied regularly, such as weekly, bi-weekly, or monthly. You can determine the frequency of service with your shredding provider. The security containers can also be used for one-time clean-outs for collecting all the documents safely before shredding.
When you choose off-site shredding, it is possible that the destruction company collects the material in locked containers and transports them with their shred truck. In this case, your shred bin, when you hire them for regular document shredding, will be exchanged for empty shred bins. But some data destruction companies empty the contents of the container right in the truck without the need to exchange them for empty ones.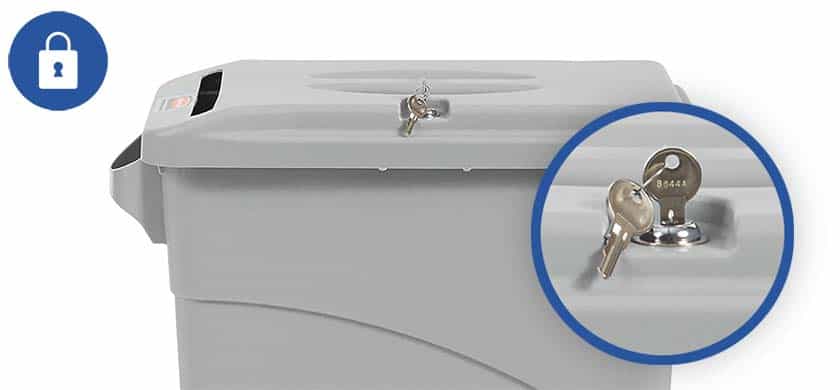 ---
3. On-site shredding
When it is crucial for you or your company to witness the paper destruction process in action, you can hire a paper shredder company that provides on-site shredding or so-called mobile paper shredding. How does this work? You schedule an appointment with the shredding provider to shred your documents at your location. A specialized truck will park at your site to collect all your confidential documents.
Tip: Want to start a mobile shredding company?
The truck contains an industrial paper shredder installation in which the shredding company immediately shreds your documents in front of your office. So you can witness the document shredding process in real-time.
It is common that you watch the shredding process on a monitor outside the shredding truck since it is essential that the paper shredding takes place in a locked and secure environment.
This on-site paper shredding service is available for regular and one-time paper shredding. If you want to shred high volumes of documents, also known as bulk shredding, the shredder's capacity in the truck may be too small, so that the cleanup might cost more time and money than off-site shredding.
Remember that you need to have space available for the truck to park in front of your office building. It also takes up time to shred your documents inside the truck, especially when you've had a large clean-out. Lastly, it isn't the most discrete form of shredding documents since the shredding takes place at your door for everyone to see, but on the other hand, you can watch your documents being shredded and be 100% sure everything goes accordingly.
---
4. Off-site shredding
The opposite of on-site shredding is off-site shredding at a secure shredding location. With this service, the company collects the documents that you want to shred. This can be done regularly or for one-time shredding purposes. The company collects the documents from several customers in your area with a secured truck.
Once the truck's capacity is full, it drives to a secure destruction site where the documents will be unloaded and shredded in a large industrial shredder.
Normally you can't witness the shredding process, like with on-site shredding. However, you can ask the shredding company if you can visit the location to see how they shred documents in their shredder.
Some people aren't very fond of the idea of handing over confidential documents without them being shredded immediately. Because what happens with your documents, and will the company shred your documents up to the very last sheet of paper?
Understandably, off-site shredding might be less in favor compared to on-site shredding. But specialized destruction companies that are officially certified for paper destruction (for instance, Naid AAA certified) will ensure that your documents are collected, transported, and shredded safely and securely.
Also, keep in mind that the collected shredding will be mingled with documents from other customers. So it becomes one mix of documents from all kinds of companies that are getting shredded in a professional shredding facility.
Off-site shredding is a good shredding solution when you have large volumes of documents to shred. On-site shredding takes up much time when you are shredding large volumes in front of your office.
---
5. Drop-off shredding
This service is an addition to off-site shredding. With drop-off shredding, you collect all your shredding and transport it yourself to a shredding location near you. You will need to contact the shredding company beforehand to make a drop-off shredding appointment at the paper shredding facility. Firstly, You drop off all the confidential documents that you want to get shred. The facility weighs your material to tell you what the price of the shredding service will be.
Drop-off shredding is an excellent solution for reducing confidential paper shredding costs since you collect and transport the material on your own. The drop-off service is popular with residential customers who want to shred personal, financial, or other confidential documents without destroying the documents with a home shredder.
This might be because the customer doesn't have a paper shredder machine or because it is simply too much material to shred at home. But also commercial customers make use of drop-off shredding to reduce shredding costs.
Find a document shredding location to drop-off your documents at a local UPS Store or FedEx location. These stores offer shredding solutions for small businesses and personal drop-off paper shredding. For large volumes, please contact the store directly.
---
6. Shred events
Every once in a while, paper shredding companies organize special shred events in your area. These events have promotional intend, most of the time, which means you can shred documents for free. The free shredding events are often consumer-oriented and targeted for shredding relatively small quantities of personal information.
---
What is a Certificate of Destruction?
Commonly, paper destruction companies provide you with a Certificate of Destruction confirming that your material has been securely destroyed. This certificate is proof that you shredded your documents in association with a paper shredding company.
You'll receive this certificate after the shredding process is done. We recommend keeping the certificate. This document contains information about the volume of documents shredded on a particular date, the transportation method, and the name of the shredding company. When your company is getting audited, you can show the certificate as proof of compliance.
What is NAID AAA certified?
Can you trust a paper destruction company with your sensitive information? Every shredding company will tell you that they shred documents safely and securely. But how can you be sure that your documents are safe? Look for paper shredding companies that are officially and independently certified for paper destruction. A well-known and reputable certification is the AAA certification by the National Association for Information Destruction or NAID for short. The NAID sets the standards for the information destruction industry.
The NAID auditors regularly check destruction service providers who are AAA certified for mobile and plant-based shredding operations. The program checks and rates, for instance, the quality and safety of the process of collection and destruction of documents, the screening and hiring of employees, and other security factors.
Only shredding companies that adhere to the NAID guidelines will retain certification. Ask the service provider for a current copy of their certificate to check if they are currently certified for paper destruction. Read more about the AAA certification program.
Another thing to look for is official customer reviews. Professional and reliable destruction companies with a large customer base will provide a reliable source with customer reviews on their website. Read through them and possibly contact a few clients to ask questions about the service and reliability. When the shredding company does not have any reviews, you can ask the company for some references to contact for further information.
Also, ask the company how small the paper particles are after paper shredding. For more information, read our page about the DIN 66399 security levels.
Find NAID AAA certified shredding companies in your area.
---
How much does document shredding cost?
The cost of paper shredding depends on several aspects and factors. Such as the number of documents you want to shred, the distance between your company and the shredding facility, do you drop-off the documents yourself or opt for collection at your site, and which shredding company you choose. Prices for paper shredding vary, so we recommend requesting multiple quotes to compare prices.
FitSmallBusiness.com made a small comparison between three well-known paper shredding companies. They also compared document shredding prices. On-site shredding costs between $85 and $150 per security bin, and for off-site shredding, the prices vary between $100 to $125 per container to shred.
The prices for paper shredding services might be relatively high. But you pay for a specialized and secure service. A professional shredding company needs to invest in all kinds of security measures to ensure that their customers' documents are safe at any given time. Think about security cameras, locked containers, shredder trucks, and an industrial paper shredder for shredding high volumes of confidential documents.
To reduce the cost of paper shredding, look for local shredding services near you, especially when you want your confidential documents to be collected at your location. To reduce the costs even more, you can drop off your documents at the shredding facility to save on transportation costs. You can also opt for a paper shredding machine to shred your documents yourself.
Shred service or paper shredder?
On average, the price of paper shredding is around $100 per security bin. Every time the contents of a security container are collected and shredded, it will cost your business money. What if you invest this money in a paper shredder machine instead of the shredding service? We have compared the cost of two popular office shredders with the cost of paper shredding by a certified shredding company.
Paper shredder: Fellowes Powershred 99Ci
The Fellowes Powershred 99Ci is a cross-cut shredder for small business use. It is a professional office solution that can be used by 1-3 users, perfect to use around a desk. This paper shredder's price is approximately $229.00, or the cost of two full shred carts.
Fellowes AutoMax 550C
The Fellowes AutoMax 550C is an auto-feed shredder for heavy-duty use at the office. With this cross-cut commercial shredder, you can shred up to 550 sheets of confidential paper automatically. Fill the tray and walk away. The shredder does the shredding for you. The Fellowes AUtoMax 550C is an ideal shredder for shredding high volumes of documents. This paper shredder's price is approximately $1030.00, or the cost of ten full shred carts.
Which shredder should you buy?
For more information about paper shredders, we recommend reading our extensive paper shredder guide. You can find all the information you need to buy the best paper shredder for your company in this guide.
---
How does it differ from paper recycling?
What makes paper shredding different from paper recycling? It might sound somewhat similar, but there is a big difference. Paper shredding is a service that comes prior to paper recycling. It is entirely focused on destroying confidential information safe and secure, which paper recycling is not. When you dispose of personal documents for recycling, your documents will not get the same security treatment as paper shredding. This means that when you only opt for paper recycling, your or somebody else's confidential data is at risk.
When you want to dispose of confidential documents securely and want to make sure your data is safe, you can't get around paper shredding.
What makes it different from a paper shredder
A paper destruction company uses a large industrial paper shredder at their facility or a mobile industrial shredder in their industrial shredding trucks. These industrial shredders do the same thing as a personal paper shredder machine, which is shredding paper.
But a paper shredder that you buy at the store, or hire, comes in all kinds of sizes, variants, and qualities. For instance, some paper shredders are strip-cut. These types of shredders produce long strips from your documents. And these long paper strips are still readable, especially when your documents get printed in landscape.
When you want to shred documents securely, you need to look for a cross-cut or micro-cut paper shredder. These shredders produce small paper particles and are more reliable for ensuring your confidential documents can't be read after shredding.
Also, keep in mind when you want to shred your documents yourself, it is important to have a paper shredder that keeps up with you. For commercial use, this means you need a heavy-duty shredder that can shred large amounts of documents at a fast pace without occurring paper-jams and with a continuous run-time. These professional paper shredders are relatively expensive, large, and heavy, so not suitable for every business owner.
You can also hire an industrial paper shredder for a limited time to shred large amounts of documents at the office.
With a paper shredder at the office, you can shred documents at any given moment, which is a significant advantage. But shredding documents takes up valuable time for you and your colleagues, especially when you want to shred large volumes. In this case, it might be better to choose a data destruction company that does the shredding for you.
Some businesses make use of a paper shredder at the office and a shredding provider. For daily disposal of confidential documents, you and your colleagues use the locked containers, such as a shred bin. When there is an immediate need for shredding documents, you make use of the office paper shredder.
Maybe some departments or employees need to regularly use a paper shredder to think about people who work with highly confidential data regularly. Such as the financial department or the human resources manager. They might need to shred some documents immediately because of regulation and legislation. Read more about paper shredders in our guide.
What happens to shredded paper?
Do shredding companies recycle? Imagine a large mix of paper shreds that come from your documents and other companies. What happens with all this shredded paper? Is paper shredding sustainable and environmentally friendly?
It is because paper destruction companies will make sure that the shredder paper gets appropriately recycled. After shredding, the material gets pressed in large paper bales. This material will be used as raw material for the tissue industry. This means that there is a chance that your old tax report is shredded, recycled, and used as raw material to make a roll of toilet paper.
Hard drive destruction
Besides shredding confidential paper documents, some shredding services also offer hard drive destruction. Old or defective hard drives, SSDs, flash memory, or other media contain any sensitive data. Before disposing of the storage media for recycling, we recommend shredding and destroying the data first. Read more about hard drive destruction.
---
How to find NAID AAA certified shredding services near you?
Where can you shred confidential documents in your area? Find reliable and NAID AAA certified paper shredder services near you.
North America & United Kingdom
Learn more about confidential destruction services: