RECYCLE

| Separate Recyclables
Separate your recycle from your garbage
Maybe a 100% zero waste lifestyle is a bridge too far for your household. But you really want to contribute to more recycling of your household waste. A good sustainable solution is to place a dual trash can in the kitchen for recycling.
Dual trash and recycling cans have two compartments and can hold your recyclables (paper, plastics, metal or fruit waste) and other garbage. The waste bins contain two separate compartments, so you can combine recycling and waste into one single bin. Now let's have a look at some of these dual recycling bins. We've selected the most popular 2-compartment trash cans for your convenience.

Top 10 Recommended Double Trash Cans for Recycling
---
---
---
---
---
---
Other trash can recommendations
Tips for buying a dual trash can
Why do you need a dual compartment trash can?
A two compartment kitchen trash can holds your garbage and recycling in one receptacle. It takes up less space than two separate single bins. This can be useful when you have a small kitchen and not much space on your floor to place a large trash can. Some people stack their recyclables on the countertop or in a kitchen cabinet. A recycling bin with multiple compartments is a great solution to get rid of this clutter in your kitchen.
What does a recycling bin cost?
Most dual trash cans for recycling are quite expensive. A good kitchen trash can costs between $100 and $200. At first, that is a relatively high price. But in return you will get a high quality waste bin that makes sorting waste a breeze. Why is that important? Well, you and your familiy use this trash can everyday. So it better be a good one that will last for years to come. A good kitchen trash can help you and your family to recycle easier. Most people who already bought a more expensive dual kitchen trash bin say that they were hesitating to buy one due to the high price. But after deciding to buy one they were very happy with their purchase. It makes recycling and sorting waste a bit more fun to do.
Does the trash can look good in your kitchen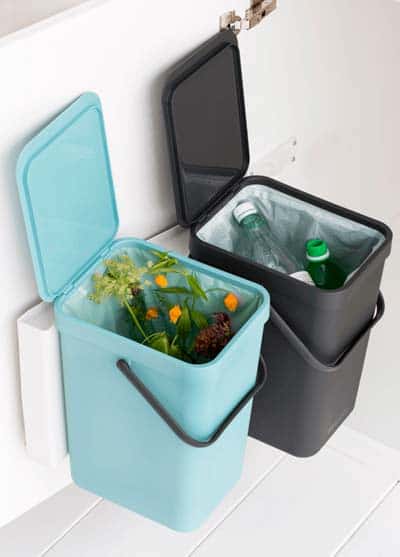 What is exciting about a garbage can? Nothing – you might think. But when you dive in to the world of dual trash cans you will discover that there is a lot to choose from. These recycling bins come in different sizes, colours and materials. So while you are looking for one, why not search for a trash can that matches your kitchen design or you home interior? There is always a trash can that matches your style and need.
Keep garbage out of view with a built-in trash can
It is possible that you are not into trash cans at all. You need a solution for your waste, but you don't want to see the garbage bin in your kitchen all the time. Luckily there are built-in trash cans. You install these slide-out or pull-out trash cans in one of your kitchen cabinets. Most people install theirs in the cabinet where the sink is also located. These built-in trash cans have multiple compartments too to sort your recycle and garbage. And the only time you'll see the trash can is when you throw trash or recycle away, after that you close the cabinet door and the bin is out of view.
With or without foot pedal

Do you want your kitchen trash can to have a foot step? With this pedal you open the lid of the trash can without touching the lid. That is quite hygienic, especially because you use this trash can in the kitchen. But maybe you don't like foot step trash cans. There are also trash cans with motion sensor. The lid opens while you wave your hand above a specials sensor. A more traditional approach is a trash can with a manual lid. You open the lid by hand. We recommend to get one where the lid stays up by itself.
Check more dual recycling bins for your kitchen.
By Recycling.com/ 29 March 2017 Shares