Best Dual Trash Cans with 2 Compartments
Use One Trash Can for Sorting Recycling and Garbage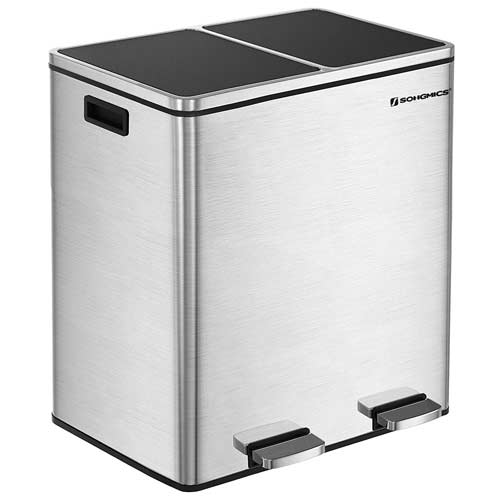 A dual trash can is a perfect solution for separating and sorting waste and recyclables at home or in the office with only one bin. Double trash cans contain two compartments which can hold your recyclables (paper, plastics, metal, vegetable or fruit waste) or non-recyclable materials. This makes a dual compartment trash can convenient to use.
Stay well organized with a double compartment trash can
Top 10 Best Double Trash Cans for Recycling
What is the best trash can with a recycling compartment? It all depends on your household, needs and style choice. Some people might prefer a stainless steel recycling bin. While others want a red, black or white dual trash can. We've selected a list with ten 2-compartment trash cans for your inspiration.
---
"Nice looking recycling can with separate lids"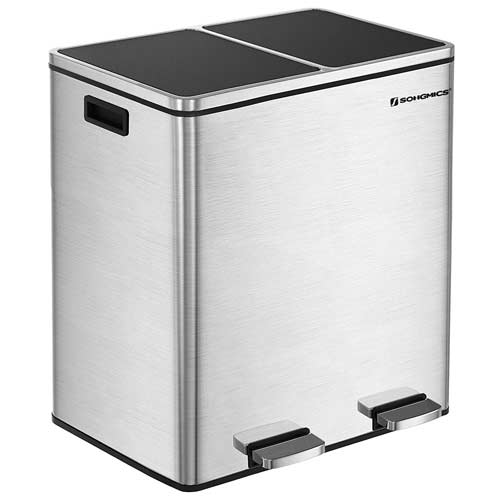 #1 Amazon Best Seller
The SONGMICS Dual Step Trash Can contains two separate plastic compartments from 8 gallon each. Use one for recycling and one for trash. You open each compartment separately with the foot pedals, the lid closes smoothly and silently. The foot pedals provide hands-free operation, which is hygienic in use. The bin is constructed of heavy-duty stainless steel and has a fingerprint-proof matte finish. The side handles make it convenient for you to pick up the container.
Capacity: 8 + 8 gallons (16 gallons)
Material: Stainless steel
Dimensions: 23 x 12.6 x 25.6 inches
---
"It really helps the kids to recycle more at home"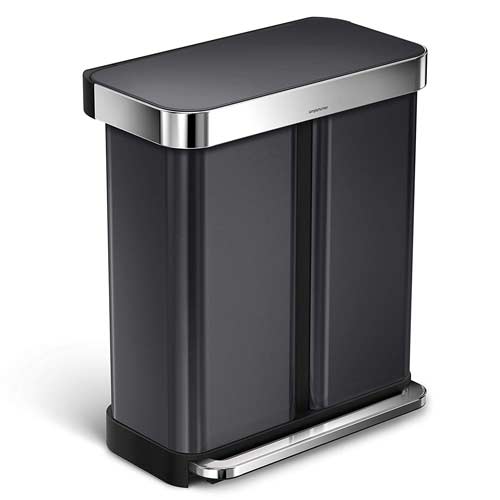 The rectangular Simplehuman Step Can Liner Pocket is a well-built and stylish looking recycling bin for your kitchen. The dual compartment bin for waste and recyclables is beautifully designed, durable and easy to use. The inner buckets (which are removable) are equally sized and fits standard kitchen trash bags. The recycling bin contains a hidden compartment to store spare bags, a so called liner pocket. The stainless steel material has a fingerprint proof coat to protect it from smudges.
Capacity: 7.5 + 7.5 gallons (15 gallons)
Material: Stainless steel
Dimensions: 14.2 x 22 x 25.8 inches
---
"Sort trash and recycling at the office, bedroom or bathroom"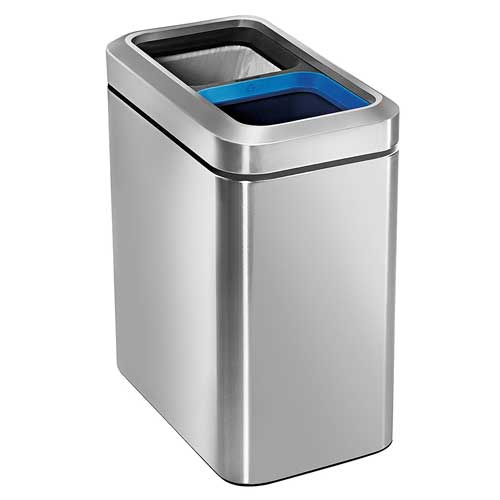 The Simplehuman Open Dual Trash Can is a compact recycler with a capacity of 5.3 gallons. The bin isn't recommended for kitchen use, because the trash can doesn't have a lid. But this recycler is great for your (home) office, bathroom or bedroom. The double buckets are removable and are perfect for small amounts of waste and recyclables. This compact trash can has an open top so there is no lid to keep trash out of sight. The recycler fits perfectly in tight spots so you might also use it to collect recyclables in your kitchen cabinet. But it is of course also ideal as an deskside trash can. The stainless steel is resistant for fingerprints.
Capacity: 2.65 + 2.65 gallons (5.3 gallons)
Material: Stainless steel
Dimensions: 8.7 x 16.7 x 15.2 inches
---
"This dual trash can is a great way to separate recyclables"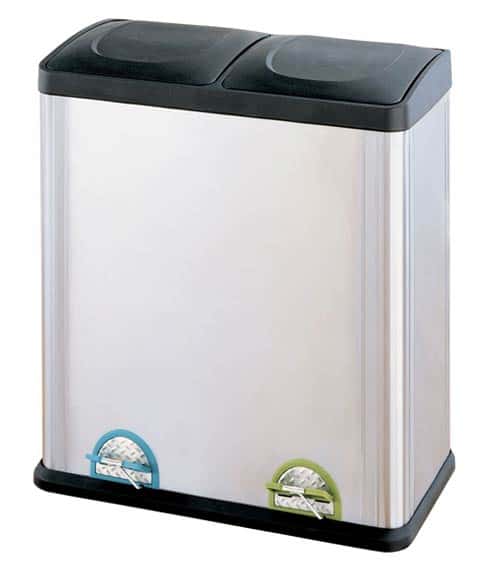 Yes, you can organize it all with this step-on recycle bin. The trash can has double compartments of 8 gallon per side. This single container is great for recycling. You can separate your recyclabes easily because the foot pedals are color coded. The cans are removable – they have a nice handle, so you can give them a quick cleaning.
Capacity: 8 + 8 gallons (16 gallons)
Material: Stainless steel
Dimensions: 13.5 x 23.1 x 25.5 inches
---
"This kitchen trash can looks great and is a pleasure to use"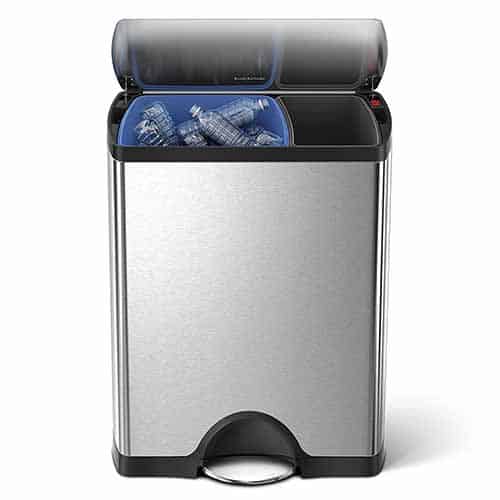 The Simplehuman Rectangular Recycler trash can has two side-by-side buckets. So you can sort your household recycling and non-recyclable waste. The square indoor recycling bin with 2 compartments has a solid foot step. The lid stays up while throwing away your waste. You can take the buckets out of the trash can for cleaning and the outside of the bin is fingerprint proof.
Capacity: 8 + 4.2 gallons (12.2 gallons)
Material: Stainless steel
Dimensions: 12.8 x 19.8 x 25.7 inches
---
"Large dual garbage can to organize your kitchen garbage"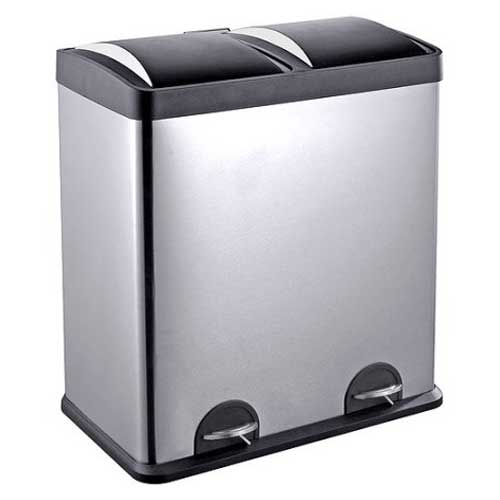 The Step N' Sort Dual Trash Can is one of the larger recycling bins with two trash cans. The double compartments can hold 8 gallons each and you can fit 10- or 13 gallon kitchen trash bags in each bucket. The removable buckets feel sturdy and are easy to remove thanks to the handles. The overall stainless steel construction of the bin feels and works well, the design is nice and simple. You open the two lids form this side-by-side two compartment trash can with hands-free independent step pedals, this works easy and smooth.
Capacity: 8 + 8 gallons (16 gallons)
Material: Stainless steel
Dimensions: 23.2 x 13 x 26.2 inches
---
"A functional dual-compartment trash can for sorting recyclables"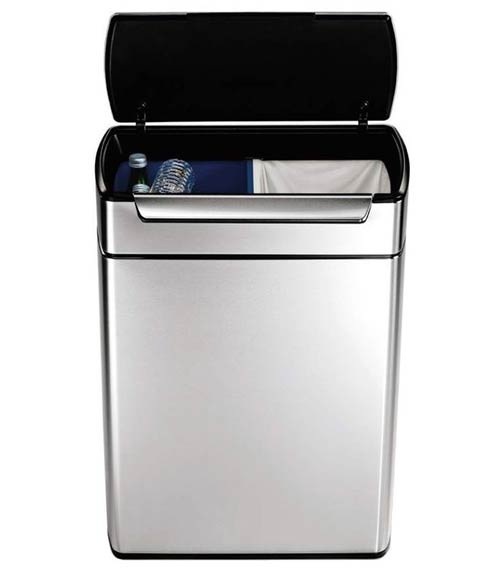 The Simplehuman Rectangular Touch Bar Recycler is a trash can with two compartments of 6.3 gallons each. You can use the side-by-side bins to sort your household recyclabes, such as plastic, left over vegetable and fruit. The lid will stay open while you throw your garbage in one of the buckets. You can place the Simplehuman trash can flat against your wall.
Capacity: 6.3 + 6.3 gallons (12.6 gallons)
Material: Stainless steel
Dimensions: 11.4 x 19.7 x 28 inches
---
"Narrow and slim recycling bin for tight kitchen spots"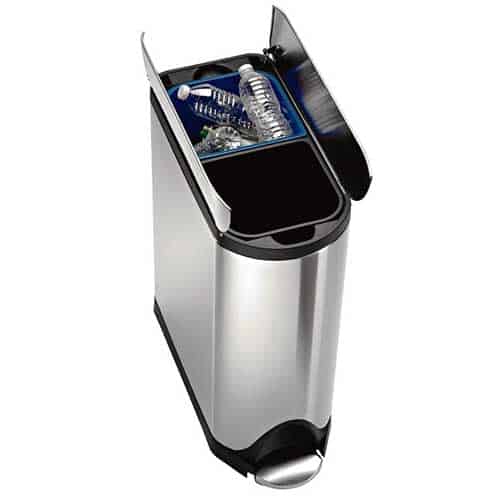 The Simplehuman Butterfly Step Trash Can Recycler is as well attractive and functional. Bellow the unique butterfly lids are hiding two separate bins for sorting trash and recyclable materials. The bins are equally sized. This bin has a slim and narrow shape, which makes it perfect to squeeze in tight spots. The split lid opens beautifully and closes smooth and silent, all with the strong steel pedal. The brushed stainless steel looks great and makes the bin very durable.
Capacity: 5.25 + 5.25 gallons (10.5 gallons)
Material: Stainless steel
Dimensions: 23.3 x 10.4 x 26 inches
---
"Hygienic recycler with automatic motion sensor lid"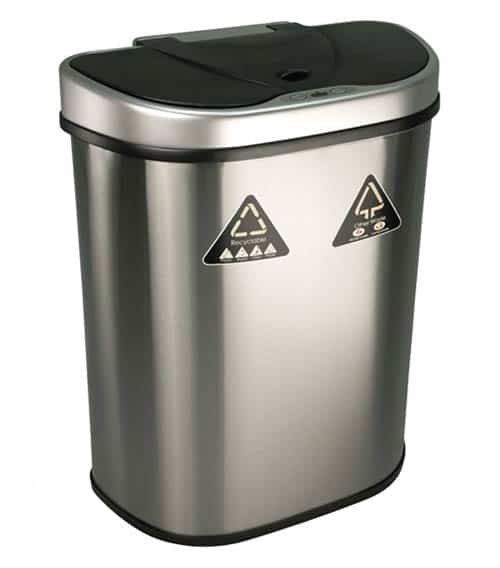 If you like gadgets then this is the kitchen trash can you are looking for. Because of the touchless motion sensor the lid will open by waving your hand over it. It works like magic and quite easily. To get this all working you'll need four D batteries (not included unfortunately). The double compartment trash can has one side for recyclables and one for other trash. The outside has a special fingerprint proof coating for easy cleaning.
Capacity: 9.25 + 9.25 gallons (18.5 gallons)
Material: Stainless steel
Dimensions: 13 x 21.3 x 26.2 inches
---
"Multi compartment recycling station for the kitchen"
The Joseph Jospeh Intelligent Waste Totem is a multi-compartment recycling bin for sorting your general kitchen waste, recycling and food waste. Inside the bin are three buckets to sort your waste. The recycling compartment has a divider so you can organize it the way you want. The bin has an above average capacity for kitchen use, but although it's large capacity the bin isn't that huge because of its tall design. The lid has a stainless steel fingerprint-proof finish and the rest of the bin is made of a powder-coated steel.
Capacity: 16 gallons
Material: Plastic + Stainless steel
Dimensions: 11.7 x 15.6 x 41.7 inches
---
Compare double trash cans
In the table below you can find more recommended trash can and recyclers. Sort the columns of the table to find your best recycling bin. Please note that this table scrolls horizontally (for mobile users).
Create your own recycling station
A dual trash can contains two compartments to sort trash and recycling in one single receptacle. But possibly you need more compartments to sort all your recyclables from the trash. Another solution is to buy multiple single trash cans to make your own recycling station at home. It is recommended to opt for single compartment trash cans with unique colors, this makes it visually clear that each container is used for dedicated waste stream. To help sorting trash and recyclables you can label each container with a recycling sticker or decal.
Commercial recycling stations for your office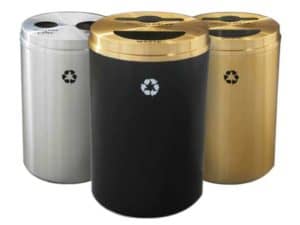 Are you looking for elegant office trash cans for creating recycling stations in your office building?
We've made a selection of the best trash can collections for office use. A matching set of professional bins can be found for every interior style and design.
Make recycling visible and convenient with centralized recycling stations.
Other trash can recommendations
Separate Recyclables
Step up and go green. With a recycling bin you can sort recyclables at home or at work.
More about double trash cans
What is a dual trash can?
A dual trash can contains two compartments for separating two types of waste. Most people use it for sorting their recyclables from their garbage. A two compartment dual trash can is great to use at home, but can also be used in the office, in your car or even on a boat. If you want to sort your trash, then a dual trash can is a great solution for it. The reason is that you only need one bin to sort your trash, rather than having two separate bins. So a dual recycling bin looks clean and is efficient to use for you, your family and possible guests.
A dual trash can is a small recycling collection centre in your home.
People who have already bought a two compartment trash can love the fact that they are able to put trash and recyclables in the same bin. It is one trash can with two functions that helps you to stay organized and be eco-friendly at the same time. Some people also conclude that a dual recycling bins makes sorting trash much easier and more fun to do. It really improves the overall process of recycling at home, because it makes separating trash and recycling a breeze.

Why do you need a dual trash can?
Some people need to separate their garbage because of local laws. But others just want to be more environmentally friendly and want to start sorting trash. For separating trash efficiently and conveniently a dual compartment trash can is a great option. To find out if these type of trash cans are right for you we've made a list of pros and cons for double trash cans:
Pros of a dual trash can
Use one trash van for sorting trash and recycling.
It simplifies recycling and requires little to no effort.
No need any more for two separate bins.
It takes up less space than two separate bins.
It looks clean and it works more efficiently.
A dual trash can is very organized.
Less confusing for guests (which bin is for recyclables?).
It reduces the clutter of recyclables that usually sits on your kitchen counter.
Cons of a dual trash can
You need two trash bags for each compartment.
A dual trash can only can sort two types of trash.
You need to be consistent which type of trash belongs to which compartment.
It might be that after a while you come to the conclusion that the compartments are too small.
What type of dual trash can?
What do you prefer? A step-on dual trash can with a foot pedal, a touchless trash can with motion sensor, or a trash can with a manual lid? Just like regular (one compartment) trash cans, you can choose from a wide variety of trash cans with all kinds of lid mechanism.

When you want get a double trash can for the kitchen we recommend buying a step-on trash can or a touchless trash can because hygiene is one of the most important things in and around the kitchen. These type of trash cans doesn't require to be touched by hand when you want to dispose your trash. We also recommend these type of double bins for the bathroom, restroom, bedroom and RV or camper.
For a car, boat or other vehicle it is recommended to make use of a manual lid dual trash can. Or a dual trash can with no lid at all.
If you have pets walking around, such as cats and dogs, it might be useful to get a lockable dual trash can. These trash cans have a lid which contains a lock so you can keep those curious snouts out of the trash can. Talking about pets, we recommend a trash can that has some weight to it so it won't tip over easily.
Simplehuman introduced a dual trash can with voice control. See the video of this dual trash can below:
Show or hide your trash can?
Do you want to show of your trash can? Or would you rather hide your trash in one of your kitchen cabinets? There are lots of dual trash cans with beautiful designs that can really compliment your kitchen. Most people are really impressed by Simplehuman dual trash cans. They say they are really loving their dual trash can because of the looks and how conveniently they work. But not everybody likes to see a trash can in their kitchen, so you can also get a dual pull-out trash can for under a kitchen cabinet, such as under your sink.
Does the trash can look good in your kitchen
What is exciting about a garbage can? Not much – you might think. But when you dive in to the world of double trash cans you will discover that there is a lot to choose from. These recycling bins come in different sizes, colours and materials. So while you are looking for one, why not search for a trash can that matches your kitchen design or you home interior? There is always a trash can that matches your style and need.
Keep garbage out of view with a built-in trash can
It is possible that you are not into trash cans at all. You need a solution for your waste, but you don't want to see the garbage bin in your kitchen all the time. Luckily there are built-in trash cans. You install these slide-out or pull-out trash cans in one of your kitchen cabinets. Most people install theirs in the cabinet where the sink is also located. These built-in trash cans have multiple compartments too to sort your recycle and garbage. And the only time you'll see the trash can is when you throw trash or recycle away, after that you close the cabinet door and the bin is out of view.
What size trash can?
This is a quite crucial part on buying a double trash can. In our research we see a lot of 'complaints' from people who bought a dual trash can that is just too small. Remember, these trash cans contain of two compartments. So before you buy a dual trash can you need to research carefully how many gallons each compartment can hold. Also be aware that some dual trash cans have two equally sized compartments but others have a 1/3 and 2/3 ratio. This means that one compartment is larger than the other. What we see is that most of the time people use the larger bin for their garbage and the smaller for recycling. But when they are separating more recyclables over time they switch the containers up, so they use the larger one for collecting all of their recyclables.
So what size dual trash can do you need? It depends on your household and where you want to put it in your house. But most of the time a dual trash can is used in the kitchen. So for most families we recommend a 13 gallon trash can or larger. Such as this Simplehuman dual trash can you can find on Amazon.
Also investigate if standard kitchen trash bags will fit in your two compartment trash can. This can save you some money because official brand trash bags are more expensive than universal ones.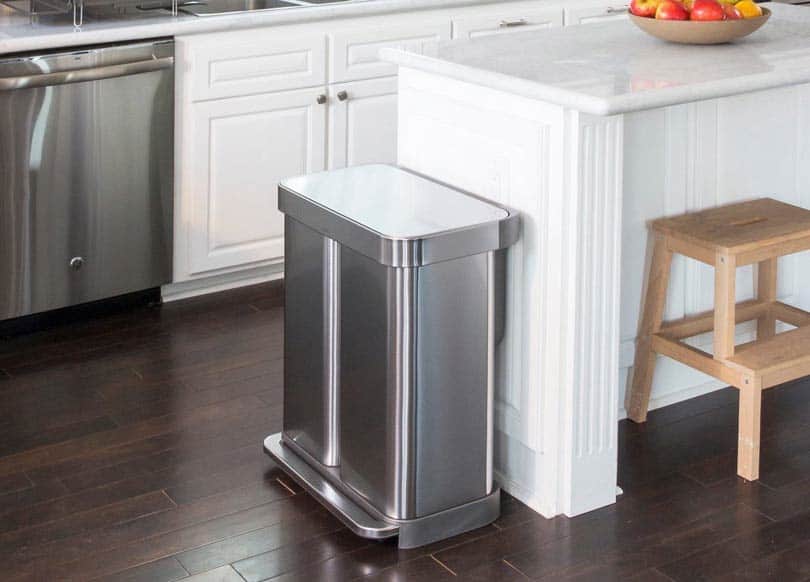 Removable inner buckets?
Does each bin come out of the trash can independently? It is recommended to get a two compartment recycling bin with removable inner buckets. This makes cleaning and changing trash bags more convenient. You might want to use one compartment bin without a trash bag because you want to dedicate the compartment for composting. In this case it is also recommended to get a dual trash can with a removable bucket, because you want to clean the bucket quite often.
What does a recycling bin cost?
Most dual trash cans for recycling are quite expensive. A well built kitchen trash can costs between $100 and $200. At first, that is a relatively high price. But in return you will get a high quality waste bin that makes sorting waste a breeze. Why is that important? Well, you and your familiy use this trash can every day. So it better be a good one that will last for years to come. A dual kitchen trash can helps you and your family to recycle easier. Most people who already bought a more expensive dual kitchen trash bin say that they were hesitating to buy one due to the high price. But after deciding to buy one they were very happy with their purchase. It makes recycling and sorting waste a bit more fun to do.
A dual trash can is the perfect solution for sorting trash and recyclables. It makes recycling much easier and will enhance your eco-friendly lifestyle.
Check more dual recycling bins for your kitchen.
---
Step Up:
Recycle

, Reuse &

Reduce

The three arrows of the recycling symbol represent the three main stages of the recycling process: recycling, reusing and reducing. Together the arrows form a closed loop. Step up and implement eco-friendly replacements in your daily life.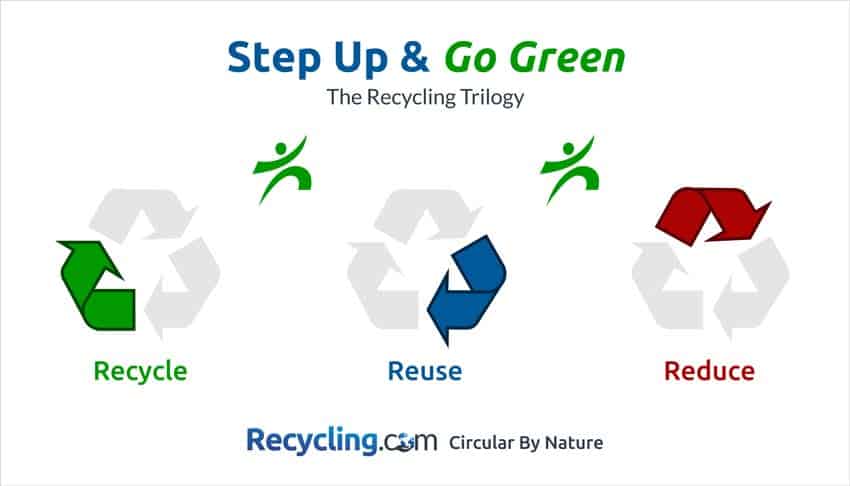 Join the movement! Step Up the waste hierarchy together to a goal of Zero Waste.
By Recycling.com/ 18 February 2019 Shares