Best Dual Trash Cans
HIGH-QUALITY DUAL RECYCLING BINS
Updated on June 15th, 2022 | Author: Pim Brouwer
Are you looking for a durable trash can for sorting recycling and trash? Then you need a dual trash can. This is a 'one bin' solution for separating and sorting your waste streams at home, in the kitchen, or in the office's canteen.
Our team researched various trash cans with 2-compartments. We've made a selection of high-quality recycling bins from trusted brands, which you can find below. Our top pick for most people is the SONGMICS dual trash can. It is a great bin to sort all your recyclables and general trash.
Top 10 Trash & Recycle Bins
Disclosure: This article is reader-supported. If you click on a product link and make a purchase, we may earn a commission – learn more.
---
#1 | Best overall pick (+ 15 free trash bags)
This SONGMICS dual trash can is recommended for most households or even office use. It looks sleek, it is fairly spacious and it is easy to use.
Capacity: 8+8 Gallon | Material: Stainless Steel | Dimensions: 23 x 12.6 x 25.6 inches
The SONGMICS Step Trash Can is a beautifully designed dual trash can. It is constructed of heavy-duty stainless steel and has a fingerprint-proof matte finish. Use one compartment for your recyclables and the other for your regular trash. Open each compartment separately with the sturdy metal foot pedals. For a limited time only, you'll receive 15 trash bags for free that fit perfectly in this recycling bin. Each lid closes smoothly and silently and is airtight when closed. The foot pedals provide hands-free operation, which is hygienic in use.
---
#2 | Best slim and narrow dual trash can
For tighter spaces we really like the Home Zone Living trash can. With its narrow shape it fits in tight spots in your kitchen.
Capacity: 8+5 Gallon | Material: Stainless Steel | Dimensions: 30 x 23.8 x 14.8 inches
The Home Zone Living VA41833A is a slim dual garbage can that is relatively tall. The removable inner compartments sit behind each other rather than side by side like most double trash cans. The reinforced hinge ensures the lid closes softly and securely after removing your feet from the sturdy pedal. The stainless steel is fingerprint-proof and prevents smudges. Each bin contains a tucked band that secures the trash or recycling bag in place, so there is no need to tie it down.
---
#3 | Best recycler with deodorizer compartment
This dual compartment recycler comes with a softclose lid and sturdy foot pedal. It has a built in deodorizer compartment and space-saving design.
Capacity: 9.5+6.3 Gallon | Material: Stainless Steel | Dimensions: 14.7 x 20.7 x 26.0 inches
The EKO EcoCasa II is a sleek and stylish-looking dual trash can. Thanks to the slim profile, the recycle bin sits flush against the wall. The stainless steel finish is fingerprint-proof, and the inner compartments for trash and recycling are removable. Keep the bin smelling fresh with the built-in deodorizer compartment. You open the lid with the sturdy and durable foot pedal. The stay-open features hold the lid open when needed.
---
#4 | Best high-quality and stylish design
This Simplehuman recycler is a beautifully designed trash can. It comes with a liner pocket to store trash bags in. The recycler is quite expensive, but it is a real eye-catcher.
Capacity: 7.5+7.5 Gallon | Material: Stainless Steel | Dimensions: 14.2 x 22 x 25.8 inches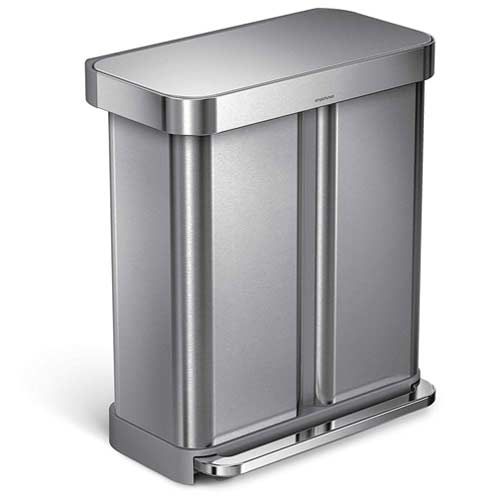 The Simplehuman Step Can Liner Pocket is a well-built and stylish-looking recycling bin for your kitchen. The multi-compartment trash can for waste and recyclables is beautifully designed, durable, and easy to use. The inner buckets are removable and are equally sized. The stainless steel recycling bin contains a hidden compartment to store spare trash bags, a so-called liner pocket. The steel material has a fingerprint-proof coat to protect it from smudges.
---
#5 | Best with large and small compartment
When you need a recycler with two different size compartments, then this is a great pick. It has a large 8 gallon bin and a smaller 4.2 gallon bin.
Capacity: 8+4.2 Gallon | Material: Stainless Steel | Dimensions: 12.8 x 19.8 x 25.7 inches
The Simplehuman Rectangular Recycler trash can has two side-by-side buckets. So you can sort your household recycling and non-recyclable waste. The square indoor recycling bin with two compartments has a solid footstep. We like that the lid is 'soft close', so the lid closes slowly and silently. And it is 'stay open', which means that the lid stays open for as long as you need. You can take the buckets out of the trash can for cleaning, and the outside of the bin is fingerprint-proof.
---
#6 | Best recycler with large capacity
The Rubbermaid Elite is a large capacity recycling bin that looks modern and sleek. This bin fits perfectly in a modern interior at home or at work.
Capacity: 9.25+9.25 Gallon | Material: Stainless Steel | Dimensions: 28.8 x 23.9 x 16.9 inches
The Rubbermaid Elite is a trash can that really wants to be an eye-catcher in your kitchen. This modern design dual recycler has a stylish charcoal color that looks very nice. The charcoal really compliments your other kitchen appliances, and the overall finish is less reflective in comparison to other stainless steel bins. With this recycling bin, you sort two streams of waste and/or recycling in color-coded liners, one small and one large-sized container. The small one has a blue color which makes it stand out for easy sortation of your waste. To open the lid you simply step on the foot pedal. The lid features soft-close, which ensures quiet and controlled lid closure.
---
#7 | Best recycler with color-coded compartments
This is a smart recycle and trash solution for home and office use. Use the blue bin for recycling and the black one for regular trash.
Capacity: 8 +8 Gallon | Material: Stainless Steel | Dimensions: 28.5 x 22 x 17 inches
The iTouchless is a 16-gallon recycle bin that includes 2 x 8-gallon (removable) inner buckets with handles. The stainless steel dual trash and recycling bin is fingerprint-proof and has a soft-close lid that closes airtight and easily opens with the ergonomic foot pedal. The recycling bin comes with two inner buckets that are color-coded. The included dual AbsorbX odor filters absorb trash odors and naturally neutralize the smells.
---
---
How We Made The Selection
To compile the ranking shown above, four main points were taken into account when evaluating each dual trash can:
Minimum volume – 8 gallons or more
High quality – Stainless steel
Trusted manufacturers – Sturdy and durable
High-rated customer reviews – Minimum of 4 stars
---
The Ultimate Double Trash Can Guide
---
What Is A Dual Trash Can?
A dual garbage can is a bin that contains two compartments for separating and recycling two types of waste. Most people use it for sorting their recyclables from their kitchen waste or garbage.
Two-compartment recycling bins are great for home use and are also usable in the office environment to stimulate recycling at the office, in your car, or even on a boat. If you want to sort your trash, then a dual trash can is an excellent solution for it.
This is because you only need one bin to sort two waste streams, rather than having two separate compartments. Furthermore, a trash recycle combo looks clean and is efficient to use for you, your family, and possible guests.
A dual trash can acts as a small recycling collection center in your home, increasing the value for recycling.
People who have already bought two-compartment trash can love the fact that they can put trash and recyclables in the same bin. It is one trash can with two functions that helps you to stay organized and be eco-friendly at the same time.
Some people also conclude that a dual recycling bin makes sorting trash much more comfortable and more fun to do. It improves the overall recycling process at home because it makes separating waste and recycling a breeze. Read more about kitchen trash cans.

---
Why Do You Need A Dual Trash Can?
Some people need to separate their garbage because of local laws. But others want to be more environmentally friendly and want to start sorting trash. For separating trash efficiently and conveniently, a two-compartment trash can is a great option. To find out if these types of trash cans are right for you, we've made a list of pros and cons for double garbage cans:

Pros of a dual trash can
Ability to use one trash can for sorting trash and recycling.
It simplifies recycling and requires little to no effort.
No need for two separate bins in your house, kithcen or office.
It takes up less space than two separate bins.
It looks clean and it works more efficiently.
A dual trash can is very organized.
Less confusing for guests (which bin is for recyclables?).
It reduces the clutter of recyclables that usually sits on your kitchen counter.
Cons of a 2 compartment trash can
You need two trash bags for each compartment.
A double garbage can only can sort two types of trash.
You need to be consistent with the type of trash that belongs to the compartment.
It might be that after a while you come to the conclusion that the compartments are too small.
Tip: Do you want to separate more recyclable streams in your kitchen? Then check triple trash cans.
---
What Does A Dual Recycling Bin Cost?
Most dual trash cans for recycling are quite expensive. A well-built dual kitchen trash can costs between $100 and $200. At first, that is a relatively high price. But in return, you will get a high-quality waste bin that makes sorting waste a breeze. Why is that important? Well, you and your family use this trash can every day and it is part of your interior.
So it better be a good one that will last for years to come. A dual kitchen trash can helps you and your family to recycle easier. Most people who already bought a more expensive double kitchen trash bin say that they hesitated to buy one due to the high price. But after deciding to buy one, they were delighted with their purchase. It makes recycling and sorting waste a bit more fun to do.
A dual trash can is a perfect solution for sorting trash and recyclables. It makes recycling much easier and will enhance your eco-friendly lifestyle.
---
What You Need To Know Before Buying A Dual Trash Can
Stay well organized with a double compartment trash can for sorting trash and recyclables at home or work.
---
Create your own recycling station
A dual trash can contains two compartments to sort trash and recycling in one single receptacle. But possibly you need more containers to sort all your recyclables from the trash. Another solution is to buy multiple single trash cans to make your recycling station at home.
It is recommended to opt for single compartment trash cans with unique colors. This makes it visually clear that each container is used for a dedicated waste stream. To sort trash and recyclables, you can label each container with a recycling sticker or decal. There are also official recycle labels available here.
Do you want to recycle more waste streams at home? Then, look at our recommendations for three compartment trash cans for sorting three types of waste at home or in the office.