Best Kitchen Trash Cans
Disclosure: This article contains affiliate links. If you click on a product and make a purchase, we may earn a commission – learn more.
Find the Best Recycling Bin for Your Kitchen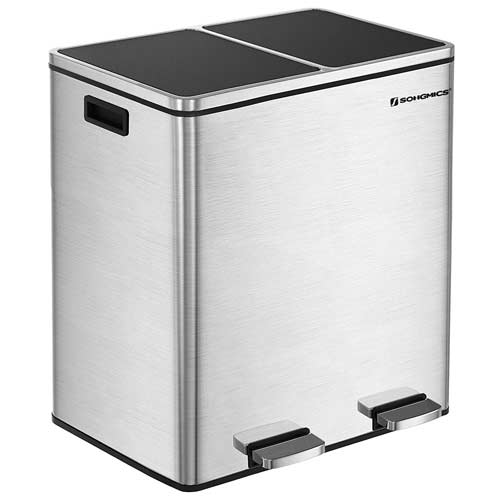 Your kitchen is the main area at home or in the office where most of your trash and recycling appears. Think about food scraps, fruit peels, waste from plastic packaging and metal cans. All this waste needs to go somewhere and to prevent that your recyclables end up in landfills it is recommended to use the right recycling bin. A kitchen trash can is a tool that helps you to sort, separate and organize all of your kitchen waste conveniently.
Which trash can is best? Check our picks
Top 10 Kitchen Waste Bins
---
Top 10 Best Kitchen Trash & Recycling Bins
What are the best recycling containers to use in your kitchen? It depends on how many waste streams you want to sort and collect with your trash can. For most households we do recommend a multi compartment recycling bin, such as a dual trash can or triple trash can. These space efficient bins are used to sort multiple waste streams in your kitchen. But you can also use a tilt-out or pull-out trash can to hide your bin and trash out of sight.
Our top 10 contains a list with the most popular types of kitchen waste bins. Such as stainless steel trash cans, dual compartment recycling bins and touchless waste bins. Check our guide for more information.
---
Best Dual Compartment Recycling Bin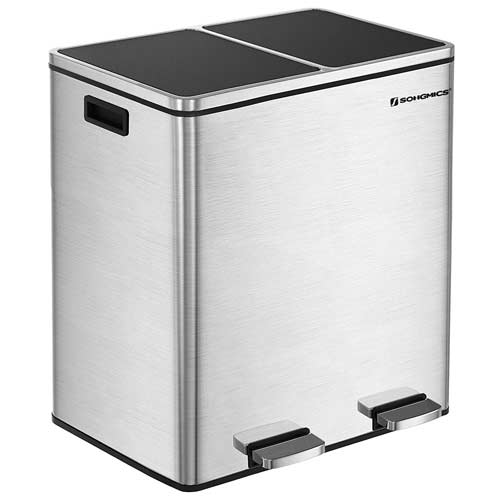 #1 Best Seller
Neatly sort trash and recyclables with the removable inner dual compartments of 8 gallons each.
Open each compartment separately with the sturdy foot pedal. The bin is fingerprint proof.
The soft closure makes sure the lids will close smoothly and softly.
Capacity: 16 gallons
Material: Stainless Steel
Dimensions: 23 x 12.6 x 25.6 inches
---
Best 3 Compartment Recycling Bin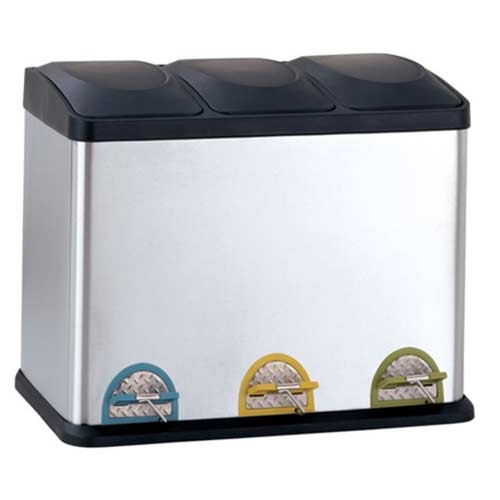 Separate and sort three types of waste with one side-by-side trash can, such as plastic packaging, cans and compost.
Strong and durable foot pedals that opens the three independent lids for easy sorting your waste.
Easy to clean removable inner buckets with a capacity of 4 gallons.
Capacity: 12 gallons
Material: Stainless Steel
Dimensions: 13.5 x 24 x 19 inches
---
Best Single Compartment Recycling Bin

Large sized stainless steel step trash can with odor protection and soft-close lid.
Capacity of 20 gallon which is great for larger households and families.
Store your recycling bags in the compartment behind the trash can.
Capacity: 20 gallons
Material: Stainless steel
Dimensions: 16.4 x 14.2 x 29.1 inches
---
Best Touchless & Hands-Free Recycling Bin

The automatic sensor lid of the bin opens quickly for easy waste disposal and the lid closes smoothly and silently.
The brushed stainless steel finish contains a fingerprint-proof coating which is easy to clean.
The natural carbon odor filter absorbs and neutralizes trash odors for a clean smelling kitchen.
Capacity: 13 gallons
Material: Stainless Steel
Dimensions: 14.5 x 10.5 x 27 inches
---
Best Dual Pull-Out Recycling Bin

Double compartment pull-out recycling bin for keeping your sorted waste streams out of sight.
Quick and easy installation – Mount the chrome-plated frame and rail base at the bottom of the kitchen cabinet with 4 screws.
Convenient pull-out handle with effortless sliding ball-bearing rails.
Capacity: 35 qt. (2x)
Material: Metal frame / plastic bins
Dimensions: 14-3/8″ W x 22″ D x 19-1/4″ H inches
---
Best Tilt-Out Trash Cabinet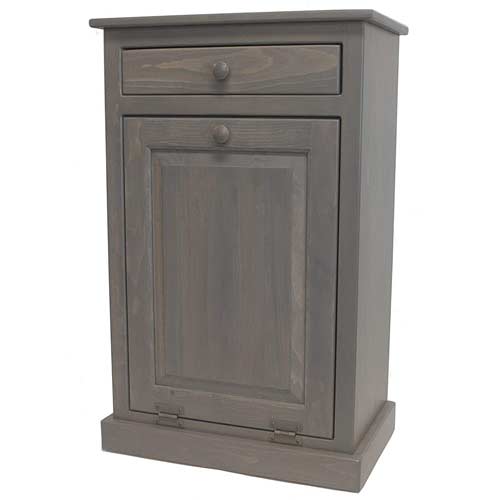 Beautiful wooden trash can cabinet with tilt-out mechanism to hide your trash cans in your kitchen.
Handcrafted cabinet with solid pine wood available in multiple colours to match your interior design.
Sturdy tilt-out cabinet is easy to clean and it comes with an extra drawer to store small items in.
Capacity: 36 qt.
Material: Pine wood
Dimensions: 13 x 21.5 x 34 inches
---
Best Plastic Bin with Slide Lock

Strong and durable plastic trash can with a semi-round shape for space efficiency.
Keep pets out of your trash can by locking of the lid with the slide lock.
The lid opens with the sturdy foot pedal and closes slowly and silently because of the soft close hinge.
Capacity: 13 gallons
Material: Plastic
Dimensions: 18.7 x 14.4 x 26.2 inches
---
Best Simplehuman Step Can Recycler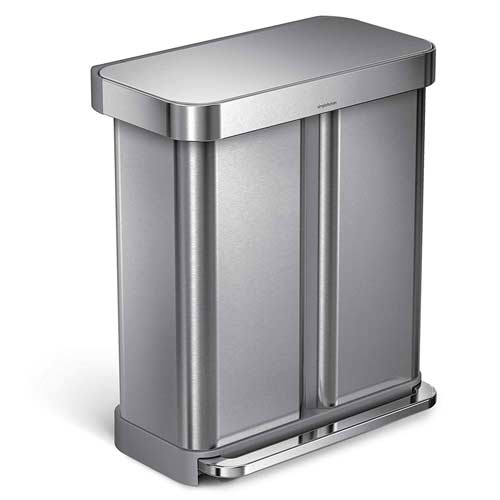 Beautiful and stylish looking dual compartment recycling bin with 10-year warranty.
Durable, wide and strong steel pedal that is engineered to last 150,000 steps.
Comes with a silent close lid and the lid stays open for as ong as you want. Ideal for sorting and separating trash and recyclables.
Capacity: 15.3 gallons
Material: Stainless Steel
Dimensions: 14.2 x 22 x 25.8 inches
---
Best Compost Bin for Kitchen Counter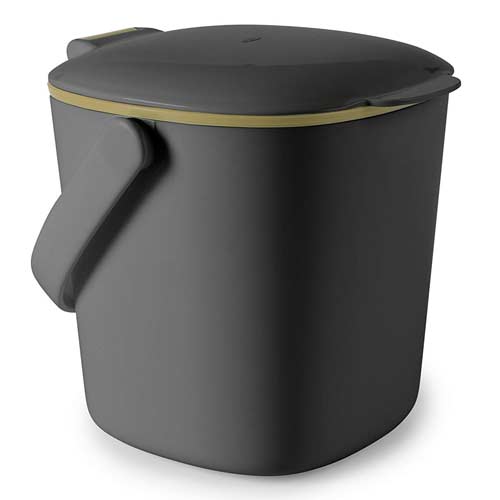 Small size and stylish looking compost bin to use on the counter-top for quick and easy disposal of fruit peels and vegetable scraps.
Easy to clean container that is dishwasher safe and the crevice-free, smooth interior keeps liquids inside the bin.
The lid flips up easily and the compost bin contains a convenient handle for easy transport to your large compost bin.
Capacity: 3/4 gallons
Material: Plastic
Dimensions: 7 x 7 x 7 inches
---
Best 13 Gallon with Odor Control

Stylish and elegant looking stainless steel waste bin that is fingerprint-proof and smudge-risistant.
The odor control system is installed under the lid and neutralizes bad odors in a natural way. One filter is included.
The long steel foot pedal is very sturdy and the lid can stay open as lon as you need. You get unconditional full-service warranty.
Capacity: 13.2 gallons
Material: Stainless Steel
Dimensions: 13 x 16,75 x 26 inches
---
Why use a recycling bin?

The kitchen is the main area where you sort and separate recyclables from landfill. To reduce your waste it is recommended to use a convenient and durable recycling bin that helps you and your family to recycle more.
---
Kitchen Trash Can Guide
Navigation:
---
What to look for?
A kitchen trash can is used multiple times a day so it needs to sturdy and large enough to collect all the waste in your kitchen. The right size waste bin depends of course on the amount of waste you generate daily and the size of your household.
But the capacity of the trash can isn't the only thing that matters. A container also needs to be convenient to use for you and your family to make recycling more fun to do. Do you have children? Then you want a bin that is also easy for them to use, so you can learn your children the necessity and importance of sorting recyclables for a more eco-friendly lifestyle.
When you have a dog or cat, then you want to look for a container with a lid that stays closed when your pet sticks his or her curious nose in the bin. There are dog-proof and cat-proof trash cans available. These bins are equipped with a lockable lid so your nosy dog can't treat himself with a 'snack'.
Trash can inspiration
A trash can isn't the first thing you think of when you considering nice accessories for your kitchen. But there are a lot of elegant and stylish looking trash cans available that can really complement or even enhance the decor of your kitchen. Let's take a look at some examples for your inspiration.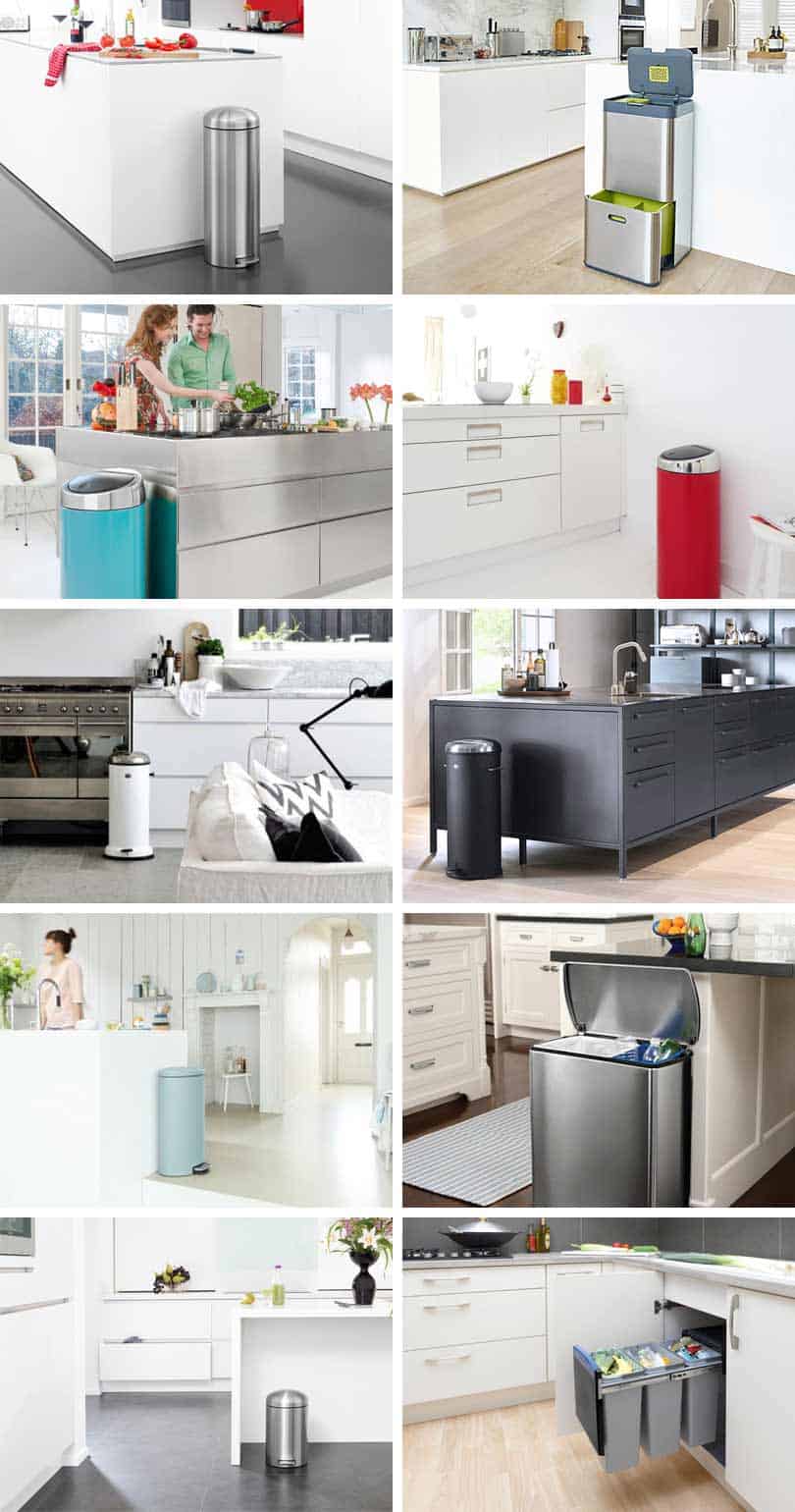 Top 10 Kitchen Waste Bins
---
What is the best size for a kitchen trash can?
Most people use a standard sized trash can or recycling bin in their kitchen with a capacity of around 13 gallons (approximately 50 liters). This capacity is ideal for average sized households of around four to five persons. In a 13 gallons kitchen trash bin you can put standard sized kitchen garbage bags. Please not that this does not apply for 13 gallon trash cans that contain two or more compartments for trash and recycling.
What capacity suits your family? How many trash bags or recycling bags do you throw away each week or each month? If you have one full 13 gallons liner a week, then a 10 to 14 gallons trash can is perfect.
---
Where do you put your kitchen trash can?
Generally people put their trash can on the floor in the kitchen. There are multiple options to choose from, such as dual trash cans and built-in trash cans.
Dual trash can: A recycle bin combo for recycling
For saving up floor space we recommend using a multi compartment trash can, like a dual trash can, because these waste bins require less space in comparison to separate single compartment waste bins. So when you have a respectively small sized kitchen with not much room for a large trash can we suggest looking into these recycling bins.
When you want to separate trash and recycling in your kitchen a multi compartment recycling bin is a great solution. These dual trash cans contain two compartments and can hold your recyclables (paper, plastics, metal or fruit waste) and other kitchen trash. You can also look for a recycling bin with three compartments, although theses bins are less common.
So these waste bins combine recycling and waste into one convenient single bin. A dual kitchen recycling bin takes up less space than two separate single bins. This can be useful when there is not much floor space in your kitchen.
Pull-out trash can: Hide your trash
You don't want a trash can in sight? Then a built-in trash can might interest you. You install these slide-out, tilt-out or pull-out trash cans out of sight in a cabinet. These pull-out trash cans or tilt-out waste cabinets are installed and mounted inside one of your kitchen cabinets. Mostly these waste bins are installed inside the cabinet under the sink, but there are also kitchen waste cabinets that look like a normal cabinet that hides a trash can behind a tilt-out  cabinet door. The main advantage here is that these recycling bins don't require any floor space and they also keep your trash out of sight.

These trash cans come in one bucket or multi compartment variants. So you can sort recycle and trash in these cabinet bins too. The advantage of these bins is that the capacity is generally not enough for larger families and you need to give up one cabinet for trash instead for storage of kitchen tools.
It is also good to know that trash cans come in different forms. You can get a slim but tall trash can which is perfect to squeeze in a tight spot in your kitchen. Or get a wide but less tall waste bin when you want to place the bin somewhere underneath.
Do you want to place it against a wall?
When you want to place a step trash can on in the kitchen, then generally you want to fit it tightly and flush against the wall. The thing you don't want is a waste bin that slams the lid against the wall every time you open it. To prevent this from happening you need a bin where the rear hing is installed inside the trash can so the lid won't hit the wall when it is opened.
---
Stainless steel or plastic trash can?
Generally you can choose between a stainless steel or a plastic trash can. Which one is best for you?
A plastic trash can is light weight, relatively cheap and easy to clean. The disadvantage of the light weight is that the bin can scoot around your kitchen floor when you open the lid, especially when you get a bin with a foot pedal. Another thing to keep in mind is that plastic is less durable than metal and the material can absorb odors over time.
A metal or stainless steel kitchen trash can weights more than a plastic bin. A metal trash can stands more solid on the ground, which prevents the bin from sliding on the floor when you open the lid. Another advantage is that stainless steel looks nice and will complement the design of your kitchen. It is also hygienic and easy to clean. A disadvantage is that stainless steel bins are more pricey and are prone to dents and finger smudges.
---
What type of lid mechanism?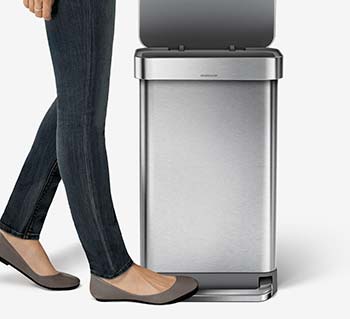 Most people get a step-on trash can for their kitchen. The reason is that it is hygienic and convenient in use. Imagine you have your hands full with trash you want to dispose, a foot pedal becomes pretty handy in these situations. You have your hands free and you keep your trash can clean in these situations.
Besides step-on trash cans there are also bins with a motion sensor lid, manual lid, a swing lid or no lid at all. The swing lid and no lid ones we don't recommend for your kitchen. The swing lid will get messy when you scrape of your cutting board. And a trash can without lid doesn't contain odors, so you will smell your trash after a while. If you really want a kitchen trash can without lid, we recommend to look for a tilt-out, slide-out or pull-out trash can to install in a kitchen cabinet.
A motion sensor trash can is a great alternative for a step-on trash can. With these trash cans you just wave your hands over the sensor and the lid opens automatically. It depends on the brand and type of automatic trash can how quickly and silently the lid opens. Another thing to keep in mind is that the motor requires power, most of the times via batteries. So you need to change them every once in a while. And note that when the motor breaks, the trash can becomes pretty much useless.
See a motion sensor trash can in action:
A manual lid trash can is also great for your kitchen. The downside though is that you need to use your hands, elbow or hip to open the trash can. This might be less hygienic for kitchen use. But a manual trash bin is still a great option to consider. We also recommend a trash can with a soft closing lid. This reduces the noise the trash can makes when opening and closing the lid. One last thing is to look for a trash can where the lid can stay open without you're holding it.
---
Trash can cleaning
A trash can will be used a lot in your household. So it needs to be durable, hygienic and easy to clean. So, how do you clean a kitchen garbage can?
Fingerprints and smudges
Stainless steel recycling bins will get fingerprints and smudges on and around the lid over time. If you want to prevent this from happening as much as possible, then look for bins with a fingerprint-proof coating. This coating prevents most fingerprints and smudges.
Replacing trash bags and liners
How easy is it to replace a full recycling bag? That is quite an important thing to look out for when buying a kitchen trash can. Because replacing a liner is something you will do every week or so. Some trash cans make it quite a hassle replacing a trash bag. Other bins make changing a trash bag it a breeze. We recommend to look at customer reviews of trash cans that you are interested in, because most people will talk about how easy it is to replace a garbage bag with the particular container.
Cleaning buckets
Are the inner compartments removable? If not, then it is more difficult to clean the bin from the inside. Removable buckets are recommended when you use it for recycling and not want to use a trash bag or liner. The bin will become dirty over time, so thorough cleaning is needed to keep the bin clean and prevent it from absorbing waste odors. A removable bin can be cleaned far more easily than non-removable buckets.
---
Step Up:
Recycle

, Reuse &

Reduce

The three arrows of the recycling symbol represent the three main stages of the recycling process: recycling, reusing and reducing. Together the arrows form a closed loop. Step up and implement eco-friendly replacements in your daily life.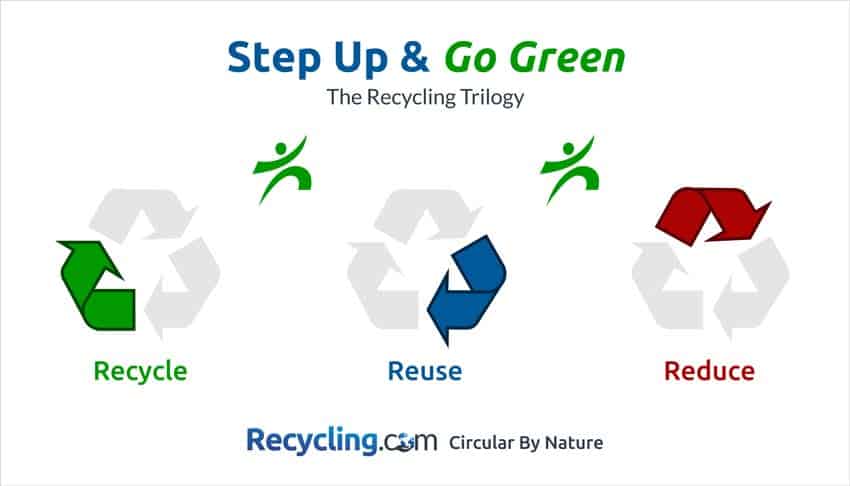 Join the movement! Step Up the waste hierarchy together to a goal of Zero Waste.
By Recycling.com/ 17 November 2019 Shares