Best Touchless Trash Cans with Motion Sensor
Disclosure: This article contains affiliate links. If you click on a product and make a purchase, we may earn a commission – learn more.
Open The Lid Automatically Without Touching the Bin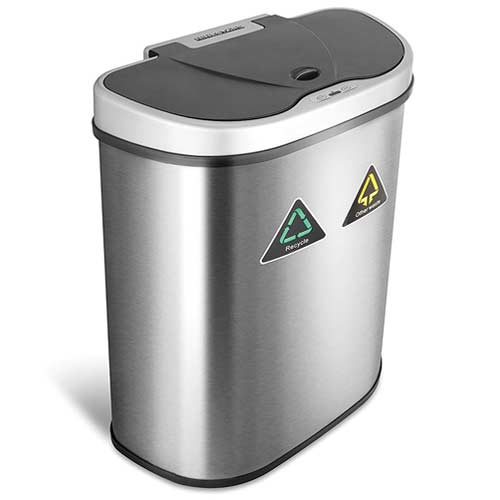 Touching a garbage can isn't hygienic, especially in the kitchen environment. With a motion sensor trash, you will open and close the lid of the bin automatically, without needing to physically touch the bin.
When the infrared motion sensor detects motion of your hand or food, the lid opens automatically. This makes a motion sensor trash can very hygienic and convenient in use because of the hands-free operation.
Top 10 Automatic Trash Bins
---
Top Automatic Trash Cans
What are the top picks for touchless trash bins with motion sensor? We've selected the best and most popular electric garbage cans. Most of the recycling bins contain a single compartment for your trash or recycling. But we also recommend a few double compartment sensor trash cans for sorting and separating your trash and recyclables in your kitchen.
---
"Automatic dual recycling trash can"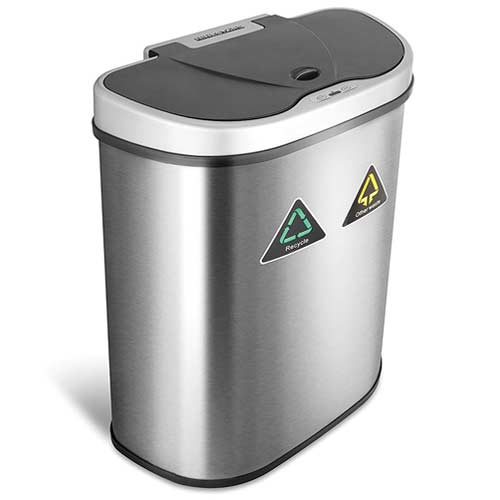 The two compartments will help you with separating waste and recycling at home or in the office.
Its 100% stainless steel body makes it easy to clean and keep clean as it is fingerprint resistant.
The lid seals odors and trash bags are hidden as the lid covers the top of the dual buckets.
Capacity: 18 gallons
Power: Batteries
Compartments: 2
Dimensions: 13 x 21.3 x 26.2 inches
---
"Popular and afforadable automatic garbage can"
This electric trash can neutralizes any odors with carbon odor filters, so your home won't smell.
The touch-free lid opens quickly for easy waste disposal and also closes smoothly and silently.
It's powered by D-size batteries or with a separate AC power adapter, which is not included.
Capacity: 13 gallons
Power: Batteries / adapter
Compartments: 1
Dimensions: 14.5 x 10.5 x 27 inches
---
"Automatic foot pedal and odor control"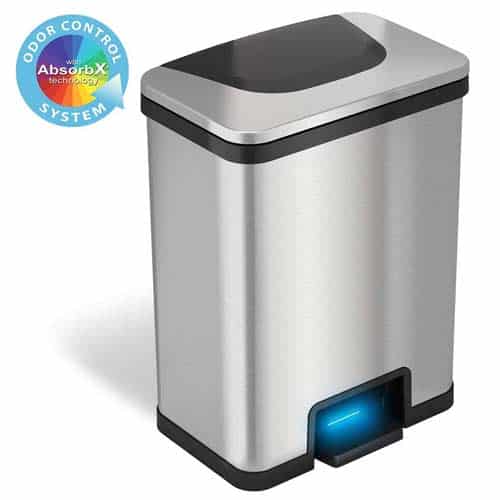 Its automatic foor pedal only require one light tap for the trash to open itself.
Odor control neutralizes any odors so your home won't smell like garbage.
The elegant stainless steel body is fingerprint-resistant and avalible in three colors.
Capacity: 13 gallons
Power: Batteries / adapter
Compartments: 1
Dimensions: 16.5 x 11.8 x 22.2 inches
---
"Elegant brushed stainless steel and 2-year warranty"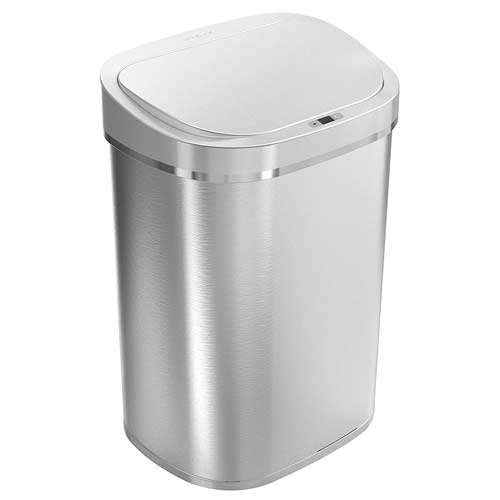 This super stylish sensor trash can has body make of brushed stainless steel.
Designers of this trash can improved all the flaws of previous models in this model.
Large volume and opening and long warranty, this trash can is ideal for big households.
Capacity: 21 gallons
Power: Batteries
Compartments: 1
Dimensions: 14.5 x 18.5 x 26.9 inches
---
"Space-saving stainless steel design"
The tall oval design is space-saving and allows the bin to fit in almost any space.
Its stainless steel body is germ-resistant, fingerprint-proof, and easy to clean.
The motion sensor allows users to open the trashcan with the wave of a hand.
Capacity: 13 gallons
Power: Batteries / adapter
Compartments: 1
Dimensions: 16 x 11.8 x 25.5 inches
---
"Stylish smart trash can with voice activation"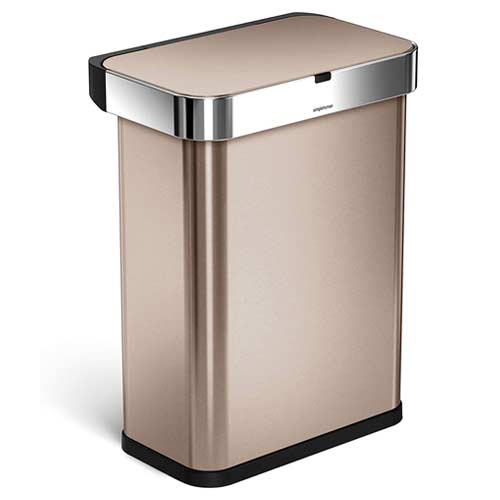 This modern simplehuman trash can opens with the wave of a hand or by saying "open can".
The large electric trash can is alavible in five stylish colors, and has a 5-year warranty.
The pack of new trash bags have a compartment on the inside for super easy replacement.
Capacity: 15,3 gallons
Power: Batteries / adapter
Compartments: 1
Dimensions: 13 x 18.5 x 24.8 inches
---
"Three automatic foot pedals and odor control"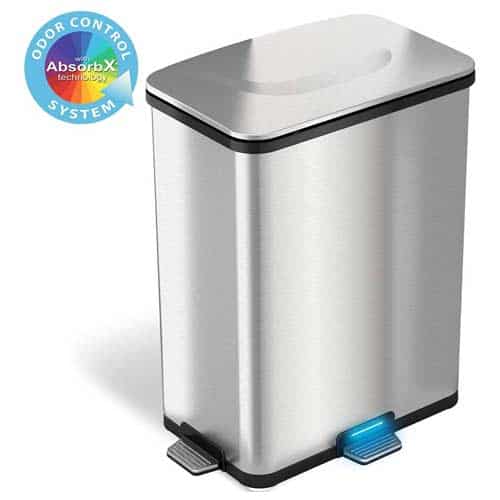 It features automatic foot pedals that only require a light tap to activate.
There are three pedals so it can be opperated from the front, left and right side.
An odor control system is also present and works with activated carbon filters.
Capacity: 13 gallons
Power: Batteries / adapter
Compartments: 1
Dimensions: 16.5 x 11.2 x 22.2 inches
---
"Automatic trash bin with space saving design"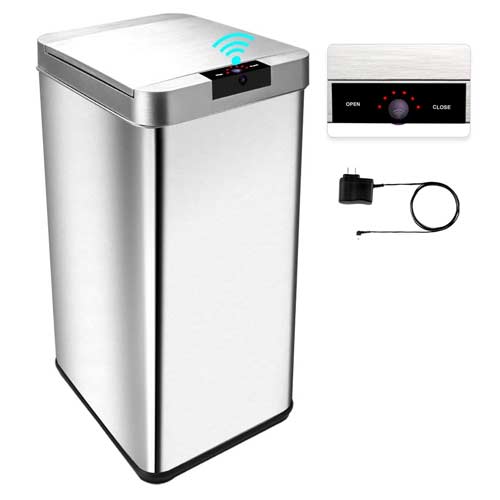 A trash bag retainer ring hides the trash bag and keeps it in place, preventing it from falling into the can.
This trash can features a filter provides up to 3-months of odor elimination, and It is easy to replace.
A unique feature is the roll ball sensor which allows you to choose which direction is faces.
Capacity: 13 gallons
Power: Batteries / adapter
Compartments: 1
Dimensions: 27 x 14 x 12 inches
---
"Large trash can with butterfly lid"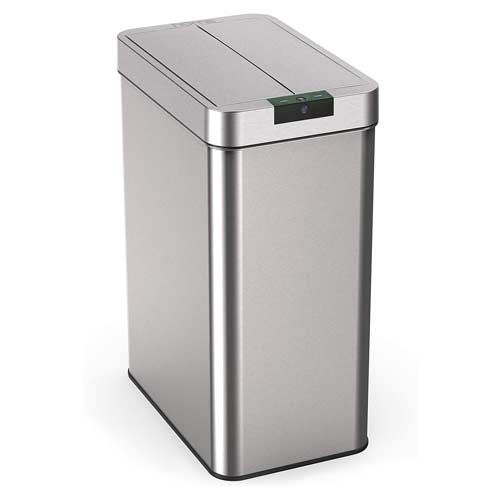 Featuring a unique butterfly lid with one flap on either side which open simultaniously.
It has a smart bag retainer ring for keeping garbage bags hidden and effortless bag removal.
The long-lasting battaries, quiet operation, and quality materials give it a luxury feel.
Capacity: 21 gallons
Power: Batteries / adapter
Compartments: 1
Dimensions: 16.2 x 10.3 x 33.5 inches
---
"Budget friendly, automatic and stainless steel"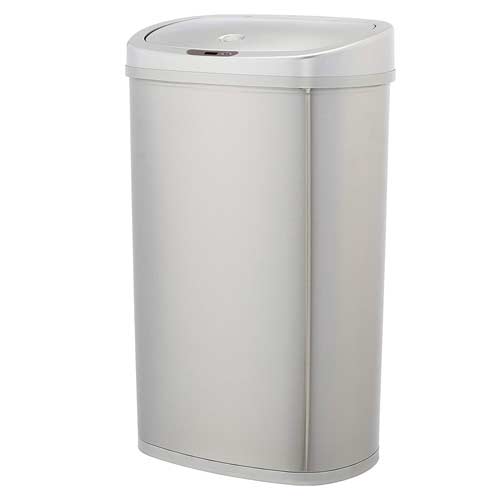 This AmazonBasics garbage can focuses on functionality and being budget friendly.
The stainless steel body is easy to clean and the ring liner allows easy bag replacement.
Its delay motion sensor technology prevents accidental opening from residual motion.
Capacity: 13 gallons
Power: Batteries
Compartments: 1
Dimensions: 16.4 x 11.3 x 26.4 inches
---
"Simplistic and reliable brushed stainless steel"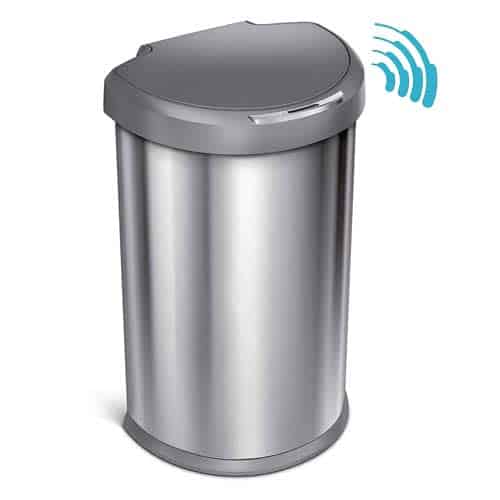 Its superior motor allows the trash can to open and close smoothly with minimal noise.
A Nano-Silver clear coating protects it from fingerprints and germs.
The long 5-year warranty suggests this is a reliable companion in the kitchen.
Capacity: 12 gallons
Power: Batteries
Compartments: 1
Dimensions: 12.8 x 15.4 x 25.2 inches
---
"Semi-Round & Extra-wide opening"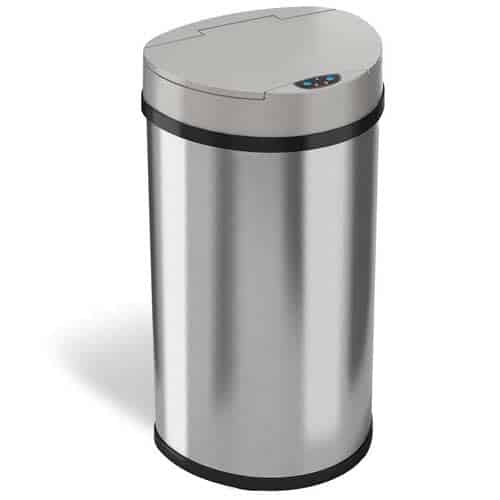 A sensor trash can is convenient and hygienic in use. You open the lid by waving your hands in front of the motion sensor.
The carbon odor filter, that is included, absorbs and neutralizes odors of your trash.
Because of the tal and semi-round design, this automatic kitchen trash can saves space on your kitchen floor.
Capacity: 13 gallons
Power: Batteries
Compartments: 1
Dimensions: 14 x 25 x 12.5 inches
---

More about automatic trash cans
Navigation:
What is an automatic trash can?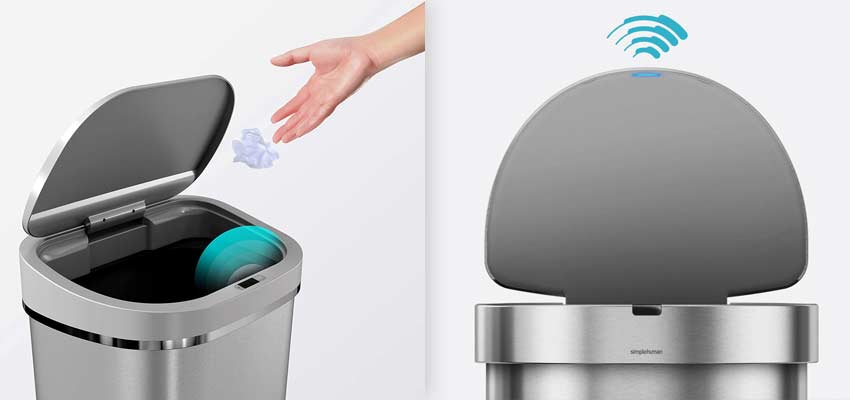 A trash can with a motion sensor is called an automatic trash bin, touchless trash can or motion sensor trash can. They all mean the same. These bins are equipped with an infrared sensor which, while activated by your hand, opens the lid via an internal motor. So you don't need to touch the bin at all, which makes these types of bins hygienic in use. Perfect for your home. Find out more touch-free devices for extra hygiene at home or in the office.
Most of the sensor bins require batteries, but some of the bins can also be powered with an AC-adapter.
---
Why buy a touchless trash can?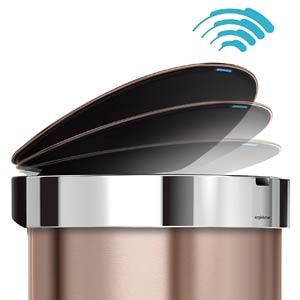 The less you and your family need to touch a trash can, the more you prevent spreading germs and bacteria. Because of the infrared sensor, you don't need to touch the bin at all, unless you want to replace a full trash bag of course. So if you want a trash can that is hygienic, safe and fun in use, an electric trash can with motion sensor is the type of bin to look for. An alternative for these bins is a step-on trash can.
Another advantage of a touch-less trash can is that these bins are difficult to open for cats, dogs and other pets. So if you have a dog walking around in your house that is always curious about the inside of your kitchen trash can, you might want to consider a sensor bin. It isn't guaranteed that all motion sensor garbage cans are cat and dog-proof. It depends on the type of sensor and how clever your pet is to open the lid.
An automatic trash bin is also great when you like kitchen gadgets. A sensor recycling bin is a more futuristic and fun way to dispose trash and recyclables with your family at home. Especially kids will love these types of waste receptacles because it works fully automatic and is fun to use.
---
Choose a touchless trash can with a high-quality sensor
When choosing a trash can with sensor it is important that the sensor only activates the lid when you want it to. One of the annoying things with some sensor bins is that the lid opens after you walk by your garbage can. You don't want this to happen because it will become annoying after a while and it also drains the battery. Most of the times the more cheap sensor trash can suffer from this issue.
Our advice is to carefully read customer reviews for the automatic trash can you're interested in. In these reviews, you can find out if the sensor works well or not. So don't rely completely on the product descriptions of the trash can manufacturer alone.
---
Other things to keep in mind
Warranty terms
Because an automatic trash receptacle contains parts that can break it is important to find out about the warranty terms. The sensor, lid mechanism, and motor can get defect after a while and these parts are crucial for an automatic trash can to work properly. A 1-year warranty is a minimum. When you're planning to purchase an expensive automatic garbage can we advise to get a minimum warranty of 5+ years.
Power supply
An automatic motion sensor garbage can needs the power to work. Most of the bins work on batteries, type D batteries are common in sensor bins. Some trash cans with automatic lid can also be powered with an AC power adapter. You generally need to buy these adapters separately.

How many months will a set of batteries last until you need to replace them with new or full ones? It depends on the sensor bin, the energy-saving technology and how often you dispose of trash with your family every day. Generally, the batteries will last for about 6 months to 1 year. You will notice when the batteries are getting low on power when the automatic sensor bin won't work properly.
If you don't want the hassle of replacing batteries you can also power some types of electric trash cans with an AC power adapter. Check if there is a wall socket available in the area you want to place the touchless trash can before purchasing the adapter.
Manual operation
The idea of an automatic trash bin is that you don't need to touch it when you want to dispose trash. Nevertheless, some sensor bins are equipped with open/close buttons for manual operation. On some occasions, this is pretty convenient. For instance, when you want to throw away multiple items and don't want the lid to close right after your hands are out of the sensors to reach. With the buttons, you can open the lid manually so you can take your time for disposing of your trash.
---
See how a sensor garbage can works
See all automatic garbage cans at Amazon.com
---
Step Up:
Recycle

, Reuse &

Reduce

The three arrows of the recycling symbol represent the three main stages of the recycling process: recycling, reusing and reducing. Together the arrows form a closed loop. Step up and implement eco-friendly replacements in your daily life.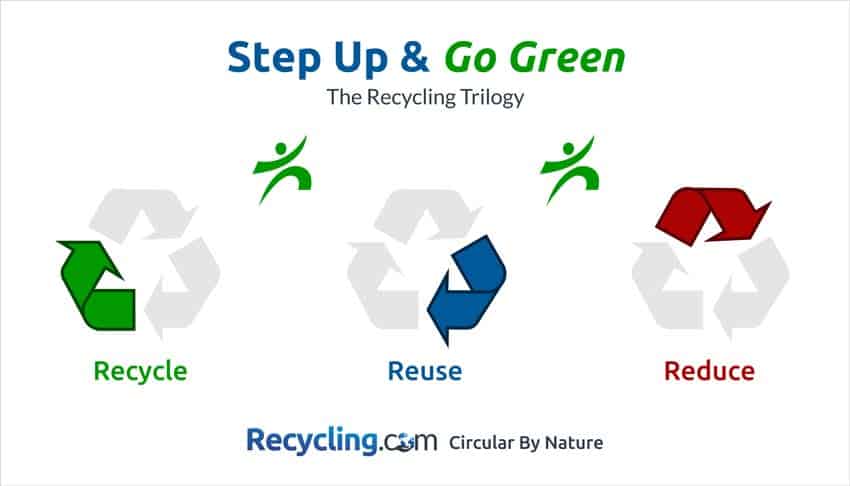 Join the movement! Step Up the waste hierarchy together to a goal of Zero Waste.
By Recycling.com/ 7 April 2020 Shares