Pull-Out Trash Cans for Under a Kitchen Sink
Under Counter Built-In Kitchen Garbage Cans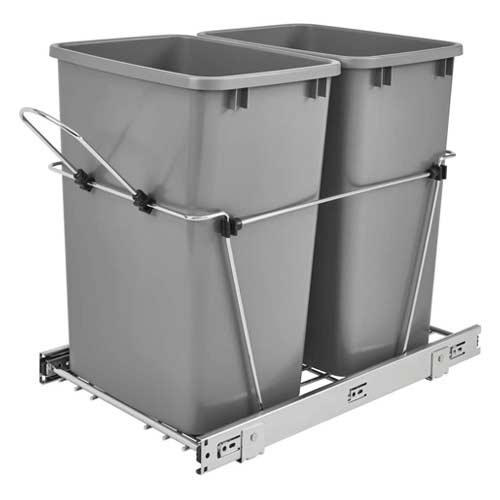 Hide trash out of sight and save floor space in the kitchen with a convenient pull out trash can cabinet. This product is available in various capacities and sizes, so there will most likely be one that fits in your regular, narrow, or shallow cabinet.
Most slides out trash can holders have a two-compartment design, perfect for recycling. However, there are single compartment units available as well. These easily fit in small spaces, such as under your sink, and therefore help you optimize your cabinet space.
Before picking your waste disposal solution, make sure you measure your inner cabinets' width, depth, and height. Don't forget to take obstacles such as plumbings or hinges into account.
Top 10 Cabinet Trash Cans
---
Top 10 best pull-out kitchen trash cans
The top 10 below contains our recommendations for under counter trash can cabinets you can buy on Amazon. Besides neatly hiding your trash, most pullout trash cans also feature a soft closing system and have an easy bin access design to make waste disposal is a little more pleasant. Are you looking for a freestanding waste cabinet? Then check out our tilt-out trash can cabinets.
Disclosure: This article contains affiliate links. If you click on a product and make a purchase, we may earn a commission – learn more.
---
Min. cabinet width: 14.5 inches
---
Min. cabinet width: 15 inches
---
Min. cabinet width: 10 inches
---
Min. cabinet width: 10 inches
---
Min. cabinet width: 15 inches
---
Min. cabinet width: 15 inches
---
Min. cabinet width: 15 inches
---
required cabinet width: 15 inches
---
required cabinet width: 15 inches
---
required cabinet width: 8″ – 19″ Wide
---
Separate components for pull-out bins
While you can buy all components of a pull-out kitchen cabinet trash can together in one pack, it is also possible to purchase pieces separately. For example, if a component gets damaged or already have part of the style installed and want to replace the bins, or something similar. The replacement bins can also be used in combination with different trash can types, such as the tilt-out trash can cabinets.
---
An under cabinet trash can is a great space saver for your kitchen and it helps sorting your waste streams.
---
What to look for when buying a built-in waste bin?
Not sure how to choose the right pull-out trash can? Then check our short guide below.
More about built-in trash cans
Navigation:
---
What is a pull-out trash can?
A pull-out trash can is a hidden in-cabinet waste solution for your kitchen. A base frame is installed inside one of the kitchen cabinets. This frame slides out like a drawer when the door of the cabinet is opened or pulled out. The frame forms the base that houses one or more waste containers. Most of the pull-out frames are mounted on the bottom of the cabinet, but there are also variants where the sliding mechanism is mounted on the cabinet's sides or inside the door. Lastly, there are tilt-out models, but this mechanism is often used for free-standing trash can cabinets.
---
Pros and cons of a pullout trash can
To make your descision on whether or not you should buy a pullout trash can easier, we lister the advatages and disadvantages a pullout trash can has.
Pros:
Neatly hide trash out of sight.
Saves kitchen floor space.
Trash cans are easily accesible when you're prepping in the kitchen.
It organizes main stream waste and recyclables in one spot.
Cons:
There is an installation proces that might require some skill.
You have to make cabinet space avialable.
It might be hard to clean the cabinet or wire system when debris falls through.
---
What measurements should you check?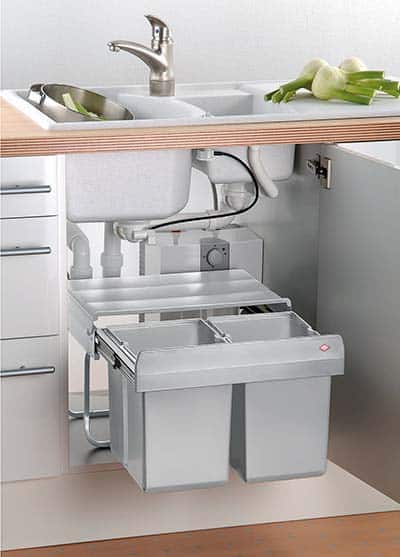 The most important aspect to look at before buying a built-in trash can is the available space in the cabinet where you want to install the container. This means you need to measure the inside width, depth, and height of the cabinet opening. These measurements tell you the maximum dimensions of the pull-out trash can. We recommend getting a slightly smaller in-cabinet trash can to be sure that the frame fits correctly and the door of the cabinet can close fully. Also, make sure that if you want to install the waste bin under the sink, the waste bin system doesn't get in the way of the sink's drain.
Measure out your cabinet to find out what is the biggest size you can fit in your cabinet.
Width
Most kitchen cabinets have standard dimensions for the width, like 12, 15, 18, 21, or 24 inches. The pullout waste container system must have a smaller width than the inner cabinet does. How much smaller depends on your personal preferences. You can only use part of your cabinet as waste container space or the entire cabinet.
Height & depth
The height of a kitchen cabinet varies by manufacturer. Up until 35 quarts, most pullout waste containers fit in a cabinet that includes a top drawer. However, a 50-quart container will most likely not fit when there is a top drawer because it's too high. Make sure to take your time and pay attention to the dimensions when you pick your pullout trash can.
The depth of a cabinet has standard dimensions like 12, 24, or 36 inches most of the time. The dept of a pullout garbage bin varies per product but mostly ranges between 17 and 22 inches, meaning there are options for shallow cabinets. A few pullout garbage bins even have a rear basket for extra storage so that you can get the most out of your cabinet space.
Lastly, when you measure your inner cabinet's depth, make sure to take any obstacles such as plumbings or hinges into account.
---
How many compartments?
How much space do you need, and how many compartments do you want? Some people only install one waste container to dispose of their trash or recyclables. This recycling container can be, for instance, food scrapings or plastic packaging. But for sorting waste streams, it is recommended to opt for multiple compartments. The only downside here is that the waste and recycling bins tend to be smaller than one large waste container.
Do you want to sort recyclables in the kitchen? Then we recommend a double pull-out trash can.
When you already have garbage disposal for food waste installed under your sink, you can, of course, opt for a single bin pull-out installation that you use for garbage only, such as plastic packaging material.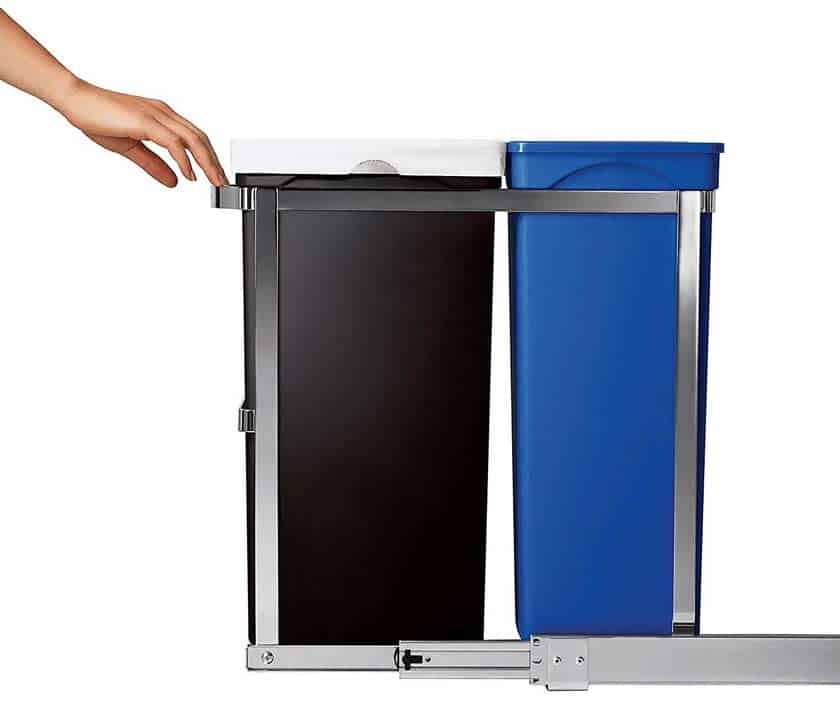 What size should each comparment be?
Pullout out trash can do not only vary in measurement sizes but also in waste container sizes. These container sizes are most commonly described in quarts and to make sure you pick the right size for your household the following list:
27 quarts = 6,75 gallons
35 quarts = 8,75 gallons
50 quarts = 12,5 gallons
A standard kitchen trash can has a capacity of around 13 gallons or 50 liters. A double pull out trash can will do the job any regular trash can does, and there are also plenty of options available for smaller pullout trash cans.
Placement of the containers
Usually, when you choose a double-in-cabinet trash can, the containers sit behind each other in the slide-out frame when you pull-out the cabinet. But there are also variants available where the bins are placed side by side. This system's advantage is that you don't need to pull out the cabinet entirely to access both waste containers. The disadvantage is that it requires more width, which makes it not an option for narrow kitchen cabinets.
---
How to install and assemble an under cabinet trash can?
How to install your newly bought pullout garbage bin depends on the type of trash can. Many of these waste bin systems only require a bottom mount, most of the time this means that you only need a handfull of screws to install the preassembled wire construction into your cabinet. When you don't want to spend a lot of time installing your unit, a bottom mount waste bin organizer might be a good option for you.
We have found many positve reviews regarding the installment of a pullout trash can.
"The unboxing and installation took me only 15 minutes, it works great and easy."
A customer review from Amazon
Below you will find a small guide and explanatory video on how to install a bottom mount pull out trash can.
Put the base in place and make sure the door can close and the mechanism can slide out correctly without touching the door's hinges.
Mark the areas where you need to drill the holes for the screws. It is recommended to drill pilot holes before before mounting the frame with the screws.
Mount the frame with the included screws.
When you need to press the frame into place, make sure you first slide the mechanism in so that you can press against the cabinet.
Attach an optional handle and place the waste containers inside the base.
Video: How to install a pull-out waste bin on Youtube
Door mount
Every pullout trash can that can be door mounted has to be bottom mounted first. Most of the time, you can choose whether or not you want to mount the pullout trash can to your kitchen cabinet door as well. Some designs feature handles that you can remove to install door mounting brackets. This will allow you to make your decision later on.
A significant advantage of a door mounting system is that you don't have to open your cabinet door first before you can pull out your trash cans. A disadvantage is that you have to remove hinges and sometimes add a different handle. Therefore, you can't conveniently use the cabinet space for anything other than your pullout garbage cans.
Also, consider that mounting the waste bin system to your cabinet door requires precision and, therefore, may take some time. If this is not something you are looking for, make sure door mounting is not required.
Video: How to Install a Rev-A-Shelf Trash & Recycling Container on Youtube
---
Other features to consider:
With or without lid or cover? – A built-in trash can is already hidden, so do you need a lid or cover on the waste containers as well? A trash can without a top is more comfortable to access, but odors will be noticeable much quicker, and insects, such as fruit flies, can access the garbage easier. The one with a lid keeps odors to an absolute minimum. These are slide-out trash cans where the waste bins are opened automatically when you pull-out the cabinet. The waste bins are closed off by the frame's outer shell when the door of the cabinet is closed. Please note that most in-cabinet trash cans have optional lids, which are often not included.
Attached door or open the door? – Do you prefer an under-counter trash can where you need to open the cabinet's door first and then pull-out the trash can? Or do you want a pull-out trash can where the cabinet door face is attached to the frame? An attached door makes it more efficient to use the trash can, you slide the door open, and you can throw away your trash.
Storage – Do you want to be able to store items on top or behind the trash cans, such as trash bags? Then check if the pull-out trash can offers storage space, such as a small basket behind the waste container.
Soft-close – Do you want a pull-out trash can that opens smoothly and closes softly and silently? Then it would be best if you had a frame with a slide-out mechanism that contains ball bearings for smooth operation and a soft-close system that will make sure the trash can slides back in very quietly. It works like magic!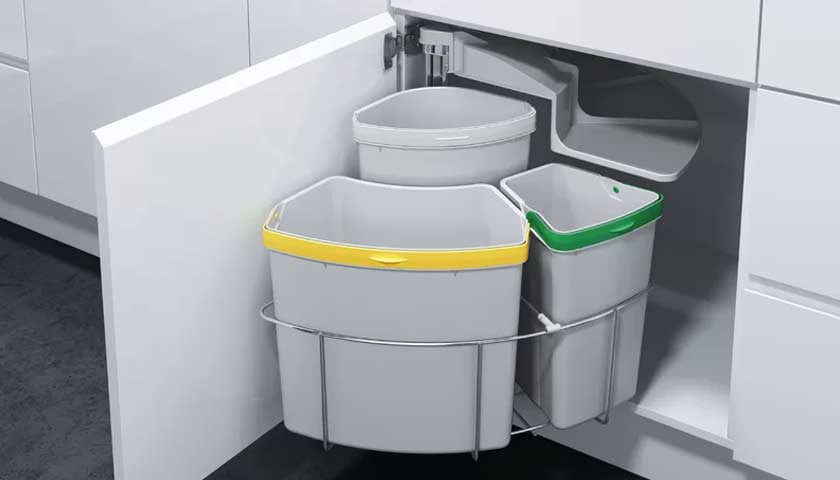 ---
Step Up:
Recycle

, Reuse &

Reduce

The three arrows of the recycling symbol represent the three main stages of the recycling process: recycling, reusing and reducing. Together the arrows form a closed loop. Step up and implement eco-friendly replacements in your daily life.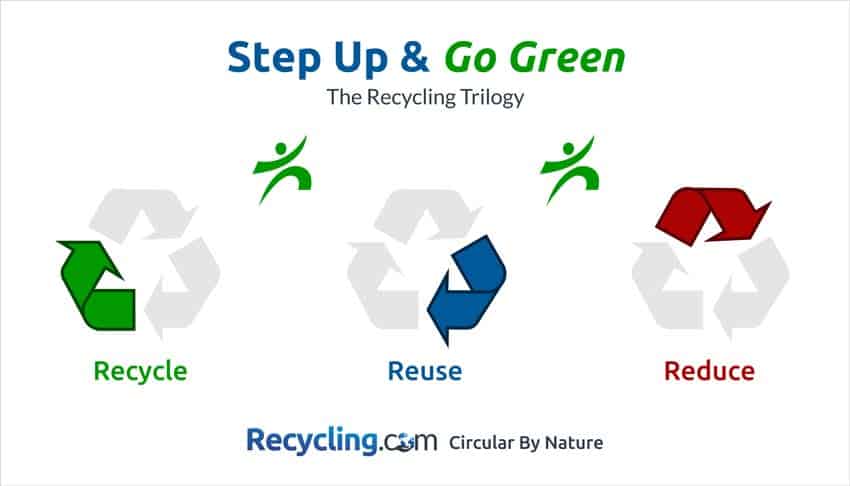 Join the movement! Step Up the waste hierarchy together to a goal of Zero Waste.