Best Commercial Hand Dryers
Blow Dry your Hands Automatically and Sustainable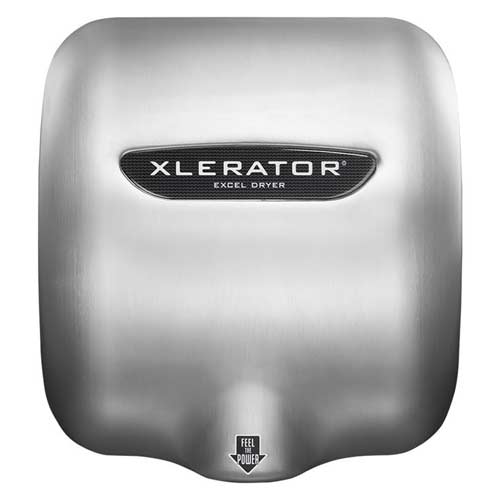 Looking for a sustainable and hygienic method for drying your hands in the restroom of your office? Then you should definitely look into air hand dryers. Hand dryers are an eco-friendly alternative for cotton towels and paper towels. These towels are great for drying your hands but they require regular labor for cleaning, refilling, and emptying overflowing trash and laundry bins. This labor costs time and thus money.
Best Sellers:
---
Hand dryers reduces the amount of paper waste in your office. Also the costs of running an average hand dryer are only $28 per year.Buffalo.edu
---
Top 10 Best Commercial Hand Dryers
Below you can find our top 10 recommended hand blowers for commercial use. If you would like to know more about hot or cold air hand dryers before reading about specific models, then take a look at our hand dryer guide at the bottom of the page.
Our top picks include the most common types of hand blowers. You can find out more about these types in our guide. The top 10 list also covers hand dryers with special features, such as recessed hand dryers or hand dryers with airblade technology.
---
Powerful and compact wall mounted hand dryer
The Excel dryer XL-C is a compact, minimalistic wall mounted air hand dryer with adjustable speed and heat, and sound control. The dryer activates with an automatic motion sensor and features an external service LED light that indicates when the dryer needs maintenance. The Excel dryer XL-C has built a reputation for being reliable and having a low failure rate of less than 1%. Lastly, the dryer is easy to install and has seven cover finish options. You can also order an optional recessed backsplash kit that protects your wall from water splashes.
Drying time: 8 seconds
Power consumption: 1300W
Noise: 70 dB
Dimensions: 11.75 x 12.7 x 6.7 inch
Warranty: 5 year-limited
---
Fast designer hand dryer with Airblade technology
The Dyson Airblade V is a compact and well-designed wall mounted commercial hand dryer that operates fast and quietly. Additionally, it is hygienic in use thanks to the installed HEPA-filters which filter the blown air from dust mites and other small airborne particles. This makes this hand dryer a perfect option for people with dust allergies or asthma. Finally, its Airblade technology makes the device more energy efficient, and therefore cheaper to run than the average hand dryer. All these features and characteristics added together makes it a very popular option.
Drying time: 12 seconds
Power consumption: 1000W
Noise: 79 dB
Dimensions: 15.5 x 9.25 x 17.9 inch
Warranty: 5 years
---
Great looking ultra-energy efficient hand dryer
The Excel Dryer XL-GR-ECO is a high speed, ultra-energy efficient hand dryer which uses up to 80% less energy than conventional hand dryers. It uses so little energy because of its innovative 'no heat technology', which allows you to install multiple units on one electrical circuit. Despite its low power needs it still has a fast drying time and is almost maintenance free. Lastly, the Excel dryer is available in seven different cover finishes and has an option recessed backsplash kit for wall protection.
Drying time: 10 seconds
Power consumption: 500 W
Noise: unknown
Dimensions: 11.75 x 12.7 x 6.7 inch
Warranty: 5 year-limited
---
Large and beautiful hand dryer with Airblade technology
The Dyson Model AB 14 is a thoughtfully designed hand dryer with Dyson Airblade technology which is 50% more quiet than the original model. The hot air hand dryer is made of ABS polycarbonate which makes this machine extremely durable and long lasting. The device requires almost no maintenance and its Airblade technology makes it more energy efficient than most other hand dryers.
Drying time: 12 seconds
Power consumption: 1400 W
Noise: 81 dB
Dimensions: 9.75 x 11.9 x 26 inch
Warranty: 5 years
---
Reliable and fast heavy duty hand dryer
The AIKE AK2903 is a compact, automatic and fast drying hand dryer with a simple stainless-steel body, designed for heavy-duty use in a professional and commercial environment such as your office. This hot air dryer is easy to install, and is equipped with a HEPA filter and  safety features, such as time-out and over-heating protection. Additionally, this hand dryer features automatic heat which turns off the dryer's air heating system when the environment temperature above 25 °C / 77 °F.
Drying time: 8-12 seconds
Power consumption: 1450 W
Noise: 68 dB
Dimensions: 12.3 x 11.9 x 6.8 inch
Warranty: 2 years
---
Quiet and ultra-efficient all around hand dryer
The Toto HDR101#WH Hand Dryer is a compact hand dryer that is fast, energy efficient, and quiet. It is a wall mounted hand dryer that has some feature of a recessed dryer as it has an encompassing backsplash and some features or a vertical hand dryer as it features a removable drain tray. The only downside of this hand dryer seems to be the short 1 year warranty.
Drying time: 10-15 sec
Power consumption: 390 W
Noise: 57 dB
Dimensions: 9.6 x 6.3 x 18.5 inches
Warranty: 1 year
---
Large affordable high speed jet hand dryer
The Aike AK2005H is a fast commercial hand dryer made of durable ABS plastic and features HEPA filters to ensure hygienic use. This vertical hand dryer is easily installed on walls and easily cleaned thank to its removable drain tank. The hand blower has an attractive design with an LED count down and control options for hot air and air velocity, as well as an auto-stop safety function to prevent overheating.
Drying time: 8-12 sec
Power consumption: 1850 W
Noise: 73 dB
Dimensions: 8.7 x 11.8 x 27 inch
Warranty: 2 years
---
Recessed stainless steel hand dryer
The Palmer Fixture Blustorm 2 is a powerful recessed hand dryer made of stainless steel. It has infrared sensors for automatic activation and deactivation once the user moves their hands away from the dryer. Additionally, it has safety features such as shutting off after 60 seconds and a motor thermal cut-off at 85 °C / 185 °F. This makes the dryer durable, vandal proof and virtually maintenance free.
Drying time: 10-15 seconds
Power consumption: 1600 W
Noise: 77 dB
Dimensions: 7.5 x 9.5 x 20.2 inch
Warranty: 5 years limited
---
Compact, adjustable and reliable hand dryer
The World Dryer SMARTdri is a small reliable air hand dryer with a fast-drying time, ideal for high traffic areas, such as public restrooms. The adjustable air flow, sound quality and heating options allow it to be fitted to a user's comfort. The dryer is motion sensor activated, energy efficient, and features technology which inhibits the growth of bacteria.
Drying time: 10 seconds
Power consumption: 400 – 1200W
Noise: 72-80 dB
Dimensions: 10.8 x 11.4 x 14.7 inch
Warranty: 5 years limited
---
Classic, durable button activated hand dryer
The World Dryer Model A is a durable, long lasting wall mounted hand dryer with a classic design and push-button activation. Keep in mind that a button makes the dryer less hygienic in use. It comes in several cover materials and finishes, and five different electrically options. Although it is quiet and vandal resistant it does have a relatively long drying time.
Drying time: 30 seconds
Power consumption: 1725 W
Noise: 76 dB
Dimensions: 8.3 x 11.3 x 9.5 inch
Warranty: 10 years
---
Didn't find the right hand dryer?
Our top 10 list contains recommendations for different types of hand dryers. You can read more about hand dryers in general below. Or check out all hand dryers at Amazon or Walmart.
Best Sellers:
Hand Dryer Guide
Navigation:
---
What is a hand dryer?
Hand dryers are electronic devices that blow hot, warm or cold air in a directed stream and are meant to be used to dry wet hands after washing them. These devices are commonly used in (public) restrooms, bathrooms, kitchens or other areas where there is a need to dry wet hands. If used correctly, hand dryers offer a sustainable, effective and hygienic alternative to paper towels or cotton towels. As with most appliances, hand dryers have their up- and downsides, most of which will be discussed on this page.
Electric hand dryers allow the user to easily and quickly blow dry their wet hands after washing them in the restroom or in the kitchen. Most hand dryers don't even require the push of a button, as the devices contain motion sensors to activate the dryer when it senses motion. This is more hygienic for the user because it allows for touchless use, which causes less transfer of germs or bacteria.
---
Hand dryer types
To begin your search for the perfect hand dryer you first need to make a choice between the two main types of hand dryers, which are high speed hand dryers and standard speed hand dryers, but there are multiple ways in which you can categorize hand dryers, namely:
Shape:

Hands in – vertical hand dryer
Hands under – compact wall mounted hand dryer or recessed hand dryer

Method of activation:

Fully automatic – touchless infrared sensor, turns on when you hold hand in or under dryer and turn off when you remove your hands.
Automatic – touchless motion sensor, timer activates when you hold hands in or under dryer, turns off when timer runs out.
Button activated – requires touch (push of a button) to activate timer which is less hygienic.

Speed:

Stand speed hand dryers
High speed hand dryers

Air tempurature:

Warm broad air stream
Cold concentrated jet stream of air (Airblade)
However, we believe that for commercial use, choosing between high speed and standard speed hand dryer is the most helpful. While high-speed hand dryers are powerful and fast, they do make more noise than standard hand dryers, which have less powerful and therefore less noisy but also slower. Below you can find a comparison table on the two types with information that is applicable to most hand dryers within these categories.
High Speed Hand Dryer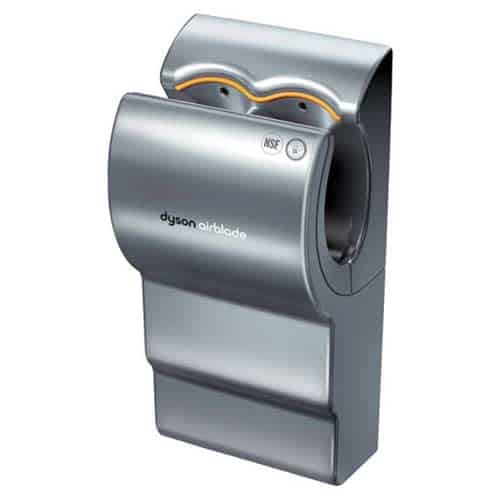 Drying time: 10-15 seconds
Air temperature: Not heated
Energy efficiency: High*
Power: Approx. 1,500 watts
Noise level: 70 – 85 dB
Build material: Strong plastic (polycarbonate)**
Warranty: Approx. 5 years
HEPA filters: Standard***
Automatic/ Manual activation: Fully automatic****
Cost: $150-$1200
Standard Speed Hand Dryer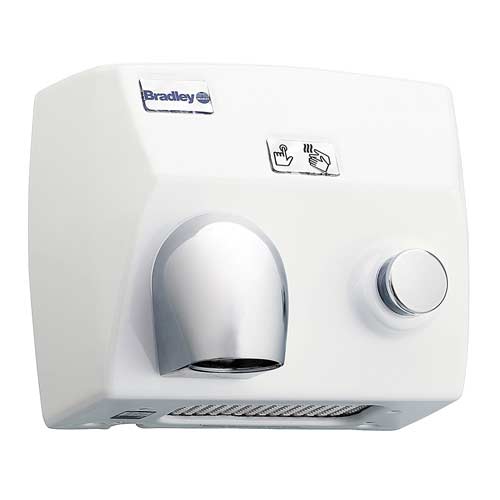 Drying time: 25-30 seconds
Air temperature: Heated
Energy efficiency: Low*
Power: Approx. 2,500 watts
Noise level: 60-75 dB
Build material: Vandal proof metals (iron/ stainless steel)**
Warranty: Approx. 10 years
HEPA filters: Sometimes***
Automatic/ Manual activation: Automatic or button****
Cost: $30-$200
Additional information:
* High speed hand dryers without heated air are more energy-efficient than standard heated dryers. This has two benefits. Firstly, not having to heat the air saves electricity, while also drying faster due to the extra power. Secondly, 2 or 3 efficient dryers can be installed on one line which reduces installation costs.
** In terms of build material, standard hand dryers are more robust and durable as they usually have a metal case and are considered vandal proof. However, this doesn't mean that high-speed hand dryers cannot take a beating. These machines have polycarbonate plastic which is also extremely durable and will not be damaged easily.
*** HEPA (High-Efficiency Particulate Air) filters are more common in modern high speed hand dryers and are strongly recommended. These filters clean the air before the dryer blows it on your hands. This allows for much more hygienic use of the dryer, which can especially benefit users with allergies. If you want to read more about HEPA filters follow this link to find out more.
**** An old fashioned, standard speed, button activated dryer works with a timer that is activated when the button is pushed. Meanwhile, automatic and fully automatic hand dryers are more hygienic as they don't require physical contact for activation. The automatic hand dryer has a motion sensor that activates the timer, and fully automatic hand dryers have an infrared sensor that activates and deactivates the dryer as needed.
---
Why use a hand dryer? And how to use it?
Why should you get a hand dryer?
There are four main reasons why electric hand dryers are a great solution for washrooms in an office environment or public space.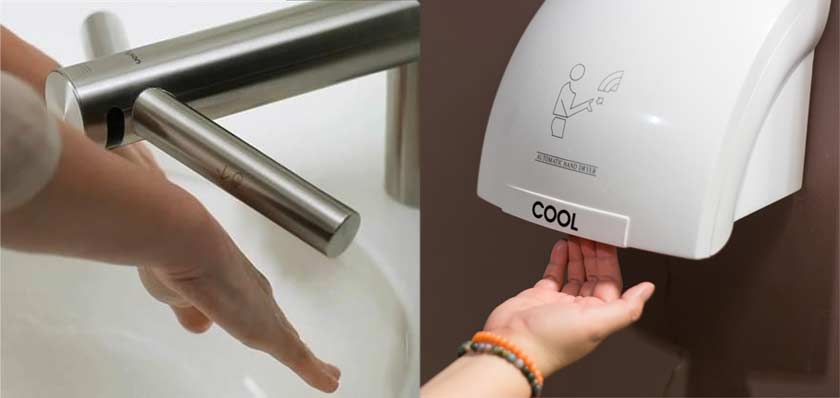 #1 Convenience– Electric hand dryers are convenient for users because they are quick and easy to use and only require a wave of the hand or push of a button. But they are also convenient for the individuals maintaining the office, as they require only occasional cleaning, and never need to be refilled, unlike paper towel dispensers which also produce a lot of paper waste to haul away.
#2 Sustainability– While paper towels produce paper waste and cotton hand towels require frequent washing, electric hand dryers produce no waste and only use minimal electricity and no water. This makes hand dryers more environmentally friendly to use in comparison to cotton or paper towels. Also, used paper towels can not be recycled or reused.
#3 Cost– While a hand dryer device is not as cheap as towels, it is only a one-time investment. Next to the low electricity costs and occasional but regular maintenance, there are no other expenses. Meanwhile, the use of paper towels can be upwards of $900 per year, depending on how many people use the facilities.
#4 Hygiene– If hand dryers are used correctly by all users they are very hygienic machines. That is because they require no physical contact for activation by the user, and therefore don't transfer bacteria or germs.
It's a matter of better hygiene, convenience, cost, and sustainability.
How to use a hand dryer properly
Hygiene is a common and justified concern when it comes to buying and using a hand dryer in an office environment. If a hand dryer is not used correctly by your employees, it can become a vehicle for spreading bacteria. The image below shows instructions on how to wash your hands properly when using a hand dryer.
Wash your hands with antibacterial soap and immediately dry them completely with the air dryer.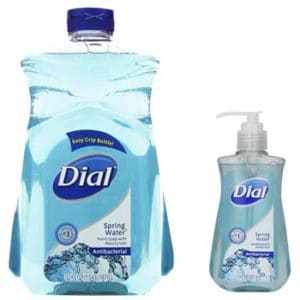 Using a hand dryer starts with washing your hands. You should always wash your hands with (antibacterial) hand soap to remove germs and bacteria. After your hands are washed thoroughly you can dry them with the hand dryer until your hands are dried fully. It is important that your hands aren't wet anymore.
Hand dryers are only a hygienic concern if you still have germs on your hands when you use the device. Therefore, it is recommended to not touch anything else (faucet, sink or soap dispencer) prior using the hand dryer. Therefore, it is recommended to make use of automated devices in the restroom, such as touchless faucets and soap dispensers. But also think about a door that can be opened automatically without the need to touch it with your hands.
Automatic faucet and soap dispenser
Installing faucets and soap dispensers with sensors in office restrooms can help keep the office environment clean, professional looking and hygienic. Here are a few examples of automatic faucets and hand soap dispensers with sensors for touchless operation: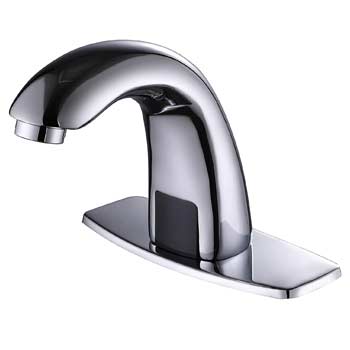 Sink Faucet With Sensor
Check Price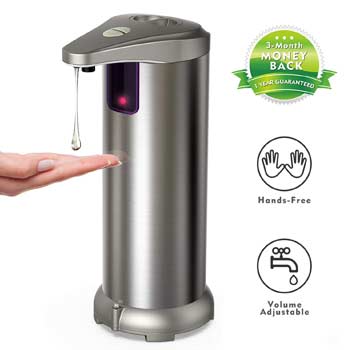 Soap Dispenser With Sensor
Check Price
Video: Dyson Airblade Tap Hand Dryer
Dyson developed a new 2-in-1 faucet and hand dryer. This hand dryer is integrated into the faucet. The main advantage is that the user doesn't need to touch anything or move around during the process of hand washing because the faucet and the hand dryer both work automatically via motion sensors.
Video: The Truth About Hand Dryers
This is a science-based video that Dyson has published as a response to some concerns that were expressed about the hygiene of their hand dryers. They find that the key to hygiene when using a hand dryer is washing your hands properly with soap beforehand and using a hand dryer that undergoes the regular recommended cleaning and maintenance.
---
Pros and cons of hand dryers
The public opinion on hand dryers varies, while some argue that these machines are the best sustainable solution for hand drying, others argue that they are unhygienic, ineffective and inefficient. In this section we will provide a comprehensive list of the pros and cons of hand dryers.
Pros:
Sustainable solution with no waste production.
No waste production means less waste collection costs.
After device is purchased and installed the only costs are electricity use.
Device does not need to be emptied or refilled, only cleaned.
No more overflowing trash cans with used paper towels.
Less labor for refilling paper or cotton towels in the restrooms.
The device is electricity efficient (approx. electricity costs are $28 per year).
Quality devices can dry wet hands within a few seconds, just as quick as a paper towel.
Devices featuring sensors which automatically starts and stops the hand dryer.
The devices rarely have issues.
If used correctly it is a hygienic solution as most don't require physical contact.
Cons:
The device is a higher investment than a paper towel dispenser itself.
Some models are hard to install, especially recessed hand dryers.
Most models are quite noisy during use.
If used incorrectly devices are unhygienic.
Devices needs to be cleaned regularly.
It can be difficult to find the right device for your company.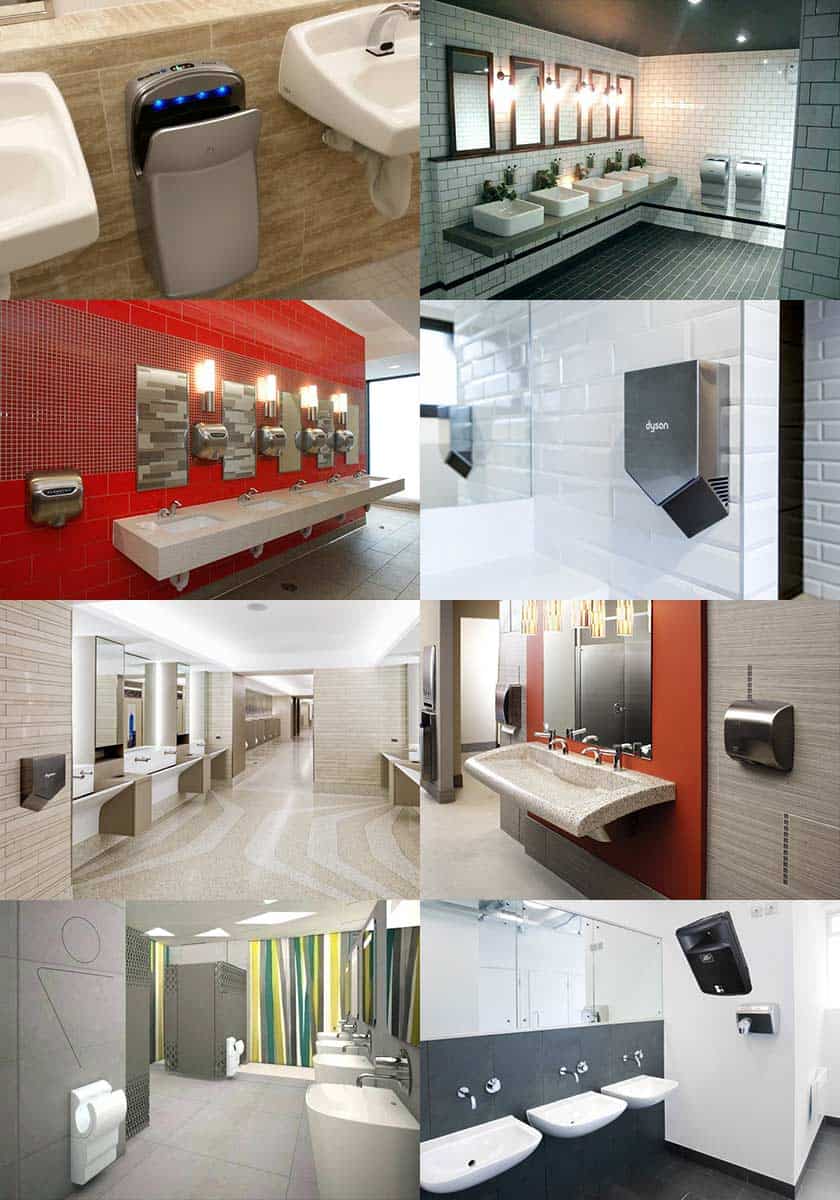 ---
How much does a hand dryer cost?
The cost of purchasing a hand dryer for your office depends on a few different factors, such as:
Build quality – The quality in which the device is built and put together effects the performance, lifespan and price of the device. Most hand dryers are made of plastic but there are also metal ones, mostly stainless steel. The plastic models are cheaper while the stainless steel models cost more.
Visible design – The visual appeal of these devices also influences pricing. If you want a designer hand dryer, such as a Dyson dryer, you will end up at the top end of the price range.
Brand – As with most products, the brand name represents a certain quality. This goes for hand dryers too, so well-known brands are usually pricier than unbranded or less known products.
Power – The power of a hand dryer typically decides how quickly the user's hands will be dried. Quick-drying requires more power and are therefore more costly, but these do not `always require more electricity.
You can get hand dryers for as cheap as $30, but if you want a high-quality hand dryer prices can go up to $2,000 for a more beautiful designer model. However, on average a quality hand dryer will cost between $150 and $600.
---
Specifications and features
Before purchasing an air hand dryer there a few features to concern. This next list will provide you with a number of features you may want to concern in your search for a hand dry and will explain to you why these features matter.
Specifications
Build quality – As with any machine, a hand dryer with good build quality will last longer and are less likely to cause problems in its lifetime. With hand dryers build quality also depends on the shell materials used, namely stainless steel or plastic. A hand dryer made of stainless steel is usually more durable than one made of plastic.
Speed – How quickly a hand dryer completes its job is often a deciding factor in choosing a specific model. To dry hands quickly a hand dryer needs more power for a stronger air gust. Hand dryers with Air Blade technology are known for getting the job done quickly. While some hand dryers can take 30 seconds to dry hands, others can dry them in only 10 seconds.
IP rating – The IP (Ingress Protection) rating of a hand dryer tells you about how water and dust resistant the device is. A high IP rating is usually recommended for devices that will be used frequently. Good IP rates normally also indicate a high build quality.
Number of users – Hand dryers with a large number of users should have a high build quality and IP rating as this will ensure they will last longer. In other words, if your hand dryer will be in use 24/7 it is recommended to purchase a high-quality model which lowers the chance of possible defects.
Size – Especially in smaller spaces the dimensions of a hand dryer are important to consider. Although these devices usually do not take up a significant amount of space, some models are larger than others. For small spaces, we recommend a recessed hand dryer. A recessed hand dryer is partly built into the wall, which takes up less space than a standard hand blower.
Noise – Although noise is not a common concern with hand dryers, in some environments a quiet hand dryer may be appropriate. However, one should note that quiet dryers tend to have less power and therefore take longer to effectively dry your hands. The average noise level for a hand dryer is approximately 75 dB, which is comparable with a vacuum cleaner.
Ease of installation – Some wall mounted hand dryers just need to be plugged into a normal electricity socket, while other hand dryers require a more complicated installation that is best done by a professional. It is strongly recommended to check how a hand dryer needs to be installed before purchasing the device. Easy to install plug-in hand dryers are also a good option if you have a limited budget or when you want to install a hand dryer at home.
Warranty – Check the warranty of a hand dryer before purchase. The length of a device's warranty can vary by brand and even model. Usually, the length of the warranty also will also make an indication of the build quality of the hand dryer. A short warranty hints at a low build quality dryer, while a long warranty means that the manufacturer has confidence in the quality of their product.
Features
Sensor or button – Do you want your hand dryer to turn on with the push of a button or a wave of your hand? Hand dryers with motion sensors are considered to be more sanitary as you don't need to touch the device. But if the hand dryer will have a few users and you have a limited budget, then a hand dryer with button activation is a good alternative, but it is less hygienic in use since the user needs to touch the device to start the airflow.
HEPA filter – Now a days most hand dryers have HEPA (High-Efficiency Particulate Air) filters that filter the air before the dryer blows it on your hands. This filtration system can be especially helpful for users with allergies, but it also improves the general hygiene of the device. Therefore, we strongly recommend buying a modern hand dryer with HEPA filters.
Recessed or non-recessed – A recessed or non-recessed hand dryer is also a decision you want to make before purchasing a device. The difference is that a recessed hand dryer is mounted into the wall. If the space you want to install the dryer in is small, then a recessed hand dryer is a good option to consider. This is because these hand dryers take up less space, however, the installation costs will be higher than a non-recessed hand dryer, because the wall needs to be drilled out for the hand dryer to fit in.
Backsplash – A backsplash is a metal plate that sits behind or under the hand dryer. This plate covers and protects the wall from possible water damage. If you don't want droplets of water on your wall, it is thus recommended to purchase a backsplash together with your hand dryer.
Airblade – A hand dryer dries your hands in one of two ways depending on the model you choose. The first way uses widely concentrated gusts of warm air to evaporate the water on your hands. Meanwhile, the second method (which we recommend) uses a narrowly concentrated and powerful stream (or blade) of cool air to blow the water off your hands. This Airblade technology was first used by Dyson and is still their signature feature.
Noise nozzle – Noise reduction nozzles are special funnels that you can install in some hand dryer models, which widen and weaken the air stream and decreases the noise level of the dryer during use. Excel dryers, such as the Excel dryer XL-C and the Excel Dryer XL-GR-ECO are compatible with such a noise nozzle. To find out more about noise reduction nozzles and quiet hand dryer you can follow this link.

---
Installation and repair
The installation of a hand dryer can vary greatly depending on the brand and model. Some hand dryers can be easy to install by yourself, while other hand dryers, especially recessed models demand the assistance of a professional. Generally speaking, installing a non-recessed wall mounted hand dryer does not require the help of a professional and can be done by the following steps:
Mount the included bracket to the wall which will hold up the device. This needs to be done with precision so that the dryer is mounted straight and at the correct height.
When the bracket is installed continue by opening the lid of the dryer and hanging the device on the bracket.
Afterwards an appropriate power supply must be installed, this could be from an electrical socket or directly from cables within the wall. How you can power the device depends on the model of the hand dryer.
Finally, the hand dryer itself should be locked into place on the wall with screws and covered with the supplied lid. Now the hand dryer is ready to use for the first time.
How complicated or simple the installation of your hand dryer is can be found on the manufacturer's websites or in the installation booklet or user manual that comes with the hand dryer if you have already purchased it.
Some hand dryers can be plugged into everyday power sockets, while others require special wiring.
Below you can find a few helpful videos on how to install hand dryers. Please notes that we recommend consulting the installation manual prior to purchasing the device, and if the installation is beyond your abilities choose another model or hire a professional to install the device for you.
Video: Installation of a Dyson Airblade AB07 and AB14
Video: Installation of a Dyson Airblade V AB08 and AB12
Video: Installation of a XLERATOR Excel Dryer
---
Maintenance and cleaning
As hand dryers are products that are related to hygiene, which meant to have a long lifespan, it is vital to maintain and clean them properly. How often and how thoroughly you need to clean your hand dryer can vary slightly depending on the model you chose. This is something to research before purchasing a hand dryer.
Some hand dryer models only need to be cleaned with a soft towel or microfiber cloth from the outside, which is easily done along with the regularly scheduled restroom cleaning. One should note that cleaning a hand dryer also includes paying attention to the surfaces around it, such as the floor and walls. Meanwhile, other hand dryer models require additional maintenance such as the cleaning of filters, vacuuming inside the dryer or emptying water collection containers.
Hand dryers are low maintenance machines, but cleaning is vital.
Vertical hand dryers such as the Dyson Model AB 14 or the Aike AK2005H are very popular at the moment, but they are also strongly criticized for being unhygienic. However, vertical hand dryers are just as hygienic as any other hand dryer model, as long as the water collection container is emptied during the regular cleaning that all hand dryers should get. The image below shows an extreme example of a vertical Dyson hand dryer that was not cleaned as it should be.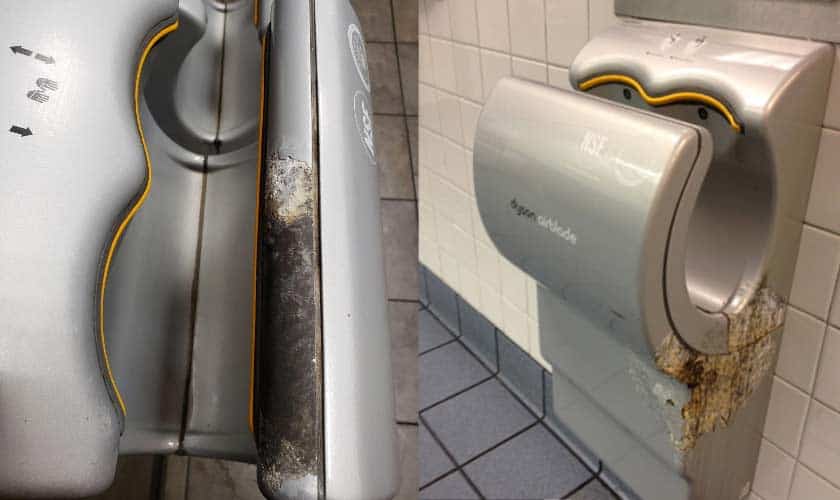 Overall, most hand dryers require only minimal maintenance and don't break down often, however they do require frequent cleaning to ensure hygienic use. Lastly, it is recommended to give them a routine inspection every 12 months.
---
Hand drying and the environment
Hygiene in public bathrooms or large office restrooms is a big concern and part of everyday life. After using the toilet, and throughout the day, it is strongly recommended to wash your hand with water and soap. But what to do with your wet hands? Wipe them on your pants or skirt? In some situations, you may actually be forced to do this if the hand or paper towels have run out again.
Hand dryers energy costs average around $28/year while paper towels costs around $900/year.
Source: Constellation.com
There are several hand drying methods that public or office bathroom may provide, namely:
Paper towels dispensers
Reusable cotton hand towels
Hand dryers
Cloth towel dispensers

Of these options, hand dryers are by far the most sustainable and cost-efficient in the long run. Paper towels, even recycled or biodegradable ones, produce the most waste and are high cost because they are not reusable. Meanwhile, cloth and cotton towels require regular replacement and frequent laundering which produces water waste. Contrastingly, hand dryers are a reliable one-time investment that produces no waste during use and only has minimal electricity consumption.
---
Hand dryer manufacturers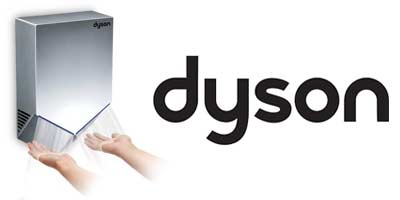 Dyson
Founded in 1991 in Britain and manufacturer of hand dryers, vacuum cleaners and heaters.
---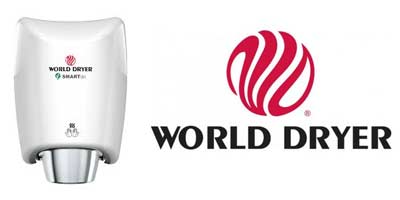 World Dryer
Founded in 1951 in Illinois and part of Zurn. World Dryer is manufacturer of hand dryers and hair dryers.
---
Xlerator
Founded in 1963 and is now based in Massachusetts. and manufacturer of hand dryers. Also known as Excel Dryer.
---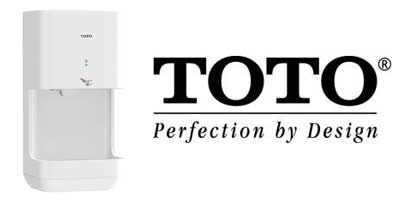 Toto
Founded in 1917 in Japan as Toyo Toki K.K. which became TOTO LTD. Specialized in toilets, faucets, baths and hand dryers.
---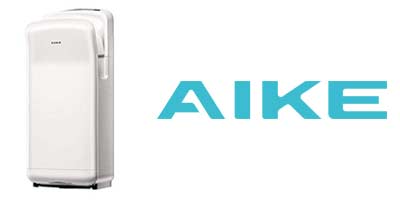 Aike
Founded in 1992 in China and manufacturer of (high speed) hand dryers and automatic soap dispensers.
---
Alternatives to hand dryers
Hand dryers may not be the best solution for everyone or every environment, so what are the alternatives? Here more practical alternatives you may want to consider if hand dryers are not for you.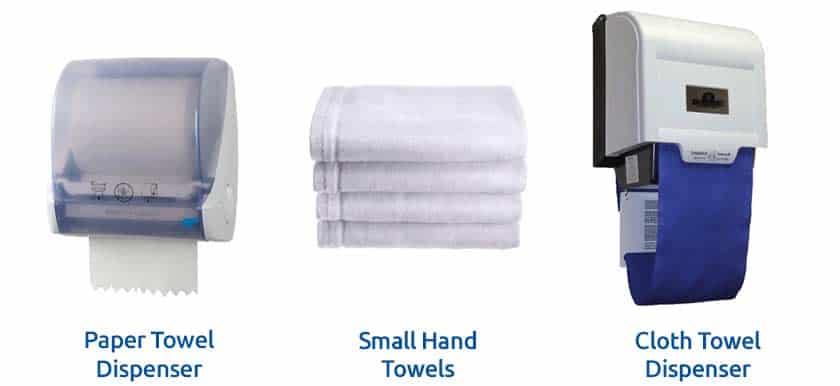 ---
Paper Towels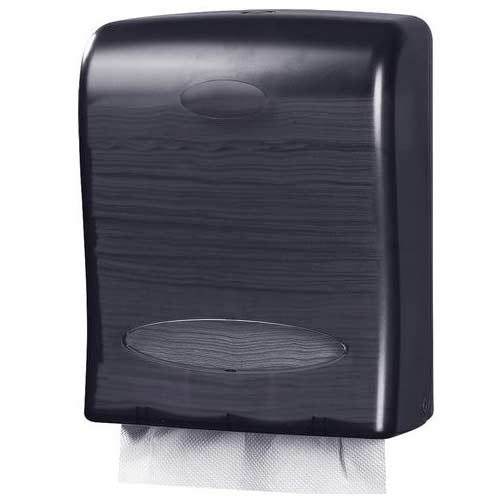 Paper towels are another popular option that is often even a user's preference over hand dryers. Although using a paper towel may be quicker than a hand dryer, they do create a lot of waste and a mess.
Recommended products:
Paper towel dispensers:
Biodegrabable paper towels:
---
Small Washable Cotton Towels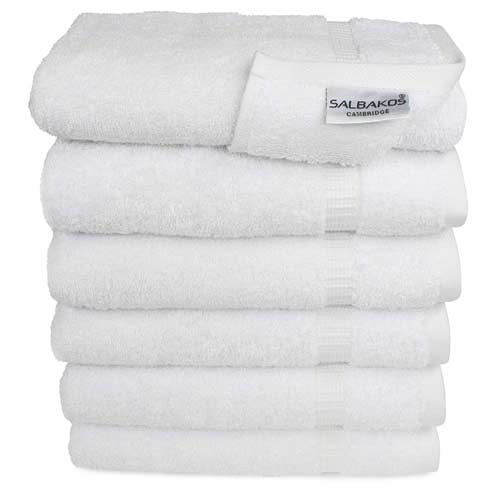 Small cotton towels are another and more luxurious option they create a lot of laundry which wastes water and energy.
Recommended products:
---
Cloth Towel Dispenser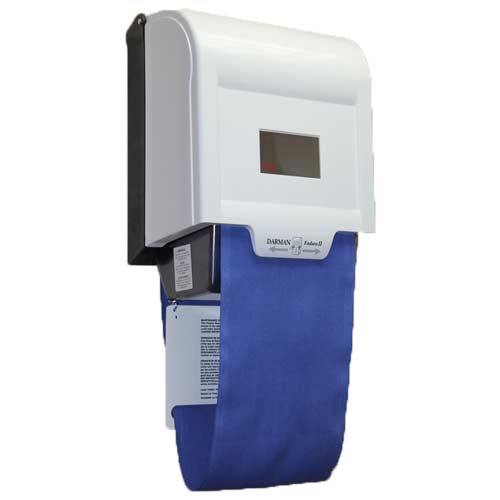 Cloth towel dispensers are another good alternative to hand dryers as they do not create any waste and only require the cloth roll to be replaced regularly. However, the towel rolls can become breeding grounds for bacteria as they stay damp most of the time.
Recommended products:
---
Step Up:
Recycle

, Reuse &

Reduce

The three arrows of the recycling symbol represent the three main stages of the recycling process: recycling, reusing and reducing. Together the arrows form a closed loop. Step up and implement eco-friendly replacements in your daily life.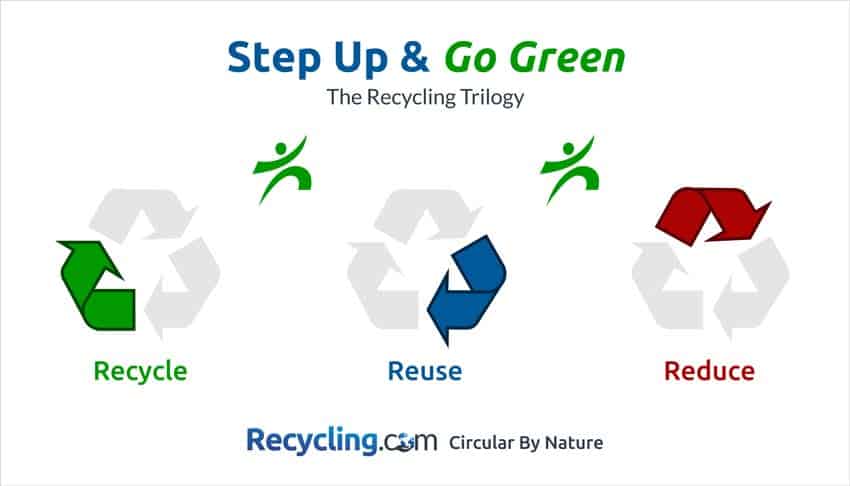 Join the movement! Step Up the waste hierarchy together to a goal of Zero Waste.
By Recycling.com/ 27 August 2019 Shares