Home & Office Paper Shredder Machines
Shred Confidential Documents Before You Recycle It
More about Paper Shredders
Shred sensitive documents at home or at the office
Do you want to shred sensitive and secure documents into unreadable shreds? Think about sensitive tax documents, bank statements or office papers with personal data from clients. Do you want to shred documents or paper trash yourself instead of hiring a shredding company? Then you need a reliable and powerful paper shredder machine to securely dispose of these confidential documents.
On this page, we advise you about the best paper shredders for personal use at home and professional or commercial use at the office. We also have recommendations for heavy-duty shredders for departmental shredding and industrial shredders for high volume or bulk shredding.
What to look for when buying a shredder? Read our Paper Shredder Buying Guide
Navigation:
Paper is one of the most recycled natural resources in the world. You can close the paper loop yourself by separating old paper at home or at the office. Before disposing documents with personal or confidential information we recommend to shred it first before recycling it.
---
What is a paper shredder?
A paper shredder is an electronic device to shred (mostly confidential or sensitive) documents into (unreadable) particles. The shredder shreds documents with a set of rotating knife blades driven by an electric motor. It depends on the type of paper shredder how small the paper particles will get. A shredder can make strips or tiny paper shreds that looks like confetti. The output of the paper shredding machine is covered in the official security levels of DIN 66399. This German standard for paper destruction covers the security levels DIN P-1 to DIN P-7, a higher DIN-norm resembles a smaller particle. Read more about the DIN 66399 security levels.
A brief history about the paper shredder
The very first paper shredder was invented by prolific inventor Abbot Augustus Low from Brooklyn, New York. His invention 'the waste-paper receptacle' was patented on August 31, 1909. But the invention of the 'first paper shredder' has never been manufactured. The first manufactured shredder was made by Adolf Ehinger in 1935 in Germany. At the time paper shredders were mostly used by government entities. In the late eighties also consumers and businesses started using paper shredders to avoid identity theft.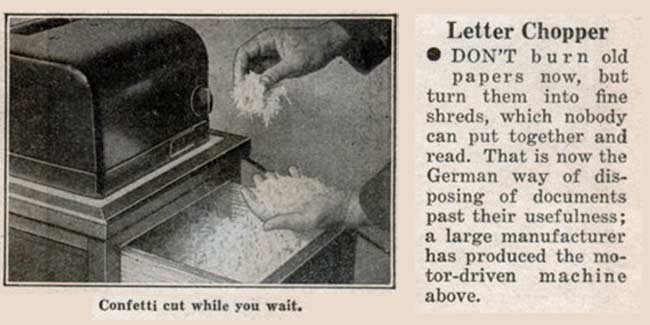 ---
Why get a document shredder?
Identity theft
The most important reason to get a paper shredding machine for personal or office use is to avoid identity theft. Paper documents can contain personal information, such as your name, address or even bank account details. This data can be used to steal your identity and commit identity fraud. So before you dispose of sensitive documents with important information in the recycle bin, it is recommended to shred the documents and then recycle it. We recommend shredding every document you want to dispose of which contains personal information, this can also be junk mail.
Protect the privacy of others
But a shredder isn't only used to shred your own personal documents. Businesses around the world hold information from all kinds of people and other companies. And most of the time this sensitive information is printed on paper documents. Think about invoices, insurance documents, customer lists and so on. Companies need to take care of the secure disposal of these paper documents. And one of the ways to do this is to collect sensitive documents in a shred bin and shred the documents with a professional or commercial paper shredder in the office. But companies also like to shred secure information from projects, clients or minutes from important meetings.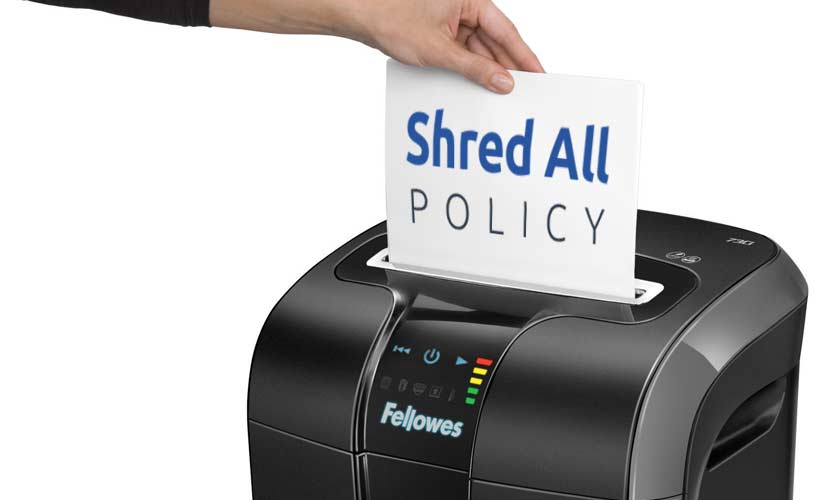 Shred all policy
Paper documents are everywhere in offices. And to prevent the loss of confidential information it is recommended to follow a shred all policy in your company. This policy means that every single document will be shredded before it gets recycled.
Clean desk and workspace
Besides avoiding identity theft and protecting your clients' privacy a paper shredder also helps to keep your workspace clean and organized. By shredding paper regularly you keep the clutter on your desk or in cabinets to a minimum.
Lastly shredding paper reduces the volume of paper waste. Shredded paper tends to take up less volume in your paper recycle container than un-shredded documents. By shredding documents and keeping the paper shreds separate from the rest of your waste it also improves recycling. So shredding your documents helps to be more environmentally friendly at home and in the office.
How to choose a shredder (video by Fellowes)
---
What can you shred at home?
As a consumer, what kind of documents can you shred at home? Think about bank-deposit slips, banking statements, credit-cards bills, insurance policies, loan documents, receipts, tax returns and so on. Check before you shred if you really don't need the document anymore, this is especially important with tax documents.
---
The pros and cons of a paper shredder
Having a paper shredder at home or at the office is convenient. When there is a need to dispose a confidential document you just shred it. This makes a shredder a great addition for paper shredding which might be provided already by a specialized paper shredding company for your business. But besides the positive aspects of a paper shredder there are also some cons listed below.
5 Pros of paper shredders
Information Security – Destroy sensitive documents and secure your own privacy and that from others. Invest in a paper shredder that makes small particles rather than long strips. Because paper strips are fairly easy to read, especially when you shred documents that are printed in landscape-mode.
Protection – Protect yourself at home or in the office against identity fraud by shredding classified and sensitive documents.
Waste Management – Reduce the volume of paper waste by shredding paper documents in small particles.
Readily Available – Shred a sensitive document at any given time of the day.
More Than Paper – Depending on the type of shredder you can also shred CDs, DVDs and credit cards to destroy digital data.
5 Cons of paper shredders
Maintenance – A shredder needs maintenance. Lubricate the shredder with oil regularly to prevent defects. Check out or recommended paper shredder oil and lubricant sheets to use for your shredder. And read tips about how to oil a paper shredder.
Costs time – Shredding documents takes up time. Manual feed shredders are slower than auto-feed shredders which shred documents automatically. Read more about auto-feed shredders.
Speed and Cool Down – Paper shredders can only shred documents at a certain pace. It depends on the type of shredder how fast it can shred documents, the speed is determined by the number of sheets you can shred at once, speed of the motor and the run time before the shredder needs to cool down.
Paper Jams – Paper shredders are notorious for paper jams, but the more expensive models have special features to prevent this from happening. To prevent a paper jam, never insert more documents at one go then is recommended by the manufacturer. If a paper jam occurs most shredders have a reverse button to get rid of the jam. Other, more expensive, shredders come with jam-proof technology. These shredders have strong motors that are strong enough to give a bit of extra power when you've jammed up your shredder. Read more about how to solve a paper jam.
Not for Large Volumes – Most shredders are meant to shred a few documents at a time. For larger volumes, you can use an auto-feed shredder which can shred around 100-500 sheets of papers in one session. If you want to shred large amounts of documents, for instance, because of your annual archive cleanout, then a paper shredder might not be the right solution. We recommend hiring a professional and certified data destruction company to do the paper destruction for you. Or you can rent an industrial shredder to shred large amounts of confidential documents.
---
Pro tips for optimal paper shredding results
Always make use of official shredder oil. We recommend oiling your shredder every time the bin is full. To oil a shredder makes a cross on a sheet of paper with the oil and place another sheet on top. Then shred this 'oil sandwich', read more about oiling your shredder.
Do not use a strip-cut shredder to destruct your confidential papers. The paper strips are still fairly easy to read and documents are relatively easy to reconstruct. When shredding confidential documents we recommend to invest in a cross-cut shredder or micro-cut paper shredder.
---
Shredding paper or cardboard?
Besides paper shredders, there are also cardboard shredders available. The difference is that a paper shredder is for shredding confidential documents and cardboard shredder is for recycling your own cardboard waste. When you have a lot of waste from cardboard boxes and plates in your company you can shred the cardboard material and make your own packaging material. A cardboard shredding machine produces matting from your cardboard scrap. Perfect for reusing your waste at your company. Read more about cardboard shredders.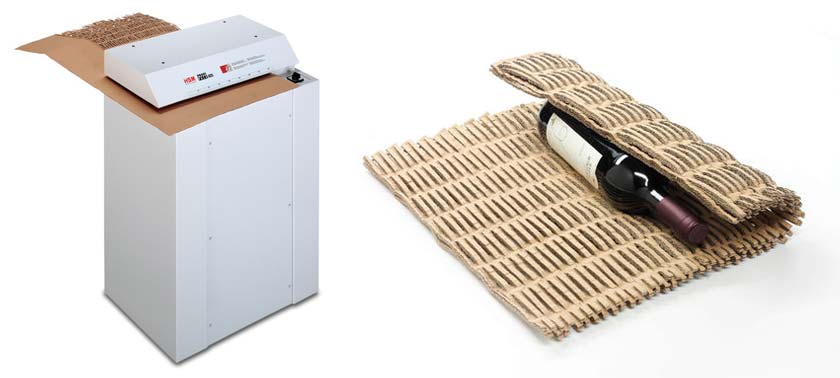 ---
Which paper shredder should you get?
It can be quite difficult to find the right paper shredder for you. There is a lot to choose from besides only the color, such as a black or white shredder. So it is understandable you can get overwhelmed with all these types of shredders. Do you need a strip-cut shredder or a cross-cut shredder? What kind of sheet capacity do you need? And is a run-time of 5 minutes enough for your shredding needs? Read this page with more information about the types of paper shredder.
To help you get the answers and find the best paper shredder we've made an extensive, but easy to follow, paper shredder guide that'll guide you through the process of finding a good shredder.
Go to Paper Shredder Buying Guide
---
The best paper shredder for your needs
There is not one recommended 'best shredder'. It all depends on your requirements which paper shredder suits your needs. For instance, a professional automatic shredder is a bit unnecessary when you only want to shred a few documents at home every once in a while. You are better off with a basic home shredder machine. That's why we've selected the best paper shredders for business and consumers separately: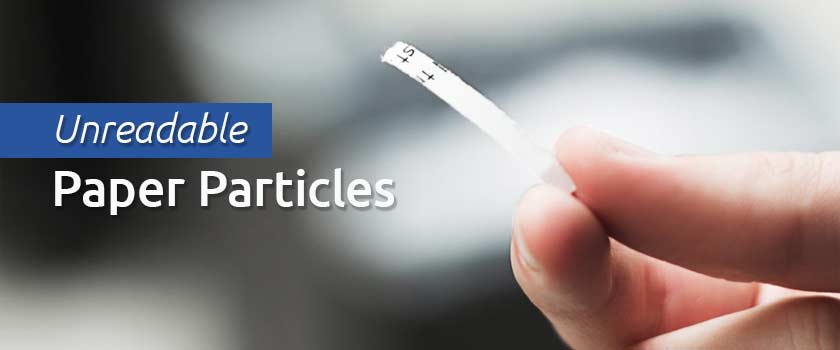 ---
Why should you trust us?
Recycling.com has a partnership with a Dutch certified paper shredding company called Brantjes Data-Vernietiging (www.brantjes.com), they're running one of the biggest sites about paper shredders in The Netherlands (www.papierversnipperaar.nl). We've also interviewed specialist from well-known brands in the field, such as Fellowes and Intimus. Lastly we've reviewed and tested all kinds of paper shredders for personal and commercial use, such as cross-cut and micro-cut shredders. To be short, we understand why data security is important and we know what to look for when buying a good and reliable paper shredder that suits your needs.
---
Step Up:
Recycle

, Reuse &

Reduce

The three arrows of the recycling symbol represent the three main stages of the recycling process: recycling, reusing and reducing. Together the arrows form a closed loop. Step up and implement eco-friendly replacements in your daily life.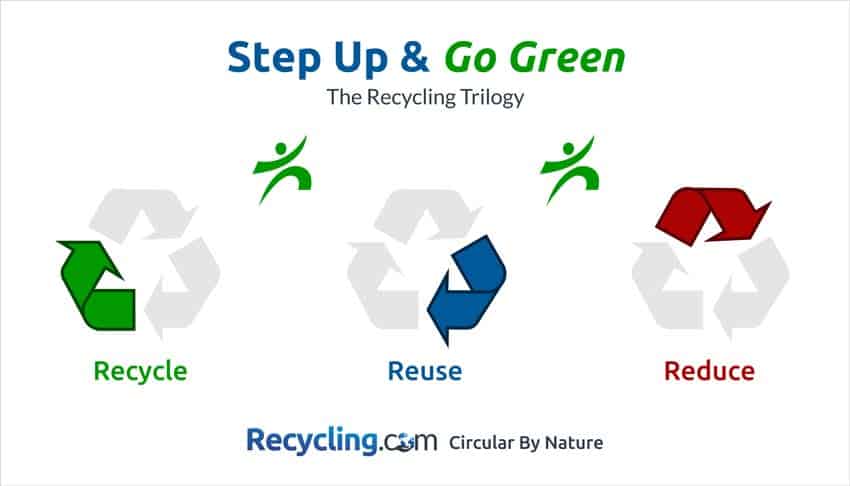 Join the movement! Step Up the waste hierarchy together to a goal of Zero Waste.
By Recycling.com/ 19 January 2020 Shares