Commercial garbage disposal equipment
Disposers for Commercial Food Waste
How do you manage commercial food waste when you have a hospitality or catering organization? One way to separate and dispose of food scraps and leftovers is with a commercial garbage disposal. This machine helps your business to discard food waste efficiently, hygienically, and eco-friendly. Please find out more about how commercial food waste disposers work in our guide here.
Request a Free Quote
Get Industrial Garbage Disposal Advice
Want to know the price of a commercial garbage disposal? Or do you want to know more about these machines? Then request a free quote with expert advice.
---
5 Recommended food waste disposers
Scrap, pre-flush and dispose of food waste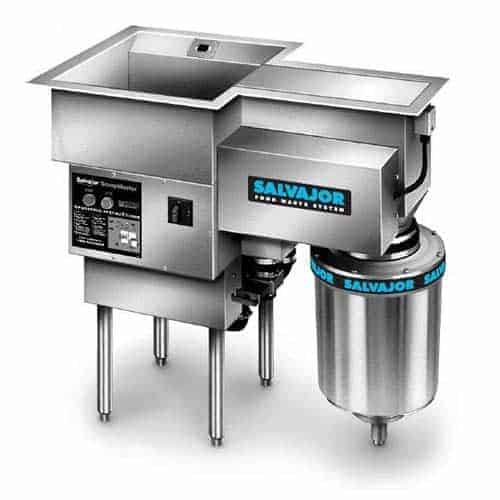 The Salvajor ScrapMaster SM is a pre-flushing and garbage disposal unit. The recirculating water makes sure the operator can rinse and pre-flush dirty dishes. The food scraps and leftovers are then ground in the chamber of the attached garbage disposal.
Feed type: Continuous feed
Horsepower: 5 HP
---
A complete disposer package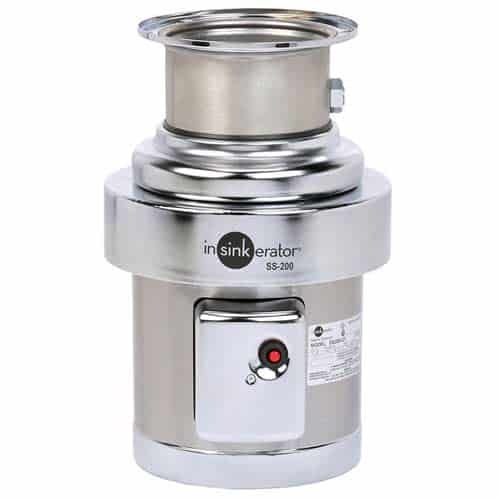 The InSinkErator SS-200-5-MS is a 2 HP food waste disposer that comes with all the needed installation equipment. You'll receive a 3.5″ sink adapter, siphon breaker, solenoid valve, flow control valve, manual switch, and adjustable leg kit. The powerful motor can handle a medium capacity of food waste.
Feed type: Continuous feed
Horsepower: 2 HP
Speed: 1725 RPM
---
Power through high volumes of fibrous food waste

The Waste King 3000-3 is a commercial garbage disposal with a high-speed 3HP motor. The sound insulation makes sure that noise levels are reduced. The hardened swivel impellers make sure that the disposer jams less.
Feed type: Continuous feed
Horsepower: 3 HP
Speed: 1740 RPM
---
---
Trough conveying and food waste disposal
The Salvajor 500 TroughVeyor is a disposer with a pre-rinse valve for scrapping and rinsing dishes. The water is recirculated in the machine so you waste less water. The food scraps from the dirty dishes are ground in the garbage disposal. This model comes in a left hand (TVL) and right hand (TVR) model.
Feed type: Continuous feed
Horsepower: 5 HP
---
Large capacity foodservice disposer
The InSinkErator SS-1000 is a powerful garbage disposal with a 10 HP induction motor. This garbage disposal is engineered for continuous operation in hospitality and catering organizations.
Feed type: Continuous feed
Horsepower: 10 HP
Speed: 1725 RPM
---
More about commercial garbage disposers
Food scraps, leftovers, and dirty dishes are common in restaurants, hotels, hospitals, bars, and office and school canteens. With a commercial food waste disposer, you have a dedicated solution to manage all your food waste.
Just rinse off dirty plates, bowls, and pans in your kitchen sink and let the garbage disposal grind up the food waste directly under your sink.
A food waste disposer is a economical way to dispose your commercial food waste.
Navigation:
---
How does a commercial garbage disposal work?
Most disposal units are connected to your sewage system. This means that the ground up food waste is flushed away down the drain.
But there are also garbage disposers that reduce the volume and mass of food waste drastically and store the dry remains in a waste container, which then can be composted and used as a fertilizer. The IMC WasteStation is an example of this type of garbage disposer.
More info? Read our Garbage Disposal Guide.
---
What is the difference compared to a household garbage disposer?
Commercial food waste disposers are quite similar to a garbage disposal you might use in your home kitchen. They both grind food waste into small particles. But the difference between the machines is mostly the size, durability, and power of the motor.
It is important for commercial and industrial use that the disposer can handle high volumes of food waste without jamming and clogging the drain pipes from your kitchen. In other words, the garbage disposal unit must be able to handle heavy-duty grinding of commingled food scraps continuously in a commercial environment.
---
Can you use a garbage disposal in an office kitchen?
Most garbage disposals get used at home in the kitchen. But you can also install and use a food waste disposal unit in the office canteen or office kitchen. The device encourages employees to become more aware of separating biodegradable food waste.
Please note: Before using a food waste disposal, it is recommended to investigate the (local) law and legislation if approved to make use of a garbage disposal in a professional environment.
Some offices have a small kitchen where employees grab a coffee, a glass of water, or prepare their lunch. This is a centralized area in the office where lots of food waste is generated. Think about banana peels, apple cores, food scraps from lunch, and other biodegradable food waste.
A food waste disposal helps to enhance the overall quality of separated recyclable materials.
You can, of course, separate the food waste with a dedicated recycling bin or composting bin. But food waste can release a bad odor over time, which can cause nuisance when the office kitchen is part of your office workspace. A better solution for disposing of biodegradable food waste is to make use of a food waste disposer.
This machine grinds up food waste convenient, fast and hygienic. A disposer helps you and your employees separate food waste at the office, contributing to even cleaner and dryer recyclable waste streams.
---
What types are there?
Roughly there are three types of commercial food waste disposers:
Garbage disposal with sink – This is a complete garbage disposal installation that can be installed in your kitchen. The food waste collector comes with a large sink, garbage disposal, and console to operate the unit. The only thing you need is a commercial kitchen faucet and a connection to your sewage. Most models recirculate the water, which means less water is getting wasted down the drain.
Garbage disposal without a sink – This unit looks quite similar to a garbage disposal for home use. The bulkier and powerful commercial garbage disposal can be attached under your kitchen sink. It is recommended to adapt the garbage disposal to the sink bowl brand since not every garbage disposal can be connected to every type of sink. To make sure the garbage disposal is connected correctly to your sink bowl, you can use multiple types of adapters.
Garbage disposal with collection bin – This type of garbage disposal grinds up food waste and separates the water from the food waste via a dewatering system. The so-called 'grey water' is flushed down the drain, while the dry food particles are captured in a bin. The dry food waste particles can then be composted to use as fertilizer later on. This is the most eco-friendly way to dispose of and reuse commercial food waste. When food waste recycling is important for your business, then this machine is recommended.
---
What can go into a garbage disposer?
A food waste disposer is meant for grinding organic and biodegradable food waste. This means the machine can't be used for grinding foreign materials such as wrappers, packaging, napkins, straws, and single-use cutlery. Below are some examples of items you can and can't put in the disposer.
See how to operate a garbage disposal and also what you can and can't grind in a disposer.
It is not recommended to dispose of grease, solid fats, and oils into the garbage disposal because this might clog the sewage pipelines.
What can go in:
Fruits
Vegetables
Meat
Poultry
Dairy
Bread & grains
Bones
Trimming
Seafood
Not for disposer:
Stringy & fibrous foods:

Artichokes
Pineapple tops
Cornhusks

Oyster & clamshells
Silverware
Cans
Glass
Plastic wrap
Latex gloves
Corrosive chemicals
---
How to operate a disposer?
The way you need to operate a commercial food waste disposer depends on the type and brand. But generally, it goes as follows:
When a new garbage disposer is installed, make sure there is no packaging material left in the grinding chamber.
Do not pre-load the disposer with high volumes of food waste before turning the machine on.
Start the disposer and turn on a stream of cold water so the water flows into the disposer.
Gradually feed food waste into the disposer through the sink flange.
Do not batch feed high volumes of food waste at once.
Feed a continuous flow of food waste into the disposer.
The disposal unit grounds up the food waste inside the grinding chamber into small particles.
The ground food waste is flushed away with the water flow through the plumping into the main sewer line.
After grinding keep the garbage disposer running for a minute to clear and clean the grinding chamber.
The food particles end up in the wastewater treatment facility where it is further processed.
Troubleshooting: When a jam occurs turn off the machine completely before un-jamming the machine. Always follow the guidelines in the instruction manual from the manufacturer.
Waste container for non-food waste
It is recommended to place a trash can close to the garbage disposal unit to make sure that the food waste stream will not contaminate with foreign materials such as packaging material.
When an operator is using the waste disposer it is convenient that he or she has access to a trash can for discarding materials that do not belong inside the grinding chamber of the disposal.
This Carlisle round waste container has a 10-gallon capacity and is available in multiple colors. The open-top waste container can also be equipped with an optional lid.
---
Why use a garbage disposal?
What are the advantages of using a commercial food waste disposer?
Pros:
Process and dispose of food waste efficiently.
A garbage disposal is easy to operate and maintain.
It saves time which reduces labor costs.
Save up space in your kitchen.
Reduce the costs of waste hauling.
Keep food waste out of landfills.
It helps reducing vermin in the kitchen.
Ground-up food waste can be captured as bio solids.
Methane gas produced during water treatment can be converted into bio gas.
Cons:
They are a costly investment.
These machines need regular maintenance.
If the disposal breaks, what can you do with your food waste.
Training and safety measures may be needed for staff.
---
Manufacturers of industrial food waste disposers
---
Garbage Disposal Guide
Tips for buying a garbage disposal
Garbage Disposal Guide