Recycle Stickers & Magnets
Disclosure: This article contains affiliate links. If you click on a product and make a purchase, we may earn a commission – learn more.
For Indoor Trash Cans & Recycling Bins
---
Sticker Sets:
Recycle | Trash | Compost
Sticker Sets:
Recycle | Trash
Sticker Sets:
Recycle
Magnetic Sets:
Recycle | Trash
Recycle Across America (RAA) offers standardized labels for your recycling tools. These labels make it very clear (visually and in text) which waste stream belong to which container so people can recycle properly. This minimizes confusion at the bin and ensures that waste materials end up in the correct waste stream. The labels are proven to increase recycling with 50-100%. The result is less trash and more recycling, so step up on the waste hierarchy.
Labels for mixed and paper recycling
Labels for compost & compostables
Labels for landfill & trash
Source: Recycle Across America
More Recycle Stickers:
Best Selection on Amazon
Use labels to minimize confusion and contamination of your waste streams
---
More about recycle stickers
Why should you label your trash cans?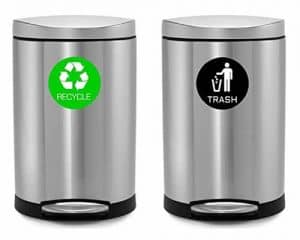 When you separate your trash, recycling, and compost at home you want to make sure each stream is clean and organized. To prevent contamination of your recyclables or compost it is recommended to use recycling stickers to label your recycling bins. These decals are made of vinyl and contain clear logos or colors that indicate what type of waste belongs to each receptacle. For instance a recycling logo for recyclables, a compost symbol for organic waste and an icon for regular trash that belongs to landfill. A recycle label makes it visually clear what type of waste goes into what receptacle.
Convert your regular garbage can into a recycle container with a recycle sticker.
Stickers or magnets
You can opt for stickers that you can stick on plastic trash cans or magnets you can use for stainless steel or metal trash cans. You can use these recycling stickers for single-purpose trash cans but also for double recycling bins where you label each comportment for trash or recycling. There are a lot of designs to choose from, so there is always a recycle label that suits your trash and recycling bins.
Do you want to know what you can't throw away in your recycling bin? Check these tips at Earth911.com.