Small Paper Shredders for Desktop, Tabletop and Kitchen Counter
Disclosure: This article contains affiliate links. If you click on a product and make a purchase, we may earn a commission – learn more.
Space-saving portable paper shredder machines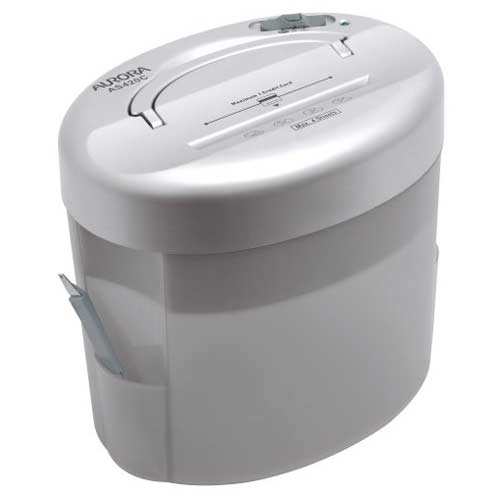 Are you looking for a compact shredder that doesn't take up a lot of space in your home or office? Then you are looking for a mini shredder that is small enough to fit under or on your desk and can be stored away easily in a closet. For secure shredding of personal documents, we recommend using a cross-cut or micro-cut desktop shredder. These types of shredding machines produce small paper shreds instead of long (still readable) paper strips.
Top 10 Small Shredders
A compact desk shredder is light and portable so you can grab it when you need shredding.
Top 6 Small-Sized Document Shredders
The mini paper shredders below are recommended for light-duty shredding. The shredders won't take up too much space and are relatively affordable. You can store the paper shredder out of sight easily or place it pretty much everywhere in your home or office.
---
Tiny desktop-style cross-cut paper shredder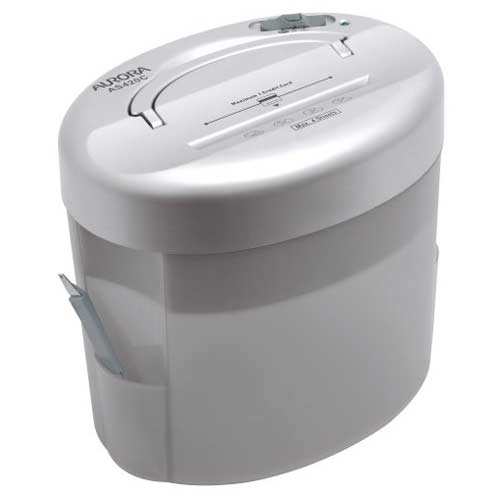 Our Top Pick
The Aurora AS420C is a very small and portable cross-cut shredder. The top of this mini shredder contains a handle so you can easily grab and transport it anywhere you want. The feed opening is only 4.5 inches wide, so you need to fold your documents before shredding. The small wastebasket can hold the shredder particles of 40 documents. Besides paper, it can also shred your old credit cards. The Aurora is perfect for light-duty use and the small and compact design makes it ideal for countertop placement.
Security level: Cross-cut
Dimensions: 9 x 7 x 10 inches
Weight: 8 ounces
Sheet capacity: 4 pages
Bin capacity: 1.32 gallons
---
Affordable and basic desktop shredder
The Bonsaii 6-Sheet Cross-Cut Paper Shredder is an affordable and small cross-cut paper shredder. The 3.5 gallon lift-up bin can hold 100 sheets of shredder A4 documents. Through the transparent window you can see when the bin is full. The shredder can shred up to 6 sheets per pass for four minutes straight before the shredder needs to cool down. This make it perfect for occasional shredding at home. The shredding part that contains the motor can be removed easily with the convenient handle so you can empty the wastebasket when it is full.
Security level: Cross-cut
Dimensions: 11.9 x 7.4 x 15.2 inches
Weight: 8,69 pounds
Sheet capacity: 6 pages
Bin capacity: 3.5 gallons
---
Small high security micro-cut shredder

The Aurora AU820MA is a compact micro-cut shredder that offers high security and is perfect for moderate daily use. This shredder can shred 8 sheets per pass in DIN P-4 particles. The shredder has a relatively large 4.8 gallon waste basket. Besides confidential paperwork this unit shreds also CDs, DVDs, credit cards and small paperclips or staples. It is easy to empty the wastebasket because of the integrated single-hand lifting handle.
Security level: Micro-cut
Dimensions: 12.5 x 8.9 x 15.7 inches
Weight: 14 pounds
Sheet capacity: 8 pages
Bin capacity: 4.8 gallons
---
Shred paper, CDs, credit cards and junk mail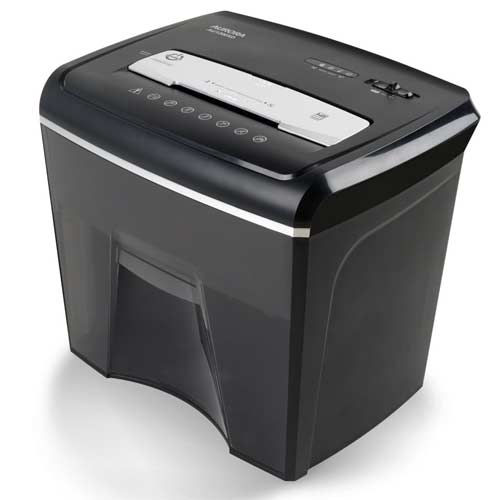 The Aurora AU1200XD is our top pick for a small paper shredder, because this machine offers the total package. Besides the small footprint and lightweight, it shreds pretty much the same as a regular shredder. The cross-cut shredder destroys your confidential documents, CDs, DVDs, credit cards, staples and even small paper clips. The desktop-style shredder is quiet, has anti-jam reverse functionality and is safe to thanks to 'shred safe' technology.
Security level: Cross-cut
Dimensions: 13.2 x 9.9 x 11.8 inches
Weight: 17.2 pounds
Sheet capacity: 12 pages
Bin capacity: 1.8 gallons
---
Small but mighty deskside shredder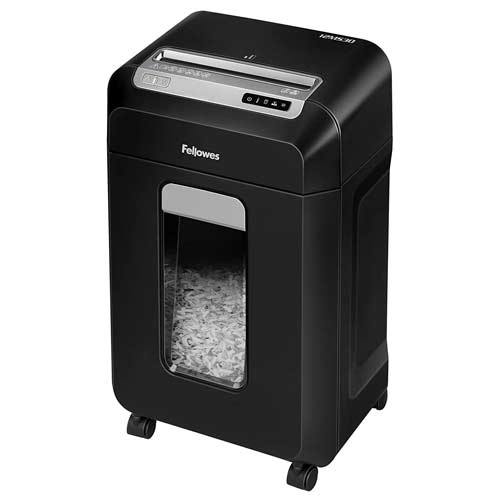 The Fellowes 12MS30 Powershred is not the smallest shredder on this list, however, it does have a lot of power for its size and the wheels make it easy to move around or out of the way. It can run for an impressive 30 minutes before needing a cooling down break, and it can handle staples, paper clips, credit cards, and unopened junk mail. Finally, it features Safe Sense Technology which stops shredding when hands touch the paper opening, therefore protecting your privacy but also your hands.
Security level: Micro-cut
Dimensions: 10.13 x 13.5 x 22.25 inches
Weight: 22.5 pounds
Sheet capacity: 12 pages
Bin capacity: 6 gallons
---
Powerful & quiet shredder from Fellowes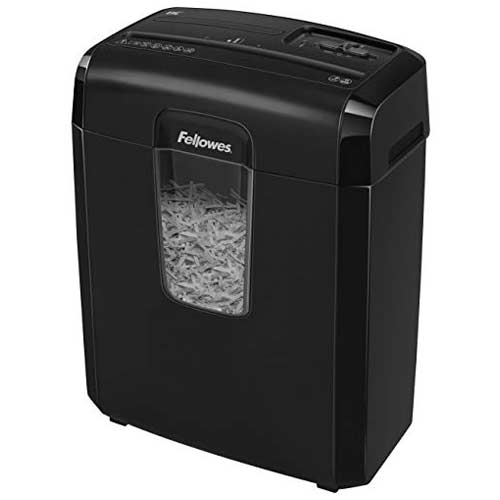 The Fellowes Powershred 9C is a cross-cut shredder that offers good value for money. The shredder is small, shreds up to 9 sheets per pass in cross-cut particles (security level P-4) and can also shred plastic credit cards, staples and paper clips. For its class, it can shred relatively high volumes of documents, besides it is easy to use and operates quietly. It is a decent deskside shredder for your home office, it fits nicely under the desk and it does a good job of shredding.
Security level: Cross-cut
Dimensions: 7.75 x 12.12 x 13.75 inches
Weight: 9.35 pounds
Sheet capacity: 9 pages
Bin capacity: 3.8 gallons
---
More about portable shredders
Why use a small shredder?
There are multiple reasons why people buy a small-sized paper shredder instead of a larger-sized model. The most important reason is that it saves up space because of its small footprint. But what are other arguments to buy and not to by this type of shredder. Let's compare the pros and cons of small shredders:
You don't want a big and bulky shredder but a small and compact shredder that takes up very little space.
Pros:
Small footprint takes up very little space.
Fits under a desk or on a table or kitchen counter.
Hideaway and bring it out when you need it.
Less expensive than a regular-sized shredder.
Lightweight and easy to carry around.
Great for light and occasional shredding at home.
Perfect to store away until you need to shred documents.
Small enough to fit in a RV or small apartment.
Easy to carry around and transport while traveling.
Cons:
Can only be used for light-duty shredding.
Short run-times and less powerful.
Small wastebaskets that are filled up quickly.
Some small shredders have a small feed opening so you need to fold you documents before shredding.
Most are not powerful enough to shred multiple documents at once.
Most can't shred CDs, DVDs or credit cards.
Most of the small shredders are top heavy and can fall over.
Tends to jam more often. Learn here how to solve a paper-jam.
For who is a small shredder for?
A mini paper shredder is mostly used at home for occasional shredding of confidential documents with personal information on it, such as bank statements, receipts, or documents with social security numbers, addresses or credit card numbers. These are documents you just want to shred and destroy before you recycle it. Small desktop or tabletop shredders can also be used for shredding (unopened) junk mail or even credit cards, but it all depends on the features and capabilities of the shredding machine.
Compare small shredders with everyday products:

Stored out of sight
Some owners of small shredders store their unit away in a closet. It stands there not because the shredder was a bad purchase, but because the machine is only used occasionally by its user. Because small shredders are portable and lightweight machines they can be grabbed at any time for destroying some occasional documents.
Therefore there is no need to have the paper shredder available all the time. Besides, the shredding machine is out of sight and don't take up floor space. Saving floor space is especially convenient when you live in a, respectively, small home or apartment, or you just don't have a lot of space available. You can also place the small shredder under a desk, hence the name 'deskside shredder', or place it in the counter of a table or kitchen cupboard.
Take the shredder wherever you go
There are also people who travel the world in their RV and feel the need to shred documents while traveling. A small paper shredder is desirable in this situation, because it requires little space in your motorhome.
Small shredding machines are also used professionally to shred commercial documents with confidential information anywhere when employees need to travel for work. The shredder is small enough to travel with and is easy to carry around and to set up.
When is a small shredding machine not recommended?
The purpose of a small-sized paper shredder is light-duty shredding of your sensitive paperwork. This means shredding just a few documents every once in a while. So these type of paper shredders aren't recommended for large 'catch-up' shredding or high volume shredding. It will be a real hassle to shred large amounts of paperwork with a shredder that has a short run-time , low sheet capacity and small-sized wastebasket.
I bought a small shredder but I should have bought a bigger one for larger shredding projects.
When you desire a shredder machine that can shred multiple sheets per pass we suggest a regular-sized paper shredder. Take a look at the best paper shredders for home use. Some owners of smaller paper shredders regret their purchase later because of the low capacity of these machines.
Paper shredder size comparison
So how small is a 'small paper shredder'? It all depends on what you consider 'small'. But generally a tabletop shredder is a unit that won't take up a lot of space and features these specifications:
A small footprint with dimensions similar to: 13 x 10 x 12 inches.
Lightweight around 15 – 20 pounds.
Affordable price around $50.
Low sheet capacity of 1-5 sheets per pass.
Small-sized wastebasket of around 3 gallons.
Easy to set up and use.
Compare shredder sizes:
Opt for a cross-cut or micro-cut shredder
The reason most people buy a paper shredder is to shred and destroy confidential documents. They don't want to throw away confidential documents with personal information on it with the risk that data can be used for identity theft. In this case, it is important to make use of a shredder that actually makes the documents unreadable. This means you should get at least a cross-cut shredder. This type of shredder destroys your document in tiny particles instead of long strips, known as strip-cut shredding.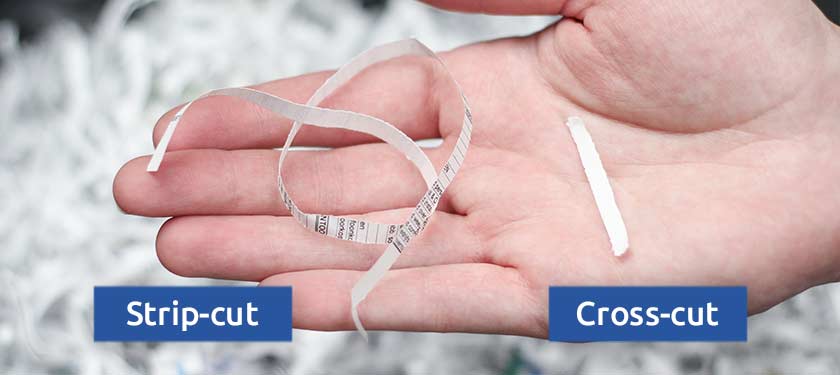 Do you prefer higher security? Then you should look for a small micro-cut shredder. These types of shredders produce even smaller shreds in comparison to cross-cut shredding machines.
Handheld shredders without waste basket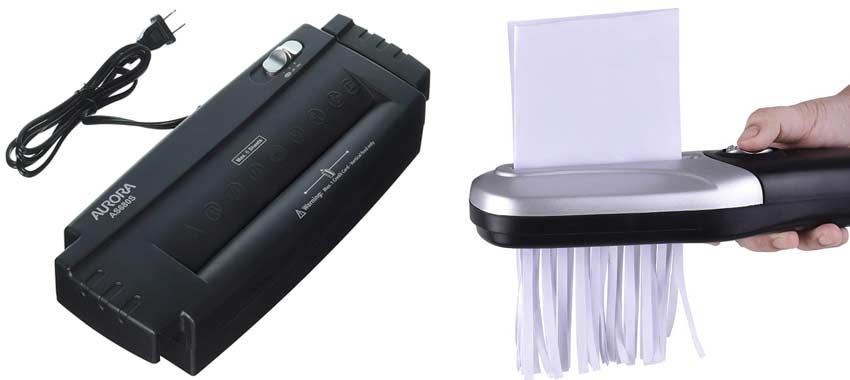 The smallest paper shredder is a handheld shredder that doesn't contain a wastebasket. The shredder only contains the shredding part with the motor and doesn't contain a wastebasket to hold the shredded paper particles.
There are paper shredders without wastebasket that you can install on top of universal trash or recycling bin. But there are also even smaller handheld shredding devices that you can hold in your hand while shredding a document.
For safe and secure shredding we don't recommend using these types of shredders.
Check our buying guide
Do you want to know more about paper shredders? Take a look at our paper shredder guide or go to our main paper shredder category page.
Paper shredders for home or office
---
Step Up:
Recycle

, Reuse &

Reduce

The three arrows of the recycling symbol represent the three main stages of the recycling process: recycling, reusing and reducing. Together the arrows form a closed loop. Step up and implement eco-friendly replacements in your daily life.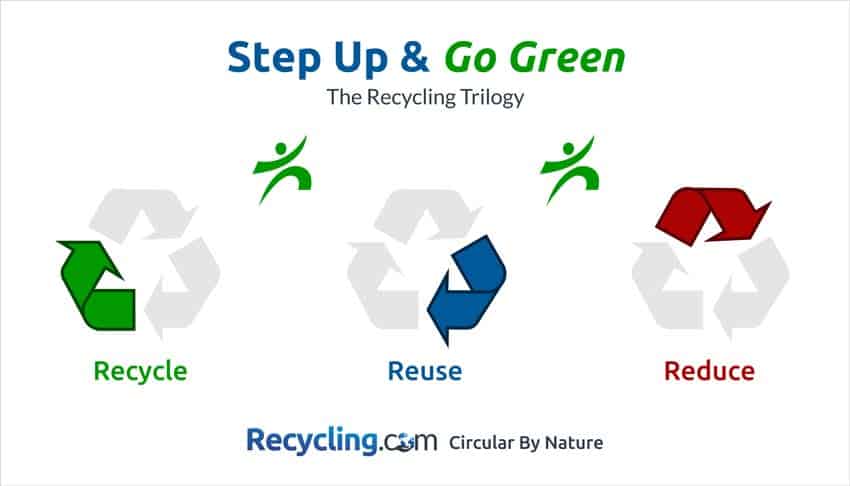 Join the movement! Step Up the waste hierarchy together to a goal of Zero Waste.