Trash Can Cabinets (Tilt-Out) for the Kitchen
Hide Your Trash Cans Inside a Tilt-Out Cabinet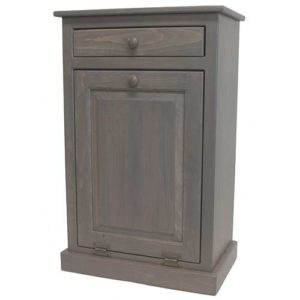 With a tilt-out trash cabinet, you store or hide your trash cans out of sight so you can't physically see the waste receptacles. These free-standing waste cabinets with tilt doors can be placed anywhere in your house, but most people place it in or near the kitchen.
Generally, these garbage cans are made of wood and contain one or two waste bins, so you can use them for sorting garbage and recyclables. The waste cabinets can be bought in any design and color so you can always find one that suits your home interior.
Top 10 Kitchen Trash Cabinets
---
Top 10 Trash Bin Cabinet Inspiration
The top 10 below contains recommendations for trash can cabinets that you can buy on Amazon. Of course, there is not one best kitchen cabinet for your trash, because that all depends on your preferences. This list is arranged considering the number and quality of customer reviews. Are you looking for a trash can for a kitchen cabinet? Then take a look at our pull-out trash cans.
---
This garbage trash cabinet arrives assembled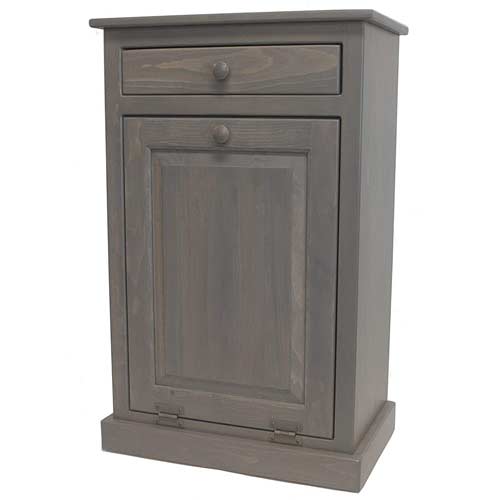 #1 Best Seller
The Pine Tilt Out trash bin is a high-quality free standing trash cabinet. It is a very beautiful piece of furniture that improves the overall appearance of your kitchen. The sturdy tilt-out cabinet is easy to clean and it comes with an extra drawer to store small items in. The trash bin is included in the cabinet.
Trash can included: Yes
Color options: Multiple
Material: Pine wood
Dimensions: 13 x 21.5 x 34 inches
---
A double compartment hamper that can be used for trash

The Crosley Furniture Lydia is a hamper for sorting and storing your laundry. But inside the tilt-out compartments, that hold removable cloth bags, you can also fit in two trash cans. Some people use one compartment for laundry and the other one for trash.
Trash can included: No
Color options: White
Material: Solid hardwood
Dimensions: 31 x 14.2 x 29 inches
---
Beautiful farmhouse trash bin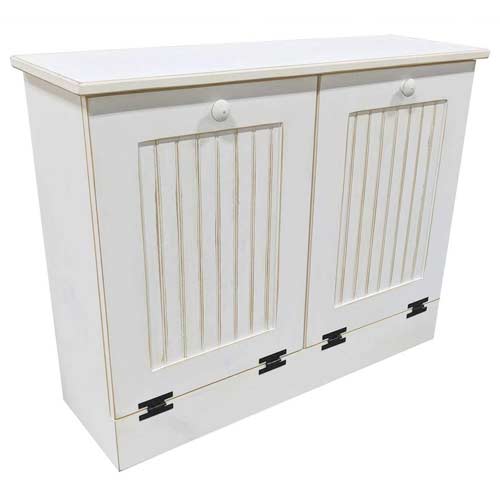 The Sawdust City double compartment garbage bin is a great in cabinet trash can for sorting garbage and recyclables at home. The rustic looking cabinet fits nicely in farmhouse style or country style home interiors. It is crafted in the USA.
Trash can included: Yes
Color options: Multiple
Material: Solid Knotty Pine
Dimensions: 38.62 x 12.5 x 30.25 inches
---
Nicely and sturdy crafted trash cabinet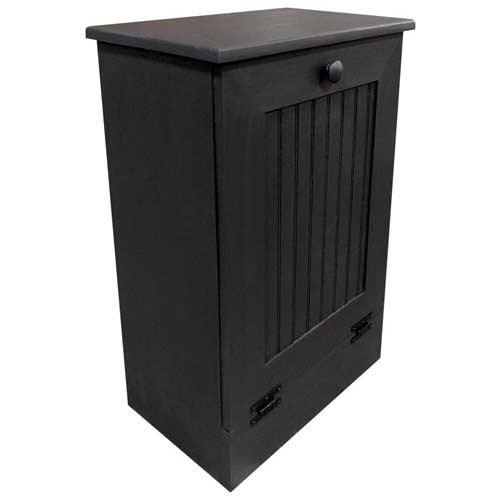 The Sawdust City garbage cabinet is a single compartment waste bin for multi-purpose use. The trash can holder is made of sturdy wood and it has a modern rustic style. The cabinet is made in the USA and it is shipped with a 9 gallon placit container.
Trash can included: Yes
Color options: Multiple
Material: Solid Knotty Pine
Dimensions: 20 x 12.5 x 30.25 inches
---
Sleek looking trash and storage cabinet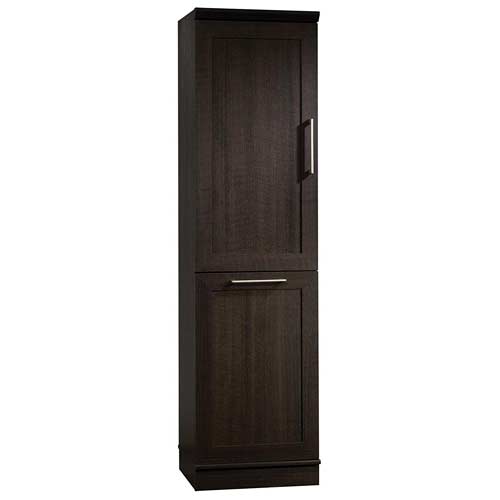 The Sauder Homeplus storage cabinet is a very nice looking tall kitchen cabinet. The storage chest features a two compartments.  One has a tilt-out door that reveals a single trash can. On top is a larger compartment with two adjustable shelves to store multiple items.
Trash can included: Yes
Color options: Dark oak
Material: Dakota oak finish
Dimensions: 18.82 x 17.01 x 71.18 inches
---
High quality garbage cabinet with a storage shelf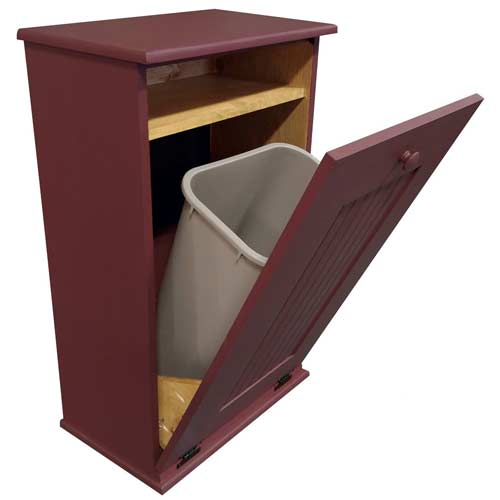 The Sawdust City trash cabinet features a tilt-out compartment for a trash can and also an extra compartment for storage. The modern rustic looking kitchen waste bin is made in the USA and contains a single coat of flat paint, which gives it an aged feel.
Trash can included: Yes
Color options: Multiple
Material: Solid Knotty Pine
Dimensions: 22.5 x 13.5 x 35.75 inches
---
A functional hamper that can be used as trash can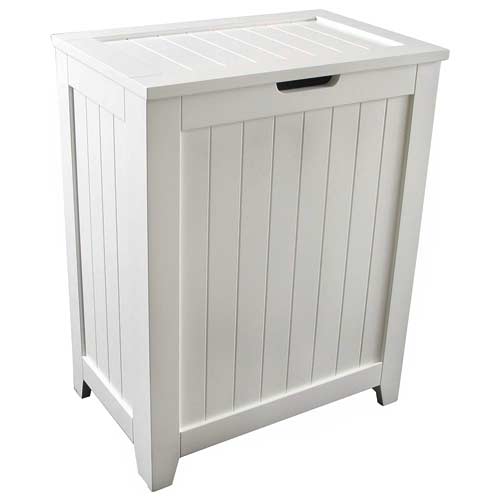 The Redmon KD Contemporary hamper is a cabinet with a top-hinged lid, so perfect when you don't want a tilt-out door. This wastebasket is meant for collecting dirty laundry, but it can also be used as a trash can. It is easy to assemble and feels durable. The Redmon hamper is also available in a nice dark espresso color, maybe that suits your style more than this white edition.
Trash can included: No
Color options: White
Material: Wood
Dimensions: 18 x 11.2 x 23.2 inches
---
All-in-one kitchen cabinet with trash can holder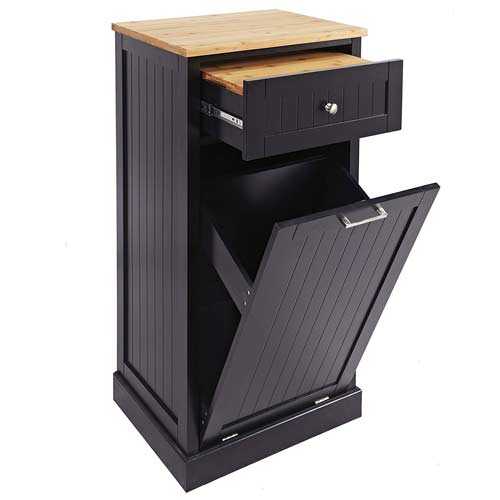 The Seven Oaks Free Standing Tilt Out Trash Cabinet is a multifunctional kitchen cabinet. On top you can place a microwave or small oven. The drawer contains a bamboo cutting board, that is removable and below you can accommodate a trash can inside the tilt-out garbage can holder.
Trash can included: No
Color options: Black / White
Material: Wood
Dimensions: 32.3 x 14.6 x 20.1
---
Fully assembled and sturdy trash cabinet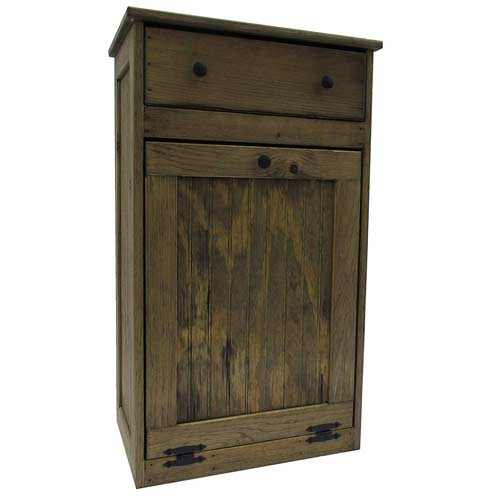 The Dicks Wood Creations trash bin is a cabinet with a drawer. The solid pine framed kitchen garbage cane ships fully assembled and it also includes a plastic bin for your trash. The wood smells really nice and it really looks like a beautiful piece of furniture, rather than just a trash or recycling bin.
Trash can included: Yes
Color options: Rustic walnut
Material: Solid pine
Dimensions: 14 x 21 x 36 inches
---
Tilt-out trash can with a hinged top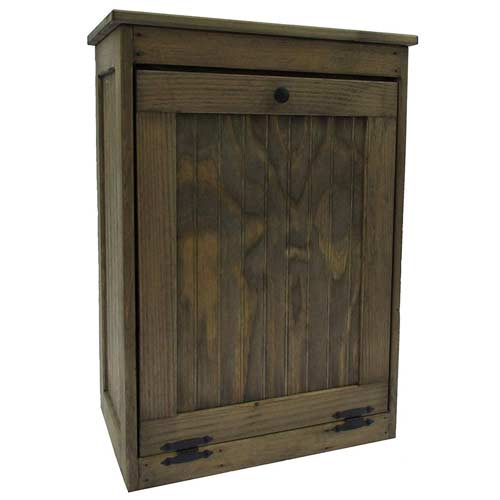 The Dicks Wood Creations trash cabinet is a solid pine framed trash can cabinet. It arrives completely assembled so you don't have to do any assembly work. The included plastic trash bin is hidden behind a tilt-out door. You can also use the hinged top to get excess to the garbage bin.
Trash can included: Yes
Color options: Rustic walnut
Material: Pine wood
Dimensions: 14 x 21 x 30 inches
---
A tilt-out trash cabinet adds to your decor, yet it is also functional and convenient to use.
---
Pull-out or tilt-out waste bin?
Maybe you are looking for a different solution for to hide your trash can instead with of a separate cabinet. Another very popular alternative is a built-in pull-out trash can that you install inside one of your existing kitchen cabinets. The advantage here is that you keep your trash and containers out of sight plus you don't waste any additional floor space in your kitchen.
The only two downsides of a pull-out trash can are that you have to sacrifice one of your kitchen cabinets plus you need to mount a frame inside the cabinets with a few screws. Find out more about these built-in trash and recycling bins here.
What to look for when buying a free standing waste bin?
Not sure how to choose the right trash can cabinet? Then check our short guide below.
More about trash bin cabinets
Navigation:
---
What is a garbage can cabinet?
A trash can cabinet is a piece of moveable furniture that contains one or more garbage cans. It is used for hiding trash cans out of sight in the kitchen. The cabinet is often made of wood, which suits very well in rustic or country style kitchen decors and contains one or two tilt-out doors to excess the trash can(s).
It is easy to use, beautiful and functional as well.
The advantage of a trash can cabinet is that you can use the cabinet to store other items as well. Most of the cabinets come with extra compartments. A freestanding cabinet is an alternative to the pull-out kitchen trash cans that are mounted inside one of your kitchen cabinets, for instance under the sink.
Read more about kitchen garbage cans.
What is a tilt-out door?
Unlike a standard cabinet with vertically hinged doors that open to the left or right, a kitchen trash cabinet has a tilt-out or tip-out door mechanism where the hinge of the door is mounted on the bottom part of the cabinet. This means that you tilt the door of the cabinet towards you, so you can dispose of your trash (and recyclables) inside the container.
---
Why use a cabinet for trash and recyclables?
The most important reason for people to buy a separate cabinet for their trash is the looks of the cabinet. They prefer the appeal of a wooden cabinet more than a stainless steel trash can or recycling bin for instance. Besides you keep the waste containers out of sight and this is especially advantageous when you don't like the looks of a trash can in general.
Keep in mind that a separate cabinet for trash cans requires some extra floor space in your kitchen. In comparison to a normal trash can, the footprint of a cabinet is a bit larger too. For a space-saving solution in your kitchen, we recommend a built-in trash can that is installed in one of your kitchen cabinets.
---
Trash cabinet or built-in trash can?
When you look for a trash can cabinet you unavoidable also come across built-in trash cans. Why would you choose one over another? The main advantage of a trash bin cabinet is that the cabinet can really compliment your home interior design, appliances, and kitchen decor. The main advantage of a built-in trash can is that this is the most minimalist approach of hiding your trash out of sight.
Install the same knobs or handles on the door(s) of the trash cabinet, so it suits the style of your kitchen even better.
The disadvantage of a cabinet is that it requires some floor space and possible you can't find the right design that fits your interior. The disadvantage of a built-in trash bin is that it needs to be installed inside a kitchen cabinet, so this takes up valuable storage space for other kitchen items.
---
What are the pros and cons?
Pros:
Dog proof trash can – Because there is no lid on top of the cabinet, there is no way a dog is able to enter the trash bins.
Store more than just trash – Most cabinets contain drawers and extra compartments to store other items besides your trash bins. These extra storage compartments are also convenient for storing trash bags or other related items. You can also place items on top of the cabinet of course, such as a photo frame.
Trash can in disguise – "Where is your trash can?" That question will be asked frequently by your guests. The trash can is nicely hidden in a nice looking cabinet, so you have your trash out of sight which looks neat, lean and decorative.
Cons:
Assembling – The trash cabinet needs to be assembled before you can use it. Most of the cabinets are pretty easy to put together. But the assembly is something to be aware of, especially when you are not very handy.
Made of wood – Most of the cabinets are made of wood, this gives your trash can a rustic 'farmhouse' look. Not everyone likes this, especially when you have a modern looking kitchen. Secondly, wood is less easy to clean, so it is less hygienic in use compared to a stainless steel trash can. Lastly, a wooden cabinet can have a strong odor because of the paint.
---
Can you use a hamper as a garbage can?
Yes, some people use a hamper as their (main) trash can. A hamper is a basket-like receptacle. Most of the time it is used to store clothing and linen, that is why it is also known as a laundry hamper. But this receptacle can also function as your kitchen trash can. Make sure that the hamper contains compartments where you can place and hide your own plastic garbage containers in or if it fits a regular sized trash bag.
---
Does it come with included plastic waste bins?
Before buying a waste cabinet it is advised to make sure the cabinet comes with plastic trash containers. When the containers are not included you can also buy them separately. Check the dimensions of the compartments of the trash cabinet to find out which waste containers will fit. You can also reach out to the manufacturer for recommendations.
What size bin does fit inside the cabinet?
Most trash cabinets require a 9-gallon plastic bin that fits 13-gallon trash bags. You can also use solely trash bags instead of a plastic trash can inside the cabinet, but be aware that the compartments of the cabinet are generally made of wood, so these are less easy to clean which can be less hygienic.
---
Single or double compartment trash can cabinet?
What type of waste do you want to discard with your trash cabinet? When buying this piece of furniture you can consider a single or dual compartment cabinet. When you use single compartment trash can you can only dispose of one waste stream, for instance, regular garbage, organic food waste or your sorted recyclables. When you want to use your trash cabinet as a recycling station in your kitchen it is recommended to opt for a double compartment cabinet so you can sort garbage and recyclables with one receptacle.
---
More inspiration at Pinterest
Check out the following boards on Pinterest for your inspiration. There are also a couple of DIY projects you can find on Pinterest for making your own trash cabinet. These DIY projects are really fun to do. You can transform an excisting cabinet into a garbage can cabinet, or you can make one of scratch. In this case you can also reuse old wood, which is very eco-friendly.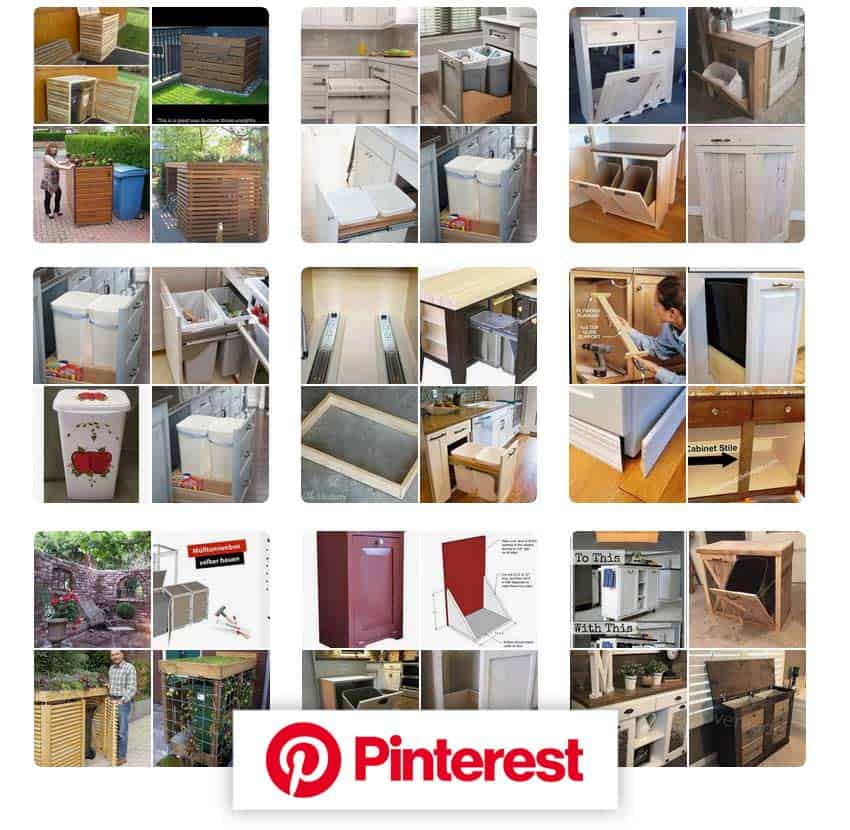 ---
DIY garbage can cabinet
Do you want to make your own trash can cabinet? Then look at one of the DIY projects below:
---
Step Up:
Recycle

, Reuse &

Reduce

The three arrows of the recycling symbol represent the three main stages of the recycling process: recycling, reusing and reducing. Together the arrows form a closed loop. Step up and implement eco-friendly replacements in your daily life.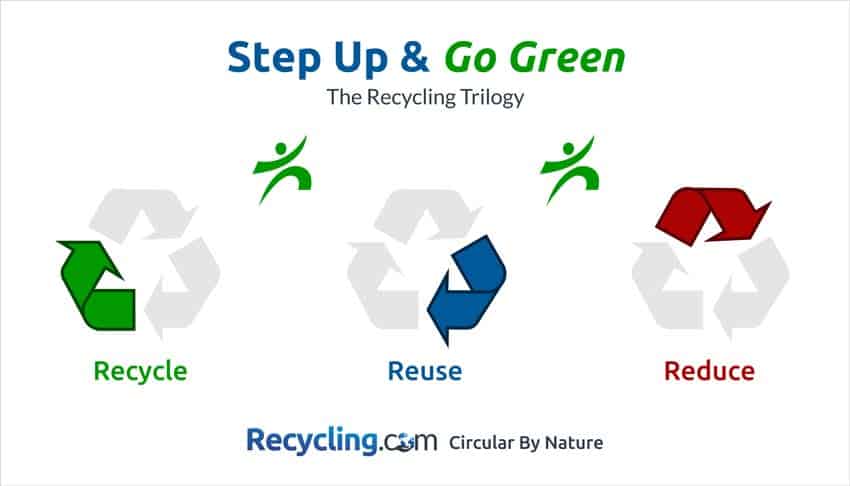 Join the movement! Step Up the waste hierarchy together to a goal of Zero Waste.
By Recycling.com/ 11 January 2020 Shares