Trash Can Cabinets (Tilt Out) for the Kitchen
Disclosure: This article contains affiliate links. If you click on a product and make a purchase, we may earn a commission – learn more.
A freestanding tilt-out cabinet saves space and hides your trash
Do you want to keep your trash can out of sight but don't have enough cabinet space? Then a tilt-out kitchen trash can cabinet is a great product since this beautiful piece of furniture helps to hide your recycle bin and trash out of sight in your kitchen. These wooden trash bins not only add to the decor of your house but also offer extra storage space and help you to conveniently sort your trash and recyclables.
There are options for both single and double trash can cabinet available in various colors, sizes and styles such as rustic, modern, country or farmhouse style. This wide variety of options ensures that you will find one that suits you.
Top 10 Kitchen Trash Cabinets
---
Top 5 Tilt Out Garbage Cabinets
The recommended products below contains a list of trash can cabinets that you can buy on Amazon. Of course, there is not one best cabinet trash can, because that all depends on your preferences. This list is arranged considering the number and quality of customer reviews.
---
Elegant all-in-one kitchen cabinet with drawer and cutting board

#1 Best Seller
The Seven Oaks Free Standing Tilt Out Trash Cabinet is a stylish and multifunctional kitchen cabinet with drawer. The modern design blends in well with many decors and the painted lacquered finish is water and wear-resistant. Besides storage space for a garbage bin, the cabinet also includes a drawer with a removable cutting board. The height of the organizer cabinet is comparable to the height of a standard kitchen counter, this means you can save counter space by using the cabinet as cutting area or to store items on. We recommend the Knape & Vogt QT50PB-P plastic trash can.
Trash can included: No
Color options: Black
Material: Wood
Dimensions: 35.24h x 13.39d x 20.08w inches
---
Best affordable wooden tilt out cabinet

The U-Eway trash can is a solid MDF wooden tilt out trash cabinet with drawer. Its surface is water- and moisture-proof because of the special coating. The cabinet is strong and stable enough to place a microwave or coffee machine on, the tabletop can bear 66 lb. Inside the drawer you can find a removable cutting board made from natural bamboo. This trash can saves up space and is a simple solution to hide trash in your kitchen. The package includes the kitchen vanity, a pack o assemble tools and a user manual.
Trash can included: No
Color options: White or black
Material: MDF wood
Dimensions: 35.4h x 20.5d x 13.5w inches
---
Modern and simple cabinet that is durably constructed

The Seven Oaks free standing trash cabinet is solid, stable and stylish. It is easy to assemble and dresses up any area in your home. The tilt bin organizer cabinet comes with child safety anti-tipping hardware and the painted lacquered finish is water and wear-resistant which makes the cabinet easy to clean. We recommend the Knape & Vogt QT50PB-P plastic trash can for this wooden trash can.
Trash can included: No
Color options: Multiple
Material: Wood
Dimensions: 32.28h x 14.57d x 20.08w inches
---
Farmhouse and coastal style kitchen cabinet with drawer

The Baxton Studio Monica Kitchen Cabinet is a simple and elegant solution to maximize your kitchen space. This cabinet is taller than the regular tilt-out garbage can. The wooden top offers a convenient prep and serving surface, and you can also use the top to place kitchen appliances on. The cabinet has a grey color and is paneled on all sides. Assembling this cabinet is a bit of a challenge but the result will add charm to your kitchen. There is no trash can insert included, customers on Amazon recommend the Rubbermaid Commercial Fg295700 container.
Trash can included: No
Color options: Dark gray
Material: Wood
Dimensions: 40.00h x 16.54d x 20.00w inches
---
Handmade tilt out garbage cabinet with a rustic style

The Peaceful Classics Pull Out Trash Can Cabinet made of sturdy pine wood comes fully assembled and with a trash basket. This cabinet is a piece of Amish craftsmanship and thus it will stand the test of time. It really is a beautiful piece of furniture and the drawer makes is easy to organize or store small items. You can use the area on top to place items on as well, such as a microwave or something decorative.
Trash can included: Yes
Color options: Multiple
Material: Wood
Dimensions: 34.00h x 12.75d x 21.50w inches
---
A tilt-out trash cabinet adds to your decor, is functional and convenient to use.
---
Pull-out or tilt-out waste bin?
Maybe a tilt-out trash cabinet isn't the right solution for you to hide your trash. A pull-out trash can might suit you and your kitchen better. The main difference between the tilt-out and built-in trash can is that a built-in trash can won't use up any kitchen floor space.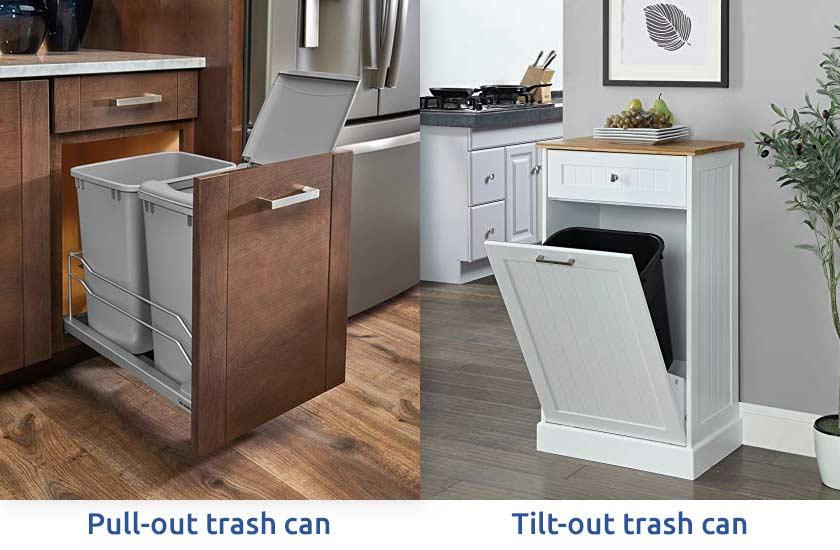 This is because you install the bin inside one of your existing kitchen cabinets. Just like the tilt-out option these pull-out trash cans are a great solution for hiding and help you to recycle.
The only two downsides of a pull-out trash can are that you have to give up one of your kitchen cabinets and that you need to mount a frame inside the cabinets with a few screws. Find out more about these built-in trash and recycling bins here.
---
Want to learn more about free-standing trash bin cabinets?
More about trash bin cabinets
Navigation:
---
What is a garbage can cabinet?
A trash can cabinet is a piece of moveable furniture that contains one or more garbage cans and is used for hiding trash cans out of sight in the kitchen. One of the advantages of a garbage can cabinet is that you can also use it as storage space when it comes with extra compartments, such as a drawer.
It is easy to use, beautiful and functional as well.
What is a tilt-out door?
A tilt-out door is a door where the hinge of the door is mounted on the bottom part of the cabinet, meaning that you tilt the door of the cabinet towards you. This makes it easier to dispose of your trash and recyclables inside the container.
---
Why use a cabinet instead of a standard bin for trash and recyclables?
Most people buy a cabinet because it saves space and it keeps trash cans hidden. But another common reason for people to buy a separate cabinet for their trash is the appeal it has. A wooden cabinet suits and compliments home decors better than a stainless steel trash can for example.
A standard trash can requires space and a tilt-out trash can cabinet is a piece of furniture that holds trash and offers storage. If you do not want your waste to take up any floor space in the kitchen, a pull-out trash can is the optimal space-saving solution because it is installed inside one of your existing cabinet drawers.
---
What are the pros and cons?
Pros:
Dog proof trash can – Because there is no lid on top of the cabinet, there is no way a dog is able to enter the trash bins.
Store more than just trash – Most cabinets contain drawers and extra compartments to store other items besides your trash bins. You can also place items on top of the cabinet of course, such as a photo frame.
Trash can in disguise – "Where is your trash can?" That question will be asked frequently by your guests. The trash can is nicely hidden in a stylish looking cabinet. It looks neat, lean and decorative.
Ads to your home decor  – A trash can cabinet is not just a trash can but also a piece of furniture. Because cabinets are available in a variety of styles, there will most likely be one that complements the rest of your interior.
Cons:
Assembling – Some garbage can cabinets need to be assembled before you can use it. Most of the cabinets are pretty easy to put together. But the assembly is something to be aware of, especially when you are not very handy.
Made of wood – Most cabinets are made of wood, which is less easy to clean than a stainless steel trash can for example. However, some tilt bin cabinets have a lacquered finish that makes cleaning easier. Another possible con to be aware of is that some wooden cabinets can have a strong odor.
---
Can you use a hamper as a garbage can?
Yes, some people use a hamper as their (main) trash can. A laundry hamper is a basket-like container mostly used to store clothing and linen. However, a laundry hamper is perfectly usable as a trash can cabinet. It is not far of from a regular kitchen cabinet when it comes to looks. You do have to make sure that the hamper contains compartments where you can place and hide your own plastic garbage containers in or make sure that it fits a regular sized trash bag.
---
Does it come with included plastic waste bins?
Before buying a waste cabinet it is advised to make sure the cabinet comes with plastic trash containers. When the containers are not included you can also buy them separately. Check the dimensions of the compartments of the trash cabinet to find out which waste containers will fit. You can also reach out to the manufacturer for recommendations.
What size bin does fit inside the cabinet?
Most trash cabinets require a 9-gallon plastic bin that fits 13-gallon trash bags. You can also use solely trash bags instead of a plastic trash can inside the cabinet. Be aware that the compartments of the cabinet are generally made of wood, so these might be less easy to clean.
---
Single or double compartment trash can cabinet?
Whether or not you buy a single or double compartment trash can cabinet depends on if you want to separate different waste streams. For instance, regular garbage and organic food waste or recyclables. A double compartment garbage bin cabinet makes separating different types of waste easier.
Some people choose to use the dual organizer cabinet not only for waste but also to store dog or cat food for example.
Keep in mind that a dual compartment cabinet takes up more floor space in comparison to a single compartment cabinet. It is recommended to measure the needed space in your house before you order the cabinet. When a double wooden trash can is too big, you can opt for two single compartment trash cans and place them individually in your house.
---
Tilt out trash bin dimensions
What are the average measurements of a (single compartment) trash can cabinet? We have researched the most popular cabinets to find out the average dimensions.
Height
A trash can cabinet is generally 32 inches tall. To put this in perspective: the average kitchen countertop height is about 36 inches.
Width
The average width of a single compartment trash can organizer cabinet is 20 inches. A medium-sized cutting board is normally between 14 and 18 inches wide and therefore fits perfectly on top.
Depth
The average depth of a trash can cabinet is 14 inches. For a sheet of A4 this is 11,7 inches, meaning that a cookbook or notepad that are within the size of a piece of A4 paper would fit well.
It can be concluded that a cabinet has enough space on top to place items on or to use it as prepping space for example. Additionally, the average depth of a cabinet is not that deep that it will take up a big part of a room and be in your way.
If you prefer other or specific dimensions, you can check out the dimensions of all the cabinets in the top 10 above as they are listed as info next to every picture. There is most likely a cabinet available that suits you and your preferences.
---
DIY trash can cabinet plans
There are a few reasons why you might want to make your own trash bin cabinet. Maybe because you can't find an existing cabinet that matches your style or just because you like to work on these kinds of projects.
On the internet there are several tutorials to help you build your own tilt out trash bin at home. So, how to make your own tilt bin cabinet? Take a look at the tutorials below.
Make your own Garbage Cabinet
The Youtube video shows and explains how to make a trash can cabinet yourself. You can also find the plans through the link in the description.
Keep in mind that the tools used in this video to build the cabinet are professional and the construction is relatively complicated. This means that making your own kitchen garbage can storage requires time, skill and investment in the required tools and materials.
More useful DIY projects
If a challenging project like this is not what you're looking for, but you also can't find the right cabinet online, a solution might be to install the same doorknobs or handles that your kitchen cabinets have on the tilt-out door and drawer of your garbage can cabinet. This way, the cabinet will fit in with the rest of your interior.
---
More inspiration at Pinterest
Check out the following boards on Pinterest for your inspiration. There are also a couple of DIY projects you can find on Pinterest for making your own trash cabinet. These DIY projects are really fun to do. You can transform an existing cabinet into kitchen garbage can storage, or you can make one of scratch. In this case you can also reuse old wood, which is very eco-friendly.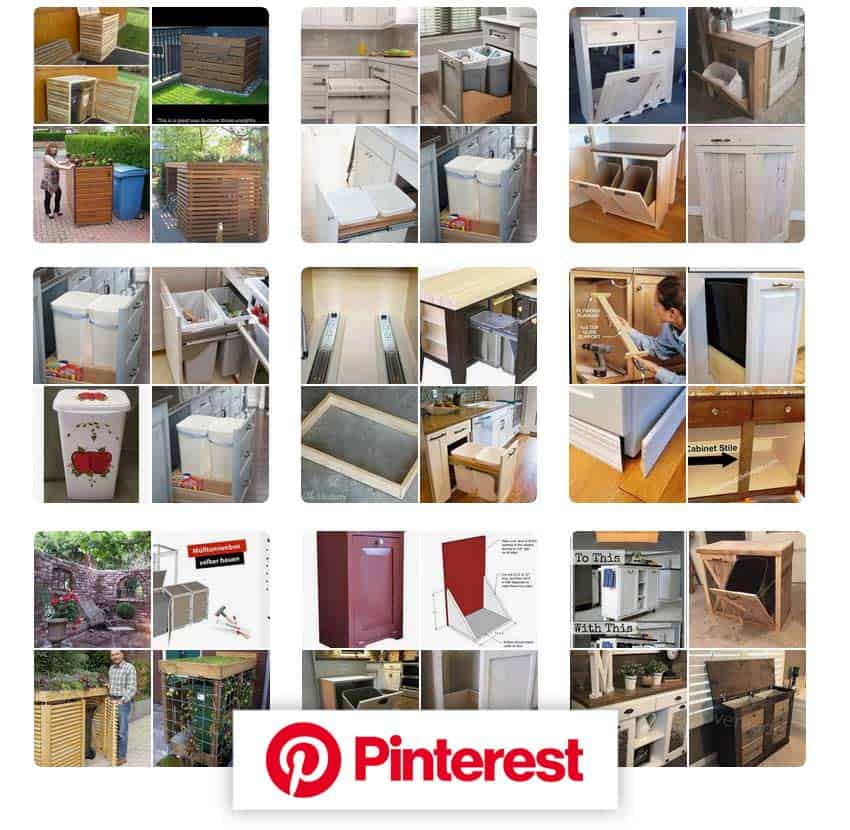 ---
Step Up:
Recycle

, Reuse &

Reduce

The three arrows of the recycling symbol represent the three main stages of the recycling process: recycling, reusing and reducing. Together the arrows form a closed loop. Step up and implement eco-friendly replacements in your daily life.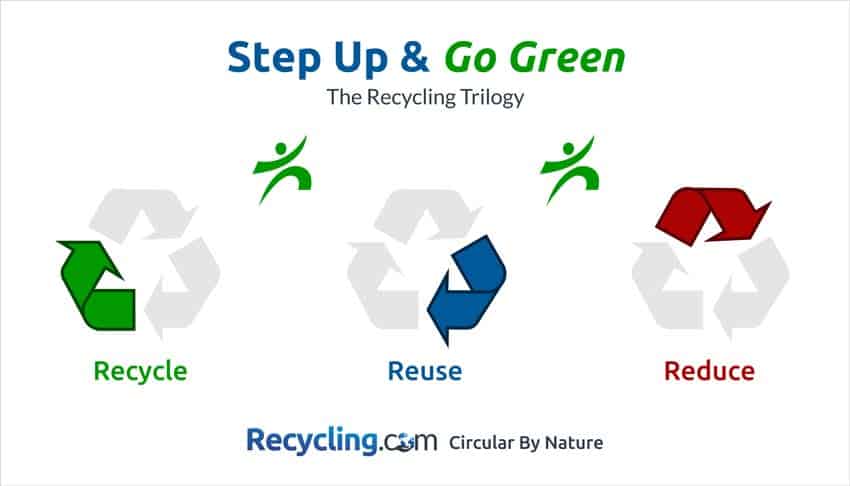 Join the movement! Step Up the waste hierarchy together to a goal of Zero Waste.
By Recycling.com/ 1 September 2020 Shares