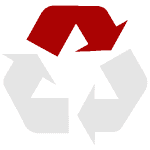 REDUCE

| Close the Loop
Turn Tap Water Into Fresh & Fizzy Soda
Step Up & Reduce Plastic Soda Bottles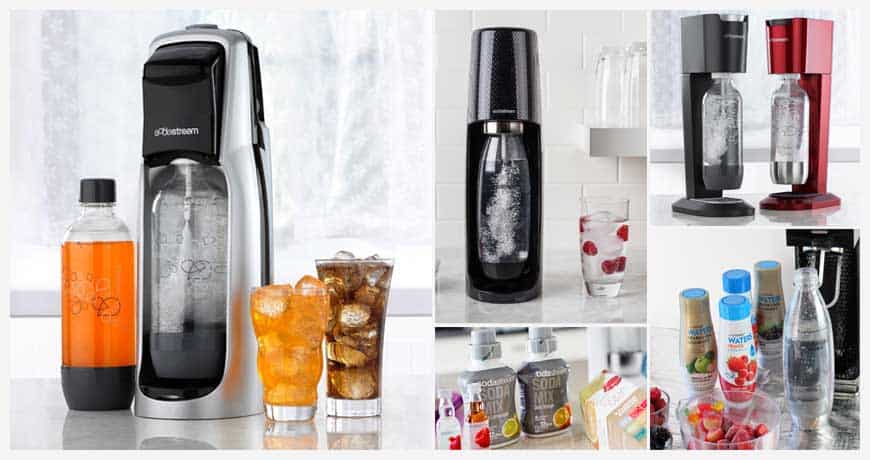 5 Best Soda Makers for Home
Save on Calories & Save the Environment
---
Simple & Compact Soda Maker

The SodaStream Source is one of the most popular soda makers. The soda machine comes with a 1L bottle, a CO2 cartridge and some sample syrups to get you started. You snap in the soda bottle easily thanks to the Snap-Lock bottle technology. Press on the top of the SodaStream and the LED indicators show the level of carbonation.
Bottle size: 1 liter (BPA-free)
Dimensions: 10 x 5.5 x 17 inches
Requires electricity: Battery for LED's
Color: Multiple options
---
Turn any Beverage in a Fizzy Soda

With the DrinkMate you can carbonate everything with the Fizz Infuser. You can add bubbles to every beverage that lays in your fridge. So you can carbonate water but also wine or iced tea. The handsom device makes carbonating drinks fun because it is easy to use. In comparison with a SodaStream you can add flavours before carbonating it.
Bottle size: 1 liter
Dimensions: 5 x 11 x 17 inches
Requires electricity: No
Color: Multiple options
---
Convenient Soda Maker With Great Fizz

The SodaStream Genesis is a light weight and sleek looking soda maker for your home. This SodaStream comes with a 1 liter reusable carbonating bottle and a mini CO2 carbonator. Screw in the bottle and press the button until you hear a loud buzz which indicates that the plain water is now carbonated. Unscrew the bottle, flavor your water and enjoy your own soda.
Bottle size: 1 liter (BPA-free)
Dimensions: 9.2 x 5.3 x 16.4 inches
Requires electricity: No
Color: Multiple options
---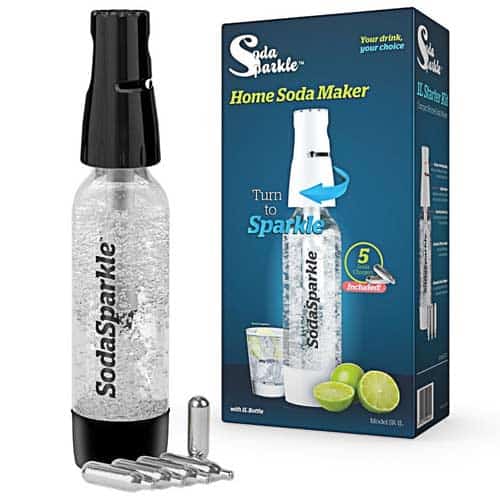 Affordable & Easy Way to make Soda Water

With the SodaSparkle Home Soda Maker Kit you can create sparkling water and sodas at home with your family. The device has a small and compact design and doesn't require electrical power. Fill the 1 liter bottle with flat tap water and use one CO2 soda charger to carbonate one bottle of water. Add a flavour you prefer and enjoy your home made soda.
Bottle size: 1 liter
Dimensions: 12.7 x 6.6 x 3.9 inches
Requires electricity: No
Color: Multiple options
---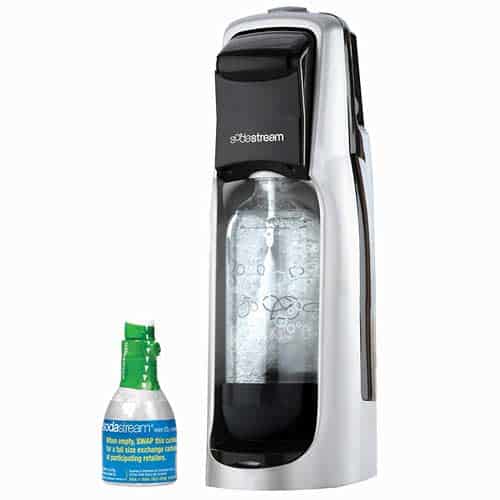 Great Fizz for a Great Price

The SodaStream Jet is an easy to use soda maker to turn your tap water in to sparkling water or a home made soda. Fill the reusable carbonating bottle with plain water and carbonate it with the SodaStream Jet. With a buzz-sound the soda maker let's you know when your sparkling water is done. You can add all kinds of flavours, or just enjoy it natural.
Bottle size: 1 liter (BPA-free)
Dimensions: 10 x 5.5 x 17 inches
Requires electricity: No
Color: Multiple options
---
All soda maker machines
Not the sparkling water maker you were looking for? Find all soda makers on Amazon.com. So you can make carbonated water at home. A soda maker prevents plastic polution and it saves you money on the long run.
---
Flavor Mixes and Soda Syrups
Turn your sparkling water into an amazing and flavourful home made soda by adding a soda syrup. These syrups or flavor mixes come in all kinds of flavours, such as cola, orange and lemonade. It is important to check if you need to add the syrup before or after carbonating your water with your soda maker machine.
We've selected some popular flavour syrups: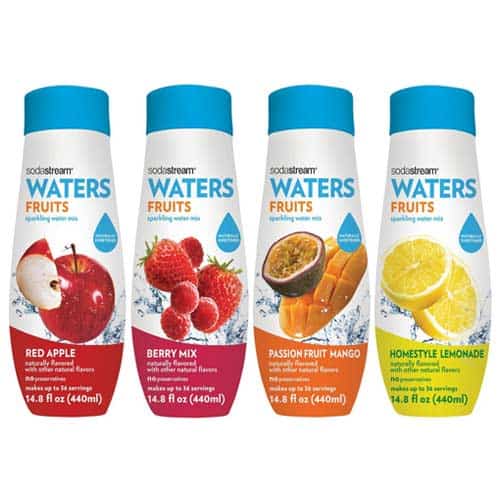 By: SodaStream
SodaStream Fruits Sparkling Drink Mix Variety Pack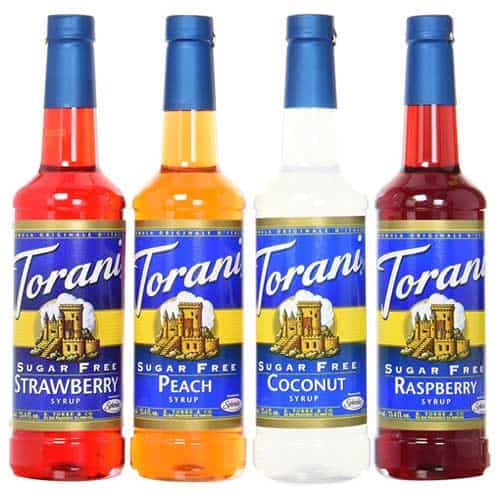 By: Torani
Torani Sugar Free Syrup Variety Pack
By: Kool-Aid
Kool-Aid Drink Mix 4 Flavors Variety Pack
By: Ramune
Ramune Japanese Soft Drink Mix Variety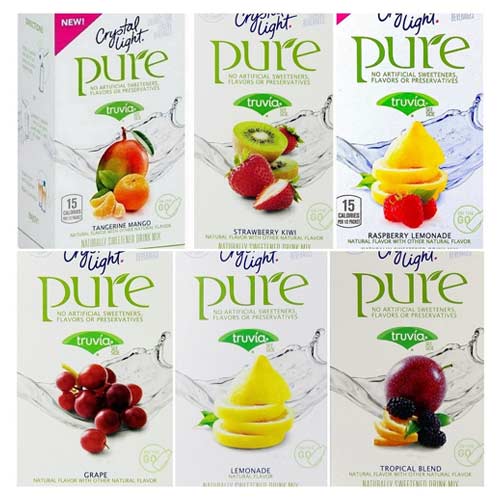 By: Crystal Light
Crystal Light Pure On The Go Drink Mix Variety Pack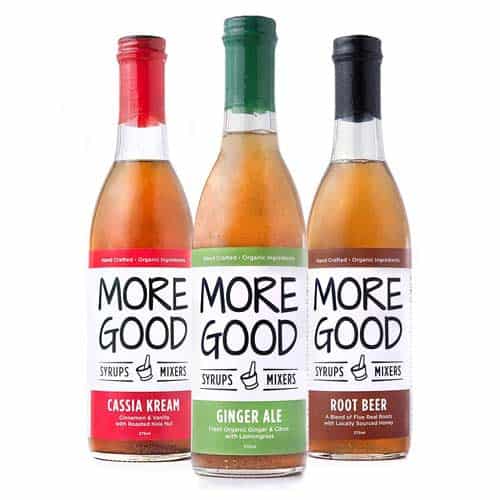 By: Drink More Good
Drink More Good All Natural Soda Syrups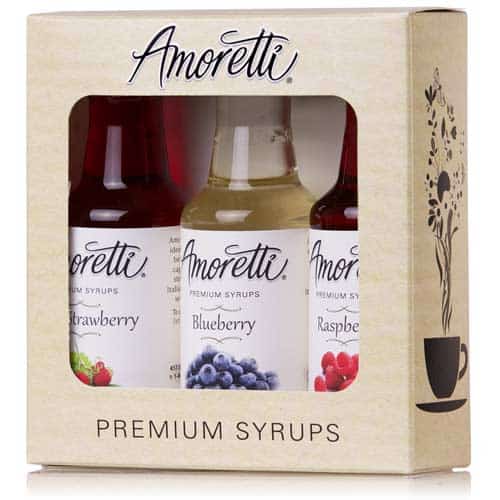 By: Amoretti
Amoretti Premium Berry Syrups 50ml 3 Pack
See more syrups and soda mixes
Why buy a Soda Maker?
Making soda's at home with a soda maker reduces the use of plastic soda bottles. A soda machine eliminates the need of single-use plastic bottles because you reuse the carbonating bottle over and over again.
Only 2% of plastic is closed-loop recycled in the world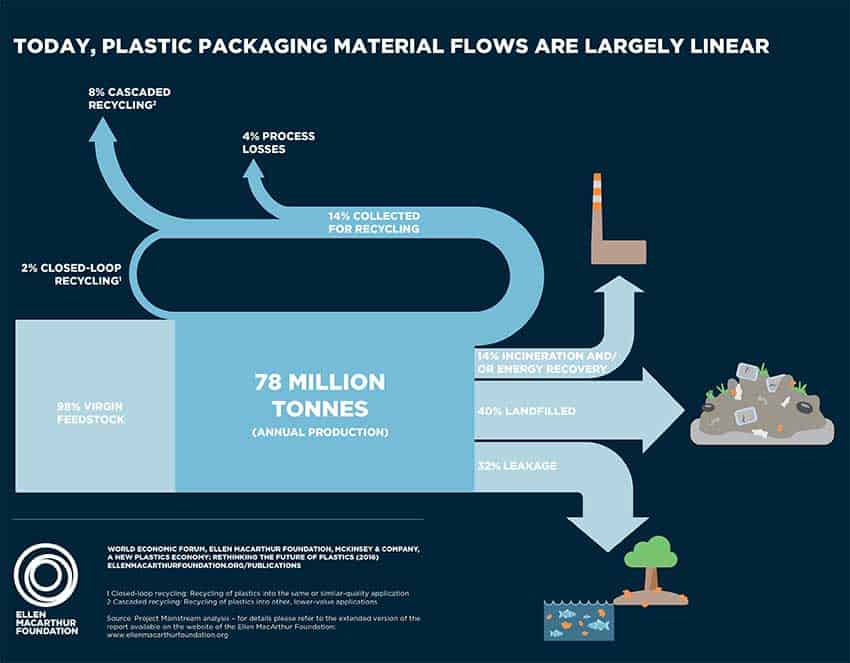 Step up
Stop disposable plastics and stop the plastic polution caused by bottled water and bottled soda drinks. By purchasing a soda maker or a reusable water bottle you make a small step with a big and positive impact for you and the rest of the world. Drinking sparkling water or homemade soda from your reusable bottle looks stylish, it is tastier and it is better for our planet than buying soda bottles in disposable plastic.
---
Soda Maker Guide
What is a soda maker and how does it work?
A soda maker turns regular tap water into carbonated water by adding CO2. This gives the water the well-known 'fizz' or 'sparkling' that most people enjoy and love in the beverage. Most soda makers only require flat water, a CO2 canister and a syrup to make soda. There is no need for electrical power, so you can place most soda maker machines everywhere in your house.
Soda maker video's
SodaStream Source
SodaSparkle
Drinkmate
Why use a soda maker?
What are the advantages of soda makers?
It reduces plastic waste caused by single-use soda bottles
You can make your own unique soda drinks
It is fun to make soda's with your family
Save storage space and only make soda when you want it
Always fresh sparkling water and fresh soda
Drink less calories and less sugar
Save money and save on trips to the grocery store
The most important thing is that you reduce your environmental footprint by making your own soda's at home. Because of the soda maker you eliminate single-use plastic bottles in your household.
Soda maker companies and brands we like
Take a look at some of the manufactures of soda makers. The links below take you to the official websites:
Interesting articles about soda makers:
"Sodastream owners save 550 plastic single-use bottles a year."
---
---
Step Up:
Recycle

, Reuse &

Reduce

The three arrows of the recycling symbol represent the three main stages of the recycling process: recycling, reusing and reducing. Together the arrows form a closed loop. Step up and implement eco-friendly replacements in your daily life.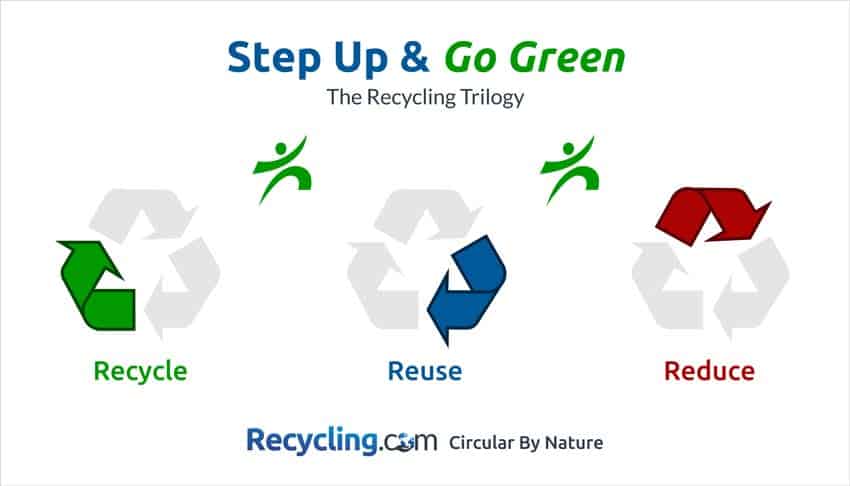 Join the movement! Step Up the waste hierarchy together to a goal of Zero Waste.
By Recycling.com/ 26 July 2017 Shares