Best Sparkling Water Makers
Disclosure: This article contains affiliate links. If you click on a product and make a purchase, we may earn a commission – learn more.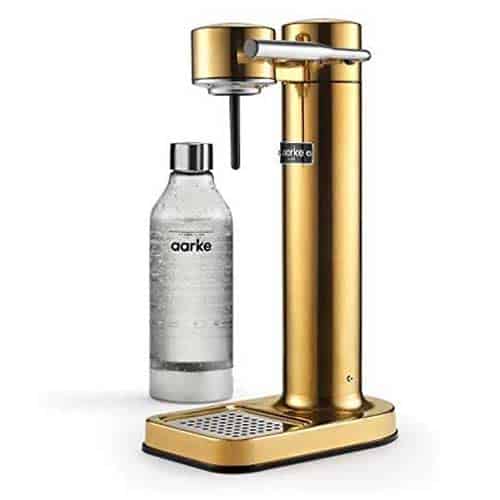 Did you know you can make your own sparkling water at home, and even add a flavor to it? All you need is tap water, some tasty syrups, and a soda maker machine.
Make your own sparkling water at home with a carbonated water maker. Using soda maker at home is more practical than carrying heavy water bottles from the grocery store. It is also more environmentally friendly than buying single-use plastic bottles with sparkling water or soda. The bottles used for a soda maker are reusable which reduces plastic waste.
Top 10 Soda Makers
---
Top 7 Carbonated Water Makers
Choosing a soda maker for your household is a choice that depends mainly on the looks of the device and cost. The leading brand for soda makers is SodaSteamer, this brand is so popular that many call soda makers from other brands, also a 'SodaStream'. Below we have created a list of 7 good soda makers that we thought you may like.
---
Stylish industrial look design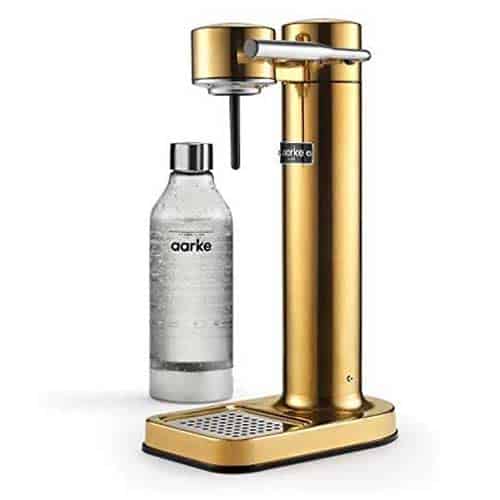 The Carbonator II is a great quality and stylish looking carbonated water maker that all strives to be compact and functional.
This kit includes: the soda maker, a reusable carbonating bottle and a user manual. The gas cylinder is not included in this kit.
Dimensions: 10 x 6 x 16 inches
Material type: Stainless Steel
Color: 4 different colours
---
Colourful retro styling
This cute and robust sparkling water machine is made to last with premium material and even has a soft-grip handle. It is also compatible with all SodaStream products.
This package includes: the soda maker, a large 60L CO2 cylinder and a 1L reusable carbonating bottle.
Dimensions: 11 x 7.9 x 17.9 inches
Material type: Premium die cast metal housing
Color: 8 different colors
---
Simplistic and functional design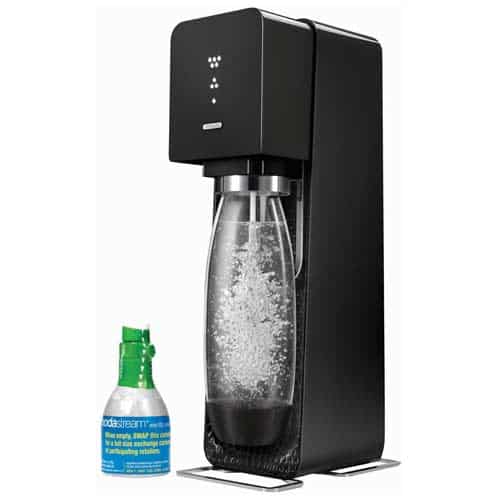 This is classic model for SodaStream. It features LED indicators, Snap-lock technology and doesn't even require electricity or batteries.
Kit includes: soda maker, mini CO2 carbonator, 1 Liter reusable carbonating bottle, 60 Liter mail-in discount.
Dimensions: 10 x 5.5 x 17 inches
Material type: Plastic
Color: Black or White
---
Available in fashionable colours
This cute modern machine turns tap water into sparking water within seconds, no electricity or batteries required.
This package includes: soda maker, 2x 60L CO2 cylinder, 2x 1 Liter reusable carbonating bottle and 2x Fruit Drops Flavours.
Dimensions: 8.1 x 8.1 x 18 inches
Material type: Plastic
Color: 5 different colors
---
Simplistic and compact design
DrinkMate designed their soda maker to quickly and easily carbonates any drink: water, juices, Iced tea and more.
This package includes the sparkling water maker, 1 liter reusable carbonating bottle, small 10L Co2 cylinder, and fizz infuser.
Dimensions: 8 x 5 x 16 inches
Material type: Plastic
Color: 3 different colours
---
Small stainless steel model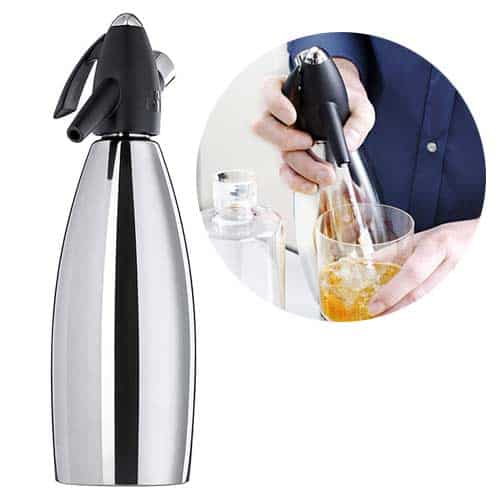 This soda maker has a high-quality stainless steel construction and working with small single-use cartridges rather than 60L cartridges.
It is a stylish alternative to a larger carbonated water maker for occasional rather than frequent users.
Dimensions: 4 x 4 x 12 inches approx.
Material type: Stainless steel
Color: Silver or Aluminium
---
Robust and durable model
This soda making machine makes fresh and sustainable sparkling water with the push of a button at home. No need to carry heavy water bottles from the grocery store anymore.
This package includes: soda maker, 60L CO2 cylinder, and a 1 Liter reusable carbonating bottle.
Dimensions: 9 x 6 x 17 inches
Material type: Plastic
Color: Black/Silver
---
In 2011 Americans used 50 billion plastic water bottles, 40 billion ended up in landfills.Recycling.com
---
Flavor Mixes and Soda Syrups
---
Replacement CO2 Cylinders
---
Extra Spare Bottles
---
Recommended Reusables:
Great that you are interested in reusable products. Step up your game even more by checking out other eco-friendly Reusables Products.
---
Soda Maker Guide
Although soda makers has been around for a while, especially in Europe, they are only really starting to trend now. So if you are new to the world of SodaStream, this guide will give you all the information you need to make an educated decision about buying a carbonated water maker.
Navigation:
---
What is a soda maker? What does it do?
A soda maker is a carbonated water machine that can be used to shoot CO2 into a reusable bottle with tap water to make carbonated, or sparkling drinking water. The machine does this without batteries or access to electricity, so it can be placed anywhere you like. All a soda maker needs to work is a full pressurized CO2 cartridge bottle, which can be bought in stores or online.
Sparkling water is not the only thing a soda maker can make for you. You can also use special concentrated syrups from an enormous variety of flavors to add flavor to your fresh, sparkling water. So you can really make your own refreshing
---
Reasons to get a soda maker machine?
There are environmental, practical and financial reasons why soda makers are a smart investment for any home where sparkling drinks is preferred over still beverages.
Environmental benefits of making your own sparkling water
The huge environmental benefit a Sodastream brings with it is that it replaces all those unnecessary single-use bottles from bottled water and bottled sodas that you have to purchase and drag home from grocery stores. Soda makers make all those (single-use) bottles unnecessary as it replaces them with reusable bottles that come in various sizes, shapes, colors and even materials, such as plastic or alternatively glass. You can make your carbonated water directly in these bottles, add a flavor if you like, and bring it with you where ever you go that day.
"SodaStream owners save 550 plastic single-use bottles a year."
SodaStreamUSA.com
Purchasing a sparkling water machine for your home will allow you to significantly reduce the amount of plastic waste you produce which ends up on landfills, or worse in our oceans.
Practical reasons to get a soda maker
Having a SodaStream or another carbonated water maker in your home will illuminate the need to purchase sparkling water or other sparkling soda beverages at the store. This saves you the effort of carrying heavy bottles to and from your car. It even saves you space in you trash can and ultimately allows you to bring out your trash less frequently.
The carbonation cartridges weigh around the same as one bottle of sparkling water from the grocery store, but one carriage will last you around 8 to 9 weeks, as it can make around 60 Liters or 16 Gallons of carbonated water.
Is SodaStream cheaper than buying soda?
A common question concerning is, are they cheaper than buying soda at the store? The simple answer is: in the long run yes, they are cheaper. Not by a lot, but they also bring many other (environmental) benefits with them.
Soda makers are a little like printers when it comes to pricing. The device itself is often surprisingly affordable but later you realized that the original cartridges are quite pricey.
A normal size cartridge for a sparkling water machine costs around $35, which sounds like a lot but one cartridge can make up to 16 gallons of sparkling water. That is around $2.20 per gallon of carbonated water. Not that bad after all, right?
---
Is a carbonation machine right for you?
Sparkling water machines are not the right choice for everyone. However, if you check four or more of the items listed below then a soda maker in your household can make you very happy.
You care about the environment and try to minimize the waste you produce.
You drink sparkling water and other sparkling drinks on a daily or bi-daily bases.
You dislike carrying heavy groceries to and from your car.
You and your family enjoy making your own drinks and mixing flavors.
You prefer drinking from reusable water bottles over single-use bottles on the go.
You like to know exactly what you are drinking and like to have control over sweetness.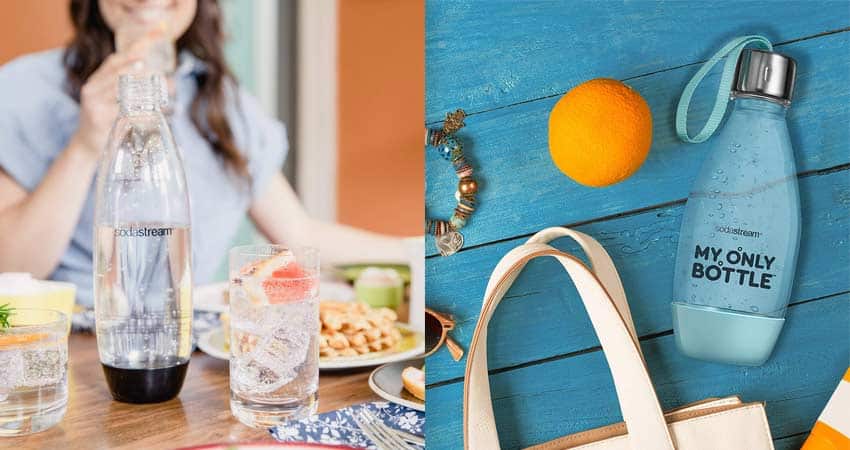 ---
Things to know before you buy a carbonated water maker
If you have decided to buy a soda maker, no matter the brand, the smartest thing to do is to purchase a bundle pack. By this we mean: buy a carbonated water machine that comes with a few CO2 cylinders and a few carbonation bottles or even with a few syrups. This way will save you some money and it will also ensure that you have everything you need to start using your carbonation machine immediately.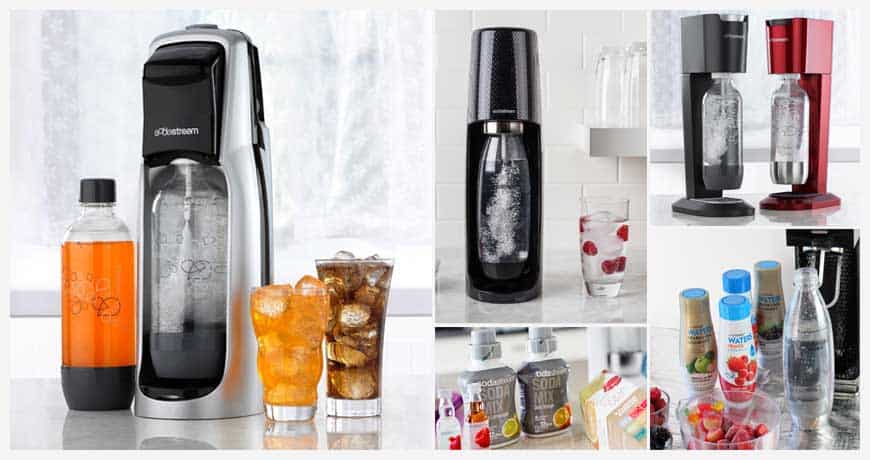 Another thing you should be aware of before purchasing your device is the "quality" of the bubbles. Just like any other soda, the amount of bubbles will disappear after several days. This means that you need to drink the soda within a few days after making it. That is different with buying soda from the store, that has a much longer shelve life because these bottles are vacuum-sealed.
Lastly, unfortunately, the carbonation cylinders will not last forever, after about 16 gallons of soda you will need to replace them, but this is quite a simple and fast process.
---
My personal experience with SodaStreamer
I remember having a soda maker at home when I was 5 or 6 years old, then for a long time didn't have one and now it has come back to our household. In my experience is it a machine that definitely facilitates your grocery shopping, but is also fun to use and test out different flavours of syrup with.
We currently have a SodaStream which it made of plastic. Unfortunately, this is noticeable when handling it, but it doesn't seem to influence the performance of the machine at all. We chose to invest in two glass bottles, rather than plastic one because they don't travel with them, so last longer and are also very good looking. We love that sparkling water maker doesn't rely on electricity and easy to move around the kitchen. Exchanging the cartridge is no big deal at all, but the high pricing of them is a little annoying.
Ultimately, I would invest in a sparkling soda maker any day of the year, but from now on I would pay more attention to finding one with premium materials, so that it doesn't feel so delicate anymore during use.
---
Step Up:
Recycle

, Reuse &

Reduce

The three arrows of the recycling symbol represent the three main stages of the recycling process: recycling, reusing and reducing. Together the arrows form a closed loop. Step up and implement eco-friendly replacements in your daily life.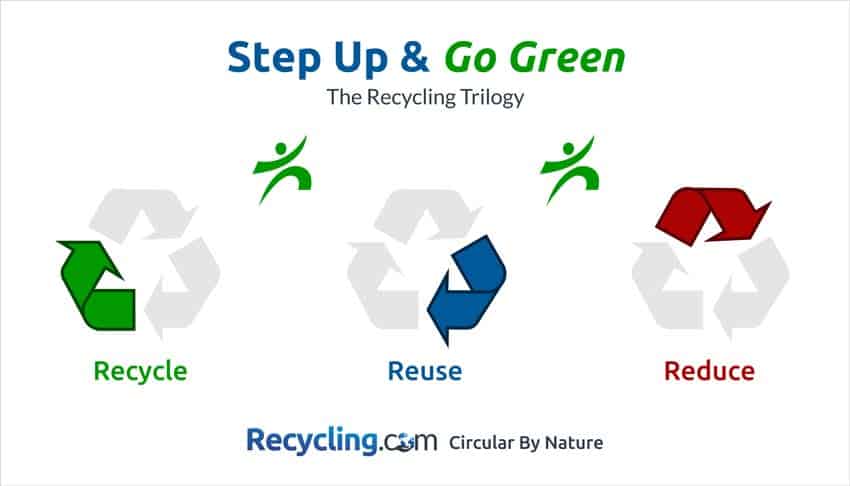 Join the movement! Step Up the waste hierarchy together to a goal of Zero Waste.