10 Paper Shredder Questions Answered (FAQ)
On this page, we answer 10 basic questions about paper shredders. Can you shred staples with every paper shredder? And what to do when a paper shredder overheats? Find out the answers below.
#1 | Can paper shredders shred CDs?
Yes, some paper shredders are able to shred CDs and DVDs besides confidential documents. These shredders are equipped with a separate slot to shred compact disks into small 'unreadable' pieces.
When you are looking for a paper shredder that is also able to shred your CDs you need to look for this feature closely because this feature isn't standard on shredders.
Another thing to look for is how the shredder collects the shredded CDs. Some shredders have a small container to collect the particles, the advantage is that you separate your CD shreds from your paper shreds.
This is important for further recycling of the shredded material. Despite this, most paper shredders only have one waste bin to collect the shredded material.
Advised is to first empty the bin with paper shreds before you shred your CDs or DVDs.
---
#2 | Can paper shredders shred credit cards?
Just like with shredding CDs and DVDs it depends on the paper shredder if it can shred credit cards. So don't just try and shred a plastic card and see what happens because you might damage your shredder because of this.
Luckily most shredders can shred credit cards and other plastic cards you want to get rid of in a secure way. But advised is to look carefully at the specifications or the features of the shredder if the machine can really shred credit cards for you.
It is recommended to sort the plastic particles from your paper shreds for recycling.
---
#3 | Can paper shredders shred staples and paper clips?
Most office documents are stapled together or have a paper clip attached to them. When you want to shred these documents is it really necessary to remove these staples or paper clips beforehand?
Well, it depends on the paper shredder if the machine can handle these metal attachments.
A basic paper shredder isn't powerful enough to shred staples or paper clips. You can even damage the cutting blades because of the small metal parts.
But more expensive and powerful shredders are able to shred through standard staples and paper clips with ease. For instance a heavy-duty paper shredder for high volume shredding. Check all types of paper shredders.
Manufacturers always indicate in the specification of the shredder if the machine can shred staples or paper clips. When you are unsure about this, please contact the store or manufacturer of the shredder before you start to shred stapled documents to prevent damage to your cutting blades.
Check best heavy-duty shredders
---
#4 | Can paper shredders shred cardboard?
Yes, it is possible to shred pieces of cardboard with some paper shredders, but it is not recommended to do so. Cardboard is a thick and strong material, especially the thicker cardboard from shipping boxes. And although the material is made of paper fibers it isn't recommended to shred cardboard with your home or office paper shredder.
Most paper shredders aren't made for shredding this tough material, simply because the motor isn't strong enough to do so. The only shredders which can shred cardboard are industrial-grade paper shredders or the higher segment heavy-duty shredders.
These machines are built for shredding large volumes of documents and can also shred one or two sheets of cardboard when needed.
When you have a lot of cardboard you want to shred, then it is recommended to look for a dedicated cardboard shredder or perforator. These shredding machines are manufactured to shred or perforate corrugated cardboard and fiberboard into packaging material so you can recycle cardboard in your company.
Do you really want to use a paper shredder for cardboard?
Check paper shredders for cardboard
---
#5 | Can paper shredders shred plastic?
No, standard home or office shredders can't shred plastic sheets or folders. The plastic can damage the paper shredder because the material might clog up the cutting blades. It is also not recommended to shred plastic material because the particles will end up with the paper particles, this does not benefit the recycling of the paper shreds.
However, some paper shredders are capable of shredding plastic cards such as credit cards or payment cards. Generally, these shredders feature an extra slot dedicated to shredding cards.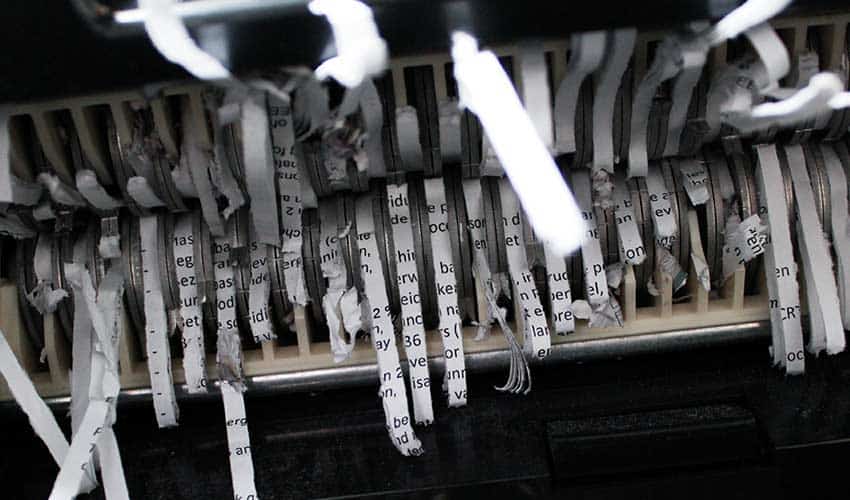 When you want a paper shredder that can shred or granulate plastic you need to look for heavy-duty or industrial paper shredders with industrial-grade cutting blades and a durable and strong motor.
Only these machines are able to shred other materials besides paper documents, it is always advised to follow the shredding guidelines which are provided by the manufacturer and can be found in the instruction manual.
Envelopes with plastic windows
How about envelopes with plastic windows? Your shredder can shred these envelopes, depending on the type of shredder. But still, we don't recommend shredding it because the plastic contaminates the shredded paper material inside the wastebasket.
---
#6 | Can paper shredders overheat?
Yes, it is normal that a paper shredder overheats after extensive usage. A shredder can overheat after a few minutes of shredding or after 30 minutes of shredding. It all depends on the run-time of the shredder.
Generally, cheaper shredders tend to have a short run-time of a few minutes. More expensive shredders can shred for a longer period of time. Industrial shredders that are built for high volume shredding can shred continuously without overheating.
What do you do when your shredder overheats? How to cool down a shredder? It is pretty simple, you just leave the shredder alone for a while and let it rest and cool down.
You must be fairly patient because the cool-down period takes quite some time. It might take up 30 to 60 minutes before you can start shredding again.
Most paper shredders have a LED which notifies when the shredder is cooled down and ready to use for shredding.
---
#7 | Can paper shredders be sharpened?
No, it isn't possible to sharpen the cutting blades like a kitchen knife for instance.We also informed at Fellowes, a well-known manufacturer of shredders, and they informed tell us that "we wouldn't advise people attempting to sharpen the blades of the shredders".
Prevention is better than the cure, so it is better to prevent the cutting blades from becoming blunt. You achieve this by not shredding materials other than described in the manual and keep the number of metals from staples and paperclips to a minimum. Also, you have to maintain the shredder regularly with a lubricant.
You do this by oiling the shredder with official shredding oil or lubricant sheets. We recommend lubricating your paper shredder after the waste bin is full or after intensive shredding.
It is important that you make use of official oil or lubricant that can be used for paper shredders. Read more about oiling your shredder.
---
#8 | Can paper shredders be unjammed?
A jammed or clogged paper shredder is annoying, but you can unjam a paper shredder fairly easily. Most paper shredders have a button to reverse the cutting blades.
With this function, the blades turn in the opposite direction so the material that is stuck is rotated back out of the feeding throat.
Never use your fingers to pull jammed material out of the paper shredder. Read more about paper shredder problems and solutions here.
Some paper shredders have special anti-jam technology (Video). These shredders are equipped with sensors to prevent a paper-jam. So when you feed too many sheets of paper, or when you feed the paper in the wrong way the paper shredder lets you know. Even when a paper-jam does occur the shredder stops immediately and puts the cutters in reverse so you can try shredding again.
---
#9 | Is shredded paper recyclable?
Yes, but the paper is recycled into lower quality products, such as coffee filters, toilet paper, or paper towels. Why is that? Paper is made of wood fibers, and when shredding paper documents these fibers are cut in half.
For the recycling of high-valued paper, it is important to have a mix of longer fibers, so shredded paper isn't useful for this.
Shredded paper is a difficult waste material to recycle. When cleaning waste paper at the facility all kinds of filtering methods are used to filter out contaminants like bits of metal and glass.
The problem with the small paper particles is that it is very difficult to short by machines. The shredded paper clings to other items or sticks to the recycling equipment.
Learn more about the recycling of shredded paper:
---
#10 | Is shredding paper secure?
Yes, when you shred documents with a paper shredder you destroy the confidential information. But it is important to make use of a paper shredder with cross-cut or micro-cut cutting blades.
Most cheap shredders are equipped with strip-cut blades, these shredders only cut the documents vertically and not diagonally. You end up with a waste bin full of long strips of paper that still contain information you can read.
To securely shred confidential documents it is recommended to use a cross-cut or micro-cut shredder with a DIN security level of DIN P-4 or higher.
Read more about paper shredders
Are you looking for more information about paper shredding machines?