Best 13 Gallon / 50 Liter Trash Cans
Disclosure: This article contains affiliate links. If you click on a product and make a purchase, we may earn a commission – learn more.
What 13-gallon trash can should you buy?
A 13-gallon trash can is a popular size because these bins can hold most standard 13-gallon trash bags. We have selected a wide variety of 13-gallon trash and recycling bins that have a capacity of 50 liters.

---
---
---
---
---
---
---
---
---
---
---
---
---
---
Why get a 13 gallon trash can?
A 13-gallon trash can is an average size for a kitchen trash can. This capacity suits most households and fits in most kitchens. Another advantage of 13-gallon trash cans is that these bins can be used for standard 13-gallon kitchen trash bags. These trash bags, recycling bags, or compostable bags are relatively cheap compared to official trash liners. Some trash can manufacturers produce garbage bins with a slightly bigger size than 13 gallons. These bins are then too large for the use of standard kitchen liners. This implication means that you have to buy the official, more expensive trash bags from the manufacturer.
13 gallons is pretty much the perfect size for a kitchen bin
Stickers for trash or recycling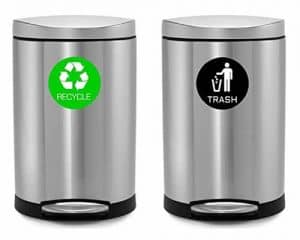 Do you want to use a 13-gallon trash can, especially for recyclables? To prevent you or someone from accidentally throwing their trash in your recycling bin, we recommend labeling each container for trash and recyclables.
Because of the trash can stickers, it is visually clear for everybody which bin is getting dedicated for which waste stream.
You can use these recycling stickers for single-purpose trash cans and double recycling bins where you label each bucket for trash or recycling.
How many liter is 13 gallon?
13 US gallons equals 49.2103532 liters which is approximately 50 liters
1 gallon equals around 3.79 liters (convert here)
1 liter equals around 0.26 gallons (convert here)
How big is a 13 gallon trash can?
What are the dimensions of a 13-gallon trash can? It depends on the overall size and shape of the bin. Some 13 gallon bins are wide and rectangular, and some are round and tall. So there is no standard measurement for a 13-gallon trash can. But to answer this question, you can find some dimensions from popular 13 gallons bins below:
14 x 18.9 x 26.5 inches
14.7 x 24.8 x 17.6 inches
11.4 x 19.7 x 28 inches
10.8 x 20.2 x 27.4 inches
We recommend measuring the available space in your kitchen and finding a bin that suits this size best. Also, keep in mind that the lid can get opened when you want to place the container below an object.

13 gallon trash bags
A 13 gallon trash bag fits perfectly in a 13 gallon trash can. We've selected some popular trash bags for your 13 gallon trash can: