Best 13 Gallon Trash Cans
Which 13 gallon bin should you buy?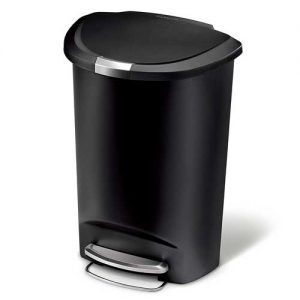 We recommend the 13 gallon Simplehuman Semi-Round Step Trash Can for the kitchen to sort trash or recyclables. The 50 liter kitchen trash bin is made of high-quality plastic. Thanks to the 'lid lock' functionality the bin is pretty much cat and dog-proof. With this locking mechanism you can secure the lid from opening and it will contain trash odors better. You open the lid with a sturdy steel foot pedal and the lid closes smooth and silent because of Simplehuman's 'lid shox technology'.
The 13-gallon Simplehuman trash can is great for the kitchen
Besides this black version you can choose between various colour options, such as blue, fuchsia and mocha. So you can always find a design that fits your home interior. With its large capacity it is great to use for large and busy households. You can use the bin for collecting your daily trash, but this receptacle is also great to use for sorting all your recyclables. Simplehuman provides a 5-year warranty on this bin.
The downside of this 13 gallon Simplehuman trash can is that it's made of plastic. Generally Simplehuman trash cans are made of stainless steel. Nevertheless this is a durable kitchen trash can with a nice price tag.
---
13 Gallon trash can recommendations
Top Picks for 50 liter / 13 Gallon garbage cans

What is the best 13 gallon trash bin for you? We've selected some of the best sold, most popular and best 13 gallon trash cans you can get for collecting trash and / or recyclables. Please note that the advised trash cans and recycling bins below have a capacity of approximately 13 gallons. A 13 gallon trash can equals a 50 liter trash can.

---
13 Gallon Plastic Step-On Trash Can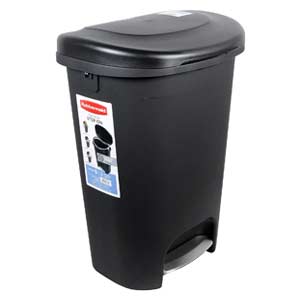 Are you looking for a budget solution? Then the affordable Rubbermaid 13 Gallon Step-On Trash Can is great. Don't make the low price fool you, because this plastic step bin is very durable, sturdy and easy to clean. What makes this bin unique is that the lid stays open even without holding the wide foot pedal down, Rubbermaid calls this foot-free operation.
The black kitchen trash can with a metal accent has a rectangular shape so you can place the bin next to a kitchen cabinet or against the wall. This bin is suitable for standard 13 gallon trash bags that won't slide down in the bucket because the clips holds the bag nicely in place. The bin is also great when you want to sort trash and recycling with your family. Because of the low price it is fairly cheap to get two of these bins for your green lifestyle.
The downside of the plastic trash can are the hinges. These are made of plastic so are less durable than metal hinges.
---
13 Gallon Double Trash Can For Recycling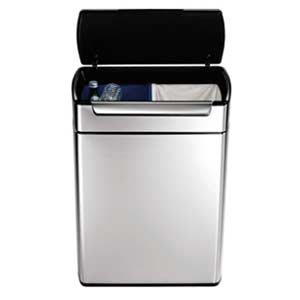 This 13 gallon Simplehuman Touch-Bar Double Trash Can is a great solution for sorting trash and recycle in the kitchen or office. The dual bucket recycler has two equally sized compartments which are removable, so cleaning and replacing liners is an easy task. You open the lid with the touch-bar in front of the double trash can. Just tap the bar (from any angle) with your hand, elbow or hip and the lid opens smoothly. The lid stands open and you can just leave the lid open until you're finished.
Because of the very wide opening both buckets are easily accessible. This dual bin is also easy to use for smaller kids who might have trouble with more heavy to use foot pedals from step bins. The Simplehuman double recycler is a pretty looking and sturdy trash can. It is made of stainless steel with a finger-print proof low-maintenance finish. The hinge is inside the bin so you can place the bin against a wall.
Downside of this double recycling bin is that you need to push the lid all the way down. When locking the lid in place it makes a metal noise, so it doesn't close silently.
---
13 Gallon Touchless Motion Sensor Trash Can

#1 Amazon Best Seller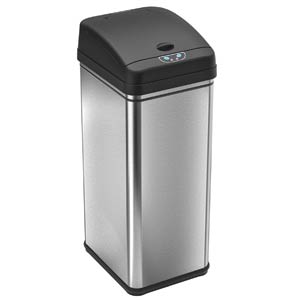 The iTouchless Deodorizer Automatic Trash Can is a compact trash can with a capacity of 13 gallons. You open the hands-free lid completely touchless because of the motion sensor on top of the bin. The touchless lid of the trash can opens quickly for easy garbage disposal. When you're ready the lid closes smoothly and silently. The receptacle looks great and keeps your trash nicely out of view. Also emptying the bin and replacing bags is very easy.
Thanks to the deodorizer you prevent trash can odors in your kitchen. You'll get one free carbon odor filter with the purchase of this automatic trash can.The iTouchless sensor trash can has a brushed stainless steel finish with an easy to clean fingerprint-proof layer. The sensor bin is powered by batteries but you can also get a separate AC adapter. The trash can has a good price and a 1-year limited warranty.
The downside of the 13 gallon automatic sensor bin is that the needed 4 D size batteries and adapter are not included.
---
13 Gallon Rectangular Stainless Steel Step Trash Can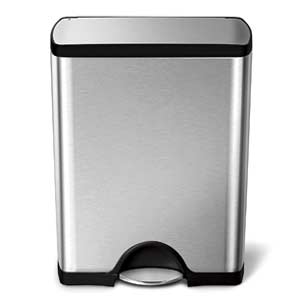 The Simplehuman Rectangular Step Trash Can is a sleek designed 13.2 gallon trash can that fits beautifully in the kitchen. With the sturdy steel pedal you open the lid smoothly so you can dispose trash or recyclables in the wide opening. Keep the lid open by pressing a red button or let the foot pedal go and watch how smooth the lid closes without making any noise.
Because of the internal hinge you can place the Simplehuman kitchen trash can flush against the kitchen counter or a wall. The thin lid closes perfectly and seals in bad trash odors very well. The bin is made of high-quality stainless steel and inside is a plastic removable bucket which is easy to clean. The outside has a finger-print proof layer so smudges are less visible. The price is pretty high for a step-on trash can but in return you'll get a durable bin with a 10-year warranty.
The downside of the bin is its capacity. It is a 13.2 gallon bin. So standard 13 gallon liners need to be stretched up a little bit to fit around the bin nicely. For a perfect fit you need to get official Simplehuman Liners, which are more expensive.
---
13 Gallon Narrow Step Trash Can
Do you prefer narrow or slim trash cans? Then we recommend this compact and pretty looking HomeZone 45 liter (11.88 gallon) trash can. You can use standard 13-gallon trash bags in this sleek looking bin. The rubber band inside the bin holds the bag neatly in place. With the durable foot pedal you open the lid in a breeze. The pedal works great and don't feel flimsy, which we really like.
The lid closes smoothly at the right pace but you can also leave the lid open if you want. The HomeZone bin has a slim, rectangular design that is made of stainless steel. The outside is resistant of finger smudges because of the fingerprint-proof coating. The internal bucket is removable so cleaning and replacing trash bags is very convenient. You can use two of these slim 13 gallon kitchen trash can side by side for sorting trash and recycle.
The downside of the modern looking trash can is the sticker in front of the bin which can be difficult to remove.
---
13 Gallon Bucket No Lid And Open Top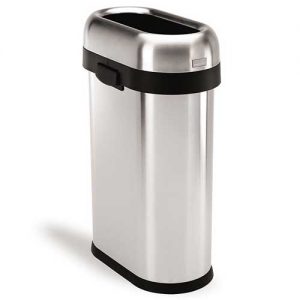 Are you looking for a sturdy trash can with no lid? Then take a look at the well-constructed Simplehuman Slim Open Trash Can. This is a stable and tall trash bin made of stainless steel and has an open top. This open trash can has three shapes and sizes to choose from: slim / narrow, round and semi-round. The slim version is perfect for tight spots in your kitchen.
Because of the open top this bin is very convenient to dispose garbage or recyclables. It can be used in commercial areas or offices but it is also great to use in the home. The bin doesn't contain moving parts, such as a hinge, so it is very durable and easy to clean. In this 13 gallon open trash can you hang standard garbage bags, these fit nicely and snugly. The 'lift-off' open lid hides the overhanging trash bag out of sight. You get a 10-year warranty on this open top bin.
The downside of this garbage can is that some trash (organic waste) will smell after a while and you can see the trash when the trash bag gets full.
---
13 Gallon Office Trash Can with Motion Sensor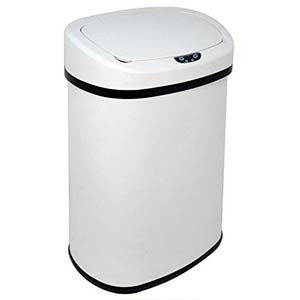 A 13 gallon trash can is also great for office usage. We've selected this new BestOffice Touch Free Trash Can as a great pick to place next to your (home) office desk. It is great for collecting paper trash or paper shreds from your paper shredder. This 13 gallon bin is touchless, you open the lid by activating the motion sensor. You power the BestOffice trash can with 4 D size batteries or with an AC Power Adapter.
The bin is made of stainless steel which also contains an anti-fingerprint layer. This layer is convenient because you can open the lid also with manual buttons. The overall feel of the bin is, although it's low price point, stable and sturdy. Because of the white design this bin won't stand out and look discrete in your (home) office.
The downside of the automatic 13 gallon trash can is that the needed batteries or AC adapter isn't included.
---
Why get a 13 gallon trash can?
A 13 gallon trash can is the average size for a kitchen trash can. This capacity suits most households and fits in most kitchens. Another advantage of 13 gallon trash cans is that these bins can be used for standard 13 gallon kitchen trash bags. These trash bags, recycling bags or compostable bags are relatively cheap compared to official trash liners. Some trash can manufacturers produce garbage bins with a slightly bigger size than 13 gallons, these bins are then too large for the use of standard kitchen liners. This means that you have to buy the official, more expensive, trash bags from the manufacturer.
13 gallons is pretty much the perfect size for a kitchen bin
Stickers for trash or recycling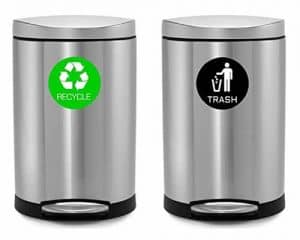 Do you want to use a 13 gallon trash can especially for recyclables? To prevent that you or someone accidentally throws their trash in your recycling bin it is recommended to label each bin for trash and recyclables.
Because of the trash can stickers it is visually clear for everybody which bin is dedicated for which waste stream.
You can use these recycling stickers for single purpose trash cans but also for double recycling bins where you label each bucket for trash or recycling.
How many liter is 13 gallon?
13 US gallons equals 49.2103532 liters which is approximately 50 liters
1 gallon equals around 3.79 liters (convert here)
1 liter equals around 0.26 gallons (convert here)
How big is a 13 gallon trash can?
What are the dimensions of a 13 gallon trash can? It depends on the overall size and shape of the bin. Some 13 gallon bins are wide and rectangular, and some are round and tall. So there is no standard measurement for a 13 gallon trash can. But to answer this question you can find some dimensions from popular 13 gallons bins below:
14 x 18.9 x 26.5 inches
14.7 x 24.8 x 17.6 inches
11.4 x 19.7 x 28 inches
10.8 x 20.2 x 27.4 inches
We recommend to measure the available space in your kitchen and try to find a bin that suits this size best. Also keep in mind that the lid can be opened when you want to place the bin below an object.

13 gallon trash bags
A 13 gallon trash bag fits perfectly in a 13 gallon trash can. We've selected some popular trash bags for your 13 gallon trash can:
Read more about recycling and trash bags.
By Recycling.com/ 24 February 2019 Shares