Best 13 Gallon / 50 Liter Trash Cans
What 13-gallon trash can should you buy?
A 13-gallon trash can is a popular size because these bins can hold most standard 13-gallon trash bags. We have selected a wide variety of 13-gallon trash and recycling bins that have a capacity of 50 liters.
Disclosure: This article is reader-supported. If you click on a product and make a purchase, we may earn a commission – learn more.
iTouchless with Wide Opening
---
Home Zone Living VA41833A
---
iTouchless SoftStep
---
hOmeLabs Automatic Trash Can
---
Simplehuman Touch Bar Recycler
---
Why get a 13 gallon trash can?
A 13-gallon trash can is an average size for a kitchen trash can. This capacity suits most households and fits in most kitchens.
Another advantage of 13-gallon trash cans is that these bins can be used for standard 13-gallon kitchen trash bags. These trash bags, recycling bags, or compostable bags are relatively cheap compared to official trash liners.
Some trash can manufacturers produce garbage bins with a slightly bigger size than 13 gallons. These bins are then too large for the use of standard kitchen liners. This implication means that you have to buy the official, more expensive trash bags from the manufacturer.
13 gallons is pretty much the perfect size for a kitchen bin
Stickers for trash or recycling
Do you want to use a 13-gallon trash can, especially for recyclables? To prevent you or someone from accidentally throwing their trash in your recycling bin, we recommend labeling each container for trash and recyclables.
Because of the trash can stickers, it is visually clear for everybody which bin is getting dedicated for which waste stream.
You can use these recycling stickers for single-purpose trash cans and double recycling bins where you label each bucket for trash or recycling.
How many liter is 13 gallon?
13 US gallons equals 49.2103532 liters which is approximately 50 liters
1 gallon equals around 3.79 liters (convert here)
1 liter equals around 0.26 gallons (convert here)
How big is a 13 gallon trash can?
What are the dimensions of a 13-gallon trash can? It depends on the overall size and shape of the bin. Some 13 gallon bins are wide and rectangular, and some are round and tall. So there is no standard measurement for a 13-gallon trash can. But to answer this question, you can find some dimensions from popular 13 gallons bins below:
14 x 18.9 x 26.5 inches
14.7 x 24.8 x 17.6 inches
11.4 x 19.7 x 28 inches
10.8 x 20.2 x 27.4 inches
We recommend measuring the available space in your kitchen and finding a bin that suits this size best. Also, keep in mind that the lid can get opened when you want to place the container below an object.
13 gallon trash bags
A 13 gallon trash bag fits perfectly in a 13 gallon trash can. We've selected some popular trash bags for your 13 gallon trash can:
Read more about recycling and trash bags.
The right trash can size depends on your needs and available space
Are you looking for a small recycling bin for your bathroom or toilet? Or do you want a large trash can in your kitchen to sort trash and recycling? The needed size really depends on the space where you want to place your recycling bin and the amount of trash you generate with your family every day.
Generally, a bathroom or restroom recycling bin tends to be smaller than a recycling bin for your kitchen. The amount of waste in the bathroom or restroom is a lot less than the waste generated in your kitchen. Your kitchen is the central spot in your house where the most trash appears. Think about vegetable waste, plastic, paper, and glass.
How large is your household?
Besides the location in your house, it is also important to know how large your household is. The larger the household, the more trash there is on a daily base. Which means a larger recycling trash can is needed:
Small 1-2 persons household: 0 – 10 gallons
Normal 2-4 persons household: 10 – 25 gallons
Large 4+ persons household: 25 gallons or more
Check best 13 Gallon trash cans
How much room do you have?
The last thing you need to look out for is the available space. When you're in the market for a larger recycling bin, it is important to measure the floor's space or in your kitchen cabinet before purchasing your container.
If you have a smaller kitchen, we advise you to look for a slim but tall recycling bin with a square shape. Square shaped recycling bins have a larger capacity than round ones with similar dimensions and can be placed in tight corners more easily.
---
Sorting trash and recyclables
Are you and your family planning to sort trash to retain recyclables? Then it would be best if you had separate baskets for the sorted waste streams.
You can choose separate single trash bins for each recyclable. Or you can get a recycling bin with multiple compartments. Such as a two-compartment recycling bin or a bin with three compartments.
With these trash and recycling bins, you can sort your household waste in one container, which saves room in most cases and is generally less expensive.
---
Things to keep in mind
Best dimensions for your trash can
Besides the capacity, we recommend taking the dimensions of the trash can into account. Do you want to built-in a recycling bin in one of your kitchen cabinets, for instance, under your sink? In that case, it is really important to measure the space in your cabinet that is needed to install the pull-out trash can.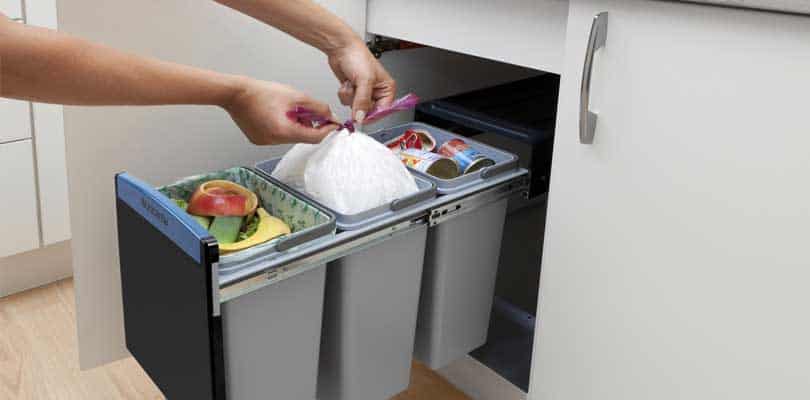 Do you have a tight spot in your kitchen where you're thinking of placing a recycling trash can? Then again, we recommend measuring everything thoroughly. Also, take into account that the lid of a recycling bin can be opened fully.
What size garbage bags do you want to use?
A standard kitchen trash can has a size of around 13 gallons, this is approximately 50 liters. In 13 gallon recycling bins the standard tall kitchen garbage bags fits well.
The advantage of standard sized garbage bags is that these bags are relatively cheap to buy.
So before purchasing a recycling bin it is good to know what type of garbage bags you need for that particular recycling bin. We recommend going for recycling bins where you can fit in standard recycling bags, this will save you some money in the long run. Because there is no need for you to buy official and more expensive branded garbage bags.
---
Recycling Bin Guide
Tips for buying a trash can or recycle bin
Return to the guide