Original Waste Hierarchy of Ad Lansink
Recycling is the third step in the waste hierarchy or Lansink's Ladder, after the priorities initiated by the politician Ad Lansink in the Dutch parliament in 1979.
The waste management hierarchy indicates an order of preference for action to reduce and manage waste from most favourable to least favourable actions.
Ad Lansink is international recognized for making the original waste hierarchy or 'Lansink's Ladder' (read more about it's background and history) and is often named 'Father of waste hierarchy'.
A proper application of the waste hierarchy can help prevent greenhouse-gas emissions, reduces pollutants, save energy, conserves resources, create jobs and stimulate the development of green technologies.
---
Redesign of Lansink's Ladder
In 2012 we designed Lansink´s Ladder in a modern format.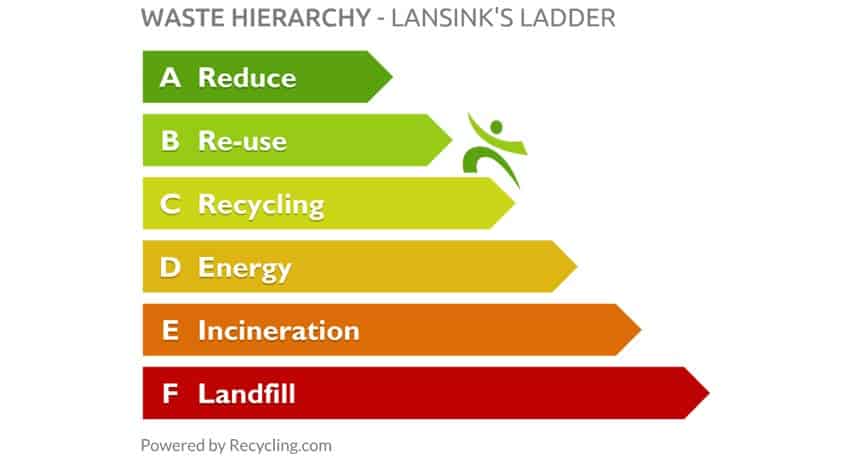 ---
Download the Waste Hierarchy: Lansink's Ladder
Download the official and original design of the waste hierarchy by Ad Lansink. The image is in the public domain and free to use.
List of steps of Lansink's Waste Hierarchy

Reduce
Quantitative and qualitative prevention of waste.
---

Reuse
Reuse of used products and materials.
---

Recycling
Recycling of waste materials.
---
Energy
Generating energy from waste materials.
---

Incineration
Incineration as a disposal method of waste materials.
---

Landfill
A site for the disposal of waste materials.
---
Waste hierarchy GIF
---

---
More info about Lansink's Ladder
Blogs by Ad Lansink
Waste hierarchy essential for circular economy
Presentation on the Third International Conference on Waste Management in 2015 in Pisa held by Ad Lansink on the relation between Lansink´s Ladder and the concept of circular economy.
Download presentation (pdf – size: 1,4 Mb)
Climbing Lansink's Ladder