Formax shredders for paper, cardboard & hard drives
Shredders & material presses
Formax is a company founded in the USA and is specialized in digital Print & finishing, mailing Solutions, pressure sealers, and data destruction. We keep the focus on the recycling process and discuss data destruction on this page. Formax's specialties are on the data destruction available in industrial paper shredders and cardboard shredder machines.
---
Formax product range
Based on the data destruction market, Formax offers a large number of variants of products.
The Formax product line offers: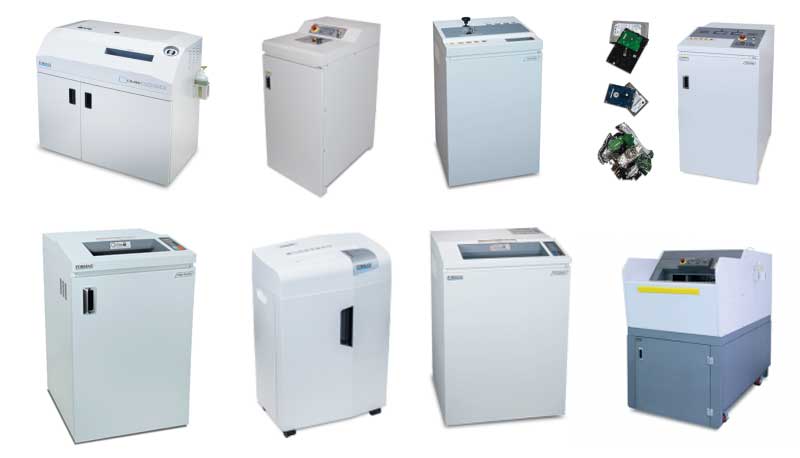 Besides solutions for data destruction, Formax also produces other types of machinery. Such as machines for digital print, mailing and pressure sealers.
Quick product overview:
Formax Greenwave 410
App. price: $2,250
Type: Perforator
Intake width: 16″
Size: 14.2″H x 23.2″W x 16.6″D
Power: 115 V
Noise: n/a
Formax Greenwave 430
App. price: $4,500
Type: Perforator
Intake width: 16.9″
Size: 38.1″H x 24.8″W x 22.4″D
Power: 115 V
Noise: n/a
---
About Formax
Formax is a company of US origin founded in 1987. It is a privately held company with its headquarters based in Dover, New Hampshire. The manufactory is located in Turlock, California. Formax offers all kinds of solutions in the field of data destruction:
A complete line of commercial shredders from deskside to production units capable of shredding binders and 500-page booklets.
Optical media destruction, CD, DVD, USB drive destruction, and paper shredding in multi-media models, in both commercial and high security.
Specialty Shredders: Casino shredders specifically designed to destroy cards, dice, chips, and other gaming pieces. The Hard Drive punch and shredders destroy HDD and SSD hard drives.
---
Guarantee and service
The warranty for the shredders are available on the website of Formax:
Lifetime limited warranty on Deskside and Office cutting heads
Lifetime limited warranty on Industrial cutting heads (parts only)
1-year warranty on High Security and Specialty cutting heads
1-year warranty on all other parts
Formax has its own service team available on the website. You can visit them and fill in a form to get in contact with the service team.
---
Selling points
Formax is the producer of the products and does sell the products through dealers. Formax has its own dealer network that makes it possible to sell its products in various countries. A dealer can register on Formax's website to sell their products.
---
Contact information
Corporate Office:
1 Education Way
Dover, NH 03820
USA
See on Google Maps
Formax.com
800-232-5535
Manufacturing Facility:
Turlock, CA USA
Social accounts
---
Sources
Formax. (2021). Data destruction solutions.