33 Zero Waste Gift Ideas
Best Eco-Friendly & Sustainable Gifts
---
This is a very nice set that contains four high quality reusable stainless steel straws, two wooden cases, and two cotton cleaning brushes plus one pouch. These eco-friendly straws are durable and long-lasting, they are non-toxic and BPA free. Check out more reusable straws here.
---
Ethique makes all kinds of vegan, plant-based beauty bars for hair, face, and body. These variety packs contain five nice bars to test out. This box is for hair and contains 3 shampoos and 2 conditioners.
---
Drink coffee or tea on your commute in an eco-friendly way with a reusable coffee cup. This one from KeepCup can hold 16oz and is made of toughened glass. You can hold the hot beverage easily thanks to the cork band. The coffee cup is microwave safe and is very lightweight.
Check Price
More reusable coffee cups
---
These sturdy fun toys are made of 100% recycled plastic. They are great toys for both girls and boys in the sandbox and anywhere else. They are green, practical, and bring a lot of joy to kids.
---
This fitness matt made of cork and natural rubber is perfect for yoga, pilates, and general fitness. This matter is sustainable, high-quality, and even the strap is made of biodegradable materials. Sustainable yoga mats are great zero waste gifts for her and for him.
---
Reduce plastic waste with this zero waster starter kit. The pack contains three leak-proof silicone reusable bags and a 3-pack of beeswax wraps. These wraps eliminate disposable plastic sandwich bags.
---
This power bank recharges itself in the sunlight. It is ideal for outdoorsy people with is compass and flashlight, but anyone with a need for a power bank with enjoying this sustainable device. Useful zero waste gifts such as this are always appriciated.
---
Most people use a case for their expensive smartphone and most of these are made of plastic. Why not go plastic-free with these 100% compostable cases. Most of these cases are made for iPhones, but there are also compostable phone cases for Samsung smartphones.
---
These portable House of Marley Bluetooth speakers are a great sound system for at home and on the go. House of Marley products are generally made of mindfully sourced resources, such as bamboo and recycled plastic. This makes these speakers a great green gift for anyone who likes to listen to music.
---
This reusable water bottle is double-wall insulated and made of stainless steel. The bottle contains a filter so you can filter tap water anywhere and reduce the chlorine in it. The reusable bottle contains a carrying loop and enclosed straw. With this water bottle, you can reduce your use of single-use plastic bottles.
Check Price
More reusable water bottles
---
This 5 piece makeup brush set is vegan, cruelty-free, and made of recycled materials (aluminum & plastic and renewable bamboo). The brushes are made of cotton and bamboo fibers. This makeup brush set is ideal for traveling and contains the basic must-have makeup brushes: foundation brush, concealer brush, eye shadow brush, angled liner brush & blush brush.
---
With this pour-over brewer, you can make tasty coffee without paper filters. You reuse a stainless steel filter to make hot coffee that drips into a BPA-free glass carafe (10.5 ounces). Pour-over brewing really enhances the taste of coffee and unlocks the full potential of the ground coffee. With this drip kit, the use of single-use filters is history.
---
This is a beautiful, stylish, and environmentally friendly reusable water bottle made of high strength borosilicate glass (shatter resistant) with a bamboo lid. The glass water bottle is protected by a sleeve that also gives it extra grip. The bamboo lid is leak-proof thanks to the silicone seal.
Check Price
More reusable water bottles
---
These adorable dinosaurs are tea infusers for tea that does not come in tea bags already. Buying loose tea is greener because most tea bags are not biodegradable and therefore end up in landfills. Therefore, if you know someone who enjoys tea and appreciates green alternatives this may be the perfect gift for them.
---
This double-walled tea tumbler is beautifully made of 100% organic bamboo and stainless steel – it is completely plastic-free. The insulated flask contains a strainer and infuser basket to make your own tea. The tumbler is vacuum-sealed and insulated and keeps drinks hot for up to 12 hours.
---
If you want to start a zero-waste lifestyle, then this book by Bea Johnson is a great start for inspiration. In the book, she shares her story about how she transformed her and her family's life into a zero-waste household. The books share helpful zero-waste advice and secrets to get started.
---
Go grocery shopping with these fashionable reusable grocery bags from BAGGU. The pack contains three colorful bags with beautiful designs. These bags are sturdy, eco-friendly, stylish and can tot up to 30 lbs. The handles are the perfect size for hand holding or over the shoulder toting. This set of three even comes in a nice gift box.
Check Price
More reusable grocery bags
---
Do you prefer stainless steel over bamboo? Then these portable utensils will make a nice gift. The cutlery set contains 8 items, including a knife, fork, spoon, chopsticks, and more. All utensils come in a portable carrying case with a zipper.
---
This is the perfect eco-friendly gift for travelers. The travel utensil set comes with organic bamboo cutlery that is packed nicely in a cotton pouch. Perfect for traveling, camping, the office or school lunch. The set contains a fork, spoon, knife, chopsticks, reusable straw and straw brush.
---
This Tesla coil lighter is a cool alternative to any normal plastic (disposable) lighter. This electric arc lighter can be recharged via USB and therefore doesn't need to be thrown away. So if you know anyone who uses lighters frequently, no matter the use, this could be a cool handy gift.
---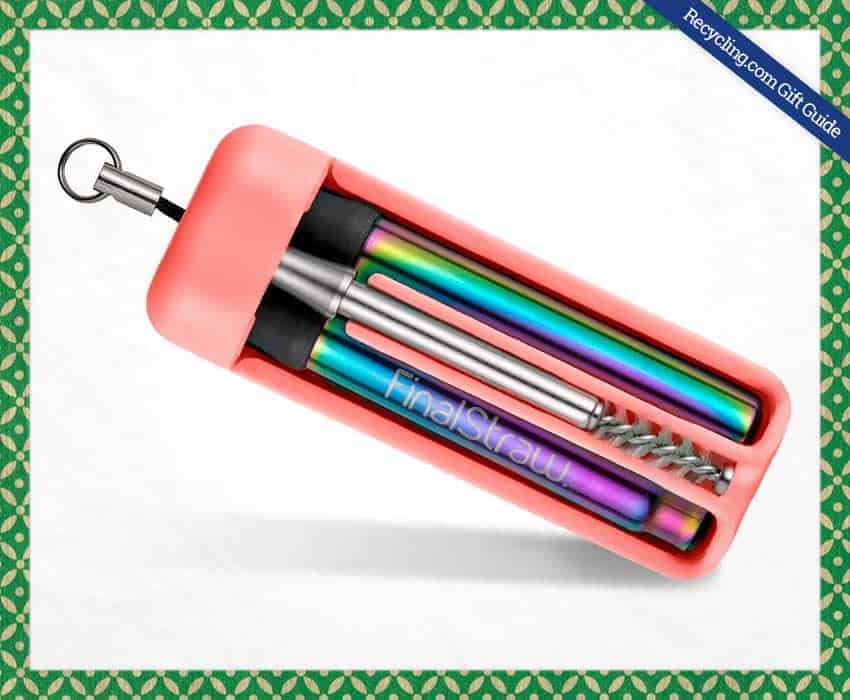 Bring a reusable straw wherever you go. The Final Straw is a collapsible, pocket-friendly stainless steel drinking straw that you can carry around easily because it has a key chain case. The reusable straw comes in different colors and is a great eco-friendly alternative for single-use plastic disposable straws.
Check Price
More reusable straws
---
These natural organic Moso bamboo toothbrushes are the ideal alternative for disposable plastic toothbrushes. The pack contains two toothbrushes that have a wooden bamboo handle and charcoal bristles. Each toothbrush is 100% biodegradable and decomposes within 2 and a half years. We recommend to combine this gift with charcoal toothpaste or powder.
Check Price
More bamboo toothbrushes
---
Reduce plastic water bottles by filtering tap water with this Brita Metro Pitcher. The filter reduces mercury, chlorine, copper, and other substances in the water. The pitcher can hold 5 cups of water, is easy to pour and refill, and has a space-efficient design. You only need to change the filter every 40 gallons.
---
This zero-plastic reusable lunch box is made of durable stainless steel which makes it an eco-friendly alternative to disposable plastic lunch bags. The bento box consists of three compartments. The bottom compartment can hold a sandwich and the top trays are perfect for salads, pasta, veggies or fruits.
Check Price
More reusable lunch boxes
---
The OXO Good Grips is a small counter-top sized compost bin for organic kitchen waste, such as vegetable and fruit peels. The stylish-looking bin has smooth and crevice-free interior walls that prevent food waste and liquids from building up. The container is dishwasher safe and easy to empty and clean because the lid is removable.
---
A soda maker is another fun and eco-friendly gift to give. With the SodaStream Fizzi, you can reduce up to 3,700 single-use plastic bottles and cans worth of waste. The set contains a soda maker, two CO2 cylinders, three BPA-free reusable carbonating bottles, and two flavored syrups. With the soda maker, you turn tap water into sparkling water within seconds.
---
Remove makeup with these reusable remover pads. The set contains 16 pads in addition to a laundry bag for washing the used pads. The pads are for all skin types and are perfect for face cleaning and removing eye makeup.
---
This is a very unique gift idea. This crossbody purse is made of premium FSC certified cork and contains no leather, so it's vegan approved. The roomy interior contains two slip pockets and one zipper pocket. The strap is adjustable and the cork has a smooth and premium feel.
---
Replace disposable plastic safety razors with this eco-friendly, sustainable, and durable razor. The Bambaw double edge safety razor has a long bamboo handle and contains stainless steel parts. The razor is for men and women and allows for smooth shaving results without irritation or ingrown hairs.
---
Do you like candles but don't like to throw away empty candle holders? Then this 'Growing Candle' is the perfect gift. The label around the candle is embedded with wildflower seeds. When the candle wax is gone you can plant the seed paper label into the container to grow your own wildflowers. The candles are scented with pure organic fragrances and each candle container is handmade and unique.
---
Set of three beautiful decorative glass canisters for storing all kinds of products like granola, cookies, coffee beans, sugar, flour, or spices. The set contains three sizes, 34, 43, and 54-oz. The glass jars are clear and have airtight lids with a secure rubber seal. The lid keeps contents fresh and dry and is easy to pull off. The chalkboard labels are also a nice addition.
---
These plastic-free storage containers are made of glass and have a sustainable bamboo lid. This is a 4-pack with four different sizes. The borosilicate glass is safe to use in the oven, dishwasher, microwave, and freezer.
---
The Alloy Wallets from Carved are slim and hard with designs that'll stand out from the crowd. They securely hold up to 5 cards and cash. Crafted with precision machines from a single block of aluminum and a flexible o-ring that holds it all together. Each inlay is unique and made in our workshop at Elkhart, Indiana.
---
Recommended Zero Waste Starter Kits
Here you can find an unordered list of 10 handy Zero Waste starter kits for everyday use containing the essentials to help kickstart your green lifestyle.
---
---
---
---
---
---
---
---
The Earth is what we all have in common.
Wendell Berry
---
Sustainable Gift Ideas and Inspiration to Go Green this year. These Gifts Help Save the Environment.
---
What is your favorite product?
We are very curious to know what your favorite zero waste product is on our list. Or maybe you know a product that is missing on the current list which we really should add. Please let us know down in the comment section.
---
Step Up:
Recycle

, Reuse &

Reduce

The three arrows of the recycling symbol represent the three main stages of the recycling process: recycling, reusing and reducing. Together the arrows form a closed loop. Step up and implement eco-friendly replacements in your daily life.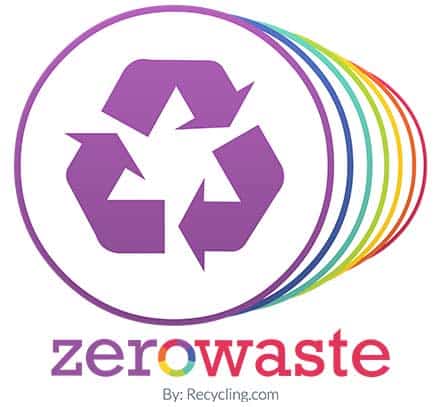 Join the movement! Step Up the waste hierarchy together to a goal of Zero Waste.