TAA Compliant Paper Shredders for American Government
High security paper shredders under the Trade Agreement Act (TAA)
Government paper shredders must adhere to certain rules regarding the safe and secure destruction of data. The National Security Agency (NSA) and the Department Of Defense (DOD) have determined minimal requirements a paper shredder has to meet to be used by a government agency. Next to this all office supplies government institutions buy fall under the Trade Agreement Act (TAA). So a government paper shredder need to comply with these regulations to be bought. This page takes a closer look towards these regulations for a government approved paper shredder.
The heavy-duty shredders below meet the following requirements
TAA Compliant: Yes, U.S. government approved.
Users: 5+ users (office / departmental)
Sheet capacity: 10 sheets or more
Bin capacity: 30 gallon or more
Run-time: Continuous
Security level: Cross-cut or Micro-cut (tiny particles)
More info? Read our Paper Shredder Buying Guide.
---
Government Approved TAA Compliant Shredders
---
TAA Compliant & NSA Security Level 3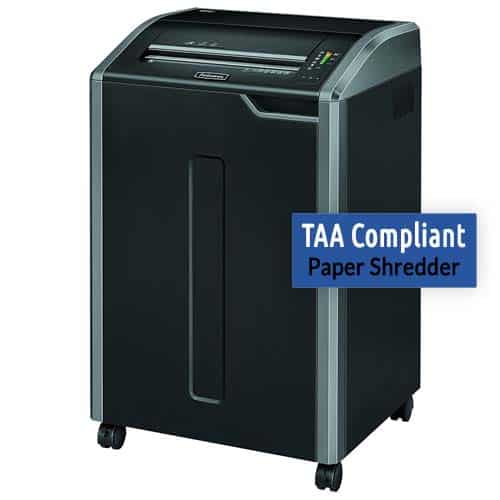 The Fellowes Powershred 485Ci is a 100% jam proof heavy-duty paper shredder for high volume shredding. The cross-cut shredder shreds 30 sheets of paper per pass.
Security level: Level 3 / DIN P-4
Run-time: Continuous
Sheet capacity: 30 pages
Bin capacity: 35 gallon
Noise level: 64 dB
---
TAA Compliant & NSA Security Level 3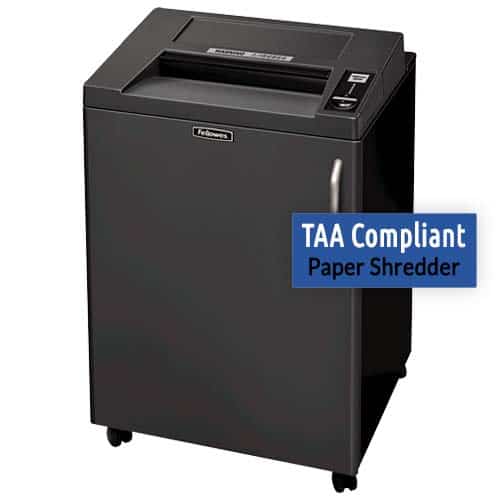 The Fellowes Fortishred 3850c is a heavy-duty cross-cut shredder with a wide 15.75″ feed opening. The shredder has a large removable bin and shreds quietly.
Security level: Level 3 / DIN P-4
Run-time: Continuous
Sheet capacity: 22-24 pages
Bin capacity: 44 gallon
Noise level: 58 dB
---
TAA Compliant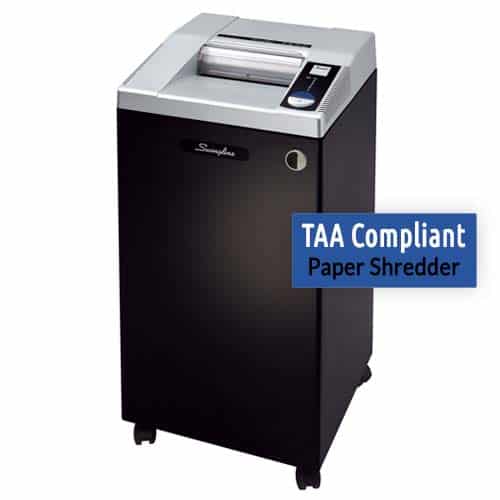 The Swingline CM15-30 is a commercial paper shredder that shreds up to 15 sheets at a time. This DIN P-5 paper shredder shreds a document into 2,000 shreds. It is recommended for 20+ users.

Security level: DIN P-5
Run-time: Continuous
Sheet capacity: 15 pages
Bin capacity: 30 gallon
Noise level: 60 dB
---
TAA Compliant & NSA Security Level 6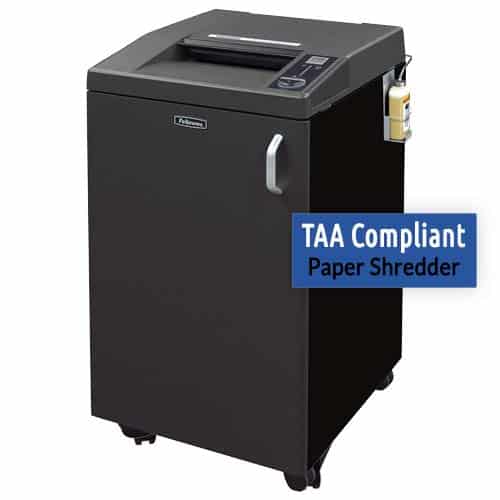 The Fellowes Fortishred HS-1010 is a high security DIN P-7 shredder for ultimate security. This shredder meets NSA/CSS requirements. The machine oils the heavy-duty cutters automatically.

Security level: Level 6 / DIN P-7
Run-time: Continuous
Sheet capacity: 10 pages
Bin capacity: 37 gallon
Noise level: 62 dB
Check Price
Please note: Amazon shows a wrong picture of the shredder.

---
TAA Compliant & NSA Security Level 6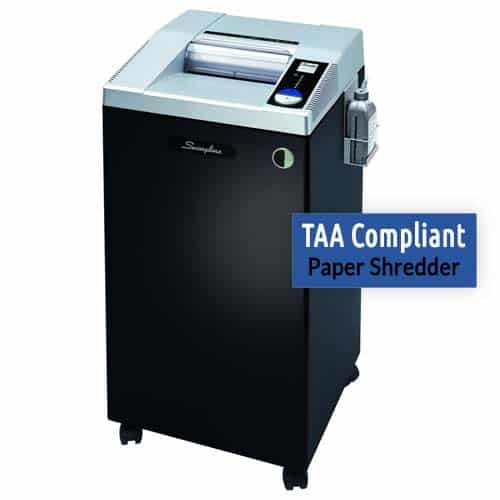 The Swingline CHS10-30 is a commercial TAA compliant paper shredder with security level P-7. This paper shredders shreds up to 10 sheets per pass. The quiet shredder oils the strong cutters automatically.
Security level: Level 6 / DIN P-7
Run-time: Continuous
Sheet capacity: 10 pages
Bin capacity: 30 gallon
Noise level: 60 dB
---
What criteria should a government shredder meet?
American Governments deal with a number of additional rules for paper shredders. These rules were introduced to ensure that government data is handled confidentially. The authorities that determine these rules for government shredders are the Department Of Defence (DOD) and the National Security Agency (NSA).
DOD guidelines for government paper shredders are applicable for the military which use the highest security level available. Confidential destruction of the paper data is the main goal of the DOD.
NSA guidelines for government shredders are for all governments agencies. They tested a variety of paper shredders to test the durability and some other specifications. And assigns paper shredders to different levels of government based on minimum requirement.
In addition to these rules for safe destruction of government data, government agencies in the United States need to buy paper shredders under the Trade Agreement Act (TAA). This also includes paper shredders bought from suppliers. Here is where the General Service Administration (GSA) Schedule comes into play.
The TAA is an international agreement to make global trade more "fair". Government agencies cannot buy paper shredders from countries which are not included in the TAA.
GSA Schedule suppliers are certified to sell to government agencies. A GSA supplier can therefore only supply paper shredders which are produced in a country in the TAA.
Where does TAA stand for?
The TAA stands for Trade Agreements Act, this act was created by the central government with the purpose of ensuring a fair international trade playing field between countries. This includes paper shredders for the government market. The act requires suppliers and manufacturers to make sure that government paper shredders are 'substantially' made within a country under the TAA, read more.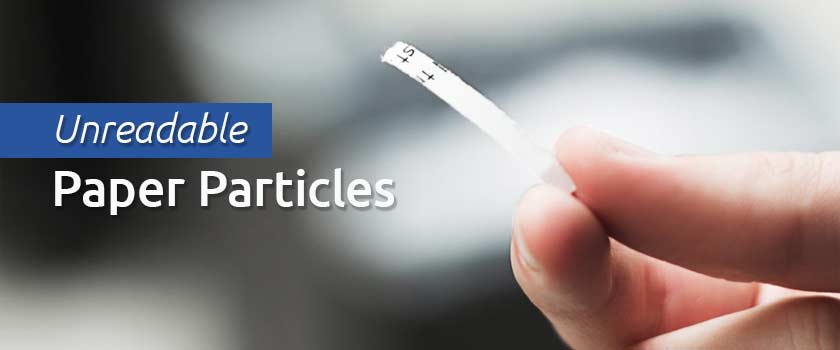 Which countries are not part of the TAA?
Below is a list of countries that are not under the TAA, we did this because most countries in the world are under the TAA. Note that the list mainly consist out of big Asian manufacturing countries.
China
India
Indonesia
Iran
Iraq
Malaysia
Pakistan
Russia
Sri Lanka
Date: June 2018
Because the list could have changed over time we recommend to check the most recent list of countries that are not TAA Compliant.
How to check if a Government shredder is TAA compliant?
A GSA schedule supplier or a producer who wants to sell a paper shredder to a government organization is required that the government shredder is "substantially" transformed in a TAA compliant country. The meaning of substantially transformed is a bit vague so what do they mean with substantially transformed? The U.S. government describes substantially transformed as: "have to be produced for at least 50% in a TAA country". This means that the raw materials and the individual parts can come from Non-TAA compliant countries. But that the main assembly has to be done in a TAA compliant country such as the United States.
A Government shredder is TAA approved when:
A supplier has a GSA Schedule contract. Find more information about the GSA Schedule.
The shredder has been substantially transformed in a TAA compliant country.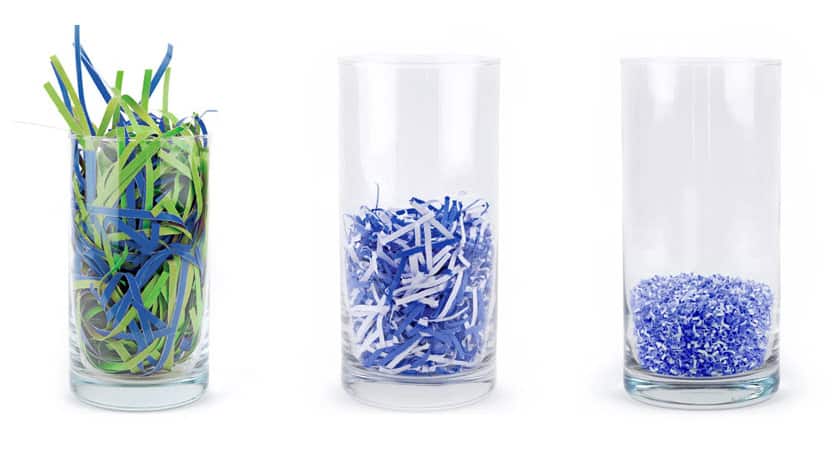 Why do prices vary between TAA and non-TAA shredders?
The cause of the difference in price is mainly due to the wage difference between TAA compliant countries and non-TAA countries. A government paper shredder build in the U.S. is therefore more expensive than the same paper shredder build in an Asian country.
Video: Fellowes Fortishred Series Shredders
When is a shredder NSA or DOD approved?
The National Security Agency has divided government data into various security levels. These security levels begin at 1 and go up to security level 6. Each of these safety levels have a minimal snippet size to which a government paper shredder must comply to be "NSA approved". The big chunk of government agencies fall into security level 3 and deal with Personally Identifiable Information (PII) and Controlled Unclassified Information (CUI). Government institutions who work with Classified Information (CI) fall into the highest security level 6.
Security Level 3, Minimal DIN P-4
Security Level 6, Minimal DIN P-7 (smallest shred size possible)
These security levels correspond to minimal DIN levels for the government paper shredder, so an agency can always buy a paper shredder with a higher security level. Read more about security levels in our paper shredder guide.
DOD compliant shredder
A DOD compliant paper shredder falls into security level 6. And documents used in a DOD agency has to be shredded by a paper shredder of DIN level 7.
High security micro cut shredders
Are you looking for a micro-cut shredder which isn't especially TAA approved? Then look at our recommendations for these high security shredders.
---
Step Up:
Recycle

, Reuse &

Reduce

The three arrows of the recycling symbol represent the three main stages of the recycling process: recycling, reusing and reducing. Together the arrows form a closed loop. Step up and implement eco-friendly replacements in your daily life.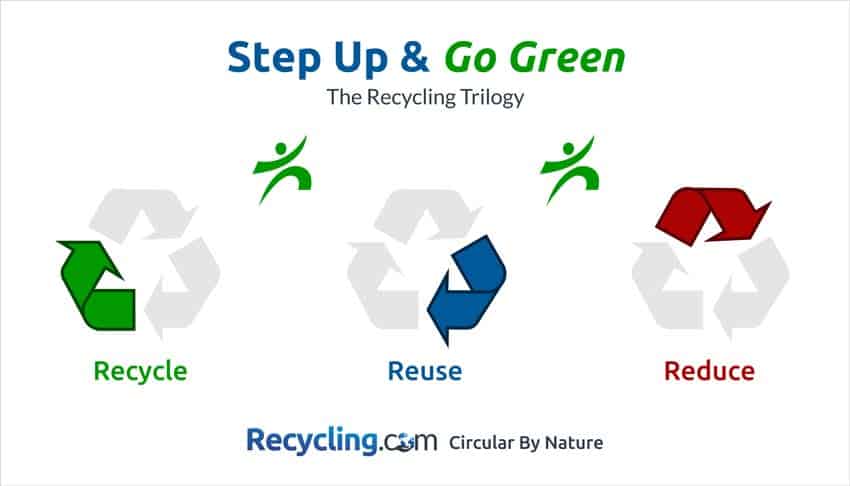 Join the movement! Step Up the waste hierarchy together to a goal of Zero Waste.