Sustainable Coffee Guide
Disclosure: This article contains affiliate links. If you click on a product and make a purchase, we may earn a commission – learn more.
Brew Coffee Right & Fair in 7 Steps
Whether you like the convenience of capsule coffee, the sound of drip coffee or the pureness of fresh ground coffee; there is always a way to make your black coffee more green. There are multiple ways in which you can choose for more sustainable and eco-friendly alternatives that will allow you to reduce your waste production and enjoy a fair and zero waste coffee moment at home or at work.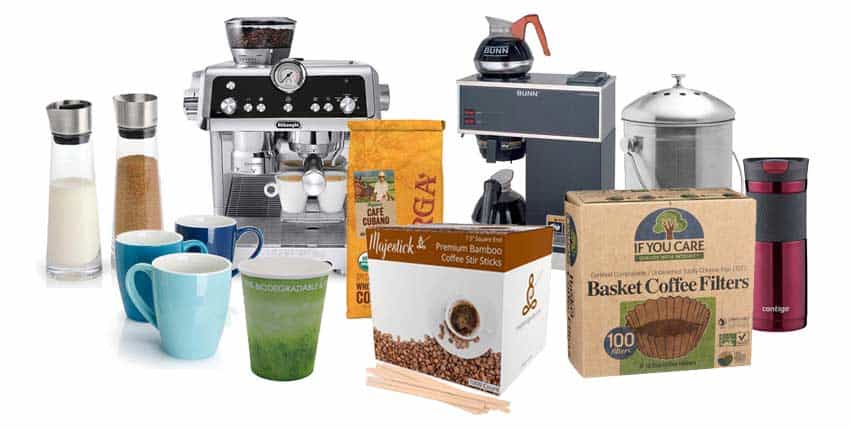 ---
Go Green & Enjoy Your Coffee in 7 Steps
How can you make your cup of coffee or espresso more sustainable? For instance by exchanging disposable coffee capsules for reusable capsules. Or swapping out single-serve packaged coffee creamer, milk and sugar with refillable dispensers. Or replacing single-use coffee cups with reusable cups and stirrers with reusable spoons that can be reused over and over again. On this page, we want to give inspiration for a more sustainable and eco-friendly daily coffee routine.
Sustainable Coffee Guide:
Every minute about 39,000 single-use coffee capsules are made worldwide, while 29,000 are dumped in landfill sites.Research by Evergreen
---
Step 1: Coffee Machines:
There are multiple ways to make a flavorful cup of coffee, espresso or cappuccino. But which electronic coffee machine is best to brew the most eco-friendly coffee at home or at the office? A fully-automatic espresso machine and a traditional 'auto-drip' coffee maker are your best option, because these machines make fresh coffee with beans or ground coffee, and never use plastic or aluminum capsules.
Automatic coffee machines don't require single-serve coffee pods, pads or capsules. These single-use pods are wasteful and harm the environment since recycling rates of the capsules are very low. In 2018 alone, more than 15 billion single-use capsules were thrown away and not recycled.
Espresso Machines
Use Fair Trade Coffee Beans
Espresso machines are designed to enjoy freshly ground coffee without the use of coffee pods or other single serve capsules. We recommend high quality engineered espresso makers that contain durable commercial grade stainless steel parts rather than plastic parts. For commercial use it is convenient to opt for an automatic espresso machine with grinder.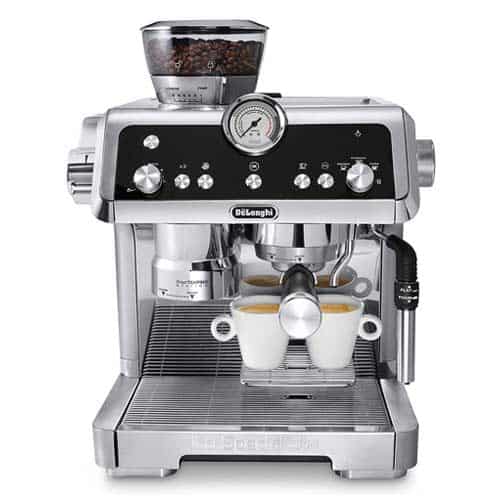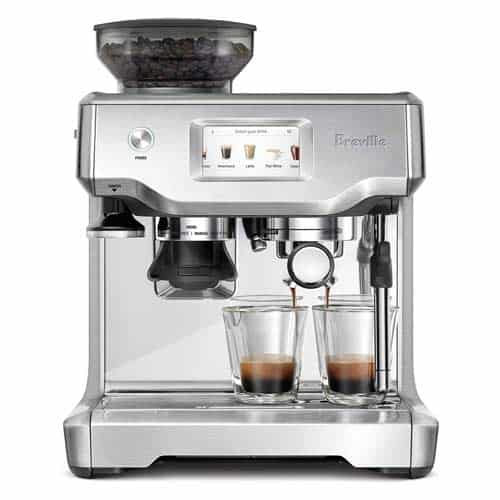 More Espresso Machines
Drip Coffee Machines
Use Fair Trade Ground Coffee
A pour over drip coffee maker is a popular and easy to use coffee machine. It contains one chamber for water and a basket for ground coffee. We recommend to make use of reusable coffee filters or 100% biodegradable ones. Also opt for a durable made coffee brewer that mostly is made of glass and metal parts so it will last you longer too. You can use (fairtrade) ground coffee or grind your own (espresso) coffee beans with a coffee bean grinder.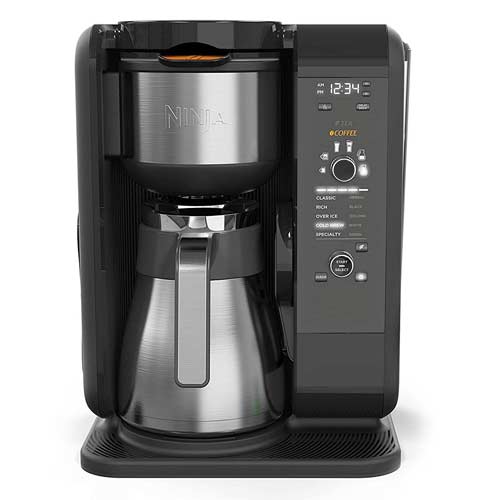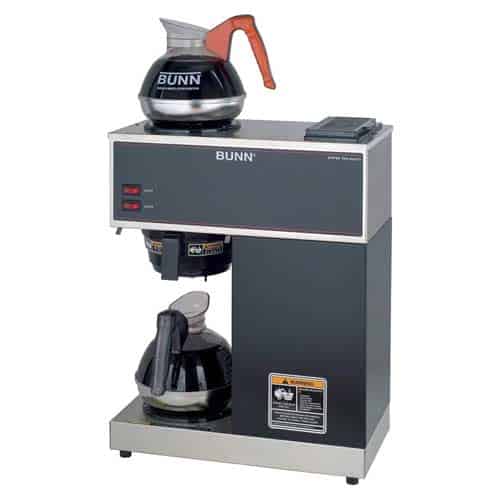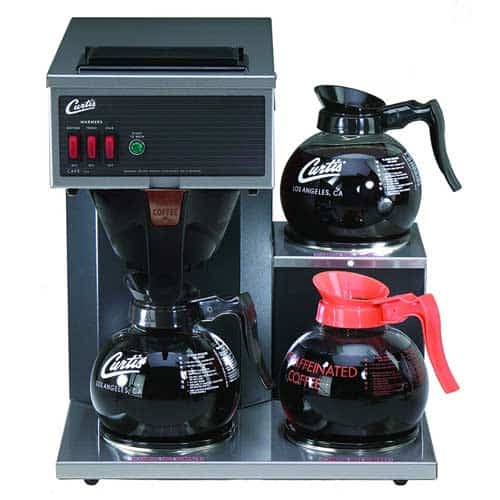 More Drip Coffee Makers
Compact Coffee Makers
Use Fair Trade Coffee
Besides full automatic espresso machines and pour over coffee makers there are also more compact ways to make coffee at home or in the office. For example, with a french press, also known as coffee press, where you press your coffee manually with a plunger or piston. With a coffee percolator you make fresh coffee on your stovetop, but some also have an integral electric heating element. A moka pot is also a stainless steel or aluminium pot for making fresh espresso on your stovetop.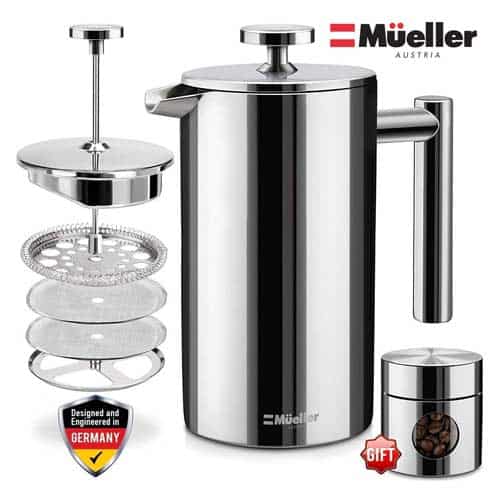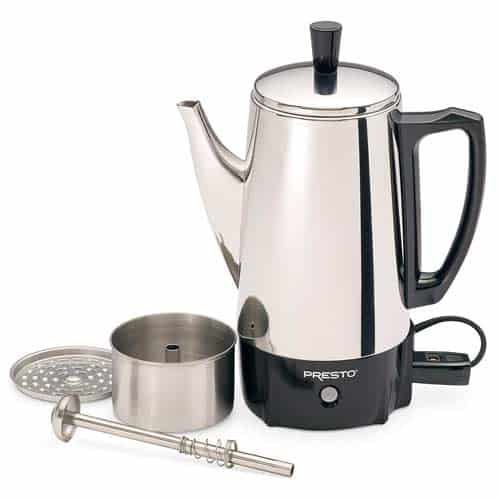 ---
Step 2: Coffee Beans & Ground Coffee

How do you make your black coffee more green? One of the easiest ways is to purchase fair trade coffee. By choosing Fairtrade coffee you will support the coffee farmers around the world and you protect the environment. You can buy fair trade as ground coffee or coffee beans. For the beans you need to use an automatic espresso machine or a zero waste coffee grinder.
Fair Trade & Organic Coffee
Fairtrade certified coffee guarantees local farmers a minimum price which helps cover costs for sustainable production. Besides Fairtrade certified, coffee can also be certified under 'USDA Organic Certification' and the 'Rainforest Alliance'.
USDA Organic ensures the product was grown in a way that is environmentally friendly. The Rainforest Alliance works with sustainable coffee farmers that are audited annually with detailed environmental, social and economic criteria. Another tip is to purchase eco-friendly packaged coffee, for instance, coffee that is packaged in paper or biodegradable packaging. Also, buy your coffee in bulk to reduce waste.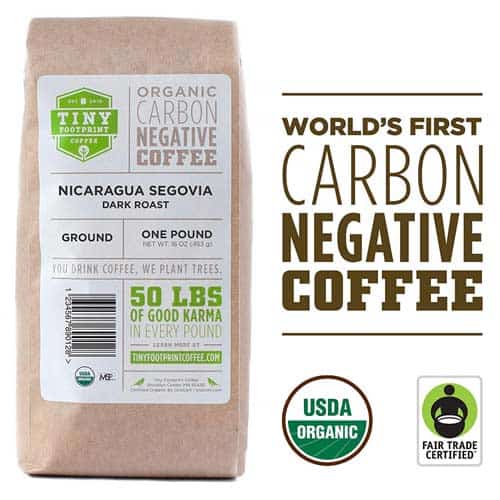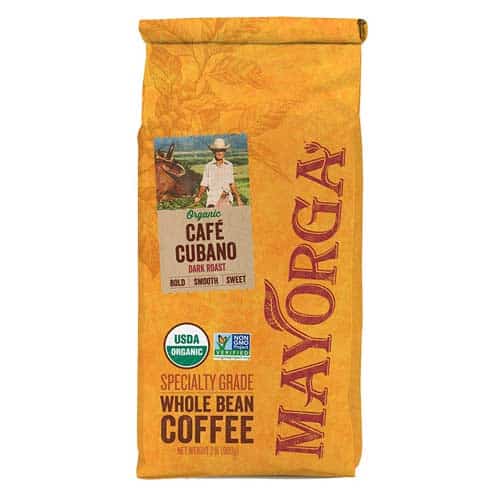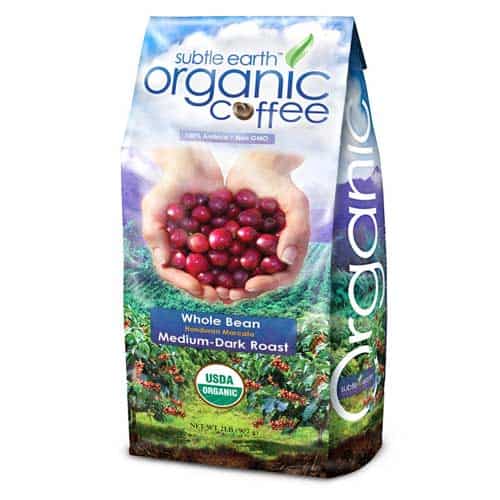 More Fair Trade Coffee
---
Step 3: Coffee Filters & Reusable Pods
A drip coffee machine that uses ground coffee requires a coffee filter. To reduce waste it is recommended to make use of reusable coffee filters or 100% natural and organic filters which are biodegradable. Single-serve coffee machines make use of capsule coffee and this way of brewing your coffee can be very wasteful. This form of 'mono-use', where you buy, brew and then bin the coffee isn't a circular way of making a cup of coffee.
Reusable & Biodegradable Coffee Filters
Reusable filters can be bought separately for your brand and type of coffee machine, after usage you can clean them easily and reuse the filter for your next brew. Some coffee machines already come with an included reusable filter. Compostable (zero waste) coffee filters are unbleached and thus chlorine-free and are made of, preferably, FSC-certified paper. Also make sure the coffee filters are compostable, see if the filters are for instance certified for composting by the 'Biodegradable Products Institute'.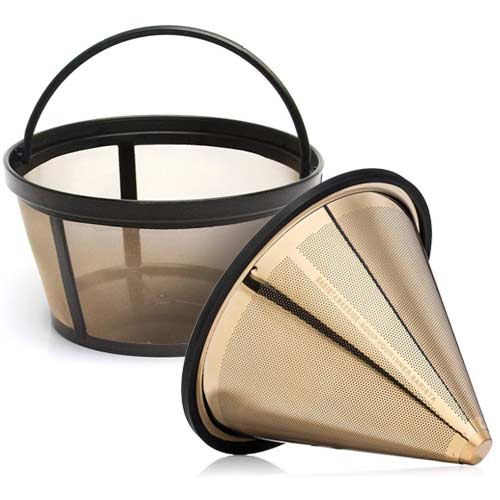 Reusable Coffee Filters
Check Price
Biodegradable Coffee Filters
Check Price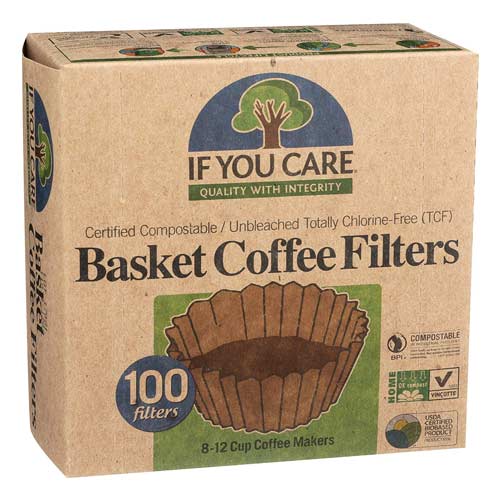 Reusable Coffee Pods
Standard coffee capsules are mostly made of aluminum or polypropylene, this benefits the freshness of the coffee and extends the shelf life. Both materials can be recycled, but research shows that capsule coffee is an environmental crisis. This means that coffee cups, pads and capsules end up in the black sack most of the time, and thus on the landfill. Compostable capsules are not a desired alternative, because they are difficult to sort, separate and recycle. The best alternative for single-use capsules is to make use of reusable coffee pods that are refillable with your favorite ground coffee.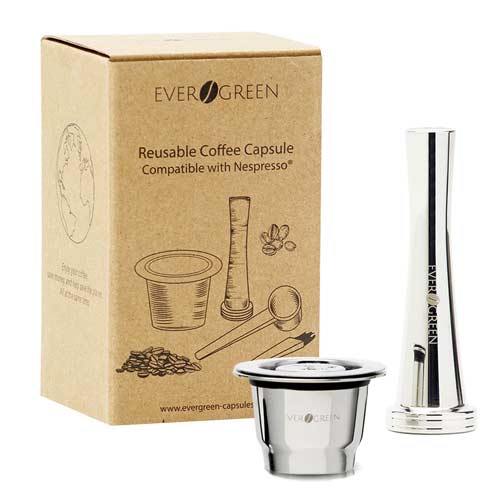 Reusable Nespresso Capsule
Check Price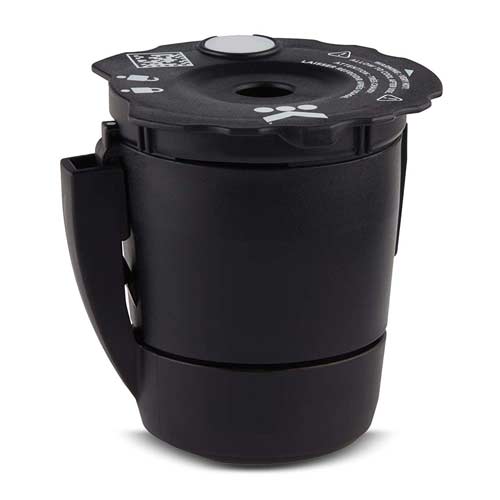 Reusable Keurig K-Cup Capsule
Check Price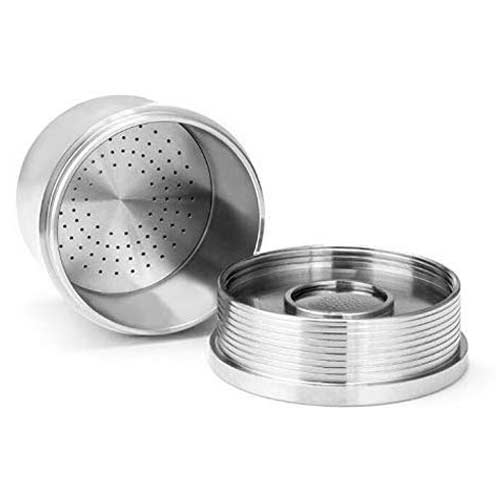 Reusable Illy iperEspresso Capsule
Check Price
More Reusable Coffee Capsules
---
Step 4: Coffee Cups
In commercial environments it is common that coffee is served in single-use plastic cups. Also known as coffee 'on the go' which you can buy at your local coffee store  and is also served in a disposable coffee cup. These cups are not very eco-friendly because most of them are not recycled properly.
Reusable & Biodegradable Coffee Cups
It is better to use permanent coffee cups, such as glass or porcelain coffee mugs which are reusable. If you want to grab a take away coffee on the go, we it is recommend to 'bring your own cup'. Some coffee stores even give you a small discount for bringing your own cup. When a disposable cup is unavoidable, then opt for 100% compostable coffee cups.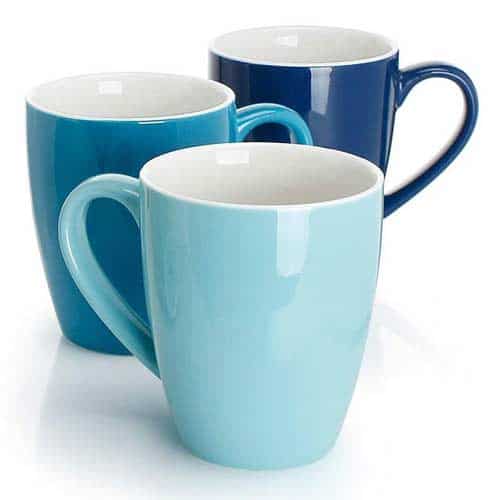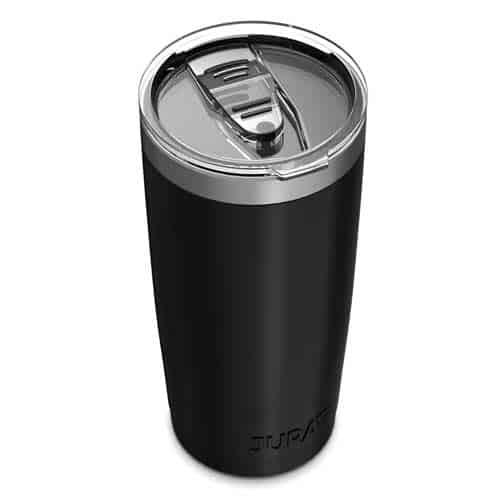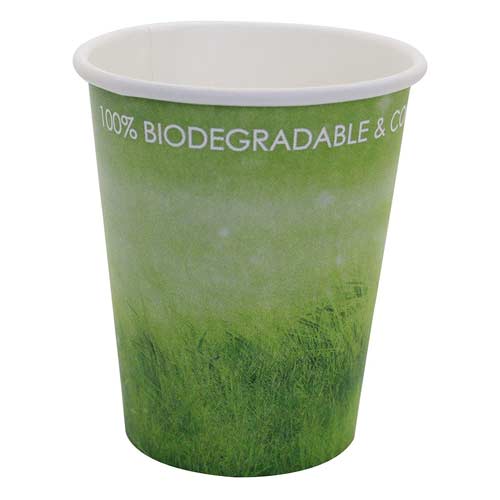 ---
Step 5: Milk & Sugar Dispenser
Instead of using single packaged powdered coffee creamer and sugar it is more sustainable to serve coffee creamer and sugar in large dispensers, and let everyone help themselves.
Dispensers for Coffee Creamer & Sugar
You can use glass canisters for sugar and powdered creamer. Or place an insulated creamer carafe for cold coffee milk.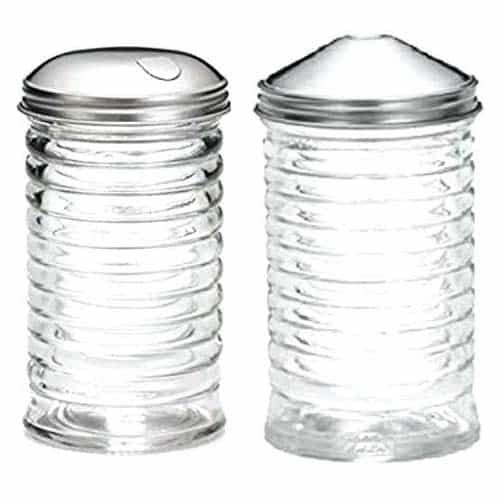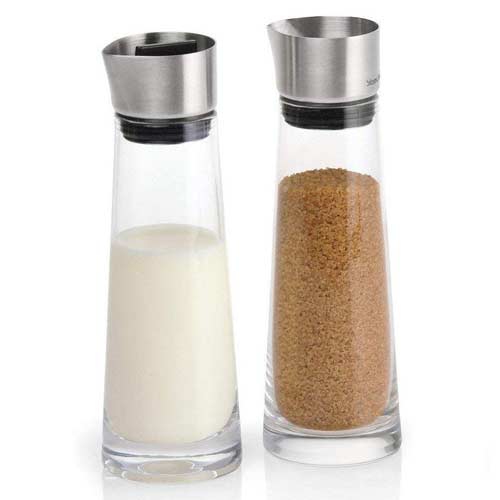 ---
Step 6: Reusable Spoons & Stir Sticks
Around 138 billion plastic coffee stir sticks are thrown away globally every year. When you want to make your coffee green, you should stop offering and using disposable plastic stir sticks.
Reusable & Biodegradable Coffee Stirrers
Replace single-use plastic coffee stir sticks with stainless steel coffee or tea spoons. Or make use of biodegradable alternatives such as bamboo or birch wood coffee stirrers that are compostable and also more eco-friendly to use.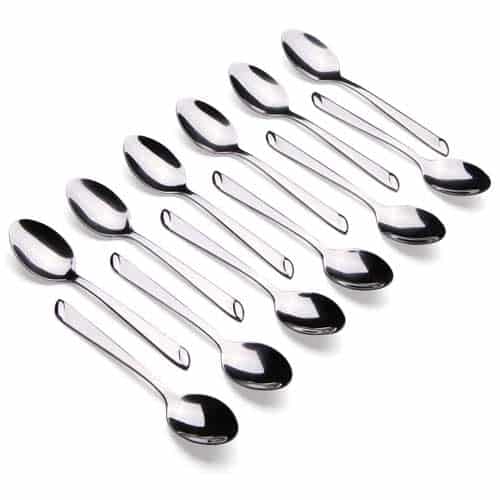 ---
Step 7: Compost Bins & Knock Boxes
Did you know that about 6 million tonnes of coffee grounds is sent to landfill every year. To prevent this from happening it is important to separate coffee grounds in a dedicated recycling bin.
Compost Bin for Coffee Grounds
One of the ways to recycle coffee grounds is to use a compost bin, as coffee grounds are compostable. For in the kitchen you can use a small composting bin on the counter that you can empty into a larger composting bin when it is full. The separated coffee grounds must be composted for around 100 days before you can use it as a fertilizer, otherwise it may still contain chlorogenic acid and tannins that are harmful to plants.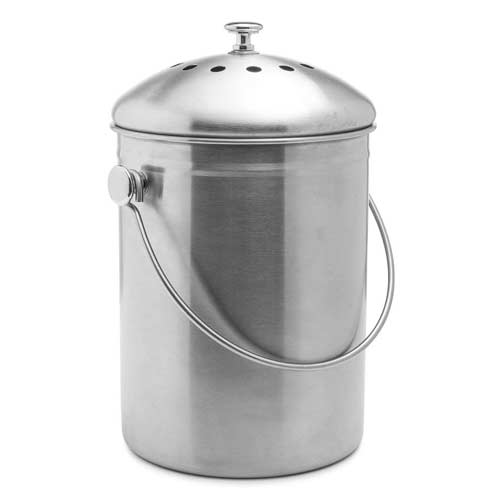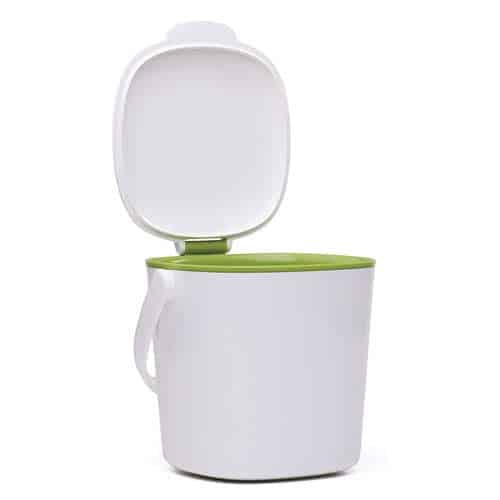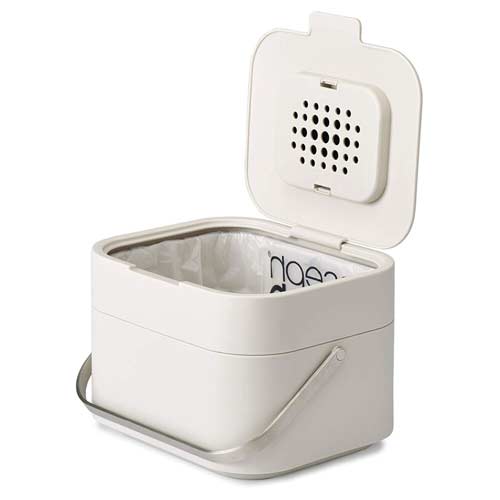 More Compost Bins
Espresso Knock Box
An espresso knock box is a dedicated container for your used ground coffee, it really helps to separate coffee grounds from other waste stream. It is called a knock box because you can 'knock out' the used ground coffee out of the portafilter. You can of course also use the knock box as a dump bin to throw away compostable coffee filters with coffee grounds from your drip coffee maker.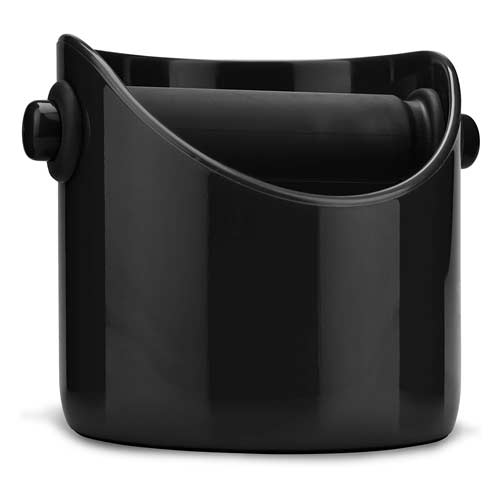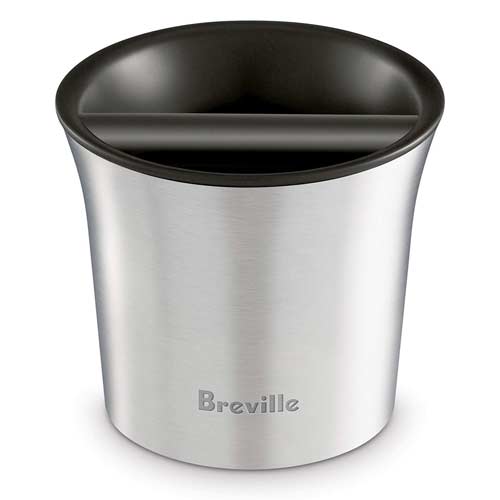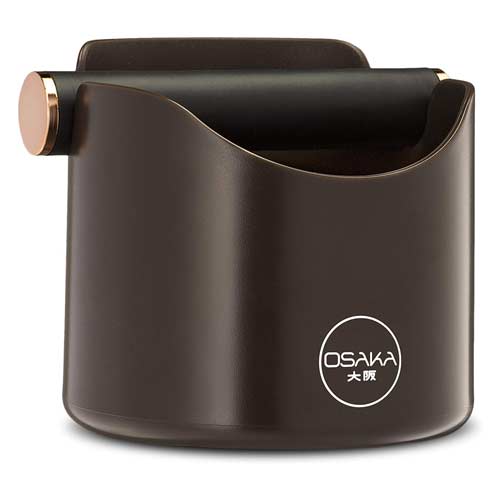 More Knock Boxes
Coffee to Go? Bring Your Own Cup
A lot of people like to drink their coffee on their commute to work or school. Some make their coffee at home in the morning and bring it with them in an insulated coffee tumbler. But most people like to buy their coffee on the go to a local coffee shop. Instead of ordering your hot coffee in a disposable cup you get at the store, you can also bring your own reusable cup to shrink your environmental footprint. Some stores, such as Starbucks, even offer a cup discount so you save a bit of money too.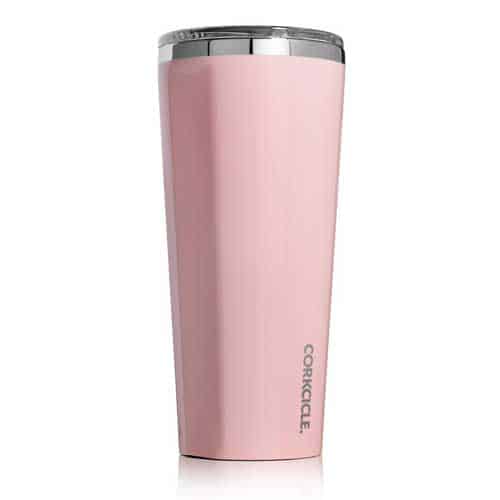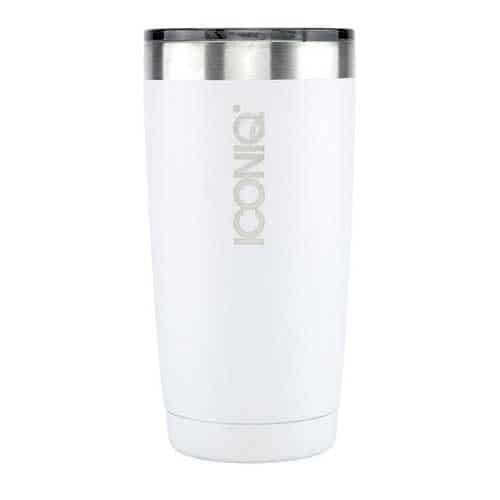 More Reusable Coffee Cups
---
For The Tea Drinkers Among Us
Some people prefer to drink tea rather than coffee, or switch to tea later in the day to avoid caffeine. What many don't know is that your average tea bag can contain plastics, and therefore these are not appropriate to compost or recycle. However, below we have provided some eco friendly, plastic free solutions for this issue.
Eco-Friendly Tea Bags and Infusers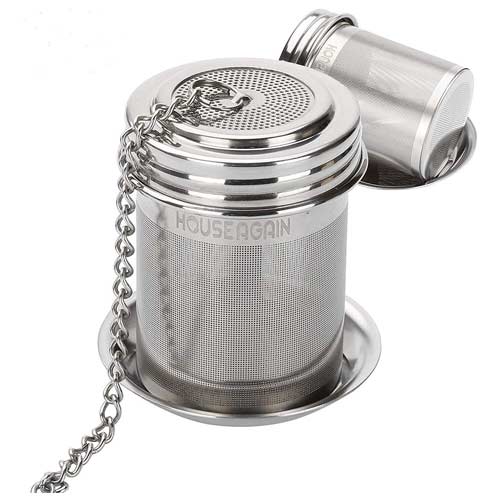 Natural Tea Filter Bags
Check Price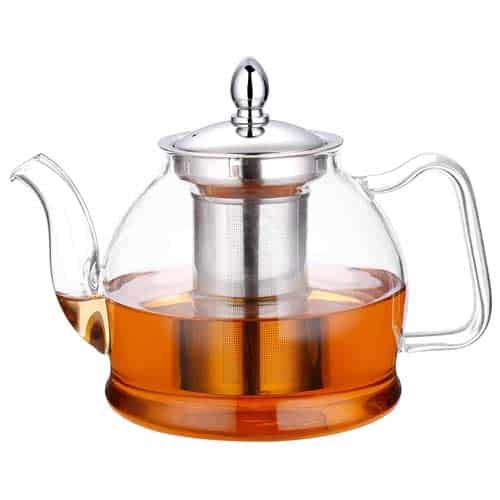 Loose Leaf Tea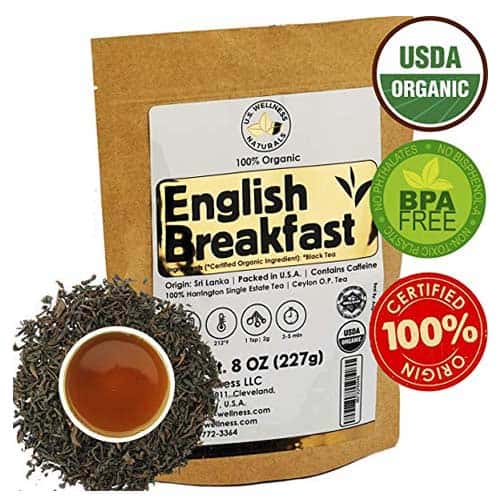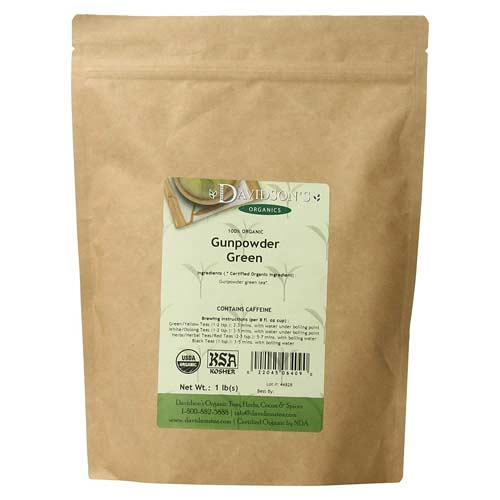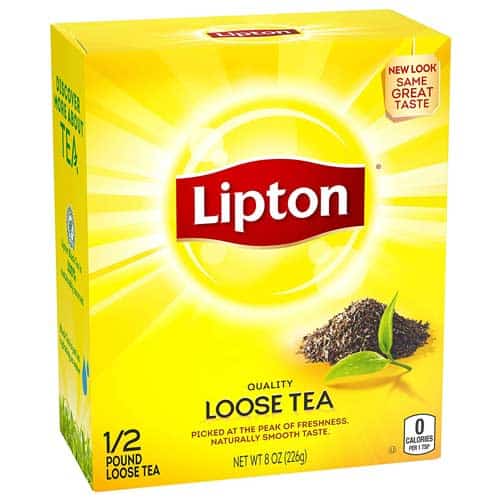 Lipton Loose Black Tea
Check Price
---
Sustainable Coffee Guide Infographic
Share the 7 sustainable coffee tips with your own network.

---
Step Up:
Recycle

, Reuse &

Reduce

The three arrows of the recycling symbol represent the three main stages of the recycling process: recycling, reusing and reducing. Together the arrows form a closed loop. Step up and implement eco-friendly replacements in your daily life.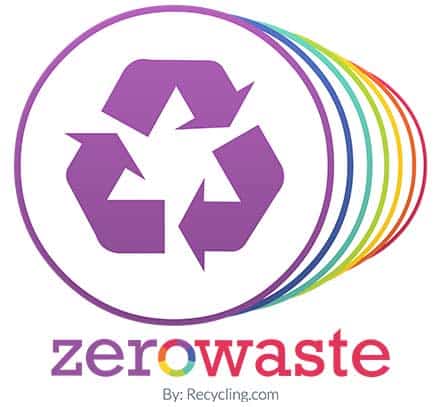 Join the movement! Step Up the waste hierarchy together to a goal of Zero Waste.
By Recycling.com/ 25 May 2020 Shares