5 Stylish & Beautiful Trash Cans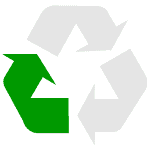 RECYCLE

| Separate Recyclables
Disclosure: This article contains affiliate links. If you click on a product and make a purchase, we may earn a commission – learn more.
Unique Bin Ideas for Your Kitchen
Inspiration For Your Trendy Eco-Friendly Lifestyle
You really love the nice design of your kitchen. But you still need a trash can, it is too bad that most garbage bins are pretty ugly and boring looking. Are you looking for a beautiful, luxurious but functional trash can which compliments your kitchen? We've selected one of the most stylish trash cans for you. Why not collect and separate trash and recycling in style? Below you'll find attractive and sharp looking recycling bins for your inspiration.
---
---
---
---
---
---
Yes, a beautiful trash can in your kitchen to be proud of is really possible. With one of these sharp looking garbage cans you can expect compliments from your guests pretty soon.
More about recycling bins