Best Stainless Steel Trash Can For Kitchen
Disclosure: This article contains affiliate links. If you click on a product and make a purchase, we may earn a commission – learn more.
A stainless steel trash can is a great waste receptacle for at home, in the kitchen, or at the office. The advantage of a stainless recycling bin compared to a plastic trash can is that stainless steel is more hygienic in use and easier to clean. See our best-selling stainless steel trash cans below with specific features.
Popular Trash & Recycle Bins
---
Best 5 Stainless Steel Trash Cans
Here are our Top Sellers:
---
Best Automatic/Touchless Trash Can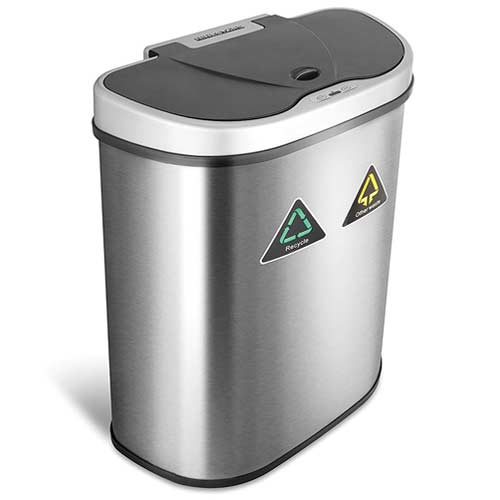 This bin is not only 100% stainless steel making it easy to clean, but it's also automatic, so you just need to wave your hand to open it.
It also has two compartments which will help you with separating waste and recycling at home or in the office.
The lid seals odors and trash bags are hidden as the lid covers the top of the dual buckets.
Capacity: 16 gallons
Dimensions: 13 x 21.3 x 26.2 inches
---
Best Dual Compartment Trash Can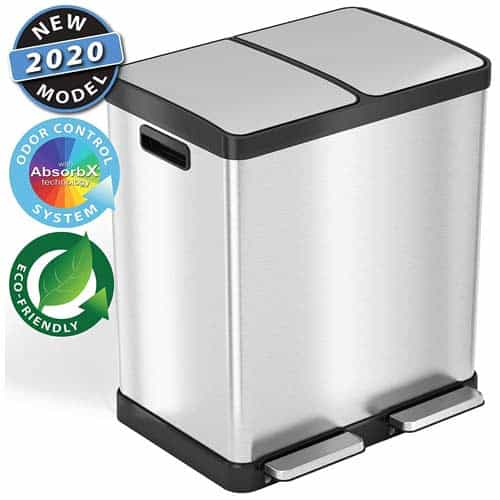 A dual compartment bin which has an 8-gallon side for recycling and an 8-gallon side for your trash.
The design is relatively small, so it only requires minimal floor space thanks as it's both slim and rectangular.
The trash can is easy to clean as the two inner buckets are removable for easy emptying and the brushed stainless steel is fingerprint and smudge-proof.
Capacity: 16 gallons
Dimensions: 23.1 x 13.9 x 22 inches
---
Best Triple Compartment Trash Can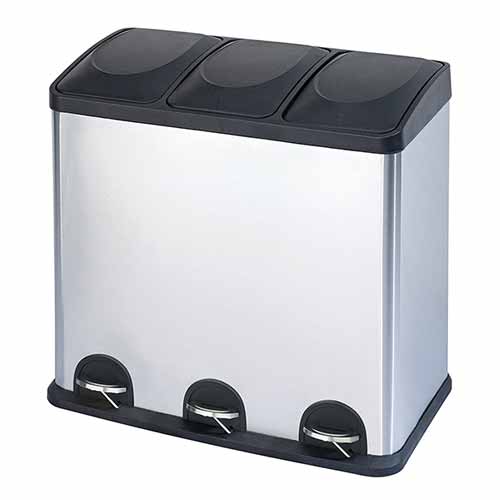 Large removable compartments can hold 5.33 gallons each and require 8- or 10-gallon recycling bags.
Sturdy heavy-duty steel frame and durable hands-free step pedals for easy sorting.
A convenient recycling bin, great for for sorting waste and recyclables at home or office.
Capacity: 16 gallons
Dimensions: 24 x 13 x 24 inches
---
Best 13 Gallon Trash Can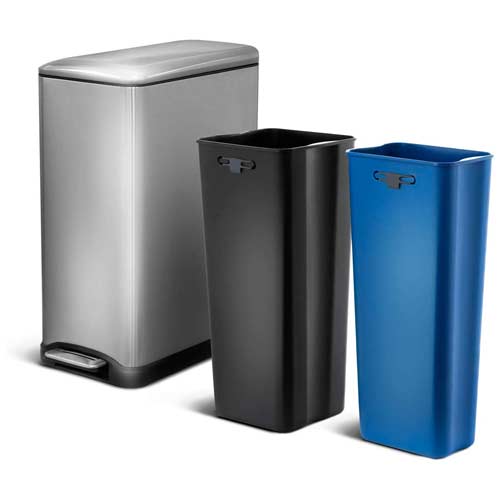 A slim dual trash can that is relatively tall and has the unique feature that the two inner bins sit behind each other rather than side by side.
The reinforced hinge ensures the lid closes softly and securely after removing your feet from the sturdy pedal.
The stainless steel is fingerprint-proof, prevents smudges, and the inner bins are easily removed for cleaning as well.
Capacity: 13 gallons
Dimensions: 30 x 24 x 14.5 inches
---
Best Butterfly Lid Trash Can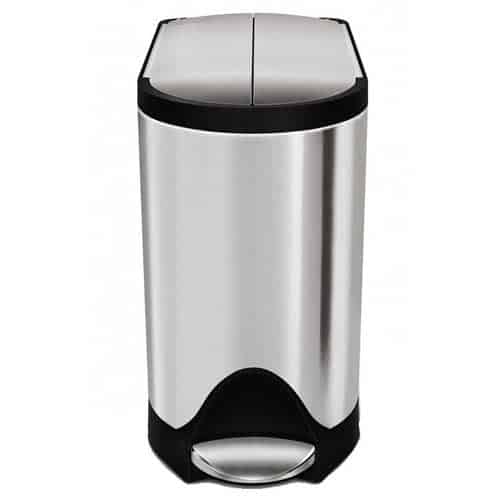 The attractive and functional split lid opens beautifully and closes smooth and silent, all with the strong steel pedal.
Bellow the unique butterfly lids are hiding two equally large bins for sorting trash and recyclable materials.
This recycling garbage can has a slim and narrow shape, which makes it perfect to squeeze in tight spots.
Capacity: 10.6 gallons
Dimensions: 23.3 x 10.4 x 26 inches
---
Keeping you trash can clean and hygiencic is just as important as keeping your house clean and tidy.
---
More About Stainless Steel Kitchen Trash Cans
Why get a stainless steel trash can for the kitchen?
Pros:
Durable and long-lasting
More stable than plastic due to weight
Hygienic in use and easy to clean
Looks good with stainless steel kitchen appliances
Easy to find
Available with many special features and sizes
Cons:
Not many color options
Can get dents quickly depending on the quality
Doesn't suit all interior styles
Can get fingerprint smudges quickly, need a special coating
Can be noisier, therefor soft-close system advised
---
How to clean a stainless steel trash can?
How to keep your high-quality stainless steel trash can clean? Most of the stainless bins come with a fingerprint-proof coating. This layer keeps smudges to a minimum. But the coating won't prevent the stainless steel from becoming dirty over a while of use. How to clean a stainless steel trash can without making scratches and damaging the bin?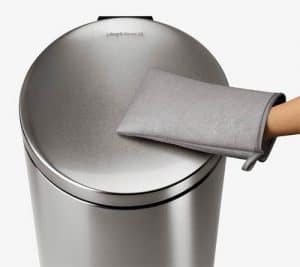 Simplehuman recommends the use of the Simplehuman microfiber mitt to keep your stainless steel spotless. The only thing you need is the mitt and some water. Chemicals are not necessary. To clean the stainless steel bin, you dampen one side of the microfiber mitt with water. With this side, you clean the whole bin. When you're finished, you use the mitt's dry side to buff and polish the stainless steel. The microfiber mitt is machine washable.
---
Other things to keep in mind
Get a fingerprint-proof coated bin
Check for possible dents when receiving the bin
Clean the bin with a damp micro-fiber cloth
---
Related pages and useful information