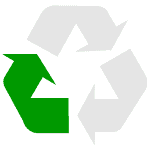 RECYCLE

| Source separation

Disclosure: This article contains affiliate links. If you click on a product and make a purchase, we may earn a commission – learn more.
Load, transport and unload heavy and bulky loads
A self-dumping hopper is an essential forklift attachment for any commercial and industrial workspace dealing with large and heavy (waste) materials. The dump hopper is used in a variety of industries such as construction, warehousing and lumber processing to store and relocate heavy loads with a fork truck. There are different types of self-dumping hoppers that come in multiple sizes, capacities, colors and build materials (steel or plastic). On this page, you can find useful information and tips about forklift hoppers.
The single-user operation of a forklift hopper allows convenience and easy handling.
---
Do you need product advice?
Personal recommendations tailored to your needs
Not sure which product suits your needs best? Do you want personal advice and recommendations from our team of specialists? Inform us about your needs and we contact you free of charge.
---
Top 5 Best Self Dumping Hoppers
---
---
---
---
---

Compare & Share with your Colleagues
Download the Top 5 Self-Dumping Hoppers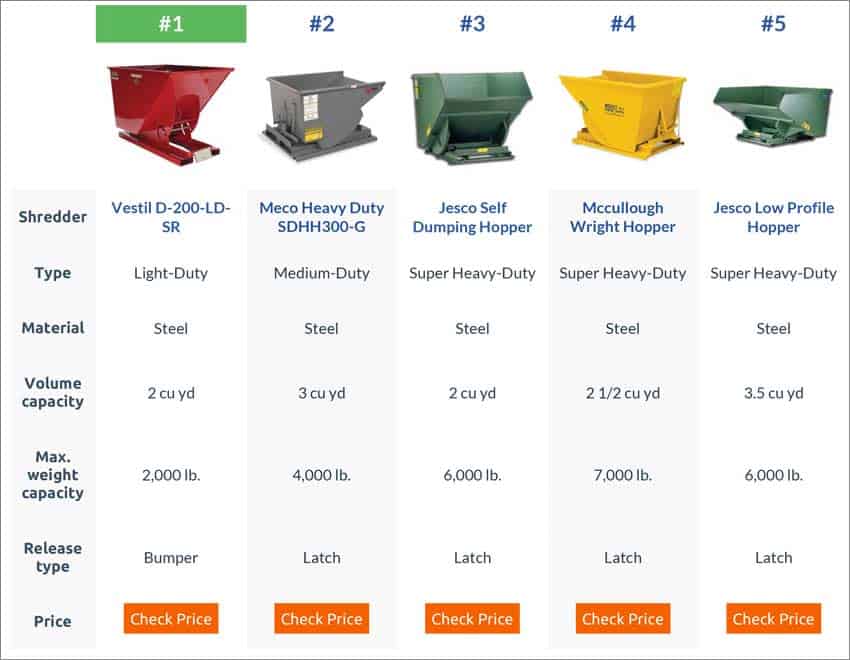 Do you want to compare and review the self-dumping hoppers together with your colleagues? Then download the PDF document (right click and save) which contains a convenient comparison table with an overview of top 10 recommended self-dump hoppers for forklifts.
Easily compare the hoppers
Share the PDF with your colleagues
Convenient comparison table
Check current prices
PDF file size: 291 kB
---
More about dump hoppers
What is a self dumping hopper?
A self-dumping hopper is an attachment for heavy-duty forklifts. Self-dumping hoppers look like small waste containers with two fork pockets underneath the base. The unique feature is that these containers can roll forward to empty the contents. The heavy-duty forklift lifts the self dump hopper with the forks which can be inserted into two full length fork tubes, which provides maximum support. When lifted the forklift truck can move heavy contents around in the workspace.
The hopper is used to temporarily store materials, such as cardboard waste or scrap metal, which can be dumped elsewhere. You can use them anywhere in your facility, inside or out. A forklift hopper is specially designed for forklift handling. The operator can dump the contents with a pull cable or with a bumper.
After dumping the contents the hopper automatically returns to an upright, locked position. Ready for reloading.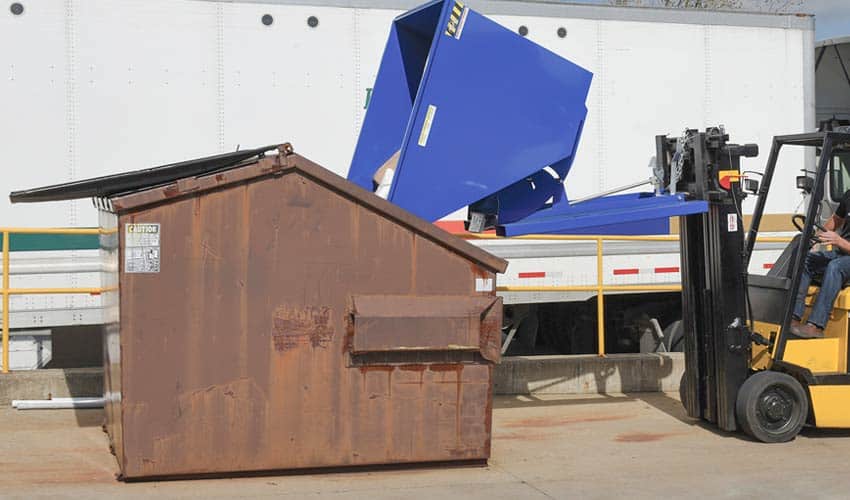 Plastic, metal or steel dumping hoppers are designed for commercial and industrial use and are ideal for storing and transporting waste and bulk materials. These hoppers are available in light-duty, medium-duty, heavy-duty and super heavy-duty variants. The plastic or steel hoppers are rugged in design, especially the all-steel hoppers. A self-dumping forklift hopper is perfectly balanced to tilt forward when full and roll back when it is emptied. When loaded and unlatched it will roll forward to discharge its contents and it will roll back in its upright position when empty.
A positive locking latch prevents accidental dumping. A safety chain that is attached to the heavy-duty forklift and the trash hopper keeps the hopper into place.
How does it work?
A self-dumping hopper is a convenient piece of equipment for forklifts because it can be operated by one person. The use of a dumping hopper is fairly easy and also safe when used in the right way:
Pick up the hopper with the forklift by placing the forks in the tubes.
Tilt the hopper backward to prevent it from slipping off the forks.
Attach the safety chain to the forklift carriage for extra security.
Load the hopper with waste or scraps and transport it.
Dump the contents by pulling a latch or pressing a bumper.
When emptied the hopper rolls back into its upward position.
The unit will re-latch and locking itself back for reloading.
There are two release variants for self-dumping hoppers. One is with a latch or pulls the cable and the other one is with a bumper. The cable and bumper are used to release the hopper to dump the load for example in a large container.
Release the hopper with a pull cable or latch
The forklift truck operator releases the self-dumping hopper by pulling a cable or latch which is attached to the dump hopper. By pulling the latch the forklift dumpster rolls and tilts forward and the loads are dumped. Some hoppers are equipped with a magnetic latch that can be attached to the frame of the forklift, so the operator doesn't need to hold the handle while driving.
Release the hopper with a bumper
A self-dumping hopper with the bumper release comes with a bumper in the front of the container. This metal plate in the front works as a button. The forklift operator bumps the plate against the side of the dumpster and the hopper tilts forward and releases its contents. Once it empty, it will return to its upright locked position. When the bumper can't make contact to the side of a container the operator can use a pull cable to manually tilt the hopper and empty the contents, all while the operator is seated in the fork truck.
In the industry they call it 'bump and dump'.
Video: Vestil self dumping hopper with bumper release
Hydraulic release
A more advanced release system is the hydraulic self-dumping hopper. Because of this system, you can smoothly and carefully roll the hopper forward when it is released. It will not roll forward automatically due to the weight inside the hopper.
A hopper with latch, chain or bumper release can be equipped with industrial gas springs. These springs help to smoothly and slowly tilt the hopper when it is released. The gas springs absorb the largest weight of the container when it is emptied.
Transit cardboard waste and scrap metal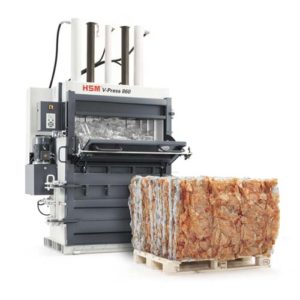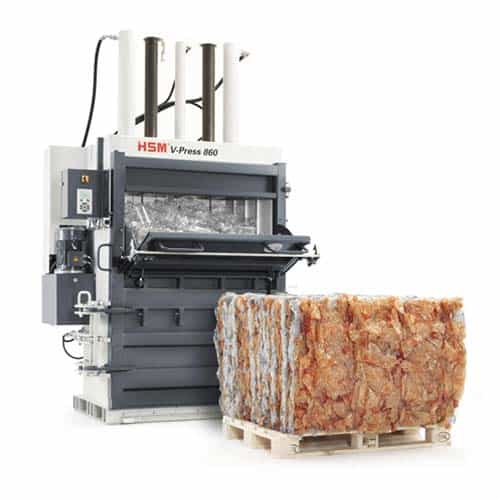 You can use a self dump hopper to transmit large volumes of waste in and around your facility.
For instance transport high quantities of cardboard waste to to your cardboard baler. With the cardboard baling machine you can produce compact cardboard bales. These compressed bales reduce the volume of the material, so you clear up space in your facility. The cardboard bales can be sold for recycling which lowers the overall waste collection costs for the company. Read more about cardboard recycling.
You can also use a self-dumping hopper as a scrap hopper to collect and separate all kinds of scrap metals. It is important to source separate ferrous and non-ferrous scrap metals for high quality and high valued metal recycling. Read more about scrap metal recycling.
Types of self dumping hoppers
Common self-dumping hopper variants:
Standard hopper: Classic hopper with forklift tubes for collecting, transporting and dumping large and bulky materials.
Hopper with hinged lid: A hopper with a heavy-duty polyethylene lid which can be opened and closed. This helps to control possible odors and secures contents. These 'recycle hoppers' are perfect for source separation of waste materials, such as paper, cardboard, plastic, wood and scrap metals. A lid can also help to keep debris out of sight. It is also possible to lock the lid with a padlock if needed.
Hopper with casters: Transform a standard hopper into a portable hopper. Because this mobile dump hopper can be moved around the plant or facility without the need for a forklift. The casters which are installed can be made of steel, plastic or rubber. For heavy loads, it is important to use heavy-duty casters. Two casters swivel and two are rigid for easy manual maneuvering around the facility.
Low profile hopper: A low profile self-dumping hopper is ideal when the height of a standard hopper is too high or when there are areas with height restrictions.
Open side hopper: This hopper is designed for handling materials of all lengths because the container has open sides. Ideal for transporting pipes, sheet material and lumber.
Dewatering hopper: The container is perforated so any liquids will flow away of the collected materials. Another variant of a dewatering self dump hopper is the standard hopper with drain plug to allow drainage of liquids.
Dross hopper: Specially designed for collecting and transporting hot materials with the forklift. The forklift hopper can handle hot materials and the large perforated openings allow the material to cool, which reduces the heat inside the dumper.

Load capacity of the hopper
Self-dumping hoppers are available in all sizes and capacities. There are very small hoppers for light work, but also large hoppers for super duty work which requires a heavy-duty forklift which can handle heavy loads. These heavy and super duty hoppers are designed for transporting and dumping heavy scrap and waste materials, such as glass, metal, and stones.
A standard dump hopper can hold materials anywhere from 1,000 to 6,000 lbs. Please make sure the operating fork truck can lift the maximum weight capacity.
Light duty hopper capacity: Loads up to 2,000 lbs
Medium duty hopper capacity: Loads up to 4,000 lbs
Heavy duty hopper capacity: Loads up to 6,000 lbs
Super duty hopper capacity: 6,000+ lbs
Video: Uline steel dumping hoppers
Steel and plastic hoppers
Forklift hoppers can have an all-steel construction or a combination of steel with plastic. What is the difference between a steel hopper and a plastic hopper?
All steel forklift hopper:
Very durable construction.
Carry heavier loads.
More stability.
Powder coated finishes helps the steel to resist scratches, chipping and rusting.
Plastic / polyethylene forklift hopper:
Quiet in use.
Light and easy to handle.
Rugged and functional.
Resists rusting, denting and pitting.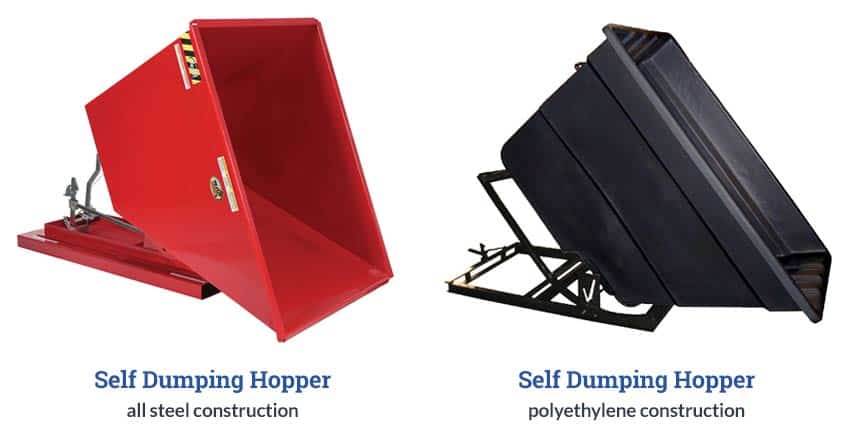 Pros and cons of forklift hoppers
A self dumping hopper is a great piece of forklift equipment. What are the pros and cons of using a hopper?
Pros
Helps keeping the site clean, organized and safe.
Easy to operate by one user.
No mechanical parts.
Move around high volumes and heavy loads.
Most hoppers are stackable.
Use it for storage, recycling and transport.
Dump waste materials in a high volume dumpster.
Relatively low investment to upgrade a forklift.
Cons
There are a lot of different options to choose from.
Requires a bit of training for the forklift operator.
The larger self-dumping hoppers require a more powerful forklift truck.
An all-steel hopper can be quite noisy when discharging contents.
A mobile hopper on casters can be very heavy to push manually when fully loaded.
Stacking the hoppers
Some dump hoppers can be stacked on top of each other which saves valuable space in your facility. In general, it is advised to not stack empty units over three high. Please note that not all dump hoppers can be stacked, please ask the manufacturer or reseller for further information.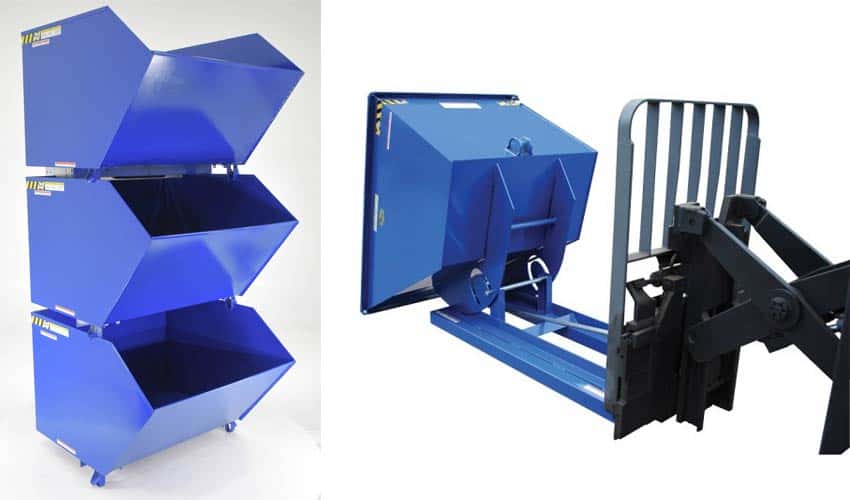 Label the hopper when used for waste sorting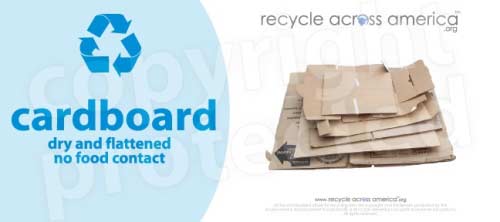 When using a fork truck hopper for separating and sorting waste it is recommended to label the container to improve source separation at your facility. For instance when you use the dumping hopper for cardboard waste, then place a sticker which shows that the container can only be used to discard cardboard waste material.
Safety first
Use your PPE – Before operating a fork truck with self dumping hopper it is important to have your required personal protective equipment on (PPE).
Safety restraint – This is a heavy-duty metal chain that connects the self-dumping hopper to the forklift carriage for extra security. The chain needs to be attached to the truck before use and prevents the dumping hopper from sliding off the forks.
Safety latch – This latch holder prevents accidental dumping of the hopper and should be used at all times when the hopper isn't dumping. Release the latch holder when the forklift is in position to dump its contents into a dumpster or other container.
Pick up the hopper – Insert the forks into the opening of the tubes in the base of the hopper. Spread the forks as far as possible and do not protrude the forks past the front of the base. Connect the safety chain and raise the hopper to a minimum practical height. Then tilt back the hopper to prevent the container from slipping forward of the forks.
Dumping – Position the hopper in the right position where the load can be dumped, for example above a waste container. Make sure the area is clear and safe and no people are around the forklift. Release the safety latch and dump the contents. After dumping it is important to secure the hopper with the safety latch to lock the hopper in position.
Maximum capacity – Don't exceed the maximum capacity of the hopper and make use of a fork truck which is powerful enough to lift the weight of the hopper and its contents.
Video: Self dumping hopper safety training video
Manufacturers of dumping hoppers
Which manufacturers build self-dumping hoppers for fork trucks? Listed below are a number of reputable manufacturers:
---

Header image credits: https://www.valleycraft.com
---
Step Up:
Recycle

, Reuse &

Reduce

The three arrows of the recycling symbol represent the three main stages of the recycling process: recycling, reusing and reducing. Together the arrows form a closed loop. Step up and implement eco-friendly replacements in your daily life.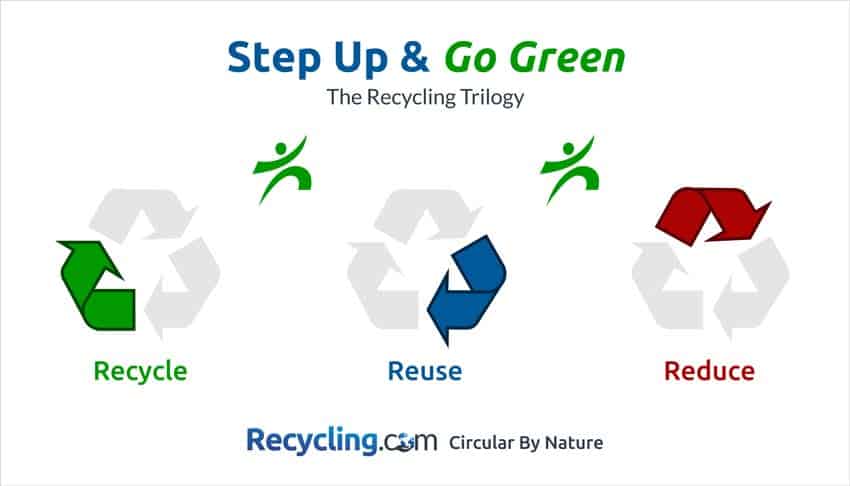 Join the movement! Step Up the waste hierarchy together to a goal of Zero Waste.