Best Reusable Water Bottles
Disclosure: This article contains affiliate links. If you click on a product and make a purchase, we may earn a commission – learn more.
Cut Back on Plastics With Reusable Water Bottles
With a reusable water bottle, you stop the use of disposable single-use plastic bottles and thus the plastic pollution caused by it. By purchasing a reusable water bottle you make a small but important step with a positive environmental impact for you and the rest of the world.
Drinking water from your reusable bottle looks stylish and it is tastier too. In this guide we share with you our recommendations for the best and most popular reusable water bottles.
Top 10 Water Bottles
---
Top 11 Reusable Water Bottles
Surprisingly water bottles can come with a huge variety of special features, and numerous colours and sizes. We have created a comprehensive list of our favourite reusable water bottles. A list that includes a bottle for every man's and woman's needs. Our top 11 water bottles below are not in any specific order, as their different features makes the bottles difficult to compare to one another. However, we assure you that your future bottle can be found on this page.
---
Sweat Free and Vibrant Patterns
This bottle holds 17oz. but is also available in 9.15oz. and 26.4oz.
What makes these bottles so special are their numerous color and patterns in combination with their high quality feel.
The bottle is leak proof, doesn't sweat and keeps your drink hot for 12 hours and cold for 24 hours.
It is made of bap-free stainless steal and has double walled vacuum insulation. It is durable and ideal for travel.
---
Insulated, Stainless Steel Bottle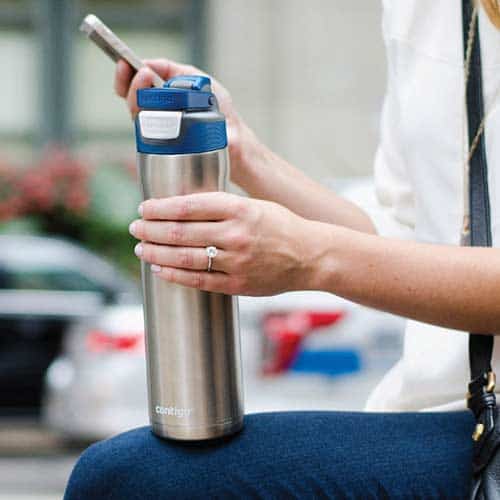 This bottle holds 24oz. and is available in multiple colors.
It features an Autoseal button which seals the lid between sips to eliminate spills and leaks and a protective spout cover to keep dirt and germs off the mouthpiece.
The integrated carrying handle makes it easy to carry the bottle with you.
While the lid is top rack dishwasher proof, the Thermalock insulation body needs to be hand washed.
---
Fashionable, Insulated and Shatterproof
This bottle holds 16oz. but is also available in other sizes and colours.
A triple-insulated stainless steel water canteen that keeps beverages cold for 25 hours and hot drinks for 12 hours.
The bottle has a very cool modern design that everyone can enjoy and appreciate.
A stylish option with a screw on leak proof cap that prevents air and liquid from escaping.
---
Small 12oz. and Light Weight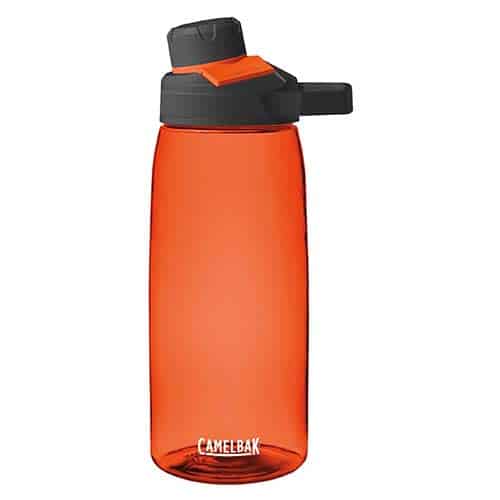 This bottle holds 12oz. but is also available in other sizes and colours.
The container is leak-proof when closed and delivers high water flow without a mess while being lightweight, durable, and dishwasher safe.
It is made from high-quality plastic materials that are 100% free of BPA.
Features a handle designed to make it easy to carry with you. The handle is also engineered with a magnetic to keep the cap stowed while drinking.
---
With Premium Water Filter for Hikers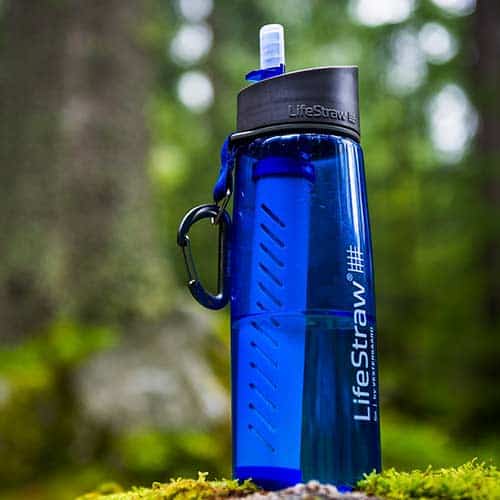 This bottle holds 23oz. and is available in other colours.
An ideal bottle for hikers as it features the award-winning LifeStraw hollow fiber membrane water filter which removes bacteria and protozoa from lakes, streams to ensure safe, clean drinking water.
The water filter can be replacet and is available separately.
It is BPA free, leak-proof, durable, and features a food-grade silicon mouthpiece and handy hook to attach it to your backpack on a long hike.
---
Basic and with Twist-off Lid
This bottle holds 32oz. but is also available in other sizes and a variety of colours.
This simple, classic water bottle features an attached twist off lid and is dishwasher safe.
The lid attachment piece makes for a convenient carrying loop and the bottle fits cupholders for in your car.
It is also BPA free and has printed graduations on it for easy measuring.
---
Functional with Two Types of Lids
This bottle holds 24oz. and is available in five colours and five sizes.
Insulation assures that your drink will stay warm up to 12 hours or cold for up to 24 hours.
The bottle comes with two straws and two lids so you can choose if you prefer a straw or chute.
BPA free material and all features make it ideal for athletes and outdoor activity, such as hiking.
---
Colorful Bottle with Three Lids
Tough materials which still remaining stylish at the same time.
It is avalible in a variaty of fun obre color combinations that are sweat-free.
It will keep your drink cold for up to 24 hours, and hot for up to 12 hours.
The carabiner ctraw lid with 2 straws, flip lid, and stainless steel lid allow you to choose.
---
Simplistic and Functional Tough Look
A tough mansculine bottle that both men and women will enjoy.
The flip-top leak-proof lid and attached loop make this bottle extremely practicle.
The bottle is BPA-free and is made of non-toxic eco-friendly tritan co-polyester plastic.
It is avalible in two sizes and four colors making is perfect for any athlete.
---
Budget Friendly Chilly's Look-alike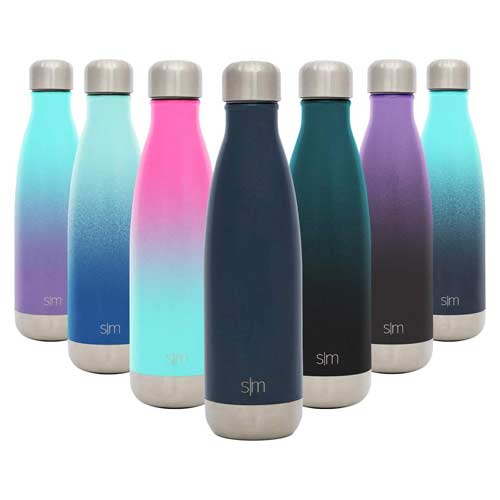 This smooth looking vacuum insulated bottle is also budget-friendly.
It is avalible in multiple colors and sizes, so it can match anyone's style and needs.
The 18/8 steel and premium copper coated insulation make is longlasting and durable.
The exterior is also sweat and burn-free so it doesn't get hot or wet from the outside.
---
One bottle for every day of the week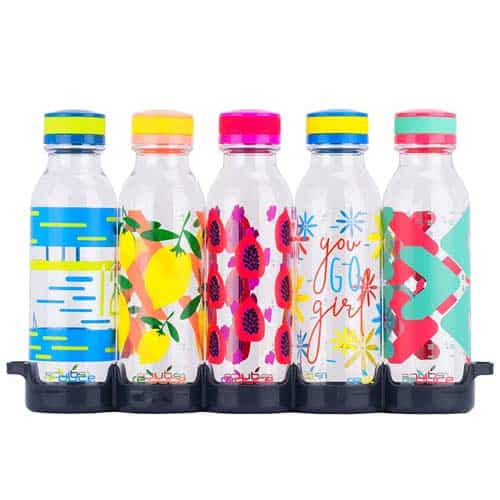 A set of 5 bottle so you always have one ready in the fridge.
Fun, yet simplistic bottles, BPA-free and dishwasher proof, each holds 20oz.
It comes with a stand to keep the bottles in order and out of the way.
One bottle for one work day, then wash it and always have the next cool bottle waiting.
---
In 2011 Americans used 50 billion plastic water bottles, 40 billion ended up in landfills.Recycling.com
---
Recommended Reusables:
Great that you are interested in reusable products. Step up your game even more by checking out other eco-friendly Reusables Products.
Q&A about Reusable Water Bottles
Navigation:
What is a reusable water bottle and how does it differ from single-use bottles?
The name "reusable water bottle" mostly speaks for itself, however some ideas behind it are not as obvious as the name. A water bottles that can be reused over and over again are sturdier and better looking than your average single-use water bottle that you can buy at any grocery store. The idea behind a reusable water bottle is that it replaces single-use water bottles, thus eliminating the waste that they produce. Although one reusable water bottle is significantly more expensive than one single-use bottle, in the long-term reusable bottles are cheaper, better looking, longer lasting, and healthier for you and your surroundings.
Reusable water bottles prevent plastic pollution that is caused by the use of bottled water packaged in disposable plastics. Besides that, bottled water is 2,000 times more expensive than regular tap water.(source)

---
Why buy a reusable water bottle?
There are two reasons why you should buy a reusable plastic bottle today. The first reason is for your health and the second reason is for the environment. Did you know that only 2% of plastic is closed-loop recycled in the world (see the picture below)? And did you know that a stylish and durable reusable water bottle really motivates you to drink more water every day? So by opting for reusable water bottles over single-use water bottles, you can both improve your health by staying hydrated better and the health of the environment by reducing the amount of plastic waste produced.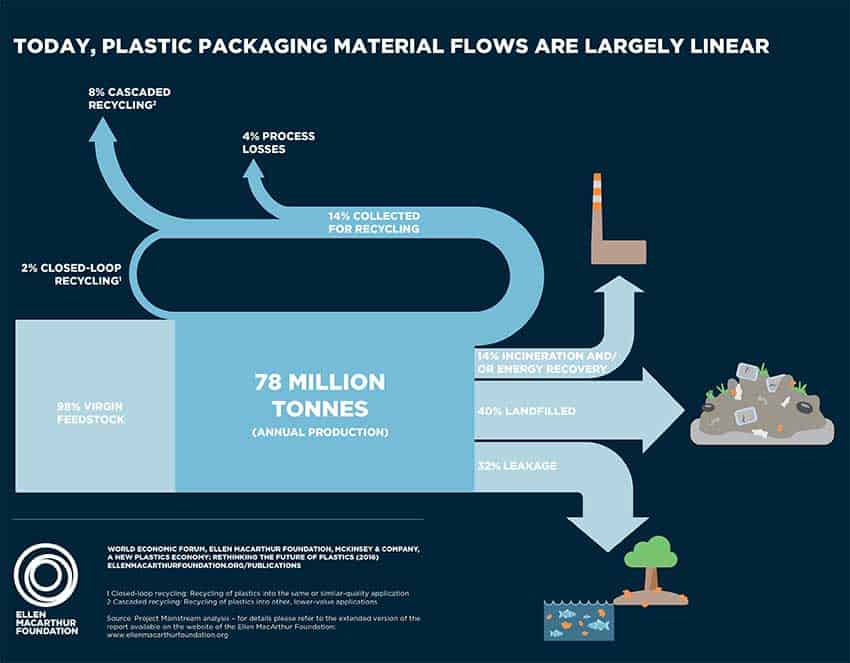 ---
What are the features available for reusable bottles?
There are countless types for water bottles out there, designed to be used in numerous environments. However, just because a bottle is designed for hikers does not mean you can not use it for your everyday life. But there are a few criteria you could consider to find the bottle that suits you best, such as:
Insulation – Do you want a thermos bottle that will keep your beverage cool or warm for long? If so, your bottle should be made of metal and have insulation. The quality of the bottle will influence how long your beverage will maintain its temperature, this is usually mentioned in the description online. Most bottle can hold drinks hot or cool for multiple hours.
Material – Reusable water bottles can be made of glass, plastic or stainless steel. Each material has its pros and cons. While glass bottles look nice and don't show wear and tear, they do break more easily compared to a plastic or stainless steel bottle. We recommend to opt for borosilicate glass. Meanwhile, plastic bottles don't break quickly and can be decorative, but they do show wear and tear after some time. Finally, stainless steel bottles are usually insulated and are difficult to break or crack, however they do have the tendency to scratch or dent and they are usually heavier.
Volume – Reusable water bottles come in all different shapes and sizes. Which size is best for you really depends on preferences. Large bottles you don't need to refill very often, while small bottles are easier to carry around and travel with. The size of water bottles usually range between 12oz. and 32oz.
Colour – The color of your water bottle is a choice that is up to you entirely. You should know that most bottles come in different colors so you don't need to buy the first color you see. Bottles can also have transparent colors or solid colors when they are made of stainless steel, so enjoy the variety of choices.
Additional convenience features:
Handle, loop hole, clip
Non-spill nozzle/straw
Water filter straws
Fruit infusers
Soft/foldable body
Carrying pouch/sleeve
Wide mouth piece
Attached lid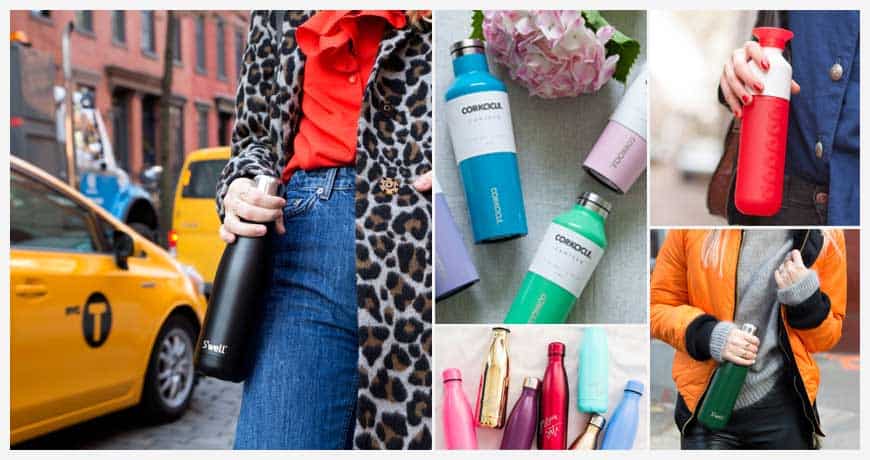 ---
Things to look out for when buying your reusable bottle
Above we've selected 11 popular, stylish and sturdy zero waste water bottles that fulfill everyone's needs. Throughout our research we found that the are some requirements that any water bottle should meet. Therefore, the water bottles we have selected meet the following requirements:
BPA-free
Easy to use
Leak-free cap
High quality (non-toxic) material
Well reviewed by real users and known authorities
What does it mean to have BPA free water bottle?
A product, or in this case water bottle, that is BPA free is one which does not contain the organic compound Bisphenol. Previously, many plastic products such as baby bottles, storage containers and drinking bottles have been made using BPA. When these bottles are washed in hot water, or heated in any way, small amounts of BPA leach out of the plastics. Among other consequences, links have been made between BPA consumption and obesity. Therefore, having a reusable water bottle that is BPA free is very important for your health.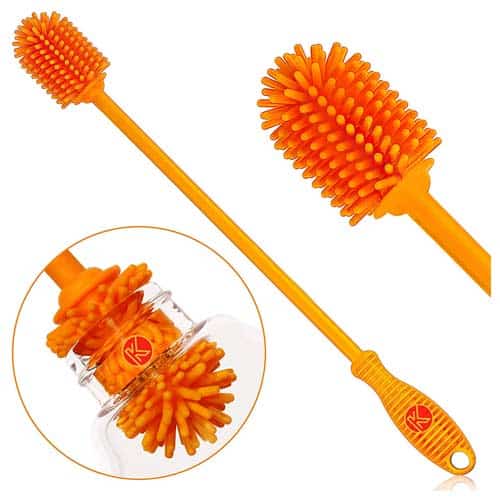 Clean bottles are important for your health
It is easy to forget to clean your water bottle regularly, however this can be important for your health. It is very easy for bacteria to start growing in the comfort of your damp water bottle. Therefore, cleaning it and exchanging the water in it should not be forgotten. Here is some information to help you keep your water bottle clean and hygenic. Additionally, you may want to think about getting a bottle brush so you can better reach and scrub the whole inside of your bottle.
Want to check out more bottle brushes? Look at Amazon

---
Manufacturers of reusable water bottle
Turn Tap Water Into Fresh & Fizzy Soda
Do you like to drink soda better than just plain water? Then we recommend a soda maker, like a SodaStream. With these devices you can make your own soda at home by turning tap water into sparkling water. Fill your reusable water bottle with homemade soda or sparkling water by getting a soda maker.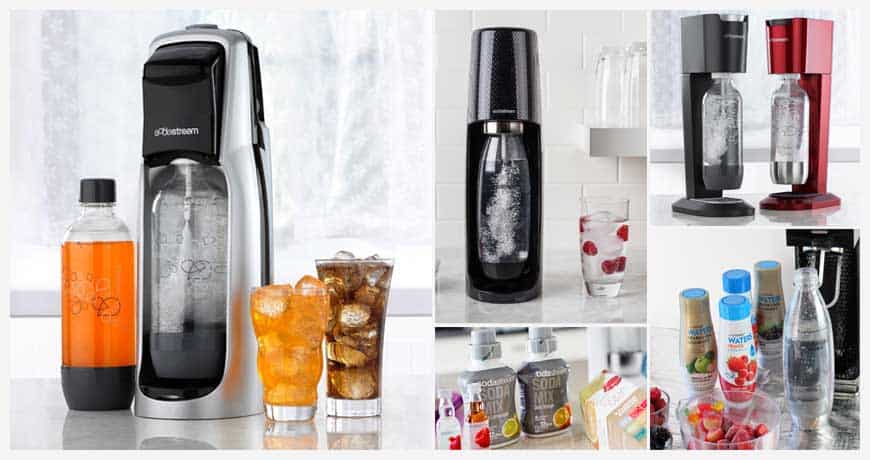 ---
---
Step Up:
Recycle

, Reuse &

Reduce

The three arrows of the recycling symbol represent the three main stages of the recycling process: recycling, reusing and reducing. Together the arrows form a closed loop. Step up and implement eco-friendly replacements in your daily life.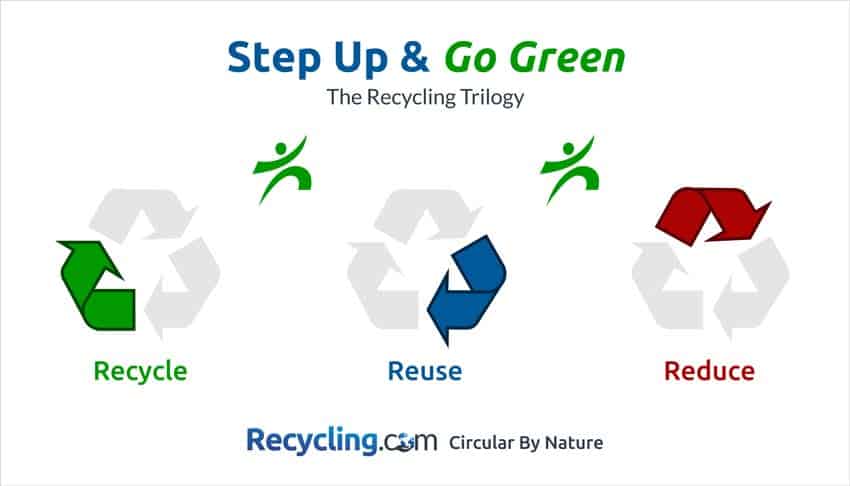 Join the movement! Step Up the waste hierarchy together to a goal of Zero Waste.
By Cara Dettmann/ 2 February 2020 Shares