Reusable Produce Bags (100% Organic Cotton)
Disclosure: This article contains affiliate links. If you click on a product and make a purchase, we may earn a commission – learn more.
Cut Back on Plastics With Reusable Produce Bags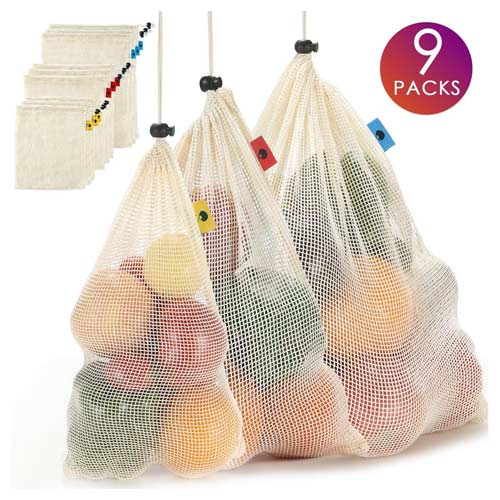 If you want to cut back on single-use plastic bags you can't evade using reusable produce bags. And, in particular, organic cotton produce bags which are more eco-friendly than nylon or polyester produce bags.
Which produce bag is best? Check our picks
These pocket-friendly and multipurpose cotton bags are ideal for carrying around your fruits, vegetables, and loaves of bread while grocery shopping. You can find the best sets of 100% organic zero waste produce bags right here on this page.
Top 10 Cotton Produce Bags
---
Top 10 Best Eco-Friendly Produce Bags
What are the best zero waste produce bags that you can use over and over again? We have made a list of our favorite cotton produce bags that come in sets of multiple bags. Some bags are made of cotton mesh material, while others are a cotton muslin material which is a more solid fabric.

---
100% Natural, non-toxic, fair trade produced cotton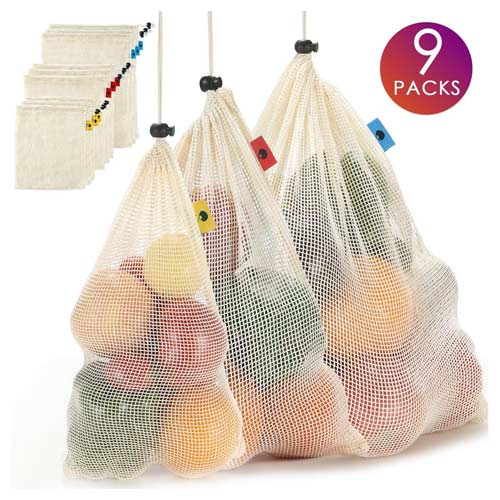 The set contains 9 organic mesh bags. You receive 3 small, 3 medium and 3 large bags. The sizes are color-coded.
Use the reusable produce bags for fruits, vegetables or other items such as toys, clothes or snacks.
Each durable bag contains a drawstring for easy and quick closing. Each bag is easy to clean in the washing machine.
Material: Organic cotton
---
Great for delicate greens, produce shopping and storage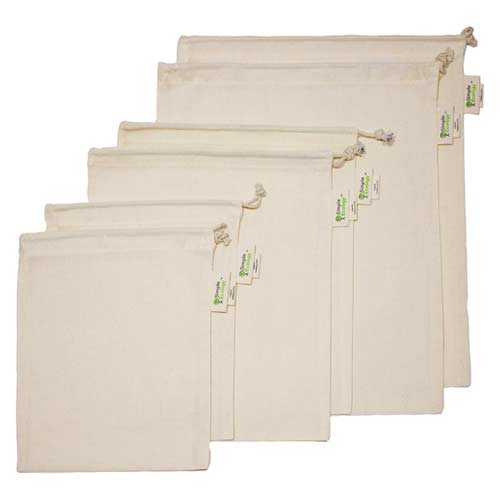 Heavy-duty reusable muslin bags in 5 different sizes, perfect for holding fruits, vegetables and loafs of bread.
The bags are machine washable and have a convenient drawstring to easily open and close the bags.
The breathable fabric also keeps your fruits and vegetables fresh longer than single-use plastic bags.
Material: Organic cotton
---
Nice set of 12 produce bags in three different sizes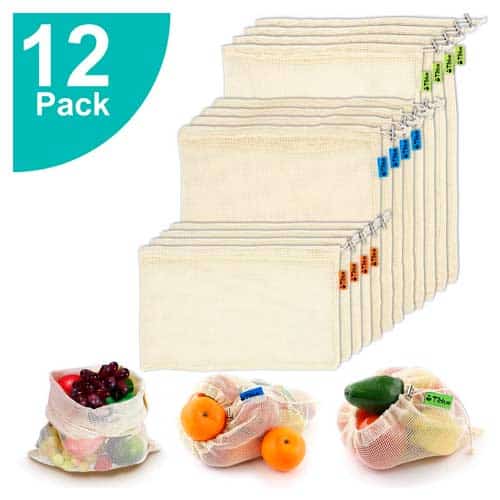 These biodegradable produce bags are made of organic cotton and are free of nylon and polyester.
The set contains four large, four medium and four small bags and are all easy to wash.
Each bag contains a label with the tare weight and the bags have a drawstring for easy opening and closing.
Material: Organic cotton
---
Convenient to use & beautifully designed produce bags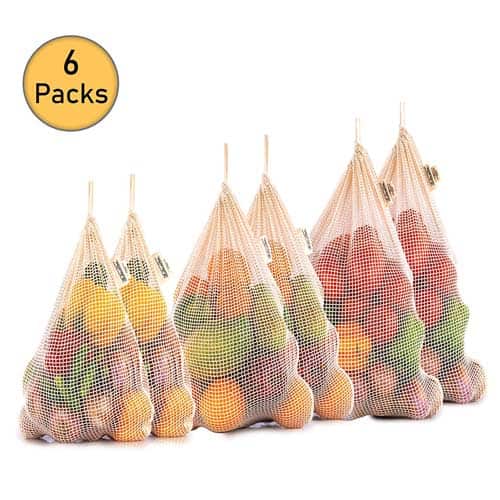 This set contains six strong and durable Zero Waste produce bags in three different sizes.
These multi functional bags are well made and can be used for grocery shopping (fruits, vegetables) and storage.
Keep the items inside of the bag with the drawstring, which pulls open and shut smoothly.
Material: Organic cotton
---
Sturdy eco-friendly drawstring bags & free swaddle sheet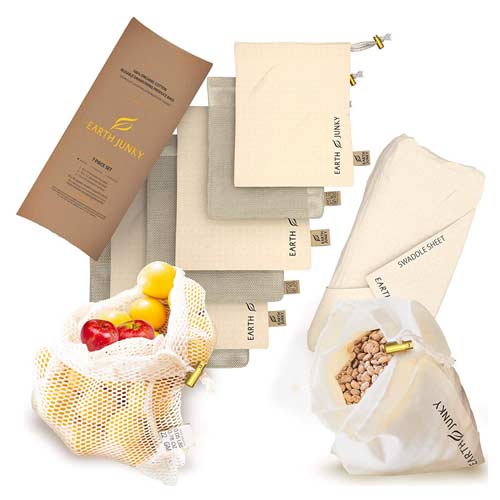 Save the planet one plastic bag at a time with these sturdy ecobags.
The reusable bags are machine washable and have a drawstring. Every bag also has a label with the tare weight.
This set contains three muslin bags, three mesh see-through bags and one organic cotton swaddle sheet.
Material: Organic cotton
---
Biodegradable organic cotton bags with tare weights
These mesh produce bags are sturdy, constructed durably and are machine washable.
Every bag contains a convenient drawstring for easy closure of the bag and they come in multiple sizes.
The bags look very nice and are good quality. The sturdy material is much stronger than plastic single-use produce bags.
Material: Organic cotton
---
Fully recyclable mesh bags with strong drawstring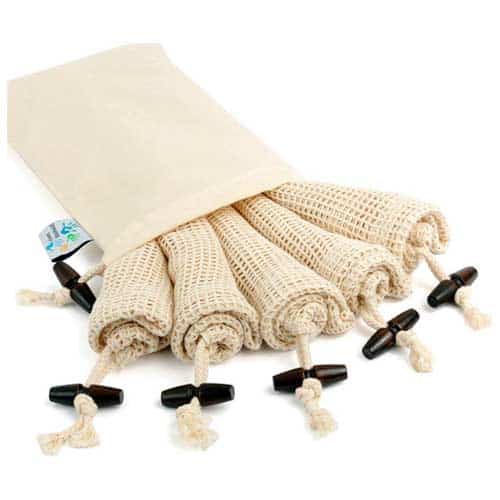 This set contains five mesh bags and one solid bag. Each bag contains a handy drawstring with a bamboo wood stop. This makes it very eco-friendly.
The fabric is high quality and is perfect for storing your groceries, such as fruits and vegetables. The bonus eco cotton bag is perfect for nuts or coffee beans.
Each bag contains a label with the tare weight and the bags are all machine washable, so you can use them over and over again.
Material: Organic cotton
---
Protect the planet and minimize plastic pollution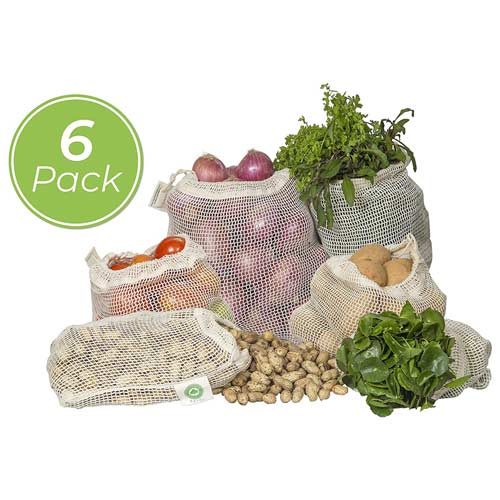 The 100% natural cottons mesh bags are high quality and free of toxins, dyes, bleach and other chimicals.
The bags are double stiched on all sides and feature hassle-free drawstring closure to keep items inside the bags.
Great alternative to plastic produce bags you get in the (grocery) store. The bags are great quality and easy to carry around.
Material: Organic cotton
---
These muslin cotton bags are great to use as bread bags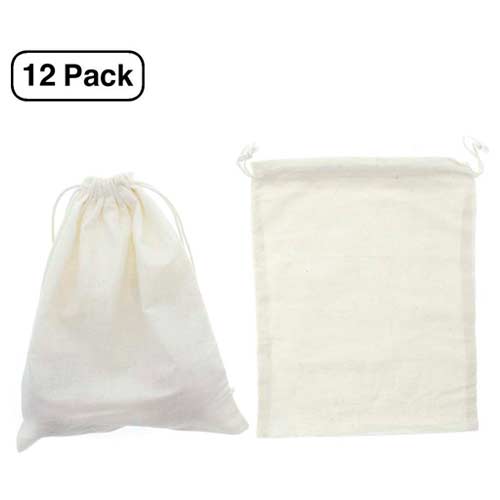 The linen bags have a muslin drawstring and are high quality and non-meshed. Therefore they are great for storing bread, because crumbs won't spill through bag.
You can buy this set in a bulk of 12 bags, all in the same size. Each bag is reusable and machine washable.
The bags are made of unbleached cotton, you can also store coffee beans, tea or groceries in them.
Material: Organic cotton
---
Beautiful organic cotton produce bags for fruit, vegetables and storage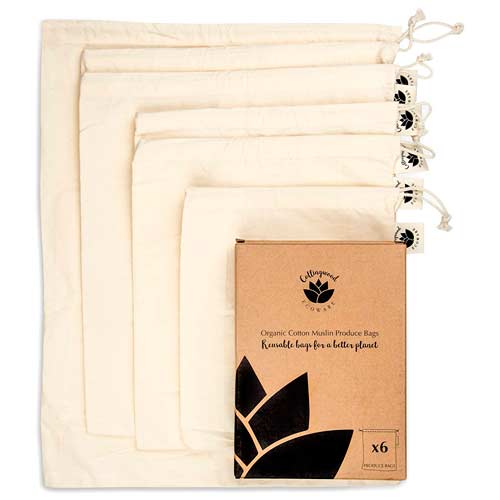 These produce bags are made of certified cotton (Global Organic Textiles Standard 'GOTS') that is 100% organic.
The material is a tight mesh, but is not a solid fabric. Therefore you can use these as breadbags but not as bags for flour.
The bags come in a pack of six with eco-friendly cardboard box packaging. You will receive six different sizes, each bag has a drawstring.
Material: Organic cotton
---
Also recommended
We also really like these zero waste produce bags below:
---
Organic cotton produce bags are eco-friendly alternatives for single-use plastic bags. Help protect the planet, minimize plastic polution and reduce your carbon footprint by switching to cotton bags.Recycling.com
---
Recommended Reusables:
Great that you are interested in reusable products. Step up your game even more by checking out other eco-friendly Reusables Products.
What to look for when buying a produce bag?
Not sure how to choose the right cotton produce bag? Or do you want to know the difference between mesh and muslin bags? Then check our guide below.
Q&A about produce bags
What is a reusable produce bag?
A reusable produce bag is an alternative for a single-use plastic bag that you can grab for free at the grocery store. The advantages of these reusable produce bags are that they are more eco-friendly, they can lift and hold heavier items and they look more fashionable. This is why they are so commonly found in Zero Waste starter kits too. Especially the cotton produce bags are very eco-friendly since most of them are biodegradable and contain no plastic. Some of the bags do have a plastic component because they contain a plastic button that is attached to the drawstring.
1 trillion single-use plastic bags are used yearly worldwide.
Earth Junky
What is the difference with a reusable (grocery) shopping bag?
A reusable shopping bag is a bag that is mainly used for carrying packaged products from the grocery store. But the bags can also be used while shopping for clothes, cosmetics or other products. These shopping bags usually have two handles for carrying.
A reusable produce bag is mainly used for transporting non-packaged foods, like vegetables, fruits, bread, and nuts. But the bags can also be used to store non-food items, such as toys. These produce bags mostly have a drawstring to close the bag easily.
Which size do you need?
Produce bags come in multiple sizes. But which size is best for your needs? Luckily you can buy most produce bags in a set that contains multiple sizes, like a small, medium and large size bag. The chart below from Simple Ecology shows what you can expect from the different sizes: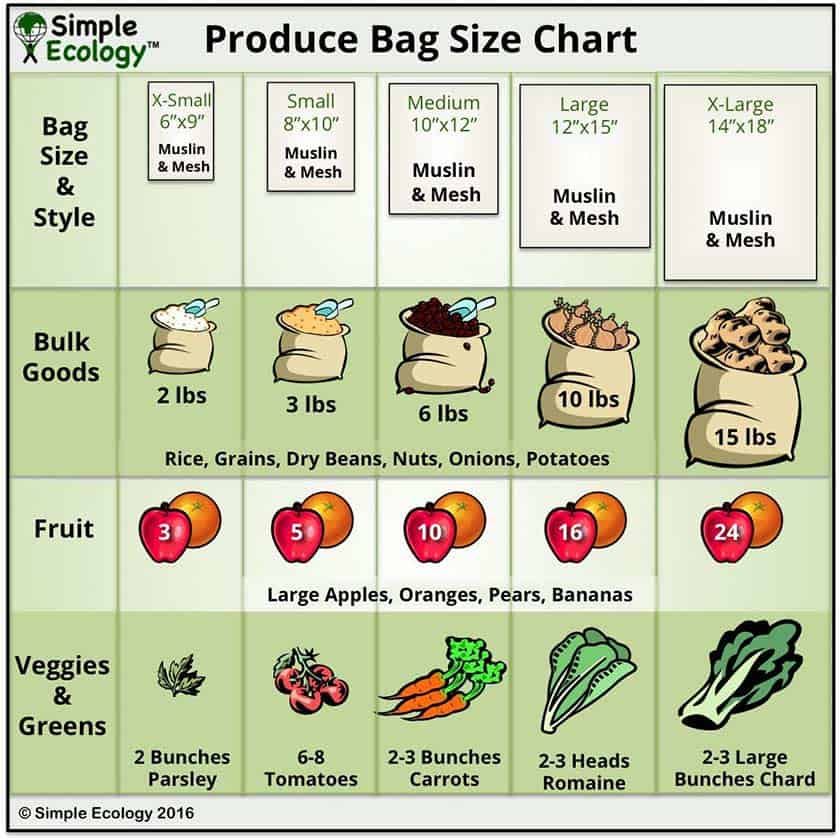 Mesh or muslin produce bag?
When you are looking for a cotton produce bag you can choose between a mesh bag or a muslin bag. But what is the difference between these two bags?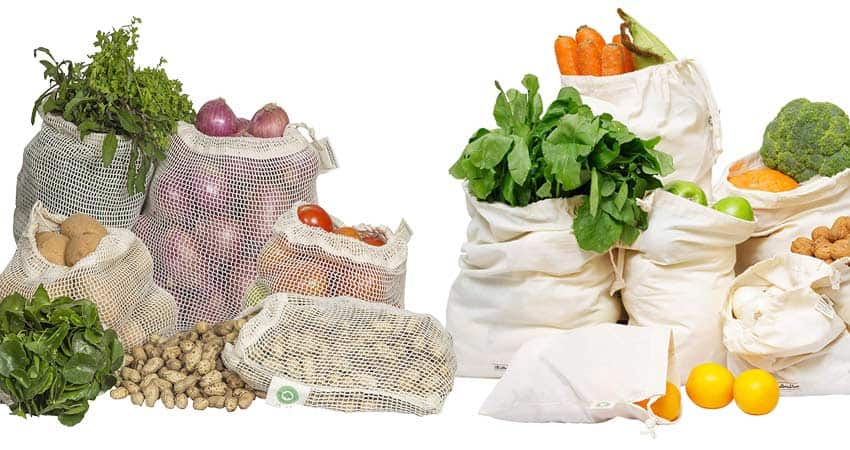 Mesh produce bag – These cotton bags have a mesh, web or net pattern and are see-through. The mesh fabric is breathable so your vegetables and fruit stay crisp, also produce is likely to last longer than in a single-use plastic produce bag.
Muslin produce bag – A muslin produce bag is a more solid bag and doesn't contain a mesh texture. Therefore, these bags are perfect for transporting bread or nuts, because crumbs stay inside the bag rather than in your shopping bag or on the floor of your kitchen.
What is 100% organic cotton made of?
Our recommend produce bags in the top 10 above are all made of 100% organic cotton. But what is organic cotton? This type of cotton is grown to have a low impact on the environment. The Global Organic Textile Standards (GOTS) is the green standard for organic cotton textiles. The main advantage of cotton is that the material is biodegradable.
What is a tare label?
Some produce bags contain a tare label that tells you the tare weight of the empty bag. But what is this for?
Produce bags are used for fruits and vegetables at the grocery store, greengrocer, bakery or farmers market. But before you can buy your fresh fruits and veggies the items need to be weighed in order to know the actual price. And you only want to pay for your food and not for the weight of the bag as well. Therefore you need to subtract the tare weight of the bag from the total weight.
Not all bags contain a label with the tare weight, so when you are price conscious it is recommended to look out for bags that do have tare labels attached to them.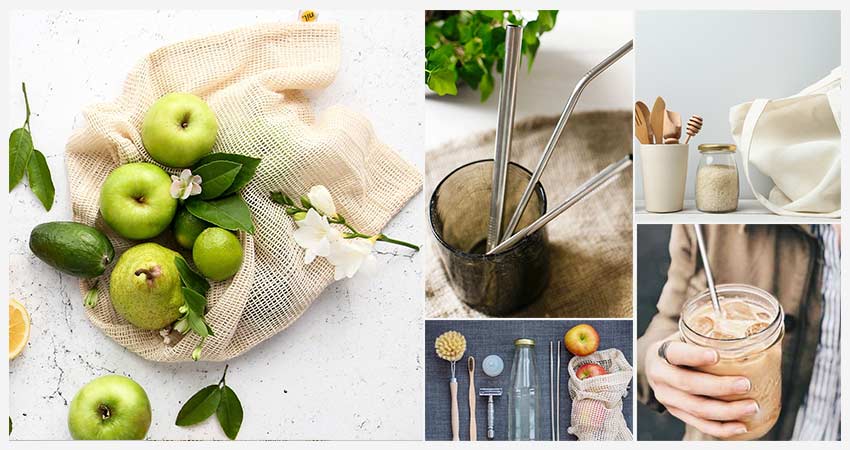 ---
Step Up:
Recycle

, Reuse &

Reduce

The three arrows of the recycling symbol represent the three main stages of the recycling process: recycling, reusing and reducing. Together the arrows form a closed loop. Step up and implement eco-friendly replacements in your daily life.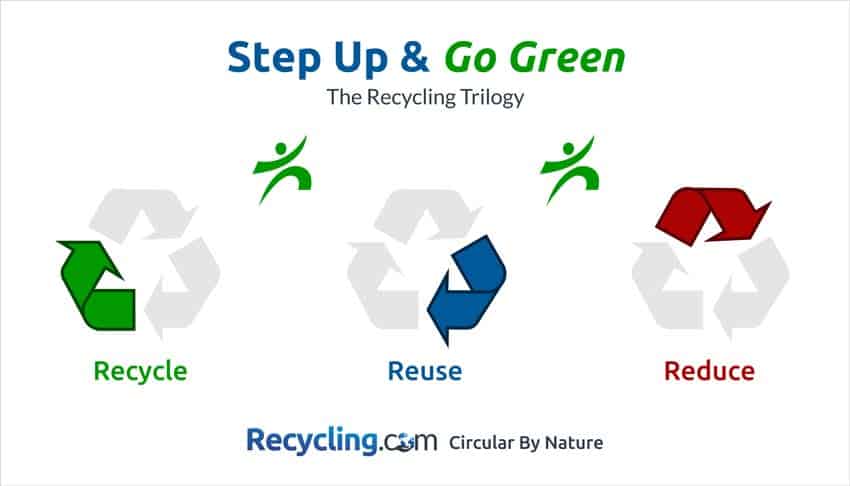 Join the movement! Step Up the waste hierarchy together to a goal of Zero Waste.
By Recycling.com/ 17 October 2019 Shares