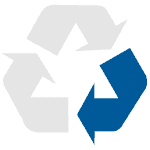 REUSE

| Stop Disposables
Bring Your Own Stylish Lunch Bag or Box
Step Up & Ditch the Disposable Plastic Lunch Bag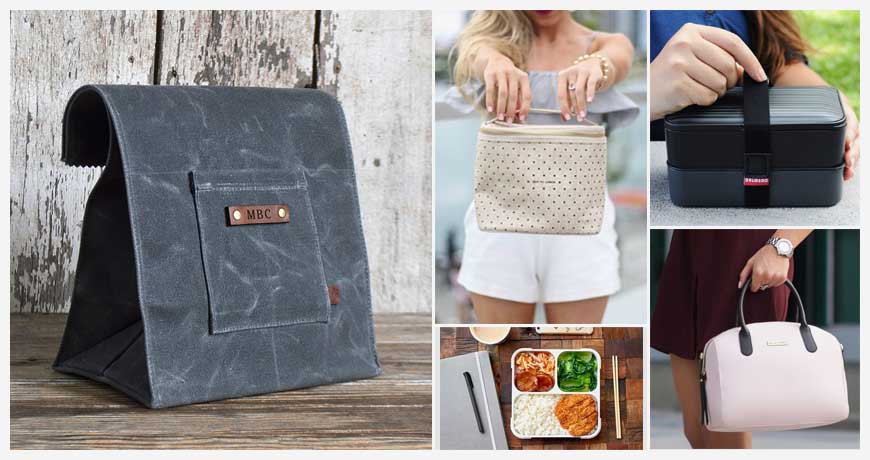 10 Best Reusable Lunch Bags and Lunch Boxes
Fashionable Lunch Bags for Men and Women
Lunch bag with stylish & clean design
The Hango Insulated Lunch Bag comes in a set of two tote bags. They have two different sizes, one large one for your average lunch and one smaller for a breakfast or some fruit. The bags are very wel made and are reasonably priced. The lunch tote bags are insulated so cool food stay cool for a long time. You open the bags with two sturdy zippers made of stainless steel. The unisex bags look very elegant and are convenient to use. For limited time you get a 100% cotton gift bag too.
Insulated: Yes
Dimensions: 13 x 9.5 x 3 inches
Material: High density polyester 300D
Colour: Black
---
Classy looking designer lunch bag
The Archer Brighton Sophie Insulated Lunch Box is a classy and professional looking lunch tote bag for women. It is great to use for the office or travelling. The nylon tote bag has adjustable leather handles and the inside is waterproof and insulated. The material feels and looks great and also the stitching is well made. Because of the insulation your food stays cool and fresh during the day in this lunch carrier. The bag is big enough to carry food containers but it is not bulky. The lunch bag comes in multiple vibrant colours and some bags have nice gold accents, such as a gold zipper. The inside of the bag has multiple pockets.
Insulated: Yes
Dimensions: 12.9 x 12.4 x 1.5 inches
Material: Nylon and leather straps
Colour: Multiple options
---
Leak resistant and sturdy stylish lunch box
The original Bento Box by GRUB2GO is a very stylish lunch box for adults, perfect for men and female. The compact and sleek looking Bento Box has a great design with a minimalist style. The dual layer lunch box is great to pack one meal or two smaller meals, the layers are airtight and leak-proof. The lunch box is made of high quality BPA-free plastic and is safe for holding food. You can eat straight out of the container. The layers are dishwasher and microwave safe. And it comes with utensils in the top layer.
Insulated: No
Dimensions: 7.5 x 4 x 4.3 inches
Material: BPA-free plastic
Colour: Black / Wood coloured top
---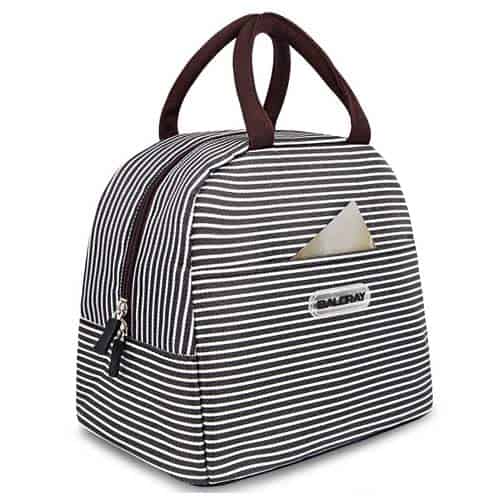 Portable, fashionable and affordable lunch tote bag
The BALORAY Lunch Tote Bag is a fashionable bag with a very affordable price of just over 10 dollars. The interior is insulated, so it keeps your lunch cool and fresh. Though it isn't the best quality insulation, considering the price tag. This spacious reusable lunch tote is pretty versatile, besides that it is great to use for holding your lunch you can also use it for a picnic or as a shopping bag. You can fit in multiple (Tupperware) food containers plus a reusable water bottle easily. The BALORAY lunch bag is easy to clean, light weight, foldable and water proof. Because of the handles it is easy to carry, perfect for work or school.
Insulated: Yes
Dimensions: 4.3 x 4.3 x 0.4 inches
Material: Polyester
Colour: Black/white pattern
---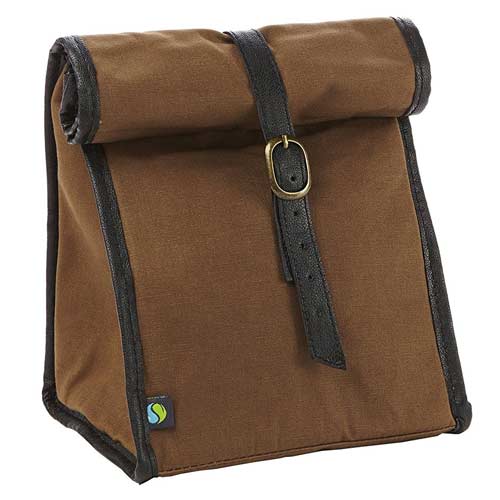 Perfect fashionable lunch bag for men (but also great for women)

The Fit & Fresh Men's Roll Top Lunch Bag reminds of the classic paper lunch bag we all know. Are you looking for a manly lunch bag that doesn't look like a purse, then this is the one every man will like. The spacious and roomy lunch bag can be packed with all kinds of Tupperware or Rubbermaid food containers easily. The lunch tote comes with an ice pack for an extra cool lunch. The thick insulation inside the bag keeps your food cool and fresh even without the ice pack. The inside and outside of the lunch bag is easy to clean. The exterior is made of a waxed canvas and the adjustable straps are made of a faux leather. The Fit & Fresh roll top lunch bag feels sturdy, looks stylish and is also a great buy for females who likes a more vintage looking lunch bag.
Insulated: Yes
Dimensions: 7.5 x 5.5 x 9.5 inches
Material: Waxed canvas & faux leather
Colour: Multiple options
---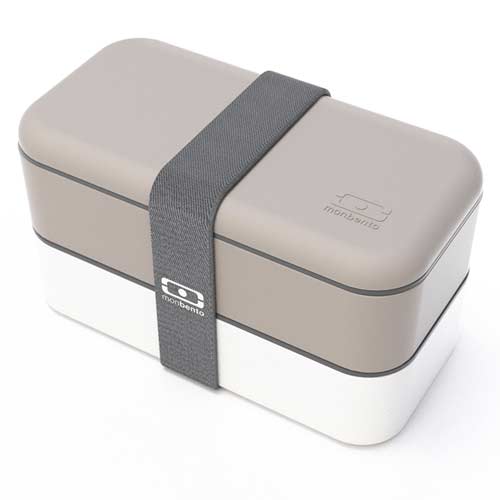 A well-made stunning looking lunch box
The monbento MB Original Bento Box is a beautiful lunch box. But, keep in mind it is a very compact lunch box. That being said, most owners really love their bento box because it is so well-made. The lunch box is stackable and safe to use in the microwave and freezer. You can also clean it in the dishwasher, although we recommend to wash it by hand since this is a BPA-free plastic lunch box. The two containers both have a lid and are 100% airtight (hand wash it to keep it airtight). The exterior feels very sturdy and has an almost silky soft touch to it. The look and style of this bento box is absolute perfection, it is a joy to look at and it is fun to use. But again, it is pretty compact. So if you want to pack a large meal this isn't the lunch box you want to get.
Insulated: No
Dimensions: 7.3 x 3.7 x 4 inches
Material: BPA-free plastic
Colour: Multiple options
---
Keeps food cool or hot up to 4 hours
The BUILT NY Gourmet Getaway is a mid-sized lunch tote in a variety of colours and patterns. It is made from neoprene, which is a material that is also used for wetsuits. The easy-to-clean- material is insulated, so it keeps your drinks and food on the right temperature. The reusable lunch bag is easy to unzip with the heavy-duty zipper. Once opened you can see that the bag is pretty roomy and it can open up wide to fit in all your lunch items. The lunch tote bag is decently priced, it is light-weight and the bag is easy to carry and feels very durable.
Insulated: Yes
Dimensions: 11.5 x 12.5 x 6.8 inches
Material: Neoprene
Colour: Multiple options
---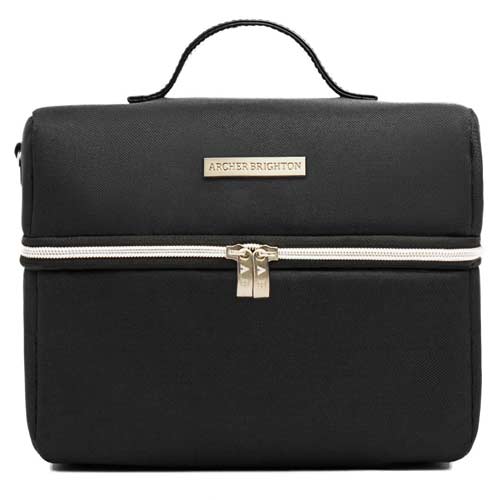 Professional and sleek lunch cooler bag for men
The Archer Brighton Insulated Lunch Cooler is a professional reusable lunch bag designed for the workplace. The insulated lunch bag keeps your lunch on temperature thanks to the foil inside the bag. The polyester exterior is easy to wipe of and the leather straps give it a nice sophisticated look. Carry the bag with the attached handle or use the detachable leather strap. This adjustable strap gives it a more feminine touch. The lunch bag has a square shape and it keeps this shape even when it is empty. The bag has a sleek and no fuss design, which is great for professionals who wants their lunch cooler to just blend in. The bag is a little bit smaller than you might expect.
Insulated: Yes
Dimensions: 9.5 x 5.5 x 7 inches
Material: Polyester / Leather straps
Colour: Multiple options
---
Handmade, great looking and extremely durable
The The Marlowe MBC Lunch Bag by Peg and Awl is a nostalgic looking lunch bag that looks similar to a brown paper bag. But this lunch bag is reusable because it is made of waxed duck canvas, which is very durable and easy to clean. The canvas feels very tough but it has a soft and flexible touch. The bag is easy to hold although it doesn't come with a handle or strap. The Marlowe lunch bag is pretty spacious, fill it with your lunch items and roll down the top. If you are looking for a different style lunch bag, than this is a great alternative. It doesn't look like your standard lunch case, lunch box or lunch bag. The exterior has one pocket and it comes in eight beautiful colours.
Insulated: No
Dimensions: 12 x 8 x 5 inches
Material: Waxed duck canvas
Colour: Multiple options
---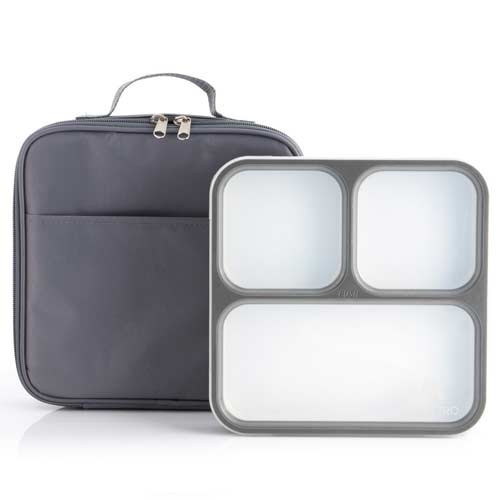 Stylish, Sleek and Slim bento lunchbox
The Modetro Ultra Slim Leak Proof Lunchbox is a compact, portable and sophisticated looking lunch container. It is inspired by the classic Japanese 'Bento Box'. The lunch box has a slim shape so it fits perfectly in a laptop bag, brief case or backpack. Inside the insulated bag you find a food container with three individual compartments, two small and one large compartment. It can hold a good amount of food, such as vegetables, rice, fruit and salads. The food container has a lid that you close off with four easy to use latches. It is leak-proof and the locking mechanism keeps food completely sealed in. The Medetro bento box feels heavy-duty and it is made of a BPA-free plastic, you can use it in the microwave and dishwasher. For microwave usage, please remove the lid.
Insulated: Yes
Dimensions: 9 x 9 x 1.8 inches
Material: BPA-free plastic
Colour: Multiple options
---
All reusable lunch tote bags and lunch boxes
Didn't find the right lunch bag or lunch box in our list? Check out all food containers on Amazon.
Why buy a reusable lunch bag?
Reusable lunch bags are an eco-friendly replacement for disposable plastic sandwich bags. These single-use plastic lunch bags have a negative impact on our environment.
Lunch bag or box guide
What to look for when buying a reusable lunch bag or lunch box to replace your plastic sandwich bags? Think about these points:
Insulated yes or no? Do you want your food container to keep your food cold or hot during the day? Then you need an insulated lunch cooler. These lunch containers have a special coating that keeps your food on the right temperature.
A bag or a box? Are you looking for a bag to store food containers in? Or do you want a box like a bento box to store your food in?
What size? The capacity of your new food container is important. Check the measurements of the lunch bag or box in the specifications and don't rely 100% on the product images. Because these images tend to be misleading quite often.
Foldable or collapsible? Does your lunch container needs to be compact? Then get one that you can fold or collapse.
Easy to clean? A lunch bag or lunch box is used for food, so you want to keep it clean so you can eat safely out of your food container. Make sure you can clean the container easily. Most containers are dishwasher-safe, but we recommend to wash your lunch box or bag by hand if you can. Also check if the lunch tote or box is leak-free and air-tight.
What type of material? A lunch bag or box comes in all kind of materials. Such as high quality BPA-free plastics, canvas, leather and stainless steel. It is up to you what type of material you like. Keep in mind if you want to use the food container in the freezer or microwave that the material is able to do that.
Videos about lunch tote bags and boxes
Archor Brighton Lunch Carriers for Professionals
Fit & Fresh Insulated Lunch Bag
Interesting articles about lunch bags
ZeroWasteChef.com – 10 Tips for Packing a Zero-Waste Lunch
EcoCycle.org – Waste Free Lunch for School Kids
EcoWatch.com – 22 facts about plastic pollution "…Reduce everyday plastics such as sandwich bags…"
"Plastic bags break into small pieces, and seabirds often mistake them for food. When floating in the water, the bags resemble jellyfish."
---
Step Up:
Recycle

, Reuse &

Reduce

The three arrows of the recycling symbol represent the three main stages of the recycling process: recycling, reusing and reducing. Together the arrows form a closed loop. Step up and implement eco-friendly replacements in your daily life.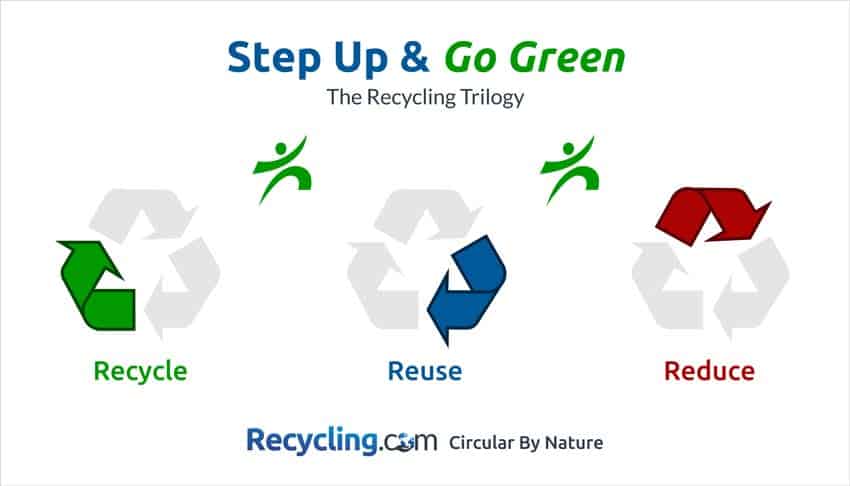 Join the movement! Step Up the waste hierarchy together to a goal of Zero Waste.
By Recycling.com/ 4 August 2019 Shares