Reusable Lunch Boxes and Bags
Disclosure: This article contains affiliate links. If you click on a product and make a purchase, we may earn a commission – learn more.
Reduce plastic waste by using reusable lunch boxes and bags.
Ziplock bags and single-use containers are convenient but also costly and bad for the environment. Here we present reusable and eco-friendly alternatives that you will be excited to use.
Choose Category:
---
Top 8 Reusable Lunch Boxes
Lunch boxes are ideal for storing one meal at a time. They tend to be more solid so the food in it can not be squished or damaged. Below we have made a list of our favourite 8 lunch boxes which are both practical and stylish.
---
Sturdy glass with two compartments.
---
Airtight leak proof easy snap lock.
---
Durable snack packing with 5 compartments.
---
Microwave and dishwasher safe with vented lids.
---
Thick glass, leak proof and BPA-Free.
---
Insulated, leak proof with thermos jar.
---
Collapsable silicon containers with vented lids.
---
Flexible lids turning any container into a lunch box.
---
Bring your own stylish lunch box or bag to work or school.
---
Top 6 Reusable Lunch Bags
Reusable lunch bags are flexible containers, which can depending on their size hold one of more types of food at a time. Below we present a list of our 6 favorite reusable lunch bags which are of high quality and very practical.
---
Use it for more than just food storage.
---
Simplistic, spacious and lightweight.
---
Sturdy reusable ziplock baggie with holder.
---
Comfortable and practical lunch bag.
---
Robust airtight food container bags.
---
Sturdy leak proof preservation ziplock.
Top 10 Reusable Food Containers
---
Reusable Tupperware and food storage containers are much more reliable and useful than the single-use alternatives.Recycling.com
---
More About Reusable Lunch Bags and Boxes
Although choosing your lunch box or bag may be easy, there are features to be aware of that can help you choose a box or bag that you will be happy with for a long time. And if you are doubting getting a reusable lunch container, then below we address the practical and environmental reasons why you should purchase one today.
Navigation: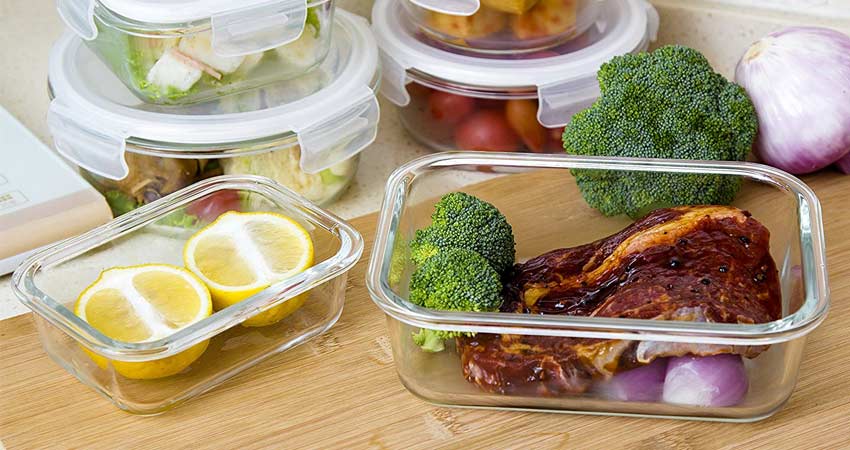 ---
Why should you use reusable lunch bags or boxes?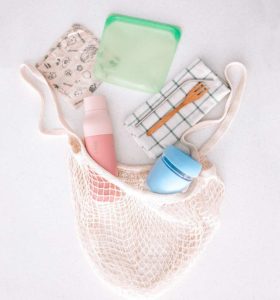 There are a few reasons why it is better to use reusable food containers rather than single-use containers. What it essentially boils down to is that reusable containers are more environmentally friendly and in the long run they are also cheaper because they are a one time investment. This is why they are so commonly found in Zero Waste starter kits too.
Some of the containers we have mentioned above are also more practical as they, for example, stand up straight, and some can even be used for things, such as steaming food, which single-use food containers are not strong enough for. The material of reusable lunch containers is much more durable and safe as well.
Reasons and benefits for using Zip Top containers
This video is the original video of Zip Top containers, and first it explains why single-use ziplock bags and flimsy Tupperware is not an ideal or environmentally friendly solution. Afterward, it goes on to explain all the benefits and uses of Zip Top containers.
Reusable lunch bags are an eco-friendly replacement for disposable plastic sandwich bags. These single-use plastic lunch bags have a negative impact on our environment.
6 Ways to Use a Stasher Bag
A lot of these reusable lunch bags are much more robust then single-use ziplock bags, which also means you can use them for more than just storing and transporting food. This video demonstrates what else these Stasher bags can be used for.
---
Features to look for in reusable lunch bags or boxes
What to look for when buying a reusable lunch bag or lunch box to replace your plastic sandwich bags? Think about these points:
Insulated yes or no? – Do you want your food container to keep your food cold or hot during the day? Then you need an insulated lunch cooler. These lunch containers have a special coating that keeps your food on the right temperature.
A bag or a box? –Are you looking for a bag to store food containers in? Or do you want a box like a bento box to store your food in?
Foldable or collapsible? –Does your lunch container needs to be compact? Then get one that you can fold or collapse. These are usually lunch bags instead of boxes.
What size? – The capacity of your new food container is important. Check the measurements of the lunch bag or box in the specifications and don't rely 100% on the product images. Because these images tend to be misleading quite often.
"Plastic bags break into small pieces, and seabirds often mistake them for food. When floating in the water, the bags resemble jellyfish."
Easy to clean? –A lunch bag or lunch box is used for food, so you want to keep it clean so you can eat safely out of your food container. Make sure you can clean the container easily. Most containers are dishwasher-safe, but we recommend to wash your lunch box or bag by hand if you can. Also, check if the lunch tote or box is leak-free and air-tight.
What type of material? –A lunch bag or box comes in all kinds of materials. Such as high quality BPA-free plastics , canvas, leather and stainless steel. It is up to you what type of material you like.
Dishwasher, Microwave, Freezer and Ovenproof –If you want your food containers to be able to withstand extremely hot or cold temperatures like those of boiling water or your freezer then you need to check that the materials are strong enough to handle this. Note that with some lunch boxes the lid may not be able to handle what the container can. Also, some containers need to be kept open in the Microwave.
---
Brands and manufactures
---
Step Up:
Recycle

, Reuse &

Reduce

The three arrows of the recycling symbol represent the three main stages of the recycling process: recycling, reusing and reducing. Together the arrows form a closed loop. Step up and implement eco-friendly replacements in your daily life.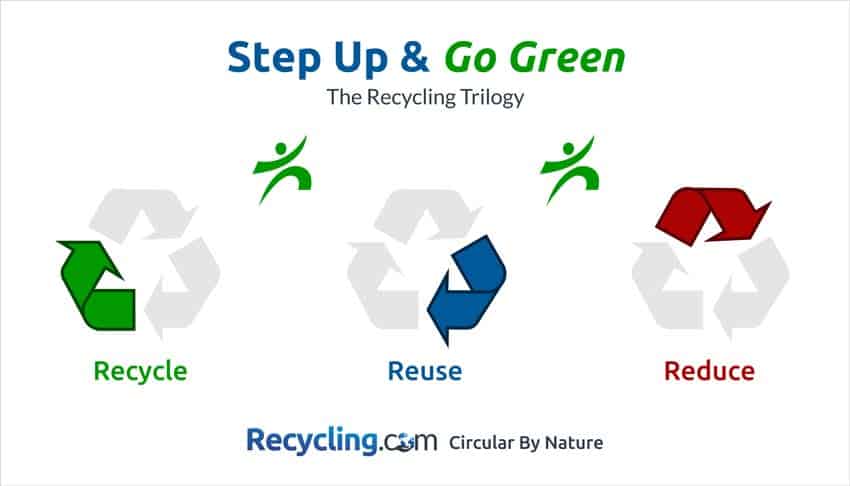 Join the movement! Step Up the waste hierarchy together to a goal of Zero Waste.