Best Reusable Grocery Bags and Shopping Tote Bags
Disclosure: This article contains affiliate links. If you click on a product and make a purchase, we may earn a commission – learn more.
Reduce Plastic Waste from Single-Use Plastic Bags
Choose Category:
Top 10 Small Reusable Shopping Bags
Practicle Pod With 10 Bags
---
Foldable Bags With Cute Designs (5 Pack)
---
Compact Bag With Colorful Design
---
Unicolor With Integrated Pouch (5 Pack)
---
Fruity Fun Pouch Storage Bags (10 Pack)
---
Stylish and Fun Bag
---
Compact With Convenient Handle (6 Pack)
---
Unicolor With Keychain Pouch (6 Pack)
---
Attached Pouch and Carabiner Clip (4 pack)
---
Zipper Bag With 10 Roll-up Bags
---
---
Top 10 Large Reusable Grocery Bags
---
Box Bags With Extra Side Handles (3 Pack)
---
Strong, Long Handles and Stylish (3 Pack)
---
Trolley Bags with Cooler & Wine/Egg Holder (4 Pack)
---
Box Bags With a Cooler Bag (3 Pack)
---
Lightweight Foldable Grocery Cart
---
Durable Heavy-Duty and Extra Large Size Bags (2 Pack)
---
Large and Super Strong Heavy-Duty Shopping Bags (5 Pack)
---
Durable Insulated Grocery Bags (2 Pack)
---
Collapsible Shopping Cart with Wheels

---
100% Eco-Friendly and Biodegradable Bag
---
According to Waste Management, only 1% of plastic bags are returned for recycling. This means that the average family only recycles 15 bags a year. Center for Biological Diversity
---
Great Plastic-Free Alternatives for Single-Use Plastic Bags
Use a stylish or practical reusable grocery bag instead of a single-use flimsy plastic bag. Not only do single-use plastic bags create mountains of non-degradable plastic waste, but they also tear or break easily, spilling your groceries all over the sidewalk. In some states and countries in the world, you even have to pay a small charge for plastic bags at the cash register. Therefore we recommend using reusable alternatives because this reduces waste and is way more convenient to use.
Globally, ~500 billion to 1 trillion plastic bags are consumed per year – Over 1 million bags per minute. Millions of sea animals die from plastic bags and other waste each year.Source
We like reusable shopping bags with the following specifications:
Durable and sturdy
Suitable for heavy groceries
Compact, foldable or collapsible
Affordable and inexpensive
Stylish and sophisticated designs
Eco-friendly and reusable
Best Sellers:
More About Reusable Grocery Bags
Although the decision of which reusable grocery bag to buy may seem easy, it should be noted that reusable bags come in different shapes and sizes and can have a variety of features. The reason why most people buy reusable bags is that they can eliminate the use of flimsy single-use plastic bags which are extremely bad for the environment. This guide will present to you the different reasons to get and use reusable bags and identify the different features that are available nowadays.
A reusable bag is eco-friendly, stylish and fashionable. Step up and say goodbye to single-use plastic bags.
Navigation:
Why use reusable grocery bags?
Reusable bags are a sustainable, practical, and convenient alternative to single-use plastic bags. While some supermarkets and stores charge you for plastic bags that you will use once and then throw away, reusable bags are a one-time investment that you can keep at hand and use over and over again. The reason why stores have started charging money for plastic bags is that they want to discourage their use due to the negative effects that plastic waste, like these bags, have on the environment.
"Reusable shopping bags are proof you can begin to live an environmentally sound life without compromising your style."
Vogue.com
What can you use them for?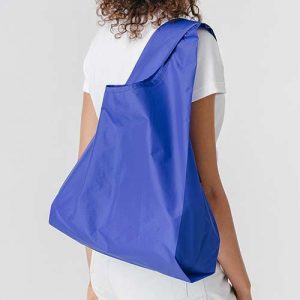 Reusable grocery bags and shopping tote bags are useful for any kind of shopping activity, whether it is shopping for groceries, clothes, cosmetics or other types of products. This is why they are so commonly found in Zero Waste starter kits too. These bags really help you eliminate using and in some places paying for single-use plastic bags. The bags can be stored easily, because most of the bags you can fold and store into a pouch and large bags are often collapsible.
You could even use reusable bags for storage use at home. For example, you could store your kids' toys in a box bag and store it away easily. Some people also using large grocery bags for storing recyclables, such as cans, glass bottles, plastics packaging material or old newspapers to take away to the store for recycling.
We recommend to buy a few reusable grocery bags that are compact and foldable. Put one in the pocket of your coat, place some in your car and put a folded bag that is stored tight in a pouch in your own purse. In this way, you will never forget your grocery bag when you go out shopping. It is also important to clean your grocery bags every once in a while to be sure that your bags are hygienic to use for packing your groceries.
Are you having trouble packing your shopping bag at the grocery store? Then take a look at this infographic with some practical tips.
Large vs small reusable bags
During your search for a reusable grocery bag, you need to decide if you want a small or a large bag. This decision should be based on what you will use the bag(s) for. If you are looking for a reusable grocery bag that is pocket-friendly, lightweight and can be easily be folded to fit into your handbag, then you probably want to look at our top 10 list for small bags. But when you are looking for a practice reusable grocery bag that holds large volumes of groceries, and facilitates organization but does not need to be compact, then you probably want to look at our top 10 list for large bags.

---
Reusable bags and the environment
Single-use plastic bags are among the worst kind of waste of our environment. This is because plastic does not degrade over time like some other types of waste, and plastic bags can't be recycled or repurposed either. So after we use them once and then throw them away they end up on a landfill or worse, in the ocean where they just sit around and accumulate will we keep producing, using, and throwing away more and more of them every day.
Plastic bags affect marine life, sea turtles for instance mistake floating plastic bags for their prey the jellyfish. But also dolphins and whales that are choked or starved to death due to single-use plastic bags.
These growing mountains of single-use plastic bags don't only exist in landfills they also harm the environment and wildlife on earth. Plastics bags are the largest component of the marine plastic debris according to Clean Water. Everyone has seen shocking pictures online of turtles and seals tangled up in fisher nets and plastic bags. These occurrences will only happen more often as more plastic bags are thrown away.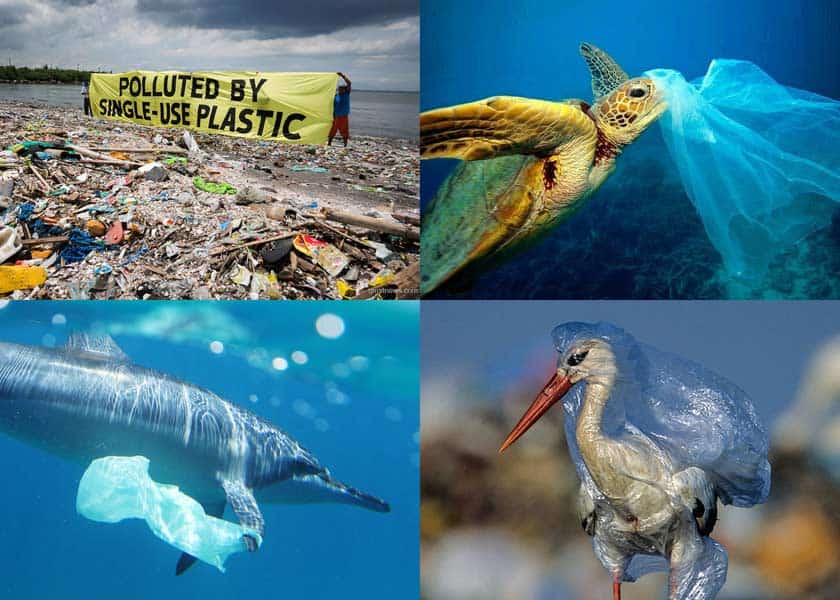 Reusable grocery bags are an eco-friendly replacement for disposable plastic bags. These single-use plastic bags have a negative impact on our environment. By bringing your own reusable bag, you can save between 400 and 600 plastic bags per year.

Read more about the environmental impact of disposable plastic bags.
Video: Plastic Pollution (by WWF International)
Plastic bag ban location
On the 'Plastic Bag Ban Map' you can find out locations worldwide where plastic bags are banned or got a usage fee.
Materials of reusable bags
The most common material that reusable bags are made of are polyester and nylon. Some bags may also have cardboard, plastic or metal integrated in them.
Now you may ask: how are these materials better than those of single-use plastic bags. The reason is that these reusable bags are reusable. They don't end up in landfills right away, like plastic bags. However, if you really want to take a step towards green living, there are reusable grocery bags that are made of environmentally friendly material, such as our Eco-Friendly and Biodegradable EcoRight Jute Canvas Tote.
Interesting articles about reusable shopping bags
The environment and plastic, more specifically plastic bags and bottles, has become a popular topic in the past decade. A huge diversity of firms and organizations have offered their input, resulting in interesting articles, some of which we have listed below.
---
Features of reusable grocery bags
You would think that all reusable grocery bags are pretty much the same, right? This is not the case, whether this is a good thing or not. Grocery bags can have different features and depending on how important practicality is to you, the list of possible features below will be a great help.
We attempted to order this list of features based on importance, where on the bottom four features are very specific to some bags.
General features:
Sturdiness– Reusable bags come in different textures. There are harder bags also known as box bags, soft bags that have no shape, and semi-soft bags that are mainly soft but may have an integrated rod to give them some structure.
Foldablility– Most reusable bags can be folded in one way or another for storing them away better when they are not in use. Very soft bags can be folded into a little attached pouch that is pocket-friendly, other soft or semi-soft bags can be folded or rolled neatly, and harder box bags are collapsible making them flat.
Fashionablity – While some may care about the practicality of a bag, there are a lot of individuals that would like their bag to be fashionable or fun. For these people, there are plenty of fashionable bags with fun patterns and designs.
Quantity – When ordering a reusable bag online there are many opportunities to buy them in bulk, or at least in packs of 3 or 5. Having a few bags is usually more convenient than just one. So you might want to think about if you want several and how many you want.
Material (washable) – While most reusable grocery bags are made of polyester or nylon, there are exceptions to the rule. The material of a bag is relevant for its durability but also if it is machine washable. Especially box bags or bags with rods in them may be difficult to wash, so keep this in mind.
Closable– Most reusable bags don't really have a closing mechanism. But if you would like to have a bag that closes, then there are ones with normal lids, zippers, simple snap buttons, and even ones with Velcro straps.
Handle Type & Length – Grocery bags can have handles or straps with different lengths and widths. These are often advertised as increasing comfortability which may be good for carrying heavy loads. Some bags even have extra handles on the side, only one wide handle or felt padding.
Specific features:
Insulated/Cooler – A popular feature for reusable grocery bags is insulation so the bag can act as a cooler for refrigerated or frozen foods for the drive back home from the store.
Shopping Cart Bags – Reusable bags built for shopping carts will allow you to organize your groceries on the go which is useful in grocery stores where you have your own scanner. Better yet, these bags hold themselves open when you clip them to the side of the cart.
Bag Pods – For individuals that do large grocery trips but prefer soft, pocket-friendly bags and bag pod may be the solution. These practical pods have the size of a pencil case and usually hold 6 to 10 bags which are easily taken out and put back in.
Wheeled Bags– Not everyone is able to lift or carry heavy grocery bags. For these individuals, a grocery trolley may help. They are essentially very large reusable grocery bags on wheels, which like other bags can be folded to minimize space consumption when not in use.
---
Brands and manufacturers
Reusable grocery bags are manufactured by an abundance of brands some of which offer features that others do not. Take a look at some of the manufactures of reusable grocery bags and shopping totes. The links below take you to the official websites:
---
Step Up:
Recycle

, Reuse &

Reduce

The three arrows of the recycling symbol represent the three main stages of the recycling process: recycling, reusing and reducing. Together the arrows form a closed loop. Step up and implement eco-friendly replacements in your daily life.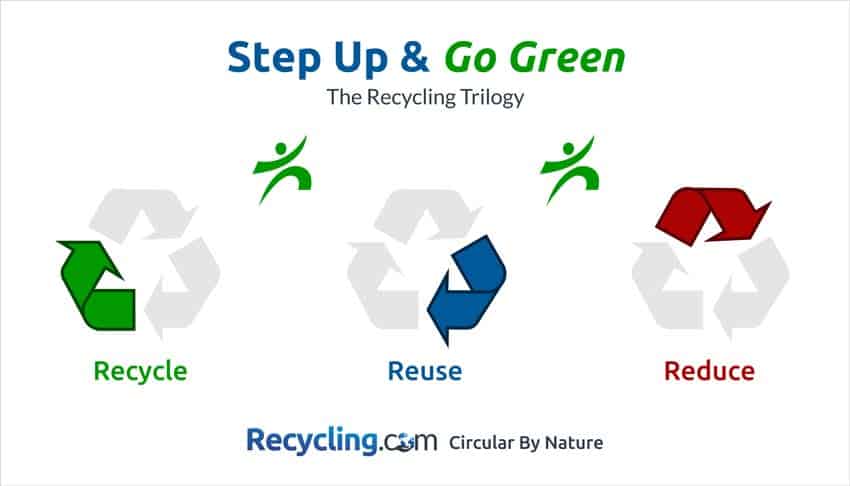 Join the movement! Step Up the waste hierarchy together to a goal of Zero Waste.
By Recycling.com/ 23 September 2019 Shares