A trash or recycle bin helps you recycle more
A recycling bin gives you a dedicated receptacle at your house to collect recyclables. It depends on your local law and regulations if you need to separate multi streams of recyclables or that you can collect all types of materials in one container (single stream). This means that some households only need one trash can for recyclables, others need multi compartments for each material.
Having a recycling trash can at home isn't only functional and convenient. It also contributes to your environmental friendly lifestyle. By separating household trash and recycling you really show yourself and your family that you want to protect the earth by saving valuable natural resources.
A recycling bin prevents kitchen clutter
When you have a dedicated trash can for recycling there is no need any more to store lose recyclables on the kitchen counter top or make a pile in one of your kitchen cabinets. A recycling bin makes it clear for you and the rest of your family where to store recyclables. It works very convenient and hygienic.
There is also no need to walk to the recycling container in your garden or garage every time you want to dispose away bottles, jars and other kitchen waste. Just throw the recyclables in the right kitchen trash can and empty the bin every week or so.
What people say about recycling trash cans
People who already bought a recycling trash can are (most of the time) very happy with their new container. That is if the recycling bin meets their expectations of course. But let's assume it does, the remarkable thing is that these people become a bit proud of their recycling bin.
"This recycling trash can has changed the way my family views recycling."
That sounds a bit weird, maybe. But because they started recycling with their family they really have the feeling that thanks to their effort, they're saving natural resources. By just having a simple thing as a recycling bin in your home it encourages you and your family to do more recycling.
Real customer reviews
In customer reviews at Amazon.com you can read the following positive experiences about recycling bins (courtesy of Amazon.com):
I'm recycling so much more because we didn't have a designated recycling bin before. It also cuts down on the garbage.
I love that I can separate my trash from my recyclables.
Before I got this recycle bin my husband was too lazy to recycle. Now it's so convenient he has no excuses! We end up recycling a lot now.
Having the recycling part included in the bin makes recycling so much easier.
I love that we no longer have recycle clutter in our kitchen.
I love being able to recycle easily, it keeps my trash and recycle well organized.
I needed 2 bins so I could get the whole family to recycle.
This recycling trash can has changed the way my family views recycling.
I find this bin to be very helpful in my limited recycling effort.
I can't believe I love my recycling trash can so much. I actually get a bit excited when I've something to throw away or recycle.
A dual recycling trash can is a must for recycling and environmental consciousness.
The recycle bin makes recycling easy enough for our kids to participate, which for my kids is a big deal.
Love that I don't need to carry recyclables to the garage every time anymore.
I am a big believer in recycling and this recycling can helps solve the problem of recyclable clutter in my kitchen.
This recycler helped me learn to recycle more.
Nowadays, my family recycles more than it throws away because of this dual recycle bin.
This trash can is a great, especially because it encourages recycling right there. I recycle more than I throw away nowadays.
Our recycling bin gets the family to separate recyclables because it is simplified and requires no effort to recycle.
Thanks to our trash can there is no more recycling sitting on the counter waiting to make a trip to the garage.
My husband never recycled so I got him this recycle trash bin to make him think twice about throwing it away and it has worked!
It is very helpful to have an entire side in the can dedicated to recycled material.
My new trash/recycling bin makes recycling a breeze instead of a hassle.
We love the separate buckets, it makes not only my family conscience of recycling but guests too!
A dedicated recycle bin really helps us recycle more.
As you can read in the experiences above, a trash can for recycling really makes a difference.
A trash can that fits your needs
The only thing that we think is important is that you buy a good and well thought of recycling trash can. This doesn't mean an expensive trash can. But a trash can that fits your needs. A recycling bin that makes recycling easy, convenient and fun.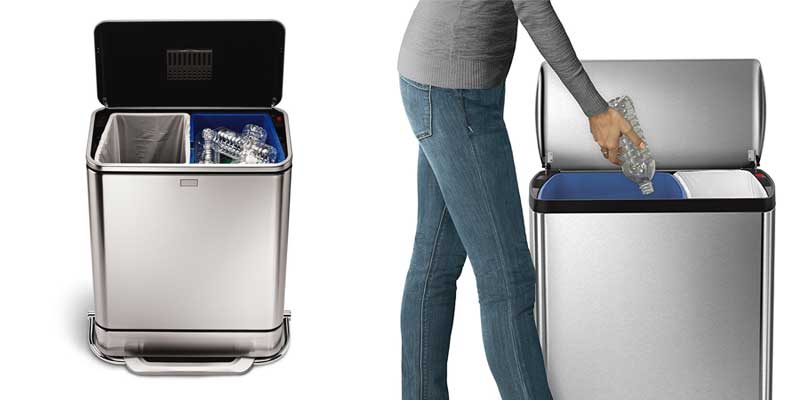 This recycling bin guide tells you all about the things to look for when buying a trash can. Do you really need this guide? Because it is just a trash can, how difficult can it be? Well, as simple as a 'trash can' sounds, it is an object you'll use each and every day. Not only by you, also by your partner, kids, relatives, friends and guests.
"The trash can / recycling bin helped me teach my 7 year old to recycle and take some responsibility for our planet."
So we think you need a trash can that is durable, works easy and is a joy to use each and every time you throw something away. Recycling has to be something fun to do, not something that annoys you. A well-built recycling trash can really contributes in the fun of recycling at home with your family.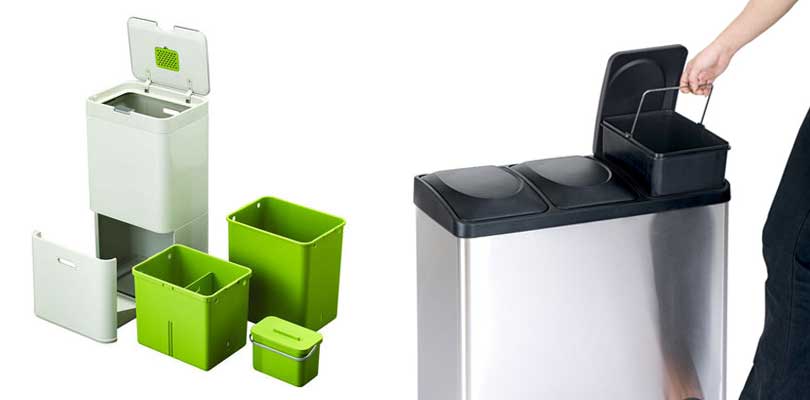 After reading lots of customer reviews we discovered one important thing. That is that a recycling bin needs to be convenient to use. Because when the bin is a hassle to use, this means recycling is a hassle. So a flimsy foot pedal, lids that aren't closing well or a bin that is too small are some reasons for people to dislike their trash can which also influence their motivation to recycle.
So let's find out in this guide what to look for. So you can get a recycling trash can your family will love to use for years to come.
---
Recycling Bin Guide
Tips for buying a trash can or recycle bin
Return to the guide