Touch or touchless trash cans
Trash cans come with and without lids. When you prefer a trash can with lid there is a lot to choose from. In what way do you want to open the lid of your trash can. By hand, by foot or by motion sensor?
On this page, we'll walk you through the different kinds of trash can lid mechanisms, such as step-on trash cans and manual bins with a touch lid. We sum up the pros and cons for each instrument so you can find out what kind of trash can or recycling bin you want to get.

Lid mechanisms:
---
Recommended: Touchless trash cans are more hygienic in use
A trash can is a container to collect your household trash and recyclables. This makes it an object you rather don't want to touch with your fingers. Especially in the kitchen area, it is more hygienic to have a recycling bin that you don't need to touch by hand at all. Therefore it is recommended to use an automatic trash can with a motion sensor. Or a step-on trash can with a foot pedal. With these types of trash cans, there is no need to touch the bin with your hand.
What are the pros and cons of touchless trash cans?
Pros:

Hygienic in use
Convenient to use with full hands
Less finger prints on the bin
Cons:

Mechanism can break
Overall more expensive than touch or open cans
Check best touchless trash cans
---
Open top trash cans without lid
The most basic trash cans have no lid at all, so the top is not covered. These types of open trash cans get used to throwing away trash easily and fast. Think about a small paper bin under your office desk to throw away paper without even looking at it. Or an open trash can in a fast food restaurant where you can throw away your food wrappers and food containers without the need to touch the bin.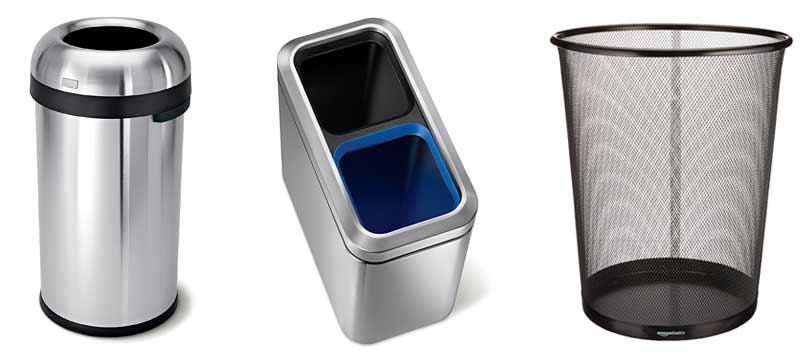 Pros:

Easy to throw things away
Visible when the trash can is full
Don't need to touch the bin
Cons:

Odors are not contained
Not proof for pets and insects
Not recommended for organic waste
If it tips over it can become quite messy
Check best open trash cans
---
Manual trash cans
A manual trash can has a lid that you manually open by hand. Trash can manufacturers come up with all kinds of ways to open the lid. The most simple version of this type of trash can has a cover that you lift by hand. But more fancy manual trash cans have lids that open automatically after pressing the lid (press top) or pushing on a touch bar. With these recycling bins, you can also use your hip or elbow to open the lid.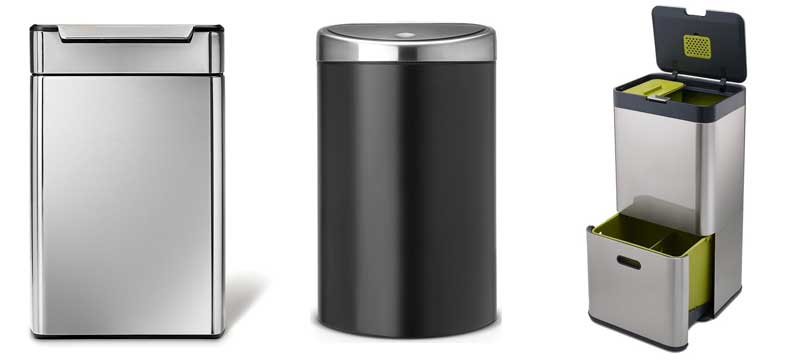 Pros:

Easy to use
Relatively cheap
Cons:

Not the most hygienic
Not convenient with full hands
Not dog-proof
All Manual Trash Cans
Essentials:
It is very convenient when you have a trash can where the lid stays open by itself. Cheaper models tend to have lids that fall right after you remove your hand from the lid. We recommend having a trash can where the lid can stay open for kitchen use, so you have time to scrape your cutting board, for example.
Another thing to look for when you want a stainless steel trash can is that it has a fingerprint-proof coating. Because you and your family will touch the bin quite often, it will get fingerprints and smudges all over it. This special coating prevents most of the smears, so you won't have to clean the bin that often.
---
Swing lid trash cans
A trash can with a swing top lid has a lid that you need to push by hand. So this is also a manual trash can. Some swing cans have lids with a spring, so it closes right after you remove your hand. Other swing lid trash cans have a cover that rotates freely, so you don't feel pressure while using it.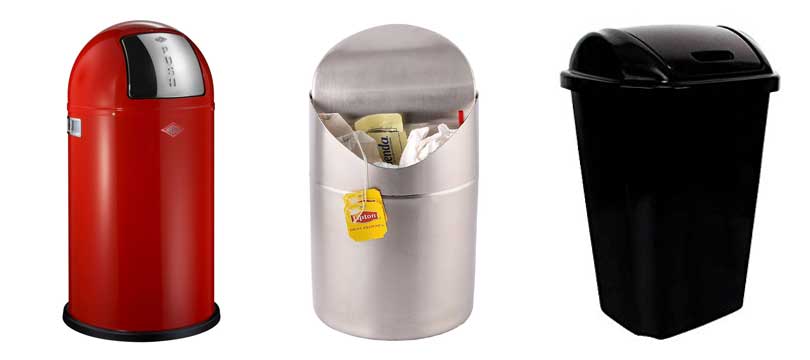 Pros:

The lid closes automatically
Perfect for 'clean' trash such as paper
Cons:

Not hygienic
The swing lid can become dirty
Not recommended for kitchen use
Not convenient with full hands
Opening is relatively small
The lid can get stuck when can is full
All Swing Lid Trash Cans
Essentials:
Because you push the lid by hand, it will become dirty after a while, especially when it is a metal lid, because of the fingerprints. So it is recommended to choose a swing lid bin that has a fingerprint-proof coating.
---
Step-on trash cans
A step-on trash can is a touchless pedal trash can because you don't need your hands to open the lid. You open the lid by pressing the pedal with your foot. This makes a pedal trash can a very hygienic bin to use in the kitchen, restroom, or bathroom. There are single, dual, and multi-compartment step-on recycling bins available.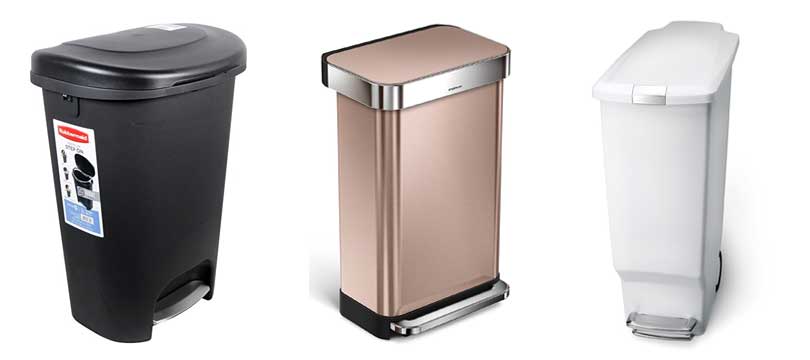 Pros:

Very hygienic in use
Have both of your hands free
Less fingerprints and smudges
Cons:

Lid falls down after removing your foot
Foot pedal mechanism can break
Pedal works best when standing in front of bin
Some lids can't be opened by hand
All Step-On Trash Cans
Essentials:
A step-on bin works best when the foot pedal is durable and sturdy. For kitchen use, we recommend a step-on trash can with a steel foot pedal. The steel pedal is a more expensive option, but the trash can will last longer than a bin with a plastic foot pedal, which can feel flimsy when using it.
Please note that the foot pedal of a step-on waste bin works best when you stand in front of the container. So when you want to operate the pedal bin from the side, the lid won't open most of the time smoothly. Another thing to look at is that some pedal trash cans have lids flush with the bin's top, which means you can't open the cover with your hands.
---
Automatic trash cans with motion sensor
A sensor trash can is a 100% touchless recycling bin. This means that you don't have to touch the trash can at all, not by foot and not by hand. The trash can contains a sensor, when activated, automatically opens the lid. You activate the sensor by holding your hand in front of it, and a motor in the bin opens up the lid by itself. The sensor is designed to activate the cover when you walk by the trash can.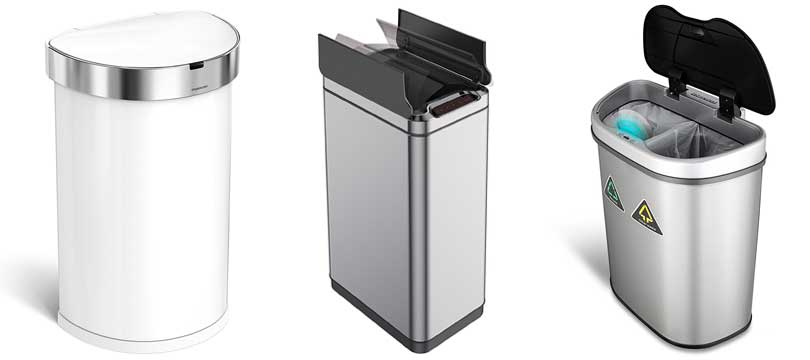 Pros:

100% touchless
Very hygienic and convenient
Makes recycling a fun experience
Cons:

Motor makes sound
Replacing batteries
The lid motor may malfunction
Some models are not dog-proof
All Automatic Trash Cans
Essentials:
Batteries power an automatic trash can, and some models also get equipped with a wall adapter. If you want to completely rely on the wall adapter, make sure you have a wall socket near the location you wish to place the automatic trash can. If you want to separate trash and recycling, we recommend a dual-sensor recycling bin.
---
Other things to look for
If you want to place the trash can flat against your wall, make sure the lid's hinges are inside the bin. In this way, the lid won't stick out at the back when you open the trash can. Otherwise, it might scratch your wall or damage the cover of your trash can.
It is convenient to be able to lock the lid so the lid can stay open. This is very convenient when you want to throw away a larger amount of waste.
To prevent the bin from scooting on the floor, we recommend looking for a more heavy trash can made of stainless steel. To prevent scratches on your (wooden) floor, make sure the bottom of the waste bin contains rubber. This rubber also precludes the container from moving when you use the trash cans, especially for step-on recycling bins and trash cans.
---
Recycling Bin Guide
Tips for buying a trash can or recycle bin
Return to the guide