Single, dual or multi bin trash cans?
More and more people sort their trash and recycling at home. Therefore trash can manufacturers, such as Simplehuman, provide all kinds of multi-bin trash cans. These trash and recycling bins have multiple buckets so you can sort any type of waste.
Trash can layouts
What kind of trash can fits your needs?
To find out what recycling bin suits you best we have compared the pros and cons for each type of trash can.

Single trash cans
Single purpose trash cans have one bucket and can be dedicated for one type of waste. A single purpose bin can be placed in the kitchen, but these bins are also ideal for the restroom or bathroom. Some people prefer to have separate single purpose trash cans for every type of waste in their household.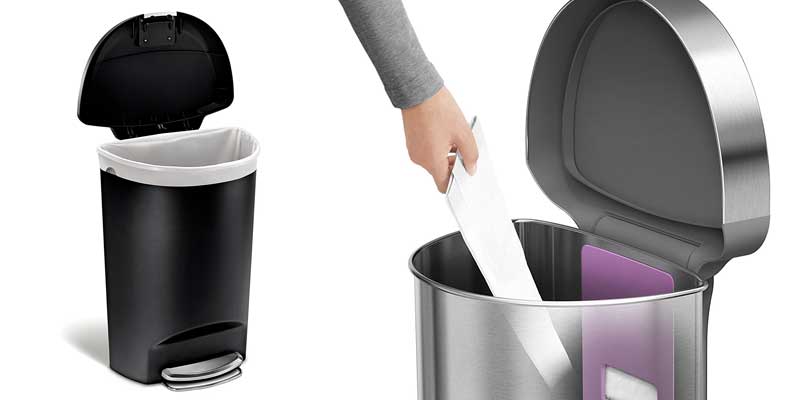 Pros:

All kinds of sizes and capacities
Cheaper than multi bin variants
Perfect for collecting one type of waste
Cons:

Only for one type of waste
For recycling you need 2 bins
---
A double trash can is a side-by-side bin with two compartments. Most of these dual bins have two (removable) buckets with a different color. This helps to remember what type of waste belongs to what bucket. Double trash cans come in all kinds of shapes and sizes. Some of these bins have equally sized compartments, for instance 8 + 8 gallons. But there are also trash and recycling bins with 2 compartments with one large and one small bucket.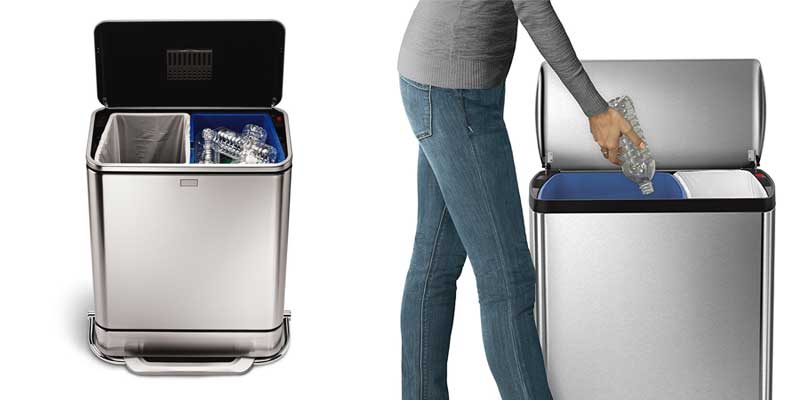 Pros:

One bin for trash and recycling
Makes recycling easier
You will recycle even more
Cons:

Slimmer compartments
Dual bins are relatively expensive
Some bins require special liners
---
Multi purpose trash cans
A multi-compartment trash can contains at least three inner bins. This is ideal when you want to sort three or more streams of waste for recycling. For instance household trash, plastics, and organic kitchen waste. Most multi-purpose recycling bins have three compartments. These 3-compartment trash cans are perfect for separating trash, plastics, and paper. It depends on local regulations what kind of recyclables you need to sort at home.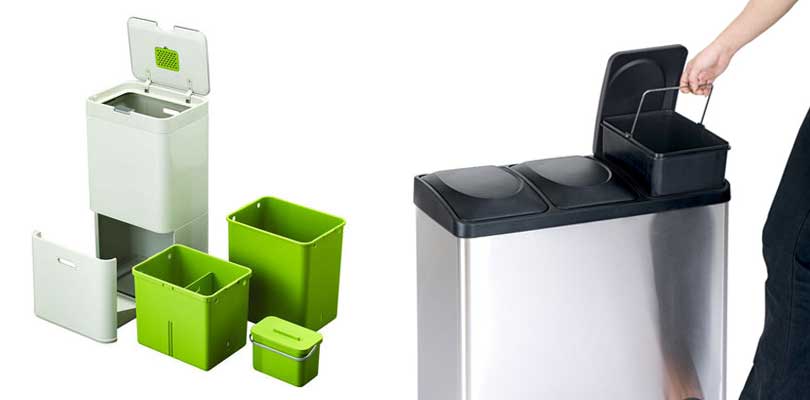 Pros:

Separate multiple recycle streams
One bin for all trash and recycling
Cons:

Not many models to choose from
Narrow compartments
Check 3 compartment trash cans
---
Are the bins removable?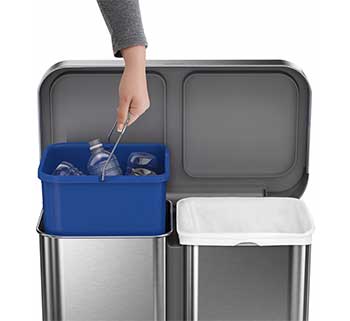 A trash can or recycling bin gets dirty after using it. As well on the inside and the outside. So your trash can needs some cleaning every once in a while. The outside and the lid(s) are fairly easy to clean with some dish soap and a dishcloth. But cleaning the inside of the bin can be quite a hassle. That is when the inner buckets are not removable.
Some trash cans have removable bins, and we advise you to get a bin that has this feature. This makes cleaning your trash can a lot easier. You can take out the bin, remove the trash bag and give the bucket a thorough cleaning in the kitchen sink or in the garden.
Check our recommendations for kitchen trash cans.
Recycling stickers for your convenience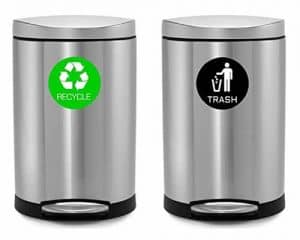 To prevent that you or someone from accidentally throwing their trash in your recycling bin it is recommended to label each bin for trash and recyclables. For instance, when you have a double recycling bin, you can label the bins with a sticker to make visible what kind of trash or recyclables belong to which bin. Because of the trash can stickers, it is visually clear for everybody which bin is dedicated for which waste stream.
---
Recycling Bin Guide
Tips for buying a trash can or recycle bin
Return to the guide