Compact trash cans that barely takes up space
In a bathroom and restroom you probably want a small trash can with a large enough capacity for your sanitary trash. But the overall size or footprint of the bin can't be that big, because you probably want to fit the trash can in a tight spot. What trash can has the perfect size for your bathroom or restroom? Let's find out.
Top 10 Trash Cans:
Most people place small step-on trash cans in their sanitary areas. This small form factor is because of limited available floor space and because the amount of trash that is produced in a bathroom or restroom is less than in the kitchen area. Though, the amount of trash and recycling in the bathroom is higher than in the restroom. Also the types of trash are more diverse in the bathroom.
Recommended small trash can:
We recommend this Simplehuman Profile Step Trash Can because it fits in tight spaces. The inner bucket is removable and it is designed to hold standard plastic grocery bags. The slim measurements prevents the bin from tilting forward when pressing the strong steel pedal. The plastic lid is dent-proof, so perfect for the bathroom.
Tip: Best Simplehuman trash cans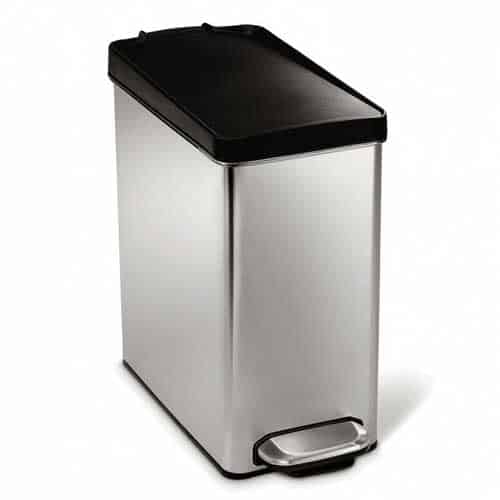 Warranty: 5 years
Capacity: 2.6 Gallons / 10 Liters
Type: Step-on trash can
Material: Stainless steel / plastic lid
Dimensions: 14.2 x 6.6 x 13.3 inches
Small trash can ideas and inspiration
A small trash can or recycling bin needs to be convenient and functional to use. But probably you also want a small trash can that looks nice and fits the overall décor in your bathroom or restroom. Luckily there are a lot of beautiful tiny trash cans available for your sanitary area, so you can find a design that matches your taste and style. Below some small recycling bin ideas.
We believe that a convenient and good looking trash can stimulates to recycle even more at home.

What to look for when buying a small trash can
Table of contents:
A bathroom trash can is a relatively cheap purchase. Most small recycling trash cans are priced between 10 and 50 dollars. But there is a lot of variety in quality. So it is useful to do a little bit of research before buying a tiny trash can. This prevents you from buying a bin that does not meet your and your family's expectations.
We've done most of the research for you which we present on this page.
First off, what kind of garbage exists in bathrooms and restrooms? Think about:
Toilet roll tubes
Feminine hygiene products
Disposable safety razors
Toothbrushes
Dental floss
Tooth paste tubes
(Make-up) Tissues
Q-tips
Hair from humans or pets
Medicine packaging
Deodorant canisters
Soap and shampoo bottles
The list is quite diverse, especially in the bathroom. This is why it is recommended to also sort trash and recycling in the bathroom.

What size trash can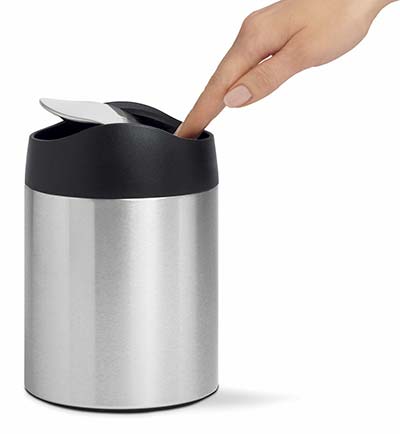 The size of a bathroom trash can is very important. Because most of the time there isn't a lot of available space for a trash can. So the can needs to be small, but large enough to collect your trash. The can generally sits between a wall and a toilet, sink, cabinet or the side of the bath tub or shower cabin. These are all tight spots so it is required that the trash can has a small enough footprint.
It is recommended to measure the available space where you are planning to buy a new bin. Don't forget to also measure the height and keep in mind that you can still open the lid when you want to place a trash can under a cabinet or sink.
So what is the average size of a small bathroom trash can? A small trash can has a capacity of around 2.5 gallons or 10 liters. And the footprint of a small trash can is around 100 square inches. Most popular form factors for a small trash can are round, half-round and slim square-shaped trash cans.
What is the weight of the trash can?
Because small trash cans are fairly light weight they tend to slide on the tile floor more easily than a large kitchen trash can. This is especially the case with small step-on trash cans with a foot pedal. This is why: When you press the pedal with your foot there is no weight to balance the bin so the bin slides back or, even worse, tilts over to the front.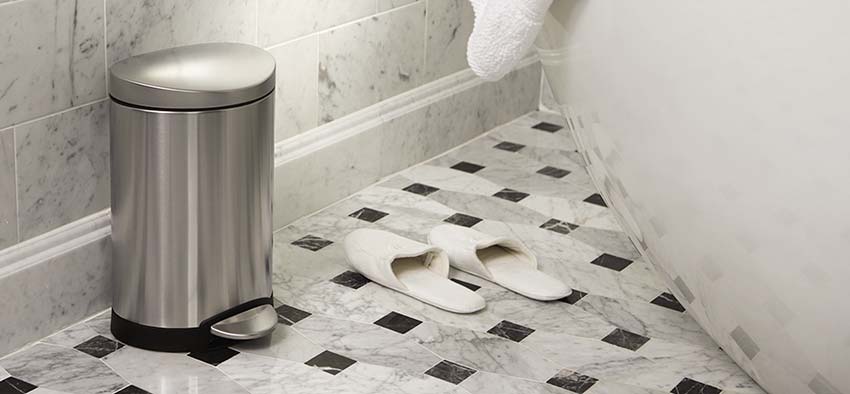 Avoid a sliding bin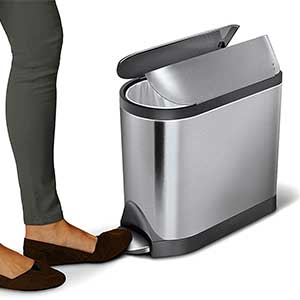 How can you avoid a sliding or tilting trash can? You can avoid this by getting a trash can that already has some weight to it. An empty metal bin made of stainless steel has more net mass than a plastic trash bin of the same size and capacity. In addition to the weight, also look for a tiny trash can that is equipped with a rubber rim or rubber caps on the bottom, this prevents it from scooting around. Lastly the overall form of the bin can help it from not tilting forward. A slim but trash can has more counter weight so when stepping on the foot pedal it won't tilt towards you. Some pedal bins also have a protruding part below the foot pedal which gives the bin extra stability.

Stainless steel or plastic
If you want to get a step-on trash can we recommend getting one made of stainless steel. Like we already told in the previous paragraph, the extra weight contributes to the overall convenience and prevents tipping or tilting as much as possible.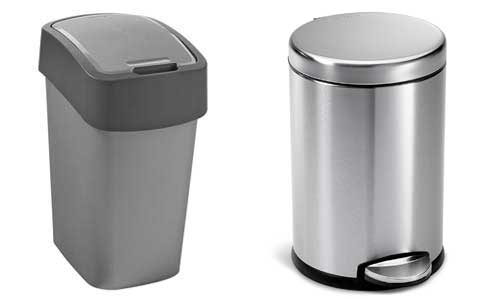 Stainless steel is a material that doesn't corrode, stain or rust, which is necessary in a humid space like a bathroom. Make sure that all the metal parts of a metal trash can are made of stainless steel. Because some cheaper models tend to use metal parts that can rust after a while, think about screws or the hinges.
A small plastic trash can is a cheaper alternative for collecting waste in the bathroom or restroom. It is also a good alternative for a metal bin if you want to be absolutely sure that it will not rust. But because it is very light weight it can tilt over and tends to slide on the floor more easily.
Despite the material of the container it is recommended that the bin has rubber feet on the bottom. This prevents damaging your tile floor and helps to prevent sliding, because the rubber gives the can more grip.

Lid opening mechanism
Generally people place a small trash can with lid. The most used lid mechanism for these tiny trash cans is with a foot pedal. This is hygienic in use because you use your feet instead of your hands. And you don't have to bend to open the lid by hand.
It is also possible to place a tiny trash can on the cabinet or on the sink. These trash cans are even smaller than step-on trash cans. The use for these bins is to throw away tissues, wipes, q-tips and small make-up products.

Mounting on the wall
There are also bathroom or restroom trash cans you mount at the wall. This is especially convenient when there is no available space left on the floor for a trash can. Or when you prefer to have easy access to the bin by hand. This comes in handy when you need to replace the garbage bag. With a step-on bin you have to pick it up from the floor, which might be not your preference.
Soft-closing lid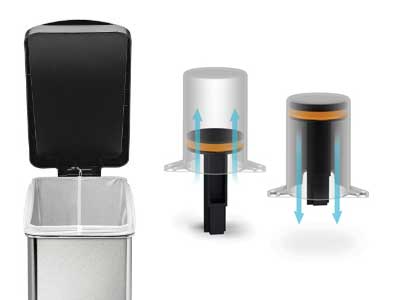 A soft-closing lid isn't a necessity, but it contributes to the overall experience of a bin in the bathroom. This kind of lid closes softly without making a lot of noise. So you can throw away your trash in a silent way. That'll be more friendly to the ears in the early morning and won't wake-up the (little) ones who are still asleep.
We especially prefer a soft-closing trash can when you're looking for a stainless steel bin. Because metal tends to resonate more than plastic.

Maintenance and cleaning
A removable inner bin is recommended for a small trash can. This makes the process of changing a trash bag and cleaning the bucket more easy. If the trash bag (or grocery bag) might leak, the inner bucket prevents that fluids can leak on the floor. Wet trash is quite common in a bathroom or restroom.

Small recycling bin
More and more people feel the need to separate waste in their bathroom. Because, after the kitchen, the bathroom is one of the area's in your house where the most trash is generated.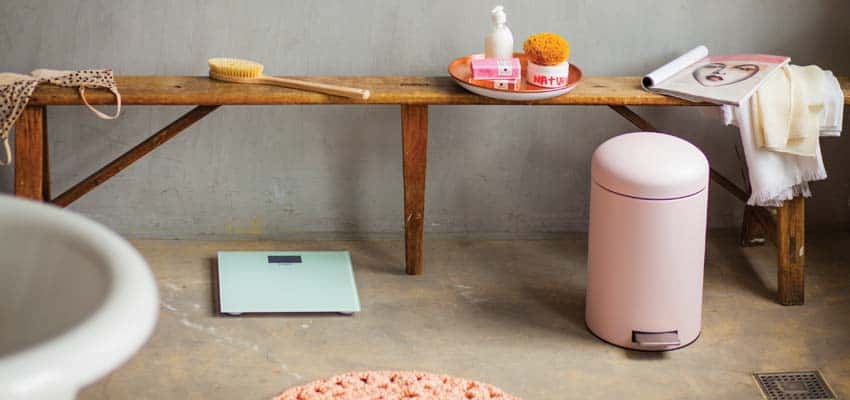 Can you use a small bin for recycling? Yes, that is possible. But if you want to sort trash and recycling in your bathroom you need to have two small bins. Because generally a small trash can only has one compartment. There are no small dual compartment trash cans.
But, like we already said, a bathroom isn't an area in most houses with lots of floor space. So placing two bins is possibly a problem. You could place one bin on the floor and install one bin in a cabinet. Because there are also small built-in trash cans you can mount on a cabinet door.
---
Recycling Bin Guide
Tips for buying a trash can or recycle bin
Return to the guide