The right trash can size for your household
What is the best size for an indoor recycling trash can? Well, it depends on a few factors. Such as the size of your household and the available space there is for the recycling bin. Let's find out the right size for your trash can.
The average kitchen recycling trash can has a capacity of 13 gallons or 50 liters
Check best 13 Gallon trash cans
---
The size depends on your needs and available space
Are you looking for a small recycling bin for your bathroom or toilet? Or do you want a large trash can in your kitchen to sort trash and recycling? The needed size really depends on the space where you want to place your recycling bin and the amount of trash you generate with your family every day.

Generally, a bathroom or restroom recycling bin tends to be smaller than a recycling bin for your kitchen. The amount of waste in the bathroom or restroom is a lot less than the waste generated in your kitchen. Your kitchen is the central spot in your house where the most trash appears. Think about vegetable waste, plastic, paper, and glass.
How large is your household?
Besides the location in your house, it is also important to know how large your household is. The larger the household, the more trash there is on a daily base. Which means a larger recycling trash can is needed:
Small 1-2 persons household: 0 – 10 gallons
Normal 2-4 persons household: 10 – 25 gallons
Large 4+ persons household: 25 gallons or more
Check best 13 Gallon trash cans
How much room do you have?
The last thing you need to look out for is the available space. When you're in the market for a larger recycling bin, it is important to measure the floor's space or in your kitchen cabinet before purchasing your container.
If you have a smaller kitchen, we advise you to look for a slim but tall recycling bin with a square shape. Square shaped recycling bins have a larger capacity than round ones with similar dimensions and can be placed in tight corners more easily.
---
Sorting trash and recyclables
Are you and your family planning to sort trash to retain recyclables? Then it would be best if you had separate baskets for the sorted waste streams. You can choose separate single trash bins for each recyclable. Or you can get a recycling bin with multiple compartments. Such as a two-compartment recycling bin or a bin with three compartments. With these trash and recycling bins, you can sort your household waste in one container, which saves room in most cases and is generally less expensive.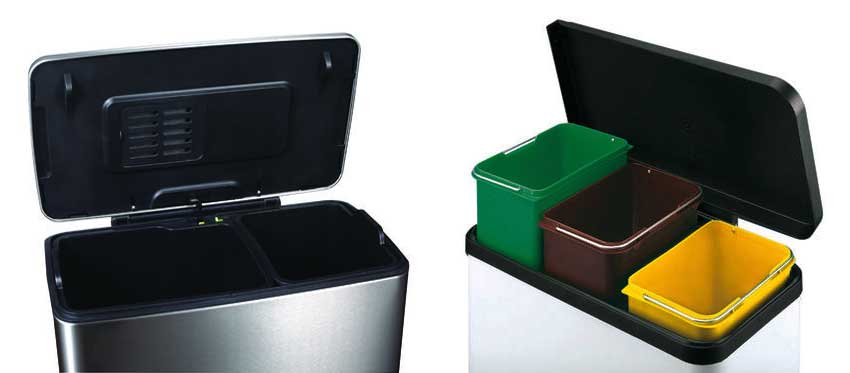 ---
Things to keep in mind
Best dimensions for your trash can
Besides the capacity, we recommend taking the dimensions of the trash can into account. Do you want to built-in a recycling bin in one of your kitchen cabinets, for instance, under your sink? In that case, it is really important to measure the space in your cabinet that is needed to install the pull-out trash can.
Do you have a tight spot in your kitchen where you're thinking of placing a recycling trash can? Then again, we recommend measuring everything thoroughly. Also, take into account that the lid of a recycling bin can be opened fully.
What size garbage bags do you want to use?
A standard kitchen trash can has a size of around 13 gallons, this is approximately 50 liters. In 13 gallon recycling bins the standard tall kitchen garbage bags fits well.
The advantage of standard sized garbage bags is that these bags are relatively cheap to buy.
So before purchasing a recycling bin it is good to know what type of garbage bags you need for that particular recycling bin. We recommend going for recycling bins where you can fit in standard recycling bags, this will save you some money in the long run. Because there is no need for you to buy official and more expensive branded garbage bags.
---
Recycling Bin Guide
Tips for buying a trash can or recycle bin
Return to the guide