Find a trash can for your kitchen
The kitchen is the area in your house where most of the trash appears. This can be organic waste, such as fruit scraps and vegetable residues. But also packaging, think about all the plastic containers, glass bottles, jars and metal cans. There are all kinds of waste in your kitchen and, depending on your household, it can be quite a lot.
Top 10 Trash Cans:
So it is pretty important to have a large enough kitchen trash can to collect all the waste in your kitchen. But the capacity isn't the only thing that matters, it also needs to be a convenient bin to use for you and your family. For instance: do you have children? Then you want a bin that is easy to use for them also, so you can learn your children the necessity of recycling. Do you have pets, a dog maybe? Well, then you want a bin that is dog-proof so your nosy dog can't treat himself with a 'snack'.
Kitchen trash can ideas and inspiration
Let's have a look at some nice looking kitchen trash cans for some inspiration. Because a recycle bin for your kitchen can be very decorative in your kitchen. Especially when it matches the overall design of your kitchen or the style of your home interior.
For example: Do you have stainless steel kitchen appliances? Then a stainless steel kitchen recycling bin will look great. Are you looking for something that will attract a little bit more attention? Then a colourful red trash can might be something you'll like.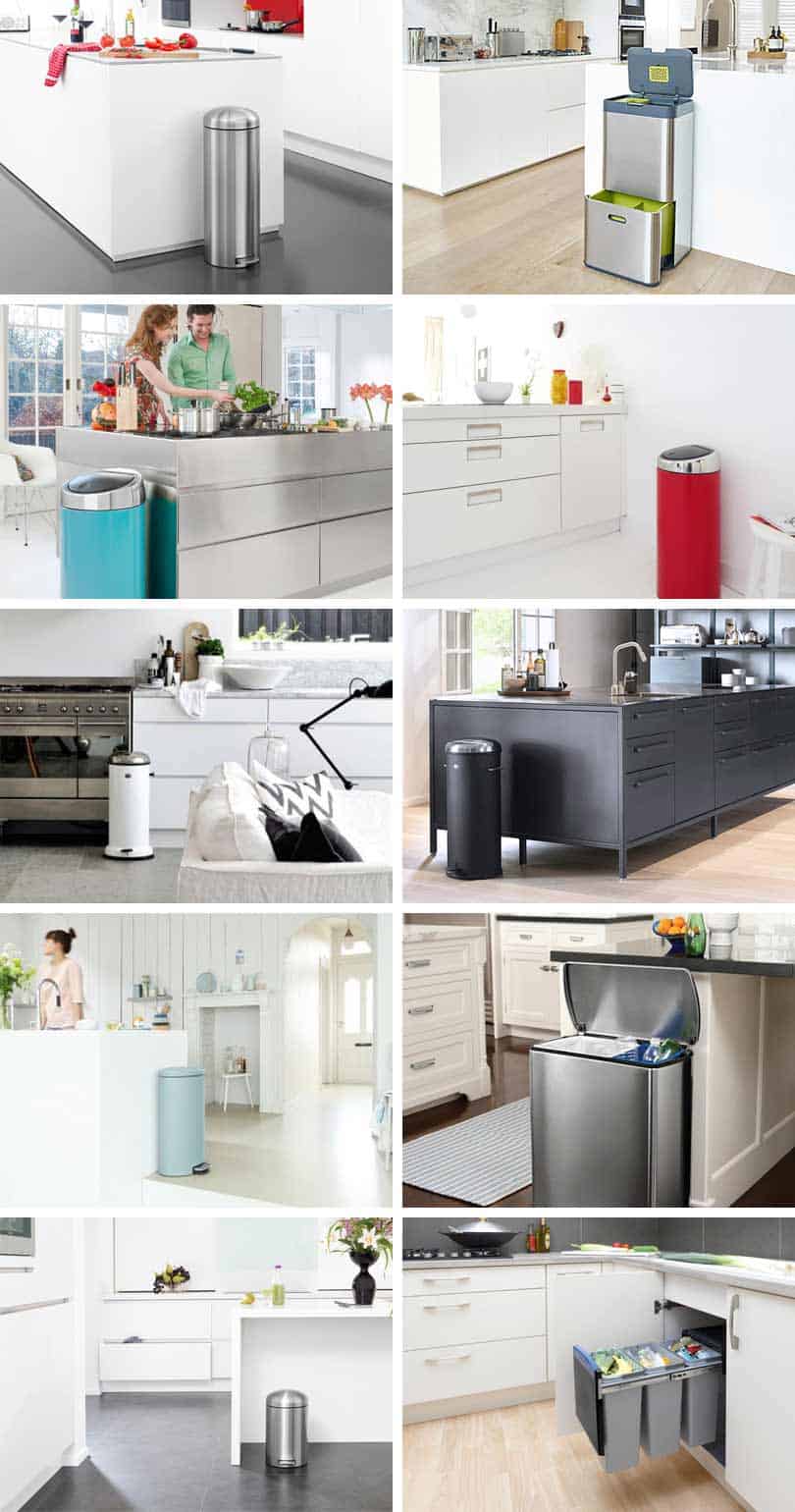 Recommended kitchen trash can: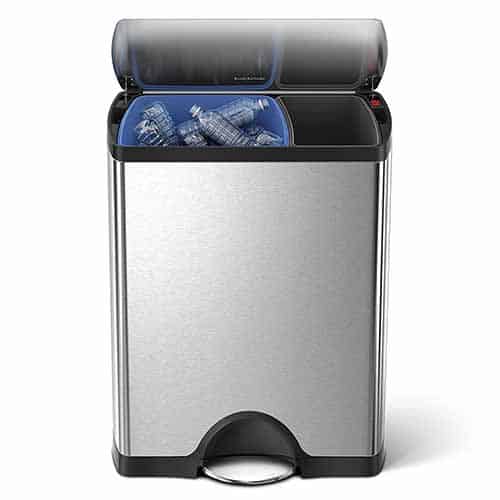 Warranty: 10 years
Capacity: 12.2 Gallons / 46 Liters
Type: Step-on dual recycling bin
Material: Stainless steel
Dimensions: 12.8 x 19.8 x 25.7 inches
What to look for when buying a kitchen trash can?
Table of contents:
How many gallons
The needed capacity you need in a kitchen trash can really depends on the amount of waste you throw away every day. An important factor is the size of your household. Small families will have less waste than larger families of course.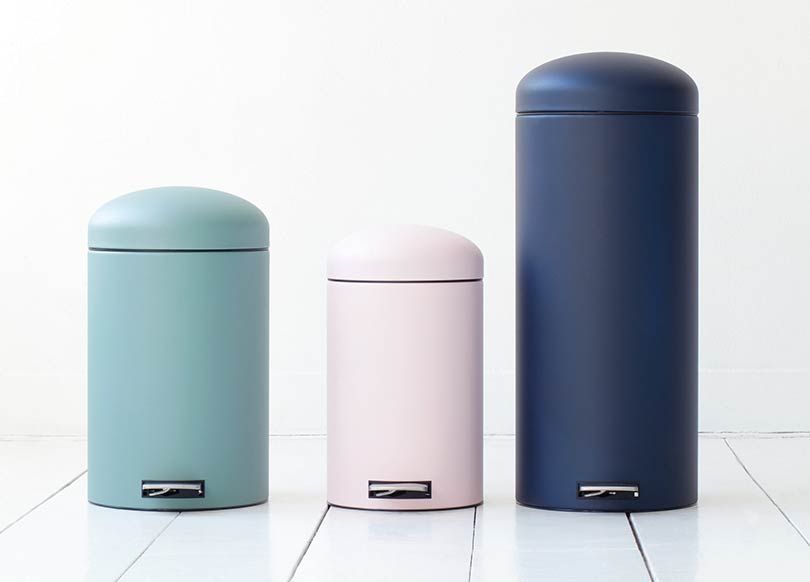 A standard sized kitchen trash or recycling bin has a capacity of around 13 gallons (approximately 50 liters). This capacity is perfect for average sized households of around four to five persons. In a 13 gallons kitchen trash bin you can hang standard sized kitchen garbage bags, which is a nice advantage. Note that this does not apply to trash cans that have two or more compartments for trash and recycling.
What capacity suits your family? How many trash bags or recycling bags do you throw away each week or each month? If you have one full 13 gallons liner a week, then a 10 to 14 gallons kitchen trash can is perfect.
Small or large kitchen
The capacity of the bucket relates to the measurements of a trash can. And it might be that you need a large capacity, this also means a fairly large trash can. But what if your kitchen doesn't have enough available room for it?
One solution is that you split up the needed capacity in two or three bins. So maybe you place a smaller trash can on the floor and you install a pull-out trash can in a kitchen cabinet. For example the one under your sink.
It is also good to know that trash cans come in different forms. You can get a slim but tall trash can which is perfect to squeeze in a tight spot in your kitchen. Or get a wide but less tall waste bin when you want to place the bin somewhere underneath.

Stainless steel or plastic
On average you can choose between stainless steel or plastic kitchen cans.
A plastic trash can tends to be light weight. The disadvantage is that the bin can scoot around your kitchen floor when you open the lid, especially when you get a bin with foot pedal. Another thing to keep in mind is that plastic is less durable and can break or split. The advantage of a plastic trash can is that it is relatively cheap and is easy to clean.
A metal or stainless steel kitchen trash can has more weight to it. It stands more solid, which prevents the bin from sliding on the floor most of the times. Another advantage is that stainless steel looks nice and will complement the design of your kitchen. It is also hygienic and easy to clean. A disadvantage is that stainless steel bins are more pricey and are prone to dents and finger smudges.

Lid and opening mechanism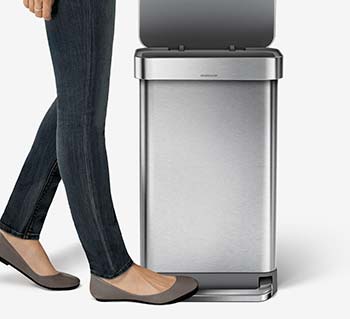 Most people get a step-on trash can for their kitchen. The reason is that it is hygienic and more convenient in use. Imagine you have your hands full with trash and your hands are dirty, a foot pedal becomes pretty handy in these situations.
Besides step-on trash cans there are also bins with a motion sensor lid, manual lid, a swing lid or no lid at all. The swing lid and no lid ones we don't recommend for your kitchen. The swing lid will get messy when you scrape of your cutting board. And a trash can without lid doesn't contain odors, so you will smell your trash after a while. If you really want a kitchen trash can without lid, we recommend to look for a tilt-out, slide-out or pull-out trash can to install in a kitchen cabinet.
A motion sensor trash can is a great alternative for a step-on trash can. With these trash cans you just wave your hands over the sensor and the lid opens automatically. It depends on the brand and type of automatic trash can how quickly and silently the lid opens. Another thing to keep in mind is that the motor requires power, most of the times via batteries. So you need to change them every once in a while. And note that when the motor breaks, the trash can becomes pretty much useless.
See a motion sensor trash can in action:
A manual lid trash can is also great for your kitchen. The downside though is that you need to use your hands, elbow or hip to open the trash can. This might be less hygienic for kitchen use. But a manual trash bin is still a great option to consider.
We also recommend a trash can with a soft closing lid. This reduces the noise the trash can makes when opening and closing the lid. One last thing is to look for a trash can where the lid can stay open without you're holding it.

Maintenance and cleaning
A kitchen trash can will be used a lot. So it needs to be a durable, hygienic and easy to clean receptacle.
Fingerprints and smudges
When you get a stainless steel recycling bin with a manual lid. You will get fingerprints and smudges on and around the lid after using it for a while. If you want to prevent this from happening as much as possible, then look for bins with a fingerprint-proof coating. This coating prevents the most fingerprints. When you use the bin with dirty hands, smudges will show up though.
Replacing trash bags and liners
How easy is it to replace a full recycling bag? That is quite an important thing to look out for when buying a kitchen trash can. Because replacing a liner is something you will do every week or so. Some trash cans make it quite a hassle replacing a trash bag. Other bins make it a breeze. We recommend to look at customer reviews of trash cans that you are interested in, because most people will talk about how easy it is to replace a garbage bag.
Cleaning buckets
Are the inner bins removable? If not, then it is more difficult to clean the bin from the inside. Removable buckets are recommended when you use it for recycling and not want to use a trash bag or liner. The bin will become dirty over time so thorough cleaning is needed to keep the bin clean to make it look nice and prevent nasty odours. A removable bin can be cleaned far more easily than permanent buckets.

Recycle bin combo for recycling
When you want to separate trash and recycling in your kitchen a dual recycling bin is a great solution. These so called dual trash cans have two compartments and can hold your recyclables (paper, plastics, metal or fruit waste) and other kitchen trash.
So these waste bins combine recycling and waste into one convenient single bin. A dual kitchen recycling bin takes up less space than two separate single bins. This can be useful when there is not much floor space in your kitchen.

Hide a trash can in a kitchen cabinet
You don't want a trash can in sight? Then a built-in trash can might interest you. You install these slide-out or pull-out trash cans in one of your kitchen cabinets. Most people install theirs in the kitchen cabinet where the sink is located.

These trash cans come in one bucket or multi compartment variants. So you can sort recycle and trash in these cabinet bins too. The advantage of these bins is that the capacity is generally not enough for larger families and you need to give up one cabinet for trash instead for storage of kitchen tools.
"Really easy to install and handy to separate recyclables out of view"
An under-counter pull-out trash can is ideal when you don't want a trash can visible in your kitchen. Or when you have, with all respect, a small kitchen and don't have room left on te floor for a normal trash can. This compact slide-out dual garbage can is very easy to install, you only need to install the metal frame eight screws and you're done. Most people will use their kitchen cabinet where the sink is also located. The cans glide smoothly on the frame. It feels very solid and reliable.
Cons: The capacity of the bins are a bit small and the trash bags are visible because there are no lids on the buckets.
Capacity: 5 + 4 gallons
Material: Plastic bins / metal frame
Dimensions: 9.8 x 18.2 x 19.1 inches
---
Dog proof trash cans
When you have pets walking around you know they are always interested in what the kitchen trash can is holding. This can result in quite a mess, especially when your pet is strong enough to flip over the trash can to have a peek inside. Luckily there are dog-proof or cat-proof trash cans.
The thing to look for is a (heavy) stainless steel kitchen trash can that stands solid on the floor. The best opening mechanism to prevent curious pets from opening it is a step-on can. We don't recommend most sensor trash cans when you have a cat or dog because most pets are smart enough to activate the sensor after a while.
---
Recycling Bin Guide
Tips for buying a trash can or recycle bin
Return to the guide