Show or hide your recycling bin
The type of trash can is a matter of taste and available space. Some people just don't want to have their trash can insight and therefore installing it in a kitchen cabinet. Others simply don't have enough floor space so they need to install the bin under the sink. And there are people who love the design of their recycling bin so they show-off their bin on the kitchen floor.
What are the pros and cons of freestanding bins and built-in trash cans? Why should you choose one trash can or recycling bin over the other? Let's find out.
Why choose a freestanding trash can?
A freestanding bin is a receptacle that you can place anywhere in your house. This can be in your kitchen, home office, restroom or bathroom. The bins are available in all kinds of shapes, colours and sizes. So there is always a trash bin that fits your needs.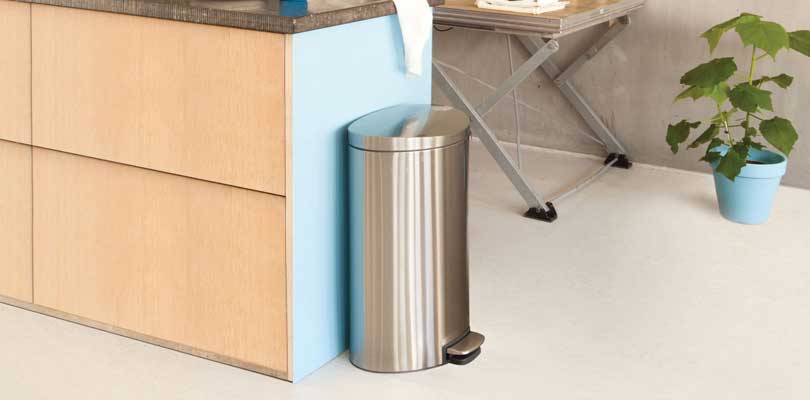 These replaceable waste bins have all kinds of features. Such as automatic motions sensors, step-on foot pedals and dual compartments for recycling.
Pros:

Lots to choose from
You can place them everywhere
Small and large capacity
Cons:

The bin can scratch your floor or wall
Needs cleaning more often
It takes up floor space
To prevent a trash bin from scooting on your floor and making scratches you need a bin with a rubber protection on the bottom. This is especially recommended for bins with a step-on mechanism.
Why choose a built-in trash can?
A built-in trash can is perfect when you want to keep your trash out of sight. It is also a great solution when you want to save on floor space when there is not much room in your kitchen, for instance. Most people install their pull-out bin in a kitchen cabinet where the sink is located. Therefore a built-in bin is also known as a cabinet trash can.
Slide-out trash cans
A built-in trash can has a frame which you install in a cabinet. Most of the time you need to screw the frame at the bottom of the cabinet. But there are also variants of built-in bins where you mount the frame on the side.
When you open the cabinet you slide or pull-out the trash can by hand. It depends on the type of slide-out trash can how many bins it contains. So a pull-out trash bin can also be used for separating trash and recycling.
It is recommended to look for a pull-out trash can with a sturdy metal frame. This makes using a slide-out trash can much nicer to use because it will slide more smoothly.

Tilt-out trash can
Another variant of a built-in trash can is the tilt-out trash can. This is also a trash can that is installed in a cabinet but instead of sliding the bin towards you, you tilt the cabinet door. The hinge of the cabinet's door is located at the bottom, so when you open the door the trash can tilts towards you.
Pros:

Bin and garbage out of sight
Doesn't take up floor space
Looks clean in your kitchen
Cons:

Bins are relatively small
Need to install a frame
Less room for other kitchen stuff
Putting screws in a kitchen cabinet might scare you a off little bit. But it isn't necessary to install a metal frame in one of your cabinets. You can also use a large drawer to put in trash buckets.
Some people get both trash cans
If you want to recycle at home you need multiple bins to separate trash and recycling. A combination of a freestanding can and a built-in can is a great solution for this. You can use for instance a one bucket freestanding can for trash. And a slide-out dual bin for collecting all your recyclables, such as vegetable waste (for composting) and plastic and glass packaging.
---
Recycling Bin Guide
Tips for buying a trash can or recycle bin
Return to the guide