Rechargeable Single & Dual Arc Electric Plasma Lighters
Best Electric Lighters & Plasma Lighters
Are you tired of flimsy plastic lighters that never work when you need them? Then a futuristic looking plasma lighter might be the perfect solution to all this problem. These reusable lighters can be charged and recharged over and over with a USB cable, and their batteries last for up to 400 uses. Besides these electric lighters being convenient and super cool looking, they are also a much more eco-friendly alternative.
Top 10 Reusable Electric Lighters
---
Plastic pollution in the ocean frequently appears as seabird guts filled with cigarette lighters.WeForm.org
---
Top 14 Electric Lighters
Electric lighters can come in several shapes, sizes and colors. There are even a few different types of electronic and plasma lighters. We have created a comprehensive list of our favorite reusable lighters which should contain some thing for everyone. There is no one electric lighter that matches everyone's needs, therefore we have based our ranking on the number of reviews the lighters have received.
---
Cool and Attractive Looking Lighter
Rechargeable lighter with a single plasma arc which is multi-coloured.
Great for candles and cigarettes but not cigars.
Fully charged with a USB cable it can be used 100-300 times.
Comes in multiple colours and is safe and easy to use by pressing the button.
---
Awesome Torch Lighter Great for Cigars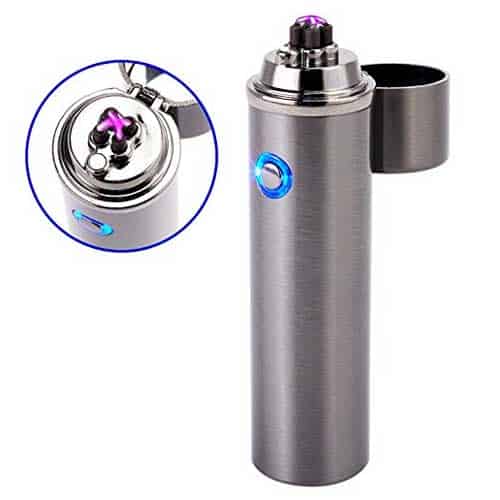 Dual arch plasma lighter for lighting cigars, bowls, pipes and cigarettes.
The plasma wave which is hotter than fire.
Fully charged within an hour and can be used 300 times per charge.
Brushed metal lighter is fun, easy to use and looks cool and unique.
---
USB Rechargeable, Flameless and Metallic Pink
Rechargeable dual arc plasma lighter available in multiple colours.
It is easy to use because you only have to press the button to activate the plasma arc.
Thanks to the upgrade you can use it to light cigars, candles, cigarettes and more.
The elegant looking reusable lighter comes in a beautiful gift box, which makes this a nice present.
---
Stylish Plasma Lighter with Good Quality
Flick the lid open and light up a candle or cigarette with a press of a button.
Dual plasma arc lighter is safe as it only work when the lid is open.
Recharge the lighter via the included USB-cable, it only takes 1 hour to recharge.
Tesla Coil feels solid and looks stylish in both the black and the gold option.
---
Long Neck for Candles and Splashproof
A long neck lighter which is perfect to use for lighting grills or stoves.
The neck is not flexible, which makes it easy and less flimsy to use.
It is a single plasma arc model which comes only in black.
The lighter is rechargeable with the included USB charging cable.
---
Luxurious Plasma Lighter for Him or Her
A dual plasma arc lighter charges with an included USB cable and a full charge lasts for 300 sparks.
You ignite the lighter by opening the lid and pressing the button on the side.
It is made of strong zinc alloy and is easy and safe to use, works well and feels very durable.
The matt black finish look really good, but it is also available in other colours.
---
Double Arc Chinese Dragon Loong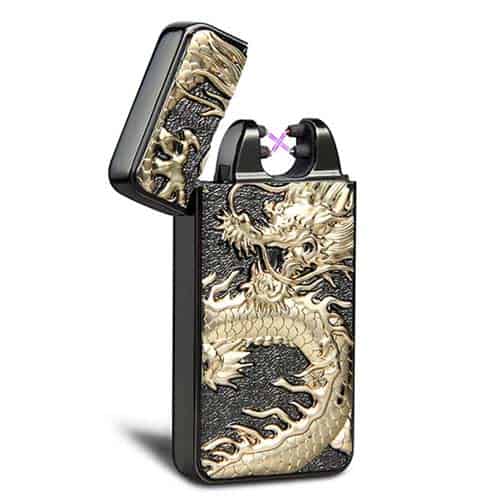 This cool dragon lighter is even available in multiple different colours.
This double electric arc has 5 times more power than single arc lighters.
Easy to use with the click of a button and only lights up when the lid is open.
Fully charged within 2 hours and can light upto 3-4 cigarette packs.
---
Sleek Electric Lighter for Cigarettes Only
Single coil lights by sliding open the cover, this heats the coil up.
There is no flame and no plasma arc, just a small red hot coil for lighting up your cigarette tip.
Because of the slim design you can put this electronic plasma lighter in your cigarette packaging.
It is completely windproof, silent and is available in multiple colours.
---
Longer Flexible Neck for Camping, Cooking, and Fireworks
This lighter has a long flexible 360° neck, designed to be used in any direction.
Ronxs lighter is a perfect tool for lighting candles or cigarettes in bad weather.
LED battery display show how full the battery is, a full charge can be uses unto 500 times.
The safety switch is designed keep your fingers away from the flame.
---
Very Lightweight and Sleek Design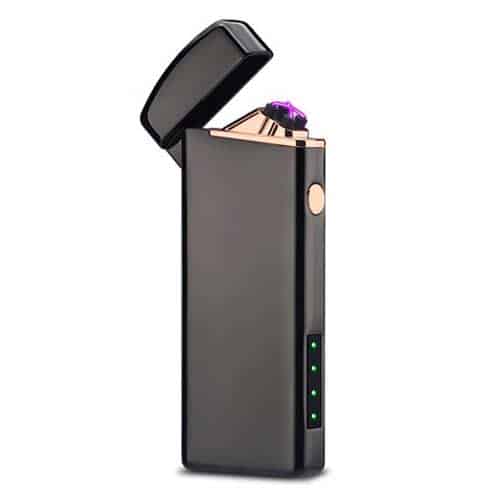 Dual arc lighter that can light objects with a flat surface, like bowls, pipes and cigar tips.
Elegant looking lighter comes in a beautiful gift box, which makes this a nice present.
It is small, lightweight and ultra portable, it may even be smaller than you expect.
Battery indicators will light up when you charge or open the safety lid.
---
Long Body and Upgrade Battery Indicator
This updated model is saver than before with its lock switch and auto stop, among others.
Single arc lighter displays battery volume, where 4 LED lights means it is fully charged.
Lighter package includes the lighter, charging cable, user manual and 1-year warranty card.
Single arc's lighter head can be retracted into the body of the lighter.
---
Elegant Slim Designed Durable Feel
A dual arc lighter with 4-upward pointed electrodes that allow you to light objects with a flat surface.
The electronic lighter has a LED battery states display and the ignition button has LED lights too.
Sleek deign, compactness and rechargeable battery make it so much butter than butane lighters.
The lighter comes in a beautiful gift box along with changing cable and brush for cleaning.
---
Compact, Qucik Charging and Hook for Handy Storage
The long lighter is rechargeable with the included USB cable.
It has a hook for easy storage and a safety button to lock the device for kids.
Per charge you can spark the lighter 300 times.
A single plasma arc that is only available in mat black.
---
Easy to Use with Child Safety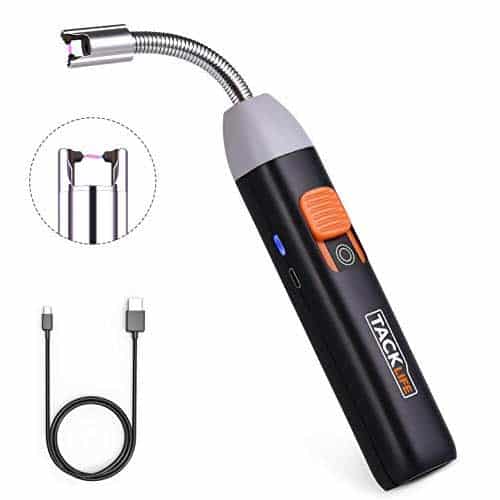 Tacklife ELY01 is a USB rechargeable arc lighter which can spark 1,000 times per charge.
Includes chargeable li-ion battery can be charged 500 times with the included USB cord.
It is a black and orange single plasma arc lighter that is child safe.
The long flexible neck makes it ideal for lighting candles and other things that are difficult to reach with your hands.
---
More about Plasma Arc Lighters
Navigation:
---
What is an electric or plasma lighter?
A plasma lighter or electric arc lighter is an electronic lighter that has a single or dual arc of plasma between two or four electrodes. There is one except to this rule, namely the coil lighter. It is also an electric lighter but not a plasma lighter. In all electric lighters you ignite the plasma or coil by pressing a button, the plasma is then maintained by a lower voltage, or the coil heats up. These electronic lighters are rechargable via USB, which takes up an hour on average. You can use the lighter for about 200-300 times before recharging it.
Disposable plastic lighters are one of the most common marine debris found in our oceans. By replacing your disposable lighter for a rechargeable electric lighter you prevent plastic waste because you can reuse this lighter over and over again.
Advantages of electronic rechargeable lighters:
Environmentally friendly.
No more need for lighter fluid refills.
Windproof, so easy to use outdoors.
Economical, no more buying disposable plastic lighters.
For smokers and non-smokers.
Light candles, cigarettes, cigars, pipes and bowls.
It looks cool, stylish and fashionable.
---
Types of electric lighters
When you are buying an electric lighter there are few different types that you can choose from. This choice should be bases on what you intend to use the lighter for most. Below you will find explanations to help you make the right choice.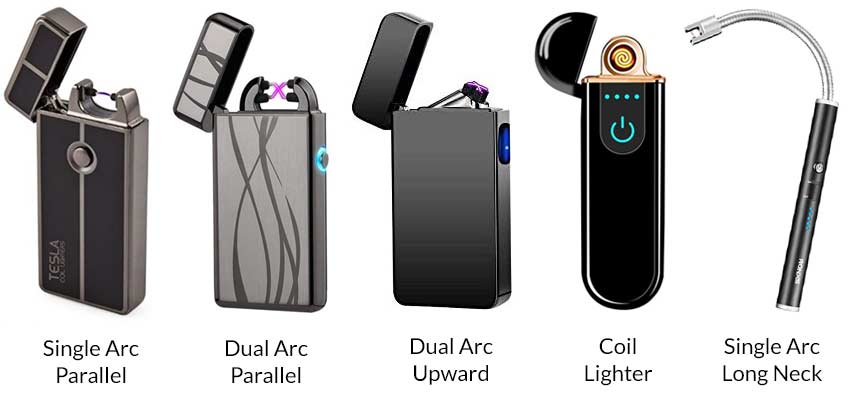 What is the difference between a single arc or dual arc lighter?
A dual arc lighter has twice the power of a single arc lighter. For lighting cigarettes, cigars and candles faster and more easily we recommend the dual arc lighter over the single arc lighter. Though, a single arc lighter will be more energy efficient than a double arc one.
Which kind of electric lighter is best for candles and stoves?
Do you want to light candles, kitchen gas stoves, grills, bbq's or start a fire while camping? Then it is recommended to buy a long neck plasma lighter. These usb rechargeable lighters have a long neck which makes them perfect for lighting hard to reach candle wicks. But these are also great for lighting the gas stove or bbq, it is much safer than using matches or a small lighter. Besides that the long neck arc lighters are flameless, splash and wind proof.
Some long neck lighters have a flexible neck. These lighters can be turned, bended and rotated in every way which is very handy.
Which kind of arc lighter is best for cigars?
For cigarettes you can use pretty much any electronic plasma lighter. But for cigars, epecially for the larger ones, not every electric arc lighter is convenient to use. For cigars we recommend at least a double arc lighter with four upwards facing electrodes. These lighters can be used to light flat surfaces. Additionally, if you smoke cigar regularly you may want to consider an electric coil lighter which is ideal for cigars.
---
Plasma lighter review and test videos
Below you can check out some videos in which YouTubers unbox, review or test specific electric lighter models. These video may be interesting if you want to see and hear what an electric lighter looks like in action.
Outdoor Arc Lighter Test
SPPARX Dual Arc Electronic Lighter Review
Plazmetic X Arc Lighter Unboxing
Tesla Coil Lighter Test
---
Refillable lighters instead of rechargeable lighters
Maybe an electric arc lighter isn't the lighter you like or are looking for. An electric lighter needs to be charged via USB, so for outdoors people who like to camp or hike this might not be useful. Another great alternative for plastic disposable lighters are refillable lighters, such as a Zippo. Zippo's are one of the most popular and stylish refillable lighters you can get. We recommend to go for a refillable metal lighter instead of a plastic refillable lighter. Please note that refillable lighters need to be refueled with lighter fluid.
Refillable lighter starter kit

This Zippo All-In-One Pack includes one Street Chrome lighter, one fint dispenser and one 4 ounce can of Premium Lighter Fluid
Flame type: Fire flame
Colour: Grey
Rechargeable: No, but refillable with lighter fluid
See all Zippo lighters on Amazon.com
---
Rechargeable plasma lighter manufacturers
Here are some companies that manufacture electric arc lighters. The links below take you to the official websites:
---
Shocking quotes about plastic lighter waste
Why spend money on disposable lighters that harm the environment while electric lighters are an eco-friendly, money saving and more stylish alternative?

---
Step Up:
Recycle

, Reuse &

Reduce

The three arrows of the recycling symbol represent the three main stages of the recycling process: recycling, reusing and reducing. Together the arrows form a closed loop. Step up and implement eco-friendly replacements in your daily life.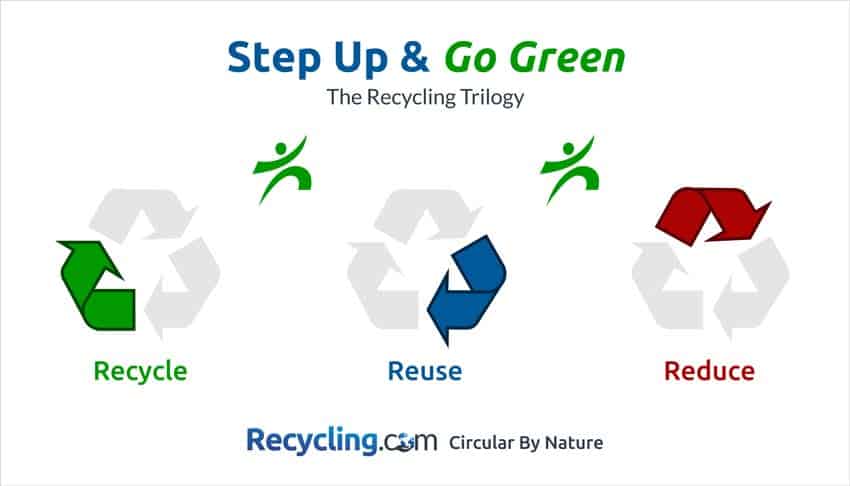 Join the movement! Step Up the waste hierarchy together to a goal of Zero Waste.
By Cara Dettmann/ 9 November 2019 Shares