Find the best paper shredder for you
What should you look for when buying a paper shredder? How do you choose and pick the best document shredder to use at home and which one is recommended for the office? And what are the differences between strip-cut, cross-cut and micro-cut shredding machines?
Buying a document shredder sounds like an easy task, but there are quite some things to keep in mind. That's why we recommend reading our paper shredder guide thoroughly, so you know exactly what to take into consideration when selecting your paper shredder.
What document shredder are you looking for?
Are you looking for a shredding company?
In-house shredding with a paper shredder is a great solution to discard confidential information in a safe way. But when you want to shred high volumes of paper, or when you need regularly shredding, it might be more effective to hire a paper shredding company that can do all the shredding for you. More about paper shredding companies.
What to look for when getting a paper shredder?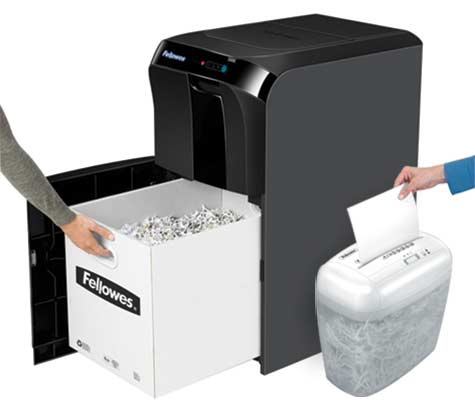 It is important to understand the performance, features and specifications of a paper shredder before buying it. This avoids later disappointments. You don't want to end up with a shredder that needs to cool down after 2 minutes of shredding and can't handle more than three sheets of paper per feed when you need to shred regularly at your office with multiple colleagues. To prevent you from buying the wrong shredder we've made this paper shredder guide.
Tip: Check out our Recommended Paper Shredders

Navigation:
---
Type of shredders: strip-cut, cross-cut and micro-cut
Not all paper shredders produce the same cut. That's why paper shredders are categorized in three types to differentiate them from each other:
Strip-cut or Ribbon-cut or Spaghetti-cut or Straight-cut
Cross-cut or Confetti-cut or Diamond-cut
Micro-cut or Particle-cut or Security-cut
We recommend a cross-cut or micro-cut shredder to shred confidential documents. That is security level DIN P-3 or higher.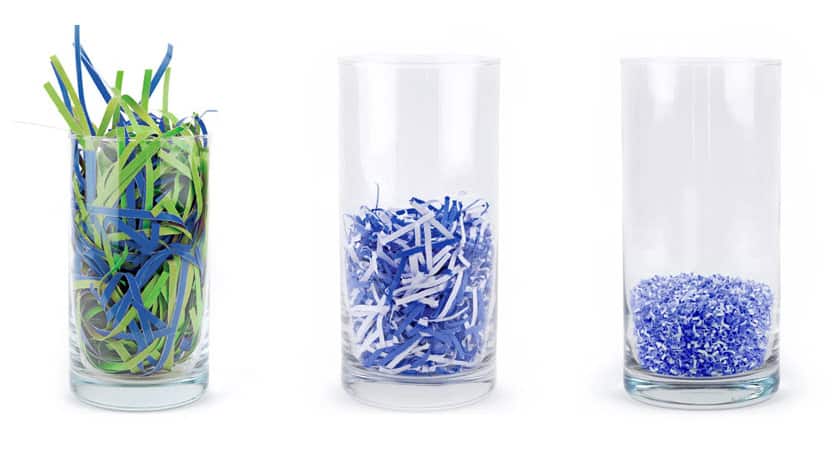 Strip-cut shredder
A strip-cut shredder is a basic paper shredder for shredding non-confidential documents. It shreds paper vertically in long narrow strips that are fairly readable.
Low level of security
For shredding non-sensitive documents
Long narrow vertical paper strips, like spaghetti
Cuts only vertically
Approximately 39 strips per shredded document (size: A4)
Security level: DIN P-1, DIN P-2
Cross-cut shredder
A cross-cut shredder is a paper shredder for shredding confidential documents. It shreds paper diagonally from both corners in short particles that are barely readable.
Medium level of security
For shredding sensitive documents
Short and narrow paper shreds
Cuts diagonally from both corners
Approximately 400 particles per shredded document (size: A4)
Security level: DIN P-3, DIN P-4*
*Sometimes P-4 is also classified as a micro-cut shredder.
Micro-cut shredder
A micro-cut shredder is an advanced paper shredder for shredding highly confidential documents. It shreds paper diagonally from both corners in square shaped particles that are almost unreadable.
High level of security
For shredding highly sensitive documents
Tiny square shaped paper shreds
Cuts diagonally from both corners
Approximately 3,700 particles per shredded document (size: A4)
Security level: DIN P-5* or higher
*Sometimes P-4 is also classified as a micro-cut shredder.
Best type of paper shredder: Cross-cut or Micro-cut?
So, which type of shredder is better, a cross-cut or micro-cut shredder? It all depends on how much security you need, the type of documents you want to shred and how important the information is to you or your business. For most situations a DIN P-3, DIN P-4 or DIN P-5 shredder is a good option to safely dispose papers and documents. So both cross-cut and micro-cut shredders are secure. But you have to decide which degree of security you are looking for.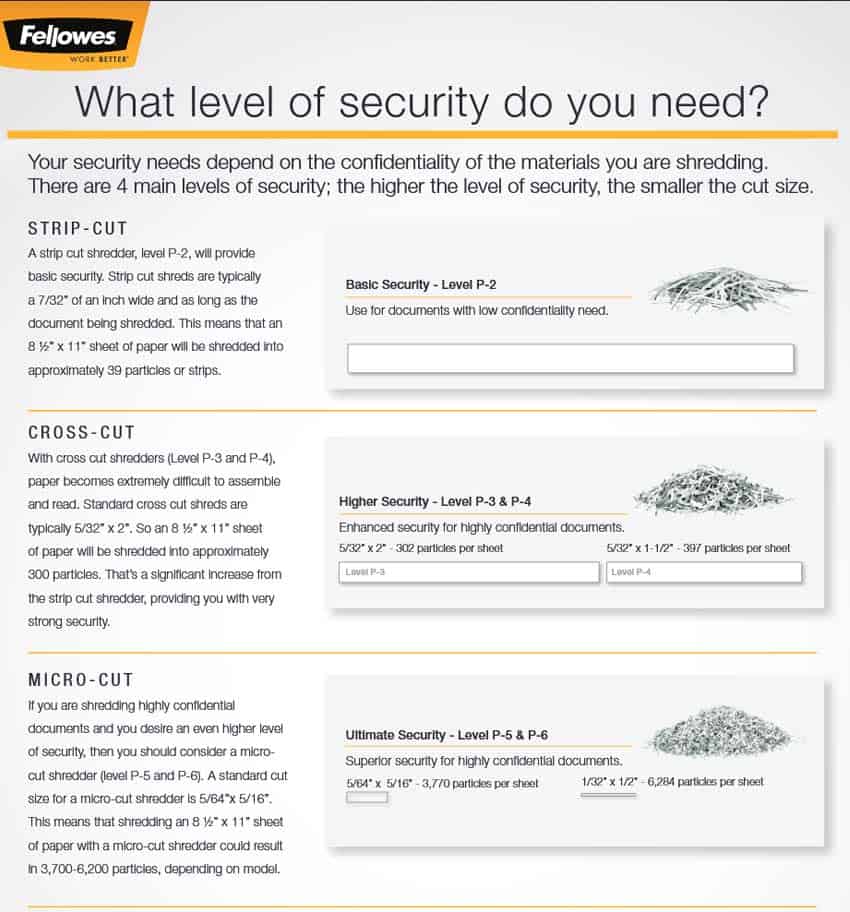 When you want to be fully secure, then we recommend using a micro-cut paper shredder. Officially micro-cut starts at DIN P-5, but also DIN P-4 shredders are known as micro-cut shredders. These high-security shredders produce much smaller particles than cross-cut (P-3) or strip-cut shredders. The purpose of paper shredding is to make confidential information unreadable and for the highest degree of data security, it is advised to shred paper as small as possible. You can only achieve this with a high-security micro-cut shredder.
---
DIN 66399 security levels
When you look at the specifications of a paper shredder you often see the security level with a DIN classification next to it. For example DIN P-1, or DIN P-3. But what does it mean? The DIN P-level is part of the official German DIN 66399 standard (since 2012) which is the international standard for secure shredding of data media developed by the Deutsches Institut für Normung (DIN) which translates to the German Institute for Standardization.
DIN 66399 (before DIN 32757) classifies the security levels for six media categories. Such as hard drives (H), optical media (O) and paper-based products (P). For paper, there are seven security levels. The levels range from DIN P-1 to DIN P-7. The higher the DIN level the smaller the paper particles become after shredding a document.
The seven security levels are divided in thee protection classes. Some security levels overlap two protection classes:
Protection class 1
Normal security for internal data
Security level: DIN P-1, DIN P-2, DIN P-3
Protection class 2
High security for confidential data
Security level: DIN P-3, DIN P-4, DIN P-5
Protection class 3
Very high protection for confidential and secret data
Security level: DIN P-4, DIN P-5, DIN P-6, DIN P-7
For most shredding needs we recommend a paper shredder that falls in protection class 2 with a DIN P-3, DIN P-4 or DIN P-5 security level. These shredders suffice most requirements for secure shredding of confidential documents. Read more about the DIN 66399 security levels.
---
Type and number of users
Do you occasionally want to shred a document at home? Then you possibly are looking for a small and space-saving paper shredder for occasional shredding. Or are you a heavy-user and want to shred a pile of confidential documents every day at the office? How many people are going to use the paper shredder? Or do you want a personal shredder that you can place under your desk? These are some questions you should ask to consider what type of shredder you need.
To find the right shredder these devices are often categorized in the following categories:
The categories contain paper shredders that are filtered for the requirements below. You can read more about these specifications further on this guide.
Sheet capacity
Run time and cool down time
Bin capacity

1 USER
---
Suitable for
Personal / Home use
---
Run time
1-5 minutes
---
Sheet capacity
1-10 sheets
---
Bin capacity
1-9 gallons
---

1-5 USERS
---
Suitable for
Home office / Small office
---
Run time
5-10 minutes
---
Sheet capacity
10-30 sheets
---
Bin capacity
10-29 gallons
---

5+ USERS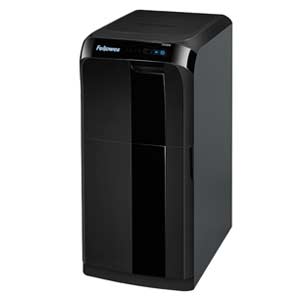 ---
Suitable for
Commercial / Large office
---
Run time
30 minutes or more
---
Sheet capacity
20 sheets or more
---
Bin capacity
30 gallons or more
---
---
Sheet capacity
The sheet capacity tells you how many sheets of paper you can feed in the shredder. A basic shredder can shred 1 to 3 documents at once. But a more heavy-duty shredders can eat up 20 sheets of paper per pass. A higher sheet capacity results in faster shredding and less work.
On average a manual feed paper shredder that is suitable for small (home) offices can shred between 10-20 sheets of A4 paper per pass.
Are you looking for a shredder with a high sheet capacity? Then consider an auto-feed shredder that can shred a large pile of documents in one session.
Paper shredding services for high volumes
When you want to shred high volumes of confidential documents, it is time-consuming to shred the documents yourself with an office shredder. For shredding high volumes it is recommended to make use of an heavy-duty paper shredder which can shred large quantities at a relatively high pace. When you don't want to invest in an expensive industrial shredder it is advised to hire a paper shredding company that can do the paper shredding for you. Read more about this on our paper shredding services page.
---
Run-time and cool down time
What is the run-time of a document shredder? Generally, people don't realize this, but most paper shredders have a maximum run-time and a cool downtime. Also known as 'duty-cycle'. In other words, you can use the shredder for a certain amount of time before the motor needs to cool down.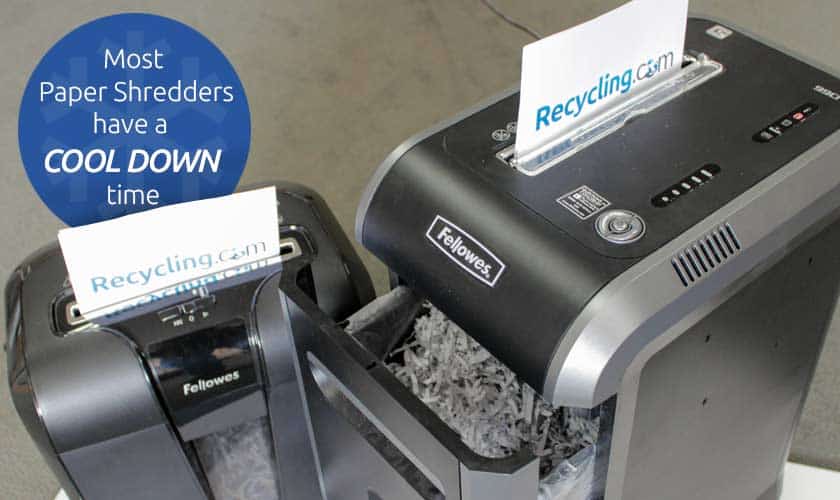 Do all shredders overheat?
Every shredder contains a motor and after intensive shredding this motor can overheat. This could be with minutes, or after a few hours of shredding. The 'run-time', that indicates the time a shredder's motor can run, depends on the shredder itself.
How long can you shred your documents uninterruptedly with your shredder? It depends on the type of shredder, the quality of the shredder and the security level. Most household shredders can shred between 5-10 minutes continuously before a cool-down period is needed. Professional shredders for offices can run for up to 30 minutes. But there are also commercial shredders available that can run continuously without stopping to cool down, these are the real heavy-duty ones.
The duration of the cool downtime depends on the shredder, it can take 30 minutes on average before the shredder is ready for the next shredding session.
A higher DIN security level tends to have a negative impact on the run-time. For instance, a DIN P-5 shredder needs to cool down more often than a DIN P-2 shredder that is in the same class, because a DIN P-5 shredder produces smaller particles. This requires more power from the engine, which causes it to overheat more quickly.
---
Bin or bucket capacity
Most paper shredders come with a bin or storage drum to collect the paper particles. Some cheap shredders only contain the shredding part which you need to place on top of a paper recycle bin, but we leave these types of shredders out of consideration.
Does the capacity matter much? Yes, because a large capacity means less time is wasted emptying the bin. Large bin capacity is definitely recommended when you want to shred daily or you use the shredder with multiple users, for instance in your office department.
Please note that the DIN security level has a big impact on how quickly the storage bin fills up. A DIN P-2 shredder, that shreds in long strips, will fill up a bin much faster than a DIN P-5 shredder that generates tiny particles that takes up less volume in the bin.
---
Type of bin or container
A paper shredder can have two types of bins. A bottom bin with lift-off head or a removable bin.
The bottom bin with a lift-off head is a basic variant where the shredder is placed on top of the bin. When you want to empty the bin you need to remove the shredder part, the head. Most household shredders or cheaper shredders are manufactured in this way. It is workable, but not the most convenient. Especially when you want to shred a larger pile of documents it gets annoying to remove the top every time. It also can make a mess when you accidentally tip over your shredder when it is full of shredded paper.

The more advanced and larger shredders are equipped with a pull-out bin or removable bucket. The bin collects all the paper particles and once the bin is full you open the door or pull-out the bin to empty it. This is a more professional, clean and convenient way than the variant with the shredder on top of the bin.
---
Calculate the speed of a shredder
So how fast or productive is a shredder? To calculate the speed of a paper shredder you need to know these specifications (formula by Fellowes):
Sheet Capacity – amount of paper a shredder can shred at one time
Feet per Minute (FPM) – how quickly the shredder can shred paper
Run Time – the time the shredder can continuously run before cooling down
Multiply the numbers from each specification and you get a shredder performance rating.
Sheet Capacity x Speed (FPM) x Run Time = Shredder Score

An example:
You consider either the Fellowes Powershred 73Ci or the Fellowes Powershred 99Ci and you want to know which one works more efficiently.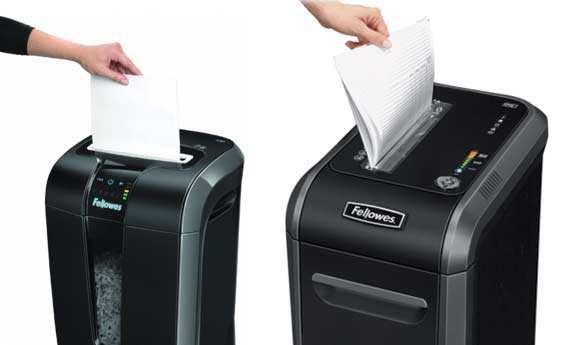 Fellowes Powershred 73Ci
Sheet capacity: 12 sheets
Feet per minute: 10
Run time: 10 minutes
Score: 12 x 10 x 10 = 1,200
Fellowes Powershred 99Ci
Sheet capacity: 18 sheets
Feet per minute: 30
Run time: 25 minutes
Score: 18 x 30 x 25 = 13,500
Conclusion: The Fellowes Powershred 99Ci is much more efficient than the 73Ci. Because the 99Ci is much faster and can run for a longer period of time.
---
What do you want to shred?
Paper documents, of course. But some shredders can handle more than paper alone. Such as:
Staples
Paperclips
Loyalty cards
ID cards
Credit cards
CDs
DVDs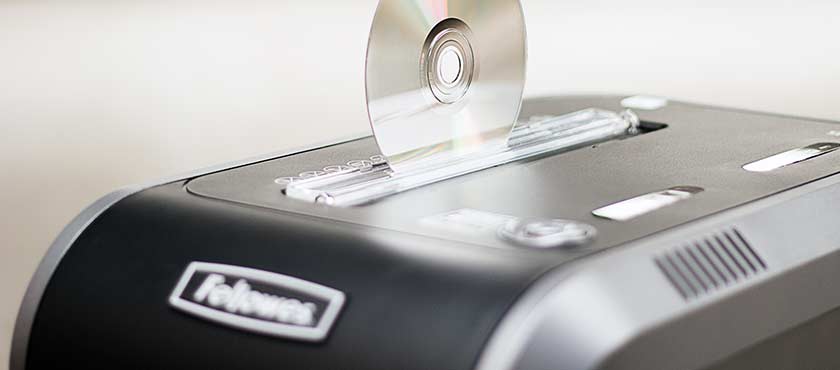 Most basic shredders can handle some staples. But if you want to go heavy-duty on staples and paperclips be sure that the shredder can really take care of it without you damaging the blades. Look for the instruction manual or check the specifications on the website of the manufacturer.
More powerful shredders can also shred plastic cards, such as credit cards. These shredders may have a dedicated slot to shred cards. But others just let you shred the cards in the same slot you feed your confidential papers in. For recycling, it is important to find out if the shredder comes with a separate container to catch the plastic parts. Otherwise, the plastic particles are getting mixed up with the paper shreds.
Shredders with a CD functionality can also shred CDs and DVDs into tiny particles. The shredder can have a dedicated CD slot to shred the optical media. Or the paper shredder lets you shred it in the main paper shredding feed. Same as with the cards, it is important for recycling that the particles are collected separately so it won't pollute your shredded paper.
Paper shredder for cardboard
Do you want to shred cardboard waste? Be careful, because not every paper shredder machine can handle this tough material. Only heavy-duty or industrial paper shredders are powerful enough to shred through sheets of corrugated cardboard. But keep in mind that a document shredder is made for shredding paper and not for shredding high volumes of cardboard.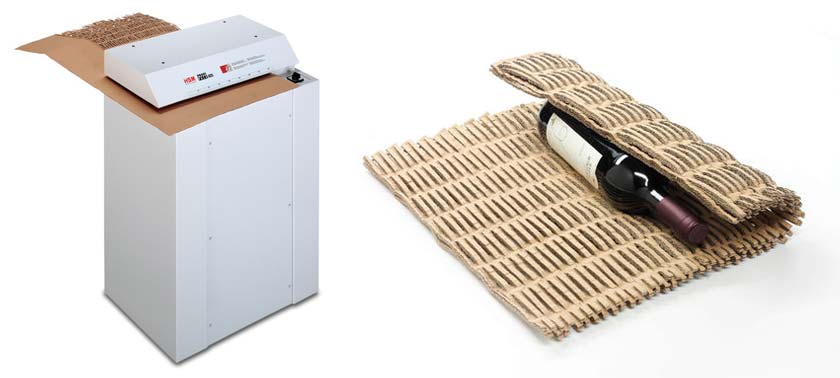 When you have high quantities of cardboard waste, such as boxes and other packaging material, then it is recommended to invest in a dedicated cardboard shredder. These types of shredders are manufactured for shredding or perforating corrugated cardboard and paperboard. A cardboard shredding machine isn't necessarily meant for security reasons, like a paper shredder. These cardboard shredders are used for recycling your own cardboard waste. The shredded cardboard can be used as packaging material or you can bale the material which you can sell to a recycling facility.
---
Manual feed or auto feed shredder
Paper shredders are divided in two variants, manual feed and auto feed paper shredders.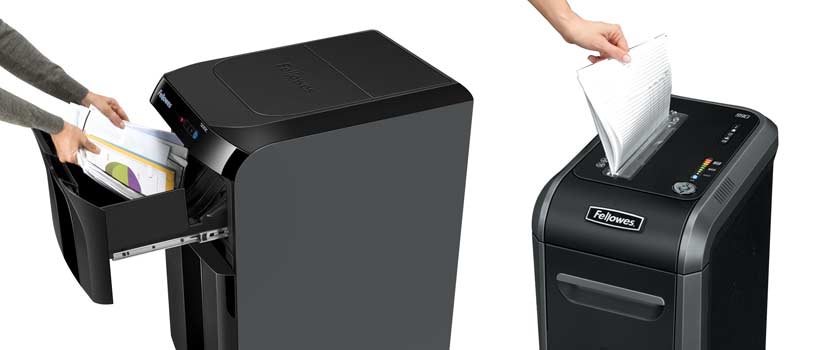 Manual feed paper shredder
Just like the name implies, a manual feed shredder needs to be fed manually by hand. Depending on the sheet capacity you grab a few sheets of paper and shred it. You grab another pile of paper and shred it, and so on. For shredding a small pile of documents this is fine, but if you need to shred thousands of documents, this might not be very convenient and efficient.
Auto feed shredder
To save time and speed up the process of shredding paper an automatic paper shredder is recommended. This shredder has an auto-feed functionality which means it shreds a large pile of paper all on its own. So, how does it work? An auto-feed paper shredder has an input tray that is quite similar to that of an office printer or copier. You fill up the tray with your documents and press start, the shredder takes care of the rest. The amount of paper you can shred per session depends on the shredder. Some auto feed shredders can hold 100 sheets of A4 documents, but others can hold 500+ sheets.
---
Important safety features
A paper shredder isn't a toy because it contains a set of sharp cutting blades. We advise to always be very careful when operating a paper shredding machine and don't leave a working shredder unattended. Especially when there are kids or pets around. Always unplug the shredder when not using it and place it out of sight in a secure and safe place. For your safety and that from others, you might consider a paper shredder that comes with special safety features that prevent possible injuries. These safety features are recommended for personal home users and professional office users.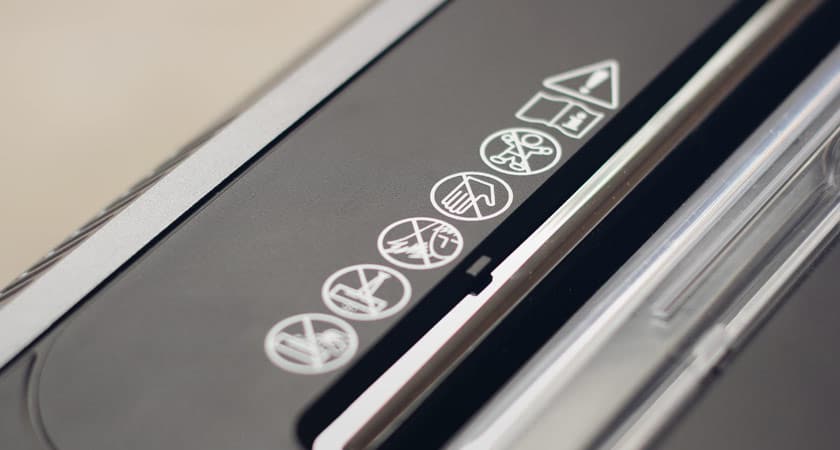 Safety lock – Lock the shredder even when it is plugged in.
Safety sensor – Electronic touch sensors around the paper entry that detects when hands or fingers touch the opening. The shredder immediately shuts off.
---
Paper jam prevention
An annoying occurrence of paper shredders is the 'paper jam'. The paper shredder stops working because the motor can't process the amount of paper.
A paper jam can occur because of:
Exceeding the prescribed maximum sheet capacity.
Inserting the wrong material, such as cardboard or thick paper.
Slanted input of a stack of paper which results in a paper folding jam.
Bad maintenance of the shredder and lack of oil
How do you solve a paper jam? Stop the shredder and press the reverse button, the cutting blades will turn in the opposite direction so the paper gets rolled out of the shredder. Straighten the documents a bit and retry to shred it.
If you want to minimize the chance of a paper jam you can look for a paper shredder with special 'anti paper jam' technology. These shredders are equipped with an extra powerful engine that pulls the paper through during a paper jam. The jam-proof shredders also prevent a paper jam with a sensor that detects when you want to shred too many sheets of paper at once.
How to fix a jammed paper shredder?
---
Shredder maintenance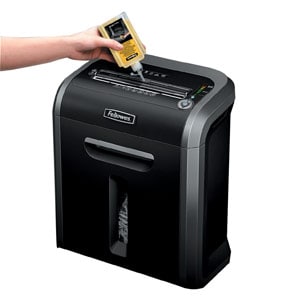 How do you maintain and clean your paper shredder? And why is this important? A new shredder fresh out of the box runs very smoothly. To keep it running this way you need to perform maintenance every once in a while. You can achieve this by oiling the cutting blades.
For oiling a shredder you need official shredder oil that is manufactured by the brand of your shredder. The oil ensures that the cutting blades run smoothly and you keep the blades in good condition for a longer period of time. The oil comes in small bottles or pre-oiled sheets.
You can also make use of lubricant sheets instead of oil. A lubricant sheet is a pre-oiled sheet you can shred with your shredder. The sheet looks like an envelope, you can shred this package as a whole with your shredder to lubricate the cutting blades of your shredder.
Keep your shredder in top condition
How often should you oil a paper shredder?
When do you need to oil your shredder? We recommend to oil the blades every time when the bin of the shredder is full. Or after an intensive shredding session. Please refer to the manual for instructions on how to oil your shredder.
Some shredders come with an 'auto-oil functionality'. These shredders take care of the oiling process all by itself. The only thing you need to do is making sure there is enough oil in the compartment.
Keep your shredder clean
Make sure you keep your document shredder clean from the dust and small pieces of paper. Due to paper shredding dust collects between the cutting blades. After a while, it is possible that dust and small pieces of paper get stuck between the blades and this will have a negative impact on the performance. You can use a vacuum cleaner to remove dust and paper particles from the feed opening and the cutting blades.
How long should a paper shredder last?
It all depends on the quality of the shredder and how the operator uses the shredder machine. Always follow the guidelines on how to use the shredder which you can find in the manufacturer's instruction manual.  Things to keep in mind are the maximum amount of documents you can feed per pass, the type of materials you shred and how often you clean the shredder with oil or a shredder lubricant sheet. This keeps your shredder in top condition.
---
Noise level
On average, paper shredders produce around 65 decibels while shredding. This is comparable with the sound of a washing machine. Especially in office environments, a noisy and loud paper shredder (around 75 dB) can be a nuisance for your colleagues. So it is advised to look for a paper shredder that shreds silently and quiet. Some shredders are specially manufactured to produce as little noise as possible. For instance, Fellowes calls this 'Silent Shred Performance'. To reduce the nuisance as much as possible you can consider placing the shredder in a closed of areas, such as a storage space or the archive area in your office.
We've experienced in our tests that the more cheap and basic shredders produce more noise with a high pitched frequency. The more professional office shredders can be a bit loud too, but they lack the high pitched noise that we find quite annoying and unpleasant to listen to while shredding documents.
Paper shredder noise levels:
Silent: less than 60 dB
Normal: 60 to 70 dB
Loud: 70 dB or more
Of course, if you want to pick up a personal paper shredder for home use, it is up to you how much noise you can withstand.
---
Energy savings
We always advise you to turn off your paper shredder when you're not using it. This is better for your safety and that from others but it also helps to reduce energy costs. But if you are shredding multiple times a day it can be quite annoying to turn on and off the shredder every time.
So, to solve the 'problem' you can look for a paper shredder with energy-saving technology. This technology sets your paper shredder in an energy-saving mode when it is not in use, also known as a standby or sleep mode. In this mode, the energy consumption of the shredder is as low as possible. Again, if you're done shredding for the day it is better to turn the machine off completely.
---
What are popular shredder brands & manufacturers?
What brand shredder should you choose? There is no one brand that is the best. Some brands are specialists in basic consumer shredders, others make really good office shredders and there are brands that are really good in the manufacturing of large industrial shredders. Below we've summed up some popular and well-known shredder brands with links to their official websites.
---

How much does a paper shredder cost?
The price of a paper shredder machine depends on which type of shredder you need. You can get a really cheap shredder for occasionally shredding at home. Or you can invest in an expensive shredding machine for shredding high volumes of confidential documents at the office. A general rule of thumb is that paper shredders get more expensive when the machine can shred high volumes of documents, can hold high volumes of shredded paper in a large capacity bin, can shred continuously and can shred at a high-security level.
Below you can find some general costs of various types of paper shredders.
Basic strip-cut shredder (P-2) – Around $35
Basic cross-cut shredder (P-3) – Around $50
Basic micro-cut shredder (P-5) – Around $100
Shredder for home office (P-3) – $50 – $150
Shredder for small office (P-3) – $150 – $400
Shredder for heavy-duty shredding (P-3) – $750+
Auto feed shredder (P-3) – $750 to $1,500
Industrial shredder (P-3) – $10,000 – $50,000
---
Step Up:
Recycle

, Reuse &

Reduce

The three arrows of the recycling symbol represent the three main stages of the recycling process: recycling, reusing and reducing. Together the arrows form a closed loop. Step up and implement eco-friendly replacements in your daily life.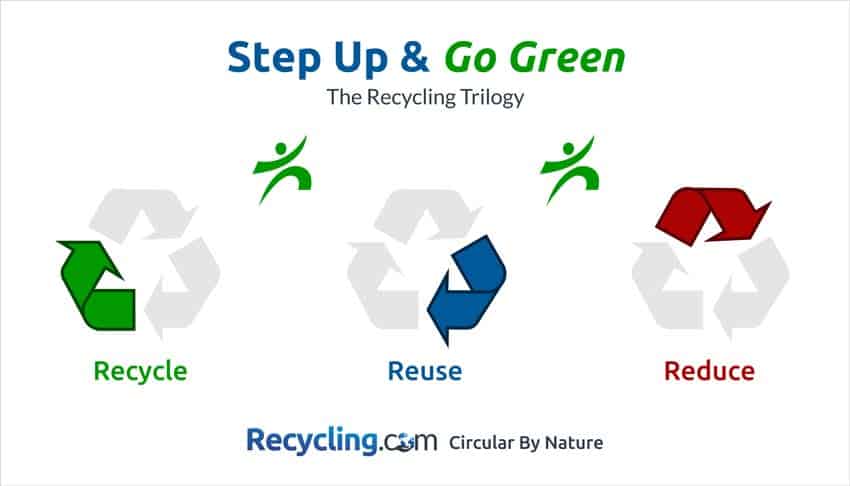 Join the movement! Step Up the waste hierarchy together to a goal of Zero Waste.